Boston Colleges:

Kaleb Ramsey
August, 31, 2012
8/31/12
12:31
AM ET
By
Jack McCluskey
| ESPNBoston.com
NEWTON, Mass. -- Disappointment, frustration and pain. That's what
Kaleb Ramsey
found himself dealing with last season, after he got hurt just one quarter into his senior season.
The 6-foot-3, 288-pound defensive tackle was supposed to be a big part of the Eagles' defense. Instead, he was able to play in just two games due to plantar fasciitis.
[+] Enlarge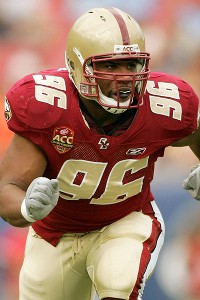 Cliff Welch/Icon SMIKaleb Ramsey wants to capitalize on his extra year of eligibility.
"It's very hard, it's depressing," Ramsey said of the injury. "First quarter of my senior season. I came back with a different mindset, more hungry for the next season."
Ramsey was granted a medical hardship waiver for a fifth year of eligibility, allowing there to be a next season. And now he's trying to make the most of it.
"I just worked my butt off," he said. "I just ate healthy. Toned down the social life. Just took it seriously."
Frank Spaziani knows a healthy, focused Ramsey can make a serious impact.
"Kaleb is the most talented, if you will, out of the group," the fourth-year BC head coach said. "When he's healthy, he's as good a defensive lineman as we've had around here. I'm not saying he's an NFL guy, but when he's healthy and playing he's as good as we've had.
"His problem has been 12 games and playing every week. Looking forward to a big game from him on Saturday."
And while his career statistics aren't eye-popping (58 tackles, 4.5 sacks), the big man is tough to block when he's right.
Spaziani cited the D-line as an area of concern entering the season, calling the unit's play last year "anemic."
That's nothing new to Ramsey.
"I mean, I've been hearing that since I've been here, 'D-line is not putting pressure on the quarterback, D-line is not good,'" he said. "This offseason that's something we wanted to change. We focused on it this preseason a lot."
With Ramsey healthy and leading a unit that includes a couple of players who were thrust into the fire as freshmen last season in
Brian Mihalik
(6-8, 272) and
Dominic Appiah
(6-5, 291), the coach sounded optimistic about the unit's chances to improve.
"I think we'll be better there," Spaziani said. "The indications are in practice that we're better. When we have Ramsey there, we're better. I think we have the makings of a better defensive line, but now we have to go do it on Saturday."
BC opens the 2012 season at home against Miami (3:30 p.m., ESPN2), the same team the Eagles finished the 2011 season with a win against. And after all the headaches he endured last season, Ramsey will do everything he can to carry over any momentum that win generated.
"I know this is my last shot," he said, "and I just want to play 12 full games, every practice, every minute, every snap be out there and just help us win."
Jack McCluskey is an editor for ESPN.com and a frequent contributor to ESPNBoston.com. Follow him on Twitter @jack_mccluskey.
August, 31, 2012
8/31/12
12:21
AM ET
By
Jack McCluskey
| ESPNBoston.com
NEWTON, Mass. -- Eventually it got to a point when all they could do was shake their heads in disbelief.
One player went down, then another. And then another.
Injuries will always be a part of football, and the Eagles understand that. But to have this many, this early in the process?
Chris Pantale
was lost first, then
Al Louis-Jean
got hurt. Deuce Finch,
Tahj Kimble
and
Kaleb Ramsey
all missed time in camp with various injuries. And now
Bobby Swigert
, QB
Chase Rettig
's go-to guy for much of last season, is out for several weeks with an injury of his own.
[+] Enlarge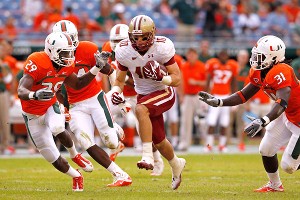 Mike Ehrmann/Getty ImagesWR Bobby Swigert is one of several key Eagles who are sidelined by injuries at the start of the season.
"It's always gonna have an effect on a team when your playmakers are not on the field, but I think that our offense is dynamic enough to overcome the injuries," running back
Andre Williams
said Wednesday as the Eagles were preparing for their season opener against Miami on Saturday (3:30 p.m., ESPN2).
Williams has seen first-hand the effect injuries can have on a team. Though he's been healthy through training camp, Williams was held out of a scrimmage because of injuries to fellow RBs Finch and Kimble. Head coach Frank Spaziani didn't want to risk an injury to Williams, too.
No one in Chestnut Hill is looking to use the injuries as an excuse. Don't get things twisted.
"That's just something that you just gotta go with," senior receiver
Colin Larmond
Jr. said. "I suffered that a few years ago."
Larmond, who missed the 2010 season with an ACL injury, said BC's coaches have preached accountability to the players, before and after the recent spate of injuries.
"They always tell us if you go out there, don't take practice for granted," he said. "Take it one step at a time, one day at a time. You have to give it your all, keep trying, keep getting better."
Players have to know that they may be one snap away from being a starter. And they have to prepare accordingly.
That doesn't mean the losses of Pantale, who was voted a captain this season before breaking a bone in his foot and undergoing surgery to repair it, and Swigert, who is out with a knee injury, will hurt any less.
"It hurts, just because me and him are close off the field," Rettig said of Swigert's injury. "He just loves playing football and he has a great work ethic, he's always there, 24-7. On the field he's quiet and calm and smooth.
"It's just a target that we're gonna miss for a couple weeks but someone else will step up. Guys have been stepping up in practice so we just need to see that transition onto the field."
Larmond agreed with his quarterback.
"It just gives other people a chance to step up," he said.
And if you ask the veteran, there is no shortage of wideouts capable of filling in. He cited
Johnathan Coleman
and
Alex Amidon
as two players to watch.