Boston Colleges:

Kasim Edebali
December, 18, 2013
12/18/13
9:00
AM ET
We continue
our look at each of the Pac-12's opponents
during the bowl season.
AdvoCare V100 Bowl
Shreveport, La., Dec. 31, 9:30 a.m. PT
Arizona (7-5) vs. Boston College (7-5)
Boston College Eagles

Coach
: Steve Addazio (first season)
Record
: 7-5, 4-4 ACC
Combined opponents' record
: 77-67 (.534)
Common opponents
: Boston College lost to USC 35—7 on Sept. 14. Arizona lost to USC 38-31 on Oct. 10, the first game with Ed Orgeron as the interim head coach for the Trojans.
Leading passer
:
Chase Rettig
, 147-238 (61.8 percent) for 1,804 yards with 17 touchdowns and six interceptions.
Leading rusher
:
Andre Williams
, 329 rushes, 2,102 yards with 17 touchdowns.
Leading receiver
:
Alex Amidon
, 67 catches, 903 yards with five touchdowns.
Leading tackler
:
Steele Divitto
(one of the coolest names in all of football), 107 tackles.
What to know
: Boston College enters the game in relative good health, though it is worth noting that Williams, who outdistanced Arizona's
Ka'Deem Carey
and Washington's
Bishop Sankey
for the Doak Walker Award, missed a good chunk of the season finale against Syracuse because of a shoulder injury. All indications are that he'll be ready to go for this game.
Staring at a 3-4 record, the Eagles closed out the season by winning four of their last five to become bowl eligible for the first time since 2010. They faced only two top 25 opponents this year and dropped both games, falling to Florida State and Clemson -- though they picked up a signature win by topping Virginia Tech 34-27.
Obviously, the running backs take center stage in this game. Williams leads the nation in rushing this season and Carey led the nation in rushing last year. It's not unlike last year's New Mexico Bowl, where Carey and Nevada's Stefphon Jefferson were vying for the rushing title. Unless Carey has a 600-yard game, Williams can probably feel good about retaining his title.
When Williams rushes for at least 100 yards, BC is 7-2. When he doesn't, the Eagles are 0-3. It seems pretty clear what the key matchup is for the Arizona defense.
Key matchup
: But what about the other side of the ball? Arizona is 6-5 when Carey rushes for at least 100 yards, as he rushed for 100 or more yards in every game he played this season (he missed the opening-week win over Northern Arizona). Boston College's rush defense is fairly sturdy. It allows 152.8 rushing yards per game -- which is 50th in the country -- and they have only allowed 16 touchdowns on the ground. Linebacker
Kevin Pierre-Louis
isn't far behind Divitto with 104 tackles, and defensive end
Kasim Edebali
has 15 tackles for a loss on the year to go with 9.5 sacks.
October, 15, 2013
10/15/13
11:00
AM ET
By
Jack McCluskey
| ESPNBoston.com
A .500 record never looked so sweet.
As the season hits the midseason mark, Boston College at 3-3 (1-2 ACC) has already surpassed its win total from 2012 (two) and is just three wins from a return to bowl eligibility. After the quagmire they slogged through during the 2011 and 2012 seasons, the Eagles have played entertaining and competitive football, outside of a 35-7 thumping at USC in their first road game.

Steve Addazio doesn't believe in moral victories, but BC played No. 3 Clemson and No. 5 Florida State as tough as anyone has this season. The Eagles lost by 14 at home against (then-No. 8) FSU and by 10 at Clemson. They led the Tigers after three quarters, but couldn't finish off the upset.
The Eagles tried to become a pass-first team in the final season of the Frank Spaziani era, with mixed results at best. Quarterback
Chase Rettig
became just the fourth BC quarterback to pass for 3,000 yards in a season, and wideout
Alex Amidon
set records for catches and yards in a season. But BC won just two games, struggling to put games away without a reliable run game or a shutdown defense.
Addazio reinstituted the physical, blue-collar mentality that's always worked best at BC, relying on a massive offensive line and a power run game to set the tone for the team. Defensive coordinator Don Brown installed an aggressive defensive philosophy, and after totaling just six sacks in 2012, the Eagles already have 15 in 2013.
They're a .500 team, but considering the circumstances, things are definitely looking up for the Eagles.
Offensive MVP:
Andre Williams
. A 6-foot, 227-pound senior, Williams entered the game against Clemson leading the nation in rushing yards (153.6) and attempts per game (26.6). He totaled only 70 yards on 24 carries against the Tigers, falling from first to sixth in yards per game, but Williams, a Schnecksville, Pa., native has topped 100 yards in four of six games and topped 200 yards in two of six.
Defensive MVP:
Kasim Edebali
. A fifth-year senior co-captain, Edebali leads the Eagles with 3.5 sacks, two more than he had in his career entering 2013. A native of Hamburg, Germany, Edebali has 28 tackles (14 assisted, 14 solo), six tackles for a loss, two quarterback hurries, a forced fumble and a fumble recovery. He's a steady presence on a defense that is making strides in Brown's system, despite occasional breakdowns.
Jack McCluskey is an editor for ESPN.com and a frequent contributor to ESPNBoston.com. Follow him on Twitter @jack_mccluskey.
September, 7, 2013
9/07/13
1:41
AM ET
By
Jack McCluskey
| ESPNBoston.com
NEWTON, Mass. -- It was a pivotal moment.
The Eagles were pinned deep in their own territory after Wake Forest nose guard
Nikita Whitlock
blocked a
Nate Freese
punt and
Brandon Chubb
recovered the ball at the BC 3-yard line with 52 seconds to go in the half.
The Eagles had built a 17-7 lead, mostly by taking advantage of Wake Forest's mistakes. Now the defense had to keep
Tanner Price
& Co. out of the end zone and hold them to three points to try to regain some of the momentum that they'd built earlier in the evening.
As Wake Forest lined up, the noise level in Alumni Stadium built up higher and higher.
Don Brown's defense stopped
Josh Harris
at the 1 on first down, then stood him up for no gain on second down. On third down, Price looked to pass and had a wideout open in the back of the end zone but wasn't able to get it to him, skipping it in as
Kasim Edebali
came flying at him in the backfield.
That made it fourth-and-goal from the 1, and Wake Forest coach Jim Grobe had a decision to make. Take the field goal and make it a one-score game, or go for the touchdown. He decided to go for the end zone.
BC stacked the line of scrimmage and dug in. The fans got loud. And while Wake Forest had been full of tricks all night, there were none coming on this play. Price handed it off to Harris, who tried to stuff it up the middle. But
Mehdi Abdesmad
met him in the backfield and slowed him down enough for his teammates to join in and stand him up for no gain.
The Eagles took over on downs, preserved the lead and took back momentum for the second half.
"I was proud of the way our defense played," BC head coach Steve Addazio said after the 24-10 win. "They held that unbelievable goal-line stand, which was really incredibly important for us, obviously. Played real strong all night."
[+] Enlarge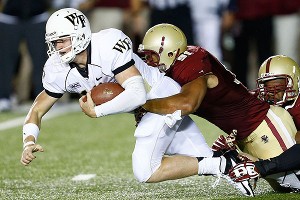 Mark L. Baer/USA TODAY SportsBC captain Kasim Edebali (91) tackles Wake Forest quarterback Tanner Price.
Edebali said the pumped-up crowd, announced at 32,465, helped fuel the defense for that critical series.
"It was amazing," the fifth-year senior captain said. "It was a Friday night game, and the student section was wild. I think the energy that was going on in the stadium went over us. We were creating energy the whole game, we played really tough and physical. And then got after them.
"We executed a little bit better on the goal line. We took a lot of energy and momentum that was created throughout the whole game [and used it] on that goal-line stand."
No one-trick birds of prey, the Eagles made another goal-line stand later in the game, holding the Demon Deacons to a field goal after they had first-and-goal from the BC 4 in the fourth quarter.
But it was that first stand that was most crucial.
"When we blocked the punt at the end of the half, we've got to get that in," Grobe told reporters after the game. "We've got to have a better mentality when we're down there -- and that's us as coaches, that's not the kids. We've just got to do the things that we need to do down in the red zone, especially short-yardage stuff."
For the game, the Eagles held the Demon Deacons to just 246 yards of total offense and 10 points. They forced three turnovers (though Price helped, with two of them coming on fumbles from wayward pitches) and produced two sacks (allowing them to tie their season total of six from 2012 in the first two weeks of 2013).
"Our plan to win starts with playing great defense," Addazio said. "You want to win, you want to build your program, you've gotta play great defense. You've gotta play great defense and you've gotta have a run game."
The Eagles did that, too, on Friday night. Senior tailback
Andre Williams
had a career-high 204 yards rushing on 35 carries.
"You play great defense when you complement your defense," Addazio said. "One of the good things I think that we're doing, people say 'Oh, you run the ball.' Don Brown's sitting there at the end of the game saying, 'I love what we do.' Because our offense complements your defense."
With the win, BC starts the season 2-0 for the first time since 2010, when the Eagles opened with wins over Weber State and Kent State. It's also the first time the Eagles have won their ACC opener since 2007, when they beat Wake Forest to open the season.
While they'll celebrate the win this weekend, the Eagles aren't close to overconfident. They know it's early. They know they have a stiff test awaiting them next week, when they fly to Southern California to take on No. 25 USC.
"I'm proud of the fact of where we are," Addazio said. "We're 2-0 and that's great. That's great. We're fighting, we're scratching, we're clawing. And that's fantastic, but we've got a lot of work to do."
But after matching their win total from 2012 in the first two weeks of the 2013 season, fighting through adversity to come out on top in both weeks, the Eagles seem to be taking on the personality of their new coaching staff, led by Addazio. They're fighting hard.
And that can only be a good sign for the rest of the season, when the level of play and caliber of opponent picks up.
"I thought the resounding thing here was that we played hard, we played physical, we played like a team," Addazio said. "When one was down, the other was up. We complemented each other. Our kids had great resilience and great will, which I think is critically important. As important as anything right now."
In the pivotal moments of this young season, Addazio's Eagles have passed their tests with flying colors.
Jack McCluskey is an editor for ESPN.com and a frequent contributor to ESPNBoston.com. Follow him on Twitter @jack_mccluskey.
August, 24, 2013
8/24/13
7:07
PM ET
By
Jack McCluskey, Special to ESPNBoston.com
With less than a week to go before kickoff of the 2013 season, Steve Addazio announced the first captains of his Boston College tenure: two fifth-year senior linemen, defensive end
Kasim Edebali
and right tackle
Ian White
.
The selections, traditionally made by a player vote, send a clear message: Success starts with hard work up front.
Edebali, a native of Hamburg, Germany, who came to BC via a program that landed him at Kimball Union in New Hampshire, has appeared in 36 games the past three seasons. The 6-foot-3, 246-pounder has 99 career tackles, with 53 solo tackles and 9.5 tackles for a loss.
White, a 6-5, 302-pounder from Conway, N.H., has played in 34 games the past three seasons, including nine starts at right guard in 2012.
Both have their degrees in hand, with Edebali earning a bachelor's degree in communications and White earning a bachelor's degree in human education. And both do the majority of their work in the so-called "trenches," where the grit really gets tested and those lacking toughness need not apply.
White will be tasked with taking over at right tackle for John Wetzel, who's moved on to the NFL with the Oakland Raiders. Edebali, meanwhile, will be encouraged (read: compelled) to attack the quarterback in new defensive coordinator Don Brown's aggressive philosophy, in an all-out effort to erase the memory of last season's paltry total of six sacks.
Addazio has said again and again in the buildup to the 2013 season that establishing the proper mindset -- the mindset he believes was missing in recent seasons in Chestnut Hill -- starts with him. But if it's truly going to resonate with the Eagles going forward, that message ultimately has to come from the players, too.
As captains, Edebali and White can help set the right tone, or at least serve as examples for younger teammates to follow.
Editor's note: This post was edited after it was posted to correctly reflect the selection process of the captains.
October, 26, 2012
10/26/12
12:45
AM ET
By
Jack McCluskey
| ESPNBoston.com
NEWTON, Mass. -- It starts up front.
The BC D has struggled all season long, with the only exception being when FCS Maine came to Chestnut Hill in early September, and one of the major reasons is the constant turnover on the defensive line.
[+] Enlarge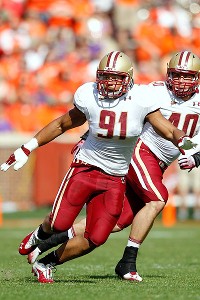 Joe Robbins/Getty ImagesKasim Edebali and his fellow BC D-linemen have struggled with injuries this fall.
"We take a lot of pride in the defensive line," end
Kasim Edebali
said before practice Wednesday. "It's been frustrating this year, but before every game we say everything starts with us.
"[If] we make sure we get to the quarterback, the DBs are gonna have it easier. We gonna stop the run, the linebackers have it easier and ultimately we gonna have a better shot at winning games."
Kaleb Ramsey
was supposed to be healthy this year, ready to make a major impact. He hasn't been, and that hasn't happened.
Edebali himself has been in and out of the lineup. And even some of the backups have had to be replaced.
"Disappointing, definitely," the junior from Germany said of the turnover on the line. "Just because you know how much damage these players can do. And you know that they're great players, and at the end of the day you feel bad because you want them to do well.
"But if someone gets hurt, they get hurt and the next guy in line has to step up."
The Eagles (1-6, 0-4 ACC) have used six different starting combinations on the D-line in their seven games this season. Nine different players have started games, including two redshirt freshmen.
"Obviously you'd like to have no injuries," BC head coach Frank Spaziani said. "You need to have consistency, and guys out there. Because that's the only way you get better, I mean consistency, being out there every day working and playing. Hopefully they'll show up."
While those comments are general, Spaziani was talking about his front four on defense. As of Wednesday, the depth chart on the D-line was the same as it was for the Georgia Tech game: Edebali at one end,
Connor Wujciak
at left tackle,
Dominic Appiah
at right tackle, and
Kieran Borcich
at the other end.
If that lineup holds up 'til Saturday, it will mark the first time all season that BC started the same front four two weeks in a row on D.
"It's good when the same four guys start the next game and continue out like that," Edebali said. "Just because [if] the chemistry is good, everybody knows what are the strengths of the guy next to you so you can put yourself in a good position [because of] that."
"It's affected it a lot," Spaziani said of the constant shifting up front. "But there's other factors, too. It all starts up front. That's where everything starts, on the offensive line and the defensive line. If you can't control the line of scrimmage, or have a chance to, that creates other problems."
There have been plenty of problems for the Eagles this season. Formerly known as a defense and running team, BC has struggled to do either successfully in 2012.
BC ranks last in the ACC in a bevy of statistical categories in conference games: scoring defense (43.5 points per game allowed), total defense (550.8 yards per game), rushing defense (252.2 ypg), sacks by (3 in four ACC games) and opponent's third-down conversion percentage (58.5).
Enter this week's opponent, the
Maryland Terrapins
(4-3, 2-1).
Randy Edsall's team is averaging just 313.7 yards (11th in the ACC) and 21.3 points (10th) in conference games, and has uncertainty at QB after losing starter
Perry Hills
to a torn ACL in last week's game against NC State.
The Eagles badly need a win to stem the losing tide of their season and give themselves a chance to finish strong.
If that's to happen, the defense has to improve. And if the defense is going to improve, it has to start up front.
Jack McCluskey is an editor for ESPN.com and a frequent contributor to ESPNBoston.com. Follow him on Twitter @jack_mccluskey.
September, 1, 2012
9/01/12
9:37
PM ET
By
Jack McCluskey
| ESPNBoston.com
NEWTON, Mass. -- The Eagles called this game a benchmark, saying it would be a good indication of how far they need to go to be where they want to be.
If that's the case, there's still a long way to go.
Chase Rettig
and the new-look offense started out Saturday like a house on fire, moving the ball efficiently and scoring touchdowns on their first two possessions.
Then the house just burned to the ground.
A three-and-out and a pick-six on Rettig got the Hurricanes back to even, and then the differences between these two teams started to become more and more evident, as Miami pulled out the
41-32 victory
.
The Eagles struggled at times to move the ball against the Hurricanes' aggressive defense and ultimately had to settle for field goals. They put the ball on the ground multiple times, losing two fumbles and recovering a couple more.
The Hurricanes showed true home run-hitting ability, getting two 50-plus-yard TD runs from touted freshman tailback
Duke Johnson
. And when they weren't hitting big plays, the Hurricanes were converting third downs when they needed to and keeping drives alive.
[+] Enlarge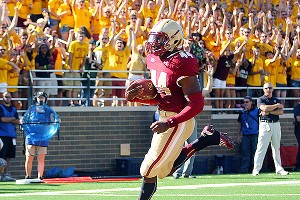 AP Photo/Anthony NesmithThis Andre Williams TD run got BC in front 7-0, but Miami was just warming up.
"I thought we played sloppy, made some mistakes that hurt us on offense," BC coach Frank Spaziani said. "I thought we moved the ball and did some real nice things. We had a couple fumbles and the turnover, obviously, that gave them a score and two long runs that we can't have happen on defense.
"We've gotta play better defense than that. But there were some good signs there, so we've gotta build on it and go forward."
There were, indeed, good signs. Rettig threw for a career-high 441 yards, completing 32 of 51 passes, two touchdowns and one interception. The 441 yards are the most for a BC signal-caller since Doug Flutie -- maybe you've heard of him? -- had 447 on Nov. 3, 1984. It's sixth all-time in the BC single-game record books.
In the first game under new offensive coordinator Doug Martin, the offense piled up 542 total yards and scored 30 points (the final two came on a safety). And there were more points to be had, if not for a few untimely drops and the aforementioned mistakes with ball security.
But it wasn't enough.
After a
Nate Freese
field goal gave BC back the lead at 23-21 midway through the third quarter,
Kevin Pierre-Louis
and the BC defense had
Stephen Morris
& Co. right where they wanted them. It was third-and-16 from the Miami 39-yard line after
Kasim Edebali
made a play to stop
Mike James
in the backfield.
The crowd got loud, and those on the BC sideline jumped up and down, willing a stop.
Instead, Morris found
Allen Hurns
open for a 21-yard gain and a first down. The drive stayed alive and ultimately resulted in the winning points for the visitors.
"No one made a play [on defense]. Didn't look like it," Spaziani said. "Although we did fight and stop them a couple times, not when we needed to. We can't give up that many points."
The big plays by Johnson were killers, but the Eagles said he didn't take them by surprise.
"He's an explosive back, and you can't give him areas like that to get through," Spaziani said. "We've gotta be a little better positioned and more precise."
Pierre-Louis, who had a game-high 11 tackles on the day, agreed.
"I just feel as though we need to execute a little bit better," Pierre-Louis said. "We were right in the right spots; we just need to push a little bit harder."
"When you score 32 points, you expect to win," Spaziani said. "The defense has got to play better than that. We're not equipped to play junior high school basketball games."
A clearly disappointed Rettig said he thought the offense played well overall.
"The only thing I can come back to is we didn't convert a few third-and-1s, and just not scoring touchdowns when we were in the red zone," he said. "We had a couple good looks on a couple plays; we just need to finish them."
The Eagles did score on six of their seven trips to the red zone, but only three of those scores were worth six points. Miami scored on all four of its red zone trips, and that doesn't include the scores by Johnson.
BC just made too many mistakes -- putting the ball on the ground at costly times, in costly positions on the field -- to win against an ACC opponent.
In fact, if the Eagles play like this next Saturday, they might struggle to put away the
Maine Black Bears
. And they're in the Football Championship Subdivision.
"That was a winnable game," Spaziani said. "Not taking anything away from Miami -- they deserved to win. We need to play better, catch the ball, hold on to the ball, tackle. Those are the things that we can improve on. And we need to."
If this first game was truly a benchmark, a road sign telling the Eagles just how far they have to go to reach their destination, that sign told them two things -- one that might be comforting, and another that might be just as discomfiting.
They seem to be on the right road, but there are still miles and miles to go before they're where they want to be.
Jack McCluskey is an editor for ESPN.com and a frequent contributor to ESPNBoston.com. Follow him on Twitter @jack_mccluskey.