Boston Colleges:

Keith Wright
March, 22, 2013
3/22/13
10:21
PM ET
By
Jack McCluskey
| ESPNBoston.com
[+] Enlarge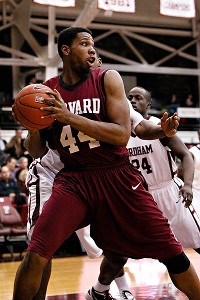 Debby Wong/US PresswireHarvard alum Keith Wright, the 2010-11 Ivy League player of the year, called Friday's win "a huge win for our program."
He's a professional now, playing basketball for a living. But that doesn't mean Keith Wright feels any less of a connection to his alma mater.
The forward for Uppsala in Sweden's top league (where he's listed at 209 centimeters and 109 kilograms) was watching Thursday night as No. 14 seed Harvard
upset
No. 3 seed New Mexico 68-62.
"It is such a huge win for our program," Wright said by email Friday. "I'm so proud of those guys."
Part of Tommy Amaker's first full recruiting class in 2008, Wright helped establish the winning culture that's flourishing in Cambridge right now. The 2010-11 Ivy Player of the Year played 33 minutes in the 12th-seeded Crimson's loss to No. 5 seed Vanderbilt in last season's NCAA tournament, finishing with eight points and nine rebounds.
After the Crimson upset the Lobos, Wright said he was able to video chat with some of his former teammates and coaches.
"For Coach Amaker to do what he did with the squad this year, given the circumstances, is unbelievable," Wright said. "All of the alums are so proud to be a part of what Harvard had become."
That includes some of Wright's other former teammates, like Oliver McNally and Houston Rockets star Jeremy Lin.
After the buzzer sounded in Salt Lake City, Lin
tweeted his excitement
.
Wright did the same:
its 6 am..i have a game tonight…but i can't go back to sleep now…hahaha IM TOO HYPED for the little homies #gocrimson

— Keith Wright (@KWright44) March 22, 2013
Hours later, Wright sounded just as excited.
"It was just awesome to see. You can give credit to Coach Amaker but the players buying into his system and the brand of Harvard basketball is the most important part," Wright said. "Players like
Wes Saunders
stepping up and the emergence of
Siyani Chambers
was great to see. Kenyatta [Smith] finally coming into his own towards the end of the season … I'm just a proud alum, man.
"I feel extremely blessed to be a part of the Harvard program and community. We are all a family!"
Jack McCluskey is an editor for ESPN.com and a frequent contributor to ESPNBoston.com. Follow him on Twitter @jack_mccluskey.
March, 15, 2012
3/15/12
10:14
PM ET
ALBUQUERQUE, N.M. -- Vanderbilt finally solved its Kentucky problem by winning the SEC tournament on Sunday in New Orleans.
But that did nothing to answer its larger issue: winning in the NCAA tournament.
Double-digit seeds had flummoxed the Commodores in three of the past four NCAA tournaments with losses to Siena, Murray State and Richmond.
Harvard was a sentimental favorite in making its first NCAA tournament since 1946. Oh, and the Crimson were seeded No. 12, making this one of those dreaded 5-12 games.
"It's well publicized that Vandy's lost in the first round the last three out of four years,'' said Harvard senior guard
Oliver McNally
. "So we knew if we were hanging around, we'd put that thought in their head and see what happened. And I thought we were going to do that.''
Vandy had an 18-point lead on Harvard on Thursday afternoon at the Pit. And then suddenly it was five.
"Credit to them for coming out really strong after that and being strong with the ball and making free throws,'' McNally said. "But we made a great run.''
The Commodores held on to win
79-70
and looked every bit the part of a team that could beat No. 4 Wisconsin on Saturday in a third-round game for the right to possibly take on East top seed Syracuse (if the Orange can knock off Kansas State in Pittsburgh on Saturday).
John Jenkins
was sensational with 27 points. The Dores got plenty of pop from
Brad Tinsley
,
Jeffery Taylor
and 11 boards from
Festus Ezeli
. Vanderbilt's big four came through when it mattered most.
Vandy can exhale -- for now.
"I didn't want to be in that tight of a situation with the way we had the game going in our favor,'' said Vandy coach Kevin Stallings. "But since we won, I'm glad it unfolded that way.''
Stallings knew the toughness question was relevant with this squad during the SEC tournament. The Dores simply didn't have the track record to back up their belief that they were over their late-game issues.
And comments like Taylor's that the big lead led to a bit of relaxation and too much standing on offense just contributed to the narrative. But there was something the Dores had that had been missing even in last-second losses in previous NCAAs to Siena and Murray State: composure.
Jenkins used a different word -- poised. "I think leadership is definitely a factor in that guys huddled up and decided we need to lock down and get rebounds down the stretch," he said. "We did what we had to do. We hit big free throws.''
The Dores had one possession that took the lead from 11 to 14 with a four-shot sequence that ended up in a traditional 3-point play for Jenkins. That lead ballooned to 18. Harvard made its run, but the hole was too deep.
"I think our maturity showed up a little bit there,'' Tinsley said. "We were playing not to lose instead of playing to win. You can never do that, especially in the NCAA tournament.''
[+] Enlarge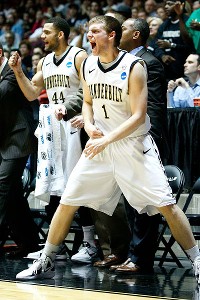 AP Photo/Matt YorkBrad Tinsley, right, and Jeffrey Taylor cheer as Vanderbilt puts away Harvard during their second-round meeting.
Vanderbilt could finally talk about its albatross after the win.
"It really means a lot for the seniors to be our last time in the NCAA tournament,'' Tinsley said. "We just kind of got that monkey off our back and win a close game in the first round. It just means a lot to us old guys, the coaching staff and the program.''
Getting into the NCAA tournament did that as well for Harvard. The Crimson didn't just show up for the first time in 66 years. They got off to a rocky start and scrapped their way back.
Harvard senior
Keith Wright
said that getting into the NCAA tournament and representing the Ivy League, especially after losing the playoff to Princeton at the buzzer last season, was a celebration of all the hard work put forth.
"It's just really special and I'm really glad to be a part of it,'' said McNally. "They sell you on all kinds of dreams but Coach (Tommy) Amaker had a plan and this plan was followed through. Not only were there good players but really good people. We made the tournament. We wanted to advance. That was obviously the ultimate goal.''
But this meant more to the Ivy League and to Harvard to have its flagship name finally make the dance.
Alumni from the White House to an 86-year-old surviving member of the 1946 team — the Crimson's previous NCAA entry — could all feel good about this run. The latter was Don Swegan, who was at the Pit in his old Harvard sweater. He was in his glory, talking to other alumni. The Friends of Harvard hoops read about Swegan on ESPN.com and wanted to make sure he made it to Albuquerque from near Youngstown, Ohio, so they paid for his expenses. NCAA president Mark Emmert and Harvard alumnus and Pac-12 commissioner Larry Scott wanted to have their picture taken with Swegan.
These were good memories for him, the Harvard program and a clear signal that the Crimson aren't going into NCAA tournament hibernation.
"For us to represent our school and conference for the first time in so many years and to have so many folks come and cheer us on means so much to us,'' Amaker said. "This has been and is a big deal.''