Boston Colleges:

Kevin Pierre-Louis
May, 10, 2014
May 10
3:28
PM ET
By
Jack McCluskey
| ESPNBoston.com
Andre Williams
had a feeling Friday night, and on Saturday it turned out to be true.
After former Boston College teammate and current
New York Giants
linebacker Mark Herzlich tweeted the following Friday night:
Looking for my boy @drewill44 and friend by association @derekcarrqb @carrto go tonight. And thanks to @fedex for pre draft meet & greet

— Mark Herzlich (@MarkHerzlich) May 9, 2014
Williams responded with a tweet of his own:
@MarkHerzlich part of me feels like this is am omen Herz.

— Andre Williams (@drewill44) May 10, 2014
And when the Giants and former BC coach Tom Coughlin
selected Williams with the 13th pick in the fourth round
(No. 113 overall), the feeling came full circle.
Williams shattered BC rushing records as a senior, finishing with 355 attempts for 2,177 yards (both first in the nation) and 18 touchdowns. The 6-foot, 227-pound back will bolster the Giants' backfield and perhaps provide pass protection for quarterback Eli Manning.
The Schnecksville, Pa., native was pumped about the prospect.
Proud to be a Giant! GMEN all day! Woot!

— Andre Williams (@drewill44) May 10, 2014
Just a few minutes later, another former Eagles star heard his name called when the defending champion
Seattle Seahawks
selected linebacker
Kevin Pierre-Louis
with the 32nd pick in the fourth round (No. 132 overall).
A speedy 6-1, 225-pounder from Norwalk, Conn., Pierre-Louis will look to break into coach Pete Carroll's vaunted defense.
"Have the great opportunity to be a Seattle Seahawks!" Pierre-Louis
wrote in a post on Instagram
. "I can't wait to go to work and be apart of such a great defense!"
Jack McCluskey is an editor for ESPN.com and a frequent contributor to ESPNBoston.com. Follow him on Twitter @jack_mccluskey.
December, 18, 2013
12/18/13
9:00
AM ET
We continue
our look at each of the Pac-12's opponents
during the bowl season.
AdvoCare V100 Bowl
Shreveport, La., Dec. 31, 9:30 a.m. PT
Arizona (7-5) vs. Boston College (7-5)
Boston College Eagles

Coach
: Steve Addazio (first season)
Record
: 7-5, 4-4 ACC
Combined opponents' record
: 77-67 (.534)
Common opponents
: Boston College lost to USC 35—7 on Sept. 14. Arizona lost to USC 38-31 on Oct. 10, the first game with Ed Orgeron as the interim head coach for the Trojans.
Leading passer
:
Chase Rettig
, 147-238 (61.8 percent) for 1,804 yards with 17 touchdowns and six interceptions.
Leading rusher
:
Andre Williams
, 329 rushes, 2,102 yards with 17 touchdowns.
Leading receiver
:
Alex Amidon
, 67 catches, 903 yards with five touchdowns.
Leading tackler
:
Steele Divitto
(one of the coolest names in all of football), 107 tackles.
What to know
: Boston College enters the game in relative good health, though it is worth noting that Williams, who outdistanced Arizona's
Ka'Deem Carey
and Washington's
Bishop Sankey
for the Doak Walker Award, missed a good chunk of the season finale against Syracuse because of a shoulder injury. All indications are that he'll be ready to go for this game.
Staring at a 3-4 record, the Eagles closed out the season by winning four of their last five to become bowl eligible for the first time since 2010. They faced only two top 25 opponents this year and dropped both games, falling to Florida State and Clemson -- though they picked up a signature win by topping Virginia Tech 34-27.
Obviously, the running backs take center stage in this game. Williams leads the nation in rushing this season and Carey led the nation in rushing last year. It's not unlike last year's New Mexico Bowl, where Carey and Nevada's Stefphon Jefferson were vying for the rushing title. Unless Carey has a 600-yard game, Williams can probably feel good about retaining his title.
When Williams rushes for at least 100 yards, BC is 7-2. When he doesn't, the Eagles are 0-3. It seems pretty clear what the key matchup is for the Arizona defense.
Key matchup
: But what about the other side of the ball? Arizona is 6-5 when Carey rushes for at least 100 yards, as he rushed for 100 or more yards in every game he played this season (he missed the opening-week win over Northern Arizona). Boston College's rush defense is fairly sturdy. It allows 152.8 rushing yards per game -- which is 50th in the country -- and they have only allowed 16 touchdowns on the ground. Linebacker
Kevin Pierre-Louis
isn't far behind Divitto with 104 tackles, and defensive end
Kasim Edebali
has 15 tackles for a loss on the year to go with 9.5 sacks.
November, 27, 2013
11/27/13
12:26
AM ET
By
Jack McCluskey
| ESPNBoston.com
Kevin Pierre-Louis
set a simple goal for himself before his senior season at Boston College.
"Just the typical leave here better than the way I found it," the senior strongside linebacker said. "And we're doing that so far. "
It would have been hard for the BC program to be in worse shape after Pierre-Louis' senior year than it was after his junior year. At 2-10 in 2012, the Eagles lost double-digit games in a season for only the second time in school history.
Former coach Frank Spaziani was fired, and a new staff was brought in to rebuild the program.
A large part of that was installing a power run game -- one that has
Andre Williams
leading the country with 2,073 yards rushing, making him a Doak Walker Award finalist and a legit Heisman candidate -- and renovating a defense that had slipped precipitously under Spaziani and Bill McGovern.
The Eagles finished with only six sacks in 2012, worst in the country.
New coach Steve Addazio and defensive coordinator Don Brown vowed to install an attacking defense in 2013, and though the Eagles still occasionally get gashed for big plays, they have drastically improved their attack-oriented defensive numbers.
[+] Enlarge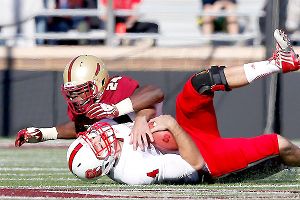 Ethan Hyman/Raleigh News & Observer/Getty ImagesKevin Pierre-Louis has helped BC bring its sack total from six in 2012 to 33 with one game to play.
After recording only 45 tackles for a loss in 2012, the Eagles have 77 tackles for a loss through 11 games in 2013. That's good for eighth in the ACC and tied for 21st nationally. BC was last in the ACC and 123rd in the country in that category in 2012.
With 33 sacks -- including four in a 29-26 win over Maryland this past weekend -- BC ranks second in the ACC and tied for ninth nationally ahead of Saturday's season finale at Syracuse (3:30 p.m.).
That's the most sacks for a BC defense since the 2008 defense led by B.J. Raji, Ron Brace and Mark Herzlich had 35 sacks.
Before the season, Brown set a goal for his defense -- 36 sacks.
"I'll never forget when he first put that number up there," said Pierre-Louis, who is second on the team in tackles (91), tackles for loss (9.0) and sacks (5.0). "I was like, 'Whew, I have no idea how we're going to get 36 sacks.' Going from six to 36 we're adding 30 sacks, tackles for loss on quarterbacks like Tajh [Boyd], Logan [Thomas] ..."
That's no easily attainable feat. But here the Eagles are, just three away.
"We realized it was attainable ... when we would bring pressures but it would just be a four-man pressure," Pierre-Louis said. "We were still getting to the quarterback with three or four guys instead of bringing five or six. That's when we realized that teams are nervous about what we could do on the defensive side of the ball.
"Once we started seeing that, we started getting a little bit of confidence."
After playing their whole careers in the more reactive style of Spaziani and McGovern, Pierre-Louis said it took a little while for everyone to buy in to the switch to the current blitzing, man-coverage style.
"I can't say that we had everybody buying in at the beginning of the season," he said. "There were definitely, probably some doubters. ... It's normal based on how we'd been doing it in the past."
With some success under their belts, they've all bought in now.
"Now when we go in huddles we're wondering, 'Coach, can we run this blitz?' Or we're asking him, 'Can we bring these pressures?'" Pierre-Louis said. "We just want to get after [the quarterback]."
Though the BC defense will lose several key contributors after this season -- including Pierre-Louis and fellow linebacker
Steele Divitto
(team-high 96 tackles), and defensive linemen
Kaleb Ramsey
and
Kasim Edebali
(team-high 9.5 sacks) -- Pierre-Louis believes they're leaving a good foundation.
"They're setting a standard for the younger guys and holding them to it," Addazio said of the senior class. "That's what's so important because [the Eagles] haven't had that in a little bit, so that's an important thing. That's how things build, the older guys set a standard, the younger guys see that standard, they lock into that standard and then they set it and your building blocks build your program like that."
It will be up to the team's younger players to further 2013's renaissance.
Junior linebacker
Josh Keyes
has made plays this season. So has junior corner Manny Asprilla and sophomore corner
Bryce Jones
. The Eagles are high on true freshman D-linemen
Truman Gutapfel
and
Kevin Kavalec
.
And sophomore Steve Daniels has stepped into a starting role in the linebacking corps, which has Pierre-Louis excited for the future.
"He's a very aggressive guy," the senior said of Daniels. "He's going to try to give you his all, pretty much. I'm excited with what he's going to be doing the next two years. He's only a sophomore, which is crazy.
"I have no worries for the defense going forward," Pierre-Louis said. "We lose a couple guys ... but I feel as though we have younger guys who are going to step up and make plays."
And if they can make plays like Pierre-Louis and the 2013 senior class have, chances are they'll leave the program better off than when they found it too.
Jack McCluskey is an editor for ESPN.com and a frequent contributor to ESPNBoston.com. Follow him on Twitter @jack_mccluskey.
October, 7, 2013
10/07/13
3:11
PM ET
By
Jack McCluskey
| ESPNBoston.com
Boston College linebacker Kevin Pierre-Louis has been named ACC Linebacker of the Week, the conference announced Monday.
The senior strongside linebacker had a career-high 18 tackles, 10 solo, in the Eagles' 48-27 win over Army on Saturday. It was Pierre-Louis' third 10-plus tackle game of the season and the 13th of his career.
A 6-foot-1, 225-pound native of Norwalk, Conn., Pierre-Louis leads the ACC in solo tackles with 28 and is second in the conference in total tackles with 50.
While the honor for Pierre-Louis is well deserved, don't be surprised if Eagles fans demand a recount of the rest of the voting.
Specifically the part in which BC running back Andre Williams wasn't named the ACC Offensive Back of the Week for his record-tying performance against Army on Saturday, when he rushed 30 times for 263 yards and five touchdowns. The honor went instead to No. 3 Clemson's Tajh Boyd, who threw for a Tigers record 455 yards and five touchdowns in a 49-14 win at Syracuse.
It was Boyd's second ACC honor of the season.
The Eagles travel to Clemson, S.C., to take on the Tigers this weekend (3:30 p.m. on ABC/ESPN2).
Though he didn't receive the conference nod for his output, Williams' numbers are no less impressive.
The five TDs he scored matched the school mark for a single game, set by Montel Harris in October 2009 against NC State. The 263 yards is one shy of tying Harris' single-game record, set in the same game against NC State.
Through five games, Williams leads the country in rushing attempts (133), attempts per game (26.6) and rushing yards per game (153.6) and is third in rushing yards (768, tops in the ACC). His seven rushing TDs on the season is tied for first in the ACC and tied for 12th nationally.
He's topped the 100-yard mark in four of his five games this season, and topped the 200-yard mark twice (setting new career highs for rushing yards against Wake Forest, with 204, and Army, with 263).
A 6-foot, 227-pound bruiser, Williams had three TDs of more than 30 yards against the Black Knights. For the season, he is tied for third nationally with 23 rushes of 10-plus yards, tied for fifth nationally with eight rushes of 20-plus yards and tied for third nationally with five rushes of 30-plus yards. Williams leads the ACC in all three categories.
Williams' five TDs against the Black Knights on Saturday is more than he had in both his sophomore and junior seasons (four each).
Army just might be Williams' favorite opponent: In two career games against the Black Knights, the senior has 51 carries for 454 yards and seven TDs.
Jack McCluskey is an editor for ESPN.com and a frequent contributor to ESPNBoston.com. Follow him on Twitter @jack_mccluskey.
July, 25, 2013
7/25/13
12:03
AM ET
By
Jack McCluskey, Special to ESPNBoston.com
Call it progress, with a caveat.
The ACC announced its 2013 Preseason All-ACC team on Wednesday, and unlike in 2012 the Eagles had a representative on the team.
Kevin Pierre-Louis
was the third linebacker selected by the media in attendance at ACC media days earlier this week in Greensboro, N.C., adding another preseason plaudit to his docket.
The 6-foot-1, 215-pound Norwalk, Conn., native finished 2012 third in the ACC in tackles per game (9.4). He had 85 tackles in just nine games, and enters his senior season with 252 career tackles, including 145 solo tackles and 14 tackles for a loss.
Pierre-Louis was previously included on the Bronko Nagurski Trophy watch list.
Steele Divitto
, named to the Butkus Award watch list, finished fourth in the linebacker voting. Place-kicker
Nate Freese
, named to the Lou Groza watch list, was tied for fourth at his position.
The full results can be found
here
.
So what's the caveat, you ask? There's one Boston College player conspicuously missing.
Alex Amidon
not only didn't make the team, he didn't even make the top four in the voting.
How is that possible?
Only one ACC player had more receiving yards than Amidon (1,210) in 2012, and that player, Clemson's DeAndre Hopkins (1,405), now plays his football on Sundays after being drafted by the Houston Texans. Only five ACC players had more touchdowns than Amidon (7), and none of those players ranked ahead of him on the list for 2013.
Few would argue with the selection of Clemson's
Sammy Watkins
to the preseason All-ACC team, based on both production (57 catches for 708 yards and three TDs in 2012) and potential (playing for the team projected to be tops in the ACC, catching balls from the ACC Preseason Player of the Year in QB
Tajh Boyd
).
Watkins received the most votes (57) and was joined on the preseason All-ACC team by Wake Forest's
Michael Campanaro
(20), followed in the voting by Maryland's
Stefon Diggs
(19) and Florida State's
Rashad Greene
(10).
Amidon arguably had a better season than either Campanaro, Diggs or Greene. He had more yards and touchdowns than all three, and more catches than either Diggs or Greene (and Campanaro had just one more, 79 to 78, albeit in two fewer games).
Does that mean Campanaro, Diggs and Greene weren't worthy of the votes they got? Of course not. They are all talented players who will likely produce big numbers again this season.
What it does mean is Amidon, a Biletnikoff Award watch list member for 2013, could be excused for showing up to BC's camp on Aug. 5 with a little extra chip on his shoulder.
Jack McCluskey is an editor for ESPN.com and a frequent contributor to ESPNBoston.com. Follow him on Twitter @jack_mccluskey.
July, 11, 2013
7/11/13
4:43
PM ET
By
Jack McCluskey
| ESPNBoston.com
Another day, another pair of players from local teams landing on preseason award watch lists.
On Wednesday, it was specialists Nate Freese (Boston College place-kicker) on the Lou Groza watch list and Colter Johnson (Massachusetts punter) on the Ray Guy watch list. On Thursday, it was two guys from opposite sides of the line of scrimmage in the news, as UMass offensive tackle Anthony Dima was included on the Outland Trophy watch list and BC linebacker Kevin Pierre-Louis was included on the Bronko Nagurski Trophy watch list.
The Nagurski award goes to the national defensive player of the year, while the Outland award goes to the nation's top interior lineman.
Dima, a 6-foot-7, 302-pound fifth-year senior, is a two-year starter at UMass after transferring from Hofstra. He's one of three MAC linemen on the Outland list (along with Kent State defensive tackle Roosevelt Nix and Toledo center Zac Kerin).
Pierre-Louis, a 6-foot-1, 215-pound senior, is on the Nagurski watch list for the second straight season. In 2011, the award went to BC's Luke Kuechly.
Despite playing in just nine games in 2012, Pierre-Louis ranked fourth on the Eagles with 85 tackles. The speedy outside linebacker has 252 career tackles, with 145 of those the solo variety and 14 for a loss.
The BC 'backer is one of 12 ACC players on the Nagurski list (for a complete list of the ACC's representatives,
go here
).
Jack McCluskey is an editor for ESPN.com and a frequent contributor to ESPNBoston.com. Follow him on Twitter @jack_mccluskey.
October, 31, 2012
10/31/12
9:00
PM ET
By
Jack McCluskey
| ESPNBoston.com
NEWTON, Mass. -- Coming off a win, things have been a little bit lighter at Boston College this week. Sandy put a bit of a damper on that, naturally, but it's only human nature.
"There's not a bubbly, like 'we've arrived,' but they feel better about themselves," Eagles coach Frank Spaziani said before practice Wednesday. "It's like doing well on a test or getting a promotion or having something turn out right. You feel good, it helps and you go to work the next day and you feel better. There's a little bounce. There's a little more fun. The most fun is winning, so it helps.
"We've been practicing well. They had a good practice yesterday and I expect another one today."
[+] Enlarge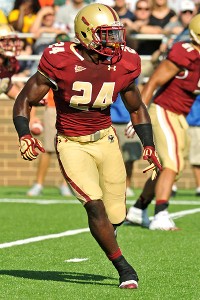 Michael Tureski/Icon SMIBC linebacker Kevin Pierre-Louis
The Eagles are in the midst of another disappointing season, mired at 2-6 overall and 1-4 in the ACC. Prior to the 20-17 win over Maryland on Saturday, they had lost five in a row and hadn't beaten an FBS team (the only prior win coming against FCS Maine).
Yet here they are, preparing for this weekend's matchup at Wake Forest (3:30 p.m. ET, ESPN3) with the wind at their backs, a welcome change from the norm so far in 2012.
Spaziani said the team is sticking with practicing first-team offense on first-team defense this week, after the switch produced a positive result this past week.
"That's been a positive, from everybody on the staff as well as the players," Spaziani said.
Practices have been about 25-30 minutes shorter, according to running back
Andre Williams
, but the difference in time is made up for by an increase in intensity. As a bonus, the shorter practices help players recover from the nicks and bruises they all feel at this point in the season.
"I definitely felt a difference in the game," Williams said. "I just felt fresher, like I had more energy."
Not hurting from hit
Kevin Pierre-Louis
took a serious shot in the second quarter Saturday. The kind of hit that you can hear in the upper deck.
September, 1, 2012
9/01/12
9:37
PM ET
By
Jack McCluskey
| ESPNBoston.com
NEWTON, Mass. -- The Eagles called this game a benchmark, saying it would be a good indication of how far they need to go to be where they want to be.
If that's the case, there's still a long way to go.
Chase Rettig
and the new-look offense started out Saturday like a house on fire, moving the ball efficiently and scoring touchdowns on their first two possessions.
Then the house just burned to the ground.
A three-and-out and a pick-six on Rettig got the Hurricanes back to even, and then the differences between these two teams started to become more and more evident, as Miami pulled out the
41-32 victory
.
The Eagles struggled at times to move the ball against the Hurricanes' aggressive defense and ultimately had to settle for field goals. They put the ball on the ground multiple times, losing two fumbles and recovering a couple more.
The Hurricanes showed true home run-hitting ability, getting two 50-plus-yard TD runs from touted freshman tailback
Duke Johnson
. And when they weren't hitting big plays, the Hurricanes were converting third downs when they needed to and keeping drives alive.
[+] Enlarge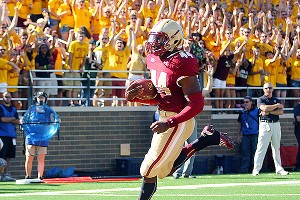 AP Photo/Anthony NesmithThis Andre Williams TD run got BC in front 7-0, but Miami was just warming up.
"I thought we played sloppy, made some mistakes that hurt us on offense," BC coach Frank Spaziani said. "I thought we moved the ball and did some real nice things. We had a couple fumbles and the turnover, obviously, that gave them a score and two long runs that we can't have happen on defense.
"We've gotta play better defense than that. But there were some good signs there, so we've gotta build on it and go forward."
There were, indeed, good signs. Rettig threw for a career-high 441 yards, completing 32 of 51 passes, two touchdowns and one interception. The 441 yards are the most for a BC signal-caller since Doug Flutie -- maybe you've heard of him? -- had 447 on Nov. 3, 1984. It's sixth all-time in the BC single-game record books.
In the first game under new offensive coordinator Doug Martin, the offense piled up 542 total yards and scored 30 points (the final two came on a safety). And there were more points to be had, if not for a few untimely drops and the aforementioned mistakes with ball security.
But it wasn't enough.
After a
Nate Freese
field goal gave BC back the lead at 23-21 midway through the third quarter,
Kevin Pierre-Louis
and the BC defense had
Stephen Morris
& Co. right where they wanted them. It was third-and-16 from the Miami 39-yard line after
Kasim Edebali
made a play to stop
Mike James
in the backfield.
The crowd got loud, and those on the BC sideline jumped up and down, willing a stop.
Instead, Morris found
Allen Hurns
open for a 21-yard gain and a first down. The drive stayed alive and ultimately resulted in the winning points for the visitors.
"No one made a play [on defense]. Didn't look like it," Spaziani said. "Although we did fight and stop them a couple times, not when we needed to. We can't give up that many points."
The big plays by Johnson were killers, but the Eagles said he didn't take them by surprise.
"He's an explosive back, and you can't give him areas like that to get through," Spaziani said. "We've gotta be a little better positioned and more precise."
Pierre-Louis, who had a game-high 11 tackles on the day, agreed.
"I just feel as though we need to execute a little bit better," Pierre-Louis said. "We were right in the right spots; we just need to push a little bit harder."
"When you score 32 points, you expect to win," Spaziani said. "The defense has got to play better than that. We're not equipped to play junior high school basketball games."
A clearly disappointed Rettig said he thought the offense played well overall.
"The only thing I can come back to is we didn't convert a few third-and-1s, and just not scoring touchdowns when we were in the red zone," he said. "We had a couple good looks on a couple plays; we just need to finish them."
The Eagles did score on six of their seven trips to the red zone, but only three of those scores were worth six points. Miami scored on all four of its red zone trips, and that doesn't include the scores by Johnson.
BC just made too many mistakes -- putting the ball on the ground at costly times, in costly positions on the field -- to win against an ACC opponent.
In fact, if the Eagles play like this next Saturday, they might struggle to put away the
Maine Black Bears
. And they're in the Football Championship Subdivision.
"That was a winnable game," Spaziani said. "Not taking anything away from Miami -- they deserved to win. We need to play better, catch the ball, hold on to the ball, tackle. Those are the things that we can improve on. And we need to."
If this first game was truly a benchmark, a road sign telling the Eagles just how far they have to go to reach their destination, that sign told them two things -- one that might be comforting, and another that might be just as discomfiting.
They seem to be on the right road, but there are still miles and miles to go before they're where they want to be.
Jack McCluskey is an editor for ESPN.com and a frequent contributor to ESPNBoston.com. Follow him on Twitter @jack_mccluskey.