Boston Colleges:

Kyle Casey
March, 18, 2014
Mar 18
11:08
PM ET
By
Jack McCluskey
| ESPNBoston.com
CAMBRIDGE, Mass. -- The conversation, as
Kyle Casey
remembers it, went something like this:
"Coach, I'm going to Harvard and we're going to win the Ivy League and play in the NCAA tournament four straight years," the then-high school senior said.
"Good luck," then-Brimmer and May coach Greg Kristof said. "If you do it, that'd be a wonderful thing. But I'll give you two or three."
As it turns out, both parties were prescient. Since Casey came to Cambridge to play for Tommy Amaker five years ago, the Crimson have won four straight Ivy League titles -- including three straight outright -- and this season will play in the NCAA tournament for the third straight time.
Considering Harvard hadn't made it to the NCAA tournament since 1946, Casey's comments to his former coach demonstrated just how much confidence he has in his current coach.
"That is a lot of confidence, but when you're around [Amaker] and you're around someone who really believes in you, who recruits you as hard as he did and for the reasons that he recruited me..." Casey said. "He was there day in and day out, watching me play, at my practices, and just really hounding me to come and be a part of something that he believed could be something special. It makes a lasting impression on you."
[+] Enlarge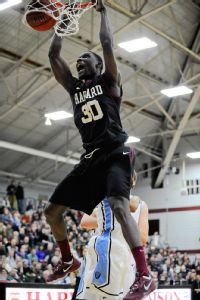 Eric Canha/CSMAfter missing out on last year's trip to the Big Dance, Harvard senior Kyle Casey helped keeps his team's intensity high.
So when Casey sat down with his family to discuss his future, two names kept coming up: Amaker and Harvard.
Five years later, Casey is glad they did. He was the Ivy League Rookie of the Year in 2009-10, averaging 10.4 points (second on the team to Jeremy Lin's 16.4) and 5.4 rebounds (most on the team) and helping the Crimson to a postseason appearance in the CIT (CollegeInsider.com Tournament).
As a sophomore, Casey averaged 10.7 points and 6.0 rebounds and helped the Crimson clinch a share of the league title -- the program's first. But Harvard fell short of the Big Dance on a buzzer-beater by Princeton's Douglas Davis in the Ivy playoff game after the teams tied for the regular-season title.
In 2011-12, Casey was even better (a team-high 11.4 points per game) and, along with Keith Wright and Oliver McNally, helped the Crimson win their first outright Ivy title to earn an NCAA berth. Harvard lost to Vanderbilt in Albuquerque, N.M., in the second round, but the core gained valuable experience on the big stage.
Then came the lost season, when Casey was implicated in a campuswide academic cheating scandal (along with teammates
Matt Brown
,
Brandyn Curry
and
Dee Giger
) and chose to withdraw from school and work for a year to preserve his eligibility. While he was away, the Crimson -- led by Ivy Rookie of the Year
Siyani Chambers
and sophomore sensation
Wesley Saunders
-- made another brilliant Ivy run and this time won the first postseason game in school history, knocking off No. 3 seed New Mexico in Salt Lake City.
The absent players watched that triumph from afar, celebrating for their teammates instead of with them.
So after the Crimson were awarded a No. 12 seed and a matchup with No. 5 Cincinnati on Thursday (2:10 p.m. ET on TNT) in Spokane, Wash., Casey was asked what it feels like to be part of the mix.
"It's special. You just kind of cherish moments more," he said. "Being away from it [last season] was definitely a humbling experience. So coming back you really just try to take advantage of every day, come in and kind of just cherish the moment, enjoy it with your teammates and staff and everybody else who supports us in the Harvard community.
"As much as I was happy for the guys last year, it's definitely better to be a part of it this year."
Amaker is glad to have Casey, Curry & Co. back, both for their production on the court -- Casey is averaging 10.0 points and 5.7 rebounds, right around his career averages -- and their influence off of it.
The coach said he believes the year away increased the hunger Casey and Curry felt to get back to work in Cambridge and make one more run at the NCAAs.
"That was one of the areas I was concerned with going into the year for our entire team," Amaker said. "And I think these two guys in particular addressed that, handled that, displayed that, and I think that was certainly contagious with our team. We've been a hungry team all season, and these two guys in particular are responsible for that as much as anyone."
The path from Brimmer and May to where Casey is today was long, and not without its twists and turns. But now that the Medway, Mass., native is here, he's planning to savor the experience.
And what would make the experience sweeter than a win over the Bearcats?
"I think we've got a strong team," the senior said. "I think we've got a really good rhythm as a program right now. So we're going in with a lot of confidence. I think we can get there and take care of business, for sure."
Jack McCluskey is an editor for ESPN.com and a frequent contributor to ESPNBoston.com. Follow him on Twitter @jack_mccluskey.
March, 12, 2014
Mar 12
11:42
PM ET
By
Jack McCluskey
| ESPNBoston.com
The player Harvard coach Tommy Amaker has repeatedly called the Crimson's best is now officially the Ivy League's best, as on Wednesday the league named
Wesley Saunders
the 2013-14 Ivy League Player of the Year.
Saunders, a unanimous pick for the All-Ivy first team for the second straight season, is the third Crimson player to earn Ivy player of the year honors after Keith Wright in 2011 and Joe Carrabino in 1984.
[+] Enlarge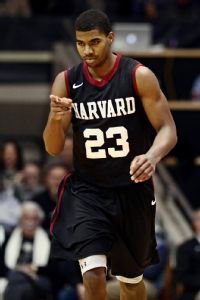 Ron Chenoy/USA TODAY SportsIvy League player of the year Wesley Saunders' season isn't over yet, as Harvard awaits its NCAA tournament seeding.
The Crimson, who matched a program record with 26 total wins and set records with 13 Ivy wins and a 7-0 Ivy road record, landed six players on All-Ivy squads -- tied for most all time, with the 1994-1995 Penn team -- with
Siyani Chambers
,
Steve Moundou-Missi
and
Laurent Rivard
voted to the All-Ivy second team and
Kyle Casey
and
Brandyn Curry
receiving honorable mentions.
A Los Angeles native, Saunders filled up the box score as a junior, averaging 14.0 points (8th in Ivy), 4.7 rebounds (17th), 3.9 assists (third), 1.7 steals (first). He finished in the top 10 in the league in field goal percentage (46.6), assist-to-turnover ratio (1.7), blocked shots (0.8) and minutes per game (33.7).
Saunders was often asked to both guard the opposing team's best player and lead the Crimson in scoring, which he did 10 times.
Chambers, the Ivy Rookie of the Year in 2012-13, earns a second consecutive All-Ivy honor after averaging 11.1 points and 4.7 assists (second in the Ivy) on the Ancient Eight's most potent offense (73.6 points per game).
After receiving an honorable mention last season, Moundou-Missi and Rivard each earned their first All-Ivy second-team spot.
Moundou-Missi, a native of Yaounde, Cameroon, was named the Ivy's player of the week for his performances in the Crimson's season-ending weekend sweep, averaging 21.5 points and 11.5 rebounds in wins at Yale and Brown. He finished the season averaging a career-high 10.5 points and 5.8 rebounds.
Rivard, the Crimson's all-time leader in made 3-pointers (282), averaged 10.0 points and shot a career-high 42.6 percent on 3s.
And after sitting out the 2012-13 season after being implicated in a university-wide academic cheating scandal, Casey led the team in blocked shots (1.2, fourth in Ivy) and Curry matched his career high with 9.3 points per game.
The Crimson clinched the Ivy title outright with their win over Yale, their third straight outright and fourth straight overall, and will wait 'til Sunday to find out who they will play in the NCAA tournament.
Jack McCluskey is an editor for ESPN.com and a frequent contributor to ESPNBoston.com. Follow him on Twitter @jack_mccluskey.
March, 1, 2014
Mar 1
11:18
PM ET
By
Jack McCluskey
| ESPNBoston.com
CAMBRIDGE, Mass. -- The Crimson often say the Ivy League is won on Saturday nights. And when Columbia came to Lavietes Pavilion for the final Harvard home game in 2013-14, that normally figurative saying turned literal.
A win Saturday night over the Lions would secure at least a share of a fourth straight Ivy League title, while a win and a Yale loss at Penn would guarantee an outright title and a third straight NCAA tourney berth.
[+] Enlarge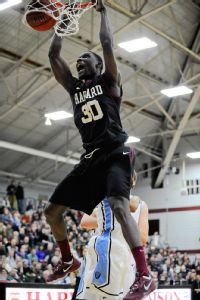 Eric Canha/CSMHarvard senior Kyle Casey throws down a monster dunk in his final home game at Lavietes Pavilion.
The Crimson knew the stakes, and they played like it from the jump.
"We just came out ready,"
Wesley Saunders
said. "I think we came out with a lot of energy."
Saunders came up with a steal early, pushed hard upcourt and then dropped the ball back to a trailing
Kyle Casey
, who gathered himself, launched from the middle of the lane and finished
the highlight-reel dunk
with two hands.
Laurent Rivard
shook his defender, found a pocket in front of the Columbia bench, called for the ball and then drained the shot.
And
Siyani Chambers
jumped the passing lane, picking off the toss and sprinting the length of the court for a layup.
That layup made it 22-4 Crimson, with just more than 10 minutes elapsed. It was just about as dominant a start as one team can have and highlighted all the Crimson's strengths (defense, 3-point and free throw shooting and a willingness to share the ball).
And while the Lions tried to fight back, the hill was too steep to climb, and the Crimson refused to make it any easier in an 80-47 win.
"I'm really proud of our guys. I'm really proud of this team, this group right now," Crimson coach Tommy Amaker said. "I just thought that our defensive effort clearly was on full display, how we started the game with the pressure we were able to put on.
"I was very, very pleased with that with what was at stake for us tonight."
The capper came courtesy of the two-time co-captain, Rivard. With Harvard comfortably ahead, the St. Bruno, Quebec, native let a 3 fly from the top of the key. Swish. And to add insult to injury, Rivard drew a foul on his follow-through, getting clipped and sliding on his backside all the way to the 'H' at center court.
As the crowd serenaded the Crimson's all-time leader in games (119 and counting, passing Oliver McNally) and 3s made (276), Rivard calmly stepped to the line and completed the four-point play.
Rivard finished with a game-high 21 on six 3s and three free throws, ending his Harvard career at Lavietes with a flourish.
"If you can write a script, this would be one of the ones you could probably write," Amaker said. "It doesn't always happen that way, and you recognize that, but when it does, how wonderful and cool is it to see it and be a part of it?"
But Rivard and fellow seniors Casey (10 points, four rebounds) and
Brandyn Curry
(five points, three rebounds) aren't done just yet. Yale managed to hold off Penn, keeping its hopes of an Ivy share alive and amping up the game this coming Friday in New Haven, Conn., between the Crimson and the Bulldogs.
Though they are the first Ivy team since Penn from 1993 to 1996 to win at least a share of the title for four straight seasons, the Crimson aren't satisfied. They want more.
"We came into the weekend knowing that we had to win two games," Rivard said. "So far, it's worked out. We need at least another win. But we know we want two next weekend."
Jack McCluskey is an editor for ESPN.com and a frequent contributor to ESPNBoston.com. Follow him on Twitter @jack_mccluskey.
November, 12, 2013
11/12/13
10:10
PM ET
By
Jack McCluskey
| ESPNBoston.com
CAMBRIDGE, Mass. -- Harvard was missing two would-be starters for its home opener on Tuesday night.
Kenyatta Smith
is out indefinitely with a left foot injury, and he was in a walking boot and a natty suit for the matchup versus MIT. Joining him in street clothes, in a surprise, was senior co-captain
Brandyn Curry
.
Amaker revealed after the game that Curry suffered a left foot injury in the Crimson's season-opening 82-72 win over Holy Cross and is out indefinitely with soreness in the area of his Achilles.
"He was walking a lot better today than he was yesterday," Amaker said. "I think one of the good signs was the doctors and our medical staff didn't opt to put him in a boot."
The structural change didn't make much difference against the Engineers.
Kyle Casey
made his presence known early with a block on an
Andrew Acker
attempt on one end and a layup on the other end after a slick spin move in the post.
Wesley Saunders
scored seven quick points, on a dunk, a 3-pointer from the right side and a layup, and the Crimson were off and running to a dominant 79-37 win.
"It was an opportunity for us to grow and to develop," Amaker said after the game, the largest win over MIT in school history. "I was pleased with the mindset and the preparation by the kids ... taking pride in their performance. I thought they did a magnificent job.
"I think sometimes that can get away from kids in a game like this or in a game that in their minds they perceive that we're supposed to be able to show up and win. And that's not always how it works, as we know. So I was pleased with the maturity of our team … showing a workmanlike attitude and how we played for 40 minutes."
The Crimson led by as many as 44 points, forced an Amaker-era record 29 turnovers and had a 42-16 edge in points in the paint against their clearly overmatched Cambridge rival.
"I think they're, without question, one of the best teams in the country," MIT coach Larry Anderson said. "And if they can stay healthy and keep playing together, I think they have a chance to be really, really special. They're special now, but they have a chance to be really special."
Thirteen players got court time for the Crimson on Tuesday, all but one registering at least two points and three scoring in double figures -- Saunders (tied for a game-high 14 points),
Zena Edosomwan
(13) and Casey (11).
It was the first start at Lavietes for Casey since Feb. 25, 2012, as the senior sat out the 2012-13 season after being implicated in a campus-wide academic cheating scandal.
The 6-foot-7, 225-pounder from Medway, Mass., provided the highlight of the night to start a 20-0 Crimson run and put the game away.
As the shot clock wound down
Siyani Chambers
came off a pick at the top of the key, and wheeled into the lane. Casey had already started running to the rim from the right corner, and Chambers lobbed it up for him. Casey
did the rest
.
"My guy turned and was kinda high and I was in the corner, so I knew I could get behind him," Casey said. "I just happened to make a good play and catch it and finish it."
The senior said it felt good to be back on the hardwood at Lavietes, especially leaving with a win.
Asked about the 20-0 run he started with the alley-oop finish, Casey said he didn't even know they'd gone on that kind of run.
"Coach was harping on us about playing our game and playing the way Harvard basketball plays, so I thought we clamped up defensively and got some stops," he said. "We made the right plays at the right time. Being older guys, being an older team I think we handled the situation very well. We came ready to play, didn't underestimate our opponent and just took care of business."
Jack McCluskey is an editor for ESPN.com and a frequent contributor to ESPNBoston.com. Follow him on Twitter @jack_mccluskey.
March, 29, 2013
3/29/13
1:33
AM ET
By
Jack McCluskey
| ESPNBoston.com
CAMBRIDGE, Mass. -- Tommy Amaker believes the possibilities are endless for his
Harvard Crimson
.
That shouldn't be surprising. What else do you expect him to say?
The Crimson won their third straight Ivy League title, played in their second straight NCAA tournament and won their first NCAA tourney game in 2012-13, even though they lost two key players before the season even started.
[+] Enlarge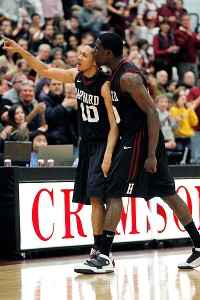 Greg M. Cooper/USA TODAY SportsBrandyn Curry and Kyle Casey missed this historic season, but their return should make the Crimson even better in 2013-14.
And now that the dust has settled for Harvard after a 74-51 loss to No. 6-seed Arizona in the third round of the NCAAs, it's time to look ahead to 2013-14.
The picture does look fairly rosy for the Crimson.
Amaker and his staff had to scramble in September when Kyle Casey and Brandyn Curry withdrew from school after being implicated in an academic cheating scandal that involved more than 100 students.
Young players like
Wesley Saunders
,
Steve Moundou-Missi
and
Kenyatta Smith
had to take on larger roles than they would've, and freshman
Siyani Chambers
was thrust into the starting lineup at the point.
Laurent Rivard
and
Christian Webster
, the only senior on the roster and as such the only player the Crimson will lose this offseason, were named co-captains.
The coaches called it an opportunity and started a mantra that went like this: "We may not have what we had, but we have enough."
Did they ever.
In his postseason wrap-up session with the media Wednesday in the lounge at Lavietes Pavilion, Amaker said he wasn't surprised by the improvements players like Saunders and Chambers made.
"One of the things that you try not to do is have something as a cap, or what you think could be the ceiling of something," Amaker said. "I've learned that through the years: You learn to put your philosophy in and put your blueprint down and then who knows where this thing could go?
"We believe that being here at Harvard allows us that opportunity that anything is possible."
Without Casey and Curry, the Crimson offense actually improved. In 2011-12, the Crimson averaged 65.6 points per game, third in the Ivy League; in 2012-13, the Crimson averaged 68.3 points per game, first in the Ivy League.
Though the defense slipped a bit, falling from first in the Ivy (55.6 points allowed per game) to third (64.1 points allowed per game), the Crimson made up for it with better 3-point shooting (39.8 percent as a team, first in the Ivy, up from 35.7 percent, fifth).
Chambers won the Ivy Rookie of the Year award, and Saunders led the Ivy in scoring. And now the Crimson get to add Casey (former Ivy Rookie of the Year, Harvard's leading scorer in 2011-12) and Curry (Ivy leader in assist-to-turnover ratio and Harvard's assist leader in 2011-12) to the mix, along with top recruit Zena Edosomwan.
[+] Enlarge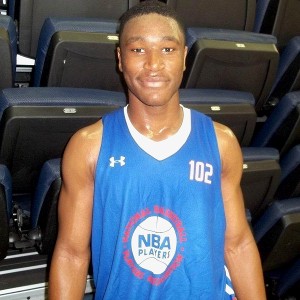 Reggie RankinHarvard will welcome top recruit Zena Edosomwan to Cambridge next fall.
"They've been as good as anybody in our league when they were here," Amaker said of Casey and Curry. "So having those guys return -- we have open arms.
"And [we] can't be any more excited for their return, for them to come back and be a part of our program, our school, our community and to finish what they came here to do, which is to be a Harvard graduate. Those things are very exciting to think about."
As to how exactly the pair will fit in with the new dynamic (Curry and Chambers play the same position; Casey and Saunders both have proven they can be go-to scorers), Amaker wasn't sure. And at this point, he's not getting hung up on the details.
After all, the Crimson haven't even started their offseason workout program yet.
"I haven't given it as much thought, certainly as you can imagine, as to the pieces of the puzzle for our team, but we certainly know they're going to be good players," he said. "They've done that throughout their time here and I don't anticipate that changing in the least bit when we get those guys back."
How much of a difference might having those two players back make? It's hard to say for sure, but at the very least the addition lengthens the rotation and spreads the burden a little more broadly.
In 2011-12, Harvard didn't have a single player among the top 10 in the Ivy in minutes played; in 2012-13, Harvard had four players among the top 10, including three of the top 5 (Chambers, first, 37.8 minutes per game; Saunders, third, 37.3; Rivard, fifth, 35.4).
Though Amaker praised his players for being responsible and preserving their strength throughout the season -- hinting that often players get worn down as much for off-the-court activities as they do on the court -- and admitted the Crimson got lucky not to suffer any serious injuries, the shortened rotation had to affect the team's play at times.
"I think we've had moments this past season where we weren't as sharp, we weren't as good. And that's gonna happen," Amaker said. "But certainly we're hopeful that we can learn and grow from moments that we weren't as good, we weren't as ready. We certainly can do a lot better and be a lot better. We had a handful of games that we felt we controlled down the end and couldn't close."
Of the Crimson's 10 losses, six were by eight points or fewer.
"There are a lot of things there that I think we can certainly look toward as areas where we can get better," Amaker said. "The depth of our team, the roster, the different combination of things that we're hoping to be able to present next year, [all those are areas] that can be possibilities for us to be a better basketball team and program."
Perhaps, as Amaker said, the possibilities really are endless.
Jack McCluskey is an editor for ESPN.com and a frequent contributor to ESPNBoston.com. Follow him on Twitter @jack_mccluskey.
March, 22, 2013
3/22/13
9:45
PM ET
SALT LAKE CITY -- When
Siyani Chambers
chose Harvard, he hoped to be the Crimson's starting point guard ... someday.
He dreamed of leading his team on an NCAA tournament run ... someday.
The fact that someday is today?
"Amazing," the 6-foot Ivy League rookie of the year said Friday, less than 24 hours after 14th-seeded Harvard knocked off No. 3 New Mexico for the program's first NCAA tournament victory.
That word could describe his development, too.
[+] Enlarge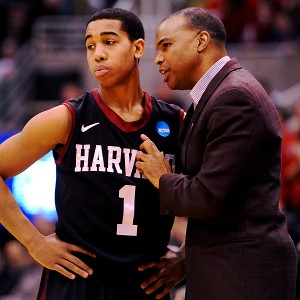 Steve Dykes/USA TODAY SportsThrown into Harvard coach Tommy Amaker's starting lineup as a freshman, Siyani Chambers has thrived.
"He's the leader on our team," said senior guard
Christian Webster
, whose team will face sixth-seeded Arizona on Saturday for the right to advance to the Sweet 16. "
Laurent [Rivard]
and I are the captains, but he's the leader. He drove this team."
It's a role the 19-year-old ball handler never expected, at least not this soon, when he arrived on Harvard's campus less than a year ago. First recruited by Crimson coach Tommy Amaker when he was in the eighth grade, Chambers decided pretty quickly that he wanted to play for the former Duke guard because of what he could learn.
But Chambers also thought he would have some time to be a pupil, while playing behind Brandyn Curry, a Cousy award candidate last season. That is, until September, when Curry and fellow senior Kyle Casey withdrew from Harvard following an academic scandal.
When the freshman heard the news, his head spun. "I was definitely nervous -- very, very nervous," Chambers said. "All of a sudden, it's your first year, you're coming in trying to learn the whole process about everything: playing, dealing with school and basketball."
To persevere, he said, he leaned on his teammates -- and they leaned back, looking for the vocal freshman to glue together a team whose chances of winning the Ivy League all of a sudden seemed precarious, at best.
But Minnesota's Mr. Basketball exceeded expectations probably because he had no other choice, gaining confidence (and his team's confidence in him) by becoming a steady assist man and scorer early; he even hit the game-winning basket with four seconds left against Boston University on Dec. 11.
"He's a special kid, and certainly he plays basketball in a special way, and I think you get excited when you watch him play," Amaker said. "I know when we recruited him, we wanted him to play in that manner; sometimes I thought he held himself back a little bit, and I told him if you ever come to play for us ... we want you to be dazzling because you're capable of it."
His season stats -- 12.6 points and 5.8 assists per game -- were dazzling enough to make him the first freshman named first-team All-Ivy League.
But the way he melded his team dazzled, too. Sophomore
Wesley Saunders
emerged as a go-to scorer (16.5 PPG). Rivard became a scary outside threat (five 3s against the Lobos on Thursday).
Kenyatta Smith
and
Steve Moundou-Missi
improved in the post. Harvard finished the regular season 19-9, winning the Ivy League.
So maybe it was fitting that as the seconds ticked down on Harvard's historic upset Thursday, Chambers was the one with the ball in his hands, grinning and carefully watching the clock. That moment is a feat the Crimson hope to repeat against another bigger, more heralded team Saturday.
And one Chambers never imagined when he thought about his goals a year ago.
"I just wanted to come in and learn as much as possible, so when it was my time I could step in and be able to contribute to the game," he said, remembering. "... When I first decided to come here, I did not think this is what I would be stepping into.
"But I'm glad I came here, and I'm glad this happened."
Now.
SALT LAKE CITY NEWS AND NOTES
SAFETY FIRST:
One teammate compared Wichita State sophomore
Tekele Cotton
to a strong safety. Shockers coach Gregg Marshall? He thinks the guard is more like a free safety.
Whatever the football analogy, you get the picture: The 6-2, 202-pound athlete is hard-nosed, hard-bodied and hard-focused on making stops. And if he can stymie a certain Gonzaga player like he did Pittsburgh guard
Tray Woodall
on Thursday (the senior was brought to tears after his 1-for-12, two-point performance), Cotton knows his team has a better chance to upset the No. 1 team in the country.
"I look forward to being that guy, to chase around their player like I did yesterday," said Cotton, who is also averaging 6.3 points and 3.9 rebounds per game this season. "So I look forward to chasing around
Kevin Pangos
. I have no problem with it; I enjoy it."
Pangos, the Zags' standout sophomore guard, is averaging 11.6 points per game this season and scored the final five points in top-seeded Gonzaga's six-point survival against 16th-seeded Southern on Thursday. He said the key to competing with a physical team such as the ninth-seeded Shockers is to be physical right back.
"We don't shy away from that; our team is tough," Pangos said. "We don't back down from that at all."
This should be an interesting matchup. The Shockers held Pitt to 35.2 percent shooting from the field -- and just 5.9 percent on 3-pointers. The Zags are third in the nation in field-goal percentage, making 50.4 percent of their shots.
NO ALARM HERE
: Zags coach Mark Few wasn't particularly rattled that the game against Southern went down to the wire; a win is a win is a win right now.
"At this point of the year, I don't think we need to worry about aesthetics or, you know, differences," he said. "I know it's cliché, 'survive and advance,' but there really is no other alternative. We're not getting style points and we're not getting graded -- you know, you either win or your season is over."
QUOTE-WORTHY:
"We know we're in for a fight, especially the confidence that they have. When you win a game like that, it doesn't just all of a sudden leave you; many times it carries through for the rest of the weekend. For us, it's not about being consumed with Harvard, as much as it is about being consumed with ourselves, making sure we're ready to go." -- Arizona coach Sean Miller
March, 22, 2013
3/22/13
2:51
AM ET
SALT LAKE CITY -- A year ago, Harvard guard
Laurent Rivard
was in awe just seeing the midcourt NCAA logo; after all, the Crimson hadn't made the tournament in six decades.
So helping the program to its first tournament victory -- a
68-62 win
over No. 3 New Mexico that marked the biggest seed upset by an Ivy League team?
That, he said, was indescribable. Although he tried: "You imagine it … it's something everyone dreams about," Rivard said after scoring 17 points and going 5-for-9 from 3-point range, "but it's a different feeling when it actually becomes real."
The win seemed improbable for a plethora of reasons: The Lobos (29-6) were bigger (7-footer
Alex Kirk
finished with 22 points and 12 rebounds), and more seasoned by playing in a conference many considered one of the nation's toughest. Heck, some even thought UNM was robbed by the tournament committee when it didn't earn higher than a No. 3 seed.
But Harvard countered with a four-guard lineup that was sharpshooting (52.4 percent overall, including 8-for-18 from 3-point land) and that frustrated Lobos leading scorer
Kendall Williams
into a forgettable, 1-for-6 night. Led by their tallest starter, 6-foot-8
Kenyatta Smith
, the Crimson also aggressively banged with Kirk and 6-9
Cameron Bairstow
(15 points, nine rebounds).
[+] Enlarge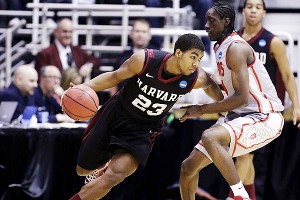 AP Photo/Rick BowmerHarvard's Wesley Saunders drives past New Mexico's Tony Snell on his way to 18 points.
"We knew they were going to be tough," Smith said. "We just had to be confident."
And they were, particularly down the stretch.
New Mexico, trailing for most of the game, took a 53-52 lead with 6:26 left on yet another Kirk inside move. But Harvard, even with its three bigger guys in foul trouble, countered with a 7-0 run -- beginning with another 3 from Rivard and including a jumper from guard
Wesley Saunders
(18 points) -- to rebuild its cushion. The Lobos never got closer than four after that.
"For me to see the composure that we had is meaningful to me as a coach," Harvard's Tommy Amaker said. "We had the lead. We lost the lead. We had to make plays and to have an answer each time when things got really tight there. We had to make pressure free throws. … But we didn't wilt or cave in."
Somehow, the Crimson (20-9) didn't seem to feel the pressure of being a No. 14 seed on the brink of making history.
"I was just playing in the moment, enjoying the moment," freshman point guard
Siyani Chambers
said. "… It felt like, just getting here, was our night."
Indeed, not long ago it seemed like a long shot that the Crimson would make the tournament at all -- much less advance to the round of 32.
First there were the offseason academic problems that led the team's co-captains -- Kyle Casey and Brandyn Curry -- to withdraw from school.
And although those departures gave Chambers (5 points, 7 assists in 40 minutes Thursday) the opportunity to develop more quickly, the team wasn't quite the runaway favorite it might have been to dominate the Ivy League -- as evidenced by back-to-back road losses at Princeton and Penn in early March.
Yet the Crimson endured. And prevailed.
And forget about last year's awe-inspiring NCAA logo. Now, there's a new daydream: the Sweet Sixteen.
"Before this, we wanted to be the Cinderella story," Smith said. "And I guess now, we kind of are."
October, 9, 2012
10/09/12
6:17
PM ET
By
Jack McCluskey
| ESPNBoston.com
NEWTON, Mass. -- While practice doesn't officially begin for another few days, it's clear that Harvard basketball is trying to move on after what should have been a triumphant offseason turned trying.
Coming off their first NCAA tournament appearance in 65 years, the program's first outright Ivy League title and a trip to Italy in August, the Crimson figured to be riding high into the start of practice on Friday. But then came the news that a cheating scandal on the Harvard campus potentially involved members of the men's basketball team, including co-captains
Kyle Casey
and
Brandyn Curry
.
[+] Enlarge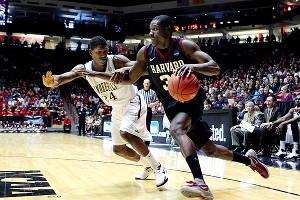 Christian Petersen/Getty ImagesThe Crimson will miss the production of Kyle Casey, who was Harvard's leading scorer last season, averaging 11.4 points a game.
To protect their eligibility, Casey and Curry
reportedly decided to withdraw from school
while attempting to fight the charges that they were involved in a plagiarism scandal in a class called "Introduction to Congress."
When the six Division I men's basketball coaches gathered at Boston College for the second annual Massachusetts basketball media day on Tuesday, Crimson coach Tommy Amaker didn't have to wait long for the questions.
But he wasn't talking.
"I know you guys have a job to do when it comes to these kind of things, and I hope you respect that I have one as well," he said, after the first question about the scandal. "Because of the privacy laws and out of respect for the process and the many, many students that are involved in this, I'm not allowed to comment, to speak. Only the highest officials at our university will have any direct statements or comments regarding the situation on our campus."
That's been the party line all along, and for Amaker it makes sense. Casey, Curry and little-used reserves
Dee Giger
and
Matt Brown
aren't on the roster for the 2012-13 season, so the coach isn't going to talk about them specifically.
Instead, the Crimson coach will focus on who he does have on the roster.
"We're excited about this season," Amaker said. "We're looking forward to the challenges that every new year can bring, with different combinations, different lineups and the loss of seniors and incorporating younger players."
Amaker, in his sixth season in Cambridge, said the roster turnover isn't necessarily different than it ever is.
"Every season is a new season, regardless of who you have returning from one year to the next. Every year is a new year," he said. "Kids change, roles can be redefined. So we're excited for that process to continue.
"That's how we've always approached every season."
Of course, Harvard has never had a season like last year's. With senior co-captains Keith Wright and Oliver McNally providing leadership and juniors Casey (leading scorer at 11.4 points per game) and Curry (leading assist man with 4.9 per game) providing much of the production on the court, the Crimson went 26-5 and earned the program's first AP Top 25 ranking.
Though they lost to Vanderbilt in their first game in the NCAAs, the Crimson seemed poised to be at or near the top of the Ivy League for seasons to come. Now, though, there are serious questions facing them before practice has even started.
With the two multiyear captains graduated and the two would-be captains off the team, where will the leadership come from?
"I think every year you're wondering about leadership, especially if you've had terrific leadership in the past and we did," Amaker said. "So regardless of who we have or don't have or how it shapes up for us, you're always, until it actually occurs … as a coach you're wondering."
Amaker said more responsibility may fall to him this season.
"I may have to do more of leading our team," he said. "I always remember Coach K talking about as a head coach you have to learn to give the team what it needs. That's something I've always thought of going into each year."
[+] Enlarge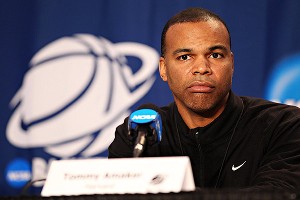 Nelson Chenault/US PresswireCiting privacy laws and due process, Amaker wouldn't comment directly on the cheating scandal. Instead, he focused on his team. "We're excited about this season," he said.
With Casey and Curry off the roster for 2012-13,
Laurent Rivard
and
Christian Webster
have been tabbed as co-captains.
"Those two guys are our captains for this season. And we're excited to have them, obviously, in those roles," Amaker said. "We think that whether they have the C next to their names [or not], we feel that they were gonna be leaders on our team and in our program, it's something that I'm sure they'll probably try to do a little bit more of in terms of a leadership role."
And while the Crimson may not be picked to repeat as Ivy champions this season, as they almost assuredly would have been before the scandal, Amaker has never been one to worry about expectations. Expectations are an external thing, he likes to say, and the Crimson worry about something else.
"We have standards that we try to live by regardless of what outside thoughts or expectations may be," he said. "And we really focus on that. … For us to maintain our standards would be the most important thing we could do."
Not everything is going to go the way the Crimson want it to. Amaker knows that, and didn't need this incident to teach him.
"There'll be a cloudy day, maybe a rainy day and maybe a storm," he said. "That's the real world we live in. As long as we continue to teach, to lead and to serve we're gonna feel good about who we are."
Amaker said he doesn't think the drama that began to unfold in late August, and no doubt will continue to unfold until there is some resolution, will be a distraction. The Crimson are focused on what they need to do now, he said, and will try to tune out the noise as best they can.
"We have what we have, we are who we are, and we're excited about what's in front of us and the opportunity for this team this year," he said. "We're proud of who we've been and what we've done. But we're looking forward to this season for these kids and we're gonna do the darnedest, the best we can to make it as successful as we can.
"As we've done every year since we've been at Harvard."
Jack McCluskey is an editor for ESPN.com and a frequent contributor to ESPNBoston.com. Follow him on Twitter @jack_mccluskey.