Boston Colleges:

lacrosse
May, 27, 2012
5/27/12
11:40
PM ET
By
Marc Thaler
| ESPNBoston.com
FOXBOROUGH, Mass. -- Tommy Bryant's best friend is the breakout star of the 2012 NCAA men's lacrosse championships.
"I was with him (Saturday) night," Bryant said of Loyola attackman Eric Lusby. "We hung out a little bit because we're in the same hotel. We just talked about how he's turned into a superstar now."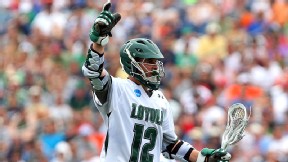 Cal Sport Media/AP ImagesEric Lusby celebrates after scoring his third goal Saturday against Notre Dame.
Bryant's quip came Sunday, after he and two of Lusby's other former high school teammates at Severna Park (Md.) High School nearly clinched the Division II national championship in front of 17,005 fans at Gillette Stadium. Limestone (S.C.) College, despite scrapping in the final's last seconds, suffered an 11-10 loss to Dowling (N.Y.) College.
Lusby's shot for a title comes Monday, when the top-seeded Greyhounds (17-1) face unseeded Maryland (12-5) in the Division I championship at 1 p.m. (ESPN/ESPN3).
"I feel like we're going to go into it with everything to lose because it's a national championship and everyone wants to win," Lusby said Sunday before hometown friends Bryant, Randy Waugh and Mason Mundell fought in Memorial Day weekend's first contested title game.
The gang, Bryant said inside Limestone's locker room, is pulling hard for their ex-classmate.
Winning a national championship is the obvious reason. But it isn't the only one.
"He worked hard off the surgery," said Bryant, a workout partner with Lusby in the summer months.
A graduate student, Lusby played only two games a year ago after tearing his ACL in the 2010 NCAA first round. He hasn't displayed any ill effects in his final collegiate campaign, however, scoring 67 points (50 goals, 17 assists) with quick moves around the crease.
Bryant said he's seen those devastating dodges and superb stick skills up close. He covered Lusby in winter leagues, relishing the opportunity to defend a top-flight Division I attackman.
"You don't really face too many guys like that very often," Bryant said. "You definitely can't give him time and room to shoot with his left hand."
Canisius, Denver and Notre Dame learned this very lesson. Lusby's 18 tournament points (13 goals, five assists) include back-to-back five-goal games, which match his career-high for markers in a single contest.
Lusby's modest explanation for such production: "I was receiving (scoring chances) a lot more than usual," he said.
Scott Ratliff's take, from a defensive perspective:
"When you can have two guys that can shoot as well as Eric and Mike (Sawyer) on opposite sides of the attack, it completely changes the dynamic of our offense," Loyola's junior long-stick midfielder said. "We wouldn't be where we are today without Eric."
The Greyhounds find themselves in their second national final, and first since 1990. They face a team whose campus is less than 35 miles from their own.
Bryant expects one last terrific performance from his friend, who helped Severna High win consecutive state titles in 2006 and 2007.
"He's always just been a big-game player," Bryant said. "I'm proud of him."
May, 8, 2012
5/08/12
7:26
PM ET
In previewing the first round of the NCAA men's lacrosse tournament, ESPN's Quint Kessenich expects UMass "will play with a chip on its shoulder as the undefeated No. 6 seed." The Minutemen play Colgate on Saturday (2:30 p.m.) at Amherst in a game on ESPNU and ESPN3.com.
Here's Kessenich's breakdown of the game:
These two teams are a combined 28-3. UMass (15-0) will play with a chip on its shoulder as the undefeated No. 6 seed. Its 11 seniors get to play a final game on Garber Field and will be flying around with great passion. It's still hard to tell how good this team is. Its wins are over teams rated 16, 17, 19, 20 and 27 in the RPI. It did not play a single team in the tournament field.

That being said, coach Greg Cannella has made a run late into May. The team's stats are really solid. In the Minutemen's past 61 games, they are 58-3 when scoring more than 10 goals. They face off well, and scrap for ground ball and possession dominance (plus-3.9 per game), and goalie Tim McCormack makes saves at a high rate. Can Tom Celentani cover Peter Baum? If Colgate is hesitant to slide, Anthony Biscardi might be the key chess piece. One Achilles' heel would be an affinity for taking penalties, which will hurt against a Raiders EMO group that clicks at 50 percent.

First-year coach Mike Murphy has Colgate (13-3) playing fast. The Raiders score 13.56 goals per game, force lots of turnovers, ride well and are the No. 5-rated ground ball team. Peter Baum leads the nation in points. Freshman Ryan Walsh has hit the net 33 times, and underrated midfielder Jeff Ledwick has 44 points. Defensively, they are slow to slide.

This game will be a street fight, an entertaining slugfest for fans.
For a preview of the rest of the first-round games,
click here
.