Boston Colleges:

Luke Kuechly
February, 21, 2013
2/21/13
9:00
AM ET
Boston College will be the first ACC team to open spring practice, one week from today. I had a chance to speak at length with new coach Steve Addazio about a wide variety of topics.
We covered so much ground, I present a few highlights here today. Stay tuned for more from Addazio when the Eagles put the pads on next week.
Now that you have been in place for three months, do you have a better idea of what you want to run schematically when you open spring ball?
SA:
What I know right now is work ethic. What I know right now is attitude. I still don't know that I know who's capable of what on the football field, so you've got to get the pads on. No matter what we do, where we head, the starting point is going to be a two-back, one-back, zone-power counter concept, a real strong pro-style running game, play-action pass, nakeds. That's going to be a starting point, no matter what direction we ultimately head. You head into Week 1, and you find out if you can rock off the ball, you find out the strength of your backs, you find out about your quarterbacks, your receivers in terms of your play-action passes. Then we'll be able to tell after the first six practices or so how quickly we'll migrate more of those shotgun, spread principles and how they'll come into this offense.
You inherit a team coming off a 2-10 season. How do you deal with going about trying to change the mentality of a program that hasn't seen its best days the past few years, especially when you have been a part of successful programs at your past few stops?
[+] Enlarge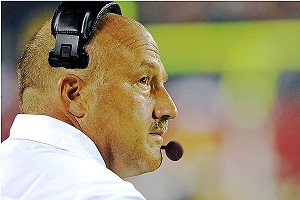 Eric Hartline/USA TODAY Sports New Boston College coach Steve Addazio said a big key for his program is to become bowl eligible as quickly as possible.
SA:
At Temple, obviously Al (Golden) did a tremendous job of building that program so there was a built-in expectation level and we had to come in and find a way to take that expectation and exceed it, and we were able to do that. At Florida, we came into a similar situation, maybe not to the point of which there was a two, three or four-win team. But to Florida's standards, it was very similar. Because Florida's standards, six, seven, eight wins might as well have been two or three wins. I did have the experience of going into Indiana with Gerry DiNardo, which was a complete utter rebuild from every sense of the word, and then when I went to a high school program, and I had to build the thing from Ground Zero. I've got to rely on all those experiences together, but I will say this to you: There is a tremendous amount of pride here at Boston College, and rightfully so. This has been a very strong football program, consecutive bowl games that we had been to, eight of them. You talk about first-rounders, you talk about great players, rookies of the year, NFL players of the year, so, OK, we've had two down years. We haven't had 20.
So there's a lot of pride here and I think a tremendous willingness and buy-in to getting back, realizing we've got to do a great job recruiting. We're working like crazy on that right now. I want to have a legitimate bona fide great recruiting year next year. We've got to restock our team. We have to redevelop that winning culture, that winning attitude. We've got to come in here, and we've got to shock everything right now and that's what it's all about. You walk into our building and you walk into that lobby and you're just a couple years removed from some very good football teams and very good successes. This is not an instantaneous one, now. We've got to build this and it's going to take a little bit of time. This is not just come in and let's just get going, and turn this and twist that and bam we're right in it. We've got some situations at quarterback where we have more drop-back mentality guys here. We have a depth problem at running back, and at wide receiver, so it's a combination of things. It's going to take some time. I want to build this thing the right way, with a great foundation, and get BC back to where BC was.
You mentioned Indiana and some of the other places you've been. How would you categorize this in terms of the type of rebuilding process you have ahead?
SA:
That's a good question. There's similarities -- in a different way -- to Florida when we got there. Because Florida wasn't where Florida wanted to be at that point in time, but Florida had come off some pretty successful years. Not that far removed from the Spurrier era. So there was a lot of pride. There's a lot of pride here, whereas at Indiana it was a little bit more removed from the Bill Mallory era. It was a little further removed and it wasn't as long lasting. Then when I was at Notre Dame, it probably wasn't all that different, either. We were trying to reignite, re-recruit, restock a program that had success at a high level at one point. There's similarities in all of them. Our kids here want to win, know they can win, know where this was, know what needs to be done. It's not like we're coming in here saying we have to learn how to win. Guys were here when this program was winning. Matt Ryan's not that far removed. Luke Kuechly just walked out of here. Anthony Castonzo, those guys are not that far removed and they're always around. I just feel like a sense of, we just have to dig our feet in right now, fight back real hard, give ourselves some time to restock and rebuild. But it's around the corner, so to speak.
Along those lines, I'm going to ask you the dreaded timetable question. How long will it take before you get back to a bowl and contend for championships?
SA:
We've got a real goal in front of us right now. The first thing we want to do is look at it like this: We want to win the opener, and then we've got to get bowl eligible. Now, I think you're always looking at building consistency and working toward championships. The first thing we have to do is we've got to get back to a bowl.
I never believe in saying, 'We can't do this.' The power of a team is so big when you bring that chemistry together. But we want to get bowl eligible immediately. That's realistic, as opposed to me saying it's going to take one year to do this and two years to do that. You just don't know that. But I want to get bowl eligible right away and our team wants that, our program wants that and that's where we're headed right now.
February, 26, 2012
2/26/12
7:48
PM ET
INDIANAPOLIS -- Boston College linebacker
Luke Kuechly
, a projected first-round pick in this year's draft, arrived at the NFL combine with an added five pounds of weight. It was by design.
"That was one of the big things coming in, I had to prove I was a sufficient size," said Kuechly, who is up to 242 pounds after playing last season at 237. "The biggest thing is being able to move with the weight that you have. That was something I've been working on [and] I think right now, I'm comfortable where I am."
[+] Enlarge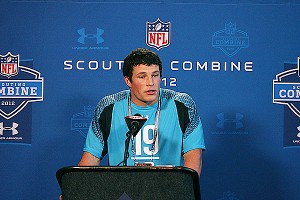 Brian Spurlock/US PresswireLuke Kuechly's draft goal: to hear his name on Day 1.
Where the 6-foot-3 Kuechly stands among his fellow inside linebackers is at the top of the class, according to many draft analysts. He's been working out in Florida to prepare for his on-field workouts at the combine, which take place Monday.
"I think that's one thing about the combine, it gives you an opportunity to show how you can move in different scenarios," he said. "There are different time drills as well as position drills led by coaches."
Kuechly, who some have labeled as one of the safest picks in the entire draft, called himself instinctual and smart on the field when asked how he'd describe himself as a player. He played in 38 games over the last three seasons for BC, with 37 starts, and totaled 532 tackles (35.5 for a loss).
"I think I do a pretty good job preparing myself, that's something I take pride in -- being prepared and knowing what each individual guy is responsible for," he said. "Knowing what everyone is doing, you can play faster [and] it allows you to be more successful."
Kuechly acknowledged that declaring for the draft after his junior season wasn't an easy decision because of his desire to finish what he started and extend an enjoyable college experience.
But he expressed excitement at entering the next phase of his football career, and what it would mean to be a first-round draft pick.
"Growing up, I've been watching the draft I don't know how long," he said. "You want to be on that first-day list when [they say] 'So and so selects, Luke Kuechly, linebacker, Boston College.' That's your goal playing in college football -- getting to that level and hearing your name on the first day."
December, 8, 2011
12/08/11
12:29
AM ET
HOUSTON -- Boston College linebacker Luke Kuechly added some more hardware to his postseason collection, winning the Lombardi Award as the nation's top collegiate linebacker or lineman.
Kuechly, who leads the nation with 191 tackles this season, beat out Alabama linebackers Courtney Upshaw and Dont'a Hightower and Stanford offensive tackle Jonathan Martin for the award Wednesday night.
He is the first recipient from Boston College and won the Butkus Award as the nation's top linebacker Sunday.
Kuechly, a junior, has a school-record 532 tackles, including 10 or more tackles in 33 of his 37 career games. He had 191 tackles this season and 183 last year, the top two single-season totals in ACC history.
For more,
click here
.
November, 25, 2011
11/25/11
9:52
PM ET
With bowl games no longer an option for either team, both Miami and Boston College were playing on Friday afternoon for their seniors, their pride and their future.


At Boston College, the Eagles never quit this season, despite losing six of their first seven games. BC rallied in the second half of the season under coach Frank Spaziani and finished with a 3-2 record in the final five games, including Friday's
24-17 win
over the Canes. It was a gritty, disciplined performance on the road that was classic BC -- tough, hard-nosed, blue-collar football led by the defense.
For Miami, in many ways the game was a microcosm of the entire careers of the recruiting class of 2008: A disappointment that fell below expectations. Miami's offense produced two big touchdown plays early, but then stuttered for the majority of the game. The running game wasn't working, so the Canes turned to a short passing game, but third-and-long situations put Miami under pressure. Untimely penalties like the holding call on Harland Gunn early in the fourth quarter were devastating and came at points when Miami desperately needed a spark. Quarterback
Jacory Harris
threw four interceptions, and made poor throws and decisions down the stretch.
BC's
Chase Rettig
, on the other hand, played tough and aggressive in the face of Miami's pass rush. He made good decisions and threw the ball well. The Eagles also made great use of tight end
Chris Pantale
, and the running game opened things up in the play-action pass. This was the closest thing to a bowl game that Boston College will see this year, and the Eagles played like it.
Both programs, though, have lots of questions to answer this offseason. Al Golden's
recent contract extension
went a long way in erasing the speculation surrounding his future, but the NCAA must still rule on the program's future. Until it does, though, recruiting will remain the No. 1 priority.
BC must also find a way back to the postseason. Will the Eagles' determination down the stretch be enough to keep Spaziani in the good graces of AD Gene DeFilippo, or will another change be made? Was that the last spectacular collegiate performance for junior linebacker Luke Kuechly, a projected first-round draft pick?
It was a trying season for both programs and head coaches, but on Friday, BC found a way to finish on a positive note.
November, 19, 2011
11/19/11
5:04
PM ET
SOUTH BEND, Ind. -- Another opening drive touchdown from Notre Dame had many thinking this would be another rout early, but the Boston College defense and punt coverage unit have given the Eagles a chance to stick around so far.
Jonas Gray
added to his spectacular senior campaign by rushing for a 26-yard touchdown, his eighth straight game with a score and his 12th during that stretch. The Irish added a field goal on their second drive, but they have been pinned inside their own 10 to start their last two possessions.
Luke Kuechly and Manti Te'o have played their lead roles fittingly so far, recording six and four tackles in the first period, respectively. Kuechly added a tackle for loss as well.
The Irish defense has been the better unit thus far, however, allowing just 43 total yards of offense. Boston College's defense could do its offense a big favor by creating a turnover deep in Irish territory and taking full advantage of the field position game. Notre Dame will start from its own 17 when the second quarter begins.
November, 16, 2011
11/16/11
7:03
PM ET
Boston College linebacker Luke Kuechly is among 15 semifinalists for the Walter Camp player of the year award announced today.
Kuechly leads all collegiate players in the country with 89 solo tackles and 168 total tackles in 10 games this fall. He also is a Lott Trophy semifinalist, a Butkus Award semifinalist and a Lombardi Award finalist.
Other semifinalists for the Camp award include Oklahoma State quarterback
Brandon Weeden
and his favorite receiver,
Justin Blackmon
, the only teammates among the semifinalists.
Also on the list are LSU cornerback Morris Claiborne, Alabama running back
Trent Richardson
and Stanford quarterback
Andrew Luck
.
The other semifinalists are Oregon's
LaMichael James
; USC's
Matt Barkley
; Baylor's
Robert Griffin III
; Northern Illinois'
Chandler Harnish
; Oklahoma's
Landry Jones
; Houston's
Case Keenum
; Boise State's
Kellen Moore
; Clemson's
Sammy Watkins
; and Wisconsin's
Russell Wilson
.
September, 24, 2011
9/24/11
6:38
PM ET
By
Jack McCluskey
| ESPNBoston.com
NEWTON, Mass. -- The Boston College defense had produced only two turnovers through its first three games. In the fourth game, the Eagles doubled their season output.
Hampton Hughes intercepted UMass quarterback
Kellen Pagel
on the first play from scrimmage Saturday, leading to a BC touchdown and setting the tone for the day.
"We actually drilled a play like that in practice on Thursday, where we simulated matching routes like that," Hughes said. "And lucky for me first play they came out and ran a similar play like that, and I was able to read my keys and make a play on the ball."
Hughes, a former preferred walk-on given a scholarship in the spring, was converted from wideout to safety in training camp when presumed starters Okechukwu Okoroha (dismissal) and Dominick LeGrande (transfer) left the team.
Asked what he thought his pick meant for the team, 0-3 coming into the game, Hughes didn't hold back.
"It was huge," he said. "And the best part about it was that the offense, they got the ball and they went right down and they scored a touchdown. We were up 7-0 right from the beginning. It was a huge momentum-builder."
Steele Divitto also added an interception, while Kevin Pierre-Louis forced a fumble (which Nick Clancy scooped up and returned 16 yards for a touchdown) and returned a fumble (forced by Max Holloway) for a 96-yard score.
Pierre-Louis said when he looked up at the JumboTron over the opposite end zone he knew quickly he would take the fumble the distance.
"I saw a glimmer [of UMass players] in the beginning, and then once I saw my teammates I knew they had my back and no one was gonna touch me," he said with a smile.
The sophomore linebacker said the defense's goal was to hold UMass to 17 points or fewer; it did exactly that Saturday, and even outscored the Minutemen's offense 14-10 (UMass also had a 102-yard kickoff return for a touchdown).
"Key word: confidence," Pierre-Louis said when asked about what the fast start meant. "It's gonna be a confidence booster going into next week. Letting us know that we're still BC. We pride ourselves on tradition and we played a traditional Boston College game."
Offensive fireworks
The 45 points BC scored was the most since a 52-20 home win over NC State in October 2009. While the defense contributed 14 of those points, the 31 points the offense scored still would've represented a season high (a touchdown shy of doubling the previous season high of 19, set in the Week 3 loss to Duke).
Chase Rettig
finished 14-for-22 for 196 yards and three touchdowns, a new single-game high for the sophomore signal-caller. Two of those TDs went to
Colin Larmond
Jr., who caught six balls for 114 yards and the scores. It was the first multiple-touchdown game of his career.
Boston College also rushed 49 times for 193 yards and one score, with sophomore
Andre Williams
accounting for 20 of those carries and 95 of those yards.
Like a broken record
Another game, another double-digit tackle total for Luke Kuechly. The junior linebacker's first tackle on the afternoon gave him 400 for his career; he's the fifth Eagles player and the 32nd ACC player to reach that mark.
Kuechly finished with 11 tackles on the afternoon, extending his nation-best streak with 10 or more tackles to 26 games.
The player head coach Frank Spaziani loves to call "The Human Eraser" leads the nation in tackles per game. And it's not really close. After Saturday's game, Kuechly's averaging 17.25 stops a game. Coming into Saturday's action, the next highest average was 13 by Houston's Marcus McGraw, according to cfbstats.com.
Coming and going
BC got a boost from the return of preseason ACC Player of the Year
Montel Harris
, but it was without regular starting left guard Nate Richman, who did not dress. Richman was replaced by Mark Spinney, who had missed the Duke game after suffering a knee injury against Central Florida.
The Richman injury meant two of the Eagles' four captains were in jerseys and sweats for the coin toss, as
Ifeanyi Momah
is out for the year with an ACL tear.
Defensive tackle Kaleb Ramsey, who hadn't played since the first half of the season opener against Northwestern, also returned Saturday. The 6-foot-3, 302-pounder led the Eagles out of the tunnel before the game, didn't start and played sparingly.
July, 26, 2011
7/26/11
6:47
PM ET
By
Jack McCluskey
| ESPNBoston.com
The ACC held its annual football kickoff media days in Pinehurst, N.C., on Sunday and Monday, with the head coach and two players from each team in attendance to talk about the upcoming season.
For Boston College, the contingent consisted of Frank Spaziani,
Montel Harris
and Luke Kuechly. The takeaway, from a BC perspective? Team goals come first, followed closely by team goals and with team goals bringing up the rear.
Which is not to say that Harris (who is 126 yards from becoming BC's all-time leading rusher and 1,002 yards from becoming the ACC's all-time leading rusher) and Kuechly (who is on pace to shatter BC's all-time record for tackles) weren't asked about individual goals. It's just that they didn't seem interested in talking about them, at least not without putting the team first.
Harris, who was voted the ACC Preseason Player of the Year by media in attendance, stepped to the podium first for the Eagles, and was asked almost immediately about the possible records.
"It's important for me to reach those milestones, but most importantly it's important for our team to win games," the senior told reporters and viewers watching a live stream on theacc.com. "So if I'm able to break the records and our team can win games, everything's great."
When Kuechly, who finished third in the voting Harris won, was asked about all the attention he gets because of the tackles he piles up, the middle linebacker passed the praise on.
"Obviously it's something that's cool to talk about, but you've got to realize that you don't get this attention without other guys on your team," he said. "I always give shoutouts to guys on my defensive line."
But does Kuechly take pride in leading the nation in tackles?
"You've got to be proud of what you do, you've got to be proud of what you accomplish," he said. "But you can't take pride of something you do in a team game, individually. You can't take pride in, you know, 'I did that by myself.' Because you didn't do it yourself, you did it with the help of other guys on your team.
"I don't really have any individual goals, per se, I have team goals," Kuechly said. "I think we want to get to the ACC championship game. ... That's where we want to be, that's what our goal is."
For a team that went just 7-6 (4-4 in the ACC) last season, that may seem a lofty goal. And though one media member picked the Eagles to win the ACC title (beating Virginia Tech), the team received just two votes to win the Atlantic Division and was predicted to finish fourth.
While the Eagles graduated team leaders like Anthony Castonzo and Mark Herzlich, Spaziani returns 16 starters for his third season as head coach and believes the team should take a step forward.
"We have tremendous potential, I think. We're moving forward in a lot of ways," Spaziani said.
Spaziani cited Chase Rettig's return at quarterback, Harris' return at running back and the expected growth of a young receiving corps as reasons the Eagles should be better in 2011.
"We feel we're moving in the right direction on offense," he said.
Improvement on offense is a must for the Eagles, who led the nation in defense against the run last season but struggled to move the ball consistently and to put points on the board.
BC has played in a bowl game for 12 straight seasons, the fifth-longest active streak in the country, and the importance of maintaining that streak isn't lost on the likes of Harris and Kuechly.
So while Kuechly will continue to receive his fair share of plaudits for plowing into ball carriers with abandon, he'll also continue to say he'd trade the numbers next to his name on the score sheet for team success any day.
"I play the game to win," Kuechly said, "I don't play the game to set records, I don't play the game for accolades, I play to win. I play for the team. I play to win every game; if you're competitive, that's why you play the game."
If the rest of the Eagles follow Kuechly's example, they should at least be competitive in every game, and they might just have a shot to reach those lofty team goals.
July, 25, 2011
7/25/11
11:07
PM ET


At ACC media day, BC linebacker Luke Kuechly talks about the importance of preparation and the role of the coaching staff, the passion that Mark Herzlich brought to the game and how it impacted him, and who his favorite NFL player is (he may not be a popular choice).

March, 25, 2011
3/25/11
2:54
PM ET
ESPN.com's Ivan Maisel writes today on linebacker Luke Kuechly. Maisel writes:

CHESTNUT HILL, Mass. -- There's a picture of linebacker Luke Kuechly on the table of contents of the 2010 Boston College media guide. He is in uniform. His hands are above his head, elbows bent at 90-degree angles. His upper arms are streamlined, bulgeless. It is a picture of Kuechly as a 220-pound freshman linebacker in 2009.

"He truly looked like Clark Kent when he first came here," defensive coordinator Billy McGovern said.

All he did that season was set an NCAA freshman record with 158 tackles. As a sophomore in 2010, Kuechly led the nation with 183 stops, 20 more than any other FBS player. He made every All-American team except for Dick Vitale's.


[+] EnlargeMark Tureski/Icon SMI
Luke Kuechly led the nation with 183 tackles in 2010.
Fast forward to three days ago. Kuechly stood coiled in the middle of the Boston College defense at practice, gloved hands resting lightly on knees. His torso and upper legs formed a less-than sign as he scanned the Eagles offense before him. At 6-foot-3, 235 pounds, he is undersized no more.

"He has the half where he looks like an All-American in a uniform," Boston College coach Frank Spaziani said, a sly smile playing across his face. The other half, in which Kuechly plays like an All-American, has been there pretty much from the day he set foot on campus.

Spaziani wonders aloud whether Kuechly is from Cincinnati, which is where Boston College found him, or Krypton. After I spoke with Kuechly on Tuesday, Spaziani's first question to me was, "Find a flaw?"

Well, let's see. The best linebacker in the nation puts in the time to be the backup long snapper. He gets his defensive teammates together to watch video. When he met with McGovern after the season, Kuechly told him he wanted to learn what every player on the defense is supposed to do in every scheme. "I want to know what you know," Kuechly said.
Click
HERE
to read the rest of his story
December, 14, 2010
12/14/10
7:06
PM ET
By
Jack McCluskey
| ESPNBoston.com
Boston College linebacker Luke Kuechly was named to the Associated Press All-America first team on Tuesday.
The AP honor means Kuechly is a consensus first-team All-American, having already been named to the first team by the Football Writers of America, the American Football Coaches Association and Walter Camp. The sophomore tackle-machine becomes the Eagles' 10th consensus first-team All-American, and the first since Jamie Silva in 2007.
[+] Enlarge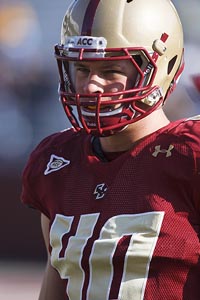 Jason O. Watson/US PresswireSophomore linebacker Kuechly becomes the Eagles' 10th consensus first-team All-American, and the first since Jamie Silva in 2007.
After starting him as a true freshman at outside linebacker in '09 -- mostly in place of Mark Herzlich, who missed the season while undergoing treatment for Ewing's sarcoma -- Eagles head coach Frank Spaziani moved Kuechly to middle linebacker prior to this season. While not entirely seamless (Spaziani did say Kuechly had some trouble playing in space early in the season), the transition went as smoothly as anyone on the Eagles coaching staff could've hoped.
The 6-foot-3, 235-pound Cincinnati, Ohio, native led the nation in tackles (171) and solo tackles (102) in 2010. He reached 200 tackles faster than any player in Eagles history (needing just 17 games) and became the only BC player ever to record more than 300 tackles in his first two seasons (needing 23 games to reach the mark).
And while the team as a whole endured its share of ups and downs -- winning its first two games, then losing five straight before winning five straight to qualify for a bowl for the 12th consecutive season; starting two freshman quarterbacks and relying heavily on freshmen and sophomores throughout the roster; dealing with season-ending injuries to defensive stalwarts Alex Albright and Wes Davis -- Kuechly was a rock for the Eagles' defense. The Atlantic Coast Conference Defensive Rookie of the Year in 2009, Kuechly has recorded 10 or more tackles in a nation-leading 21 straight games.
His nose for the football also led Kuechly to finish as the runner-up for the Butkus Award, given annually to the nation's top linebacker, and as a finalist for the Bronko Nagurski Trophy.
As a consensus first-team All-American, Kuechly joins Luke Urban (1920), Gene Goodreault (1940), Mike Holovak (1942), Doug Flutie (1984), Tony Thurman (1984), Mike Ruth (1985), Pete Mitchell (1994), Mike Cloud (1998) and Silva (2007) as the only Eagles to have achieved the feat.
BC senior offensive tackle Anthony Castonzo, who is projected to be a high choice in the 2011 NFL draft, was named to the AP All-American third team on Tuesday.
Jack McCluskey is an editor for ESPN.com and contributes to ESPNBoston.com.