Boston Colleges:

Maryland Terrapins
October, 27, 2012
10/27/12
6:49
PM ET
By
Jack McCluskey
| ESPNBoston.com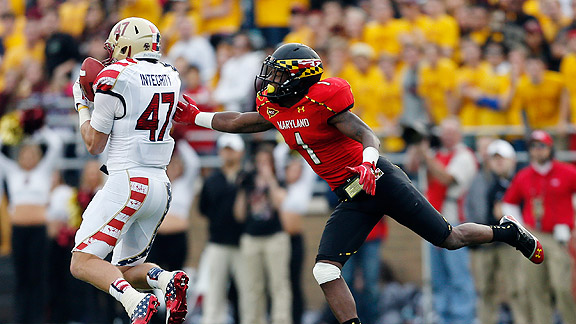 AP Photo/Michael DwyerSpenser Rositano intercepted this Maryland pass to clinch BC's clutch comeback.
NEWTON, Mass. -- It was a true make or break moment.
A couple of Maryland freshmen had just combined on a 66-yard scoring play -- QB
Caleb Rowe
to wideout
Stefon Diggs
-- to complete the comeback from 13-0 and put the Terps on top 17-13. There was 8:47 to go in the game, and Boston College had to make something happen.
Chase Rettig
led the Eagles' offense back onto the field, needing to go 70 yards for a score.
To that point in the afternoon, BC was 0-for-10 on third down.
But the Eagles finally converted one, with Rettig finding
Chris Pantale
for 8 yards and a first down on third-and-2. It seemed like momentum might actually be building for a potential winning drive.
And then disaster struck.
Joe Vellano
sacked Rettig and forced a fumble that
A.J. Francis
recovered. Maryland had the ball back, and if BC was to have a chance its much-maligned defense would have to get it back.
[+] Enlarge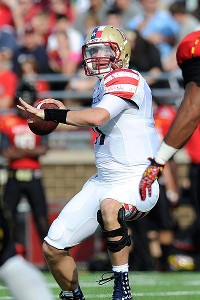 Bob DeChiaraChase Rettig led BC down the field for the game-winning TD.
"When I was coming off the field, the defensive guys obviously told me 'We got your back. We're gonna get a stop,'" Rettig said. "It worked out well."
The defense forced the Terrapins to go three-and-out and gave Rettig and the offense one more shot. The junior quarterback didn't waste it, completing passes to four different receivers and standing his ground and taking a big shot from a Maryland defender to complete a 17-yard pass to
Alex Amidon
on third-and-9 from the Terps' 36-yard line.
That diving catch by Amidon set up a 14-yard score to
Johnathan Coleman
two plays later, giving BC back the lead at 20-17 and propelling the Eagles to their first ACC win.
"What can I say?" BC head coach Frank Spaziani said. "It was an exciting, exhilarating victory and I can't say enough about the job that the kids did to hang in there. We struggled on offense but were able to make a bunch of plays at the end."
It started with the defensive stop after the turnover.
"It was a big momentum swing," linebacker
Nick Clancy
said. "Getting the D off the field and not having the offense capitalize on that stop was frustrating. But the attitude of our defense was almost like we wanted to be back out there. I've never seen our D-linemen so fired up to get back out on the field and our DBs so ready to play. I think that was a huge part of why we were so successful today.
"It was almost like we wanted to be out there and have the game on our shoulders."
For a unit that's struggled all season -- and that had struggled at times earlier in the afternoon -- to make big plays when it needed to, that was important.
But it wouldn't have meant anything if the offense, which had failed to do much of anything for most of the game against Maryland's solid defense, hadn't come through.
They were ready for the challenge.
"That's kind of been our mindset, just let us have the ball with two minutes left and we'll go win the game," Amidon said of the offense's stepping up late with the game on the line.
Rettig was exemplary on the final drive. The junior went 8-for-12 for 90 yards and a TD on the series, bumping his final numbers for the day to 21-for-39 for 287 yards and two touchdowns.
He kept it together in crunch time, even recovering his own fumble after the Maryland pass rush pushed his own offensive lineman into him and knocked the ball loose.
That's not something this Boston College team has proven especially adept at this season. The Eagles have come up short in those situations more often than not, leading to the five-game losing streak they were on coming into this afternoon's matchup.
"The last five weeks have been tough, obviously," Rettig said. "Offensively we've done some good things this year and people have taken notice, but we could've done more in other games. It's just nice that we finally put it together at the end of the game there and scored a touchdown."
The win is BC's first against an FBS opponent, and improves the record to 2-6 overall, 1-4 in the ACC.
"It feels great," Amidon said. "It doesn't fix everything, it just feels awesome."
And while the win was far from perfect -- with the Eagles giving up four sacks, fumbling on the goal line on their second offensive possession and finishing just 3-for-13 on third down conversions -- Spaziani said it delivered a message.
"It's a confirmation for me of what we believe in, and what those kids have in them," he said. "I'm glad they were able to get the result. See I know it's there, and I know how to get it out of them. But they're young, 18, 20, 21, 22 years old and they need to have something like that."
Asked what the win meant, Spaziani said, "It was like" -- then he paused and took a deep breath -- "the next breath of air.
"We were at the end of our rope there a little bit. It was good to get that one and hopefully we'll get some confidence and continue on and get better."
Jack McCluskey is an editor for ESPN.com and a frequent contributor to ESPNBoston.com. Follow him on Twitter @jack_mccluskey.
October, 27, 2012
10/27/12
4:26
PM ET
By
Jack McCluskey
| ESPNBoston.com
NEWTON, Mass. -- After squandering a 13-0 first-half lead, BC completed a wild comeback in the final minutes of the fourth quarter to grab its first win over an FBS opponent this season,
20-17 over Maryland
.


How it happened:
The Eagles squandered a chance to go up two touchdowns early, then couldn't capitalize in key spots in the third quarter as the Terps rallied to take the lead.
But trailing 17-13 with time ticking down in the fourth quarter,
Chase Rettig
brought the Eagles all the way back. The junior QB moved the ball around, overcame a fumble and made plays when he needed to. Rettig took a big hit on one play, hanging in just long enough to find
Alex Amidon
open over the middle for a 17-yard gain and a first down.
That set up a 14-yard TD pass to
Johnathan Coleman
to put the Eagles back in front at 20-17 with 52 seconds left.
Spenser Rositano
then picked off a
Caleb Rowe
pass to seal the win for BC.
What it means:
BC gets its first ACC win, improving to 2-6 and 1-4 on the season. Maryland falls to .500, 4-4 overall and 2-2 in the ACC.
What's next?
BC will hit the road again to take on Wake Forest. The Demon Deacons (4-4, 2-4 ACC) are coming off a 42-13 loss to Clemson on Thursday night.
Jack McCluskey is an editor for ESPN.com and a frequent contributor to ESPNBoston.com. Follow him on Twitter @jack_mccluskey.
October, 26, 2012
10/26/12
12:19
AM ET
By
Jack McCluskey
| ESPNBoston.com
NEWTON, Mass. -- Last season, a win over Maryland helped Boston College save something of its football campaign.
The 1-6 Eagles went to Terrapins territory and came away with a 28-17 win, the first of three W's in their final five games. That late flourish allowed Frank Spaziani's bunch to finish 4-8 and to talk about carrying momentum into this season.
[+] Enlarge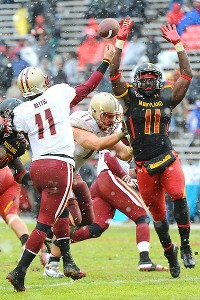 Jonathan Newton/The Washington Post via Getty ImagesChase Rettig and the Eagles beat Maryland last year to spark a late season resurgence.
While any talk of carryover clearly fell flat, that hasn't stopped people from drawing parallels.
Is a similar finish possible this season? And might a win over Maryland help BC (again 1-6 ahead of this matchup) make that happen?
"I think we're just different teams than we were last year," Eagles QB
Chase Rettig
said before practice Wednesday. "You kind of think of the Miami game, 'Well, we beat them last year,' and then they beat us this year."
Indeed, any idea that a season-closing win over Al Golden's Hurricanes would give the Eagles a leg up in the season-opening matchup this year proved incorrect. The visitors came to Chestnut Hill and blew town with a 41-32 shootout win.
"I think we're just gonna prepare as much as we can, not so much think about last year and just like it's a new team that we're playing," Rettig said.
That is not to say the Eagles won't be trying to do the same thing they did last season. They know they badly need to win this weekend.
"I guess saving the season would just be winning games," linebacker
Nick Clancy
said. "The message around the locker room is not to look too far ahead. Try to take one game at a time. So that's how we do it every week.
"Win or lose, after every Saturday we look at the tape and then we just go back to work."
As a fifth-year senior, Clancy feels particular pressure to produce positive results.
"There haven't been any players-only meetings, nothing like that," he said, "but the older guys, the seniors, have been a lot more vocal trying to establish the tradition we have here at BC. It's a winning tradition, and I know my class doesn't want to be known for the class that screwed that up.
"We've tried to lead by example and show the young guys: This is how it's done."
After a disappointing 2-10 season in 2011, Maryland (4-3, 2-1 ACC) has surprised some observers in 2012.
"It's almost the same guys that they had last year, the only difference is they're playing harder," offensive co-captain
Chris Pantale
said. "They're making plays this year, they're aggressive. They've bought into their system, I guess, and they're just playing tough, physical football."
The strength of Randy Edsall's squad this season has been its defense, which sits just a notch below league-leading Florida State in conference play.
The Terps are second in scoring defense (18.0 points allowed per game), total defense (324.7 yards allowed per game) and rushing defense (93.0 ypg), fourth in passing defense (231.7 ypg) and fifth in sacks by (10 in three ACC games). They've allowed the fewest first downs of any team in the ACC, giving up just 16.0 a game.
"They're a great team defensively this year," BC wideout
Alex Amidon
said. "They've played well against everyone. I mean, West Virginia scored 30 [actually, 37], but that's uncharacteristic of West Virginia, really, because they usually score in the 50s and stuff. They've just got an overall great defense; their defensive line, linebackers and D-backs are solid.
"It's gonna be a good challenge."
Jack McCluskey is an editor for ESPN.com and a frequent contributor to ESPNBoston.com. Follow him on Twitter @jack_mccluskey.