Boston Colleges:

Massachusetts Minutemen
September, 8, 2012
9/08/12
9:07
PM ET
By
Jack McCluskey
| ESPNBoston.com
FOXBOROUGH, Mass. -- When you're making the kind of transition that
UMass
is, going from the FCS to the FBS, there are sure to be growing pains.
Those pains were on display in the opener against UConn, when the Minutemen managed just 59 yards of total offense and failed to get on the scoreboard in a 37-0 loss.
The pains were visible again Saturday. The Minutemen managed to put points on the scoreboard when signal-caller
Mike Wegzyn
scrambled 16 yards for a touchdown to cut the
Indiana
lead to 7-6, but
Blake Lucas
' point-after attempt went wide left.
In the third quarter, Wegzyn and the offense moved the chains with a succession of quick passes and got the offense into position for a 36-yard field goal attempt. That kick was also wide left.
UMass finished with 289 yards of total offense, 16 first downs and those six points. Since it finished with 59, three and zero in the first game, that counts as a small step forward.
After going just 9-for-22 for 56 yards and an interception in his first start for the Minutemen, Wegzyn was 18-for-26 for 161 yards and had seven rushes for 37 yards and a touchdown in his second start.
"I felt more prepared coming out," Wegzyn said after the game. "I think as a team we felt more prepared. We've been looking a lot better in practice, but obviously we didn't have the game we were expecting or hoped to have."
UMass coach Charley Molnar said he thought his quarterback showed some progress.
"He took a step forward, but you have to remember he was starting at ground zero," the coach said.
At the end of the day, the offense still produced only six points. But the redshirt freshman was optimistic.
"We're moving forward. We're taking strides," Wegzyn said. "So we just have to polish up and hopefully next week, I think personally, we'll be there."
Down and out
Tre Roberson
was riding high. The Hoosiers quarterback had rushed for two long scores -- one from 50 yards, the other from 39 -- and thrown for a short score -- a five-yard pass to
Shane Wynn
-- in the first quarter.
And he had his offense on the doorstep again early in the second quarter.
But after he kept the ball on third-and-goal from the 5-yard line, Roberson did not get up after a three-yard rush. Trainers rushed out to attend to him, working on his left leg and quickly signaling for a waiting ambulance.
Roberson was lifted onto a stretcher, loaded into the ambulance and driven off the field.
The sophomore finished the day with four rushes for 114 yards and the two touchdowns and was 6-for-13 passing for 81 yards, one touchdown and one interception.
"He just took advantage of what our defense was giving. That's the bottom line," Molnar said of Roberson.
No defending the defense
After holding UConn to a respectable 372 yards of total offense -- two of the Huskies' scores came on defense or special teams -- the UMass D was the highlight, if there was one, of the opener.
Not so in the home opener.
The Minutemen allowed the Hoosiers 452 yards of total offense … in the first half.
Indiana finished with 611 yards of total offense in its 45-6 win.
Molnar said he didn't think the problems were schematic, saying it was more fundamental than that.
"It was just our tackling was atrocious," the coach said. "I saw more missed tackles today than I ever expected to see."
The Minutemen will need to correct that problem in a hurry, if they hope to stay in games. The offense as currently constituted is not capable of bringing the team back from a deficit.
Penalties aplenty
UMass outdid Indiana in one category -- and it was one Molnar & Co. wouldn't have minded losing.
The Minutemen were flagged nine times for 80 yards on the day, outstripping the Hoosiers' six flags for 81 yards.
"Penalties are a big problem, because we're really not good enough to overcome them," Molnar said. "I don't know what teams are, but we're really not good enough to overcome penalties. We shoot ourselves in the foot early in the series offensively, and it's almost a guaranteed punt."
The film will have more to say on the issue, but some of the flags will no doubt sit better than others with the coaching staff.
"Some of them were just aggressive football errors or just mistakes," Molnar said, "and some were stupid penalties."
Jack McCluskey is an editor for ESPN.com and a frequent contributor to ESPNBoston.com. Follow him on Twitter @jack_mccluskey.
September, 8, 2012
9/08/12
9:00
PM ET
By
Jack McCluskey
| ESPNBoston.com
FOXBOROUGH, Mass. -- As the final chords of the national anthem echoed through the stadium, the plane approached. It was a C-5 Galaxy, an impressive piece of military engineering.
The big-bodied aircraft soared over Gillette Stadium, its noise following hard behind.
The fans cheered. The kickoff was close, the first home game against a Football Bowl Subdivision opponent in the long history of the
UMass
program just about under way.
While the choice of equipment for the pregame flyover was probably not foremost on the minds of many, as the game went on it became clear just how appropriate it was.
You see, the C-5 Galaxy is a transport aircraft. It is not equipped for combat.
Neither are the Minutemen.
The UMass offense went three-and-out on its first series of the game, gaining a grand total of zero yards on three plays (one run, two passes). Then the punt by
Colter Johnson
sailed out of bounds, giving
Indiana
the ball at the 50.
[+] Enlarge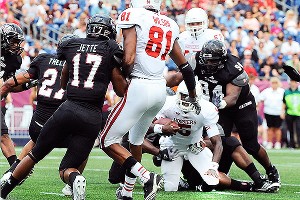 AP Photo Eric CanhaBefore breaking his leg early in the second quarter, Indiana QB Tre Roberson (5) accounted for almost 200 yards and three TDs.
One play later, the game was no longer scoreless. Hoosiers QB
Tre Roberson
ran a keeper, breaking an arm tackle at the line of scrimmage, juking two Minutemen defenders in the second level and sprinting to the end zone to put IU up 7-0.
The Hoosiers wouldn't need to score again -- but they did, jumping out to a 21-6 lead at the end of the first and coasting to a 45-6 win.
"We need to bring our A-game every single week," UMass coach Charley Molnar said after the game. "There's not going to be many games where the talent level is going to be even on that field. It's just not going to be. So for us to win the game -- for us to stay in the game -- we've got to bring our A-game.
"And if we brought our A-game, it quickly dissolved into a B-game or less for some guys."
There was a hint of progress on offense. It came right after Indiana's first touchdown, and if you weren't paying close attention, you might have missed it.
Using a 56-yard gain on a trick play -- running back
Michael Cox
took a handoff from quarterback
Mike Wegzyn
, who ran out to the left and caught a pass back from Cox and then chucked it long down the left sideline to
Marken Michel
-- and a 16-yard scamper from Wegzyn, the Minutemen scored the first touchdown in their FBS history. But
Blake Lucas
' point-after attempt sailed wide left, and Indiana kept the lead at 7-6.
That was as close as the Hoosiers would let the hosts get.
"I'm disappointed in the way we performed today," Molnar said. "I was expecting better."
Meanwhile, the Minutemen defense struggled to stop the Hoosiers. Before he left with a left leg injury, Roberson accounted for almost 200 yards of offense and three touchdowns.
He was injured early in the second quarter.
"He's a very good athlete, a very good running quarterback," Molnar said, "but you're exactly right -- the lanes or the holes were so big that even a less-skilled or less-gifted runner at the quarterback position would've had some chunks of yardage."
Indiana, which doubled its win total last season, finished with 611 yards of total offense (343 rushing, 268 passing).
The immediate future doesn't provide much hope for the Minutemen. Next weekend they travel to Ann Arbor, Mich., to take on the No. 19 Wolverines.
Though the announced attendance of 16,304 would have been a good crowd for UMass' McGuirk Stadium, which holds 17,000, it left Gillette, capacity 68,756, looking practically empty. When the skies opened up in the second half and the few fans there headed for cover, the effect was doubled.
Maybe it's unreasonable to expect the Minutemen to compete immediately with the likes of Indiana, a bottom-of-the-barrel Big Ten team but still a Big Ten team. Maybe it's unreasonable to ask UMass to draw more than 16,000 fans, especially considering the circumstances (an opponent with no ties to the area and a mixed forecast).
Maybe. Yet here we are, and that's what they're being asked to do.
Like a C-5 Galaxy being asked to maneuver like a fighter jet and take on the enemy directly, the Minutemen just aren't equipped for this level of engagement.
Jack McCluskey is an editor for ESPN.com and a frequent contributor to ESPNBoston.com. Follow him on Twitter @jack_mccluskey.
September, 8, 2012
9/08/12
6:57
PM ET
By
Jack McCluskey
| ESPNBoston.com
FOXBOROUGH, Mass. -- In its first home game as a Division I-A team,
UMass
was
completely outclassed
by visiting
Indiana
45-6 on Saturday at Gillette Stadium.
How it happened:
Things did not start well for the UMass offense. After a dismal debut on the FBS level against UConn, scoring no points and totaling just 59 yards of offense, the Minutemen desperately needed a better beginning to their first home game as a Division I-A team.
They didn't get it.


After the defense forced Indiana to punt on the first series of the game, the offense got the ball on its own 18-yard line. The first play was a handoff to
Michael Cox
, who tried to take it around the left end and was stopped for no gain. The second play was a pass to Cox in the backfield, with QB
Mike Wegzyn
getting the short throw off under heavy pressure, and the back barely got back to the line of scrimmage before being stacked up.
The third play was a pass, and Wegzyn almost completed it ... to Indiana's
Mark Murphy
.
On fourth down,
Colter Johnson
's punt sailed out of bounds at the 50, giving the Hoosiers the ball at midfield.
It wouldn't take them long to capitalize.
Tre Roberson
kept the ball, broke an arm tackle at the line of scrimmage, juked two UMass defenders at the second level of the defense and was off to the races.
The 50-yard TD run put Indiana up 7-0.
For the Minutemen's offense, that would prove to be too much to overcome.
What it means:
There is a long way to go for coach Charley Molnar's program.
That was to be expected, with the move up to Football Bowl Subdivision play. But this far? It's unlikely even the most pessimistic Minutemen fan saw this coming in the first two games.
What's next?
UMass will head to Michigan for its second straight game versus a Big Ten team. The 3:30 p.m. kickoff will be broadcast on the Big Ten Network.
Jack McCluskey is an editor for ESPN.com and a frequent contributor to ESPNBoston.com. Follow him on Twitter @jack_mccluskey.
September, 7, 2012
9/07/12
6:00
AM ET
By
Jack McCluskey
| ESPNBoston.com
Suffice it to say things did not go according to plan for coach Charley Molnar and UMass in the opener against UConn.
The Minutemen lost 37-0 to the Huskies. They had a grand total of three first downs, 3 net yards rushing and 56 net yards passing.
"I don't feel good about our team's performance," Molnar said after practice Wednesday. "Obviously, after you lose and never give yourself a chance to compete, as a coach you can't feel good about it."
Then Molnar noted what he did feel good about.
"Our team fought hard through four quarters, the guys never quit," he said. "It was disappointing but we've already moved past that, we're really focused now on Indiana."
Molnar hopes that his young team will benefit from the experience -- and from getting out the jitters of the first game on the new stage.
"Part of it is when you're playing with so many freshmen, true freshmen and redshirt freshmen, the only way you can improve is just to get experience," he said. "We've worked hard each day we've been out there. I think some of these players are better players than they were when we played Thursday night.
"Obviously their skill sets are just starting to develop. That alone will make us a better football team."
UMass was scheduled to practice last Friday, the day after the opener, regardless of the outcome. Molnar said his message to the team was simple.
"Don't let UConn beat you twice. They already beat you once," he said. "I think after we got through Friday's practice, as the afternoon went along the guys' intensity and spirit picked up."
Next up is the home opener, the first game UMass will play as an FBS team in its new home venue, Gillette Stadium. Indiana comes to Foxborough for the occasion, having already matched its win total from last season with a 24-17 win over Indiana State.
And while Indiana is far from the cream of the Big Ten crop, it is still a Big Ten team. The offensive line has typical Big Ten size, with no lineman lighter than 268 pounds or shorter than 6-foot-2.
"That in itself will be a challenge for our football team," Molnar said of IU's size. "The game will be won in the trenches."
It will also be won -- or lost -- by the performances of the skill position players.
Redshirt freshman
Mike Wegzyn
struggled in the opener, going 9-for-22 for 56 yards and getting picked off twice. He'll need to make strides for UMass to improve. And it would be good if those strides came sooner rather than later, as the Minutemen ask their fans to follow them to Division I-A.
"I'm optimistic that we've made strides," Molnar said. "I'm optimistic that we've got the right guys in the right places and they've worked hard so we'll see what happens on Saturday afternoon."
Jack McCluskey is an editor for ESPN.com and a frequent contributor to ESPNBoston.com. Follow him on Twitter @jack_mccluskey.
August, 20, 2012
8/20/12
9:00
AM ET
Charley Molnar, as Notre Dame followers can attest, is used to quarterback controversies. He faces one now in Massachusetts' fall camp, having to sit starter
Kellen Pagel
indefinitely because of post-concussion symptoms.
In that regard, Molnar's duties as UMass' head coach are similar to the ones he had in two seasons as the Irish's offensive coordinator. But in moving from college football's third-winningest program to a school beginning its first season in the Football Bowl Subdivision, Molnar has done more than leap from assistant to head coach, as he has taken on the task of building the foundation for a program looking to make its mark both in New England and at the next level.
"I think if there were two situations that were diametrically opposed it would be Notre Dame and UMass," Molnar said. "Because Notre Dame, everything is already in place: The infrastructure is there, the fan base is there, the ticket sales are there, the tradition is there.
"[Now] I'm taking over a program where virtually everything has started from scratch -- with the transition to I-A, we're moving into a new football building, we're playing our games at a new stadium," he added, referring to the Patriots' Gillette Stadium in Foxborough, two hours away from campus. "We virtually have to create almost a whole new fan base and a whole new group of season-ticket-holders. So that is really, really quite a gap that we have in front of us. But it's super-exciting to be involved in everything from the ground up."
[+] Enlarge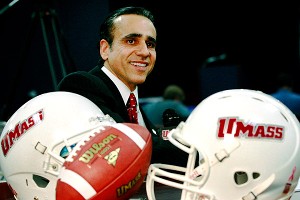 AP Photo/Elise AmendolaNew coach Charley Molnar hopes his UMass program can grow in the mold of Boise State.
Busy days preparing for Notre Dame's bowl gave way to sleepless December nights selling the Minutemen as New England's future football power, as Molnar built a staff, recruited in the leadup to national signing day and met with campus and community constituencies.
"Quite frankly that's always something that intrigued me to do this part of the job," Molnar said of his new CEO-type duties. "So I feel I was absolutely ready for it and I've embraced it. I love that part. I'd rather do it than not do it. I just think it's a lot of fun, and I like getting engaged in the community with our fans and with the ticketholders and trying to create a new fan base. I love that challenge. It's like recruiting, going out there and tying to sell another group of tickets, get another fan that follows the program."
UMass is a football-only member of the Mid-American Conference this season. It will face Big East, SEC and Big Ten schools, including Michigan, and future nonconference opponents include Notre Dame, Wisconsin and Florida. Molnar said dates with name programs will help UMass gain recognition outside of the region, with the hope that, eventually, the Minutemen will be able to compete with and some day defeat some of the elite.
To help bridge that gap, he has welcomed a pair of fifth-year former Notre Dame players, nose guard Hafis Williams and receiver
Deion Walker
, along with former Michigan running back Michael Cox.
While classmates don't view them as blue-chip saviors -- a look commonly associated with big recruits at their former campuses -- the UMass transfers have expressed surprise at the interest building on campus.
"I had someone tell me, 'Yeah, I hear they got some new guys in from Michigan and Notre Dame,' and I was like, 'Oh yeah? I'm one of those guys,'" Walker, an ESPN 150 player in high school, recalled with a laugh. "So that's exciting, that shocked me for the most part."
On signing day, Molnar stood at a podium between blown-up pictures of UMass alumni
Victor Cruz
and
James Ihedigbo
, who squared off four days later in the Super Bowl. A Morristown, N.J., native, Molnar is hoping to compete with BCS-conference programs UConn and Boston College for area players while tapping into talent-rich New Jersey and Pennsylvania. UMass has already landed a pair of three-star 2013 commitments in Connecticut quarterback
Todd Stafford
and New Jersey linebacker
Shane Huber
.
Fundamentally, Molnar said, the job remains the same from his years as an assistant, the previous six of which were spent under Brian Kelly. Now, he just returns to a second stack of files in his office every day, with administrative duties adding to his coaching itinerary.
Though mounting paperwork and inevitable early struggles present a less-than-ideal situation, Molnar remains intrigued by the idea of planting the seeds for a rising program. After all, he said, bigger makeovers have been done.
Eight months and zero losses into his tenure, he dreams of one day becoming the biggest.
"I've looked at Boise State as being a model for our program, where they took a university that was relatively unknown," Molnar said. "They had rabid fans but not a large base of fans. And they've run that program with certain fundamentals on and off the field and they continue to do so regardless of who the head coach has been.
"And that's how I see UMass growing in the future, with a great foundation that I get to help lay, and then being able to one day look back at UMass and see the program grow and prosper and feel like this was part of my legacy."