Boston Colleges:

Miami Hurricanes
September, 1, 2012
9/01/12
9:37
PM ET
By
Jack McCluskey
| ESPNBoston.com
NEWTON, Mass. -- The Eagles called this game a benchmark, saying it would be a good indication of how far they need to go to be where they want to be.
If that's the case, there's still a long way to go.
Chase Rettig
and the new-look offense started out Saturday like a house on fire, moving the ball efficiently and scoring touchdowns on their first two possessions.
Then the house just burned to the ground.
A three-and-out and a pick-six on Rettig got the Hurricanes back to even, and then the differences between these two teams started to become more and more evident, as Miami pulled out the
41-32 victory
.
The Eagles struggled at times to move the ball against the Hurricanes' aggressive defense and ultimately had to settle for field goals. They put the ball on the ground multiple times, losing two fumbles and recovering a couple more.
The Hurricanes showed true home run-hitting ability, getting two 50-plus-yard TD runs from touted freshman tailback
Duke Johnson
. And when they weren't hitting big plays, the Hurricanes were converting third downs when they needed to and keeping drives alive.
[+] Enlarge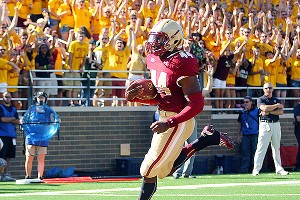 AP Photo/Anthony NesmithThis Andre Williams TD run got BC in front 7-0, but Miami was just warming up.
"I thought we played sloppy, made some mistakes that hurt us on offense," BC coach Frank Spaziani said. "I thought we moved the ball and did some real nice things. We had a couple fumbles and the turnover, obviously, that gave them a score and two long runs that we can't have happen on defense.
"We've gotta play better defense than that. But there were some good signs there, so we've gotta build on it and go forward."
There were, indeed, good signs. Rettig threw for a career-high 441 yards, completing 32 of 51 passes, two touchdowns and one interception. The 441 yards are the most for a BC signal-caller since Doug Flutie -- maybe you've heard of him? -- had 447 on Nov. 3, 1984. It's sixth all-time in the BC single-game record books.
In the first game under new offensive coordinator Doug Martin, the offense piled up 542 total yards and scored 30 points (the final two came on a safety). And there were more points to be had, if not for a few untimely drops and the aforementioned mistakes with ball security.
But it wasn't enough.
After a
Nate Freese
field goal gave BC back the lead at 23-21 midway through the third quarter,
Kevin Pierre-Louis
and the BC defense had
Stephen Morris
& Co. right where they wanted them. It was third-and-16 from the Miami 39-yard line after
Kasim Edebali
made a play to stop
Mike James
in the backfield.
The crowd got loud, and those on the BC sideline jumped up and down, willing a stop.
Instead, Morris found
Allen Hurns
open for a 21-yard gain and a first down. The drive stayed alive and ultimately resulted in the winning points for the visitors.
"No one made a play [on defense]. Didn't look like it," Spaziani said. "Although we did fight and stop them a couple times, not when we needed to. We can't give up that many points."
The big plays by Johnson were killers, but the Eagles said he didn't take them by surprise.
"He's an explosive back, and you can't give him areas like that to get through," Spaziani said. "We've gotta be a little better positioned and more precise."
Pierre-Louis, who had a game-high 11 tackles on the day, agreed.
"I just feel as though we need to execute a little bit better," Pierre-Louis said. "We were right in the right spots; we just need to push a little bit harder."
"When you score 32 points, you expect to win," Spaziani said. "The defense has got to play better than that. We're not equipped to play junior high school basketball games."
A clearly disappointed Rettig said he thought the offense played well overall.
"The only thing I can come back to is we didn't convert a few third-and-1s, and just not scoring touchdowns when we were in the red zone," he said. "We had a couple good looks on a couple plays; we just need to finish them."
The Eagles did score on six of their seven trips to the red zone, but only three of those scores were worth six points. Miami scored on all four of its red zone trips, and that doesn't include the scores by Johnson.
BC just made too many mistakes -- putting the ball on the ground at costly times, in costly positions on the field -- to win against an ACC opponent.
In fact, if the Eagles play like this next Saturday, they might struggle to put away the
Maine Black Bears
. And they're in the Football Championship Subdivision.
"That was a winnable game," Spaziani said. "Not taking anything away from Miami -- they deserved to win. We need to play better, catch the ball, hold on to the ball, tackle. Those are the things that we can improve on. And we need to."
If this first game was truly a benchmark, a road sign telling the Eagles just how far they have to go to reach their destination, that sign told them two things -- one that might be comforting, and another that might be just as discomfiting.
They seem to be on the right road, but there are still miles and miles to go before they're where they want to be.
Jack McCluskey is an editor for ESPN.com and a frequent contributor to ESPNBoston.com. Follow him on Twitter @jack_mccluskey.
September, 1, 2012
9/01/12
7:20
PM ET
By
Jack McCluskey
| ESPNBoston.com
NEWTON, Mass. --
Boston College
dropped its
season opener
in Chestnut Hill for the second straight season, losing to Miami 41-32 on Saturday.


How it happened:
Things could not have started better for the Eagles. The new offense sparkled on its opening drive, marching down the field with a good mix of pass and run, and punching it into the end zone to take an early 7-0 lead.
And after a three-and-out from Miami,
Chase Rettig
& Co. did it again, driving confidently downfield and finding pay dirt for a 14-0 lead.
Then the wheels started to come off.
After a three-and-out by the offense, the BC defense let Miami QB
Stephen Morris
find his rhythm, and watched the Hurricanes move up the field and into the end zone. On the next offensive set, Rettig telegraphed a pass, and sophomore linebacker
Denzel Perryman
snatched the ball out of the air, sprinting 41 yards for a pick-six.
Rettig was 3-for-4 for 58 yards on the Eagles' first scoring drive, and 4-for-6 for 69 yards and a score on the second. He looked in complete command, 7-of-10 for 127 yards and that touchdown, and the offense seemed potent.
Not so much after the three-and-out and the pick-six. He was 7-for-12 for 104 yards and an interception in the rest of the half, adding a muffed interchange with center
Andy Gallik
to stall a red zone chance for good measure. And a BC offense that got touchdowns on its first two possessions had to settle for field goals thereafter until the game was all but decided.
And Miami? Well, Miami didn't settle for anything. The Hurricanes used two 50-plus-yard TD runs (54 and 56 yards) from
Duke Johnson
to score quickly and a sparkling third-down conversion percentage to keep drives going, and piled up 41 points.
What it means:
Another early hole the Eagles will have to dig themselves out of. They lost three straight games and six of their first seven to open the 2011 season, and never recovered en route to a 4-8 record.
The only win in the first seven? A home W over then-Football Championship Subdivision school UMass.
It's unlikely the Eagles will open 0-3 this season, what with next weekend's opponent (the
Maine Black Bears
) hailing from the FCS. But any hope of momentum carrying over from the strong finish they managed last season (winning three of their final five games) is now gone.
What's next:
BC will host the FCS Maine Black Bears on Saturday, Sept. 8.
Jack McCluskey is an editor for ESPN.com and a frequent contributor to ESPNBoston.com. Follow him on Twitter @jack_mccluskey.