Boston Colleges:

New Hampshire Wildcats
March, 31, 2013
3/31/13
12:12
AM ET
By
Brion O'Connor
| ESPNBoston.com
MANCHESTER, N.H. -- The UMass Lowell River Hawks prolonged decades of frustration for New Hampshire hockey fans, ending the Wildcats season with a 2-0 victory in the NCAA Northeast Regional final before 8,357 at the Verizon Wireless Center on Saturday.
In the first-ever meeting between the schools in the NCAA tournament, the top-seeded River Hawks (28-10-2) upended a game-but-undermanned Wildcats squad (20-12-7), and they did it with a stifling defense and clutch scoring. The Lowell victory avenges three losses to UNH during the Hockey East regular season and guarantees the program's first-ever trip to the Frozen Four. They'll square off against the Yale Bulldogs in Pittsburgh on April 11.
The win was particularly sweet for second-year River Hawks coach Norm Bazin, who was on the 1994 Lowell team that was denied a chance to get to the Frozen Four, losing to Minnesota in double overtime, 2-1, in the regional finals at Michigan State. The current Lowell squad, said Bazin, is capable of creating its own legacy.
[+] Enlarge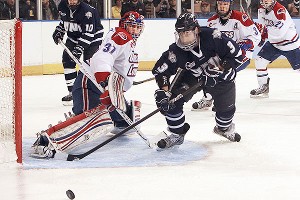 AP Photo/Jim ColeLowell goalie Connor Hellebuyck picked up Most Outstanding Player honors for his stellar work at the Northeast Regional.
"I think this team is starting to show people that they're capable of something special," he said. "And we hope this continues."
Lowell goaltender Connor Hellebuyck again was a wall for the River Hawks, stopping 28 shots to record his second shutout of the postseason (sixth of the season) and capture Most Outstanding Player honors for the regional. In six playoff games since the end of the end of the regular season -- all victories -- the freshman from Michigan has given up a grand total of five goals, and only two in his last four.
"Connor's an exceptional goalie. Obviously, he's had two great weekends, and he's been strong most of the second half," said Bazin, noting that he has the luxury of two superb goaltenders in Hellebuyck and junior Doug Carr. "You don't get very far, and you certainly don't get to a final four, without great goaltending. And he's been providing that."
Meanwhile, UNH -- known derisively in some circles as the University of No Hardware -- suffered another bitter NCAA exit, and will have another offseason to contemplate what went wrong. It was the fifth straight time the Wildcats have lost in the regional final (2005, 2009, 2010, 2011 and 2013).
"We've been here one too many times, in this situation, where we won the first game and then lost," said UNH captain Connor Hardowa. "A lot of credit to [Lowell]. They played an unbelievable game. They forced us to dump pucks when we didn't want to, and made it hard for us to break the puck out.
"I thought we played a pretty good game," said Hardowa. "There were just a couple of mistakes here and there that cost us the game, and that's just how the game goes. In this tournament, you make one mistake, it costs you the season."
After exploding for a combined 11 goals in their two semifinal wins on Friday, the River Hawks and Wildcats locked in a defensive struggle for the first 39 minutes. Then, with 30 seconds remaining in the second period, the tide turned dramatically in favor of the River Hawks. UML defender Chad Ruhwedel fired a shot from the right point, which caromed off the backboards to sophomore Scott Wilson. Wilson saw his first chip shot blocked, but he collected his own rebound and tucked it past UNH goaltender Casey DeSmith for a 1-0 Lowell lead.
"It was something we actually pre-scouted," said Bazin. "We felt that [DeSmith] was vulnerable from underneath the goal line. Whether it's true or not, we were aiming to get pucks down low. They've got such a good defensive corps, we didn't get that opportunity too many times tonight. Sometimes it works as you scripted it.
"On that goal, we certainly were aiming for that all game long, and it finally happened for us."
The Wildcats started the game behind the 8-ball, having lost top scorer Kevin Goumas (42 points) and top goal-getter Grayson Downing (15 tallies) to injuries in Friday's opening match against Denver. Still, UNH had the best early chance, with freshman Collin MacDonald narrowly missing a tap-in just minutes into the contest. For the remainder of the period, Lowell kept the Wildcats to the outside, giving Hellebuyck an unobstructed view, until UNH's Austin Block got a last-chance bid with less than 10 seconds remaining that skittered just wide.
"They play a really tough game," said UNH's John Henrion. "They strive off their forecheck. Anything in the neutral zone gets deep. It's tough for our defensemen, as it would be for any team to constantly have to go back and fetch pucks. And from there, they get on the puck. They forecheck hard."
[+] Enlarge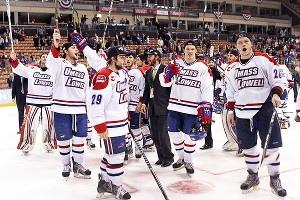 AP Photo/Jim ColeThe River Hawks celebrate the first Frozen Four berth in school history.
The middle stanza produced more of the same, with both teams employing a grinding, responsible defensive style, and few first-rate scoring chances. Shots that did get through were either gobbled up or easily deflected by Hellebuyck and DeSmith. With almost 14 minutes gone, UNH's Jay Camper was set up nicely inside the right face-off circle by freshman Dan Correale, but his one-timer was blocked by Hellebuyck's right arm.
Lowell's Josh Holmstrom was got the puck between the hash marks two minutes later, but misfired on his shot and failed to put the puck on net. Finally, Wilson broke the deadlock at 19:30, finishing off a 20-second Lowell flurry. Collecting the puck at the left corner of the crease, Wilson snapped a shot that DeSmith blocked. But the sophomore from Ontario jumped on the rebound, and slipped in past the sprawling UNH netminder to give Lowell the game's first lead.
Wilson's strike was a foreboding harbinger for the Wildcats, who had managed only a 7-9-4 record when surrendering the game's first goal (compared to a 13-2-2 mark when taking the lead). The Wildcats ramped up the pressure in the third period, only to see the River Hawks match their intensity. Specifically, the Lowell forwards were tenacious in their backchecking, rarely giving their UNH counterparts any room to move and constantly harassing the Wildcats defenders.
"Discipline has really been a key word for us this season," said Ruhwedel, a junior assistant captain. "I think our team has really showed true character, and tonight was definitely one of those games."
At 13:58 Lowell freshman Adam Chapie gave the River Hawks some breathing room. Picking up the puck at his own blue line, Chapie drove down the left wing, getting position on UNH's Brett Kostolansky. Just as DeSmith attempted a poke check, Chapie flipped the puck underneath the right arm of the UNH netminder, giving Lowell a 2-0 lead.
"It was a big goal for us. He's somebody, oddly enough, who seems to flourish in tough situations," said Bazin. "He seems to excel along the wall. Credit to him, he doesn't quit on pucks. That was a big goal to add to our cushion, because a one-goal lead against UNH isn't very settling when you're a coach standing behind the bench."
The Wildcats threw caution to the wind with 2:47 remaining, pulling DeSmith for the extra attacker. In the last minute, UNH stormed the Lowell defensive zone, but Dick Umile's troops couldn't get a puck past Hellebuyck.
"He's a big boy," said Umile. "Obviously, we saw two pretty talented goaltenders in our last games in [Hellebuyck and Providence freshman John] Gillies. I'm going to have nightmares about the two of them. It's a big difference when they're that big and that quick.
"He just towers over the net," said the UNH bench boss. "He reminds me of my old days, and Kenny Dryden. He's that type of goaltender."
Next stop for the Lowell freight train? Pittsburgh.
"We'll let these guys enjoy it for a night, but that's about it," said Bazin. "Then we'll get back to work."
March, 30, 2013
3/30/13
1:36
AM ET
By
Brion O'Connor
| ESPNBoston.com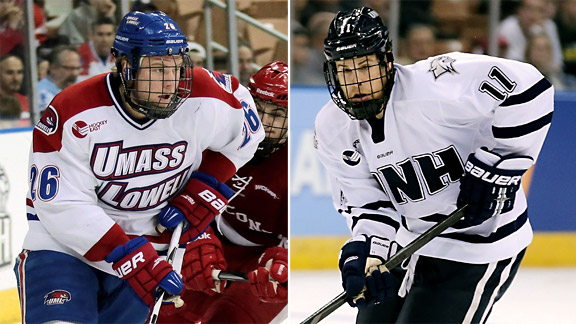 Icon SMIThe River Hawks and Wildcats will square off Saturday (6:30 ET, ESPNU) for a spot in the Frozen Four.
MANCHESTER, N.H. -- One of the refrains repeated by UMass Lowell River Hawks coach Norm Bazin during last week's Hockey East finals was simple but direct: "Why not Lowell?"
After a 6-1 dismantling of Wisconsin on Friday night, and a Saturday date in the finals of the NCAA Northeast Regional, with a chance for the program's first Frozen Four appearance hanging in the balance, the question seems more relevant than ever. "Why not the River Hawks?"
New Hampshire (20-11-7) knocked out the Denver Pioneers in Friday's nightcap with a come-from-behind win, 5-2 win, so Lowell will face the Wildcats in an all-Hockey East final on Saturday night, with the goal of improving a program-best 27-10-2 record.
"I believed in this team since day one," Bazin said Friday.
Lowell, however, started at a glacial pace this season, stumbling out of the gates with a 4-7-1 record. Among those seven losses were three defeats suffered at the hands of the Wildcats, the last on Dec. 8. After that loss, Lowell went on a 23-3-1 tear, the best in the country.
"They're a very gritty team," said UNH forward John Henrion. "They're a really tough team to play against. They're really hard-nosed. They're skilled. They've got some big, strong defensemen. And obviously their goalie [Connor Hellebuyck]. They've been playing their best hockey. It's going to be a tough test for us."
[+] Enlarge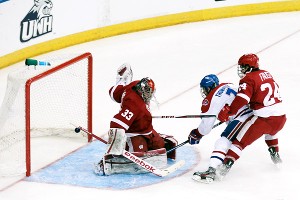 Fred Kfoury/Icon SMIWisconsin stormed in the Northeast Regional with plenty of momentum, but couldn't stop No. 1 seed Lowell.
Given their success over the second half of the season, it's not surprising that the River Hawks are drawing comparisons to defending national champs Boston College, the team that Lowell edged to take the Hockey East regular-season crown. Many see Lowell's composure under pressure, and quick-strike capabilities, as a carbon copy of Eagles squads of recent vintage.
"I've got a lot of concerns [with Lowell]. They're a real good hockey team, obviously," said UNH coach Dick Umile, who lost forwards Kevin Goumas and Grayson Downing in Friday's win. "They're a very well-coached team. They've got balance throughout. They've got skilled forwards, they've got defensemen. We'll have our hands full."
Wisconsin coach Mike Eaves said it was Lowell's defensive structure that reminded him most of the BC Eagles, who defeated the Badgers in the 2010 NCAA title game.
"They do a good job of fronting, getting in front of your guys and blocking shots," said Eaves. "The other thing they did well tonight was take advantage of moments when we gave them odd-man rushes. They put the puck away."
Bazin said as long as his squad remains committed to playing team defense, he likes its chances against any opponent. "I think the guys are truly believing that they can help out every single shift, and the forwards drive the bus," said Bazin. "When their back pressure is strong, we're very good defensively. When their back pressure isn't as strong, we're not as good."
"It's a team effort," he said. "We don't go very far when we're not aggressive. But when we're aggressive on the puck, we're a good hockey club."
After a dominating finish to Friday's win over Wisconsin, the No. 1 seed River Hawks appear to be sitting in the driver's seat. "They play hard, they play as a team, and they know what it takes to win," said Wisconsin senior defenseman John Ramage. "Obviously, look at their record. They are a hot team, too. They know how to win, and they showed it in this game."
In New Hampshire, the River Hawks face an opponent with good team speed, very good special teams, a solid netminder in sophomore Casey DeSmith, but an occasional penchant for turnovers. Just the recipe for an opportunistic squad like Lowell. Still, judging from his comments after the Wisconsin rout, Bazin is focusing on his own team, not the Wildcats.
"We concentrate on our own game, and we feel if we concentrate on our own game, we have a chance against anybody. That's been the M.O. for us," said the second-year Lowell bench boss. "For us, it's about executing our team systems. And we're focused on that."
Lowell's run may have the River Hawks feeling like world-beaters, but one of Friday's stars said the team won't get ahead of itself.
"We do have a lot of confidence right now," said Lowell sophomore forward Scott Wilson. "The coaches and captains kept us pretty level-headed throughout the whole run here. Even tonight, a great win for us but [Riley] Wetmore, our captain, just pulled us aside and said tonight, 'Enjoy it for five minutes, but tomorrow we have to do business again.' It's just been a process all year, that we focus on the next one."
The next one is a big one, with a trip to the Frozen Four in Pittsburgh -- the first Frozen Four appearance in Lowell's history -- on the line. Conversely, the Wildcats have been to seven Frozen Fours, the last in 2003, so it appears that history might be on New Hampshire's side.
To which Lowell's Bazin would probably reply, "Why not Lowell?"