Boston Colleges:

Nick Clancy
November, 19, 2012
11/19/12
4:45
PM ET
By
Jack McCluskey
| ESPNBoston.com
It's not the reward he wanted, but
Nick Clancy
will take it.
The fifth-year Boston College senior desperately wanted a win on Senior Day at Alumni Stadium. It'd been a long, hard season, with losses far outnumbering wins, and Clancy and his classmates wanted to leave their final game in Chestnut Hill with a good taste in their mouths.
But Clancy and the defense weren't able to stop Virginia Tech late in the fourth quarter and in overtime, and the Eagles once again came up short in a winnable game, 30-23.
On Monday, Clancy got a consolation prize when he was named ACC Linebacker of the Week for his performance in the loss, which dropped BC to 2-9 (1-6 in the ACC).
The 6-foot-3, 232-pound senior had a game-high 20 tackles (17 solo, 3 assisted), including 2.5 tackles for a loss, and two passes defended.
It was the second 20-tackle game of Clancy's career, the first coming in the Plainfield, Ill., native's semi-homecoming game at Northwestern (he had 24). He also won the ACC LB of the Week award for that performance.
Coming into the season, Clancy's career high was 7 tackles in a single game, a total he has surpassed in eight of 11 games this season. With 127 stops in 2012, Clancy is the ACC's leading tackler and ranks fourth in the country.
Clancy and the Eagles have one game left, at NC State on Saturday (3 p.m. ET, ESPN3).
Jack McCluskey is an editor for ESPN.com and a frequent contributor to ESPNBoston.com. Follow him on Twitter @jack_mccluskey.
November, 17, 2012
11/17/12
8:34
PM ET
By
Jack McCluskey
| ESPNBoston.com
NEWTON, Mass. -- A week after sustaining a concussion against No. 3 Notre Dame,
Nick Clancy
started at his customary middle linebacker spot on senior day.
The Eagles are glad he did, as he made 10 tackles in the first half and finished with a game-high 20 tackles.
[+] Enlarge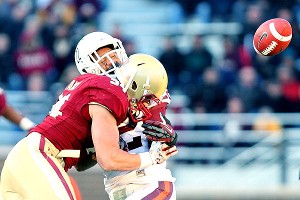 AP Photo/Anthony Nesmith/CSMBC LB Nick Clancy made a big impact Saturday after suffering a concussion last week.
Clancy's biggest contribution wasn't a tackle, however. On fourth-and-3 from the BC 40 with just more than a minute to go in the first half, the Hokies decided to roll the dice.
Logan Thomas
stood alone in the backfield, with five wide receivers spread along the line.
The big quarterback saw
Demitri Knowles
running free across the middle and delivered the ball on the mark. But Clancy also saw Knowles and threw his shoulder into the wideout just as the ball arrived, jarring it free and causing the incompletion.
"It was one of those times where you have that intuition inside of you that you know what play is coming," Clancy said. "That's what happened there, just kind of felt it given the situation."
After the Eagles came out on the short end of the 30-23 overtime decision, falling to 2-9 (1-6 ACC), the linebacker admitted this one meant more than usual.
"We prepare the same for every game, but there was something about this week," Clancy said. "I wanted this one so bad -- to end on a good note and walk away from BC with my last home game a victory. So this one hurts."
Asked to assess the play of his seniors, specifically Clancy, coach Frank Spaziani said he was happy with the effort, if not the end result.
"Nick made a couple plays," Spaziani said. "I think the seniors came to play and played hard. Now how efficient they played? That remains to be seen."
Deuce let loose
For much of the season, circumstances -- in-game and injury-related -- have dictated that the Eagles become a passing team. But with Bud Foster's defense unleashing blitz after blitz Saturday afternoon, it was the running game that got things going for BC.
November, 10, 2012
11/10/12
9:17
PM ET
By
Jack McCluskey
| ESPNBoston.com
NEWTON, Mass. -- Linebacker
Nick Clancy
, Boston College's top tackler, left Saturday's game against No. 4 Notre Dame with what the team termed an upper body injury.
He is not expected to return.
Clancy, a senior, leads the Eagles in tackles with 107. His average of 11.89 tackles per game ranks third in the nation, according to cfbstats.com.
In the first quarter, Clancy wrapped up Fighting Irish quarterback
Everett Golson
at the goal line but was unable to prevent him from falling forward into the end zone for the score.
Jack McCluskey is an editor for ESPN.com and a frequent contributor to ESPNBoston.com. Follow him on Twitter @jack_mccluskey.
October, 26, 2012
10/26/12
12:19
AM ET
By
Jack McCluskey
| ESPNBoston.com
NEWTON, Mass. -- Last season, a win over Maryland helped Boston College save something of its football campaign.
The 1-6 Eagles went to Terrapins territory and came away with a 28-17 win, the first of three W's in their final five games. That late flourish allowed Frank Spaziani's bunch to finish 4-8 and to talk about carrying momentum into this season.
[+] Enlarge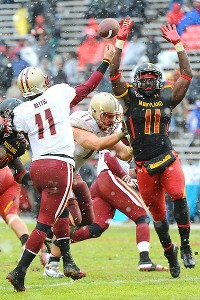 Jonathan Newton/The Washington Post via Getty ImagesChase Rettig and the Eagles beat Maryland last year to spark a late season resurgence.
While any talk of carryover clearly fell flat, that hasn't stopped people from drawing parallels.
Is a similar finish possible this season? And might a win over Maryland help BC (again 1-6 ahead of this matchup) make that happen?
"I think we're just different teams than we were last year," Eagles QB
Chase Rettig
said before practice Wednesday. "You kind of think of the Miami game, 'Well, we beat them last year,' and then they beat us this year."
Indeed, any idea that a season-closing win over Al Golden's Hurricanes would give the Eagles a leg up in the season-opening matchup this year proved incorrect. The visitors came to Chestnut Hill and blew town with a 41-32 shootout win.
"I think we're just gonna prepare as much as we can, not so much think about last year and just like it's a new team that we're playing," Rettig said.
That is not to say the Eagles won't be trying to do the same thing they did last season. They know they badly need to win this weekend.
"I guess saving the season would just be winning games," linebacker
Nick Clancy
said. "The message around the locker room is not to look too far ahead. Try to take one game at a time. So that's how we do it every week.
"Win or lose, after every Saturday we look at the tape and then we just go back to work."
As a fifth-year senior, Clancy feels particular pressure to produce positive results.
"There haven't been any players-only meetings, nothing like that," he said, "but the older guys, the seniors, have been a lot more vocal trying to establish the tradition we have here at BC. It's a winning tradition, and I know my class doesn't want to be known for the class that screwed that up.
"We've tried to lead by example and show the young guys: This is how it's done."
After a disappointing 2-10 season in 2011, Maryland (4-3, 2-1 ACC) has surprised some observers in 2012.
"It's almost the same guys that they had last year, the only difference is they're playing harder," offensive co-captain
Chris Pantale
said. "They're making plays this year, they're aggressive. They've bought into their system, I guess, and they're just playing tough, physical football."
The strength of Randy Edsall's squad this season has been its defense, which sits just a notch below league-leading Florida State in conference play.
The Terps are second in scoring defense (18.0 points allowed per game), total defense (324.7 yards allowed per game) and rushing defense (93.0 ypg), fourth in passing defense (231.7 ypg) and fifth in sacks by (10 in three ACC games). They've allowed the fewest first downs of any team in the ACC, giving up just 16.0 a game.
"They're a great team defensively this year," BC wideout
Alex Amidon
said. "They've played well against everyone. I mean, West Virginia scored 30 [actually, 37], but that's uncharacteristic of West Virginia, really, because they usually score in the 50s and stuff. They've just got an overall great defense; their defensive line, linebackers and D-backs are solid.
"It's gonna be a good challenge."
Jack McCluskey is an editor for ESPN.com and a frequent contributor to ESPNBoston.com. Follow him on Twitter @jack_mccluskey.
September, 19, 2012
9/19/12
5:42
PM ET
By
Jack McCluskey
| ESPNBoston.com
NEWTON, Mass. -- They just couldn't get off the field.
Most of the time against Northwestern, the Boston College defense knew what was coming, but for whatever reason the Eagles just couldn't stop the Wildcats when it counted.
"It didn't seem like they were gaining 560 yards on us," fifth-year senior
Nick Clancy
said before practice on Wednesday. "It was just, God, we couldn't get off the field on third down.
[+] Enlarge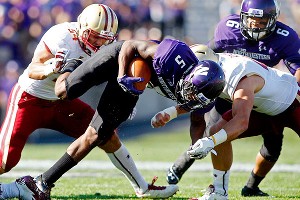 Jerry Lai/US Presswire"It didn't seem like they were gaining 560 yards on us," said senior Nick Clancy, who had 24 tackles (14 solo, 10 assisted) in BC's loss to Northwestern.
"We'd stop them on first and second down, and then it seems like we'd make a mistake or we wouldn't execute our defense, and it just so happened that the plays we didn't execute were on third down and we couldn't get off the field," he said.
The Wildcats converted 12 of 19 third downs in their eventual 22-13 win. The hosts ran a whopping 100 plays on offense, taking it to the visiting defense.
"I mean, 100 plays definitely takes a toll," defensive co-captain
Jim Noel
said, "because that's playing like a game and a half or two games. I think the defense can do a better job of getting off the field."
So during the bye week, the Eagles are focusing on fundamentals. They'll need to clean up the mistakes and force a few more punts (Northwestern had only two) against their next opponent, No. 10 Clemson.
"We're a bend-but-not-break defense, so we'd rather give up a field goal than a touchdown to give our offense a chance," Noel said.
Indeed, the D did keep the Wildcats out of the end zone for most of the day. But as the game wore on, the BC defense wore out and the Wildcats won out.
Next man up piles 'em up
When Luke Kuechly decided to forgo his final year of eligibility and declare for the NFL draft after last season, the common wisdom was he would leave a gaping hole in the BC defense.
Turns out, the guy who replaced him can do a passable impression.
Nick Clancy stepped into the mike linebacker spot this season, after deciding to come back for a fifth year with no guarantees on playing time or role, and has acquitted himself well. On Saturday against Northwestern, the Plainfield, Ill., native piled up 24 tackles (14 solo, 10 assisted) in the loss.
"I was a little fired up, being from Chicago playing Northwestern at home," Clancy said. "I guess I just kinda got into a zone. But I guess when it's all said and done, I think I'd rather have no tackles and a win than 24 tackles and a loss."
For his effort, Clancy was named ACC Linebacker of the Week. Through three weeks, he's leading the conference in tackles (43) and tackles per game (14.3).
Coming into the season, Clancy's career high for tackles in a game was seven.
"I've never had that many tackles," he said with a little laugh.
Resting up
Though it's only Week 4, the Eagles are grateful for the extra rest they'll get this week. The hope is it allows injured players to get back to work once preparations begin in earnest for Clemson, and that even healthy players can take a deep breath and make sure their legs are under them.
Kaleb Ramsey
is one player the Eagles are hoping to get back. Without him in the game on Saturday, the defense gave up 293 yards on 60 rushing attempts.
"One on one, I think Kaleb Ramsey is unblockable," Clancy said. "He's just a man out there playing against boys. We really missed him versus Northwestern and we're looking forward to having him back against Clemson."
Jack McCluskey is an editor for ESPN.com and a frequent contributor to ESPNBoston.com. Follow him on Twitter @jack_mccluskey.
September, 7, 2012
9/07/12
1:47
AM ET
By
Jack McCluskey
| ESPNBoston.com
NEWTON, Mass. -- Never one to over-praise, Boston College head coach Frank Spaziani risked doing the opposite when asked to review one player's performance in the Eagles' opener.
"Clancy was OK," he said. "We've had worse in there."
[+] Enlarge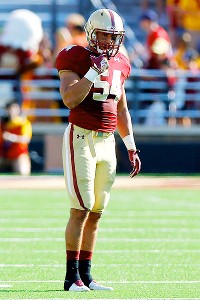 Jared Wickerham/Getty ImagesFifth-year senior middle linebacker Nick Clancy got the job done against Miami.
Clancy is
Nick Clancy
, a fifth-year senior who until this season was mostly a reserve. He already has his communications degree, and decided to come back for a fifth year with no guarantee that he'd play a major role on the field for the Eagles.
Then he showed up this spring and summer, jumped into the competition for the middle linebacker spot vacated by Luke Kuechly and impressed the coaching staff.
"Nick was a pleasant surprise," Spaziani said, "and he has been all preseason. I think he'll be fine."
Clancy manned the middle against Miami, finishing tied for third on the roster with eight tackles. And according to his teammates, there was little drop-off from last season.
"Nick is a fifth-year senior, so it was nothing really different,"
Kasim Edebali
said. "He used to play with the twos [on defense], I been on the field with him for a long time. All the guys on the defense know him really well. So it wasn't much different.
"We feel comfortable with what he's saying, we trust him. We've got his back, he's got our back."
The 6-foot-3, 232-pound Plainfield, Ill., native said he worked hard this offseason to improve his football IQ. He wanted to be ready if he got the mike linebacker spot.
"When it's all said and done, you're the guy that sets everybody up, you communicate the defense for everybody," he said. "That's kinda what I tried to do this offseason, prepare myself mentally to make those kind of calls, be able to make adjustments when the offense audibles and stuff like that."
Consider his first game as the mike a sort of baptism by fire.
"That was definitely a challenge, that being my first game, facing an offense that went hurry-up," Clancy said of facing Miami's offense. "They were kinda just getting the signals from the sidelines and going from there, they weren't huddling up."
Said Spaziani: "That's not easy. Even though he's a five-year senior, been around, to go in the first game in a new position, starting, have a lot of responsibility … But that's why we put him there. He did a reasonably good job."
Edebali said Clancy really knows his stuff, and is determined to make sure that everyone else on the defense does, too.
"Clancy's a really smart guy," the defensive lineman said. "Even after practice he comes up to me, 'Kasim, did you get the call?' Just communicates with us on and off the field so we understand what we have to do and we're always on the same page."
Since he doesn't have the benefit of a radio in his helmet to communicate with his coaches, Clancy needs to know the calls defensive coordinator Bill McGovern relays from the sideline cold.
"I've always maybe thought a wristband or something would help with all the plays and stuff," he said with a smile, "but on defense Coach McGovern trusts us to make all the calls and he relies on everybody to know their stuff. Once you hear that signal called something flicks on in your brain and you know what you've gotta do.
"That's your job and you gotta go do it."
Which is really all Clancy is trying to do for the Eagles this season.
Jack McCluskey is an editor for ESPN.com and a frequent contributor to ESPNBoston.com. Follow him on Twitter @jack_mccluskey.