Boston Colleges:

Northeastern
February, 10, 2013
2/10/13
5:16
PM ET
By
Brion O'Connor, Special to ESPNBoston.com
BOSTON -- The final of the 61st Beanpot shapes up as a study in contrasts. For one Beanpot finalist, Monday's championship game is a tale of hope and redemption. For the other, it is another date in a long-running performance of sustained excellence.
Northeastern will be looking for its first Beanpot trophy in a quarter century, last won in 1988, before any of the current players on the Huskies' roster were born. Conversely, the Boston College Eagles are hoping to bring the trophy back to the The Heights for the fourth straight year, a feat never accomplished in the program's storied history.
Still, make no mistake -- despite the differences in their results from recent Beanpot tournaments, the players from Northeastern (8-13-3) and Boston College (16-7-2) know each other quite well.
[+] Enlarge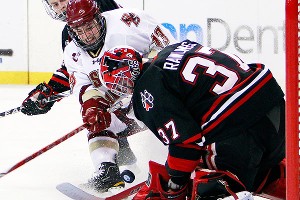 AP PhotoGoalie Chris Rawlings, who gave NU an early jolt of confidence against BU, will need to do more of the same against BC.
For starters, the teams already have met three times this season, with the Huskies spoiling the Eagles' season-opener with a 3-1 win at Matthews Arena. BC responded the way they typically do, knocking off the Huntington Hounds a week later, 3-0, then routing coach Jim Madigan's club, 9-3, on Jan. 19. In that last contest, the squads were tied, 3-3, after the first period, but the Eagles ran away with 6 unanswered goals, chasing goaltender Chris Rawlings after the second period as he surrendered 6 goals on 16 shots.
The Eagles and Huskies also have recent Beanpot clashes, with BC coming out on top in each of the past two years. Last year, the Eagles bounced the Hounds in the opening round, 7-1. Two seasons ago, the teams locked horns in an epic final, with the Eagles getting the last laugh, winning 7-6 in overtime.
"They've beaten BU, which I think is a very, very good club, twice now, so that takes notice," BC coach Jerry York said last Monday after the Huskies tripped up the Terriers, 3-2, in the Beanpot opener.
Reality is that Northeastern, despite currently sitting in last place in Hockey East, has reached three of the last five Beanpot championship games (2009, 2011 and 2013). However, Madigan wants to make sure his players, and the Northeastern campus, keep perspective.
"We haven't won anything yet," Madigan said Friday. "We've put ourselves in position to win the championship game on Monday night, to compete for the championship, and that's what we're going to do. But we've got a monumental task in front of us, against a very good Boston College team. And we'll be ready to play."
If past history is any indicator, fans should expect fireworks inside TD Garden on Monday night. The schools have never combined to score fewer than 9 goals in a title bout. In 1980, Wayne "Beanpot" Turner got the overtime winner to give the Huskies their first Beanpot crown, 5-4. In 1983, BC prevailed, 8-2. And then there was the thrilling 2011 final, won by BC's Jimmy Hayes in overtime, 7-6. This year's edition of the Eagles has the same kind of firepower, which is a serious concern for Madigan.
"They're a very skilled and intelligent hockey club, from the forwards right through the defensemen and their goaltender," NU's second-year bench boss said. "So when you play a team that skilled and that intelligent, you've got to prepare. They think quick, they play the game fast. They react fast. They're always putting pressure on you, so that puts a lot of demands on our players. They're very good at transition. Offensively, they create quickly, but their transition game is extremely well-tuned, and they transition pucks quickly, and it creates offense for them right away. A lot of teams don't transition pucks quickly. They do. And within two passes, they're in on your goal. So their transition game really is as good as it gets."
Sound familiar? It should. Consider Boston University coach Jack Parker's comments prior to the 2012 final. "Against Boston College you really have to try to outwork them," Parker said. "You've got to be real good with the puck because they're a terrific transition team, so you've got to make sure you don't turn the puck over at either blue line to give them opportunities."
Plus, the Eagles are deep, with nine players registering 10 points or more. And even the role players are contributing, such as Quinn Smith's 2 goals against Harvard in BC's 4-1 opening-round win. If not for the acrobatics of Harvard netminder Raphael Girard (42 saves), the Eagles could have doubled their production last Monday.
"You need a whole realm of players," York said after that victory. "For every power-play player, you need someone who is going to kill penalties and block shots. The third and fourth lines in college -- and the pros are the same way -- you can talk about your top six, but the bottom six has to be very, very effective or you're not going to win a lot of hockey games."
That's a key reason why the Eagles have been successful not only on the national stage, winning three of the past five national championships, but also at the Beanpot, where they are gunning for a fourth straight crown.
"They've got some skill forwards who are really good around the net," Madigan said. "They've got two lines who can really score, but they've got balance through four lines, having changed their lineup a little bit. So that concerns us also. So you've got intelligence, you've got skill, you've got good transition, you've got smart offensive players. And the last thing is, they're battle-tested. They've been in big games, they know how to win big games. They're poised. They're calm. You don't rattle a Boston College club."
York, however, isn't taking the Huskies lightly. Northeastern is a team that's starting to put all the pieces together, he said, led by an explosive group of forwards -- with freshman Kevin Roy atop the Huskies' scoring list -- and senior Rawlings in net.
[+] Enlarge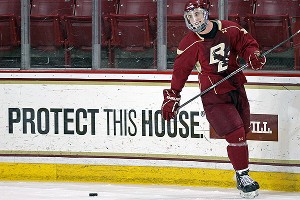 Jim Davis/The Boston Globe/Getty ImagesPat Mullane and BC's senior class have an inner drive that will keep them from taking another Beanpot title for granted, says coach Jerry York.
"Their club seems to be improving," York said. "Jim's been there for two years, and he's probably got a real good pulse of coaching in Hockey East. Their special teams, they did a terrific job on the penalty kill against BU last Monday night. (The Terriers went 0-for-6 with the man advantage.) That will be a factor. Trying to solve their penalty killing, and Rawlings is certainly a big part of that. And of course they have some electric players up front."
Roy has been a revelation, the leading freshman scorer in the nation with 15 goals and 15 assists for 30 points. Madigan said the 19-year-old from Quebec has benefited from playing with gifted upperclassmen, including Vinny Saponari, Cody Ferriero, Braden Pimm and Garrett Vermeesch (Northeastern's top scorers after Roy).
"There's no doubt we're young at the back, on the blue line," Madigan said, noting his top six defenders last Monday included three freshmen and three sophomores. "But at this time of the year, they've played 25 games, they should be a little more battle-tested. If there's one area we have to keep getting better at, it's our defensive play. That's not just our defensemen. It's our goalies, our defensemen and the forwards. We give the opposition too much defensive zone time by not getting pucks out, by not pressuring defensively."
Meanwhile, Rawlings has been something of an enigma over his four years on Huntington Avenue. Clearly a top-flight talent, he's gone through stretches when he looks unfocused. That wasn't the case last Monday, when he stonewalled Boston University.
"I thought he played with a lot of confidence early in that game, and his confidence spilled over to our team really quickly," Madigan said. "He was making nice saves. That was a big win for our club, and Chris had a big part of it because of the confidence that he displayed."
For the record, BC holds a 32-9 edge over Northeastern in Beanpot competition. However, both coaches are concentrating solely on Monday's final. York, in particular, said his squad hasn't been spoiled by success.
"(Captain) Pat Mullane, and the whole senior class, has been a factor," he said. "Pat, along with his assistants Stevie Whitney and Pat Wey, they want to be good. There's an inner drive to those types of players. Their competitiveness, they want to be as good as they possibly can be. They push me every day to make that happen. As coaches we have to be on our toes, we've got to be ready for every practice, ready for every game, because they want an awful lot. There's absolutely no complacency that I can detect on my club."
"Any of the teams we play in a Beanpot final, it's a big opportunity for both clubs to pursue a trophy," York said. "I know it's just February, but it's an important trophy for the city of Boston and the teams involved. We're excited to play Northeastern."
Madigan said his players "had a real good businesslike focus and mentality" against BU, and they'll need the same intensity in the championship game.
"The mindset was great the last couple of days," he said. "I've been a part of this tournament for a long time, and I've heard all the facts and figures about what Northeastern's record has been the last 15 (times) since we beat BU." NU lost its previous 15 Beanpot matchups with the Terriers before last week's win.
"At the end of the day, facts and figures don't win games," Madigan said. "It's will, and our guys really go out there to compete."
Brion O'Connor covers college hockey for ESPNBoston.com.
February, 5, 2013
2/05/13
1:11
AM ET
By
Brion O'Connor, Special to ESPNBoston.com
BOSTON -- Talk about two teams with something to play for. When Northeastern University and Boston College square off for the Beanpot championship next Monday night, both will have plenty of incentive.
The Northeastern Huskies (8-13-3), after knocking off Boston University for the first time in 16 Beanpot contests, are looking to end 25 years of frustration and bring their first Beanpot crown to Huntington Avenue since 1988. There's also a measure of revenge, as BC broke the hearts of the Northeastern faithful when it edged the Huskies in overtime 7-6 in the 2011 final.
[+] Enlarge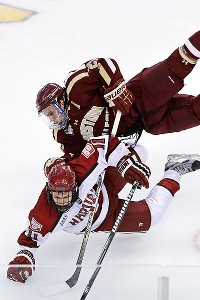 AP Photo/Charles KrupaBC's Steven Whitney, caught in a collision with Harvard's Kyle Criscuolo, has a chance to finish his career unbeaten in the Beanpot.
Rest assured, though, that the Eagles (16-7-2) are aiming to spoil Northeastern's party plans. After bouncing the Harvard Crimson 4-1 in the opening-round nightcap to run their Beanpot record to 7-0, BC's seniors -- including captain Pat Mullane, goaltender Parker Milner, Steve Whitney, Patrick Wey, Patch Alber and Brooks Dyroff -- are looking for their own place in the history books with a rare four-peat as Beanpot champions.
"It would mean a lot to me to win four in a row," said BC's Whitney, of nearby Reading, Mass., after the Eagles brushed aside Harvard. "I grew up watching the Beanpot. It's very special to me. The rest of the seniors feel the same way.
"Northeastern is definitely a very competitive opponent," he said. "They're starting to get hot, and we have to be well prepared for Monday."
Speaking of hot, expect the Eagles to keep special tabs on Northeastern's Kevin Roy, the freshman who almost single-handedly took out the Terriers with a hat trick in the Huskies' 3-2 opening-round victory.
"I think when the pressure is higher, I get the better performance," the Quebec native said. "I was just excited to start and see what it was like. It was a great experience, a great team win. Everyone did what they had to do, and that's why we came up with the win at the end."
Northeastern coach Jim Madigan said the emergence of Roy (15 goals, 15 assists), combined with the team's newfound poise and commitment to defense, is beginning to reap rewards.
"Kevin is a highly skilled player. He's opportunistic," Madigan said. "The bigger the stage is, the bigger the event, he likes to rise to that occasion. So we'll see where he is next Monday."
Perhaps of greatest concern for Northeastern next Monday will be BC's remarkable record of having unsung players step up at just the right moment. On Monday, it was sophomore Quinn Smith, who tallied the first two goals for the Eagles, doubling his production for the season, as they built a 3-0 lead.
"Part of Quinn's role is to bring energy to this team. And he does it every night," Whitney said. "When he scored two goals, it brought even more energy. It was awesome to see."
BC coach Jerry York agreed, saying Quinn was "a good, hard-nosed, checking-type player for us. Anytime he scores goals like tonight, it's an added bonus for us."
"You need some real grinders," York said. "He accepts that role, and he's very good at it. Every game, he gives you an all-out effort. When he scores like tonight, that's a real plus."
Translation? BC is deep, with a capital D. Though Harvard coach Ted Donato was talking about his team's 4-1 loss, he sounded a note of caution for Northeastern, suggesting the Huskies will want to avoid a reprise of the 2011 overtime shootout.
"There aren't many teams that are going to win trading chances with that Boston College team," Donato said. "They have some real firepower."
[+] Enlarge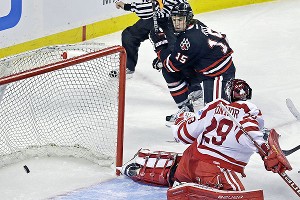 AP Photo/Charles KrupaNortheastern freshman Kevin Roy completes his hat trick, beating BU goalie Matt O'Connor.
The statistics back up Donato's claim. The Eagles have nine players with 10 or more points, led by Johnny Gaudreau (13-20-33), Mullane (12-19-31) and Whitney (17-12-29). Whitney leads the nation in third-period goals with 12. To keep that firepower under wraps, Northeastern will need another big game from senior goaltender Chris Rawlings and its young defensive corps (three sophomores and three freshmen).
"Throughout the whole year, obviously we've kind of struggled a little bit, just because we have a young D corps," Rawlings said. "But this week, we really worked on our D zone, protecting the fourth zone, as we call it, and the guys did an awesome job. They did whatever they could to help the team win. They were blocking shots, clearing any second chances, so hats off to them."
Northeastern came into the Beanpot as the only team to play, and beat, the other three squads. However, the Huskies also had to shake off a 9-3 loss to BC on Jan. 19, which came on the heels of a scintillating 6-5 win over BU.
"Anytime we can beat a team like BU, especially before the Beanpot, it's a big confidence-booster," Rawlings said. "But when you think about it, really, it's not what you did before or what you're going to do. It's about now. Any team can win on any given night. That's what coach Madigan talked about. With this tournament, it doesn't matter about wins and losses in Hockey East. It's just whoever wants it most on Monday night, and then the second Monday night."
For Rawlings, the memories of the 2011 overtime loss to BC linger, but he insisted they don't define this year's team.
"Obviously, to get a second chance at BC is awesome," the senior netminder said. "Obviously, I think we're going to give them a better run for their money. As far as preparation, I think it's just like any other game. It might sound boring, but it doesn't matter if it's the first game of the season or the Beanpot final. It doesn't matter. We're going to prepare the same way we prepare for every game."
Madigan did pull one trick from his sleeve this past weekend, bringing former Beanpot MVP Wayne Turner back to Northeastern to encourage his players. However, the Huskies' bench boss insisted he's not going to dwell on the past in the week leading up to the Beanpot final.
"You can go back to the history books, and I know it makes a good story, but I've got to be honest with you: We're just focusing on straight ahead with this team at this time," Madigan said. "The stuff before this isn't good. We don't have a great history. I was fortunate enough to play and coach and have some good teammates in the '80s when we won four, and I was a part of three. I want our players and our team to have that experience moving forward.
"It has nothing to do with the teams in the past," he said. "It's what we're going to do moving forward. We control our own destiny."
The Eagles, no doubt, believe the same.
Brion O'Connor covers college hockey for ESPNBoston.com.
January, 4, 2012
1/04/12
2:07
PM ET
The Red Sox and Fenway Sports Management (FSM) today announced Wednesday that game times for the January 14 hockey doubleheader -- Catholic Memorial-Boston College High School and Northeastern-BC -- have been moved to earlier start times of 1:00 p.m. and 4:00 p.m. The games were originally scheduled to start at 3:00 p.m. and 6:00 p.m.

The change was made after the announcement from the NFL that the Patriots will host a Divisional Playoff game at 8:00 p.m. on January 14 at Gillette Stadium.

"In addition to paying proper respect to the New England Patriots, this change will allow existing ticket holders for the January 14th hockey doubleheader to attend the games at Fenway Park while still having enough time to head home to root on the Patriots," said Red Sox Executive Vice President/COO Sam Kennedy. "We always make an effort to ensure fans are able to enjoy as many of their favorite sports teams as possible, and hope the vast majority will appreciate this change so they can enjoy both a hockey doubleheader and the Patriots playoff game."

Gates for the doubleheader will now open at 12:00 p.m.

July, 26, 2011
7/26/11
11:11
AM ET
Northeastern alumnus Jim Madigan has been named the school's men's ice hockey head coach, Director of Athletics Peter Roby announced Tuesday. Madigan played for the Huskies from 1981 to 1985 and was an assistant coach at the university from 1986 to 1993. He has served as a scout for the New York Islanders and Pittsburgh Penguins since 1993, winning a Stanley Cup in 2009.

Madigan will be formally introduced as Tuesday at 12:30 p.m. at Matthews Arena. The press conference will be streamed live on GoNU.com.

"It's a true honor to be named head coach at Northeastern," said Madigan. "I have tremendous passion for this university and for this program. Northeastern is a world-class institution and Boston is a world-class city. I'm thrilled to be back where it all started for me—Matthews Arena."

"The expectations I have for our program are high. We will continue to build on the momentum established by Greg Cronin and his staff, and we will compete at the highest level, both in Hockey East and nationally."

"Today begins a new and exciting era of Northeastern hockey, an era that accelerates our progress and builds on our recent success," Roby said." Jim played a prominent role in one of our program's most illustrious decades. More importantly, though, Jim has shown a great ability to identify talent and is committed to developing players on the ice, in the classroom and in the community. His energy and enthusiasm, along with his commitment to Northeastern values, made him the obvious choice."

March, 9, 2011
3/09/11
1:15
PM ET
By
Brion O'Connor
| ESPNBoston.com
BOSTON – Hockey East coaches routinely refer to their league as the most competitive in the country, top to bottom. And the playoffs usually bear that out. You only have to look back as far as last year, when 8th seed Vermont derailed top-seed New Hampshire, preventing the Wildcats from playing in Boston's TD Garden.

Here's a look at the four quarterfinal matches -- all best-of-three series -- that will decide which teams will travel to the Garden for the league semifinals on March 18. Boston University and Northeastern get things rolling on Thursday, while the other three series begin Friday.

No.1 Boston College vs. Massachusetts
The top-seeded Eagles (26-7-1; 20-6-1 Hockey East) are looking to repeat their national championship run last spring, which began with a two-game sweep against the Minutemen (6-21-6; 5-16-6 HE). BC is white-hot right now, riding an 18-2-1 run and sweeping UNH last weekend to claim the school's 11th regular season Hockey East crown.

To make matters worse for UMass, the Eagles are loaded, despite the loss of sniper Chris Kreider with a broken jaw. BC has the league's top offensive squad (3.85 goals a game, 3rd in the nation), led by junior Cam Atkinson (24-14-38) and senior Brian Gibbons (10-26-36), and the league's best defense (2.24 GAA), anchored by senior netminder John Muse (.933 save percentage). Plus, the Eagles excel at special teams, with the nation's No. 6 power play, and No. 3 penalty kill (12 shorthanded goals on the season).

Toot Cahoon's Minutemen proved resilient, claiming the league's last playoff spot on the last night of the season with a gritty 4-4 tie against Maine. Senior captain and goaltender Paul Dainton (.910 save percentage), the league's reigning Defensive Player of the Week, was instrumental in the tie, stopping 32 shots. He'll have to be at the absolute top of his game if the Minutemen are to have any chance at Conte Forum this weekend.

No. 2 New Hampshire vs. No. 7 Vermont
It's déjà vu all over again for the UNH Wildcats (19-9-6; 17-6-4 Hockey East). Same rink, same opponent. Dick Umile's Wildcats have to be thinking of last spring's embarrassing early exit from the Hockey East playoffs at the hands of Kevin Sneddon's Catamounts (8-18-8; 6-14-7 HE). In that series, Vermont rebounded from a 7-4 opening-night loss to post back-to-back 1-0 wins and take the series, two games to one.

UVM's diminutive Rob Madore, who almost singlehandedly stole that series, is back in goal, but his Catamount teammates have been desperate to score goals this season, scoring only 2.29 goals per game. That lack of production has put added pressure on Vermont's defense, which hasn't always been up to the task, surrendering 3.31 goals a game.

The Wildcats have plenty of offensive pop -- 3.5 goals per game -- led by league scoring champ Paul Thompson (26-23-49), but the bigger question might be whether UNH has the mental fortitude. They had a chance to wrap up the league's regular season title last weekend, but let it slip away when they lost twice to Boston College. It wasn't UNH's first late-season nosedive, and New Hampshire fans are clamoring for a trophy.

No. 3 Boston University vs. No. 6 Northeastern
With the Terriers (18-10-8; 15-6-6 Hockey East) and Huskies (12-14-8; 10-10-7) splitting a two-game set last weekend, this quarterfinal match-up has the feel of a best of five series. Last weekend, the Terriers knocked off the Huskies at Matthews Arena, 3-2, and the next night the Huntington Hounds returned the favor with a 4-3 win at BU's Agganis Arena.

The Huskies get head coach Greg Cronin back on the bench, after he and assistant Albie O'Connell served a six-game suspension for recruitment violations. The team defense, except for two seven-goal lapses against Boston College last month, has generally been solid, with goaltender Chris Rawlings holding the fort (2.51 GAA, .924 save percentage, league-leading five shutouts). Scoring, however, has only been average (2.79 goals per game).

Meanwhile, the Terriers, which spent a short stint atop the country's national polls, have been an enigma for coach Jack Parker. They are a talent-laden squad that doesn't always play to its blue-chip capabilities. According to goalie coach Mike Geragosian, goalie Kieran Millan has stolen at least a half-dozen games, covering for the mistakes of an underage defense. If they're not careful, the Terriers might find themselves buried by a Northeastern Nor'easter.

No. 4 Merrimack vs. No. 5 Maine
The referees assigned to this game will want to get a good night's rest beforehand, because they can expect to be busy. The last time these two teams met, in late February, they combined for more than 300 penalty minutes over a two-game set in Orono. The Black Bears (17-10-7; 14-8-5 Hockey East) swept the Warriors (22-8-4; 16-8-3 HE) by two lopsided margins, 4-0 and 7-1.

It is one of the few league series that Merrimack lost this year, after winning 3-game sets against higher-ranked Boston College, New Hampshire, and Boston University. This quarterfinal series, however, will be played at Merrimack's Lawler Arena, where the Warriors thumped Maine in January by a 7-1 score. So expect one, if not both, of these teams to light up the scoreboard, and to fill the scoresheet under "penalties."

Merrimack does have sensational sophomore Stephane Da Costa back from injury (he missed all three games between the teams), but Maine counters with gifted junior Gustav Nyquist (17-29-46). Given the wild score swings, the series may come down to goaltending. While Merrimack's Joe Cannata (2.37 GAA, .913 save percentage) has been dependable, and often spectacular, if Maine's scorching hot freshman goalie Dan Sullivan shuts the door in the Black Bear net (three shutouts in the past six games), this could be a very interesting series.

In other Boston-area college playoff news:

No. 3 Dartmouth vs. No. 10 Harvard
In ECAC Hockey, Harvard (11-19-1; 7-14-1 ECACH) continued its fine recent run of form, knocking off No. 7 Clarkson in a two-game sweep last weekend, setting up an all-Ivy series at Dartmouth (16-10-3; 12-8-2 ECAC). The Crimson have won five straight games with timely scoring -- notably from brothers Micheal and Danny Biega -- and airtight goaltending from senior Ryan Carroll.

Dartmouth won both regular-season meetings with the Crimson, posting an 8-2 victory Nov. 26 at Harvard's Bright Hockey Center in Cambridge and a 5-2 win a night later at Thompson Arena in Hanover, N.H. However, Harvard has been finding ways to win lately, and they have history on their side. The Crimson are 4-0 all-time in playoff games against Dartmouth. The teams have never met for a multi-game series in the playoffs. Three of the previous four games came in the league semifinals, including the most recent meeting, a 10-1 Harvard victory on the way to the Crimson's 2006 league title.

The winning team will reach the league semifinals, being held this season at Boardwalk Hall in Atlantic City, N.J., for the first time.

February, 13, 2011
2/13/11
6:20
PM ET
By
Brion O'Connor
| ESPNBoston.com
BOSTON -- Say this much about Northeastern hockey coach Greg Cronin: He's no wimp. It takes guts to stand up before the assembled Boston media, as Cronin did last Monday night, and admit he's a Yankees fan.
How does Cronin explain his baseball allegiance? "I liked the Yankees because they would always win, and the Red Sox would lose," Cronin said after his Huskies dispatched the Harvard Crimson in the opening round of the Beanpot, 4-0.
The analogy wasn't lost on anybody in attendance. The revered Beanpot has been the personal prize of the "other" local schools, with Boston University (29) and Boston College (15) collecting 44 of the previous 58 trophies. Harvard has brought home 10. Northeastern's take? Just four.
Cronin hopes to duplicate the winning traditions embodied by BU and BC at Northeastern (10-11-6). The next step could come on Monday, when his Huskies take on BC, at 21-6-0 the nation's No. 1 team, in the Beanpot final. A Beanpot crown could serve to springboard Cronin's squad into the season's stretch run, with two more games coming up against the Eagles next weekend.
BC, meanwhile, brings a Beanpot finals record of 15-15 into Monday's match, one of the few competitions in which the Eagles don't own a winning record (to be fair, BC is 68-49 in all Beanpot games). The Eagles' success, associate head coach Mike Cavanaugh said, is predicated on not resting on the laurels of past trophies, and not looking too far ahead.
"If you asked the Yankees in their heyday, I don't think they'd look at themselves as the Boston Celtics of the 1950s and '60s, when they won nine of 10 titles," said Cavanaugh, speaking on behalf of head coach Jerry York, who was dealing with laryngitis. "Or if you asked John Wooden's UCLA teams, when they were on a great stretch, I don't think they looked at themselves as a dynasty.
"I think what makes you a successful program is, as cliché as it might sound, is focusing on that next game. That's Jerry's mantra. I guarantee you that John Wooden's teams didn't get full of themselves. I know Red Auerbach's teams didn't get full of themselves."
[+] Enlarge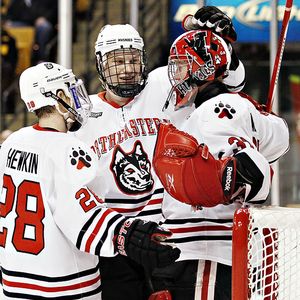 AP Photo/Winslow TownsonIf Northeastern is to celebrate another win Monday, goaltender Chris Rawlings figures to play a big role.
Cavanaugh said he expects a typical swarming Husky team to show up at TD Garden, and his Eagles will have to be prepared to play hard from the opening faceoff. "Since Greg Cronin has been at Northeastern, one of the staples for his program has been a team that has tireless workers and fierce competitors," Cavanaugh said. "It's not easy to get your players to play that hard all the time. And I think Greg's done a tremendous job there."
Cavanaugh said the Eagles will have to keep a close eye on NU's skilled forwards, notably Tyler McNeely, Wade MacLeod, Steve Quailer and the resurrected Mike McLaughlin, who notched two goals against Harvard. "They're going to get shots on goal," he said. "We just have to do a good job of limiting second-chance opportunities."
Cavanaugh said the key for BC is to play its game. "We want to play our brand of hockey, which is skating and moving pucks at a fast pace," he said. "Sometimes a helter-skelter game, a game with a lot of penalties, takes us out of our type of play. We're playing our best when we're moving pucks, when we're skating, and we're playing up-tempo. We really have to focus on that."
Both teams took care of business on Friday by registering league wins on the road, with BC shutting down Providence 3-0, and Northeastern coming from behind to trip up UMass-Lowell 3-2 in overtime. NU's McLaughlin, a junior from Seaforth, Ontario, stayed hot, registering another goal against the River Hawks (his 10th of the season).
"It was a relief to score early this season and get the weight off my shoulders and give me a little confidence," McLaughlin said after the Harvard game. "Scoring two goals tonight is hopefully going to help me down the stretch. It's nice to contribute. I just want to get us one step closer to winning a title."
In any title game, goaltending plays a critical role, and both teams have stud netminders.
Sophomore Chris Rawlings has helped erase the sting among the Northeastern faithful of All-American Brad Thiessen leaving school early to join the pro ranks. The 6-foot-5 British Columbia native has been immense for the Huskies, with a .935 save percentage and five shutouts, including last Monday's semifinal win.
"Chris Rawlings is obviously playing on top of his game," Cavanaugh said. "And I don't care who you're playing or how good a team you are, if the other goaltender is playing on top of his game, it's going to be a tight game.
"You can equate it to baseball, with a stud pitcher. Pedro Martinez, in his prime, could have pitched for any college team and given the Yankees a game. He was that good. So that's our biggest concern."
February, 9, 2011
2/09/11
3:10
PM ET
In the NHL Draft Blog, Gare Joyce writes of Jamieson Oleksiak, a 6-foot-7 prospect who could be the next Zdeno Chara or Tyler Myers. He's playing at Northeastern University right now, but could be a 2011 first-rounder, even with a general focus on offense in the first round.
Here's part of Joyce's piece:

The biggest prospect in the 2011 entry draft, Jamieson Oleksiak, is arguably the most intriguing.

This guy is 6-foot-7 (maybe 6-foot-8), north of 240 pounds, and plays defense at Northeastern; where he lands and when he goes in the draft will be interesting because it might indicate a trend in the league -- are teams going to put a greater premium on extreme height in propects? Think about Zdeno Chara or Tyler Myers in this regard.

Usually the word "raw" is attached and a long, gradual development curve is presumed when you're talking about guys this tall; Chara and Meyers debunked that, but it's still the prevailing notion.

In one junior season after leaving Europe, Chara was unpolished on D -- but a force without the puck. Myers' improvement was even more dramatic; he struggled at the world juniors in Jan '09 but four months later he might have been the best D in major junior, leading Kelowna to the Memorial Cup final.

So where does that leave us on Oleksiak?

He's more comparable in stature to Chara -- both at 18 were tall and thick; but for reasons of hockey background Oleksiak is better compared to Myers. Both grew up with the North American game and both played for the US at the Ivan Hlinka summer tournament. (Myers ended up playing U20 for Canada and Oleksiak would seem to be eligible to do the same with Toronto as his listed birthplace.)

To read the entire story, click
HERE.
February, 7, 2011
2/07/11
10:33
PM ET
By
Brion O'Connor
| ESPNBoston.com
BOSTON -- Bounces. In hockey, they can go your way, and they can absolutely crush you.
For struggling Harvard, the benevolent bounces proved as elusive as ever Monday night, as Northeastern took full advantage of two breaks to propel the Huskies to a 4-0 victory over the Crimson in the opening round of the 59th annual Beanpot at TD Garden.
If a sequence has defined the season for Harvard (4-18-0), it occurred during a 42-second stretch in the first period. At 10:06, Harvard senior netminder Ryan Carroll stoned Northeastern's Braden Pimm with a great glove save, shutting down a Husky shorthanded bit. Seconds later, a Harvard shot caromed off NU goaltender Chris Rawlings, dropping to an open Alex Fallstrom, with a wide open net in front of him. But the puck skipped on the Harvard sophomore, and Fallstrom could only knuckleball a shot into Rawlings's glove.
[+] Enlarge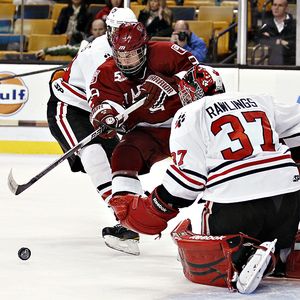 AP Photo/Winslow TownsonNU's Chris Rawlings made 42 saves in notching his fifth shutout of the season.
A half-minute later, NU's Mike McLaughlin picked up a pass from Steve Quailer, floated into the high slot and snapped a shot that creased the shaft of the stick of Harvard's Danny Fick. The slight deflection fooled Carroll, and the puck broke through him for a 1-0 Northeastern lead.
"It looked like [Fallstrom] had a lot of net, but the puck just wouldn't sit for him," said Harvard coach Ted Donato. "Ultimately, though, I don't think one play decided the game."
Perhaps not one. But two bad breaks proved doubly difficult for the Crimson to overcome. Less than two minutes into the second period, McLaughlin got another fluky goal. Eyeing an open lane to Carroll from the right faceoff dot, the junior from Ontario threw a wrister on the net. Carroll stopped the initial shot, but the puck popped straight over the prone netminder, falling behind him and into the open net for a 2-0 NU lead at 1:43.
"I just got lucky on a bounce," McLaughlin said. "I'm glad it went in the net."
McLaughlin's ninth goal of the season was a back-breaker. "We couldn't mount much of an attack after that," said Donato, noting he was disappointed, given his team's improved play of late. "Tonight was frustrating."
The Huskies (9-11-6) then turned on the afterburners in the middle stanza, scoring two more goals to stretch their lead to 4-0 after 40 minutes. At 10:53, Steve Silva put the game out of reach, taking a slick feed off the back boards from Wade MacLeod and rifling a shot under Carroll's blocker just before he was laid out by Harvard's Matt McCollem.
With Northeastern on a power play, MacLeod picked up another picture-perfect assist at 16:19 when he found Brodie Reid at the left faceoff dot and hit him with a tape-to-tape crossice pass. Reid's one-timer beat a sprawling Carroll, and gave the Huskies a commanding 4-0 margin.
In the third period, the Crimson threw caution, and luck, to the wind, and stormed the Northeastern net. Donato even resorted to pulling goaltender Kyle Richter (who had replaced Carroll to start the third period) during a Harvard power play with more than five minutes remaining, but to no avail.
Rawlings, Northeastern's superb sophomore goaltender, rung up his fifth shutout of the season, finishing with 42 saves.
"Rawlings just got stronger as the game went on," Donato said. "Anything he saw, he was going to stop."
NU coach Greg Cronin, who knows a thing or two about bad bounces in the Beanpot, including a number of them in 2009 when his Huskies lost in the final to Boston University, said he was glad to be on the other side of Lady Luck.
"Unfortunately, those are the memories for a lot of Northeastern folks over the last 20 years," he said. "Near misses."
Next Monday, Cronin's Huskies will have the chance to erase more than a quarter century of Beanpot frustration with a chance at their first title since 1988.
December, 1, 2010
12/01/10
11:19
PM ET
In a busy night of men's basketball, BC and UMass tuned up for their matchup Saturday at TD Garden with victories.
BC's Reggie Jackson scored 27 points, grabbed five rebounds and dished out four assists to lift
the Eagles to an 88-76 win
over Indiana in an Atlantic Coast Conference/Big Ten Challenge matchup at Conte Forum.
The victory improved the Eagles (5-2) to 5-0 against the Big Ten since joining the ACC and knocked Indiana (6-1) from the ranks of the unbeaten.
Speaking of unbeaten, surprising
UMass improved to 7-0
with a buzzer-beating 66-64 victory at Quinnipiac.
The Minutemen held a 19-point lead in the first half only to see the Bobcats rally to tie it in the closing minutes.
Coming out of a timeout with one second to play, UMass' Anthony Gurley found an opening, took the inbounds pass from Gary Correia, and got the bucket when Quinnipiac's Jamee Jackson touched the ball above the rim for goaltending at the buzzer.
UMass is 7-0 for the first time since it went 26-0 to start the 1995-96 season, when the Minutemen advanced to the Final Four.
UMass and BC play Saturday at TD Garden at 6:30 p.m., the nightcap of a doubleheader to benefit Children's Hospital Boston. Northeastern plays Drexel at 4 p.m.
NU lost to Providence
77-72 on Wednesday, with the Friars getting 27 points from Marshon Brooks.
Chaisson Allen paced the Huskies with 24 points.
Finally, freshman Laurent Rivard made five 3-pointers on the way to scoring 21 points as
Harvard defeated Fordham
80-57 at Cambridge.
The Crimson (5-1) made 15 3-pointers, their most since hitting 17 against Rice on Dec. 10, 2002, to push their winning streak to five games.