Boston Colleges:

Reggie Jackson
May, 15, 2011
5/15/11
4:23
PM ET
ESPN NBA draft insider David Thorpe takes an in-depth look at the prospects of BC's Reggie Jackson, saying that while "Jackson appears to have the requisite tools to be a first-round pick who will stick around for years," he has work to do, particularly in improving his outside shooting and defense, to have a productive NBA career.
Thorpe also says Jackson needs to prove he can penetrate to score in paint:
"What is an issue is the question of how good he will be at getting to the rim. Jackson has the reputation of being an elite athlete, though I only saw glimpses of that on tape. He has some good quickness and speed, and he can be crafty with the ball, but at no time did I think he was a major threat to be a dribble-attack beast in the NBA in the half court. I liked him better in this role as a pace-pusher in the full court."
Click here
for the full post (Insider content).
May, 6, 2011
5/06/11
3:10
PM ET
In his
first NBA mock draft
(insider access required), ESPN.com's Chad Ford has BC's Reggie Jackson going No. 19 overall to the Charlotte Bobcats. Writes Ford:
Analysis: The Bobcats, as we noted, have needs just about everywhere. Jackson might be the biggest sleeper of the draft and should be a great fit in Charlotte. He is a terrific athlete, has a ridiculous 7-foot wingspan and shot the lights out this junior season. He has virtually every quality you look for in a modern NBA point guard.

The biggest question I have is whether he'll even be around at this point once he hits the Chicago combine and workouts. I think he could have a Paul George-type rise in this draft. I wouldn't be shocked to see the Bobcats ultimately considering him at No. 9.
Meanwhile, ESPN.com's Eamon Brennon also looks at Jackson and whether he should stay in the draft. Brennon concludes that Jackson should stay, writing:

Thing is, unless his planned workout goes worse than anyone could imagine, Jackson is likely better off remaining in the draft. Frankly, he should probably stay no matter what.

There are two reasons for this. One, as Chad wrote at the link above (editor's note: here's the link), is Jackson's likely ability to impress scouts in workouts and the NBA draft combine in the next few months. But arguably the most important reason is the situation Jackson would return to if he decided to come back to school.

That "situation" is the rebuilding Boston College Eagles in their second year under Steve Donahue. Simply put: It's going to be a tough season in BC.
Click
HERE
to read the full piece.
May, 4, 2011
5/04/11
10:39
AM ET
In his latest story on underclassmen in the NBA draft, Chad Ford offers some advice on whether to stay in the draft or go back to school. He puts BC's Reggie Jackson in the "Stay in the Draft" category. Here's what he writers:
Jackson is the toughest call of this group. A handful of NBA scouts and GMs think he has the talent to be a lottery pick in this year's draft. However, there's not a consensus on Jackson. Other GMs and scouts think he's a late first-rounder, or possibly even a second-round pick. Those mixed signals have concerned Jackson's camp. He plans on playing in the workout in New Jersey, where he should be the best player on the floor. I'm in the camp that says he's got lottery talent, and I think it will shine through once he gets into workouts and the NBA draft combine.
Click
HERE
to read the rest of Ford's story (insider access required)
April, 25, 2011
4/25/11
5:59
PM ET
In his NBA Draft blog, ESPN Insider Chad Ford puts 12 collegians in the "One Foot In" category, including Boston College's Reggie Jackson.
Ford classifies the group as underclassmen who are testing the NBA waters, meaning they haven't hired agents yet and are still open to returning to school. College players have until May 8 to withdraw from the draft without losing their eligibility.
Ford writes:
Jackson may be the most intriguing name on the list. He's still very much on the fence about leaving. We have him ranked No. 19 on our Big Board and a few NBA teams have him in the lottery. However, there are other teams that see him strictly as a second-round pick. He's hearing starkly different assessments from team to team. That could scare him back to school.
Click here
for the full story (Insider content).
March, 9, 2011
3/09/11
11:20
AM ET
By
Jack McCluskey
| ESPNBoston.com
NEWTON, Mass. -- It was business as usual at Boston College's practice Tuesday afternoon. Clad in a gold Under Armour shirt, maroon mesh shorts and white sneakers with the BC logo on the heel, coach Steve Donahue led his team through the paces.
Shooting and passing drills. Offensive sets. Free throw shooting. Defensive sets. More shooting stations.
Donahue and assistant coach Joe Jones prepped the Eagles on the next opponent, pointing out areas that were troublesome in the past and giving instruction on how to ensure they wouldn't be issues in the future.
Of course, in this instance the next opponent is the same as the last opponent. It's just that the stakes are a good deal higher.
On Sunday, the Eagles played host to Wake Forest in the regular-season finale, an 84-68 BC win. On Thursday, the Eagles and Demon Deacons will renew acquaintances in the first round of the ACC tournament (2:30 p.m.). And since they're planted firmly on the NCAA tournament bubble, the boys from BC need a win in the worst way.
But you wouldn't know it from talking to Donahue. The first-year coach believes in keeping an even keel, no matter the stakes of the game.
"I always believe that your approach for every game should be the same, in terms of how you go about your business," Donahue said. "I always want to win every game, I want to figure out ways to put my team in good situations. But I never want to be the coach that makes the team feel like, 'This is a pressure-cooker game, you've got to play well.'
"I just don't think that's conducive to good basketball. I'd rather guys see me the same way every single game, whether it's against a lower D-I team or whether it's in the ACC tournament."
Reggie Jackson
& Co. know what they need to do.
"Keep winning from here on out," Jackson said. "We definitely need to pick up this game Thursday against Wake Forest and then compete against Clemson. We want that matchup again but we can't look past Wake, we have to get some wins in this tournament."
[+] Enlarge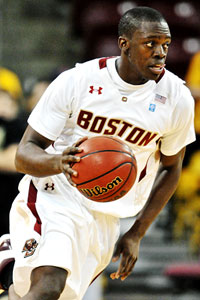 Michael Tureski/Icon SMIReggie Jackson led BC in scoring with 18.3 points per game.
A newly minted first-team All-ACC player, Jackson has had his ups and downs as a junior. He's been the team's leading scorer and best playmaker, the straw that stirs the Eagles' drink. And he's been shuffled out of the starting lineup to the bench, the straw pulled out of the drink entirely. As a result of that volatility, there have been times when the Eagles have gone to Jackson for a sip of success and come up with nothing but air.
"Me and coach sometimes, during those ups and downs, we're banging heads and not seeing eye to eye," Jackson said. "Things weren't going well for the team and it resulted in that. I believe I had poor play and the team kinda suffered because of it. Me and coach weren't on the same page. But we're getting back to being one unit, and the result of that is we're getting wins."
After dropping a game they felt they needed to have, at home against Miami, the Eagles rebounded with three straight W's to end the regular season. Two of those were on the road, where BC had not found much success previously, with a 2-6 road record before wins at Virginia and Virginia Tech. Jackson was a key part of each of those wins, scoring 25 points against Virginia, 20 against Virginia Teach and 14 against Wake Forest.
And while Donahue didn't deny there have been ups and downs this season, he said any instances Jackson saw as butting heads he just calls coaching.
"My job is to maximize everybody individually and maximize the team," Donahue said. "I do it with everybody, Reggie just happens to be an integral part of our team and he's so talented that I probably demand more of him than anybody else because I see so much potential. He's proven it this year, he's had an incredible season and he's made us a better basketball team."
As the Eagles head into postseason play, they're in the unique position of hoping very recent history repeats itself while also hoping slightly less recent history doesn't.
Last season, Jackson & Co. beat Virginia in their penultimate regular-season game and were rewarded with a rematch with the Cavaliers in the ACC tourney. The Cavs won the rematch, and the Eagles missed out on postseason play.
This season, the Eagles ended the regular season with a win over league bottom-feeder Wake Forest (which had won three straight versus BC). Sure enough, the reward was a rematch in the ACC tourney. Now the Eagles are hoping some history repeats, but they're not counting on it.
"Whatever you think is gonna happen based on the last game usually doesn't," Donahue said. "Now this is a tournament, it's a neutral site. You have to take that into account and understand how difficult this game is gonna be. If you're hoping it'll be the same as it was, it won't be."
"One win against a team doesn't mean anything, or even two wins. You have to come out, every day is new and you have to live in the moment," Jackson said. "[The Demon Deacons are] gonna come out and try to punch us in the mouth and we're gonna try to do the same to them."
By most accounts, the Eagles need to win two games in the ACC tournament to boost their resume and put themselves in solid position for an at-large bit to the NCAA tournament. Anything less than a berth in the Big Dance would be a letdown after the Eagles got off to a strong start this season.
"I think everybody's disappointed if you don't make the NCAA tournament," Donahue said. "I don't think I would be discouraged about the way things are going [in the program in general] but yeah, this is something as a college player and a coach you strive for all year.
"It's such a great event. To not make it, yeah, I'd be lying if I said I wouldn't be disappointed."
But while the coach would be disappointed, he remains determined to stay levelheaded on the sideline even as the pressure mounts on the players on the court.
"We feel fortunate to be in the position we are," Jackson said. "Just knowing that basically we control our own destiny.
"If we don't get [to the NCAA tournament] we know it's our own fault, and if we do get there also we can accept that blame."
February, 1, 2011
2/01/11
6:10
PM ET
By
Jack McCluskey
| ESPNBoston.com
Will he or won't he? That is the question.

At least, that's the question on the minds of many Boston College basketball fans, who are wondering whether or not Reggie Jackson, the team's leading scorer and a two-time Atlantic Coast Conference Player of the Week this season, will return to the starting lineup Tuesday night against North Carolina after being relegated to the bench to start both halves against Duke.

In his weekly conference call with reporters Monday, the man who makes that decision wasn't tipping his hand. Instead, he said he hadn't made up his mind.

"I'm just trying to reward kids that do a great job in practice," Steve Donahue said of the lineup change against the Blue Devils, which had Dallas Elmore starting in place of Jackson and Corey Raji starting in place of Danny Rubin. "I think it's something that helps each team come in every day knowing that it's very meaningful what happens in this practice session, and you're going to be rewarded if you play well.

"I've been very pleased with everyone's attitude [in practice], including Reggie. He's done a great job coming in and really working extremely hard, as the other guys have as well."

Jackson came off the bench in Durham, N.C., and never found a rhythm. He shot just 3-for-11, including 0-for-4 from the 3-point arc and 1-for-2 from the free-throw line, and finished with a season-low seven points.

And after hanging with the Blue Devils for a while, ultimately the Eagles' defense was their undoing. Duke shot 50 percent from the field (including 45.5 percent from 3) and won easily, 84-68.

Donahue has called the Eagles' defense the team's Achilles' heel, and the stats back that up. The Eagles rank sixth in the country in adjusted offensive efficiency, according to kenpom.com, scoring 119.2 points per 100 possessions; however, the Eagles rank 245th (out of 345) in the country in adjusted defensive efficiency, allowing 105.5 points per 100 possessions.

"Unfortunately, coming in, this has been an issue with this team," Donahue said. "I think the guys were excited to play this offense, but, in reality, the offense wasn't the issue last year. We were second in the conference in field goal percentage offense last year. We were dead last in field goal percentage defense."

Things haven't changed much in that regard. The Eagles are third in the ACC in offensive field goal percentage (47.4) but 11th in defensive field goal percentage (44.5) so far in the 2010-11 season.

The Eagles' offense is good enough to overcome that deficit against some teams, but against the cream of the ACC crop the defense is digging too big a hole for the offense to climb out of.

Roy Williams and the No. 23 Tar Heels come into Tuesday night's game second in the ACC in scoring average at 77.3 points a game, and are shooting 45.4 percent from the field overall. A win at Conte Forum would tie UNC with No. 5 Duke for the best record in the conference (6-1).

So while most Eagles fans may be asking, "Will he or won't he?" about Jackson, maybe what they should be asking instead is, "Will they or won't they defend well enough to win?"

Jack McCluskey is an editor for ESPN.com and contributes to ESPNBoston.com.

January, 18, 2011
1/18/11
6:14
PM ET
By
Jack McCluskey
| ESPNBoston.com
For the second time this season,
Reggie Jackson
has been voted Atlantic Coast Conference player of the week (sharing the honor for the week ending Jan. 16 with Florida State's
Chris Singleton
).
After averaging 25.5 points, 5.0 rebounds and 5.0 assists in two games -- a 75-66 win over NC State at home and a 72-71 loss to Miami on the road -- the Eagles' star guard is now among the leaders in seven offensive categories in ACC play.
The categories are scoring (23.0 points per game, second), field goal percentage (63.0, first), 3-point field goal percentage (55.6, third), assists (4.5 per game, tied for fourth), made 3-pointers (2.5 per game, fifth), free throw percentage (88.9, tied for eighth) and blocked shots (1.5 per game, tied for 10th).
Jackson had 29 points (on 9-for-13 shooting, including 3-for-6 from 3) against the Wolfpack and 22 points (on 7-for-16 shooting, including 3-for-7 from 3) against the Hurricanes. So for the week, Jackson shot 55.1 percent from the field, 46.1 percent from behind the 3-point line and 81.2 percent from the free throw line (13-for-16).
Those numbers hint at another aspect of Jackson's impressive season to date: his consistency and efficiency.
Jackson has scored in double figures in all but one of the Eagles' 18 games (finishing with nine points in 35 minutes played in a win over Holy Cross). He has made 124 field goals (tied for 20th in the nation) on just 226 attempts (tied for 93rd nationally). He's one of the top 50 most accurate 3-point shooters in the country (46th, making 48.2 of his attempts).
Among players used in at least 24 percent of their team's possessions, Jackson ranks fifth in offensive rating (a statistic developed by Dean Oliver to measure personal offensive efficiency, according to kenpom.com). Open that up to the entire country, and Jackson ranks 28th. He's also in the top 25 nationally in effective field goal percentage (63.9, 25th), which takes into account the added value of the 3-point shot, and true shooting percentage (66.7, 25th), which takes free throws into account.
Add it all up, and Jackson is a major reason the Eagles (13-5, 3-1 ACC) are off to such a promising start.
And while the
Virginia Cavaliers
, BC's next opponent, rank fourth in the ACC in scoring defense, allowing only 62.5 points per game, it's a good bet that Jackson will have some success against them on Wednesday night too.
The Cavaliers allow opponents to shoot 44.1 percent from the field overall and 37.9 percent from long distance (both rank 11th of 12 teams in the ACC), which if you're a Virginia fan is not encouraging considering BC ranks fourth in scoring offense (averaging 75.8 points per game), leads the conference in field goal percentage (48.4 percent) and is second in 3-point shooting percentage (39.5; only Duke is better at 40.8 percent).
So, when the ball goes up just after 7 p.m. at Conte Forum, Jackson & Co. will be taking aim, looking to bounce back from a tough loss to Miami and avoid their first losing streak in conference play and improve to 4-1 in the ACC.
January, 10, 2011
1/10/11
1:00
AM ET
By
Jack McCluskey
| ESPNBoston.com
NEWTON, Mass. --
Joe Trapani
is second on the
Boston College Eagles
in scoring average (13.9) this season, but while many discussions of his contributions may begin on the offensive end they certainly shouldn't end there.
The 6-foot-8 senior from Madison, Conn., is among the team leaders in a number of defensive categories. He averages 6.3 rebounds (second on the team behind Corey Raji's 6.9), 1.9 assists (tied for third with Raji), 0.8 blocks (first) and 0.8 steals (second behind Reggie Jackson's 1.3).
And though his shot wasn't falling against the Yellow Jackets on Saturday (just 2-for-7 from the field, 0-for-2 from 3 and 2-for-5 from the free throw line), Trapani made sure his presence was felt on the other end.
"I thought he had huge defensive rebounds and I thought he played terrific defense," Eagles coach Steve Donahue said of Trapani, who tied Raji for the game high with nine rebounds. "I think he's a little frustrated with his foul shooting, but I think we'll get that straightened out. He gave us a ton on the defensive end. If we can continue to get those kind of efforts on the defensive side and [in] rebounding and do all the dirty plays, as you can see the offensive numbers are terrific usually.
"I'm pretty confident that when we get stops we're very good in transition and when good things happen it's obviously [because of] the defensive side."
While Trapani -- and the rest of the Eagles -- struggled at times to stop Tech freshman big man
Kammeon Holsey
, who scored a career-high 14 points in the first half and finished with 18 for the game, the grit Trapani displayed battling the lanky Yellow Jackets for rebounds made the difference.
Georgia Tech entered the game with an offensive rebound percentage of 34.0; the Eagles held the Yellow Jackets below that average, allowing the visitors to grab 11 of a possible 36 offensive rebounds (30.5 percent). With a game-high seven defensive rebounds, Trapani had an obvious hand in that.
Moton on the money
After the 86-75 win, Donahue had nothing but good things to say about freshman guard Gabe Moton.
"I thought he had great toughness, a couple offensive rebounds he went after, I thought he guarded," Donahue said. "And that's another kid that we really need, especially if you think about it we're putting a lot on him in a game like this -- one of his first ACC games, and our best player is out and I've got to go with Gabe Moton. I thought he gave us great minutes."
In 24 minutes off the bench, Moton scored five points, grabbed three rebounds (two offensive), produced two steals and only one turnover. One of the steals led to a crowd-pleasing play.
Moton jumped a passing lane, snatched the ball away and led a three-on-two break down the left side of the lane with
Biko Paris
filling the right side and Raji trailing. Moton drew the defense and kicked across the lane to Paris, who caught the ball and immediately spun it around his back and delivered a perfect bounce pass to Raji for the layup and the foul.
Jackson on the list
Having already been honored once this season as the ACC player of the week (for the week ending Dec. 12), Jackson received another plaudit Thursday: The junior guard was named to the midseason list of candidates for the prestigious John R. Wooden Award.
Averaging 18.6 points, 4.6 assists and 4.4 rebounds a game in his third season at BC, Jackson is one of five ACC players on the 30-player list. The other ACCers named were Malcolm Delany (Virginia Tech),
Kyle Singler
(Duke),
Nolan Smith
(Duke) and
Jordan Williams
(Maryland).
Jackson ranks in the top 10 in the ACC in eight categories: scoring (second, 18.9), field goal percentage (second, 54.8), assists (second, 4.6), free throw percentage (10th, 78.5), 3-point percentage (second, 48.6), 3-pointers made (seventh, 2.2), assist-to-turnover ratio (tied for sixth, 2.0) and minutes (second, 34.0).
Jackson's streak of 17 straight games with a made 3-pointer is tied with Clemson's
Andre Young
for the longest in the ACC.
Next up
The Eagles host NC State at Conte Forum on Tuesday (9 p.m. ESPNU). The Wolfpack (11-4) defeated Wake Forest 90-69 in Raleigh, N.C., on Saturday.