Boston Colleges:

Rolandan Finch
November, 17, 2012
11/17/12
8:34
PM ET
By
Jack McCluskey
| ESPNBoston.com
NEWTON, Mass. -- A week after sustaining a concussion against No. 3 Notre Dame,
Nick Clancy
started at his customary middle linebacker spot on senior day.
The Eagles are glad he did, as he made 10 tackles in the first half and finished with a game-high 20 tackles.
[+] Enlarge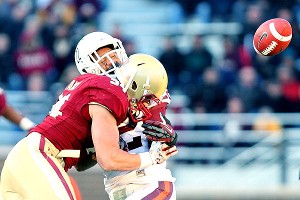 AP Photo/Anthony Nesmith/CSMBC LB Nick Clancy made a big impact Saturday after suffering a concussion last week.
Clancy's biggest contribution wasn't a tackle, however. On fourth-and-3 from the BC 40 with just more than a minute to go in the first half, the Hokies decided to roll the dice.
Logan Thomas
stood alone in the backfield, with five wide receivers spread along the line.
The big quarterback saw
Demitri Knowles
running free across the middle and delivered the ball on the mark. But Clancy also saw Knowles and threw his shoulder into the wideout just as the ball arrived, jarring it free and causing the incompletion.
"It was one of those times where you have that intuition inside of you that you know what play is coming," Clancy said. "That's what happened there, just kind of felt it given the situation."
After the Eagles came out on the short end of the 30-23 overtime decision, falling to 2-9 (1-6 ACC), the linebacker admitted this one meant more than usual.
"We prepare the same for every game, but there was something about this week," Clancy said. "I wanted this one so bad -- to end on a good note and walk away from BC with my last home game a victory. So this one hurts."
Asked to assess the play of his seniors, specifically Clancy, coach Frank Spaziani said he was happy with the effort, if not the end result.
"Nick made a couple plays," Spaziani said. "I think the seniors came to play and played hard. Now how efficient they played? That remains to be seen."
Deuce let loose
For much of the season, circumstances -- in-game and injury-related -- have dictated that the Eagles become a passing team. But with Bud Foster's defense unleashing blitz after blitz Saturday afternoon, it was the running game that got things going for BC.
November, 16, 2012
11/16/12
11:54
AM ET
By
Jack McCluskey
| ESPNBoston.com
NEWTON, Mass. -- Call it "The Mystery of the Disappearing Tailback."
Rolandan "Deuce" Finch started the season atop the depth chart at tailback, then stumbled when he kept dropping the ball at inopportune times, fell all the way off the two-deep and landed on the scout team.
Six weeks passed without so much as a glimpse of the 5-foot-10, 211-pound back.
Now that injuries have struck down the next and next-to-next men up (
Andre Williams
and
Tahj Kimble
), Finch is back on the two-deep. But he hasn't regained that top spot yet, landing a line below true freshman (and converted defensive back/wide receiver)
David Dudeck
.
His teammates are happy to see him back on the field.
[+] Enlarge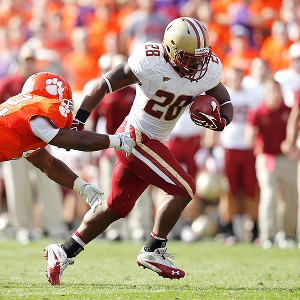 Joe Robbins/Getty ImagesRB Rolandan Finch, who led the Eagles with 705 yards in 2011 but plummeted in the depth chart this season, is back on the field and hopes to boost BC's offense Saturday against Virginia Tech.
"It was really nice to have him back in the huddle,"
Chase Rettig
said. "He's a good back and I look forward to the next two games with him."
Finch, who led the Eagles with 705 yards in 2011, showed some of what he is capable of against the Irish this past Saturday. He broke off a 20-yard run in the second quarter, pumping up his teammates.
"To have him back and make an impact was huge not only for him but for us in the offense," tight end
Chris Pantale
said. "It's exciting having him back there. Just to see what he can do, he has the ability to break runs off and break tackles."
Pantale said there were times during Deuce's fall from grace that he took the junior aside and offered some words of wisdom.
"Things like this happen in life," Pantale, an offensive co-captain, said he told Finch. "It's how we respond to these challenges in life. You've just gotta work through it and hopefully things work out for the best. But you can't put your head down, because nothing good's gonna come out of that. You work and when you get your opportunity you make the best of it."
For Finch, the opportunities came midweek. He had to prove himself to the coaching staff first, and worry about getting back in a game later.
"Nobody's happy with something like that," left tackle
Emmett Cleary
said of the demotion from first-string to scout team, "so I'm not gonna say he was that gung-ho about it, but he handled it like a man. And it kinda goes to show how your opportunity will come back around if you just keep working."
Finch finished with seven carries for 40 yards against the Irish, leading the team in both categories.
This week, the Eagles (2-8, 1-5 ACC) host the
Virginia Tech Hokies
(4-6, 2-4) at Alumni Stadium (12:30 p.m. ET, ESPN3). Though it's been a down season for Frank Beamer's squad, Bud Foster's defense remains stout.
In the Hokies' 28-22 loss to No. 10 Florida State last week, Foster's defense held the Seminoles to minus-15 yards on the ground. For the season, Virginia Tech is sixth in the ACC in rushing defense, allowing 147.9 yards per game.
Part of the unit's success is due to the unusual 4-2-5 alignment that Foster favors.
"It's frustrating because you'll block up the front perfectly and then there's a support guy coming down and making the tackle after 3 yards," Cleary said of the front. "It's a different look than we're used to and it's really hard to break long runs because they always seem to have the support guy coming down."
The Hokies are giving up 3.88 yards per carry this season.
Meanwhile, BC is last in the ACC in rushing offense at a paltry 72.5 yards per game. The Eagles' 2.68 yards-per-carry average is 11th in the conference, with only Miami producing fewer yards per rush.
Finch, who has averaged 4.66 yards a carry in his limited playing time in 2012, could help them change those numbers.
If, that is, he's truly back to where he was to start the season.
"He's had a tough season," Cleary said. "I hope he can contribute these next two weeks."
Jack McCluskey is an editor for ESPN.com and a frequent contributor to ESPNBoston.com. Follow him on Twitter @jack_mccluskey.
September, 20, 2012
9/20/12
10:30
PM ET
By
Jack McCluskey
| ESPNBoston.com
NEWTON, Mass. -- For a team known as physical and blue-collar, the numbers were unacceptable.
Twenty-one carries for 25 yards, an average of 1.19 yards per carry.
"Yeah, absolutely," BC head coach Frank Spaziani said when asked if jump-starting the running game will be a focus during this bye week. "We were disappointed in how we ran the ball, obviously, last week."
[+] Enlarge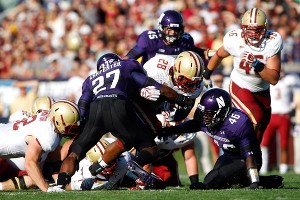 Jerry Lai/US PresswireBC RB Deuce Finch gained just 19 yards on 8 carries and lost a fumble on Northwestern's 4-yard line.
The Eagles are averaging just 2.99 yards a carry, tied for 108th in the country.
Left tackle
Emmett Cleary
said he was frustrated by the line's performance against Northwestern.
"We took too long to kind of catch on to what they were doing," he said. "Something we normally pride ourselves on is we're a smart bunch of guys, we sniff stuff out and we get it blocked up. For whatever reason, we missed too many blitzes and cut some guys loose, so the running backs didn't even have a chance.
"It's not like we're getting overpowered up front. It's not like we're that technically deficient. It's just we gotta have all five guys on their jobs. The holes are there. We watched the film and there's gaps, it's just one guy leaking off late and making the play."
Cleary's teammates don't put the failures all on the offensive line's shoulders.
"I think the guys up front have done well so far this year," quarterback
Chase Rettig
said. "We have this off week so we're gonna use it to our advantage, work on just getting a lot of reps for our running game because we're gonna need to be able to run the ball against Clemson."
"I don't think really you can pinpoint it down to one thing," wideout
Alex Amidon
said. "It's just a couple of things that have gone wrong that we just need to fix in practice. There's nothing wrong with the personnel; I think it's definitely fixable.
"I think you'll definitely see the running game improve vastly from where it's been so far."
Spaziani is optimistic that focusing on fundamentals will bring about the positive change that's needed.
"Everything is fixable," he said. "The problems we're having aren't ones that can't be fixed."
Though fumbles have been a problem for the Eagles this season, including a costly one against Northwestern when
Rolandan Finch
turned it over on the Wildcats' 4-yard line, Cleary said he doesn't think the issues will linger.
"Motivation's not really an issue," he said. "It's always on to the next play. It was a big play and I know [Finch] was disappointed about it, but he's going to make some very important contributions to this team this season. He can't be thinking about what happened or any of that. And he knows that.
"He's had huge games for us before, and so I fully expect him to come back with an extra little chip on his shoulder and just run over some people next week."
And while the work will be shared this week, Cleary believes he knows who needs to carry the biggest load.
"At the end of the day," he said, "the responsibility for running the football lies on the five guys up front."
Jack McCluskey is an editor for ESPN.com and a frequent contributor to ESPNBoston.com. Follow him on Twitter @jack_mccluskey.
August, 31, 2012
8/31/12
12:21
AM ET
By
Jack McCluskey
| ESPNBoston.com
NEWTON, Mass. -- Eventually it got to a point when all they could do was shake their heads in disbelief.
One player went down, then another. And then another.
Injuries will always be a part of football, and the Eagles understand that. But to have this many, this early in the process?
Chris Pantale
was lost first, then
Al Louis-Jean
got hurt. Deuce Finch,
Tahj Kimble
and
Kaleb Ramsey
all missed time in camp with various injuries. And now
Bobby Swigert
, QB
Chase Rettig
's go-to guy for much of last season, is out for several weeks with an injury of his own.
[+] Enlarge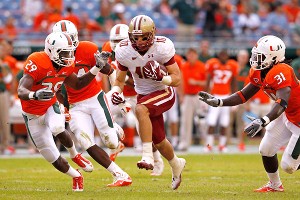 Mike Ehrmann/Getty ImagesWR Bobby Swigert is one of several key Eagles who are sidelined by injuries at the start of the season.
"It's always gonna have an effect on a team when your playmakers are not on the field, but I think that our offense is dynamic enough to overcome the injuries," running back
Andre Williams
said Wednesday as the Eagles were preparing for their season opener against Miami on Saturday (3:30 p.m., ESPN2).
Williams has seen first-hand the effect injuries can have on a team. Though he's been healthy through training camp, Williams was held out of a scrimmage because of injuries to fellow RBs Finch and Kimble. Head coach Frank Spaziani didn't want to risk an injury to Williams, too.
No one in Chestnut Hill is looking to use the injuries as an excuse. Don't get things twisted.
"That's just something that you just gotta go with," senior receiver
Colin Larmond
Jr. said. "I suffered that a few years ago."
Larmond, who missed the 2010 season with an ACL injury, said BC's coaches have preached accountability to the players, before and after the recent spate of injuries.
"They always tell us if you go out there, don't take practice for granted," he said. "Take it one step at a time, one day at a time. You have to give it your all, keep trying, keep getting better."
Players have to know that they may be one snap away from being a starter. And they have to prepare accordingly.
That doesn't mean the losses of Pantale, who was voted a captain this season before breaking a bone in his foot and undergoing surgery to repair it, and Swigert, who is out with a knee injury, will hurt any less.
"It hurts, just because me and him are close off the field," Rettig said of Swigert's injury. "He just loves playing football and he has a great work ethic, he's always there, 24-7. On the field he's quiet and calm and smooth.
"It's just a target that we're gonna miss for a couple weeks but someone else will step up. Guys have been stepping up in practice so we just need to see that transition onto the field."
Larmond agreed with his quarterback.
"It just gives other people a chance to step up," he said.
And if you ask the veteran, there is no shortage of wideouts capable of filling in. He cited
Johnathan Coleman
and
Alex Amidon
as two players to watch.
August, 16, 2012
8/16/12
10:30
AM ET
The bad news just keeps coming for Boston College this summer.

Featured tailback
Rolandan Finch
, the team's leading rusher last season,
injured his foot
in Wednesday night's scrimmage, according to the Boston Herald.
"I hate to say it, but it is his foot, but it's a little too early to say more," coach Frank Spaziani told the paper. "We put some ice on it and do the usual routine, X-ray and MRI."
The Eagles had recently announced the news of injuries to starting tight end
Chris Pantale
and cornerback
Al Louis-Jean
. Boston College was already missing one of its top rushers, as
Montel Harris
was dismissed from the team in early May.
In Wednesday's scrimmage, junior tailback
Andre Williams
carried the ball seven times for 18 yards and two touchdowns, which included one touchdown in goal-line simulation. Freshman
George Craan
, who also scored one touchdown in goal-line simulation, carried five times for 12 yards. Senior
Mike Javorski
carried the ball nine times.
The good news is that the quarterbacks played well.
Starter
Chase Rettig
completed 14-of-21 passing attempts for 259 yards and one touchdown. He completed passes of at least 12 yards seven times, including a 72-yard touchdown to senior
Colin Larmond Jr.,
passes of 30 and 35 yards to junior
Alex Amidon
, and a 26-yard completion to junior
Johnathan Coleman
.
"I'm looking for him [Rettig] to run the operation, make good decisions, and, right now, run our offense," Spaziani said, according to the team's scrimmage report. "We did a couple new things out here today, gave him some more stuff to do. I thought the quarterbacks -- they looked fine. I think he's been practicing well."
He's going to have to play well, too, if the Eagles are going to overcome all of these injuries.