October, 23, 2014
10/23/14
9:27
PM ET
By
Jack McCluskey
| ESPNBoston.com
BOSTON -- The
Harvard Crimson
would never admit it, but they're getting used to dealing with raised expectations.
Around Tommy Amaker's team, that word -- "expectations" -- might as well be an expletive in a children's book. It doesn't belong there.
[+] Enlarge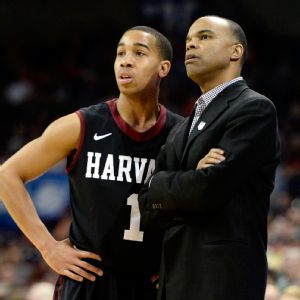 Kirby Lee/USA TODAY SportsPG Siyani Chambers and coach Tommy Amaker hope to build on Harvard's recent run of success.
So don't ask the coach or the new co-captains about how being a unanimous pick to win the Ivy League for the second straight season increases expectations for the reigning Ancient Eight champs. Don't ask about how being picked to finish first for the third time in four seasons, after the Crimson were also picked first on 16 of 17 ballots in 2011-12, increases the size of the target the program will be wearing all season.
Just know that this is no surprise in Cambridge, where 14 letter winners (including seven seniors) return from last season's team. Where 20-win seasons have become commonplace (five straight), and they've started flirting with the idea of a 30-win campaign -- going 27-5 overall and 13-1 in Ivy play in 2013-14 to set new marks for wins yet again.
"There's good and bad with a lot of those kinds of things," Amaker said Wednesday morning at TD Garden for Coaches vs. Cancer tripleheader media day. "We've been a team that has really honed in on our internal mechanisms -- our goals, our identity and our standards. Those are the three areas that have mattered the most to us. There are times when we haven't been picked to be whatever and there are times when we have, but we've tried to eliminate whatever is on the outside.
"Is it flattering? Yes, it is, given that we recognize and we know how tough and challenging our league has been and will be again this year. So to be thought of as in that position is incredibly flattering."
The Crimson lost a lot to graduation, including
Kyle Casey
,
Brandyn Curry
and sharpshooter (and two-time co-captain)
Laurent Rivard
. But they still have
Siyani Chambers
,
Steve Moundou-Missi
,
Kenyatta Smith
and
Wesley Saunders
(the Ivy Player of the Year in 2013-14).
Chambers and Moundou-Missi were elected co-captains this season, which came as no surprise to Amaker. Chambers has been a leader since the day he set foot on campus, and Moundou-Missi is a strong presence even if he's not the loudest voice around.
"It's a great honor," Chambers said. "The guys selected me to be a captain this year, and I give them a lot of credit for choosing me to be their leader. It shows that they put a lot of pressure on me but also [that] they feel I'm a good leader -- me and Steve both.
"I just hope to follow in the footsteps of the past captains that we've had."
The point guard will follow those footsteps in the sand, for sure, but you can also bet he won't stop just because they come to an end. He'll keep going, keep pushing this team forward onto new ground.
"I think there's always a little pressure to try to go out there and try to do just as much as last year's team did," Chambers said. "If we do what we're supposed to do, and we all just keep working toward the common goal of winning and getting better every day, I think hopefully we can be proud of ourselves at the end of the road."
Where that road ends no one knows, but if it ends in a fifth straight Ivy title and a fourth straight NCAA tournament appearance the expectations -- there's that word again -- will go only higher and higher. If the Crimson make it to the Big Dance again, supporters won't just want them to win a game -- they'll want them to make a run.
The hardwood cognoscenti across the country clearly believe in Harvard, as the preseason polls prove (the Crimson got 47 votes in the USA Today coaches poll, tied for Stanford for 26th in the land).
"It's meaningful for us," Amaker said of the preseason recognition. "We work very hard every day to attain a certain level of relevance and respect and credibility.
"That comes with the work that goes in ,and we're fortunate that we've had some amazing kids that have believed in our philosophy and our system and have performed incredibly well in key moments, in key times, to put us in the position that we're in today. And we've had fun doing it."
Jack McCluskey is an editor for ESPN.com and a frequent contributor to ESPNBoston.com. Follow him on Twitter @jack_mccluskey.