Boston Colleges:

Siyani Chambers
March, 12, 2014
Mar 12
11:42
PM ET
By
Jack McCluskey
| ESPNBoston.com
The player Harvard coach Tommy Amaker has repeatedly called the Crimson's best is now officially the Ivy League's best, as on Wednesday the league named
Wesley Saunders
the 2013-14 Ivy League Player of the Year.
Saunders, a unanimous pick for the All-Ivy first team for the second straight season, is the third Crimson player to earn Ivy player of the year honors after Keith Wright in 2011 and Joe Carrabino in 1984.
[+] Enlarge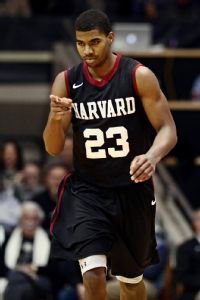 Ron Chenoy/USA TODAY SportsIvy League player of the year Wesley Saunders' season isn't over yet, as Harvard awaits its NCAA tournament seeding.
The Crimson, who matched a program record with 26 total wins and set records with 13 Ivy wins and a 7-0 Ivy road record, landed six players on All-Ivy squads -- tied for most all time, with the 1994-1995 Penn team -- with
Siyani Chambers
,
Steve Moundou-Missi
and
Laurent Rivard
voted to the All-Ivy second team and
Kyle Casey
and
Brandyn Curry
receiving honorable mentions.
A Los Angeles native, Saunders filled up the box score as a junior, averaging 14.0 points (8th in Ivy), 4.7 rebounds (17th), 3.9 assists (third), 1.7 steals (first). He finished in the top 10 in the league in field goal percentage (46.6), assist-to-turnover ratio (1.7), blocked shots (0.8) and minutes per game (33.7).
Saunders was often asked to both guard the opposing team's best player and lead the Crimson in scoring, which he did 10 times.
Chambers, the Ivy Rookie of the Year in 2012-13, earns a second consecutive All-Ivy honor after averaging 11.1 points and 4.7 assists (second in the Ivy) on the Ancient Eight's most potent offense (73.6 points per game).
After receiving an honorable mention last season, Moundou-Missi and Rivard each earned their first All-Ivy second-team spot.
Moundou-Missi, a native of Yaounde, Cameroon, was named the Ivy's player of the week for his performances in the Crimson's season-ending weekend sweep, averaging 21.5 points and 11.5 rebounds in wins at Yale and Brown. He finished the season averaging a career-high 10.5 points and 5.8 rebounds.
Rivard, the Crimson's all-time leader in made 3-pointers (282), averaged 10.0 points and shot a career-high 42.6 percent on 3s.
And after sitting out the 2012-13 season after being implicated in a university-wide academic cheating scandal, Casey led the team in blocked shots (1.2, fourth in Ivy) and Curry matched his career high with 9.3 points per game.
The Crimson clinched the Ivy title outright with their win over Yale, their third straight outright and fourth straight overall, and will wait 'til Sunday to find out who they will play in the NCAA tournament.
Jack McCluskey is an editor for ESPN.com and a frequent contributor to ESPNBoston.com. Follow him on Twitter @jack_mccluskey.
February, 17, 2014
Feb 17
2:00
PM ET
By
Jack McCluskey
| ESPNBoston.com
The Bob Cousy Award list has been narrowed from the initial field of 80 to 23 semifinalists, and Harvard's
Siyani Chambers
and UMass'
Chaz Williams
have made the cut, the Naismith Memorial Basketball Hall of Fame announced on Monday.
That means close to one-10th of the players who remain in the running for the honor of best point guard in the country play ball for Massachusetts schools.
Ken Kaufman, former president of the National Association of Basketball Coaches and current chair of the Bob Cousy Award, said all of the finalists are deserving of consideration.
"The men on this list all have the athletic qualities of an exceptional true point guard in the game of college basketball, the same qualities that made Mr. Cousy an iconic player," Kaufman said in a statement.
The Ivy League Rookie of the Year in 2012-13, Chambers is averaging 11 points, 4.3 assists and 2.3 rebounds per game. He ranks second in the Ancient Eight in assists per game (4.3), third in assist-to-turnover ratio (1.7), seventh in steals per game (1.3) and 10th in both 3-point field goal percentage (39.6 percent) and 3-pointers made per game (1.7).
Chambers has the Crimson offense humming this season, at 72.8 points per game just one-10th of a point behind Princeton for tops in the Ivy League, and combined with Tommy Amaker's usual strong defense, Harvard has hit 20 wins for the fifth consecutive season at 20-4 (7-1 Ivy) with six games to go.
The Golden Valley, Minn., native is the first Ivy Leaguer to make the final 20 since Penn's Zach Rosen in 2011-12 and the first Harvard player to make it this far since Jeremy Lin in 2009-10.
Williams, the 5-foot-9, 175-pound sparkplug responsible for starting the Minutemen's offense, is third in the country in assists per game (7.3) and eighth in the country in kenpom.com's assist rate (38.1).
The senior is averaging 15.4 points (11th in the Atlantic 10) and 2.9 rebounds to go with his 7.3 assists a game.
Despite a stumble in A-10 play that knocked UMass out of the Top 25, Williams and the Minutemen are positioned well for a shot at the Big Dance at 20-5 (7-4 A-10) with five games to play in the conference slate.
The Cousy Award list will be narrowed to five by fan voting, which opens Tuesday and ends March 10, and the winner will be chosen by the Cousy Award selection committee and announced on Championship Monday.
Jack McCluskey is an editor for ESPN.com and a frequent contributor to ESPNBoston.com. Follow him on Twitter @jack_mccluskey.
January, 9, 2014
Jan 9
11:45
AM ET
By
Jack McCluskey
| ESPNBoston.com
We all have habits, often ones we don't even think about.
Maybe you run a hand through your hair when you're concentrating, nibble on a nail when you're nervous or pat your pockets to make sure you have your keys before you close the car door.
When Siyani Chambers hits a big shot, or makes a pass to set up a teammate for a big shot, the slight, 6-foot, 170-pound point guard has a habit of pumping his fist. Sometimes accompanied by a shout.
That kind of emotional outburst, while easy to understand analytically and enjoyed by fans and teammates alike, has a way of getting under some opponents' skin.
Just not Shabazz Napier.
After the UConn senior guard had one-upped the Crimson sophomore, nailing back-to-back 3-pointers after Chambers' 3 had cut the Huskies' lead to two at 49-47, and his team escaped with a 61-56 win, he was asked what he saw from his young opponent.
The Roxbury, Mass., native praised Chambers for his efforts, which had produced a game-high 21 points and kept the Crimson close without leading scorer Wesley Saunders.
"He's a good point guard," Napier said. "He's been good since his freshman year, since he had to step into that role when the guys got in trouble [Kyle Casey and Brandyn Curry missing 2012-13 after being implicated in an academic scandal]. He's doing the best he can with the most he has. Today he played well, hitting open shots that he usually takes. I think he's definitely gonna be a good player in the future."
And then Napier, who leads the Huskies with 16.0 PPG this season and scored a team-high 18 on Wednesday, brought up the fist pump.
"He's more competitive. Freshman year, he was kinda shy," he said, asked the difference in Chambers from Year 1 to Year 2. "He kinda didn't want to take the moment, and that's understandable. But this year you can see a lot of enthusiasm in him. I think he knocked down a 3 and I thought I saw him punch the air or something.
"That's definitely good, you want to see that kind of moxie in a lot of guys. That's what brings out the best of them. Like I said, I think he's definitely going to be a good point guard in the future and he's just gotta continue to work. And as you can see, he does work real hard."
Another habit that's easy to notice, and one appreciated by teammates and opponents alike.
Jack McCluskey is an editor for ESPN.com and a frequent contributor to ESPNBoston.com. Follow him on Twitter @jack_mccluskey.
December, 7, 2013
12/07/13
10:24
PM ET
By
Jack McCluskey
| ESPNBoston.com
BOSTON -- Time after time Saturday afternoon,
Siyani Chambers
,
Wesley Saunders
and the Crimson looked like they were ready to pull away from their hosts at Case Gymnasium.
And time after time, Maurice Watson Jr. and the Terriers wouldn't let them.
So with time ticking down in the second half, and the Crimson leading by just four after a deep, deep
John Papale
3-pointer banked in (his first make of the game), of course it was Watson who poked the ball away from
Kyle Casey
as he attempted to dribble upcourt against the BU pressure. And of course the ball eventually found its way to Papale in the left corner, where the marksman nailed another 3 to cut the deficit to one and bring the crowd to full throat.
"Can't Hold Us" by Macklemore and Ryan Lewis blasted from the sound system, the chorus seemingly apropos: "Can we go back, this is the moment/Tonight is the night, we fight 'til it's over."
And after
Steve Moundou-Missi
hit one of two freebies, clanging the second, there was Watson again.
Travis Robinson
corralled the rebound and found the 5-foot-10, 165-pound speedster, who sprinted upcourt and -- seeing no one stepping up to stop him -- took it all the way to the rim, where he lofted a high shot over an outstretched defender, the ball bouncing softly off the backboard and the rim and in for the tie.
Chambers had a good look with a few seconds left, but missed. And Saunders threw up a one-handed attempt at a tip-in, but it went just wide and the horn sounded.
Someone threw the ball up in the air and the crowd celebrated like, well, let's let Macklemore finish the chorus: "So we put our hands up, like the ceiling can't hold us/Like the ceiling can't hold us."
Unfortunately for the denizens of The Roof -- as Case is called -- the game wasn't over yet, and in the OT period Saunders shook off an extended scoreless drought to score seven of his game-high 25 points as turnovers and missed free throws doomed the Terriers in a 79-68 Crimson win.
After allowing a seven-point lead to evaporate in the final minute, the veteran Crimson showed their tourney-tested mettle and outscored the Terriers 13-2 in the extra period.
"We thought we had it in regulation," Chambers (16 points, four rebounds and three assists) said. "Then we came down the stretch and they made some tough plays to get back into it and tie it up. The momentum was changing and for us to go out there and work as a team, get buckets and get stops, it was a relief because we thought we lost it for a second."
The Terriers thought they had it for about as long. And then it got away, just as quickly.
Did the hard charge to tie it take too much out of the Terriers?
"If we're going into overtime, I'd rather be the team that just had a run," BU coach Joe Jones said. "Usually they run with that momentum, but tonight we weren't able to capitalize on that."
"We just stayed together," Saunders said of the difference in OT. "We kinda cut down on some of the silly mistakes we were making towards the end of the game. I think we just stuck to our principles and didn't really do anything outside of ourselves in the overtime.
"And I think that really helped us pull out the win."
Though the Terriers fought 'til it was (almost) over, when the final buzzer sounded it was the Crimson the Roof couldn't hold on Saturday.
Jack McCluskey is an editor for ESPN.com and a frequent contributor to ESPNBoston.com. Follow him on Twitter @jack_mccluskey.
November, 10, 2013
11/10/13
9:57
PM ET
By
Jack McCluskey
| ESPNBoston.com
BOSTON -- Maybe
Siyani Chambers
had a bad first 20-plus minutes, or maybe the Ivy League Rookie of the Year in 2012-13 was simply taking a lesson from show business.


Either way, Chambers definitely saved his best for last.
After Holy Cross'
Malachi Alexander
hit a free throw to convert an and-1 and put the Crusaders ahead by 1, the Harvard sophomore came alive after being held scoreless in the first half.
Fouled, Chambers calmly drilled both free throws. On the next Crimson possession, the 6-foot, 170-pound point guard swished a stop-and-pop jumper from left of the free throw line. And when
Brandyn Curry
drove into the lane to draw the defense, then kicked to the corner, Chambers coolly set his feet and drained a back-breaking 3.
After the shot went in, Chambers flexed his arms and shouted "Let's go!" toward his teammates on the bench.
"That was a critical stretch, obviously," coach Tommy Amaker said after his Crimson closed out the 82-72 win. "When the game got very tight and we lost the lead, they showed an incredible amount of composure. I don't think [Chambers] had played very well up to that point, so to have him step forward and make those kinds of game-changing plays for us -- that's just the kind of player he has been for us. And we're very, very pleased he was able to come through for us again tonight."
Holy Cross coach Milan Brown called timeout, but the damage was done. With his personal seven-point run, Chambers had turned a one-point deficit for Harvard into a six-point lead.
"We're not big obviously at the moral victories, so we're very disappointed in the outcome," Brown said. "I didn't have any doubt that we'd compete at the level that we did, but the last five minutes [got away from us]. We played a team that understands how to win and has been in big moments. They're at a level that we're trying to get to. They made some big, game-winning plays."
While Chambers made his plays in the most important moments, the Crimson wouldn't have been in position to win if not for the play of reserve big man
Jonah Travis
. The Minneapolis, Minn., native came off the bench when
Kyle Casey
got in foul trouble and, as Amaker put it, "gave us a huge shot in the arm."
"I know my job," the 6-6, 225-pounder said. "My job is to come in there and provide energy for the team and if that helps them get over the hump or the slow start that we had, that's what I need to do. They need me to grab rebounds and set screens or score points when I was open."
Travis did all of that Sunday night -- fouling out with 20 points and 10 rebounds, both team highs for Harvard -- setting the stage for Chambers to start the Crimson's season off with a win.
Jack McCluskey is an editor for ESPN.com and a frequent contributor to ESPNBoston.com. Follow him on Twitter @jack_mccluskey.
March, 22, 2013
3/22/13
10:06
PM ET
By
Jack McCluskey
| ESPNBoston.com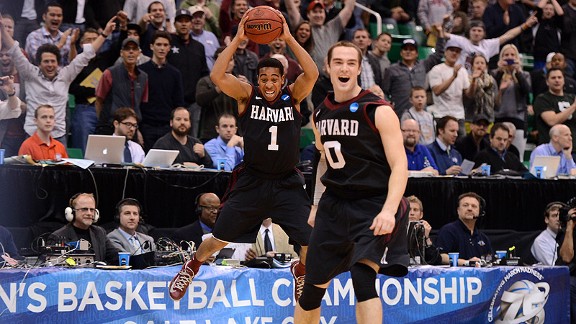 Harry How/Getty ImagesSiyani Chambers and Laurent Rivard celebrate Harvard's 68-62 win over New Mexico on Friday.
Though it might seem like it happens in an instant, history is made slowly.
So when the buzzer sounded in Salt Lake City and the Crimson flooded onto the court to celebrate the school's first NCAA tournament victory, they had indeed made history. But they didn't just magically appear on that stage at the Big Dance, didn't just magically turn into Ivy League contenders and then champions.
Harvard has traveled a long road to this point, a yearslong journey that isn't over yet.
The journey started six years ago, when the school decided to make a fresh commitment to the program, on and off the court, and chose Tommy Amaker as its next coach.
Building toward history
It's hard to overstate just what a historic achievement No. 14 seed Harvard's 68-62 win over No. 3 seed New Mexico really is.
Amaker is the 17th coach in Harvard's long basketball history, which stretches all the way back to 1900 (although Harvard didn't field teams from 1909 to 1920). Entering the 2012-13 season, the Crimson had played 2,268 games (winning 1,015 and losing 1,253) but had never won a postseason game of any kind (0-2 in the NCAA tournament, 0-1 in both the NIT and the CollegeInsider.com tournament).
Of course, before Amaker took the 2009-10 team to the CollegeInsider.com tourney following a buzzer-beating loss to Princeton for the Ivy League's automatic NCAA bid, only one Harvard team had even
played
in a postseason tournament.
And that was in 1945-46.
[+] Enlarge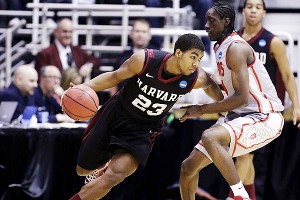 AP Photo/Rick BowmerSophomore Wesley Saunders was a unanimous All-Ivy selection after leading the Ancient Eight in scoring at 16.5 points per game.
Amaker took over in Cambridge before the 2007-08 season, having been fired by Michigan following the 2006-07 season. Amaker's Wolverines finished that season at 22-13 overall, including an 8-8 record in the Big Ten, with a second-round loss in the NIT.
What Amaker found by the Charles was a program that needed major upgrades both on and off the court. The Crimson needed better locker rooms, they needed better facilities and they needed more on-court talent.
But asked Friday about his "vision" for the Harvard program, Amaker said he didn't have to do anything special to make it a reality.
"I love the word 'vision,' first of all, and we use that a lot because that was real and truthful from day one of what I felt in my heart about Harvard. It's an incredible brand. It's a magical name, and that's not a knock to any other wonderful place or institution or university," Amaker told reporters in Salt Lake City. "I just think that it speaks for itself in so many ways of being considered the very best.
"I didn't have to overcome, or we didn't have to try and feel like we were overcoming anything. What we tried to do is present a vision and present Harvard as an option, as an opportunity. I never used the word 'sell.'"
Amaker did inherit some talent, including a point guard named Jeremy Lin, but otherwise the cupboard was close to bare early. (Lin, of course, went on to star in the Ivy League and then bounced around the NBA before bursting onto the scene with the Knicks last season. He now plays for the Houston Rockets.)
With Lin and a first recruiting class that included players such as Oliver McNally and Keith Wright, who would become stalwarts and two-year co-captains as juniors and seniors, Amaker set about building a winning culture in Cambridge.
That was a big deal because while the Crimson have had success in other sports, before Amaker arrived the men's basketball program never had.
[+] Enlarge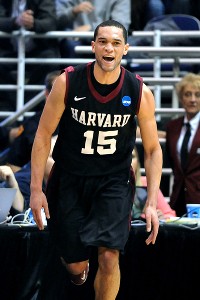 Steve Dykes/USA TODAY SportsChristian Webster is the lone graduating senior among Harvard's rotation players.
Keeping the momentum going
The success the Crimson have had this season is surprising for a number of reasons, the most obvious being all the talent they lost after last season. McNally and Wright graduated, and their would-be senior co-captain replacements also left before the 2012-13 season began.
Kyle Casey, the do-it-all forward and former Ivy League rookie of the year, and Brandyn Curry, the steady, speedy point guard, both chose to withdraw from school after being implicated in an academic cheating scandal that involved more than 100 students.
Their abrupt departure could have submarined the season. Where there should have been two experienced, knowledgeable and talented hands on the helm, suddenly there were none.
But that was true only briefly.
"The facts are what they are, and it wasn't anything that any of us would prefer to have happen at our school across the board with so many kids and families and folks involved in something like that which is somewhat from what I've seen," Amaker said Friday.
"But I think our guys have been able to adjust just like I would expect most young kids to be able to do. They've done it exceptionally well. I've been very impressed with how they have been able to do that."
After losing Casey and Curry, Amaker turned to senior
Christian Webster
and junior
Laurent Rivard
. The duo would have to lead, and hope youngsters such as
Wesley Saunders
,
Steve Moundou-Missi
and
Kenyatta Smith
(all sophomores) and
Siyani Chambers
(a freshman) would follow.
At first, the sudden added responsibility was jarring.
"Of course [the loss of Casey and Curry] was a big blow to our team," Rivard said on a conference call with reporters Monday, "but the coaching staff was quick to tell us that it was an incredible opportunity for the team and for each of us individually.
"We embraced that role and we did what we could to get the team to where it's at now."
Webster, who had 11 points against New Mexico to cross the 1,000-point mark for his career, said they've grown into their roles as the season has gone on.
"If you look at us from earlier in the season to now, it's like a change in worlds," Webster said in the call Monday. "It's gotten so much better."
Rivard, a native of Saint-Bruno, Quebec, played a big role in the upset of the Lobos. The sharpshooting guard was 5-for-9 from behind the arc, including three big 3s in the first half, to help the Crimson build a lead first and later come back after the Lobos had rallied to take the lead.
His 17 points were only one off the team lead (Saunders had 18), and without his consistent ability to slip free of his defender -- mostly New Mexico forward
Cameron Bairstow
-- and hit open shots, Harvard almost certainly would have lost.
And while Rivard was only a two-star recruit coming out of Northfield Mount Hermon -- the prep school in Gill, Mass., that he transferred to in order to increase his recruiting profile -- that doesn't mean the shooter wasn't coveted.
After Rivard helped Harvard beat Boston College during his freshman season, Steve Donahue was asked whether the marksman had taken the Eagles by surprise.
"I know Laurent very well," Donahue said that day in January 2011, after Rivard scored a game-high 23 points in a 78-69 Harvard win in Conte Forum. "We recruited him very hard at Cornell. Terrific basketball player."
But as is becoming more and more common, the recruit chose to go to Harvard instead. And that has made all the difference.
"I think the back-to-back games in the Ivy League is going to help us a lot," Rivard said Friday of Harvard's preparation for Arizona. "It's a little different here now. I guess we have a day off in between.
"But during the Ivy League season, we would win or lose on Friday night and we had to turn the page whether we felt good about how we played or not, but we had to turn the page and focus on the next opponent. That's what we're doing today. We have practice right now. We're going to start focusing on Arizona, and I think it's going to help us."
Since 2010, the Crimson have added more three-star recruits (five) than the rest of the Ivy League combined (three, two for Yale and one for Penn), according to ESPN Recruiting Nation. And that total doesn't include the 2012-13 Ivy League rookie of the year, the first freshman to be voted first-team All-Ivy, Siyani Chambers (a two-star recruit).
Next season, the Crimson lose only the senior Webster, and should not only add another solid recruiting class -- including coveted prospect Zena Edosomwan, who turned down the likes of California, USC, Wake Forest, Washington, UCLA and Texas to commit to Harvard -- but also welcome back Casey and Curry (assuming the cheating scandal is settled).
So after winning a third straight Ivy League title, making a second straight NCAA appearance and capturing the first postseason win in school history, all in a season in which it was supposed to be weakened, Harvard likely will be even better in 2013-14.
Just imagine the history
that
Crimson team could make.
Jack McCluskey is an editor for ESPN.com and a frequent contributor to ESPNBoston.com. Follow him on Twitter @jack_mccluskey.
March, 22, 2013
3/22/13
9:45
PM ET
SALT LAKE CITY -- When
Siyani Chambers
chose Harvard, he hoped to be the Crimson's starting point guard ... someday.
He dreamed of leading his team on an NCAA tournament run ... someday.
The fact that someday is today?
"Amazing," the 6-foot Ivy League rookie of the year said Friday, less than 24 hours after 14th-seeded Harvard knocked off No. 3 New Mexico for the program's first NCAA tournament victory.
That word could describe his development, too.
[+] Enlarge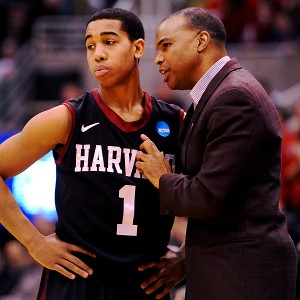 Steve Dykes/USA TODAY SportsThrown into Harvard coach Tommy Amaker's starting lineup as a freshman, Siyani Chambers has thrived.
"He's the leader on our team," said senior guard
Christian Webster
, whose team will face sixth-seeded Arizona on Saturday for the right to advance to the Sweet 16. "
Laurent [Rivard]
and I are the captains, but he's the leader. He drove this team."
It's a role the 19-year-old ball handler never expected, at least not this soon, when he arrived on Harvard's campus less than a year ago. First recruited by Crimson coach Tommy Amaker when he was in the eighth grade, Chambers decided pretty quickly that he wanted to play for the former Duke guard because of what he could learn.
But Chambers also thought he would have some time to be a pupil, while playing behind Brandyn Curry, a Cousy award candidate last season. That is, until September, when Curry and fellow senior Kyle Casey withdrew from Harvard following an academic scandal.
When the freshman heard the news, his head spun. "I was definitely nervous -- very, very nervous," Chambers said. "All of a sudden, it's your first year, you're coming in trying to learn the whole process about everything: playing, dealing with school and basketball."
To persevere, he said, he leaned on his teammates -- and they leaned back, looking for the vocal freshman to glue together a team whose chances of winning the Ivy League all of a sudden seemed precarious, at best.
But Minnesota's Mr. Basketball exceeded expectations probably because he had no other choice, gaining confidence (and his team's confidence in him) by becoming a steady assist man and scorer early; he even hit the game-winning basket with four seconds left against Boston University on Dec. 11.
"He's a special kid, and certainly he plays basketball in a special way, and I think you get excited when you watch him play," Amaker said. "I know when we recruited him, we wanted him to play in that manner; sometimes I thought he held himself back a little bit, and I told him if you ever come to play for us ... we want you to be dazzling because you're capable of it."
His season stats -- 12.6 points and 5.8 assists per game -- were dazzling enough to make him the first freshman named first-team All-Ivy League.
But the way he melded his team dazzled, too. Sophomore
Wesley Saunders
emerged as a go-to scorer (16.5 PPG). Rivard became a scary outside threat (five 3s against the Lobos on Thursday).
Kenyatta Smith
and
Steve Moundou-Missi
improved in the post. Harvard finished the regular season 19-9, winning the Ivy League.
So maybe it was fitting that as the seconds ticked down on Harvard's historic upset Thursday, Chambers was the one with the ball in his hands, grinning and carefully watching the clock. That moment is a feat the Crimson hope to repeat against another bigger, more heralded team Saturday.
And one Chambers never imagined when he thought about his goals a year ago.
"I just wanted to come in and learn as much as possible, so when it was my time I could step in and be able to contribute to the game," he said, remembering. "... When I first decided to come here, I did not think this is what I would be stepping into.
"But I'm glad I came here, and I'm glad this happened."
Now.
SALT LAKE CITY NEWS AND NOTES
SAFETY FIRST:
One teammate compared Wichita State sophomore
Tekele Cotton
to a strong safety. Shockers coach Gregg Marshall? He thinks the guard is more like a free safety.
Whatever the football analogy, you get the picture: The 6-2, 202-pound athlete is hard-nosed, hard-bodied and hard-focused on making stops. And if he can stymie a certain Gonzaga player like he did Pittsburgh guard
Tray Woodall
on Thursday (the senior was brought to tears after his 1-for-12, two-point performance), Cotton knows his team has a better chance to upset the No. 1 team in the country.
"I look forward to being that guy, to chase around their player like I did yesterday," said Cotton, who is also averaging 6.3 points and 3.9 rebounds per game this season. "So I look forward to chasing around
Kevin Pangos
. I have no problem with it; I enjoy it."
Pangos, the Zags' standout sophomore guard, is averaging 11.6 points per game this season and scored the final five points in top-seeded Gonzaga's six-point survival against 16th-seeded Southern on Thursday. He said the key to competing with a physical team such as the ninth-seeded Shockers is to be physical right back.
"We don't shy away from that; our team is tough," Pangos said. "We don't back down from that at all."
This should be an interesting matchup. The Shockers held Pitt to 35.2 percent shooting from the field -- and just 5.9 percent on 3-pointers. The Zags are third in the nation in field-goal percentage, making 50.4 percent of their shots.
NO ALARM HERE
: Zags coach Mark Few wasn't particularly rattled that the game against Southern went down to the wire; a win is a win is a win right now.
"At this point of the year, I don't think we need to worry about aesthetics or, you know, differences," he said. "I know it's cliché, 'survive and advance,' but there really is no other alternative. We're not getting style points and we're not getting graded -- you know, you either win or your season is over."
QUOTE-WORTHY:
"We know we're in for a fight, especially the confidence that they have. When you win a game like that, it doesn't just all of a sudden leave you; many times it carries through for the rest of the weekend. For us, it's not about being consumed with Harvard, as much as it is about being consumed with ourselves, making sure we're ready to go." -- Arizona coach Sean Miller
March, 22, 2013
3/22/13
2:51
AM ET
SALT LAKE CITY -- A year ago, Harvard guard
Laurent Rivard
was in awe just seeing the midcourt NCAA logo; after all, the Crimson hadn't made the tournament in six decades.
So helping the program to its first tournament victory -- a
68-62 win
over No. 3 New Mexico that marked the biggest seed upset by an Ivy League team?
That, he said, was indescribable. Although he tried: "You imagine it … it's something everyone dreams about," Rivard said after scoring 17 points and going 5-for-9 from 3-point range, "but it's a different feeling when it actually becomes real."
The win seemed improbable for a plethora of reasons: The Lobos (29-6) were bigger (7-footer
Alex Kirk
finished with 22 points and 12 rebounds), and more seasoned by playing in a conference many considered one of the nation's toughest. Heck, some even thought UNM was robbed by the tournament committee when it didn't earn higher than a No. 3 seed.
But Harvard countered with a four-guard lineup that was sharpshooting (52.4 percent overall, including 8-for-18 from 3-point land) and that frustrated Lobos leading scorer
Kendall Williams
into a forgettable, 1-for-6 night. Led by their tallest starter, 6-foot-8
Kenyatta Smith
, the Crimson also aggressively banged with Kirk and 6-9
Cameron Bairstow
(15 points, nine rebounds).
[+] Enlarge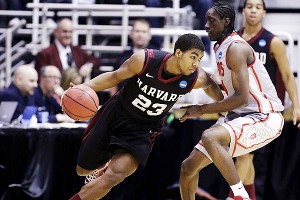 AP Photo/Rick BowmerHarvard's Wesley Saunders drives past New Mexico's Tony Snell on his way to 18 points.
"We knew they were going to be tough," Smith said. "We just had to be confident."
And they were, particularly down the stretch.
New Mexico, trailing for most of the game, took a 53-52 lead with 6:26 left on yet another Kirk inside move. But Harvard, even with its three bigger guys in foul trouble, countered with a 7-0 run -- beginning with another 3 from Rivard and including a jumper from guard
Wesley Saunders
(18 points) -- to rebuild its cushion. The Lobos never got closer than four after that.
"For me to see the composure that we had is meaningful to me as a coach," Harvard's Tommy Amaker said. "We had the lead. We lost the lead. We had to make plays and to have an answer each time when things got really tight there. We had to make pressure free throws. … But we didn't wilt or cave in."
Somehow, the Crimson (20-9) didn't seem to feel the pressure of being a No. 14 seed on the brink of making history.
"I was just playing in the moment, enjoying the moment," freshman point guard
Siyani Chambers
said. "… It felt like, just getting here, was our night."
Indeed, not long ago it seemed like a long shot that the Crimson would make the tournament at all -- much less advance to the round of 32.
First there were the offseason academic problems that led the team's co-captains -- Kyle Casey and Brandyn Curry -- to withdraw from school.
And although those departures gave Chambers (5 points, 7 assists in 40 minutes Thursday) the opportunity to develop more quickly, the team wasn't quite the runaway favorite it might have been to dominate the Ivy League -- as evidenced by back-to-back road losses at Princeton and Penn in early March.
Yet the Crimson endured. And prevailed.
And forget about last year's awe-inspiring NCAA logo. Now, there's a new daydream: the Sweet Sixteen.
"Before this, we wanted to be the Cinderella story," Smith said. "And I guess now, we kind of are."
March, 13, 2013
3/13/13
5:25
PM ET
By
Jack McCluskey
| ESPNBoston.com
A day after the Ancient Eight season ended officially,
Siyani Chambers
was unanimously voted the 2012-13 Ivy League Rookie of the Year.
But that's not all.
Chambers also found his name on the list for All-Ivy League first team, along with teammate
Wesley Saunders
(a unanimous selection). Junior co-captain
Laurent Rivard
and sophomore
Steve Moundou-Missi
were honorable mentions.
A 6-foot, 170-pound point guard from Golden Valley, Minn., Chambers finished first in the Ivy League in assists per game (5.7, 1.6 more than Princeton's
Ian Hummer
in second) and in minutes played (37.8 per game), fourth in free throw percentage (81.9), fifth in 3-point field goal percentage (44.0) and sixth in scoring (12.9 points per game).
Chambers is the seventh Crimson player to be named Ivy Rookie of the Year, and the first since Kyle Casey won the award in 2009-10.
He was second on the Harvard roster in scoring, behind only Saunders. The sophomore from Los Angeles led the Ivy League in scoring with 16.5 points per game, ranked seventh in assists per game (1.9) and third in minutes played per game (37.3).
Saunders scored in double digits in all 28 of Harvard's games, helping the Crimson to a 19-9 overall record, including an 11-3 Ivy record, the team's second straight outright Ivy title and NCAA berth.
Rivard, a sharpshooter from Saint-Bruno, Quebec, tied a single-season team record with 74 3-pointers in 2012-13. The junior averaged 10.4 points this season, and has made the second-most 3s in Harvard history through three seasons in Cambridge.
Moundou-Missi, a sophomore from Yaounde, Cameroon, led the Crimson in rebounding, with 5.1 boards a game (10th in the Ivy League).
Jack McCluskey is an editor for ESPN.com and a frequent contributor to ESPNBoston.com. Follow him on Twitter @jack_mccluskey.
March, 11, 2013
3/11/13
6:01
PM ET
By
Jack McCluskey
| ESPNBoston.com
Siyani Chambers
doesn't play like a freshman, but every once in a while there's a reminder that he is one.
On Monday, two days after Harvard clinched its second straight outright Ivy League title (third straight if you include a share of the title in 2010-11) and berth in the NCAA tournament, Chambers was named Ivy rookie of the week for the sixth time in 2012-13.
That ties Chambers, a native of Golden Valley, Minn., for fifth most all time.
But that wasn't what was on Chambers' mind on Monday, when he took to Twitter with an update that made it clear that though he may be advanced beyond his age on the court, off the court he's still new to this whole experience:
So I just got hit by a buzz saw in terms of that midterm #countthestuggles

— Siyani Chambers (@SChambers4) March 11, 2013
It's easy to count the struggles Chambers has had on the court because there haven't been many. It's harder to count the successes.
In Harvard's final two regular-season games, needing to win out to preserve a shot at the title, Chambers was his usual steady, savvy self.
He scored 16 points (on 5-for-6 shooting from the field and 6-for-7 shooting from the line), had three assists and grabbed two steals against Columbia on Friday -- a statline that doesn't do justice to the impact he had on the game, especially late. Then on Saturday, he had 16 points (on 6-for-9 shooting, including 3-for-4 from 3-point land), five assists and four rebounds against Cornell.
Chambers finished first in the Ivy League in assists per game (5.7, 1.6 more than
Ian Hummer
in second) and in minutes played (37.8 per game), fourth in free throw percentage (81.9), fifth in 3-point field goal percentage (44.0) and sixth in scoring (12.9 points per game).
It's to the point that Tommy Amaker doesn't know what else he can say about his preternaturally polished point guard.
"You can't say enough about Chambers," Amaker said after the rookie led the Crimson back against the Lions. "What else can the kid do for our team this year? His minutes, his efforts, his moxie, his savvy, his daring. All those things we've seen a lot this year."
As of Monday, ESPN's Joe Lunardi has Harvard as a No. 13 seed in the South region of the Big Dance, matching up with No. 3 seed Michigan State in Auburn Hills, Mich.
Harvard has been marveling at the Chambers show all season long, and chances are at least one more opponent will see a similar display in the NCAAs.
December, 20, 2012
12/20/12
7:46
PM ET
By
Jack McCluskey
| ESPNBoston.com
They've gone head-to-head on national TV, and now they're competing for the honor of being named the nation's top college point guard.
Harvard's
Siyani Chambers
and UMass'
Chaz Williams
battled back and forth during their team's meeting in the ESPN Tipoff marathon on Nov. 13, with the Minutemen winning on a buzzer-beating 3-pointer, and now both have been named to the watch list for the 2013 Bob Cousy Award on Thursday, according to a release by the Naismith Memorial Basketball Hall of Fame, which sponsors the award.
[+] Enlarge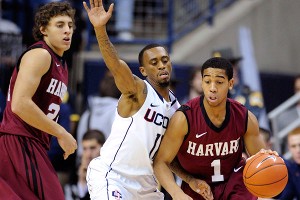 AP Photo/Fred BeckhamFreshman PG Siyani Chambers (1) has made an immediate impact at Harvard.
Players are nominated for the award, which is then selected by a panel of media members, head coaches, sports information directors and Hall of Fame members.
Chambers, a freshman, is second on the Crimson is scoring (12.1 points per game) and leads the team and the Ivy League in assists at 5.1 per game. He's twice been named Ivy League Rookie of the Week (Dec. 3 and Dec. 17).
Williams, a junior, is also second on his team in scoring at 15.4 points per game, and first in assists at 7.0 per game.
Williams' assist average ranks him in a tie for 10th in the country, while Chambers checks in at 56th overall.
The two point guards are among more than 80 players on the initial watch list, which will be cut down to 20 around Jan. 1, to 10 around Feb. 1 and to a final five by approximately March 1. The winner of the award will be announced during the Final Four, during the Hall of Fame's announcement of the 2013 class.
"The Hall of Fame is proud to continue its mission with Mr. Cousy to celebrate and honor the top collegiate point guards in the country," John L. Doleva, president and CEO of the Basketball Hall of Fame, said in a release. "This list represents a large range of college basketball's top student athletes from across the country. We are excited to recognize these players for their continuous hard work and dedication."
Previous winners of the Cousy Award include Jameer Nelson, Raymond Felton, D.J. Augustin, Ty Lawson and UConn's Kemba Walker.
Jack McCluskey is an editor for ESPN.com and a frequent contributor to ESPNBoston.com. Follow him on Twitter @jack_mccluskey.
December, 11, 2012
12/11/12
10:31
PM ET
By
Jack McCluskey
| ESPNBoston.com
CAMBRIDGE, Mass. -- He's only a freshman, nine games into his college career, but already Harvard coach Tommy Amaker is running out of things to say about
Siyani Chambers
.
"What can you say about Siyani?" Amaker asked rhetorically. "He's been the heart and soul for us so far this year. He had to guard those guys and then on this end he's the savior for us. He made every big play that we needed -- free throws, obviously the game-winning shot."
Ah, yes, the game-winning shot. It was a big one, with the clock running down and his team down a point after a big shot from visiting Boston University. But Chambers didn't hesitate, except to ball fake on-rushing defenders and clear his line of sight.
The Golden Valley, Minn., product capped his huge second half with a game-winning jumper with just 4 seconds left on the clock to lift Harvard to a 65-64 win over the Terriers on Tuesday night, forcing his coach to search for new ways to praise him and sending BU home with a familiar bad taste in its mouth.
Those guys Amaker was referring to Chambers guarding are the BU backcourt of Maurice Watson Jr. and
D.J. Irving
, who went back and forth with Chambers and
Wesley Saunders
all night.
[+] Enlarge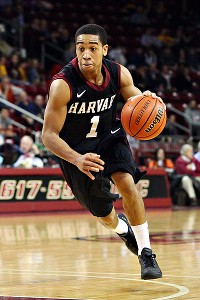 Anthony Nesmith/CSM/AP ImagesFreshman Siyani Chambers kept his cool throughout Harvard's win over BU, right down to hitting the winning shot.
"I thought that their guards were outstanding -- Watson and Irving were so quick and tough driving the ball to the basket," Amaker said.
In fact, Amaker took his backcourt to task for the way they played defensively in the first half.
In a battle of preternaturally mature freshmen point guards, Watson took the first round.
The similarities between the two are striking.
Both Watson and Chambers wear No. 1. Both have the distinction of being the shortest player on their respective teams (Watson at 5-foot-10, Chambers at 6-foot). Both have played big minutes right off the bat (26.5 for Watson, 36.8 for Chambers). And both are at or near the top of their respective leagues in assists.
Watson seemed to get wherever he wanted in the first half, driving past Chambers and through converging Crimson defenders to find layups for himself or open shots for teammates. He finished the first half with 8 points, on 4-for-6 shooting, and Irving had 11 to lead all scorers, as the Terriers took a seven-point lead into the locker room.
But after a quiet first half (1-for-4 shooting for 4 points), Chambers took the second round by a knockout.
He scored the Crimson's first seven points after the break, including a four-point play when he threw up a 3-pointer with the shot clock at one, hit the shot and got fouled by Watson in the process.
His shooting seemed to wake up the Crimson, who went 0-for-8 on 3s in the first half and then shot 7-for-9 in the second half to finish 7-for-17 (41.2 percent).
"It looked like it gave our team a little confidence boost, gave us a little more energy," Chambers said of his first 3 in the second half. "In terms of the shot, it didn't do anything for me, but hopefully for the team it sparked a little energy."
In the end, it wasn't how Chambers started the half that was most impressive but how he finished it.
After Saunders hit one of two free throws with 47.0 to go in the game to put Harvard up one, all the Crimson needed for the win was a stop. But stops had been hard to come by, especially when the Terriers got the ball into Irving's hands.
The junior seemed to have the answer whenever Harvard made a run in the second half. When Chambers hit a 3 to put the Crimson up 40-38, Irving came right back with a 3 of his own.
Laurent Rivard
hit a 3 from the corner to put Harvard up 55-53, but back came Irving with another 3 to push the visitors back in front.
So, of course, when the clock was running down and the Terriers needed a bucket, they turned to Irving.
He came running off a screen and took a pass from
Dom Morris
at the top of the key, then curled around the key, stopped on a dime and drained a pull-up jumper with just 19 seconds to go.
For once this season, one in which the Terriers already had lost two games at the final horn, it seemed the Terriers were about to pull out a nail-biter.
But Chambers wasn't fazed. He took the ball up the court after Irving's jumper, used a ball screen to free himself, calmly assessed his options, ball-faked and stuck a short jumper from just outside the right block with just four ticks to go.
"I came off the ball screen trying to first create for my teammates, but then when the shot opened up I just took the shot," he said matter-of-factly.
Asked about the decision to let the clock run rather than call a play, Amaker said that's the way the Crimson like to do it.
"We don't want the defense to get set," he said. "Down one possession, we want to play it through unless it's so low on the clock that we can't get it up the floor without calling something from the end line for a long pass. We love doing that. That's our philosophy.
"I thought Siyani drove it and did an excellent job of having composure and shot-faking it. … That's exactly what happens at the end of games, guys get antsy and chase the ball a little bit. And he showed the composure as a freshman to stop and knock down a 12- or 13-foot shot. We couldn't ask for anything better. You can't draw up a play that's going to give you a better opportunity than we got."
But the opportunity wouldn't have meant anything if the Crimson didn't have a player ready to take advantage of it. Chambers was.
And though he may have seemed cool as a cucumber taking the potential game-winner, Chambers admitted afterward that wasn't the case.
"It was a pretty nerve-wracking shot," he said, with a small smile.
A shot that produced a thrilling ending for the home team, and forced a coach to find a new way to praise his most important newcomer.
Jack McCluskey is an editor for ESPN.com and a frequent contributor to ESPNBoston.com. Follow him on Twitter @jack_mccluskey.
December, 4, 2012
12/04/12
10:46
PM ET
By
Jack McCluskey
| ESPNBoston.com
NEWTON, Mass. -- When the buzzer sounded to end the first half of Tuesday night's game against Boston College, the Harvard bench emptied and the Crimson jogged across the court and into the tunnel that leads to the visitors locker room.
While his teammates hustled,
Siyani Chambers
walked slowly off the court. In that moment, with everyone around him moving quickly, the fleet freshman point guard suddenly looked slow.
As the last of his teammates left the floor, Crimson coach Tommy Amaker paused as he led the coaches off. He motioned to Chambers to catch up, and Chambers went from a slow walk to a ginger jog.
You could say Chambers, who leads the Crimson in minutes this season with a shade under 37 per game, looked world weary in that moment.
[+] Enlarge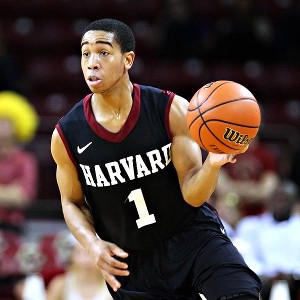 Anthony Nesmith/CSM/Cal Sport Media/AP ImagesFreshman Siyani Chambers (21 points, 6 assists) was "magnificent" against BC, said Harvard coach Tommy Amaker.
You could say that, but the more likely explanation is this: Chambers was probably just preserving as much energy as possible.
And Amaker is glad he did, as the 6-foot, 170-pounder turned the second half into his personal showcase.
"I thought Siyani Chambers was magnificent, with his ballhandling, scoring, quarterbacking our team," Amaker said. "He certainly didn't look like or play like a freshman. I'm very pleased with his progress, his performance, and I thought he was the difference for us without a doubt."
The point guard, for his part, said the difference in the second half of the Crimson's 79-63 win -- their fifth straight against the Eagles -- was defense.
"Coach came back and at halftime he really stressed defense and trying to get some stops and no second shots," Chambers said. "Just keep trying to get stops and have good possessions on the other end."
Early in the second half Chambers came up with a steal, stepping into a passing lane and racing the other way, where he took the contact on the drive, made the layup, then let out a yell as he flexed his arms. The freshman then calmly stepped to the free throw line and swished the free throw to complete the three-point play.
That gave Harvard a 10-point lead at 39-29.
Later in the half, Harvard got the ball of a BC turnover. Chambers passed to
Christian Webster
for a 3, and when the ball ripped through the twine to push the Crimson lead to 14 Chambers pumped his fist before running back on D.
Then after another BC turnover, Chambers hit his own 3, off a kick-out pass from the paint, to make it a 17-point lead.
"He's a little dynamo, in terms of handling the ball and pushing it," Amaker said. "You can see his quickness and his ballhandling skills. He got to the rim, he finished on the inside, he finished at the foul line. I was very pleased with his floor game. He doesn't have to score 21 points for me to be very pleased with him, but it doesn't hurt that he did."
Chambers finished with a career-high 21 points, 6 assists and 2 rebounds in 37 minutes. His point guard counterpart
Olivier Hanlan
finished with just four points on 1-for-8 shooting in 33 minutes.
"I was just taking what the defense gave me," Chambers said. "I was just trying to make plays for my teammates and somehow the plays opened up for me. My teammates gave me a lot of great passes and a lot of great screens and a lot of great openings to make those plays. I just tried to finish what they started."
The dynamic newcomer finished things in fine fashion for Harvard on Tuesday.
Jack McCluskey is an editor for ESPN.com and a frequent contributor to ESPNBoston.com. Follow him on Twitter @jack_mccluskey.