Boston Colleges:

Steve Donahue
February, 19, 2014
Feb 19
11:30
PM ET
The job is thankless more often than not, a daily grind of duties both assigned and unassigned, of gathering information as fast as it can be gathered, of chasing down athletes for interviews who'd rather not be caught, and most difficult, appeasing the often unappeasable: busy coaches who have no time for the media and aggravated media who want more time with coaches.
The good sports information directors are ghosts in the background, blending in with their school-logoed backdrops, doing their jobs so well and effortlessly you never know they are there.
You always knew Dick Kelley was there. Not because he craved the limelight but because he was just so darned decent and good. He was a caretaker, of players, of coaches, of the curmudgeonly media and most of all, of his beloved Boston College, where he worked since 1983.
Kelley, who died last Thursday, put in one more day of work, it would seem, on Wednesday night, cajoling Saint Peter into lifting Kelley's forlorn Eagles to the most improbable of scores in a season full of improbabilities:
The Boston College Eagles, they of the two ACC wins, both against fellow basement-dwelling Virginia Tech, 62.
The Syracuse Orange, they of the undefeated record and heart-attack victories, 59.
In the grand scheme of things the loss figures bigger than the win -- it left Wichita State alone on the quest for perfection, and took some, if not all, of the air out of the big Syracuse-Duke rematch on Saturday -- but in the small window of the world that is Boston College, the win meant an awful lot, too.
Kelley was the heart if not the face of the school's athletic department, universally adored and respected, a man you couldn't help but like. When he was diagnosed with ALS in 2011, the school went to extraordinary efforts to help him, a story detailed here (
http://sportsillustrated.cnn.com/college-basketball/news/dick-kelley/#all
) by my friend Pete Thamel of Sports Illustrated.
But ALS sadly remains undefeated and last week Kelley's beautiful and brilliant mind finally gave way to the ravages the disease had wrought on his body.
His funeral was held Tuesday.
For a BC basketball team reeling this season, it was easily the most painful blow.
Just how much of an impact did Kelley have on the BC community? When the game ended and ESPN's LaPhonso Ellis found coach Steve Donahue for a postgame interview, the first thing the BC coach mentioned was Kelley's passing.
"It's been an emotional week for us at BC," he said. "We lost one of our colleagues in Dick Kelley and the emotion of this game, I'm just speechless. I'm so happy for our guys."
The former Cornell coach has been searching hard for happy moments since coming to Chestnut Hill, Mass. He took the Boston College job on the wings of the Big Red's NCAA tournament success, a hot commodity deemed a home run hire for the school.
But success has been hard to come by. BC has struggled in its ACC fit for years and with the league expanding, the job is only getting harder.
This year has been just a continuation of a string of frustrating seasons. The Eagles had managed only six wins before Syracuse. They've been close -- seven of their 19 losses decided by five points or fewer -- but that hadn't done much to placate the fans waiting for Donahue to work his Cornell magic.
The Carrier Dome would seem the least likely place to turn things around, not just because of Syracuse's run of success in comparison to BC's line of disappointments, but because the building itself has hardly been kind to Donahue.
Even when his Cornell team was at its best -- in 2009-10 -- the Big Red couldn't beat their big in-state brothers. Adding insult to injury, it was in the Dome that Cornell's NCAA run came to an end that year, against Kentucky in the Sweet 16.
And yet there was
Lonnie Jackson
, a 56 percent free throw shooter, calmly sinking four free throws in the waning seconds of overtime to seal the win, and there was the mini court storming by players and the tiny pocket of faithful fans celebrating in Syracuse.
"Toward the end of the game, it was like, 'We can't be denied,'"
Ryan Anderson
said after the game. "DK is looking down on us. He's got us."
He always did.
January, 5, 2014
Jan 5
6:53
PM ET
By
Jack McCluskey
| ESPNBoston.com
Though they are rivals on the sidelines and competitors on the recruiting trail, at a basic level college coaches are all members of the same fraternity. They know how much goes into success and what failure feels like.
So after his
Clemson Tigers
beat Boston College 62-60 on Saturday evening at Conte Forum, handing Steve Donahue's Eagles their 11th loss of the season, Brad Brownell had something to say, and he was going to say it whether he was prompted to or not.
"Credit to the BC kids for continuing to compete and play," the visiting coach said. "I think Steve is a terrific coach. And I know he's doing it in a different way than some people have done it in the past, but I admire him for the way he's doing it. He's sticking with his principles, he's recruiting really good players, really good kids. They're just in a tough cycle.
"Their schedule was brutal. I wouldn't wish that on anybody. And I bet eight or nine out of 10 college teams with a 4-10 record, after we withstood their charge in the last two minutes would have just quit. And they kept fighting and they almost stole the game from us."
Down nine with 3:23 to play,
Olivier Hanlan
and the Eagles whittled the Tigers' lead down to two and the sophomore guard had a chance to tie it from the free throw line with one second left. But Hanlan missed the first free throw, and Clemson rebounded his intentional miss on the second to secure the win.
"Sometimes you've got to be lucky a little bit," Brownell said. "And we were certainly fortunate with the last free throw. I hate that for Hanlan, he's such a good player and a good young man, you hate to see that, but he'll bounce back, he's such a good player, he'll be fine."
The win improved the athletic, long Tigers to 10-3 on the season and 1-0 in ACC play. That's a far cry from where Clemson finished the 2012-13 season, when the Tigers lost nine of their final 10 regular-season games and their ACC tournament opener to finish 13-18 (including 5-13 in the ACC).
"Steve and I took [our programs] over in similar situations, we had good older players our first year. But then we both have had to kind of ... they recycled that year, we kind of recycled the next year," Brownell said. "And it's hard to win in this league when you're playing freshmen and sophomores. We just don't get the kind of freshmen and sophomores [at Clemson and BC] that most of these guys do [in the ACC].
"I give Steve credit -- Steve's gotten some really good freshmen and sophomores and their system's made these guys into terrific players, but you've still got to remember these guys are young. Hanlan and [Joe] Rahon are sophomore guards? I don't want to deal with those guys for two more years."
Though he's got enough to worry about rebuilding Clemson, Brownell clearly had heard rumblings of discontent about Donahue and the Eagles' disappointing nonconference performance. And the Clemson coach left no doubt that he disagrees with the grumblers.
"They're just really, really young and I know much was starting to be expected because of the way they finished the year," Brownell said, "and Steve goes out and challenges himself, with a tremendously hard schedule and mostly road games and now people are upset with him? I went the other way, I scheduled soft to build confidence for our team because we were coming off a 13-18 year and we needed to win some games so we could think we could beat somebody.
"But at the end of the day they're not a 4-10 team and we're probably not as good as our record -- if we played their schedule I'm sure we'd look a lot like that. It's just a part of it. I think people have got to be careful to make quick judgments of situations without understanding the whole picture."
Despite BC's record, Brownell doesn't believe the Eagles are far away from turning some of these losses into wins. They just need a few things to go their way to get the momentum going, he said.
"It's really fragile," the fourth-year Tigers coach said of players' psyches. "There's a lot more pressure on these kids than people realize and there's no mercy in the league, there's no mercy in the job. It's just a grind. And you're just trying to do your best. ... There's something to be said for experience.
"You go through a cycle like this, and a year from now it'll make you better. It'll make you appreciate winning a little bit more."
Jack McCluskey is an editor for ESPN.com and a frequent contributor to ESPNBoston.com. Follow him on Twitter @jack_mccluskey.
September, 30, 2013
9/30/13
4:19
PM ET
By
Jack McCluskey
| ESPNBoston.com
Anyone who's been on Twitter for even a few minutes knows how much of a distraction it can be.
Now imagine you're a high-profile student-athlete on Twitter, and anyone with a Twitter handle and Internet access can tell you exactly what they think of your latest performance, good or bad, in 140-character chunks.
Of course, Twitter is a two-way street -- giving a struggling athlete a place to vent after a tough loss. But that isn't always a good thing, and
sometimes
often athletes come to regret things they post online.
That's one reason Boston College coach Steve Donahue has implemented a no-tweet policy for his Eagles while they're in season.
"We've talked about it quite a bit, from Twitter and Instagram and Vine," Donahue said Thursday at the Coaches vs. Cancer event at TD Garden.
"You're hip," host and ESPN Insider Jeff Goodman quipped.
"Yeah, I've got a 17-year-old at home," Donahue said, drawing laughs from the crowd.
"I don't think it's something that we'd all agree on, probably, but for our team I sat down our older guys and mentioned that I think we need to control it," he said. "You can do something at this point in your life that can really affect you.
"And I think it's my responsibility to try to help them with that, so that after an emotional loss they don't tweet something that they regret. So our rule is that Oct. 1, they're done with that 'til the end of the season."
Donahue doesn't make players delete their accounts or anything that severe.
"They can be on it, they can read it, they can't put 'em out themselves," he said.
When the other six coaches on the stage were asked if they have similar policies for social media, BU's Joe Jones piped up immediately.
"Ours is the first day of school," Jones said.
"Really? I'm gonna tell my guys that, they think I'm bad," Donahue joked. "At least they can chat with their friends across the country before [the tweet ban starts Oct. 1]."
Holy Cross' Milan Brown said the Crusaders don't really have a policy, counting on players to use common sense. Harvard's Tommy Amaker said the Crimson don't have a ban, but they try to teach student-athletes the possible side effects of social media.
"We just have one rule in our program: Don't do anything detrimental to yourself and to the program," Amaker said.
New Celtics coach Brad Stevens weighed in, too.
"We tried to flip it a little bit," he said, "where we talked about do nothing detrimental to the program, make sure you're representing yourself well, understand that you can ruin your reputation in one act and also understand that when you type something it can be taken in a lot of different ways.
"Because as we all know, 93 percent of communication is nonverbal and that takes that 93 percent of it out of it. We try to say use it to be a vehicle to promote positive things that you're interested in."
Stevens pointed to Ronald Nored, his former Butler player and current Celtics assistant, as an example of using Twitter in a positive way.
With practice getting underway and the Oct. 1 deadline approaching, a couple of Eagles took to Twitter over the weekend to say their social media good-byes:
No more twitter until the end of the season #socialmediawithdrawals

— Drew Jacobs (@DJacobs32) September 29, 2013
Last tweet till the season is over! Gotta have focus and tunnel vision to achieve our goals! Be back on twitter when it's over #WeAreBC
September, 27, 2013
9/27/13
5:28
PM ET
By
Jack McCluskey
| ESPNBoston.com
It might be football season, but thanks to an NCAA rule change, Steve Donahue and his college basketball coaching brethren can start working on the hardwood earlier than ever before.
The new rule states college hoops teams now can start practice 42 days before their first game, which for Boston College is Nov. 8. That means Donahue could get his Eagles on the court as soon as Friday.
There's plenty of work to be done before the season tips off at Providence.
ESPN Insider recently ranked the toughest nonconference schedules in college hoops for the 2013-14 season. BC
came in at No. 4 in that exercise
.
"This one shocked me, and I had to take a second look," ESPN Insider Jeff Goodman wrote. "However, there aren't a lot of cupcakes on the 13-game nonleague slate."
BC will play at Auburn, Harvard, Providence, Purdue and USC, and faces off with UConn, UMass and VCU on neutral courts.
After he heard the highlights of the Eagles' nonconference schedule at the Coaches vs. Cancer Tip-off Breakfast on Thursday morning to promote the Nov. 10 tripleheader at TD Garden -- with BC taking on UMass, BU taking on Northeastern and Harvard taking on Holy Cross -- new Celtics coach (and former Butler coach) Brad Stevens had to weigh in.
"Most of these guys need to fire the guys that are scheduling their games," he joked. "Just an FYI. Steve, I don't know about that schedule. I thought you were gonna keep going, Steve. I was like, 'Goll-y, what are you doing?'"
Donahue was asked about his team's stiff nonleague slate.
"I believe a team with an overall losing record can make the NCAA tournament now," he said. "Now that sounds crazy, but with these mega-conferences now ... "
Donahue believes some of the beefed-up conferences will be so brutal that a strong nonconference performance might be enough to boost a team with a so-so conference record into the postseason.
"When a 9-7 Boise State from the Mountain West makes the NCAA tournament and an 11-7 Virginia from the ACC doesn't, I think in my position, I gotta wake up," Donahue said. "And that's what we did. We analyzed really our schedule. ... I don't want to be 12-1 [in the nonconference] with an RPI in triple digits and then have to win 13 games in the ACC."
And then there's the entertainment factor, which can't be dismissed.
"The other reason for me is I want to attract as many teams as we can that will excite our fan base," the BC coach said.
It's not like the rest of the Eagles' schedule is getting any easier, as Goodman noted Thursday morning.
"You've got [to be], I think, finally maybe going into the year feeling comfortable with what you have in terms of talent and depth," Goodman, the event emcee, said. "And now the ACC rewards you by adding Syracuse, Pittsburgh and Notre Dame. Three perennial top-25 programs."
"Louisville next year," Donahue added.
"Louisville next year," Goodman agreed, as the audience laughed, "but we won't get ahead of ourselves."
"It's in my mind, trust me," Donahue said, drawing more laughs.
"I thought you guys take it one day at a time, one game at a time?" Goodman joked.
"I try," Donahue said.
It's just that in college basketball these days, it's not always possible to focus on only the here and now. After all, there's a lot to look forward to.
Jack McCluskey is an editor for ESPN.com and a frequent contributor to ESPNBoston.com. Follow him on Twitter @jack_mccluskey.
December, 5, 2012
12/05/12
11:13
AM ET
By
Jack McCluskey
| ESPNBoston.com
NEWTON, Mass. -- When Boston College has played Harvard recently, the results have been lopsided, with one team winning five straight meetings between the teams.
But that team is the Crimson, not the Eagles.
Siyani Chambers, Tommy Amaker's freshman point guard, led the visitors with 21 points in a 79-63 win on Tuesday night.
Afterward, BC coach Steve Donahue was asked if this is a series he'd like to continue.
"I think it's a game we should play," he said. "They're a very good basketball team, a very good program and they're going to be very good this year and they're going to be very good next year. I think it's the right thing for college basketball in the city of Boston. We've got to get better no matter who we play.
"I think people in this area are confused," Donahue continued. "They think it's the Harvard of your father's Harvard -- it's not. They're an established program and they could beat a lot of basketball teams in this country."
Don't expect Donahue to duck Amaker next season.
"So for us to not play them because they might beat us, I would never do that," he said.
Meanwhile, for Harvard the series has meant a lot.
"It's been very meaningful for us," Amaker said when asked if he would also like to continue the matchup. "We're thankful for the opportunity to play Boston College.
"We've been fortunate. But the outcome is not indicative of us wanting to maintain this game. It's about us having an opportunity to play an ACC team -- it's always gonna be a road game, they're not gonna, I'm sure, come over to play us, which certainly I understand that."
Since the Crimson's five-game win streak started, back in 2007 when they knocked off the then-No. 17 Eagles, Harvard has been ranked more often than BC has. The Crimson, having never cracked the AP Top 25 prior to 2011-12, were ranked as high as No. 21 last season.
And while the bloom may be temporarily off the rose because the BC program is clearly in a down period, it's still a worthwhile game -- for both sides.
"I think it's great for our city, it's great for our community and we're hopeful we'll be able to continue to maintain it," Amaker said.
The young leading the young
On Monday, Amaker said he was wary of the young Eagles' experience. Players like Ryan Anderson, Dennis Clifford and Lonnie Jackson had gotten a full season of minutes under their belts in 2011-12, he said, unlike his young players who mostly sat on the bench during a veteran-led run to the NCAA tournament.
Amaker said he thought that experience might pay off for BC.
That's not exactly how it turned out on the court Tuesday, with the Eagles playing little or no defense and then struggling against the Crimson D.
BC shot 58.1 percent from the floor for the game, but allowed Harvard to shoot 54.9 percent and lost by 16. After the game, Donahue sounded bewildered looking at the numbers.
Part of the problem, he said, isn't experience per se but the lack of an example.
"Ryan Anderson, Cliff, they don't understand exactly what my vision is because there's no one that did it in front of them," Donahue said. "That's apparent tonight, [Harvard] did a great job."
Donahue said guys like Steve Moundou-Missi and Wesley Saunders benefited greatly from watching the veterans in front of them last season.
"I love these guys, as I say all the time," Donahue said. "I have great confidence that they'll get it. And we're gonna work extremely hard to do it. Unfortunately, and I know I sound like a broken record, but we're gonna have some failures here."
So far for the Eagles (3-5), those failures have included losses to Bryant and now Harvard.
Bumps and bruises?
Clifford missed the game against Harvard, sitting on the bench in a gray BC track suit with his right leg in a walking boot after spraining his ankle in the win over Penn State.
"The ankle's pretty swollen and black and blue, I think he's still a couple weeks away," Donahue said of Clifford.
When asked if missing the big man from Milton Academy hurt the Eagles on Tuesday, Donahue demurred.
"I don't know that he would've made a difference, I can't say that," he said.
Harvard was also without a big man, with Kenyatta Smith sitting out the game after getting banged up in practice this week. Amaker went small as a result, starting Jonah Travis and relying on a frontcourt rotation of Travis, Moundou-Missi, Michael Hall and Agunwa Okolie.
Jack McCluskey is an editor for ESPN.com and a frequent contributor to ESPNBoston.com. Follow him on Twitter @jack_mccluskey.
November, 9, 2012
11/09/12
2:00
PM ET
By
Jack McCluskey
| ESPNBoston.com
NEWTON, Mass. -- The timing couldn't have been better for Boston College coach Steve Donahue.
Coming off a 9-22 (4-12 in the ACC) campaign, one in which he relied almost exclusively on freshmen as he rebuilds his Eagles from the ground up, the coach knew this offseason would be critical.
"It was a great summer, because this was the first summer we could actually work with our guys," Donahue said, referring to a rule change that allowed coaches to work with each player for two hours a week in the summer. "So it's not like you could just kinda guess and take a look at them, 'Hey they look good,' they take their shirt off they look more muscular and they're heavier.
"But we literally got on the floor with them, which I thought was great timing with us."
BC had 11 new players in 2011-12, and the inexperience was easy to see at times. Being able to work with those players as they transitioned from freshmen to sophomores was a huge advantage.
"I just think we're better across the board," Donahue said at the Massachusetts basketball media day early last month. "I think we all made huge jumps over the last six months. To a man I think they've done a lot to do that. To do that, they've all taken the step and really bought into it. I think what you'll see is bigger, stronger, better-skilled basketball players.
"Now the job is to continue that."
The third-year BC coach got another opportunity this offseason, taking his young team overseas for some added seasoning.
The Eagles played four games during a 10-day trip to Spain, winning one and losing three. They got strong performances from sophomores
Ryan Anderson
and
Dennis Clifford
on the trip.
"You make your biggest strides between your freshman and sophomore year," Donahue said. "And I thought to have all these guys doing that, and then you go on the trip and see where you're at -- it was kind of like a wake-up call.
"We played great competition over there. Now you go like, 'Oh, we're not there yet. We've got another six weeks before October 15, let's get back to work and make sure we get better over these six weeks.' "
Last season was hard for the Eagles and their fans. There were moments of elation -- the home upset of No. 17 FSU comes to mind -- but more often than not dejection was the default emotion. The Eagles just weren't equipped to compete on this level for 40 minutes.
"You won't see any of that stuff," Donahue said. "We'll be able to compete. We'll be inconsistent at times, we'll be still rocky with no upperclassmen, absolutely, but I think you'll get a much better vision of what the program's gonna look like when these guys continue to grow and we continue to add pieces to this group to make it better."
Joining rotation players Anderson, Clifford,
Patrick Heckmann
and
Lonnie Jackson
are two point-guard prospects, three-star recruit
Olivier Hanlan
and two-star recruit
Joe Rahon
.
BC has only two upperclassmen on its roster: former walk-on
Danny Rubin
and Harvard transfer
Andrew Van Nest
.
At the ACC's Operation Basketball, the Eagles were picked to finish last in the conference this season.
Any growth the Eagles enjoy this season will have to happen organically.
The 6-foot-8, 220-pound Anderson led the Eagles in scoring (11.2 points per game) and rebounding (7.4 rebounds per game) as a freshman. With a season and offseason of work under his belt, he'll be expected to do more this season.
Donahue is happy with the work his players have put in, but will that translate immediately into more wins and fewer losses?
He isn't saying that.
"I've never talked about wins even with my team," he said. "I honestly believe if we focus on things that are important to us on both sides of the ball, off the court, in the weight room, and you're meeting those and you're talking about them and you're constantly pushing yourself to get better, than those things will take care of themselves.
"We have way more expectations than we did last year," he added. "We've all been here, we all know what it takes and we all expect us to be a lot better."
Jack McCluskey is an editor for ESPN.com and a frequent contributor to ESPNBoston.com. Follow him on Twitter @jack_mccluskey.
March, 9, 2011
3/09/11
11:20
AM ET
By
Jack McCluskey
| ESPNBoston.com
NEWTON, Mass. -- It was business as usual at Boston College's practice Tuesday afternoon. Clad in a gold Under Armour shirt, maroon mesh shorts and white sneakers with the BC logo on the heel, coach Steve Donahue led his team through the paces.
Shooting and passing drills. Offensive sets. Free throw shooting. Defensive sets. More shooting stations.
Donahue and assistant coach Joe Jones prepped the Eagles on the next opponent, pointing out areas that were troublesome in the past and giving instruction on how to ensure they wouldn't be issues in the future.
Of course, in this instance the next opponent is the same as the last opponent. It's just that the stakes are a good deal higher.
On Sunday, the Eagles played host to Wake Forest in the regular-season finale, an 84-68 BC win. On Thursday, the Eagles and Demon Deacons will renew acquaintances in the first round of the ACC tournament (2:30 p.m.). And since they're planted firmly on the NCAA tournament bubble, the boys from BC need a win in the worst way.
But you wouldn't know it from talking to Donahue. The first-year coach believes in keeping an even keel, no matter the stakes of the game.
"I always believe that your approach for every game should be the same, in terms of how you go about your business," Donahue said. "I always want to win every game, I want to figure out ways to put my team in good situations. But I never want to be the coach that makes the team feel like, 'This is a pressure-cooker game, you've got to play well.'
"I just don't think that's conducive to good basketball. I'd rather guys see me the same way every single game, whether it's against a lower D-I team or whether it's in the ACC tournament."
Reggie Jackson
& Co. know what they need to do.
"Keep winning from here on out," Jackson said. "We definitely need to pick up this game Thursday against Wake Forest and then compete against Clemson. We want that matchup again but we can't look past Wake, we have to get some wins in this tournament."
[+] Enlarge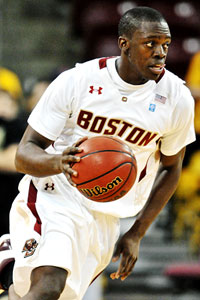 Michael Tureski/Icon SMIReggie Jackson led BC in scoring with 18.3 points per game.
A newly minted first-team All-ACC player, Jackson has had his ups and downs as a junior. He's been the team's leading scorer and best playmaker, the straw that stirs the Eagles' drink. And he's been shuffled out of the starting lineup to the bench, the straw pulled out of the drink entirely. As a result of that volatility, there have been times when the Eagles have gone to Jackson for a sip of success and come up with nothing but air.
"Me and coach sometimes, during those ups and downs, we're banging heads and not seeing eye to eye," Jackson said. "Things weren't going well for the team and it resulted in that. I believe I had poor play and the team kinda suffered because of it. Me and coach weren't on the same page. But we're getting back to being one unit, and the result of that is we're getting wins."
After dropping a game they felt they needed to have, at home against Miami, the Eagles rebounded with three straight W's to end the regular season. Two of those were on the road, where BC had not found much success previously, with a 2-6 road record before wins at Virginia and Virginia Tech. Jackson was a key part of each of those wins, scoring 25 points against Virginia, 20 against Virginia Teach and 14 against Wake Forest.
And while Donahue didn't deny there have been ups and downs this season, he said any instances Jackson saw as butting heads he just calls coaching.
"My job is to maximize everybody individually and maximize the team," Donahue said. "I do it with everybody, Reggie just happens to be an integral part of our team and he's so talented that I probably demand more of him than anybody else because I see so much potential. He's proven it this year, he's had an incredible season and he's made us a better basketball team."
As the Eagles head into postseason play, they're in the unique position of hoping very recent history repeats itself while also hoping slightly less recent history doesn't.
Last season, Jackson & Co. beat Virginia in their penultimate regular-season game and were rewarded with a rematch with the Cavaliers in the ACC tourney. The Cavs won the rematch, and the Eagles missed out on postseason play.
This season, the Eagles ended the regular season with a win over league bottom-feeder Wake Forest (which had won three straight versus BC). Sure enough, the reward was a rematch in the ACC tourney. Now the Eagles are hoping some history repeats, but they're not counting on it.
"Whatever you think is gonna happen based on the last game usually doesn't," Donahue said. "Now this is a tournament, it's a neutral site. You have to take that into account and understand how difficult this game is gonna be. If you're hoping it'll be the same as it was, it won't be."
"One win against a team doesn't mean anything, or even two wins. You have to come out, every day is new and you have to live in the moment," Jackson said. "[The Demon Deacons are] gonna come out and try to punch us in the mouth and we're gonna try to do the same to them."
By most accounts, the Eagles need to win two games in the ACC tournament to boost their resume and put themselves in solid position for an at-large bit to the NCAA tournament. Anything less than a berth in the Big Dance would be a letdown after the Eagles got off to a strong start this season.
"I think everybody's disappointed if you don't make the NCAA tournament," Donahue said. "I don't think I would be discouraged about the way things are going [in the program in general] but yeah, this is something as a college player and a coach you strive for all year.
"It's such a great event. To not make it, yeah, I'd be lying if I said I wouldn't be disappointed."
But while the coach would be disappointed, he remains determined to stay levelheaded on the sideline even as the pressure mounts on the players on the court.
"We feel fortunate to be in the position we are," Jackson said. "Just knowing that basically we control our own destiny.
"If we don't get [to the NCAA tournament] we know it's our own fault, and if we do get there also we can accept that blame."
November, 3, 2010
11/03/10
1:28
AM ET
BOSTON -- Boston College is finally leaving the Big East behind.
The Eagles defected to the Atlantic Coast Conference in 2005, but they brought along with them the bruising style of play long a tradition in their former conference.
Even as new ACC rivals like Duke and North Carolina ran their way to NCAA titles, BC clogged the lane with big bodies like Craig Smith and still barged into the tournament three times in five years.
[+] Enlarge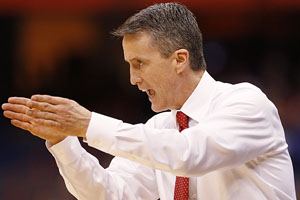 AP Photo/David DupreySteve Donahue is bringing big changes in style at BC with a wide open, up-tempo offense.
Then, last spring, BC fired Al Skinner after 13 years during which he became the winningest coach in school history. In came Steve Donahue, the former Cornell coach who plans to pick up the pace and bring a more exciting style to a campus that was slow to embrace Skinner's teams.
"We'll be happy if we win 120-115," guard
Reggie Jackson
said. "We want to play the least amount of half-court offense that's possible."
Donahue took Cornell to three straight Ivy League titles and a trip to the round of 16 this year, earning the first NCAA wins in school history. And when BC athletic director Gene DeFilippo grew disenchanted with Skinner's plodding style -- and the declining attendance that went with it -- Donahue's up-tempo offense seemed like the perfect solution.
"It's definitely different from what they did here previously," Donahue said recently, interrupting his own workout for an interview in his office. "The way we'll be spacing people out, we'll have five guys at the perimeter at times. We're going to be a team that plays fast."
Jackson and point guard
Biko Paris
could be the key to speeding things up.
Paris did most of the ball-handling last season, averaging 4.6 points and 4.1 assists in 25.5 minutes. Jackson started just 20 games but led the team in minutes; he also led the Eagles with 4.5 assists per game and was second in scoring and third in rebounding.
He could be even more important this season.
"We rely on guards to do a lot in the open court," Donahue said. "I think Reggie's athletic ability is going to pay dividends. He is very dedicated to his craft."
BC has returning starters
Corey Raji
,
Joe Trapani
and
Josh Southern
in the frontcourt -- all seniors. Donahue isn't worried that their experience in Skinner's system could turn out to be a liability if they can't keep up, praising Trapani in particular for learning the new scheme quickly.
"There are certain guys that will be good in any system," Donahue said.
Donahue led the Big Red to a 29-5 record last season -- the most wins in Ivy history -- and the school's first ranking in The Associated Press Top 25 in 59 years. Cornell beat favored Temple and Wisconsin to become the first Ivy team to reach the Sweet 16 in more than three decades; they lost to top-seeded Kentucky 62-45 in the East Regional semifinals.
In some ways, he said, coaching at Cornell was harder than in the ultra-competitive ACC. With no postseason tournament, the Big Red knew that if it didn't win the Ivy League -- a goal that could collapse with a single regular-season loss -- it had no chance to reach the NCAA tournament.
In the ACC, seventh place will probably be good enough for a tourney berth. But Donahue wants the Eagles to have the same intensity for every game and every possession; last year, he said, the players spent too much time moping after a bad play or celebrating a good one.
"They just kind of relax and take it all in," he said. "It's a mentality -- whether something good happens or something bad happens. There's a lot of talent here, but I need to get them to understand how important the little things are."
That means the same attention to detail in practice, or in the weight room. Donahue hopes this will solve one of the Eagles' other problems from last season: A lack of interest from the student body.
Skinner was criticized for being out of touch with the campus community, and in letting him go the school noted that attendance at Conte Forum declined in each of his last four seasons.
Donahue, who followed the news conference to announce his hiring with a campus pep rally, has already led his players into the community, selling season tickets, manning booths at a campus fair and taking players on service outings.
"Like everything else: When you give a little, you get the most out of it," Donahue said. "I think some coaches forget that the reason the basketball team is here is so that the student body has a better college experience. I want to let them [BC students] know that this is their team."