Boston Colleges:

Tyler Murphy
November, 29, 2014
11/29/14
8:28
PM ET
By
Kyle Brasseur
| ESPNBoston.com
CHESTNUT HILL, Mass. -- In toppling their rival
Syracuse
28-7 in their final game of the regular season Saturday, the
Boston College Eagles
didn't only walk away with a statement win heading into their upcoming bowl.
The day was also marked by milestones for several of the team's players, including a feel-good story involving an unrecruited player who has earned the admiration of head coach Steve Addazio.
[+] Enlarge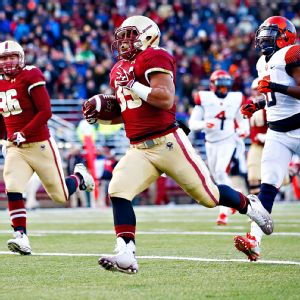 Jared Wickerham/Getty ImagesTyler Rouse runs for a 42-yard touchdown versus Syracuse.
First down:
The Eagles' website lists sophomore running back
Tyler Rouse
's hometown as Baldwinsville, New York, but Baldswinville is probably better known as a village suburb of Syracuse.
Rouse was passed up by many coming out of high school before landing with the Eagles, and on Saturday, against his hometown university, he took a career-long, 42-yard touchdown run to the house in the fourth quarter to cap off the Eagles' scoring on the afternoon.
"It felt really great," Rouse said succinctly.
Rouse described the play as redemption, a reference to his costly drop in the end zone late against
Clemson
on Oct. 18 that likely cost the Eagles a conference win (after the play, Clemson ran out the clock to seal their 17-13 victory). For moving on from the mistake and not allowing it to bog him down, Rouse earned high praise from Eagles senior quarterback
Tyler Murphy
, as well as his head coach.
"Tyler Rouse is one of those guys that shows up with his lunch box and gets right to work," Murphy said. "He never complains and gives 100 percent no matter what it is. He holds guys accountable and makes sure that they're doing the right thing, but he also leads by example and sets the way. We need to bring in more guys like Tyler because not only is he a great football player, but he's also a great guy."
Addazio took that sentiment a step further.
"He stands for absolutely everything that's right in college football," the BC coach said. "If that's not a great story, honestly, I don't know what a great story is.
"It was great for him today. It was without question the highlight of my day."
After the touchdown, Rouse was greeted with excitement by his teammates as well as Addazio, who was among the first to congratulate him.
"It was great. He gave me the opportunity to come here, and I appreciate that. I'm so thankful for that," Rouse said. "Coming to the sideline with him there really just solidified everything. It was indescribable to have the guys surrounding me. They know what I've been through with the Clemson thing. Just to see them surround me after I scored that TD was amazing."
Second down:
Murphy is another guy who has made the most of his opportunities with BC. On Saturday, he put an exclamation point on his remarkable season as the Eagles quarterback, rushing for 20 yards to bring his season total to 1,079, a new Atlantic Coast Conference record at the position.
"I would say I am a little surprised," Murphy said when asked about the record. "I didn't know what to expect coming in to this season. My goal was just to find ways to win."
With Murphy under center, the Eagles enjoyed one of their most successful offensive campaigns in recent memory, due in large part to his prowess on the ground. Addazio has often lamented that he was able to have Murphy as his quarterback for only a season, a point he reiterated on Saturday.
"Tyler is a great person," Addazio said. "He is a fantastic human being, a guy you love to be around. He stands for everything that's right. He's a graduate student embracing his master's degree. He's a leader for our team. I just love the kid, and so do our players."
For his efforts in the team's win, Murphy was the recipient of the Chuck Scarminach Memorial Award, an honor presented to the MVP of a BC-Syracuse matchup. A great memento in a season of success that isn't over yet.
"It was a fun year and I ran a lot more than I thought I would, but I'm happy we were able to get seven wins, and we are looking forward to eight," Murphy said.
[+] Enlarge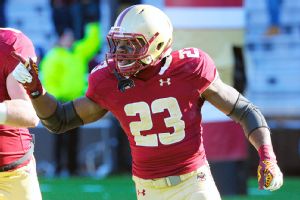 Bob DeChiara/USA TODAY SportsMyles Willis celebrates after taking the opening kickoff 95 yards for a touchdown.
Third down:
One of the things Murphy talked about in his postgame news conference was his excitement to take the field immediately after BC elected to receive following their coin-toss win. However, that moment didn't come because return man
Myles Willis
took the opening kickoff 95 yards to the house for a quick-strike score.
"I was kind of looking forward to getting on the field early because it's not often we get the ball first and he took it back so I was just like, 'Thanks, Myles,'" Murphy said.
Willis took advantage of poor kickoff coverage by Syracuse, whose kicking team left the entire middle of the field wide open for him. He ran through untouched and set the tone for the game early on.
"That was a huge play," Addazio said. "It was a momentum boost. It was great. We've worked so hard on that, and to finally hit it on the last game of the regular season was fantastic."
Out:
As seniors took the field at Alumni Stadium for the last time, captain and defensive back
Dominique Williams
was announced as the recipient of the school's Jay McGillis Memorial Scholarship.
The award, initially received by Williams back in April, is given annually to a BC defensive back who exemplifies leadership and dedication, among other qualities. McGillis, a starting defensive back in his time at BC, passed away from leukemia in 1992.
In his honor, Williams wore McGillis' jersey number, 31, during the game instead of his usual No. 9. Like McGillis, Williams is from Brockton, Massachusetts, so the award surely meant a lot to him.
November, 6, 2014
11/06/14
10:30
AM ET
By any measure, Steve Addazio's first season at Boston College was an immense success, but when the Eagles' bowl game against Arizona ended last December, there was no time for celebration.
In the locker room after the game, Addazio gathered his troops and offered something of a warning. Many of the biggest stars in the room wouldn't be back, but the players who planned on returning for 2014 were in for the toughest offseason of their lives.
"We didn't leave that locker room going Zip-a-Dee-Doo-Dah," Addazio said. "They knew when we got back, we were going to grind."
[+] Enlarge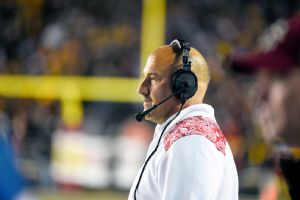 AP Images/Cal Sport Media/Eric CanhaBoston College coach Steve Addazio has his team off to a 6-3 start despite giving the Eagles an extreme makeover for the second straight season.
It's all about the grind for Addazio, and that has allowed him to do something few other coaches have managed in each of the past two years.
Addazio arrived at BC in 2013 to take over the helm of a team that had won just one game against FBS competition the previous season. He was told the roster was limited, that his best player was miscast as a running back. Addazio evaluated his options, designed the playbook around Andre Williams, and turned BC into a bowl team virtually overnight -- sending Williams to New York City as a Heisman finalist in the process. But one instant rebuilding job wasn't enough. Addazio had to pull off the trick a second time in 2014, and so the year began with a high bar being set even as the final vestiges of 2013 remained.
"He is amazing," said BC athletics director Brad Bates. "He's very meticulous at paying attention to details. He has very high expectations for his players and his staff. He has a great sense of people's capabilities, and he doesn't settle for anything less than what they're capable of doing. The best teachers, the best professors, the best coaches I've ever been around had that unique ability. And the art of that teaching and coaching is to bring out the very best in those individuals."
Still, finding a winner in the remnants of 2013's roster would be no easy task.
Boston College (6-3) lost its starting quarterback, it's 2,000-yard rusher and the No. 1 receiver in school history on offense. On defense, the Eagles said goodbye to their top two tacklers and 60 percent of their sacks. The 2014 roster wouldn't look anything like 2013, and so the grind began.
Addazio's first signing class included 30 players. Sixteen have seen action this season, including several in starting roles.
BC brought in a handful of fifth-year transfers, including quarterback
Tyler Murphy
from Florida.
Murphy is an athlete, and so Addazio scrapped his playbook from 2013 that centered around Williams and the power running game and drew up an offense that relied heavily on the spread option. This season's team had different strengths, so Addazio adjusted.
"Coach Addazio and the offensive staff do a good job of just piecing the offense together that fits the strengths of our team," said Murphy, who is just 35 yards shy of becoming the ACC's first quarterback to run for 1,000 yards since 2009. "Sometimes coaches can be stubborn or have too big an ego to change their offense up. Coach Addazio's No. 1 objective is to win."
Ego isn't a big thing for Addazio, but neither is patience. Rebuilding jobs are supposed to take years, supposed to focus on the big picture. Addazio says he has a plan for the big picture but, in the interim, he simply can't stand losing, so he's willing to do whatever it takes to win now.
"Every day to me, I am completely not patient," Addazio said. "I'm impatient and I understand the big picture, but in the little picture, it's about maximizing and driving every single day. I'm not interested in losing, I'm not interested in next year. I'm interested in right now."
There are only eight other Power 5 programs that had to replace their top passer, rusher and receiver this offseason. On average, they have declined by 37 yards per game of offense. BC has improved by 30 yards per game, while running a completely new playbook.
Of those eight teams, only two also had to replace their leader in tackles and sacks. Boston College responded to the massive overhaul by allowing 116 fewer yards per game than it did a season ago -- the biggest improvement from 2013 of any Power 5 team.
It was an extreme makeover, but Addazio has Boston College bowl eligible once again and playing better football than it did last season.
Murphy has blossomed into a star. Freshman tailback
Jon Hilliman
is playing like a veteran. Converted quarterback
Josh Bordner
has opened up options in the passing game. Senior linebacker
Josh Keyes
is one of the ACC's top defenders.
"One of the things I think we're most proud of is being able to develop and have our players really realize their best years," Addazio said. "It's allowing your players to realize their potential, and that's exciting. That's what fires me up most about college football. You watch these guys, and right in front of your eyes they blossom. It's really cool and it's really satisfying."
That is what fires up his players, too. That is why the players in the locker room after last season's bowl game were ready to grind.
Addazio might be something of a miracle worker, rebuilding a program twice in as many seasons while most coaches need years to establish a foundation, but he doesn't see it that way. For Addazio, it's simply a matter of wanting to win by any means necessary and passing that urgency on to his team.
"Getting the kids to really buy in that you're going to push them and drive them every day, but you're going to make sure to take care of them as well, that's the fundamental premise of the overall culture of the team," he said. "It's all about right now and winning and competing. That's all about developing the culture of your team and your coaching staff, and that's very important. I'm not laid-back about this at all. It will take time, but we're going to drive and grind for it right now, today."
September, 14, 2014
9/14/14
1:03
AM ET
Here's what we learned in the ACC following the Week 3 slate of games. One thing we already knew -- and which the ACC proved again Saturday -- is that this can often be a befuddling league.
[+] Enlarge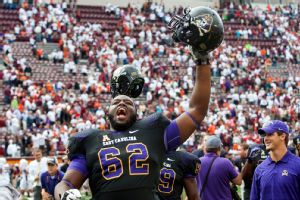 Jeremy Brevard/USA TODAY SportsEast Carolina's stunning upset of Virginia Tech knocked the Hokies out as a College Football Playoff contender.
1. Two more ACC schools are knocked from the College Football Playoff discussion.
And that could change again by the end of next week, as No. 23 Clemson travels to No. 1 Florida State on Sept. 20. With Saturday's results, the ACC turns its eyes to you, Clemson, Duke, Florida State and Pittsburgh. And to be honest, most aren't considering Duke or Pitt legitimate contenders just yet, considering each school's nonconference schedule. Virginia Tech offered hope that a Coastal team might be able to crack the playoff four, but the Hokies laid an egg in the first quarter against East Carolina and were knocked off. Considering it came a week after their big road win at Ohio State, it leaves a sour taste in ACC mouths. Louisville was loading up the hype train after a nice win against Miami in a prime-time setting, but the Cardinals' offense was suffocated by upset-minded Virginia. Pittsburgh has a manageable schedule and would almost certainly get in if undefeated, but the Panthers don't have the look of a team destined for a spotless record just yet. So once more, the ACC is looking to you, Clemson and FSU.
2. The ACC Coastal: 'Bring your brooms, because it's a mess.'
Marty Huggins from "The Campaign" said it best, and there's really no need to compound on what he said as far as the ACC Coastal goes. Following last week, it seemed Virginia Tech was the team to beat in the division. It certainly could still be that team as the East Carolina loss was out of conference, but there isn't nearly as much confidence in the Hokies any longer. Pittsburgh was the flavor of the hour last week after a dominating win on a Friday night, but the Panthers struggled against a terrible Florida International team. Georgia Tech is 3-0 but has been less than impressive in all three wins. North Carolina hasn't looked great, either. Right now, it is only Duke quietly taking care of business, which is what it did last season, too.
3a. Boston College was a bunch of Dudes on Saturday. So was the Virginia defense.
That is Steve Addazio's motto for his team, and that is an apt way to describe what we saw from the Eagles against No. 9 USC. Many felt the Eagles had a chance to keep it close, but few felt they would be able to upset a USC team coming off a win at Stanford. Boston College followed the lead of its quarterback,
Tyler Murphy
, beating up the Trojans on the ground to the tune of 452 rushing yards. After a lopsided loss to Pittsburgh last week, it seemed Boston College was destined for a down year, but now the Eagles have the look of a bowl team. They're not going to win the Atlantic, but that defense is nasty, and with Murphy running the option, the offense is efficient enough that this might not be the last upset the Eagles pull off in 2014.
In the aftermath of the BC win, we almost forgot the effort from Virginia, especially on the defensive side of the ball. Virginia deserves the recognition, and while it doesn't use the same "Be A Dude" motto, you can certainly apply it to that Cavaliers defense after its performance against Bobby Petrino's Louisville offense. All afternoon, quarterback
Will Gardner
was harassed and made uncomfortable. He was hit, chased and had passes batted back into his face. Eventually, Petrino turned to his backup quarterback. And just like Boston College, the Virginia offense never gave Louisville the ball back in the final minutes after forcing a Cardinals punt. If the Cavs can get any help from their offense, this is a bowl-worthy team. Good for Mike London and his team, which went winless in the ACC last season.
3b. The ACC owns prime time.
Virginia Tech last week. Boston College this week. Just let us have this one.
4. Speaking of Pitt and Georgia Tech, what do we make of their scares?
That one depends on the team. First, there is something to be said to still being undefeated at this point even if the competition is not very good. Now that that is out of the way, I'd be much less concerned with Pitt's first-half struggles in its
42-25
win than Georgia Tech's second-half nightmare against Georgia Southern. The Panthers were playing in a noon game against a dreadful FIU team. They came out flat. It happens in college football, and it happens a lot. Ideally, a coach never has those performances, but they're hard to avoid. Expect a much more focused Pitt team against Iowa. As for the Yellow Jackets, this is becoming a trend. They did not look great against FCS teams Wofford or Tulane, and Saturday they blew a 25-point second-half lead to Georgia Southern. Georgia Tech needed an 11-play, 72-yard drive to score the game-winning touchdown with 23 seconds remaining and earn a
42-38
victory.
5. Miami quarterback Brad Kaaya can sling it.
The Hurricanes opened up the playbook a little more for Kaaya, and he responded with 342 passing yards, a school record for a true freshman. The Miami offense was balanced on first down, which allowed Kaaya to throw in situations in which defenses weren't always expecting it. What really stood out to coach Al Golden in the Hurricanes'
41-20
win over Arkansas State was how Kaaya audibled into a new play at the line of scrimmage several times, including on two touchdowns. "Brad hits the quick out that
Phillip [Dorsett
] ends up taking. That's all him. The other check that we ended up scoring on, the run, [it was] the same thing there. That was all him on the line of scrimmage," Golden said. And the first touchdown was a deep throw, which Kaaya struggled with in the first two games. On throws of at least 10 yards in the first two weeks, he was 7-of-17 for 188 yards with one touchdown and four interceptions.
September, 11, 2014
9/11/14
4:37
PM ET
By
Jack McCluskey
| ESPNBoston.com
CHESTNUT HILL, Mass. -- The specialists sprinted off first, hightailing it for the locker room and the showers with class time closing fast.

Then the bulk of the herd pounded by, the linemen (offensive and defensive) and the linebackers, the safeties and the defensive backs. The skill positions -- wideouts, tight ends, running backs and quarterbacks -- brought up the rear after some light drills in small groups.
After a while, there was only one Boston College player left on a back field at Shea post-practice Wednesday.
With no one left to watch him and no one left to catch his passes, Tyler Murphy worked solo.
Ball in hand, he stuttered his feet backward and then shuffled forward as if ready to launch. Again and again he did it, the sun beating down on his black practice jersey on a mild September morning.
And when he was finally done, satisfied with the extra session, he talked about why he often stays on the practice field after the rest of his teammates have hit the locker room.
"Last Friday I didn't do a good job of taking advantage of throws downfield, my footwork was a little out of whack and [I was] overstriding," he said, sweat sliding down his face and dripping off his nose. "... [stuff] that really sits in you and it's not a good feeling."
This habit of staying late developed when Murphy was a reverse at Florida. He didn't get the opportunities he wanted in practice, so he kept working when the regular session ended.
[+] Enlarge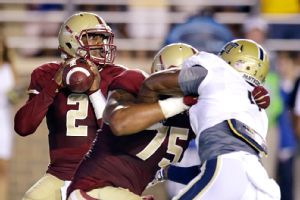 AP Photo/Stephan SavoiaTyler Murphy says the extra work he puts in after practice make a difference on game days.
"I made a lot of progress doing that," he said. "So I figured, even though you're the starter [now] you can still stay after and get some work. Because there's always someone that's out there working just as hard, if not harder. [Against] USC, you can't think things are gonna be easy [just] because you're getting all the reps during practice.
"You have to be willing to stay after to get better that way, because they're doing the same thing."
The Eagles will host the ninth-ranked Trojans at Alumni Stadium on Saturday night (8 ET on ESPN), and Murphy knows what a challenge the Pac-12 power represents.
"They have a really good front, especially with [Leonard] Williams and some of the other guys who are, if not as good, just as good," Murphy said of the USC defense. "They're pretty good in the secondary on the back end. So we're gonna have to be on top of our game, and just really make plays when we have the opportunity to take advantage of certain looks and certain things."
BC coach Steve Addazio said of the USC defense, "I thought they were really good last year, I think they're better this year."
The Trojans are tied for No. 14 nationally (with Alabama and Oklahoma) in scoring defense, allowing 11.5 points per game in two wins to open the season.
Murphy said that what he sees on tape reminds him of some of the defenses he faced when he was in the SEC at Florida.
"They look like a team that would fit right in," he said. "Very physical bunch, very athletic, fast, and they're relentless in what they do. They really rally to the ball. We need to make sure we finish downfield, and secure the ball. We need to match the effort if not give them more -- we can't let them outplay us."
So far this season, Murphy has been producing for the Eagles -- with his legs ahead of his arm. Through two games, he ranks tied for No. 27 nationally in rushing yards (210) and tied for No. 40 in rushing TDs (two). Only one QB, Navy's Keenan Reynolds, has more rushing yards than Murphy to this point in the season.
But he's far from satisfied, thus the extra practice time.
"I try to get enough in where I feel like I'm getting better and making progress," he said. "You don't want to go out there and just be doing drills to do them and not getting better. I try to just get good, quality reps. If I feel like I'm getting good quality, then I can move on.
"But if I feel like I'm just out there just wasting my time, then I'm gonna be out there longer. And it's not fun when you're tired."
The graduate student always knew he'd play the role of mentor on this Boston College team, filled as it is with young players -- especially at the skill positions. He hopes that young QBs
Darius Wade
and Troy Flutie see the effort he puts into practice and the results that effort produces, and start to do the same themselves.
"Sometimes in practice you don't get a chance to work on the stuff you want to work on, because the coaches have a script and stuff they want to see on film and get done, so if you feel like you need to work on something, five minutes can make the biggest difference," Murphy said. "If you do five minutes every day, it adds up and that turns into almost another three or four practices of of stuff that you really want to get better at."
For the time being, Murphy will keep finishing last during the week in an attempt to help the Eagles finish first on Saturday.
Jack McCluskey is an editor for ESPN.com and a frequent contributor to ESPNBoston.com. Follow him on Twitter @jack_mccluskey.
August, 30, 2014
8/30/14
10:45
PM ET
By
Jack McCluskey
| ESPNBoston.com
FOXBOROUGH, Mass. --
Tyler Murphy
has played on bigger stages than the one he stepped onto Saturday at Gillette Stadium, when he took his first regular-season snaps as Boston College's starting quarterback.
He started games under center for the
Florida Gators
, after all, and when it comes to college football, it doesn't get much bigger than the SEC.


But that doesn't mean he was any less concerned about making a good first impression.
And after rushing 13 times for 118 yards and a score and going 17-for-24 passing for 173 yards, a TD and an interception, Murphy made quite the impression.
"I was extremely, extremely proud and excited about Tyler today," Addazio said. "He managed the game like a veteran, big-time player. He didn't get rattled on the pick. He just was a leader, was strong, had a great look in his eye. He really managed the game. Even down at the end, he didn't try to force [a throw, and] he took off with the ball so we could kick that field goal ... That was really intelligent. He came over [and] said 'Coach, I didn't want to force it.' His growth today was great."
[+] Enlarge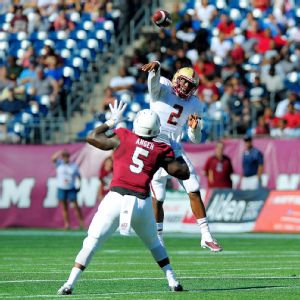 Bob DeChiara/USA TODAY SportsQB Tyler Murphy ran for 118 yards and a touchdown and threw for 173 yards and another TD.
UMass coach Mark Whipple praised Murphy to reporters after the 30-7 BC win dropped his Minutemen to 0-1 on the young season.
"Their quarterback was better than ours," he said. "He was the player of the game, and we didn't tackle him very well."
Murphy's assessment was a little more reserved.
"I thought I played all right," he said. "Still a lot of room to improve and ways to get better. I have to get better, especially with the short turnaround this Friday."
Murphy showed himself to be a true dual-threat on Saturday, as he made plays with his legs, including a 31-yard run late in the first quarter to set up the Eagles' first score (a field goal), and his arm, including a 43-yard TD strike to
Josh Bordner
to answer UMass' only TD of the day.
"He's something else," linebacker and co-captain
Sean Duggan
said of Murphy. "We knew that in camp. He's a hell of a player, a great leader. Only good things to say about Tyler."
"He ran the ball well, he threw the ball. That's what a quarterback does," Addazio said. "They make plays. They put the team on their back. That's what they do. And you saw a little glimpse of that. It was nice."
First down:
BC is not Delaware, but if Week 1 was any indication the Eagles' D will have its hands full in Week 2. That's when Pittsburgh and running back
James Conner
come to town for a nationally televised Friday night affair.
All Conner, a 6-foot-2, 250-pound sophomore, did against the FCS Fightin' Blue Hens in Week 1 was run 13 times for 145 yards and four -- count 'em,
four
-- touchdowns ... in the first half. That's almost 20 percent of the 799 yards he ran for as a freshman and fully 50 percent of his eight TDs in his first season.
As a team, the Panthers ran for more than 400 yards and seven scores.
In 2013, BC tied for 57th nationally by allowing opponents only 159.92 yards per game on the ground. The Eagles held UMass to only 55 yards rushing on Saturday.
Second down:
Don Brown's defense picked up where it left off last season, sacking UMass QB
Blake Frohnapfel
three times (including one credited for an intentional grounding call) and harassing him countless other times.
"We're not gonna let any quarterback feel comfortable," Addazio said. "I thought our coaches did a great job, both sides of the ball, considering we really had no film to evaluate them. I mean, no one could evaluate this quarterback. You didn't know."
Duggan said the plan was to hit Frohnapfel as often as possible.
"We go in every week, and we really want to get hits," he said. "The quarterback is kinda the brain of the operation on the offense, [and] when you rattle him it kinda shakes the offense. That's a goal every single week. We came out, we started fast and were just racking up hits on him. It's kinda like an attrition thing. If you keep hitting it, it's gonna crack eventually."
Frohnapfel finished just 9-for-22 passing for 147 yards and one touchdown. Almost half of his yardage came on UMass' one scoring play, a 77-yard strike to
Tajae Sharpe
.
Third down:
Josh Bordner's 43-yard TD reception in the fourth quarter was the first of his career, which has followed an unusual path.
After three seasons as one of the primary backups at QB, Bordner switched to wideout this offseason because Addazio likes his 6-foot-4, 230-pound frame. On Saturday, he started his first career game at the position and finished with four catches for 81 yards and the TD.
Asked how it felt afterward, Bordner didn't linger on it.
"It was a great play call," he said. "They had been edging us on some sweeps. It just felt great finally scoring. Helping the team out, it was fun."
Out:
The Eagles lost their all-time leading scorer, place-kicker
Nate Freese
, to graduation in 2013. So naturally, instead of asking one player to replace Freese's 324 career points, Addazio called on two in the opener.
Alex Howell
got the first chance and hit a 44-yarder to give the Eagles a 3-0 lead. Later in the first half,
Joey Launceford
got a shot and converted a 28-yarder to make it 6-0 BC. Launceford added three extra points and a late field goal in the second half.
"Where we go, I don't know," Addazio said when asked if the kicking load would continue to be split. "We had Joey working on some short-range stuff, Alex on some long-range stuff. ... They've got a good attitude and I like where they're headed."
Combined, the pair of seniors now have 12 career points. Only 312 to go to match Freese.
Jack McCluskey is an editor for ESPN.com and a frequent contributor to ESPNBoston.com. Follow him on Twitter @jack_mccluskey.
August, 8, 2014
8/08/14
6:41
PM ET
By
Jack McCluskey
| ESPNBoston.com
Tyler Murphy
hasn't taken a snap in a game for Boston College yet. The Florida transfer's first chance to take the ball from center and drop back in the pocket in Chestnut Hill against a live defense will come Saturday morning in the team's first scrimmage of training camp.

But in the roughly six months he's been on campus, Murphy has made a definite impression on his new teammates.
"He's a down-to-earth guy, he's super nice, smart, wants the best out of everyone," former backup QB-turned-wideout
Josh Bordner
said at the team's media day Thursday. "He's really a great teammate and great guy."
Murphy has made an effort to hang out with his teammates, both at the Eagles' facility and away from it. He wants to get to know them, and to let them get to know him, believing that's key to good chemistry.
[+] Enlarge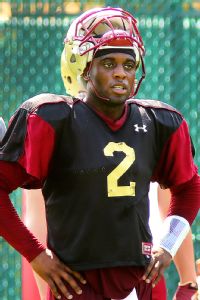 John Tlumacki/The Boston Globe/Getty Images"I'm not gonna take it for granted to put the maroon and gold on," said new Boston College QB Tyler Murphy.
Bordner sees that paying off.
"If he had a problem with someone, he'll pull them aside and talk to them like a man, and not try to bash them and basically embarrass them in front of the whole team," Bordner said. "If he thinks someone needs to be doing
this
, he'll pull him aside and talk to him. I feel like he gets a lot of respect when he does that."
He's also gained the respect of the guys playing across the line from him.
"Would I want to see him across the line? Probably not. He's pretty good," BC defensive back
Manuel Asprilla
said with a laugh. "That's because I know him [that] I wouldn't want to see him across the line."
Asprilla said Murphy reminds him of some of the quarterbacks the Eagles have faced in recent years.
"I can see that he's a leader out there," he said. "He gets his team together and he's not selfish. That's why he kinda reminds me of an EJ Manuel- or Tajh Boyd-type of player, because he'll stay there and try to get the job done instead of just taking off and doing his own thing."
Dominique Williams
said Murphy has made a good first impression.
"He's a great guy on and off the field," he said. "He's someone that really excites you when you watch him on film and on the field. He can throw and he can run, and I don't really think people respect his running ability as much as they should because he's really fast."
BC coach Steve Addazio knows Murphy well, having recruited him to Florida when he was an assistant there. A native of Wethersfield, Conn., Murphy was recruited mostly as an athlete by other schools, but the Gators coaches thought they could develop him as a dual-threat QB.
Murphy played in nine games, starting six, for the Gators in 2013, going 112-for-185 for 1,216 yards, six TDs and five interceptions, and rushing 61 times for 61 yards and three TDs.
He came to BC as a graduate student with one year of eligibility left, and hopes to make his mark.
"He wanted to have the chance to run the reins of his own program," Addazio said, explaining part of Murphy's motivation for coming to BC. "He had it for a short while and a competitor likes that feel and that taste and he wanted to get that back."
He's also happy to be back in New England.
"I'm really thankful that this opportunity did open up and there was a chance for me to come here because I feel like I'm almost at home, it's not too far away from here," Murphy told reporters at media day. "I can see my family and friends. I grew up watching BC as a kid so I know a little bit about the football program and stuff like that. I'm just really fortunate and happy to be here."
Asked who he watched growing up, Murphy ticked off all the famous names who have played QB for BC: Flutie, Hasselbeck, Ryan.
And while he won't be around long enough to put his name on that level -- barring a spectacular single season in 2014 -- Murphy is relishing the chance to make a mark as a starter.
"It's gonna be a challenge, my first year being named the guy," Murphy said. "I'm excited to put the BC uniform on. That's something I'm gonna wear with pride. Even though I've only been here for six months or so, I've really developed a good relationship with my teammates and some of the staff here both athletically and academically.
"I'm not gonna take it for granted to put the maroon and gold on. I'm really excited about this season and I hope everybody else is, as well."
Jack McCluskey is an editor for ESPN.com and a frequent contributor to ESPNBoston.com. Follow him on Twitter @jack_mccluskey.