Boston Colleges:

Wisconsin Badgers
March, 29, 2013
3/29/13
7:24
PM ET
By
Brion O'Connor
| ESPNBoston.com
MANCHESTER, N.H. -- UMass-Lowell (27-10-2) served notice on Friday: not only do they deserve the Northeast Regional's No. 1 seed, but they are gunning for a spot in the Frozen Four after dismantling a white-hot Wisconsin Badgers squad, 6-1.

Norm Bazin's troops didn't have a huge edge in shots on goal (30 to 28), but they were ruthlessly efficient. Joe Pendenza got the River Hawks on the board just 7:11 into the opening period, firing a dart from the left wing that squeezed under the glove of Wisconsin's Joel Rumpel. The River Hawks doubled up shortly after intermission, when Scott Wilson feathered a deft pass to defender Christian Folin, who immediately snapped a shot that beat Rumpel low on the glove side for a 2-0 lead at 3:12. Lowell's Shayne Thompson delivered the backbreaker at 14:08 of the middle stanza, completing a sensational rush by shoveling a forehand shot past Rumpel an instant before Wisconsin defender Joe Faust sent him crashing into Rumpel, giving Lowell a 3-0 lead. In the third period, Derek Arnold's tap-in of a super Ryan McGrath feed at 13:56, finishing off another Lowell odd-man rush, gave the River Hawks an insurmountable 4-1 lead. Lowell's Adam Chapie added an empty-netter at 19:12, and Ryan McGrath buried a breakaway chance with less than four seconds remaining to finish off the Badgers.

CLUTCH PERFORMANCE: Lowell freshman goaltender Connor Hellebuyck showed the same impressive form that won him MVP honors in the Hockey East playoffs last weekend. While the River Hawks were opportunistic on offense, Hellebuyck repeatedly shut the door on the Badgers with several huge stops to protect Lowell's leads early in the game.

UNSUNG HEROES: Though not flashy, the rugged River Hawks defensive corps, led by Chad Ruhwedel, Joe Houk, Greg Amlong, Zack Kamrass, Jake Suter and Folin, constantly put a body on Wisconsin's forwards, making them pay for any play, and making crisp, clean outlet passes that kept the Badgers on their heels.

TURNING POINTS: Hellebuyck not only made the big saves, but also made timely saves. The first came 17 seconds after Lowell took a 1-0 lead, when Hellebuyck stuffed Badger Joseph Labate's cross-crease bid with his right pad. He stopped Wisconsin's Jefferson Dahl on a penalty shot to preserve that one-goal lead, and then robbed Tyler Barnes on a wraparound bid shortly after Lowell took a 2-0 lead in the second period. Even after Wisconsin finally scored a power-play goal at 8:19 of the third, trimming Lowell's lead to 3-1, Hellebuyck's calm, confident play between the pipes had to demoralize the Badgers.
March, 22, 2012
3/22/12
11:55
PM ET
BOSTON – The T-shirts were only gifts from Nike, concocted by some faceless marketing whiz, not crafted by clever seniors looking to send a message.
Still, if Syracuse players got together to try to formulate a motto for their team and for their season, they couldn't have come up with better than the three words emblazoning their Ts:
By Any Means.
Syracuse has won 34 games this year, nail-biters and blowouts, won with defense and won with offense, with their starting center and without him.
The Orange just win, amazing even their seen-it-all coach with their pluck and knack for pulling victory from the jaws of defeat.
"If I wasn't the coach, I'd be sitting there thinking, how are they going to win that game? They can't win
that
one,'' Jim Boeheim said last week. "And then they do.''
And really that's all that matters at this time of year. From October until February, a team has to justify its worth, prove it deserves a bid, prove it merits a high seed.
Now, though, the means needn't justify the end. Pretty or ugly, easy or hard, it makes no never mind.
Syracuse opted for a plateful of the last Thursday night, surviving a Wisconsin shooting clinic that was equal parts awe-inspiring, amazing or terrifying, depending on your team color choice, to advance to the Elite Eight for the first time since its national title run in 2003,
64-63
.
"Yeah, by any means, that's perfect for us, that's how we played today, how we've played all season,'' sophomore guard
Dion Waiters
said. "By any means. It fits.''
The means in this matchup came in the form of Fair and prayer. That would be
C.J. Fair
, who was so ineffective in Pittsburgh that reporters were probing for health issues or injury to explain his 1-of-10 shooting in the first two rounds of the tournament, and who out of nowhere shot 7 of 9 to finish with 15 points and seven rebounds on Thursday.
As for the prayer, that came from Waiters, who looked for a little divine intervention as Wisconsin, which shot a blistering 14 of 27 from the arc, had the ball, 15 seconds and a chance to win the game.
"I just kept saying, 'Please don't make it, please don't make it, please God, let him miss,'' Waiters said.
Whether it was a prayer or simply good defense, Waiters' request was heeded, with
Jordan Taylor
's long-distance 3 falling short and
Josh Gasser
's desperation heave missing on the buzzer.
"That clock just had to end,'' Orange junior
Brandon Triche
said.
When it did, Taylor and his Wisconsin teammates lay prone on the floor. There is one way to beat a zone and the Badgers executed it to near perfection, at one point draining six 3s in succession to go from down seven points to up by three.
[+] Enlarge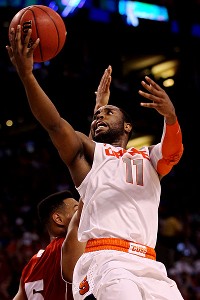 Photo by Elsa/Getty ImagesScoop Jardine had 14 points and 4 assists as Syracuse slipped by Wisconsin to reach the Elite Eight.
But when Wisconsin needed those shots, they couldn't come up with them, missing their final five, including Taylor's heave.
The loss once more denies Wisconsin coach Bo Ryan a chance to get out of the regional semifinal. The man who racked up Division III titles like a tie collection is now 1-4 in the Sweet 16.
"It was on the line, and I felt like I got my legs into it,'' said Taylor, who finished with 17 points. "I knew it was a deep three but it felt good and then to see it kind of come up short was kind of heartbreaking.''
One team's heartache …
"This is one of the best games I've been involved in in a long time,'' Boeheim said. "I think the best game anyone played against us and didn't beat us.''
Truth be told, this game was a microcosm of that entire season – an unexpected star, timely defense and an answered prayer has been both the Orange's means and recipe all year.
Blessed with a roster deep enough to field a second team, Boeheim has the luxury of finding the hot hand and then feeding it well. In three NCAA tournament games, three different players have led the Orange in scoring.
Fair hadn't been the guy in a while, though. He's been on this side of terrible since the postseason began, 2 of 17 from the beginning of the Big East tournament through the third-round victory over Kansas State. He swears he never lost confidence because Boeheim never gave up on him -- Fair retained his starting position and kept playing minutes.
On Tuesday, he said he had a feeling -- not quite a premonition -- that he would play well against the Badgers. And then he promptly turned the ball over on his first touch and missed two free throws a few minutes later.
"I was like, 'Oh man, this cannot happen,' '' Fair said.
But with five minutes left until the halftime break, Waiters found Fair in transition and the sophomore slammed home the dunk, igniting the partisan Syracuse crowd and his own offensive game.
He'd tack on four more points in quick succession before intermission and keep rolling in the second.
"These were the same shots I was taking last week,'' he said. "This time they were just going in.''
Of course, it seemed like most everything was going in during this game. It was a mathematical misnomer, with Wisconsin shooting better from outside the arc than inside of it and Syracuse hitting nine fewer 3s.
And winning.
Which is why it makes only perfect sense that defense sealed the victory.
After watching the Badgers hedge toward Loyola Marymount's seemingly untouchable record of 21 made 3s in 1990, Syracuse extended its zone a good two steps beyond the line.
Those extra inches made all the difference, pushing Taylor just enough out of his comfort zone to make that last shot difficult, it not downright impossible.
"We wanted to get a stop,'' said
Scoop Jardine
, who with Waiters crowded Taylor on his final shot. "We knew it was going to be something with Jordan trying to penetrate or kick out to one of his shooters. We've been in that situation before throughout the year. … We believed in our defense. We didn't panic, we stayed with them and we believed in it and got the stop to win the game.''
By any means.
March, 22, 2012
3/22/12
9:31
PM ET
By
Jack McCluskey
| ESPNBoston.com
BOSTON -- A quick look at No. 1 seed Syracuse's
64-63 victory
over No. 4 seed Wisconsin in Sweet 16 action in the East Regional at TD Garden on Thursday night:


Overview:
After all the talk about how Wisconsin would solve the vaunted 2-3 zone of Syracuse, it was the Wisconsin defense -- the top scoring defense in the country this season -- that struggled to contain the Syracuse offense early. Syracuse shot 63.6 percent in the first half, including 50 percent on 3-pointers, and led 33-27 at the break.
In a wild second half, the Orange weathered a furious storm of 3s from the Badgers and held on -- just barely -- for the win. The last time Syracuse won a game by one point in the NCAA tournament was the Sweet 16 in 2003, when the Orange beat Auburn 79-78 and went on to win the national championship.
Turning point:
This was a game of punch-counterpunch in the second half. It seemed that whenever one side would hit a big shot, the other would invariably answer.
So after
Jordan Taylor
hit yet another big 3 -- he had four in the half -- to put Wisconsin up 59-56 with 7:05 to go, was there any doubt Syracuse would find a way to answer?
If there was any doubt in the Orange, it didn't show.
Baye Keita
converted a layup, then
Dion Waiters
made one of his own to give Cuse back the lead at 60-59.
Taylor had a chance to win it for Wisconsin as time expired, but his heave was short and the Badgers couldn't get a good shot off the air ball as the Orange escaped.
Key player:
This was a balanced effort by the Orange. Four players scored in double figures, led by
C.J. Fair
with 15.
Key stat:
This one's easy -- without the 3, there's no way the Badgers get back into the game at all. Wisconsin shot 51.9 percent from beyond the arc for the game and was 9-for-16 in the second half as it rallied to make things interesting at the end.
Syracuse also shot well from 3, hitting 55.6 percent for the game. The difference was in the number of shots. Wisconsin took 27 as it attempted to rally from a double-digit deficit, while Syracuse took only nine.
What's next:
Syracuse will now move on to the Elite Eight, where it will face No. 2 seed Ohio State on Saturday night in Boston.
Jack McCluskey is an editor for ESPN.com and a frequent contributor to ESPNBoston.com. Follow him on Twitter @jack_mccluskey.
March, 22, 2012
3/22/12
12:54
AM ET
By
Jack McCluskey
| ESPNBoston.com
BOSTON -- There's something different about TD Garden this week.
The court is ringed by black, the logo at center court is a blue circle with white lettering. The free throw arc is blue, and the paint isn't painted -- just plain hardwood.
And if you look up, to see what history hangs there, the only pieces of cloth you'll see are those honoring the country (the American flag), its military (the POW/MIA flag) and Canada.
[+] Enlarge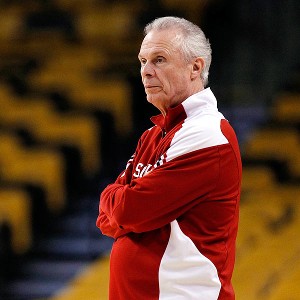 Greg M. Cooper/US PresswireWisconsin coach Bo Ryan kept his focus on his Badgers' practice Wednesday.
While the NCAA tournament East Regional is in Boston, the 23 championship banners belonging to the Garden's traditional tenants (17 for the Celtics, six for the Bruins) -- as well as the banners full of retired numbers, and those for the Beanpot -- will hang elsewhere.
Though that may be disconcerting for regular visitors, it won't detract from the experience for the players and coaches competing in the Sweet 16 on Thursday night.
Some of them didn't even notice the banners were gone.
"I didn't look above the basketball court, to be honest with you," Wisconsin head coach Bo Ryan said, drawing laughs from the gathered reporters.
Ryan's attention during the open practice was on preparing his No. 4 seed Badgers for the test they face in No. 1 seed Syracuse, not on what was or wasn't in the rafters.
"We only get 50 minutes, so we tried to take advantage of every minute we were out there on the court," he said.
Wisconsin point guard
Jordan Taylor
is a little young to know much about the Celtics' storied past. But the 21-year-old said he's a big fan of Magic Johnson, and enjoys watching Magic's historic battles with Larry Bird on ESPN Classic.
Ohio State big man
Jared Sullinger
said it will be "very cool" to play in the Garden, citing "all the history that surrounds this arena and all the legends that played in this arena."
And Syracuse's
Scoop Jardine
showed a sharp basketball acumen in his session with the media.
"It's an honor to be here, to play in an arena like this," he said. "I don't think this is the arena where Larry Bird played at, is it?"
Bird, of course, retired after the 1991-92 season, and the new Garden didn't open until 1995.
[+] Enlarge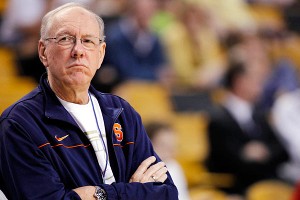 Greg M. Cooper/US PresswireSyracuse coach Jim Boeheim said he's a Celtics fan (and feigned ignorance of BC).
"It don't matter," Jardine said. "We know this is an NBA venue, and it's always great to play on an NBA floor. The tradition here in Boston is great, and I'm just happy to be a part of something like this."
Orange coach Jim Boeheim is familiar with Boston from all the visits his team made to Boston College to play the Eagles, back when BC was in the Big East.
"I've tried to block all those out of my mind," Boeheim joked. "I'll bring them back some day. We had great games here in Boston."
Asked about whether the history of the Garden added anything to the game his team will play Thursday night, Boeheim was honest.
"I've always been a Celtics fan, going way back, so it's a great basketball city, unbelievable tradition," he said. "But that's really more of a pro type thing. I love basketball -- I love pro and college. But for college, [the tradition's] not as much of a factor."
Wisconsin's Ryan grew up in Chester, Pa., not far from Philadelphia. On Wednesday, he said one of the great thrills of his career was being a member of the committee selecting the Bob Cousy award, because during his childhood he saw so much of Cousy on TV.
But that respect for Cousy doesn't mean Ryan was a Celtics fan.
"Well, having grown up in the Philadelphia area, Boston was always the other guys," he said. "But to be here and have a chance to play in this facility in a town that appreciates basketball in an area that appreciates basketball like this, it's quite an honor."
The veteran coach paused a beat, then played to the audience a little bit.
"I know some of you wanted Harvard," he said, referring to the No. 12 seeded Crimson -- who lost in the second round in the Albuquerque group Wisconsin won to advance to Boston -- with a smile, "but we're here."
And Thursday night the Badgers will be one of four teams to take the court, absent the familiar green and gold of the Garden's usual home teams, attempting to make some history of their own.
Jack McCluskey is an editor for ESPN.com and a frequent contributor to ESPNBoston.com. Follow him on Twitter @jack_mccluskey.