Recap: Reading 28, Wakefield 27
November, 5, 2011
11/05/11
12:55
AM ET
By
Ryan Kilian
| ESPNBoston.com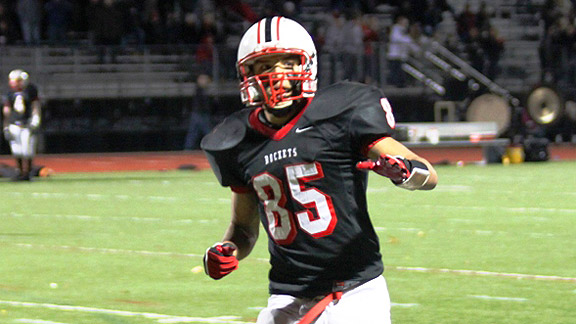 Ryan Kilian for ESPNBoston.comRyan Maney's circus catch was one of several highlights for Reading in its 28-27 thriller over Wakefield.
READING, Mass. -- No lead was safe in Reading on Friday night, as the Reading Rockets pulled out a come from behind, one point victory over the Wakefield Warriors, 28-27.
With less than two minutes remaining and Reading trailing by seven points, sophomore quarterback Drew Belcher led Reading down the field and into the end zone, on a six-yard plunge, with 38.5 seconds remaining in the game.
"We work on that stuff a lot," said Fiore of the game-winning drive. "We spread them out and made some plays to get our guys in space."
Belcher's touchdown run pulled Reading to within one point, 27-26, and Reading head coach John Fiore called for two. With his team struggling in the kicking game, Belcher took the field out of the shotgun, lowered his head and plunged in for the go-ahead conversion. Belcher had executed the same play earlier in the game, and this time the sophomore's score gave Reading the comeback win.
"We play for 44 minutes", said Fiore. "We made plays and made some adjustments at the half to some things we wanted to do. I am real proud of the kids and their effort tonight."
The game was a back and forth battle throughout, with both teams coming up with big plays and turnovers to shift momentum on multiple occasions.
Reading senior Anthony DeSimone had two interceptions at crucial junctures for the Rockets, while Wakefield's James Puccio had an interception late in the game and a lot of tough in between the tackles running on the night.
Wakefield wide receiver Matt McKenna made a juggling 16-yard touchdown reception on a halfback pass from junior running back Dan Cardillo in the third quarter. McKenna made big plays all night, as the senior also hauled in a spectacular 70-yard reception earlier in the first quarter that set up an early Wakefield touchdown.
"They are 7-2 for a reason," Fiore said of Wakefield. "They are a physical team with some excellent kids, and we took their best shot."
Catch of the Year:
Reading wide receiver Ryan Maney made the catch of the year tonight as the junior battled pass interference and jumped up in the back of the end zone to haul in a one-handed touchdown grab while falling to the ground. Maney managed to keep possession and get one foot in bounds for the 26-yard touchdown reception.
"That was a great catch," said Fiore.
The 6-foot-2 junior is fast becoming a household name as he has become a favorite target for Belcher and runs smooth routes and has the athleticism, strength and vertical leap to stretch a defense and haul in the big catch.
Bates Returns:
Wakefield senior running back Zach Bates made his return to Reading, where he played for the past two years before coming to Wakefield this season.
Bates scored on a 15-yard touchdown run and had 64 yards on the ground on the night. The signal-caller on defense also filled the gaps from his linebacker position and came up with some key stops early on.
The Playoff Picture:
Reading will match up against Tewksbury as the winner of the Middlesex Large conference. Tewksbury, despite losing to Haverhill on Friday, clinched the Merrimack Valley Division 2 conference with a Lawrence loss to Dracut.
Wakefield is also looking for a 2011 playoff berth, and plays Watertown next week in an important league match-up.
READING 28, WAKEFIELD 27
READ (6-3) 0 – 14 – 6 – 8 --- 28
WAKE (7-2) 14 – 0 – 13 – 0 –-- 27
First Quarter
W - James Bourque 1 run (Brian Auld kick)
W - Zach Bates 15 run (Auld kick)
Second Quarter
R - Alex Valente 9 run (kick failed)
R - Ryan Maney 26 pass from Drew Belcher (Belcher run)
Third Quarter
R - Jared Barros 20 pass from Belcher (kick failed)
W - James Puccio 11 run (kick failed)
W - Matt McKenna 16 pass from Dan Cardillo (Auld kick)

Fourth Quarter
R - Belcher 6 run (Belcher run)