Strong line pushing Dexter into post-Logan era
September, 19, 2012
9/19/12
10:21
PM ET
By
Tom Layman
| ESPNBoston.com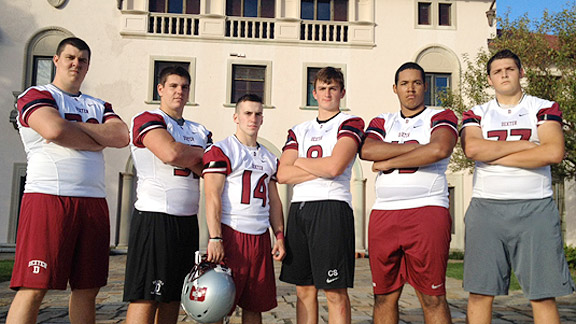 Courtesy of Dexter SchoolDexter's (L to R) Jed Hendren, Costa Toubekis, Luke Cuneo, Craig Strand, Lucas Hinds and Dan DiNicola will look to fill the holes Maryland freshman Abner Logan left behind.
It's a quandary that every coach has to face, when time essentially is up and a star player's high school football career comes to a close.
Casey Day is no different at Dexter School, as Abner Logan will no longer be donning the "D" on the side of his helmet. Logan rushed for 1,200 yards and scored 19 touchdowns as the feature back in Brookline, and his physicality on defense put Day's group in the hunt for the Evergreen League championship a year ago.
Logan is now a Div. 1 prospect redshirting at the University of Maryland, and Day knows that not one man is going to fill the very capable shoes of the former stand out.
"He was a dynamic player on both sides of the ball," said Day. "We counted on him and he was always the guy who made the plays for us, offensively or defensively. We are in the process (of filling the spot) and we have a group of three or four guys who can pick up the slack collectively and contribute."
The scheme will change a little bit for Dexter, as the power-I, which was the alignment of choice with Logan in the backfield, might yield to a few more situations where quarterback Luke Cuneo is working out of the shotgun in spread formations.
The 5-foot-7-inch Cuneo threw for nine scores, and rushed for 400 yards in the limited amount of times he carried the ball, and getting him in space behind a big offensive line will be key to sustaining drives on offense.
"We want to give him a little bit more freedom to run the ball," said Day. "His arm strength has improved significantly as well. He's been able to throw the ball around pretty good this preseason and if there is a guy who is going to get the majority of the carries it would probably be him."
C.J. Okafor could emerge as a speedy option out of the backfield and at the wide receiver position, plus look for the junior to double up at cornerback duties.
Craig Strand will be back in his usual fullback duties plowing the way for Jimmy Venuto and other running backs. Strand will also figure in heavily as a ball-hawking linebacker who will need to fill the "big-play" role that Logan filled so well on the defensive side of the ball.
The line is probably the strength of the team for Day, as he has four guys 270 pounds or more. James Hendren is a mammoth 6-foot-7-inch, 300-pound tackle who is a heavily recruited and sought-after offensive tackle.
Filling Logan's role will be No. 1, but day is hoping that some of these new looks will catch his ISL counterparts off-guard this year as his team tries to build on a 4-4 season from a year ago.
"The dynamic we have now, we do become a little bit harder to defend, because we are doing a few different things," said Day. "We will be distributing the ball through the air and on the ground a lot more evenly than we have in the past."
DEXTER AT A GLANCE
Coach:
Casey Day (3rd season, 6-10)
Last year:
4-4
Strengths:
Experience, size on the lines
Weaknesses:
Depth at skill positions
Key returnees:
Craig Strand, Sr., LB/FB 6-3, 210 pounds; Costa Toubekis, Sr., OL/DL, 6-2, 275 pounds; Luke Cuneo, Jr., QB/DB, 5-7, 180; Lucas Hinds, Sr., OL/DL, 6-5, 275; James Hendren, Jr., OT/DT, 6-7, 300.
Outlook:
They key for Dexter is to fill Abner Logan's production, which is easier said than done. Luke Cuneo is going to have to fill that role as the main offensive weapon behind a huge line. Cuneo should be able to hide behind a massive offensive line with his 5-foot-7-inch frame to pick up yards and full defenses out of the spread. It will be different and the adjustment will have to be quick as Dexter looks to fill the void left behind by its best player that's come through the program in quite some time.