Stoneham's Almeida named Patriots Coach of the Week
October, 23, 2012
10/23/12
8:40
PM ET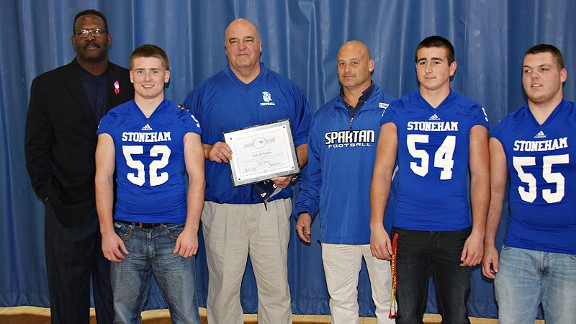 Courtesy of New England PatriotsAndre Tippett with Stoneham's Jared Macone, coach Bob Almeida, AD Dave Pignone, Matt Dabenigno and Frankie Sparco.
With Stoneham off to a perfect 7-0 start, Spartans head coach Bob Almeida was named this week's New England Patriots Coach of the Week.
Here's more from the team's release:
Stoneham High School's Bob Almeida has been named this week's New England Patriots High School Coach of the Week in recognition of his team's 26-7 victory over Wilmington High School on Friday, Oct. 19. With the victory, the Spartans improve to 7-0 in Coach Almeida's first season as head coach after serving as head coach at Wilmington High from 1996 to 2007. Stoneham now leads the Middlesex Freedom Division following a 2-9 season in 2011. The New England Patriots Charitable Foundation will donate $1,000 to Stoneham High School's football program in Almeida's name in recognition of his Coach of the Week selection.

Patriots and Pro Football Hall of Fame linebacker Andre Tippett, the team's executive director of community affairs, visited Coach Almeida and his team on Tuesday, Oct. 23 at Stoneham High School. The visit and check presentation will be featured on the team's weekly television magazine show, Patriots All Access, which airs at 7 p.m. on Friday, Oct. 26, on WBZ-TV in Boston and will be available immediately after on Patriots.com.

This is the 17th year in which the Patriots join the National Football League in conducting the High School Coach of the Week program, which recognizes outstanding high school coaches and promotes youth football throughout New England. Tippett oversees the program as part of the New England Patriots Charitable Foundation's commitment to youth football initiatives.

"I enjoyed meeting Coach Almeida and the Spartans during my visit to Stoneham High School," Tippett said. "I'm proud to present this award to Coach Almeida and his team in recognition of another great win in a fantastic turnaround season. The Spartans have shown great discipline and commitment to the team during their winning streak. The Patriots are pleased to reward Coach Almeida and Stoneham High School with a donation to the football program and we wish them the best throughout the rest of the season."

At the conclusion of the season, one high school coach will be named the New England Patriots High School Coach of the Year and will receive an additional $2,000 contribution toward the school's football program.