Recap: Natick 38, Plymouth South 33
November, 28, 2012
11/28/12
3:01
AM ET
By
Shawn Myrick
| ESPNBoston.com
BRAINTREE, Mass. -- The Natick Redhawks could easily have been content with a one touchdown lead at halftime.
Deep in their own territory and facing a third and eighteen with less than two minutes left most teams would have run out the clock.
Sitting steady in the pocket, Flutie delivered five straight passes for 75 yards and caught Alex Hilger undercutting the defense for a five-yard strike on the final play of the half to pull ahead 28-14.
[+] Enlarge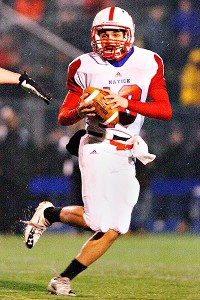 Jon Mahoney for ESPNBoston.com Troy Flutie (373 yards, 5 TD) kept Natick ahead as Plymouth South staged a furious rally.
It was this confidence and consistency that showed what Flutie was capable given the pocket time Plymouth South (8-4) was handing the Redhawks (11-1) in their 38-33 Division 2A semifinals win at Braintree High last night.
As the junior completed 16-of-24 passing for 285 yards and four touchdowns, and took 19 carries for 87 yards and another score, he moved Natick on to play Beverly (12-0) at Gillette Stadium in the Super Bowl on Saturday.
"It has been good for us being aggressive like that", said Natick coach Mark Mortarelli. "We did not want to switch up our philosophy now."
Flutie completed 10 passes to fellow junior Brian Dunlap for 195 yards and three touchdowns as Natick pulled ahead 7-0 late in the
first quarter and never trailed.
The junior out-scrambled defenders and tossed a completion to Dunlap along the back pylon for a 38-21 winning score with 8:37 remaining.
Dylan Oxsen broke three tackles and rushed 39 yards for a touchdown a minute later then added a two-yard scoring scramble to bring the Panthers within 38-31 in the final minute of the game.
An onside kick attempt, however, was easily recovered by the Redhawks.
Punch for Punch:
The two teams traded scores all night, including three touchdowns in
less than two minutes.
Dunlap dove across the center of the end zone to catch a 15-yard pass from Flutie for a 14-0 advantage with eight minutes left in the second half. The next play Oxsen caught an advantages backfield block and took a sweep 59 yards to bring South within a 14-7 deficit. Two plays later, Dunlap beat two defenders to catch a 73-yard bomb from Flutie for a 21-7 lead at 6:37.
"We have been spoiled all year," said Motarelli. "We took whatever they were giving us. Troy was so accurate and he moved it with his feet when he had to."
Oxsen scrambled up the middle of the field and turned a broken sweep into a 19-yard score to bring the Panthers within 21-14 margin with 2:24 left in the first half.
Junior kicker Sam Lenson joined the scoring action by burying a 14-yard field goal for a 31-14 Redhawks lead early in the third
quarter.
Natick's Early Advantage
: Natick knocked a fumble out on a South sweep play to recover the ball
on the Atlantic Coast League champs' 17 yard line. Flutie took a quarterback keeper 10 yards and set himself up for a one-yard dive play in the final 40 seconds of the first quarter.
The two teams were never even again.
Like an Ox:
Oxsen (40 touchdowns this season) helped lead the Panthers to a seven-game win streak headed into the program's first post season appearance last night.
The junior put out a monstrous performance in his final game of 2012, as he took 29 carries for 310 yards and all five of South's five trips to the end zone.
"Oxsen is what got us here so we are going to keep (using him)," said South coach Scott Fry. "He is a powerful kid with great balance and phenomenal vision. We don't throw the ball much at all."
NATICK 38, PLYMOUTH SOUTH 33
PLS (8-4) 0 -- 14 -- 7 – 12 -- 33
NAT (11-1) 7 -- 21 -- 3 -- 7 -- 38
NA – Troy Flutie 1 run (Sam Lenson kick)
NA – Brian Dunlap 15 pass from Troy Flutie (Lenson kick)
PS – Dylan Oxsen 59 run (Katie Buker kick)
NA – Dunlap 73 pass from Flutie (Lenson kick)
PS – Oxsen 16 run (Buker kick)
NA – Alexander Hilger 5 pass from Flutie (Lenson kick)
NA – Lenson 14 Field Goal
PS – Oxsen 12 run (Buker kick)
NA – Dunlap 5 pass from Flutie (Lenson kick)
PS – Oxsen 39 run (run failed)
PS – Oxsen 2 run (run failed)