Central's Cody Williams commits to Monmouth
August, 17, 2013
8/17/13
7:32
PM ET
By
Brendan Hall
| ESPNBoston.com
Springfield Central senior quarterback Cody Williams has verbally committed to Monmouth University, he told ESPNBoston.com tonight.
The 6-foot-3, 175-pound Williams made his pledge to the Hawks while on an unofficial visit today to the West Long Branch, N.J. campus. He chose Monmouth over the University of Albany, which he last visited this past Wednesday, and also held a scholarship offer from Central Connecticut State (which currently has an offer to one of Williams' teammates, linebacker Kenneth Marshall).
[+] Enlarge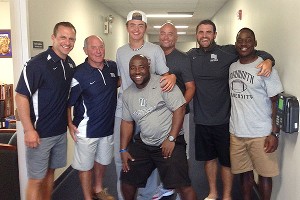 Chris WilliamsIt was all smiles in football offices at Monmouth after Springfield Central QB Cody Williams gave a commitment Saturday afternoon.
"The speed of the game is a lot faster to what they're building up to," Williams said. "They're building a new stadium, a lot of new additions to the school. They also have both majors I'm considering -- sport management, and physical education -- and Albany did not. Then they took me to the boardwalk down on the beach [on today's visit], they showed me all their apartment buildings on the beach, I fell in love right there."
As Williams sat in the office of head coach Kevin Callahan, about to conclude the visit, he whispered to his cousin, fellow 2014 prospect Ju'uan, that he wanted to commit. Ju'uan urged him to make his declaration right then and there, but Cody told the coaching staff he would give them an answer next Saturday.
Perhaps there is thanks due to Cody's father, Rich, who stayed behind in Callahan's office to continue talking with the Monmouth coaching staff as Cody and Ju'uan made their way down the hallway. Some five minutes later, Cody ran back into the room and gave his pledge.
"That was probably one of the greatest feelings in my life," Cody said. "I'm real excited, I don't have to think about it anymore. It was my gut feeling, I knew what I wanted to do. Now I can focus on winning a state championship."
Cody said Monmouth's plan for him "was the best plan I've heard from any college so far."
"They have two juniors right now [at quarterback] who are going to be seniors," he said. "They want me to redshirt my freshman year and then be a four-year starter as a freshman."
As a junior last fall, Williams led the Golden Eagles to the MIAA Division 1 West Super Bowl championship, shutting out nemesis Longmeadow in the title game. On the season he completed 64 percent of his passes for 1,797 yards and 20 touchdowns to just five interceptions.
Handing off to 1,000-yard rushers the last two seasons in Aaron Owens and 2011 ESPN Boston All-State selection Sacoy Malone, Williams hasn't had many opportunities to run with the ball. In Monmouth's currently system, a spread-based "Air Raid" attack that includes traditional rushes without any zone read or option, Williams will likely see more of a drop-back role -- though he feels he is capable of performing a dual-threat role if the situation calls.
"I guess people don't think I'm athletic because I don't showcase that at all," he laughed. "I ran a 4.6 40 down there [at Monmouth], and I did read option drills when I was down there, and they know I'm athletic enough to run their offense. I'm a drop-back passer, but if they want to introduce read option that's not a problem for me."
Monmouth is moving into the Big South Conference as a football-only associate member in July 2014. Over the next few seasons, the Hawks will begin series with Syracuse, UConn and Temple -- three other schools that expressed varying degrees of interest in Williams, but did not offer a scholarship at the time of his commitment.