D2 EMass: Mansfield 41, Waltham 0
November, 23, 2013
11/23/13
8:55
PM ET
By
Josh Perry
| ESPNBoston.com
LOWELL, Mass. –- Mansfield's offense scored touchdowns on its first six possessions and its defense allowed only three first downs in the game. The Hornets (10-0) cruised to a 41-0 victory over Waltham (8-3) in Saturday's Division 2 state semifinal at Lowell's Cawley Memorial Stadium.
Mansfield senior quarterback Kyle Wisnieski was the star again for the Hornets with three touchdown passes. Wisnieski finished 14-of-19 for 199 yards and three touchdowns. Two of those scores were to junior tight end Brendan Hill, who had six receptions for 124 yards. Senior running back Miguel Villar-Perez added 129 yards combined receiving and rushing.
Head coach Mike Redding believed that some of the momentum from the big win over Barnstable in the D2 South sectional final carried over into Saturday's defeat of Waltham.
[+] Enlarge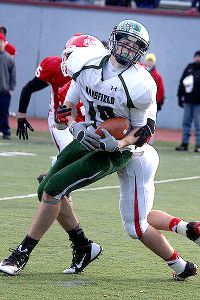 Ryan Lanigan for ESPNBoston.com Junior tight end Brendan Hill had six catches for 124 yards and 2 TDs as Mansfield easily dispatched Waltham in the D2 EMass Final.
He commented, "I think we've kind of been on a roll and, other than that little five-minute blip against Needham when they rallied back, we've played pretty dominating football in the playoffs."
It was not a perfect first half, despite the gaudy statistics. Mansfield converted a fourth down on each of its first two possessions and had several penalties that forced the Hornets into second or third and long.
Redding noted, "We overcame it but we're lucky that we've got skill kids that can make plays on second and 20 and third and 15 but we've got to clean up those unforced errors."
Wisnieski credited the experience of last season's run to the Super Bowl for the confidence to make plays in those situations.
"There's a lot of returning starters, so compared to last year when it's third and long now the coach has confidence in us," he explained. "Coach Redding always comes out with a good play call and we just have to execute."
The game started poorly for the Hawks. Waltham fumbled the opening kick-off but recovered on its own 18 and on third down fumbled a pitch, which forced a punt from inside its 10. The punt into the wind was fair caught at the Waltham 33.
After a first down and a five-yard run, the Hornets had the ball at the 17-yard-line. A pair of incomplete passes gave Redding a decision and the coach called timeout to go for it on fourth down. Wisnieski hit senior receiver Michael Hershman for the first down. On the next play, Perez appeared to cross the goal line, but it was ruled a fumble and Hershman dove on the loose ball to make it 7-0.
On its second possession, Wisnieski was sacked for a loss of 10, but on the next play hit Perez on a perfectly executed throwback screen to get the first down. After Perez lost five yards on a third and two, the Hornets again faced a fourth down inside the Waltham 20, but Wisnieski hit Hill for 14 yards. Two plays later he hit him for 10 yards and a touchdown.
After Alex Ruddy capped off an eight-play, 52-yard drive to make it 21-0. Wisnieski went back to work. He hit Hill on down the sideline for 31 yards and then two plays later on third down and goal from the 14, he found Perez with a pass that dropped in behind the safety to make it 28-0.
On the next drive, Wisnieski was called for intentional grounding that created a second and 17 at the Waltham 39. After a nine-yard completion to Hershman, he picked out Hill across the middle and the tight end broke a couple of tackles before angling to the sideline and getting a crunching block from Hershman before diving into the end zone.
"Just the physical match-up," Redding said. "He's 6-foot-5 and most of these kids are 5-foot-9, 5-foot 10, 5-foot-11 and add just how athletic Brendan is and how he can jump and it's a tough cover for anyone."
Redding added that Hill is beginning to pick up additional yards after the catch, which makes him an even bigger threat on offense. He remarked, "The big thing with Brendan that we don't get a lot is those yards after the catch. Today he fought hard and got us some extra yards after the catch. For a big kid he's very athletic."
The Mansfield offense looked unstoppable, but the Hornets defense was equally impressive in the first half, allowing just a solitary first down and bottling up Waltham's mobile quarterback Dana Parello. The senior finished with 13 yards on 10 carries; was 2-9 passing for 33 yards; and was intercepted once (by Aurian Dawkins).
"It just felt like the quarterback was the key. He was going to pull and keep a lot, so we really zeroed in on him," said Redding. "Our defense early in the year was the question mark. Could we stop people? The second half of the year that question has been answered; we can stop just about anyone."
With the big lead early in the second half, Redding decided to rest most of his starters in the third quarter. Chris Buchanan tacked on a sixth touchdown on the opening possession of the second half to make it 41-0 and led to wholesale changes for Mansfield.
The Hornets are back in the Super Bowl after losing to Reading last season at Bentley. Wisnieski says the team is ready for the challenge at Gillette Stadium.
He remarked, "We knew we had a tough division to get out of and we knew that, if we could get out of that then we would have a good chance...I was devastated last year and I don't want to kiss another one away."