Football snapshots: Preseason contenders
September, 4, 2014
Sep 4
4:33
PM ET
The 2014 high school football season is finally upon us. As we enter our fifth season of high school football coverage for ESPN Boston, we unveil our fifth annual gallery looking at some of the top teams around the state. From the farms of Dudley to the bridges of the Cape Cod Canal, we stretched far and wide this summer for a series of photo shoots. Here are the teams for this year's gallery: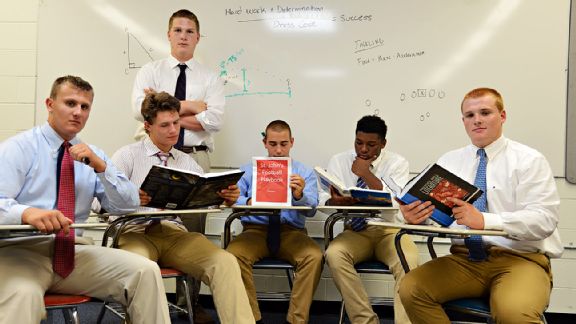 Brendan Hall/ESPNBostonST. JOHN'S (SHREWSBURY): No. 5 Pioneers have been busy drawing up "The Winning Formula". This could be one of their most talented squads in years, between BC-bound safety Davon Jones (sitting, 2nd from right), QB/RB Sean Ragan (standing).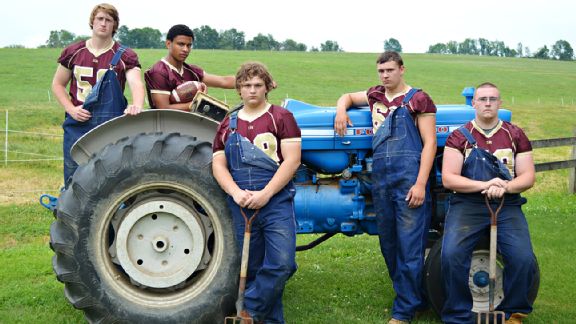 Brendan Hall/ESPNBostonSHEPHERD HILL: Led by guard Chris Lindstrom (2nd from right), No. 8 Rams are "Country Strong", boasting one of state's largest offensive lines. Behind QB Drew Jean-Guillaume (2nd from left), they'll also have one of the fastest backfields across D4.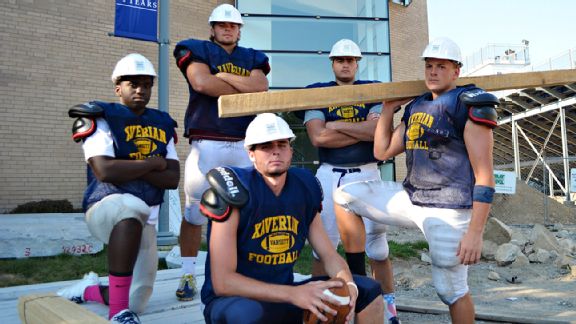 Scott Barboza/ESPNBostonXAVERIAN: The No. 1 Hawks made an appearance at Gillette Stadium last year in the D1 championship, but senior captains (clockwise from left) Ernest Simon, Noah Sorrento, Joe Gaziano, Kenny Kern and Jake Farrell want to make sure the ending's different.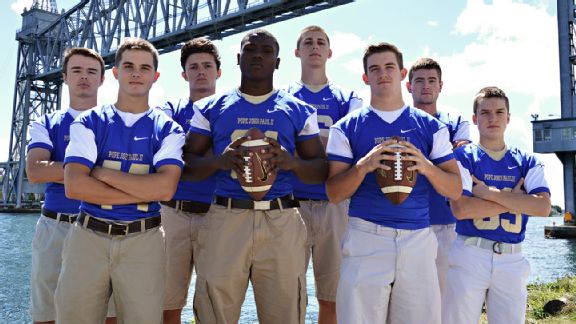 Brendan Hall/ESPNBostonPOPE JOHN PAUL II: Between RB Diego Meritus (4th from left) and QB Ryan Barabe (4th from right), Lions should have one of the best offenses among lower divisions. They figure to be a state title favorite in 2014.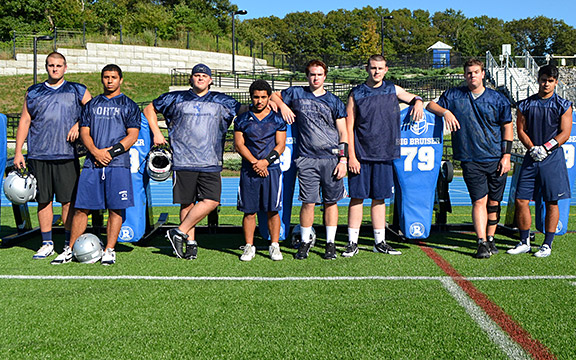 Scott Barboza/ESPNBostonPLYMOUTH NORTH: Behind a school record-setting rushing performance from Christian Carr, No. 19 Plymouth North made an appearance in the D3 Southeast final. The new year that finds the Eagles in a new conference (Patriot), but expectations remain high.
Brendan Hall/ESPNBostonDENNIS-YARMOUTH: Michael Dunn (center, holding ball) will follow in his Super Bowl-winning cousin's footsteps by taking over at quarterback, looking to lead the No. 12 Dolphins to a return trip to Gillette after reaching last year's D4 State Final.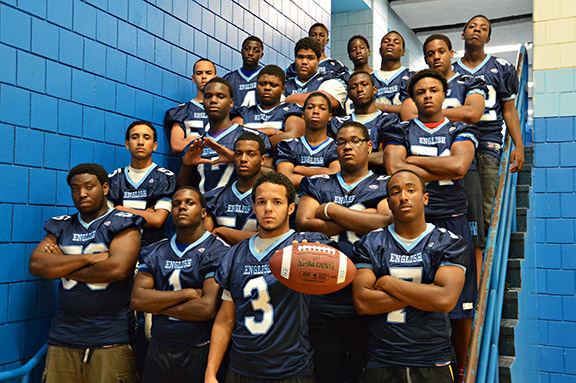 Brendan Hall/ESPNBostonBOSTON ENGLISH: One of the nation's oldest public high schools has found new energy under second-year coach Brian Vaughan. Led by QB/DB Emmanuel Almonte (holding ball), the Bulldogs beat Boston Latin last Thanksgiving for the first time in 15 seasons.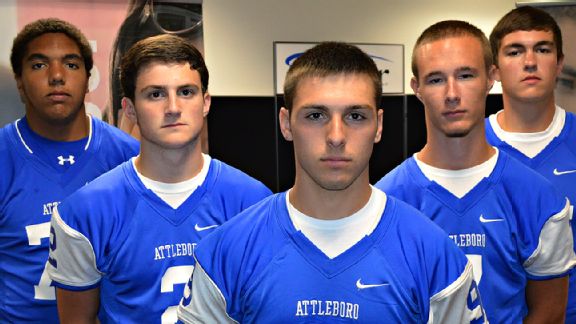 Scott Barboza/ESPNBostonATTLEBORO: Blue Bombardiers have rekindled thoughts of championships in the "Jewelry City." Behind captains (l-r) Kyle Murphy, Brendan Massey, Matt Elliott, Nick Desmaris and Nick Christensen, No. 18 Attleboro hopes to make a return visit to the playoffs.