Boston High School:

A.J. Pettway
February, 9, 2014
Feb 9
10:39
PM ET
By
Andy Smith
| ESPNBoston.com
LAWRENCE, Mass. -- It was the perfect response at the absolutely perfect time in the game.

With a minute and a half left in Sunday matchup between No. 9 Central Catholic and No. 12 St. John's Prep, Prep's Kareem Davis drained a three-pointer from the right wing to tie the game at 57. On the ensuing Central possession, Tyler Nelson came down the floor and hit a pull-up three to give his team the lead back and drain any momentum Prep had.

A minute later, Prep senior Max Burt hit a three from the left wing to cut the lead to two points. Prep chose to foul Central big Aaron Hall to make him shoot two free throws. As the Eagles hoped, he missed both. At the other end of the floor, Prep missed two shots and Central's Nick Cambio came down with the rebound. With 1.5 seconds left on the clock, the senior co-captain hit one of two free throws to make it a three-point game.

Prep threw a last-ditch deep inbounds pass, but Hall came down with it to run out the clock. Central held on to win 63-60.

"This is a very intense rivalry, but it's a respected rivalry," said Central (14-4) coach Rick Nault. "We have other rivalries where there is feelings involved, but this one is out of mutual respect. They're extremely well-coached, always classy kids, who always play the game the right way. We've had some really classic games the past 5-6 years and tonight was another one."

Central started the first two quarters slowly, falling behind by as many as 10 points before increasing its intensity and execution. It ended each quarter down three and four points, respectively.

"We needed to talk more and have more communication on defense," said Cambio (21 points, 10 rebounds). "We needed to rebound better and get tougher. We needed to get down and play defense as a team, and we did that."

Central was having trouble defending Davis (14 points). On one possession midway through the second quarter, Davis dribbled the ball on the wing and waited for the offense to spread the floor. When it was set, he beat his man off the dribble and attacked the basket. At the hoop, he left the ball off for Mike Bisson (9 points, 13 rebounds) for an easy layup.

With both teams having already punched their tickets to the postseason, there is a possibility both team's can play again this season. Cambio welcomes the challenge.

"I hope we see them in the playoffs, to be honest," he said. "I really want to play them in the playoffs and have another battle. I love playing them. It's always big to play St. John's Prep. We always love beating them and they always love beating us, so when we get to play each other, it's going to be a big game no matter what."

Post-Up Success: In the first half, Central made a concerted effort to work the ball into the post to Cambio and Hall, but were not having much success. Either the entry passes resulted in turnovers or Prep had it so well defended that Central could not get a quality shot off.

In the second half, Central found more success with its ball movement and Princeton offense with Cambio. The Prep (13-4) defense was overcommitting to the swing passes and was focused on taking away any potential perimeter shot. This left Cambio open on the low block multiple times.

"What happens is the defense always focuses on Tyler, and the only person that can help on that play was Nick Cambio's man," said Nault. "We got it three or four times in the second half. If you sag off and go to help on Nick on the backdoor cut, we have Ty open, which we got a few looks out of that as well."

Matching Expectations: Early in his high school career, Tyler Nelson had a reputation as a long-range shooter who played mostly on the perimeter. Now, because most of the state knows of his proficiency, every team puts their best defender on him every game. He has had to find more ways to get open and figure out what to do with the basketball when he has it.

That was exemplified three times in the second half of Sunday's game on when he came down with a rebound, turned, and hit A.J. Pettway with an outlet pass for an easy layup.

"In the second half, they did a lot better job of picking me up when I got the ball in transition, so that kind of opened things up for A.J.," Nelson said. "They kind of sagged and focused on me, Nick (Cambio), and Aaron (Hall), so for them to leak out for layups, it just happened to be there."

He finished the game with 20 points and seven rebounds.

With the graduation of last year's starting point guard, Lucas Hammel, Nelson has had the ball in his hands more this season. For a player that thrives playing off the ball and coming off screens to create his own shot, he has had to become more of an all-around scorer instead of being simply a jump shooter.

"He is a scorer, one of the best that we've had," said Nault. "He gets to the lane and creates fouls and finds others. Down the stretch, we got a few baskets from Nick Cambio because all the attention was on Tyler, so he makes the assist for an easy layup. Right now, he's just playing at a different level than he was even six or seven games ago."

He had nine points going into halftime, but found ways to get open and help his team in the second half. He was also a perfect 8-for-8 from the free throw line in the game. Central has more youth in its backcourt this year than it has been used to in recent years, so Tyler is relied on to score in big spots in the game, and Sunday was no different. When his team needed a basket towards the end of the game, he drained the decisive three.

"First half, he was struggling a little, but Tyler always comes through and always pushes himself and always ends up hitting shots in the second half," said Cambio. "That helps us a lot."
January, 11, 2014
Jan 11
1:41
PM ET
ANDOVER, Mass. -- ESPN Boston High Schools editor Brendan Hall breaks down all the action from last night's sold out contest at Dunn Gymnasium, where No. 12 Central Catholic got revenge on No. 4 Andover for last month's upset, setting up a highly-anticipated rubber match next month.

(Video by Cam Farnham)


January, 11, 2014
Jan 11
12:06
AM ET
By
Mike Abelson
| ESPNBoston.com
ANDOVER, Mass. -– Sometimes, the sequel doesn't live up to the original.
After Andover beat rival Central Catholic by four in the Commonwealth Motors Classic two weeks ago, the hype leading up to the rematch last night at Dunn Gym was huge.
The gym was packed midway through the junior varsity game, and Central made sure the home fans were silent before the fourth quarter even began. The Raiders held Andover to just 12 points in the second half and cruised to a convincing 58-37 win.
"We're a defensive team," Central coach Rick Nault said. "We were embarrassed by our effort on December 28. We made it a point to come out and do what we do and we defend. We might not be the most smooth offensive team, but we defend at a high rate."
[+] Enlarge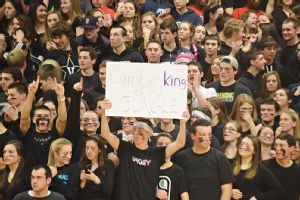 Brendan Hall/ESPNTyler Nelson scored 11 of his 13 points in the second half to spark Central Catholic, who held Andover to 12 second-half points.
Andover's E.J. Perry IV and Connor Merinder each had 11 points, but the rest of the team combined for just 15. Central's guard rotation of Tyler Nelson, A.J. Pettway, Alec Buresh, Kevin Fernandez, and Alex Santos wreaked havoc all night on defense. Santos marked Andover star David Giribaldi whenever both were on the floor. Giribaldi had seven points, his second-lowest point output of the season.
Central led from the tip but couldn't pull away in the first half. Seven-point leads would dwindle to two, be blown out to eight, and shrink back to three. Andover shot 9-of-11 from the free throw in the first half to keep it close, but the offense was out of sync from the start.
"We were too many individuals; we didn't play team basketball," Andover coach Dave Fazio said. "I think everybody put a lot of it on their own shoulders, didn't trust each other. We didn't make shots. When you miss shots you start pressing, and every shot becomes a little more difficult. We didn't work cohesively together offensively. You've got to make shots to win games."
With Central leading by four with 4:55 left in the third, the Raiders scored six points in 71 seconds to open up a 10-point lead. The Warriors were never able to close the gap back down.
Nelson, who was held silent for much of the first meeting, solved Andover's diamond-and-one defense on him in the second half and pumped in 11 of his 13 points in the final 16 minutes. His first field goal of the game ignited Central's run in the third quarter.
"It's frustrating when they play the box-and-one because you're taken out of the game no matter what you do, no matter how many screens you get," Nelson said. "I talked to coach and came up with the gameplan to be a distributor tonight and then I knew later in the game I'd get my baskets eventually. I always score in games; I'm a scorer so it's what I do. Early in the game I just tried to be a distributor and get the guys the ball because that was where the advantage was."
Nick Cambio had another stellar game at center, pumping in 17 points, pulling down nine rebounds, and registering a pair of blocks. He also altered numerous shots when Andover's guards drove the lane.
"Defensively we put the 2-3 zone on them," Cambio said. "We threw everything we learned in practice at them and it worked very well."
The rubber match will be Feb. 13 at Central Catholic.
CAN'T HOLD HALL BACK
As the center, Cambio almost always draws the attention of the opposition's best big. That leaves Aaron Hall room to roam and do damage. The 6-foot-6 senior was matched up against a rotating corps of Andover guards and torched them to the tune of 15 points, seven rebounds, and a block.
"I thought tonight we really utilized Aaron Hall," Nault said. "He matched up with one of their guards. We play with two big guys and we have a mismatch in that post area. We went there early tonight. That was the key for us.
"I thought he was huge tonight. I thought he had a lot of big rebounds. It seemed like every time we needed a big play off the boards he was the guy. We've been pushing him in practice and he stepped up tonight."
On the defensive end Hall matched up against Merinder, Perry, and senior John Pisacreta, and was up to the task despite playing against three different playing styles.
"He's the best defender on our team," Nelson said. "He always covers the other team's best player. He was huge for us."
Fazio said that playing against a player like Hall poses a matchup nightmare.
"You've got to kind of mix it up," Fazio said. "When your four man is six feet and their four man is 6-7 you've got to kind of mix it up a bit."
December, 29, 2013
12/29/13
2:07
AM ET
By
Mike Abelson
| ESPNBoston.com
NORTH ANDOVER, –- Andover's David Giribaldi said he felt magic in his hands before the final of the Commonwealth Motors Christmas Classic against rival Central Catholic.

For 32 minutes, he put on a show of slight of hand that mesmerized the over-capacity crowd at Merrimack College's Volpe Athletic Center. Giribaldi pumped in 27 points to lead Andover past Central, 72-68, in the finals of the Commonwealth Motors Classic.

"I knew coming into it I'd have a pretty good shooting day," Giribaldi said. "I felt like it was my time to shine."

Giribaldi exploded for 12 points in the third quarter, including seven points over three straight possessions. Giribaldi led the way for a showcase night for Andover's shooters.

Seniors Ben Brown and John Pisacreta rose to the occasion when their number was called. Brown scored 12 points and pulled down three rebounds. Pisacreta scored six points, including four free throws to seal the win, but his biggest role was running the point and setting the pace of the offense.

"Everything they do contributes," Giribaldi said of Brown and Pisacreta. "Having them is key. They're all the reason I did well."

Central romped early, scoring the first eight points, but a timeout by Andover's Dave Fazio turned the game around. Andover came out of the break and finished the final six minutes of the quarter on a 22-5 run.

"We just got together and said we've got to get the nerves out," Andover's Connor Merinder said. "Once we did that we were able to play the game we wanted to."

Andover's box-and-one defense shut Central's Tyler Nelson for long chunks of the game. The Fairfield-bound Nelson was held to four points in the first half and 11 for the game. That opened the door for Kevin Fernandez and A.J. Pettway to step up.

Fernandez finished with nine points, and Pettway had 12 on four arching rainbows form three-point land.

"When you rely so much of your offense on Tyler Nelson and the team is doing a good job of shutting him down you have to do different things," Central coach Rick Nault said. "For two young guys they have a lot of confidence and I think it shows well for our future. But we're not playing for our future; we're playing for now. We're a highly-considered team throughout the state and we're playing to win this year. We expect them to make plays for us; that's why they're in there."

Andover opened up a 16-point lead midway through the second half, but the Raiders clawed back and closed the gap to a point before Andover opened the gap back up to nine and held on.

A major part of the comeback was the massive game from Nick Cambio. The senior forward shouldered the load for Central putting up a double-double with 26 points and 13 rebounds. He also had two steals.

"When you go box and one on Nelson you've got to give up something and Cambio got us a bit," Fazio said. "We ended up a bit of matchup man-on-man at the end of it."

Nault said that he liked Cambio's performance and wants to see him repeat it more often.

"He had a good second half; he's a key guy for us," Nault said. "To be honest, I think we need more from him. We need more scoring, more rebounding. I know he played very well tonight, but that needs to be consistent. Nick's a guy that we count on for so much, and have for the last few years, and now it's time for him to be the senior captain and to shine."

Merinder had the task of matching up Cambio and he had a solid game with 11 points and eight rebounds.

EJ'S DAY
It was E.J. Perry's first ever Andover-Central game. No one would have blamed the freshman if he had clammed up in the moment. But when the lights got bright EJ got loose.

Perry started the game and netted 14 points in the win. His 11 first-half points were key in Andover opening up it's big early lead.

Perry's coaches and teammates couldn't heap enough praise on the young guard.

"We tell him every game: he's one of the best players we have," Merinder said. "We tell him it doesn't matter who we're playing, play the same way and get those nerves out of the way."

"He's fearless," Fazio said. "We love him to pieces. We're not afraid to go to them. That's what you need against Central."

"I thought he did awesome," Giribaldi said. "He's a freshman coming in, playing in this crowd. He's good. He's going to be good."

Perry himself said that the feeling was hard to describe.

"It was awesome; unbelievable," Perry said. "The excitement, the adrenaline going through my body was unbelievable."

AN ANSWERED PRAYER
Up six with the first quarter winding down, Andover's Gabriel Hernandez threw up a last gasp shot at the horn from 50 feet.

The ball ripped the twine and sent the Andover faithful into madness. Merinder laughed and it was one of the coolest things he's seen.

"It was the greatest thing ever," Merinder said.