Boston High School:

Aaron Hall
February, 28, 2014
Feb 28
11:38
PM ET
By
Andy Smith
| ESPNBoston.com
LAWRENCE, Mass. -- It had everything one would expect from a state tournament game: intensity, physicality, and a touch of last minute heroics.

With 30 seconds to go and the score tied at 48, Central Catholic's Tyler Nelson came off a perimeter screen and knocked down a three-pointer to put his team ahead.

Coming out of a timeout, Cambridge's Isiah McLeod hit a quick layup to cut the lead down to one. After another timeout, Central inbounded the ball to Nelson, who was fouled. He hit both to make it a three-point game.

Cambridge had one last possession to tie the game. It looked to get the ball to Demetrius Woodson, who had already hit three three-pointers in the second half. Fredens Deneus held the ball, waiting for Woodson to get open. As he struggled to find space, Deneus threw the ball into the backcourt where it was picked up and dribbled away by Central's Nick Cambio. The clock ran down and Central came away with a 53-50 victory to move on to the Division 1 North semifinals.

"We knew it was going to be an incredibly tough game and we knew it was going to be a physical game," said Central Catholic coach Rick Nault. "Fortunately for us, we made some nice plays at the end with Nick Cambio (13 points) and Tyler Nelson (27 points, 7 rebounds), our two captains carrying us in key moments of the game.

"They've been through these wars before, they've played in big games, and they've been through the tournament runs so we rely on them to make plays when the game is on the line, and they absolutely did that tonight."

The game was back and forth the entire night. Even going into halftime, Central (19-5) had a two-point lead, but Jakigh Dottin (13 points) hit a runner in the lane to tie it at 18 going into the break.

Cambridge (16-6) took the lead midway through the fourth quarter when a Deneus steal lead to an easy layup for McLeod (13 points) at the other end. Central answered with a basket of its own on its next possession.

The two teams traded free throws until Nelson his a three from the right corner to make it 47-44. McLeod was fouled driving to the basket, so he went to the line and made both free throws to cut the lead down to one.

The teams each took turns at the free throw line, seemingly losing that physical let-them-play the referees allowed earlier in the game.

Aaron Hall, Central's starting center, fouled out of the game with 57 seconds to go. Deneus made one of two free throws, but Dottin got the rebound and a outback to tie the game at 48.

Nelson hit the three-pointer and Central is on to the semi-finals.

Cambio comes through: Cambio was held scoreless the entire first half, which is uncommon. Usually, Central looks to establish he and Aaron Hall (8 points, 4 rebounds) early in the paint with various post-ups and pick and roll actions. In the first half Friday, he was not allowed to establish position in the post and his team's offensive performance suffered because of it.

Nault tried to light a fire under his co-captain at halftime, and the senior responded with a 13-point second half.

"We had a little talk at halftime and challenged him to be more assertive and stop fading away," said the coach. "It seemed like in the first half, he seemed very tentative and fading away and taking jumpers. We told him you have to dominate that paint in the second half and he absolutely did that."

Central opened the second half with Cambio isolated on the low block against Deneus (2 points, 12 rebounds). He received entry passes from the guards and either challenge his man one-on-one or pass out and look for a better opportunity. It helped that the referees were allowing each player to attempt to establish position underneath, which lead to a physical battle for paint supremacy.

"I missed every single shot I took in the first half," said Cambio. "At halftime, he gave it to me and got me going a little. I just had to go out and execute for my team because I was not losing this game tonight."

Rematch with Prep on tap: Central moves on to play St. John's Prep in the semifinals of the Division 1 North tournament. It is another rematch from the regular season. In the first meeting on Feb. 9, Central won 63-60 in a hotly-contested thriller. This time the game will be played on a neutral floor where the loser's season ends.

"Next game is going to be a crazy game, I can't wait for it," said Cambio. "It's going to be a battle. Harder battle than this game, I can tell you that."

St. John's Prep defeated Lowell Friday, 74-67, for the right to advance.

"We've beat them before, but we can't go into the game saying hey we beat them, so we're going to beat them again," said Nelson. "We know we have to prepare. They have a grew starting five, they have a great bench. They're well-coached. We really have to come out and play better than we did tonight."
February, 16, 2014
Feb 16
9:50
PM ET
By
Andy Smith
| ESPNBoston.com
LAWRENCE, Mass. -- The entire momentum and complexion of the game changed in an instant.
For 3-1/2 quarters, No. 9 Central Catholic was trying to keep up with No. 14 BC High. It could never get a lead of more than one point before BC High tied the game or took the lead back. That is, until Nick Cambio completed an and-one play to put his team up by three. Two possessions later, he was stationed on the low block anticipating a pass. After getting the feed from Tyler Nelson, he elevated and threw down a tomahawk dunk in traffic that brought Central Catholic's entire gymnasium to life.
[+] Enlarge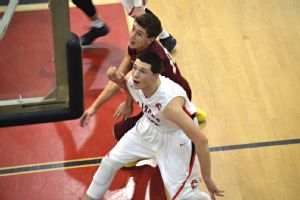 Brendan Hall/ESPNBoston.comA fourth-quarter dunk from Nick Cambio (15 points, 9 rebounds) changed the entire complexion of the game for Central Catholic.
From there, Central went on to win 59-54 in the opening round of the President's Day Roundball Classic.
"I saw a guard getting into the paint, and I knew the bottom guy in the defense was going to hedge up, so I was just waiting for the pass," said Cambio (15 points, 9 rebounds). "I was setting myself up for the dunk. That was probably one of the hardest dunks I've thrown down in a game. It felt good."
Central (16-4) struggled early on to establish any offensive consistency against the BC High (12-6) defense. The Eagles switched between a box-and-one, 2-3, and 1-3-1 zones all to make sure it could at least contest any Central shot while also making sure it was in a quality position for defensive rebounds.
It held Tyler Nelson, Central's sharpshooting senior guard, to 10 points in the first half. Central was able to solve the zones in the second half and he finished the game with 27 points and 3 rebounds.
"They're an outstanding defensive team and they take you out of what you want to do," said Central Catholic coach Rick Nault. "I thought we made some adjustments after the half and got Nick (Cambio) involved a lot more. He was a lot more aggressive, and Tyler got going a little bit."
With about three minutes to go, Nelson hit one of his three three-pointers from the left corner to put his team up by six points. For the next two minutes, BC High battled to try and close the lead, but Central kept it a multi-possession game.
With 23 seconds left, BC High's Isaiah Bowman (14 points) drained a three-pointer from the left wing to cut the lead to three. Coming out of a BC High timeout, Central inbounded the ball to Tyler Nelson, who drained both free throws. Ten seconds later, Jack Loughnane (7 points, 4 rebounds, 3 steals) put back a rebound and hit the ensuing foul shot to make it 53-51. Again, Central was able to inbound the ball to Nelson, who put the game out of reach with more free throws.
Well-rounded scoresheet:
It was a game where everyone had to contribute for Central Catholic, not just the usual suspects. With BC High playing a box-and-one to take away Tyler Nelson, he was quiet for a majority of the first half. This put the onus on the other starting guard, Alex Parent, to make something happen with the ball in his hands. He turned the ball over six times Sunday.
The team turned to freshman Kevin Fernandez for stretches, and the freshman responded with seven rebounds and two steals off the bench while adding energy to an offense that needed it in the second half.
"He had great energy," said Nault. "He came up with a few steals and we got transition points out of it. I thought he defended very well. He's a kid that, as a freshman, can challenge bigger players. They went with three bigs tonight against us and they tried to attack with that. With Kevin in there, it's hard to post him up because he's such an aggressive kid. I thought he was a difference for us defensively."
Fernandez started the season in Central's starting lineup but has transitioned into a roll off the bench. It allows him to play with the natural energy and quickness he has without putting the stress on him to have to be the team's main ball handler as a freshman.
"He's huge for us," said Nelson. "He's a young kid, he just turned 15. For him to play like that, he steps up a lot. When we have another guard like that playing at that level, it makes us a lot better, so we need that going forward.
Also contributing big minutes off the bench was junior Pat Sullivan. With Cambio on the bench early in the first half with two fouls, the team's only experienced bigs were Sullivan and Aaron Hall. Hall picked up his fourth foul with 6:34 left in the fourth quarter, which brought in Sullivan. He had to play large portions of the game because Hall picked up fouls at inopportune times.
Hall contributed seven points and nine rebounds in the game.
Championship Final set:
Central will play No. 7 Cambridge Rindge & Latin Monday in the championship game of the Roundball Classic at 7:30 p.m. The Falcons defeated New Bedford, 74-46, in the first game of the tournament. Central Catholic's team and coaching staff were in the gym watching the first half of the game, so they got an up close and personal view of what challenges Cambridge will bring Monday.
"Phenomenal," said Nault. "They're long, talented, athletic. They play hard. Everyone is good off the bounce. It's going to be a great challenge for us. I can't tell you many games where we've played in our home gym and we're underdogs. I told my guys I think we're going in as underdogs tomorrow."
They are a team that likes to push the pace, just like Central, which could make for an up-and-down kind of game. It could also mean each team will look to slow down the other, which would create a type of game almost no one expects from those teams.
"I think we'll match up a little better than we did today against BC High's three bigs," said Nelson. "I think they play three, maybe four guards, and one big guy, which is better for us. But it's not really about matchups at the end of the day, it's how you play as a team."
February, 9, 2014
Feb 9
10:39
PM ET
By
Andy Smith
| ESPNBoston.com
LAWRENCE, Mass. -- It was the perfect response at the absolutely perfect time in the game.

With a minute and a half left in Sunday matchup between No. 9 Central Catholic and No. 12 St. John's Prep, Prep's Kareem Davis drained a three-pointer from the right wing to tie the game at 57. On the ensuing Central possession, Tyler Nelson came down the floor and hit a pull-up three to give his team the lead back and drain any momentum Prep had.

A minute later, Prep senior Max Burt hit a three from the left wing to cut the lead to two points. Prep chose to foul Central big Aaron Hall to make him shoot two free throws. As the Eagles hoped, he missed both. At the other end of the floor, Prep missed two shots and Central's Nick Cambio came down with the rebound. With 1.5 seconds left on the clock, the senior co-captain hit one of two free throws to make it a three-point game.

Prep threw a last-ditch deep inbounds pass, but Hall came down with it to run out the clock. Central held on to win 63-60.

"This is a very intense rivalry, but it's a respected rivalry," said Central (14-4) coach Rick Nault. "We have other rivalries where there is feelings involved, but this one is out of mutual respect. They're extremely well-coached, always classy kids, who always play the game the right way. We've had some really classic games the past 5-6 years and tonight was another one."

Central started the first two quarters slowly, falling behind by as many as 10 points before increasing its intensity and execution. It ended each quarter down three and four points, respectively.

"We needed to talk more and have more communication on defense," said Cambio (21 points, 10 rebounds). "We needed to rebound better and get tougher. We needed to get down and play defense as a team, and we did that."

Central was having trouble defending Davis (14 points). On one possession midway through the second quarter, Davis dribbled the ball on the wing and waited for the offense to spread the floor. When it was set, he beat his man off the dribble and attacked the basket. At the hoop, he left the ball off for Mike Bisson (9 points, 13 rebounds) for an easy layup.

With both teams having already punched their tickets to the postseason, there is a possibility both team's can play again this season. Cambio welcomes the challenge.

"I hope we see them in the playoffs, to be honest," he said. "I really want to play them in the playoffs and have another battle. I love playing them. It's always big to play St. John's Prep. We always love beating them and they always love beating us, so when we get to play each other, it's going to be a big game no matter what."

Post-Up Success: In the first half, Central made a concerted effort to work the ball into the post to Cambio and Hall, but were not having much success. Either the entry passes resulted in turnovers or Prep had it so well defended that Central could not get a quality shot off.

In the second half, Central found more success with its ball movement and Princeton offense with Cambio. The Prep (13-4) defense was overcommitting to the swing passes and was focused on taking away any potential perimeter shot. This left Cambio open on the low block multiple times.

"What happens is the defense always focuses on Tyler, and the only person that can help on that play was Nick Cambio's man," said Nault. "We got it three or four times in the second half. If you sag off and go to help on Nick on the backdoor cut, we have Ty open, which we got a few looks out of that as well."

Matching Expectations: Early in his high school career, Tyler Nelson had a reputation as a long-range shooter who played mostly on the perimeter. Now, because most of the state knows of his proficiency, every team puts their best defender on him every game. He has had to find more ways to get open and figure out what to do with the basketball when he has it.

That was exemplified three times in the second half of Sunday's game on when he came down with a rebound, turned, and hit A.J. Pettway with an outlet pass for an easy layup.

"In the second half, they did a lot better job of picking me up when I got the ball in transition, so that kind of opened things up for A.J.," Nelson said. "They kind of sagged and focused on me, Nick (Cambio), and Aaron (Hall), so for them to leak out for layups, it just happened to be there."

He finished the game with 20 points and seven rebounds.

With the graduation of last year's starting point guard, Lucas Hammel, Nelson has had the ball in his hands more this season. For a player that thrives playing off the ball and coming off screens to create his own shot, he has had to become more of an all-around scorer instead of being simply a jump shooter.

"He is a scorer, one of the best that we've had," said Nault. "He gets to the lane and creates fouls and finds others. Down the stretch, we got a few baskets from Nick Cambio because all the attention was on Tyler, so he makes the assist for an easy layup. Right now, he's just playing at a different level than he was even six or seven games ago."

He had nine points going into halftime, but found ways to get open and help his team in the second half. He was also a perfect 8-for-8 from the free throw line in the game. Central has more youth in its backcourt this year than it has been used to in recent years, so Tyler is relied on to score in big spots in the game, and Sunday was no different. When his team needed a basket towards the end of the game, he drained the decisive three.

"First half, he was struggling a little, but Tyler always comes through and always pushes himself and always ends up hitting shots in the second half," said Cambio. "That helps us a lot."
January, 11, 2014
Jan 11
1:41
PM ET
ANDOVER, Mass. -- ESPN Boston High Schools editor Brendan Hall breaks down all the action from last night's sold out contest at Dunn Gymnasium, where No. 12 Central Catholic got revenge on No. 4 Andover for last month's upset, setting up a highly-anticipated rubber match next month.

(Video by Cam Farnham)


January, 11, 2014
Jan 11
12:06
AM ET
By
Mike Abelson
| ESPNBoston.com
ANDOVER, Mass. -– Sometimes, the sequel doesn't live up to the original.
After Andover beat rival Central Catholic by four in the Commonwealth Motors Classic two weeks ago, the hype leading up to the rematch last night at Dunn Gym was huge.
The gym was packed midway through the junior varsity game, and Central made sure the home fans were silent before the fourth quarter even began. The Raiders held Andover to just 12 points in the second half and cruised to a convincing 58-37 win.
"We're a defensive team," Central coach Rick Nault said. "We were embarrassed by our effort on December 28. We made it a point to come out and do what we do and we defend. We might not be the most smooth offensive team, but we defend at a high rate."
[+] Enlarge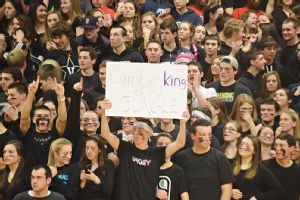 Brendan Hall/ESPNTyler Nelson scored 11 of his 13 points in the second half to spark Central Catholic, who held Andover to 12 second-half points.
Andover's E.J. Perry IV and Connor Merinder each had 11 points, but the rest of the team combined for just 15. Central's guard rotation of Tyler Nelson, A.J. Pettway, Alec Buresh, Kevin Fernandez, and Alex Santos wreaked havoc all night on defense. Santos marked Andover star David Giribaldi whenever both were on the floor. Giribaldi had seven points, his second-lowest point output of the season.
Central led from the tip but couldn't pull away in the first half. Seven-point leads would dwindle to two, be blown out to eight, and shrink back to three. Andover shot 9-of-11 from the free throw in the first half to keep it close, but the offense was out of sync from the start.
"We were too many individuals; we didn't play team basketball," Andover coach Dave Fazio said. "I think everybody put a lot of it on their own shoulders, didn't trust each other. We didn't make shots. When you miss shots you start pressing, and every shot becomes a little more difficult. We didn't work cohesively together offensively. You've got to make shots to win games."
With Central leading by four with 4:55 left in the third, the Raiders scored six points in 71 seconds to open up a 10-point lead. The Warriors were never able to close the gap back down.
Nelson, who was held silent for much of the first meeting, solved Andover's diamond-and-one defense on him in the second half and pumped in 11 of his 13 points in the final 16 minutes. His first field goal of the game ignited Central's run in the third quarter.
"It's frustrating when they play the box-and-one because you're taken out of the game no matter what you do, no matter how many screens you get," Nelson said. "I talked to coach and came up with the gameplan to be a distributor tonight and then I knew later in the game I'd get my baskets eventually. I always score in games; I'm a scorer so it's what I do. Early in the game I just tried to be a distributor and get the guys the ball because that was where the advantage was."
Nick Cambio had another stellar game at center, pumping in 17 points, pulling down nine rebounds, and registering a pair of blocks. He also altered numerous shots when Andover's guards drove the lane.
"Defensively we put the 2-3 zone on them," Cambio said. "We threw everything we learned in practice at them and it worked very well."
The rubber match will be Feb. 13 at Central Catholic.
CAN'T HOLD HALL BACK
As the center, Cambio almost always draws the attention of the opposition's best big. That leaves Aaron Hall room to roam and do damage. The 6-foot-6 senior was matched up against a rotating corps of Andover guards and torched them to the tune of 15 points, seven rebounds, and a block.
"I thought tonight we really utilized Aaron Hall," Nault said. "He matched up with one of their guards. We play with two big guys and we have a mismatch in that post area. We went there early tonight. That was the key for us.
"I thought he was huge tonight. I thought he had a lot of big rebounds. It seemed like every time we needed a big play off the boards he was the guy. We've been pushing him in practice and he stepped up tonight."
On the defensive end Hall matched up against Merinder, Perry, and senior John Pisacreta, and was up to the task despite playing against three different playing styles.
"He's the best defender on our team," Nelson said. "He always covers the other team's best player. He was huge for us."
Fazio said that playing against a player like Hall poses a matchup nightmare.
"You've got to kind of mix it up," Fazio said. "When your four man is six feet and their four man is 6-7 you've got to kind of mix it up a bit."
March, 27, 2013
3/27/13
8:15
PM ET
By
Brendan Hall
| ESPNBoston.com
Some final thoughts as we put a close on the 2012-13 high school basketball season...
***
A FLU SHOT HE'LL NEVER FORGET
After committing to Vanderbilt last August, Lynn English's Ben Bowden told ESPNBoston.com he was
leaning towards not coming back out for basketball his senior yea
r, saying "it delayed my pitching", that he lost "alot of interest" from some colleges "because I didn't throw hard as they wanted me to."
"I'm leaning that way so I can be fully prepared, because we've got the [MLB] draft and everything," Bowden told us at the time. "Where it's at right now, I don't see myself playing. But it was fun while it lasted."
Bowden, a 6-foot-4 lefty flreballer, is one of the state's most heralded prospects following his junior season, which started with a perfect game against Marblehead and ended with a spot on ESPN Boston's All-State Team and whispers of draft potential. He was 10 minutes away from spending his winter in the gym sharpening his craft, on his own; but a chance encounter on the first day of basketball tryouts changed all that.
The school was conducting flu shots that day, and the location just happened to be near basketball coach Mike Carr's office. As Bowden's girlfriend was getting her shot, Carr light-heartedly ribbed him about spurning one last winter with the team. After Bowden wished Carr good luck and the two parted ways, Bowden bumped into a half-dozen Bulldogs players, who gave him even more ribbing.
Bowden went home, thought about it, and by 5 p.m. had changed his mind.
And boy, was he glad. The Bulldogs captivated the City of Lynn over the second half of the season and throughout their sudden run to the MIAA Division 1 North finals, with Bowden starting at power forwrad, drawing fans from all four of the high schools to come see their wildly-entertaining brand of run-and-gun. He called the Bulldogs' wild 94-87 win over Everett in the D1 North semifinals "the best atmosphere I've ever played in any sport", and doesn't regret a minute of his time this winter.
"It got me into very good shape, obviously I have no regrets at all," he said. "Even if I got hurt, I wouldn't have regretted playing at all. It was an awesome experience."
Vandy head coach Tim Corbin encourages multi-sport activity out of his high school recruits, a sentiment many high school baseball coaches support for a multitude of reasons -- primarily, that it encourages competitive spirit, and also works different muscle groups to keep the body in prime shape.
Carr heavily emphasized conditioning this year with his team, concluding practice each day with a grueling 10-minute session up and down the school's four flights of stairs, and it's paid off for Bowden. Headed into his first start of the spring, currently slated for April 10, he says this is the "best I've ever felt going into a baseball season."
"I feel my legs are stronger, I'm pushing off the mound better," Bowden said. "My core has gotten stronger. Everything we did for basketball has helped me in a positive way for baseball."
Talking about keeping his arm loose, he added, "I feel the best I've ever felt going into a baseball seasons, and I think it's because I've lost quite a bit of weight. I'm feeling a lot better and a lot lighter, and also because I was throwing more...By the time baseball started [this season] I was on my seventh week of throwing. I was a lot more ready than I was in any other season. I was smart about my decision to play basketball because I knew I had to get throws in."
As basketball becomes more individualized at younger and younger ages in this AAU-ized era of specialization, we sometimes forget that these sports can bleed into each other. Notre Dame hoop coach Mike Brey first heard about Pat Connaughton after a tip from the Irish's baseball coach. Soccer prowess helped Danvers' Eric Martin and Melrose's Frantdzy Pierrot become more elusive runners in the open floor. And some are quietly wondering if football may end up being the meal ticket for Wakefield super-sophomore Bruce Brown, who excels with the Boston Amateur Basketball Club (BABC) but also turned in a pretty nice campaign last fall at wide receiver. Same with another budding BABC star, Brendan Hill of Mansfield.
Unless you're one of the top players in the country at your position, I'll never understand why some physically-mature high school guards don't at least give an additional sport a try -- but that's a probably a topic for a whole other day. Know that for as much accolades as we've all poured on English's talented trio of guards, Bowden may have played the most important position of all -- the Joey Dorsey, the rock-solid post player down low counted on for rebounds that can keep possessions alive, and facilitate a whip-quick fast break going the other way.
And to think, if his girlfriend hadn't gone to get a flu shot that first day of tryouts, we might be talking about a whole different story in Lynn.
***
MORE THAN JUST 'WANTING IT MORE'
You have to think long and hard to find the last time a kid in the Merrimack Valley Conference went from benchwarmer on one team in one season, to league MVP on another team the next.
Chris Bardwell's transformation from garbage-time go-getter at Central Catholic in 2012 to an ESPN Boston Super Team selection at North Andover in 2013 is one that will be held up as a model example of will power. At least, that was the rhetoric being told this winter -- that if you want it bad enough as Bardwell, if you train hard enough, you can make the jump.
Sure, some of this transformation has to do with the mental element. But Mansfield wanted it just as bad as Putnam in the Division 1 state title game, and was unable to prevent the Beavers from continuously leaking out for some uncontested fast break points. Scituate wanted to just as bad as Brighton in the Division 2 Eastern Mass. title game at the Garden, but couldn't cleanly escape on-ball pressure from Nate Hogan long enough to prevent Malik James' last-second heroics.
I think of Bardwell -- also a lefty pitcher with reportedly mid to high-80's velocity -- and I think back to my first months at ESPNBoston.com, in the summer of 2010, when St. John's Prep star Pat Connaughton was one of the hottest names nationally on the recruiting front. In basketball, he was an ESPN 100 prospect with a lengthy list of suitors east of the Mississippi. On the mound, he was an overpowering righty with first five round potential, named by
Baseball America
as one of the nation's top 100 high school prospects.
Connaughton had big hype, and in turn put in a legendary summer workout regimen to back it up, sometimes putting in eight hours of training a day -- quite literally, treating it like a 9-to-5. After signing with Notre Dame, the results spoke for themselves -- a state championship, All-State recognition in both sports, and a Day 3 selection by the San Diego Padres.
OK, so Bardwell's not Connaughton. The point is, situations like Bardwell's are the product of both opportunity and preparation, and all that will power is for naught if you're not training right. Bardwell came into the last offseason more determined, but he also upped his daily cardio, played more basketball, and changed his diet, cutting out junk and carbonated beverages and increasing his protein intake. Training for both basketball and baseball certainly helped him stay sharp.
Let's not forget had Bardwell stayed at Central, he would have been battling for playing time among a deep stable of forwards, duking it out with the likes of Doug Gemmell, Nick Cambio, Joel Berroa and Aaron Hall. At North Andover, he could fit in snugly as a terrific compliment to one of the state's best bigs in Isaiah Nelsen -- though in the end, obviously, Bardwell turned out to be the star of the show.
Success stories come from anywhere. Just take a look at another former Central Catholic baseball product, Dennis Torres, who was cut four times by the varsity during his high school years yet was drafted by the Orioles last June after walking-on at UMass.
Like Bardwell, he wanted it badly. Clearly, Torres was sick and tired of being sick and tired. But as usual, it's never as simple as pure will power and mental maturation. There's a method, and Bardwell played it right.
***
RE-BIRTH OF THE RUN?
When you think of the MIAA's most dominant running teams of the 21st century, there are two programs that come to mind. One is the Charlestown juggernaut of the early 2000's, ranked nationally by USA Today and led by electric scorers like Rashid Al-Kaleem, Tony Chatman, Ridley Johnson and Tony Lee. The other is Newton North, winners of back-to-back D1 state titles behind one of the East Coast's best backcourts in Anthony Gurley and Corey Lowe.
Not about to call it a renaissance, but if there's one thing I'll take away more than anything else from this MIAA season, it's the return of quality running teams to the upper echelon. The two best running teams we saw this season represented two different styles.
There was Lynn English, pushing a white-knuckle pace, using more than 15 seconds of the shot clock only sparingly, and blitzing the opposition coming the other way with in-your-grill, full court man-to-man pressure. It took about half a season for Mike Carr's unique system to click -- but once it did, they were firing on all cylinders. The Bulldogs' backcourt of Freddy Hogan, Stevie Collins and Erick Rosario was as good as any in the state the second half of the season, with the former two earning ESPN Boston All-State honors earlier this week.
With just one real post pivot, senior Ben Bowden, the Bulldogs relied on their guards to generate transiton by forcing turnovers, sometimes flat out ripping the ball out of players' grips for easy fast break points. Carr's emphasis on conditioning was well-known, the the Bulldogs never looked tired.
Many will point to Central Catholic's stark rebounding advantage as to why they were able to lay a dump truck on English in the D1 North Final (they held a 28-7 advantage at the half), but -- follow me here -- that was practically by design. The Bulldogs flat out bailed on offensive possessions once the shot went up, surrendering the advantage and forcing Central's guards to make plays (they did, and did often).
That philosophy stood in contrast to what I felt was the state's best running team this year, Division 1 state champion Putnam. They seemed to play a physical brand of basketball in the City of Springfield this year, and nobody exemplified this better than the Beavers, who made up for lack of height with plenty of linebacker-like bulk in forwards KayJuan Bynum and David Murrell, both ESPN Boston All-State selections.
Throughout the season, Putnam coach William Shepard demonstrated enough faith in Bynum and Murrell's ability to get defensive rebounds that the Beavers' guards could continually leak out of possessions early to get fast break after fast break (Bynum and Murrell combined for 11.4 defensive rebounds, and 19.6 overall, per game this season). When an opposing team's shot went up, guards started strafing up the sidelines in anticipation of a long outlet pass. This led to a slew of production in the D1 state title game from guards Ty Nichols, Dizel Wright, Ki-Shawn Monroe and Jonathan Garcia.
Best of all, these two squads return a ton of talent to keep them in Top 10 consideration for the next two seasons. Both teams must find a replacement for their best big (English with Bowden, Putnam with Bynum), but feature a slew of talented backcourt and wing players to keep the tempo frenetic and the opposition uncomfortable.
***
INTERVIEWS OF THE YEAR
My personal favorites for interviews of the year. First, the short category...
And now, the long category...
***
WILL JACK EVER COME BACK?
After Brighton won its first ever state title, Bengals coach Hugh Coleman held court in the media room at the DCU Center, dedicating the state title trophy and season to his lifelong mentor, legendary former Charlestown boss Jack O'Brien.
Anyone familiar with the bond between O'Brien and Coleman knows it is strong. O'Brien came into Coleman's life at a very hectic time -- being born when his mother was 20, becoming the man of the house at just 6 years old, and watching a number of his family members get rung up on drug arrests. He was under supervision of the Department of Social Services when he first met O'Brien as a freshman at Charlestown in 1993.
O'Brien is probably most known for his run of five D2 state titles in six seasons from 1999-2005 at Charlestown, and Coleman was an assistant on the last three. It's worth noting the 2003 squad, which Coleman's brother Derek captained, was the last squad to win both a city and state championship before Brighton did it this year.
"The way Jack O'Brien came into my life...He never recruited me, no one ever said I was going to Charlestown, I ended up going there by chance, he ended up going to Charlestown and it was special," Coleman said. "I lucked out and got the Brighton job four years ago. I probably wasn't supposed to get it, but I did. A lot of people recruited him out of middle school to go to different schools, but he ended up at Brighton with me. So I think that's such a great blessing. I'm glad that I've been able to be a part of his life, and him a part of my life. He's made me a stronger person and I hope that I was able to rub off on him. He led us to victory this entire season, including today.
"I definitely want to dedicate this to Jack O'Brien. He should be coaching. He should be coaching, and I have no idea why he's not coaching in the state of Massachusetts. In my opinion, he is the best coach in the state of Massachusetts. He is, and not just because he won games. He changed the lives of so many of us young men at Charlestown during that time. We went on to go to college. We went on to be great men, fathers, husbands, and you know what? It's because of what he helped us do from the inside out. He helped us to be great men.
"I'll be honest with you, I coach and I took the coaching job because he's not coaching. I couldn't allow that to...When they said he couldn't coach, or they wouldn't allow him to coach for whatever reason, I said I've got to keep the legacy going. He's healthy, he's a 10 times better man, whatever lesson I guess he was supposed to learn. It's a shame he's not coaching, because he is all that and then some."
Wherever he has gone, O'Brien has had dramatic results, producing McDonald's All-Americans at Salem High and nationally-ranked squads at Charlestown. But he has remained out of coaching since his 11th-hour departure from Lynn English hours before the first practice of the 2006-07 season. His name has been linked to jobs throughout Eastern Mass. over the years, most notably Somerville in 2008, but it's unclear when he'll return to coaching.
Still, with 400-plus wins, six state titles, some of the Bay State's most captivating running teams of the last quarter-century, and his age (he just turned 55 last month), there remains faith that he will turn up somewhere. Just where is anyone's guess.
***
HALL'S TOP 10 FOR 2013-14
1. Mansfield
Hornets lost just one senior from their 2013 Division 1 state championship run and return the most talent of anyone in the state, including reigning Hockomock MVP Brendan Hill. A healthier Michael Hershman should bolster an already-deep lineup featuring Rocky DeAndrade, Michael Boen, Ryan Boulter, Kevin Conner and Kyle Wisniewski.
2. Lynn English
The returning backcourt of Freddy Hogan, Stevie Collins and Erick Rosario, along with wing Danny Lukanda, makes this team a preseason Top 5. Key will be the development of promising 6-foot-6 sophomore Johnny Hilaire, whose pogo-like leaping ability has begun to draw comparisons to former All-Stater Keandre Stanton.
3. St. John's (Shrewsbury)
Pioneers return arguably the state's best backcourt in Davon Jones and Adham Floyd, along with a dynamic frontcourt of T.J. Kelley, Drew Vittum and Charlie Murray. Next year gets interesting in D1 Central, with stalwarts such as Franklin, Westford and Acton-Boxborough joining the fray.
4. Central Catholic
A returning core of Tyler Nelson and Nick Cambio makes the Raiders one of the premier perimeter teams in Eastern Mass once again. Six-foot-6 junior Aaron Hall has big shoes to fill in the frontcourt, with the graduation of center Doug Gemmell.
5. Brookline
If all goes as planned and everyone returns, you're looking at a coach's dream. Elijah Rogers is a virtuoso at the point, and a supporting cast of Obi Obiora, Anthony Jennings, Tyler Patterson and Mark Gasperini makes them a formidable foe on size and skill alone.
6. Springfield Putnam
Beavers stand a legitimate chance at going back-to-back as D1 state champs as long as they can find an able replacement for graduating senior post KayJuan Bynum. By season's end this was the best running team in the state –- who knows what another season of David Murrell, Dizel Wright, Jonathan Garcia, Ty Nichols and Ki-Shawn Monroe will bring?
7. Brighton
All signs point to Malik James having played his last game as a Bengal in the state championship game, but freshman Javaughn Edmonds shows promise to potentially fill the point guard role. Should All-State forward Nick Simpson return, you're looking at a front line of Simpson and 6-foot-5 sophomore Jason Jones that is as good as any across Division 2.
8. Melrose
Scary as his junior season was, reigning Middlesex League MVP Frantdzy Pierrot could turn in an even more monstrous senior campaign in 2013-14 for the Red Raiders. With realignment shifting many teams in the North, and a quality stable of underclassmen led by freshman point guard Sherron Harris, next year is as good a time as any to strike.
9. Wakefield
Sophomore Bruce Brown is expected to return next season, and that alone makes the Warriors a favorite in D2 North. The question will be whether they can turn their early-season promise into deep playoff production, and whether they can get past the semifinal round.
10. Springfield Central
The Golden Eagles are not without talent, with one of the state's most promising big men in sophomore Chris Baldwin. The question will be if the guards and forwards can get on the same page, and we think after some growing pains this year, cousins Ju'uan and Cody Williams will make this team sharper coming off a disappointing Division 1 state title defense.
Others to watch:
Acton-Boxborough, Andover, Braintree, Boston English, Catholic Memorial, Danvers, Haverhill, Holyoke, New Bedford, New Mission, Newton North, St. John's Prep, Wachusett, Watertown
March, 5, 2013
3/05/13
11:37
PM ET
By
Andy Smith
| ESPNBoston.com
LAWRENCE, Mass. -- For the past two weeks, there has been a reemergence of the Central Catholic team most prognosticators expected to be a serious contender for the Division 1 Massachusetts State Championship.

It has been the team that shocked the state back in January when it came within four points of beating national power St. Anthony (N.J.) in a game it was not expected to win.

Tuesday, Central continued its run by beating Merrimack Valley Conference foe Andover 61-48 to advance to the Division 1 North final Saturday.

Central (20-5) smothered Andover (16-7) defensively, forcing 19 turnovers and holding it to 10 points in the entire first half. Its only points in the quarter came on a David Giribaldi (15 points) three-pointer.

"They totally took us out of everything we were trying to do," said Andover coach Dave Fazio. "We couldn't turn the corner, couldn't make shots. You'd figure with the season that we had that we wouldn't play tentative, but their defense just locked us down. We couldn't get to the rim, we couldn't make shots, it was just a tough, tough night at the office."

Conversely, everything seemed to go well for Central. It got scoring where it needed it (31 points from Tyler Nelson), rebounded well (20 combined rebounds from Joel Berroa, Aaron Hall, and Mike Barry), and got quality defense (4 steals by Nelson, 3 blocks from Hall).

"I've had a lot of great wins in my short seven years, had state championship wins, tournament wins, conference wins, but this might be one of the best wins we've ever had," said Central coach Rick Nault. "I don't know how many teams in the state can be without two of their top four players and win three games in the tournament and beat a team that just beat the No. 1 seed. For me, in my eyes, this is one of the great wins I've had in seven years."

Hall fills role: Since two of Central's five starters, Doug Gemmell and Nick Cambio, have been out with injuries, the team has relied on 6-foot-6 junior Aaron Hall to fill one of its starting forward positions. The team is used to playing without Gemmell -- who suffered a concussion earlier in the season, and is now dealing with a recurrence of symptoms -- but it is not used to playing without Cambio. The junior injured his hamstring in a Feb. 20 loss at Lowell.

Hall and Joel Berroa (11 points, eight rebounds) were tasked with defending Andover's post pair of Sam Dowden and Connor Merinder. To say they succeeded would be an understatement, as they held them without a point each in the first half, and they finished with 12 and 1 point respectively. Eight of Dowden's points came at the free throw line.

"We said to Joel that it was going to come down to who wins the battle of the two forwards, him or Dowden," said Nault. "Is he going to outplay Dowden? If he does, we're going to win. Or is Dowden going to get the better of him? If he does, we're in trouble. Without Nick and Doug, Joel has to do so many more things than he's used to doing, and he won that battle tonight."

Hall may not have lit up the scoresheet (seven points, six rebounds, three blocks), but he made life difficult inside for Andover. Its guards had difficulty finishing at the rim off the dribble, and Dowden was unable to muscle his way around the post like he wanted to. Because they were unable to work the ball inside effectively, it had to rely on outside jump shooting to score, and it was one of those nights where the shots were just not going in.

"People don't give him enough credit," said Nelson. "He plays his heart out, he really does. He boxes out, rebounds, does all the little things for us. He was a key player for us tonight. We wouldn't have played as well as we did the last three games of the year if it wasn't for him playing and rebounding as well as he is right now, especially with Doug and Nick out."

As the games continue, the stage is getting bigger and bigger, but Hall is showing no signs of inexperience or nerves.

"I know I just have to push, even if I'm tired, just give 110 percent the whole time," he said. "If you don't, it could be your last game, and you just have to try hard."

Rapid Rebound: It is strange to believe a team can cruise through a state sectional tournament with two of its starting five gone with injuries, but that is what Central has done so far this postseason. When it was without Gemmell in February, it had its ups and downs, most notably a 22-point loss to Lowell 8 days before the tournament started. But now here it is, one win away from a sectional title and three wins away from a state championship.

How?

"I don't really have an answer for that," Nelson said. "My best guess would be that we're just playing really hard right now and real good team basketball. That's what's making us win and score a lot of points. We're all working hard, especially on defense. A lot of our defense is causing a lot of offense, and me, Joel, and Lucas are playing really well together. Every guy that plays is stepping up right now."

Nault credits focus and intensity for his team's recent performance.

"We're fighting and clawing every possession, and I think it showed that in the first half tonight," he said. "Every possession, you have to fight and claw. You have to bump guys, be active, you gotta be talking. We've got to bring everything we can to the table every defensive possession, without those two guys, our two bigs."

Embracing Hostility: Tyler Nelson has long drawn the ire and attention of Andover's fan section, nicknamed "Jack's Jungle". Such was the case Tuesday night, when they got into a tit-for-tat throughout the game. Any prolific scorer on any team is bound to hear chants of things like "Overrated!" when they walk into opposing gyms, but it is up to the player on the court to acknowledge them.

During one possession in the first half, Nelson was standing on the wing, directly in front of the Andover student section. After receiving a pass, he drove to the basket and hit one of the few fallaway jumpers he hit throughout the game. When the shot went in, he turned around, looked at the fans, said something, and ran back up the floor with his palms up.

He even heard negative chants later in the game, after Central had pulled away. When the game was over, he acknowledged he takes those chants and taunts and helps him use them to fuel his play.

"I definitely use it as fuel," he said. "The first two times we played them, especially the first time, I didn't have too good of a game and I got an "overrated" chant. So I kind of kept that in the back of my memory, and I made sure I got my revenge back in the end."

Saturday Showdown: With the win, Central Catholic moves on to face Lynn English Saturday at the Tsongas Center for the Division 1 North title. The two teams did not play during the regular season, but English did play in the IAABO Board 130 Classic, which Central hosted. There, Nault was able to get a glance at his future opponent.

"They're a very good defensive team, they trap all over the place," he said. "The last time we played them in the Tsongas Arena, we got whacked, back in 2009. We have to prepare for them. They have a very athletic group, with two big guys up front, so it's going to be an absolute challenge for us."