Boston High School:

Aaron LeClair
October, 5, 2013
10/05/13
12:05
AM ET
By
Chris Bradley
| ESPNBoston.com
BOSTON -- It sure wasn't the cleanest of games, but BC High Coach Joe Gaff expressed how happy he was with his team nonetheless.

"We might have something special going here," Gaff said to his team in the huddle following their 6-0 victory over seventh-ranked Brockton, a victory where his Eagles (2-2) held Brockton (2-2) to 112 yards from scrimmage and got several fourth-down stands.

The Eagles were the beneficiary of a dropped Brockton pass in the endzone in the first quarter, a play that would have given the Boxers the early lead they may very well have lasted the rest of the game. A scoreless game at halftime, the Eagles were in desperate need for a big play when Ismail Asongwed came up with a fumble recovery on a dropped fair catch by Brockton in the third quarter.

"Any time you have a close game, special teams plays a big part of the game," Gaff said. "We work very hard at our special teams around here, that's a huge part of it, and today it really helped us. The kickoff team deserves a lot of credit."

Brockton's Aaron LeClair was back to return the punt, called for a fair catch, but the ball bobbled out of his hands and rolled backwards towards the Brockton end zone. Asongwed swooped in and picked up the fumble, returning it to the Boxers' 15 yard line.

"I think [Asongwed] is an underrated player. His speed, his physicalness, he's smart and studies the game -- he's fast, and he plays the game pretty physical," Gaff said. "He's really stepped up for us on coverage, we've put him on guys one-on-one tonight. But that punt coverage was huge tonight."

A delay of game call on BC High almost ruined their redzone opportunity before it really got started, but the Eagles were on the right end of a pass interference call in the end zone on third and 12. After getting the ball on the Brockton 2, senior captain Steve DiCienzo punched it in for the only touchdown of the game. After a bobbled snap, the score was 6-0 Eagles late in the third quarter.

Brockton, as they almost always do in close games, made a drive to the redzone to attempt a fourth quarter comeback. The Boxers got the ball all the way to the BC High 11, but the Eagles' defensive line came up with a huge stop on 4th and 1 to put themselves back in the driver's seat.

BC High had to punt only moments later, but the Boxers were unable to move the ball after another dropped punt return held them to their own eight yardline with under a minute to go.

It was two great programs tonight. We're still young, we're trying to find some things to work. It was just a great defensive battle back and forth. We made a couple mental mistakes that almost killed us, almost hurt us real bad, but you have to love the kids at BC High, they work hard all day in the classroom and then they come here and give us everything they have," Gaff said following his heartfelt postgame speech to his players.

The Eagles are playing good football, and are finally at full strength, at just the right time—they'll start their conference slate next week against Malden Catholic.

As shown tonight, the comeback of previously injured players like lineman Chris Solis, defensive end Connor Walsh, and linebacker Shane Libby gave the Eagles just the boost they needed to stop a tough Brockton rushing attack. A team who returned just two starters on each side of the ball, according to Gaff, continue to show they're getting better every week -- which is all the motivation Gaff and his young Eagles will need going into conference play.

"I don't think there's ever been an ugly win in my life, they're always hard to come by…these kids at BC High are unbelievable—wins are great, losses are tough, but we're here to help these kids and they reward us every day by giving everything they have."
September, 26, 2013
9/26/13
1:59
PM ET
1. SPECIAL TEAMS PLAYED A MAJOR FACTOR IN XAVERIAN'S 49-13 DRUBBING OF BRIDGEWATER-RAYNHAM, RETURNING TWO BLOCKED PUNTS FOR TOUCHDOWNSW, BUT A.J. KING (2 TDs) DIDN'T HAVE A BAD DAY EITHER. IS THIS XAVERIAN SQUAD CAPABLE OF ROUTINELY PUTTING UP BIG NUMBERS?

Brendan Hall, ESPN Boston High Schools Editor: If this were 2012, or any other recent year for that matter, I would lean towards labeling that game an anomaly. Xaverian squads typically aren't known for blowing up the scoreboard, instead moving the chains rather steadily behind a conservative multiple offense and relying on change-of-pace backs to grind out the tough yardage. I've been in this for 10 years, and this year's Xaverian team feels like one of the more unpredictable squads that I can recall. And when I say that, I mean you just don't know that they're going to throw at you. Certainly, Jake Farrell brings about an escapeability intangible they typically haven't had with quarterbacks, and there is some promising sophomore talent.

By the way, whoever the special teams coach is at Xaverian, give that man a raise. If you think the B-R game was an aberration, ask the BB&N coaches how their scrimmage with the Hawks went.

Scott Barboza, ESPN Boston High Schools editor: I know we all thought the Hawks' defense would be ahead of the offense entering the season, but this looks like a much-improved group thus far. I like the one-two punch Shayne Kaminski and Noah Sorrento provide in the backfield. They have some legit targets in the passing game with King and D.J. Sperzel and Jake Farrell has looked great at quarterback. If the offensive line keeps creating holes and pass protecting the way they have in the first two weeks, I don't foresee a slowdown.

John McGuirk, ESPN Boston correspondent: With the talent Xaverian has they should continue to put up decent numbers. They have four 'big' games left on the schedule in Barnstable, Brockton, BC High and St. John's Prep. All four of those programs are outstanding but all have issues on defense as well which should work in the Hawks' favor.

2. NASHOBA OWNS THE STATE'S LONGEST ACTIVE WIN STREAK (28 GAMES), BUT TWO TOUGH OPPONENTS LAY AHEAD IN WACHUSETT AND ST. JOHN'S OF SHREWSBURY. DO YOU SEE THE CHIEFTAINS MAKING IT TO 30 STRAIGHT?

Hall: Wachusett matches up evenly on paper with Nashoba, but watch out for St. John's. Andrew Smiley is heating up (380 passing yards the last six quarters), and the running game seems to be hitting a groove with St. Louis transplant Shane Combs taking over the feature role. The "blur" offense is a whirlwind to handle when all is going right, and you always have to watch where Davon Jones lines up. I see the Pioneers stopping Nashoba's streak at 29.

Barboza: I think it'll end at No. 29. The Chieftains will get by Wachusett, but I think the Pioneers' athletes, particularly on the perimeter, will prove too much to handle.

McGuirk: I see Nashoba reaching 30 straight wins. Wachusett is going through a down year, having already lost to St. Peter-Marian and Fitchburg. And what has been noted many times, St. John's biggest weakness the last couple of seasons has been its porous defense and inability to make tackles consistently. If you look past those next two games, the Chieftains will face a pair of unbeatens (Marlborough and Leominster). That is where the streak could possibly come to a close.

3. BETWEEN THE SUPERB STARTS FROM BROCKTON, TAUNTON, TEWKSBURY AND WESTFIELD, THE TRIPLE OPTION IS MAKING A COMEBACK. WHICH TEAM RUNS IT BEST?

Hall: It's tough to argue against Westfield's ridiculous numbers -- there are running backs that will go a whole season not putting up as many rushing yards as the Bombers have their first two games of the season. But it's hard to argue against Brockton's talent. Aaron LeClair and Jamal Williams get to the perimeter quick, and the Boxers can steamroll you inside with counters and dives. All four of these teams have a dynamic playmaker in the backfield -- LeClair, Tewksbury's Eddie Matovu, Westfield's Ben Geschwind and Taunton's Domingo Jenkins -- but I will give Brockton the edge here because of what they have in the trenches. Aaron Monteiro, the Boxers' prized prospect at 6-foot-5 and 290 pounds, is a road grader at left guard with a pretty high ceiling.

Barboza: As of right now, I don't see how you can argue with Westfield. The Bombers are running roughshod over opponents behind senior fullback Ben Geschwind. After running for 348 yards and six touchdowns as a team during last week's 49-20 win over West Springfield, Westfield has scored 109 points in two games, with Geschwind averaging more than 150 yards per game.

Josh Perry, HockomockSports.com: I can't say whether or not Taunton runs it better than other teams in the state, but I can say that the Tigers do make it look fun. With Gerald Cortijo and Steven Harrison giving star back Domingo Jenkins some help in the backfield, the Tigers have speedy and shifty runners. It's almost enough to make you forget just how good the ground game would have been without Jamal Williams' move to Brockton. Taunton's ability to run the triple option will of course get a much tougher test this week against King Philip and its strong defense, but the Tigers are unique among the other Hockomock teams and it can be fun to watch.

McGuirk: The way Westfield is dominating the competition (109 points in two games), I would say the the triple option is working best for them. They have the right personnel to execute it and coach Bill Moore is very good at putting the right players in place to keep it rolling effectively, especially his tandem of Ben Geschwind and Jake Toomey, who are both averaging over 10 yards-per-carry.

4. TWO OF THE MERRIMACK VALLEY CONFERENCE'S BEST SQUADS, CENTRAL CATHOLIC AND LOWELL, SURRENDERED A COMBINED 73 POINTS AGAINST NON-LEAGUE TOP 10 OPPONENTS LAST WEEKEND. ARE WE HEADED FOR ANOTHER SEASON OF HIGH SCORES IN THE MVC?

Hall: Tough to tell, because Tewksbury has more than pulled its weight in the defensive end so far. If there's one team that can avoid track meets, it's the Redmen. Everyone else, good luck. We anointed the MVC "Death By 1,000 Shallow Crosses" a year ago, and with the amount of spread offense and no-huddle tempo deployed in this league, we could very well be in for another season of Wild West scores.

Barboza: I'd take my chances with the defensive units of Andover, Central Catholic, Lowell and Tewksbury against just about any offense in the state, but what comes into play in the MVC is the teams' offensive style of play. With so many teams in its ranks adopting the spread offense, the big numbers put up seemingly on a weekly basis are more a function of the pace of the game, with shortened drives as opposed to rushing-oriented, ball-control styles of play. But as long as MVC teams continue to live and die by the sword (or the spread), I think we'll continue to see some lopsided numbers.

Mike Abelson, ESPN Boston correspondent: Yes and no. Central and Lowell, when the blur is working as advertised, can drop basketball scores on lesser teams because of the athletic talent. That being said, through three weeks there are only two MVC teams averaging 30 or more points. Central is one, and the other, North Andover, hasn't won a game. The only two remaining undefeated teams, Tewksbury and Methuen, are averaging 27 and 18 points a game, respectively, and winning games without all the flash and dash of putting up buckets of points. Yes, the MVC will have it's share of high-scoring contests (I'll put the over/under for Central-Chelmsford at 90.5), but it won't consistently translate to W's.

5. AFTER A ROUGH FIRST WEEK, HAS BARNSTABLE FIGURED IT OUT? CAN THEY KNOCK OFF NO. 1 XAVERIAN?

Hall: I feel like this is a sneaky good matchup. Let's not forget Barnstable was our preseason No. 12 before getting shell-shocked by Dennis-Yarmouth in the opening weekend. There is talent, between versatile athlete Hayden Murphy, shutdown corner Derek Estes and elusive scatback Justus Chafee.

Defensively, Barnstable typically likes to stretch vertically and keep everything in front of them, which can be a bad matchup against spread teams like Dennis-Yarmouth. Last week against BC High, they looked like they cleaned up a lot of their mistakes. Xaverian's offense, while a bit more creative, has some similarities to BC High's. Going the other way, the Red Raiders use some funky misdirection in the run game to prevent linebackers from filling gaps. On their first touchdown against BC, for instance, a receiver backpedaled off the line of scrimmage, feigning a bubble screen, putting several defenders on their heels as Chafee came up the gut on a zone read.

That kind of stuff can keep even the best defenses on their toes. Expect some fireworks, and some dynamic playcalling, in this one.

Barboza: This is a yes-and-no proposition to me. I think the Raiders righted ship after an embarrassing loss to Cape rival Dennis-Yarmouth in Week 1, going on the road to beat another Catholic Conference foe in BC High. But I think Barnstable would need to play a near perfect game, while forcing the Hawks into some turnovers in order to make it four straight defeats of an ESPN Boston No. 1 squad. I'm not saying it will not be a close game, I just like Xaverian a little bit more.

Perry: In a preseason roundtable, I said that Barnstable was a team that was getting overlooked because of the players that it lost from last year. I'll stick by that and say that the Raiders give Xaverian a run for their money. The No. 1 ranking has been more of an albatross than an honor this year, so I'll say that Barnstable has a good chance of causing the Hawks problems.

McGuirk: Barnstable is good but Xaverian is playing with a lot of confidence, especially following the huge win over B-R last week. The Hawks should take care of the Red Raiders who gave up 37 points to D-Y in Week One but did bounce back nicely last week against BC High.

Abelson: In Hayden Murphy I trust. In the ESPN Boston poll curse I believe. Barnstable, 27-21.

6. THE HOCKOMOCK LEAGUE'S KELLY-REX DIVISION MIGHT BE THE STATE'S MOST UNPREDICTABLE RACE THIS FALL. AS LEAGUE PLAY OPENS UP THIS WEEK, PROJECT YOUR CHAMPION AND DARK HORSE.

Hall: Mansfield was the prohibitive favorite in most minds heading into the season, and so far they've done little to suggest otherwise. Consider that nearly three weeks out from their shocking upset of Dunbar (Md.), the Hornets are still without five starters. They're already a dynamic offense, between quarterback Kyle Wisnieski, 6-foot-5 flex tight end Brendan Hill, and space-carving tailback Miguel Villar-Perez. Hard to go against that.

For dark horses, I like Attleboro. I think it's understated how big their line is, particularly at defensive tackle, and there are plenty of weapons on offense between quarterback Tim Walsh, tight end Luke Morrison and receiver Brendan Massey. This program has long been a sleeping giant, and new coach Mike Strachan has re-awakened those sentiments.

Barboza: All along, I've penciled in Mansfield as the team to beat in the Kelley-Rex. I believe they had the most complete group of talent on either side of the ball, and also had the most upside. The scary part is that, due to injury, the Hornets might not have yet hit their apogee and will continue to strengthen as the season progresses.

Now, for the sleeper, I know we've talked up Attleboro up a lot in the early going -- to the point that I really think they're a threat in Division 1 South. Seeing that the Blue Bombardiers are for real in the first two weeks of the season, I'm going to go with Taunton. I don't think Chris Greding has gotten enough credit for the job he's done turning around the Tigers program in short order. Of course, an infusion of talent led by Domingo Jenkins helps, but I wouldn't be at all surprised if Taunton knocks off one of the Hock's "Big Three" -- King Philip, Mansfield, North Attleborough -- at some point this season.

Perry: The favorite heading into the Hockomock League season is defending champions Mansfield and its new spread attack that takes advantage of its great weapons like senior quarterback Kyle Wisnieski and junior tight end Brendan Hill. Attleboro has gotten a lot of hype from media, me included, in the preseason as a sleeper in the Hock. A new coaching staff, a new field, and new schemes on both sides of the ball have made the Bombardiers a much more confident crew and better utilize the weapons that it has. The Bombardiers were only a few mental mistakes from beating Mansfield last season and Tim Walsh is on fire running the spread formation – watch out for Attleboro. Of course, watch out for KP, Franklin, and North Attleborough, too. It really is up for grabs

McGuirk: The Kelly-Rex Division is solid with four teams still unbeaten (Mansfield, Attleboro, North Attleboro and Taunton). When it is all said and done. I believe it will come down to Mansfield and North Attleborough for the title because of their high-octane offenses. Attleboro has to be considered the darkhorse here because of its stingy defense which could carry them through. It will be interesting to watch all four of these team beat up one another during the season and see who survives.
August, 29, 2013
8/29/13
11:49
PM ET
By
John Botelho
| ESPNBoston.com
BROCKTON, Mass. -- If his junior year was any indication, Brockton High's Aaron LeClair seems destined to be a breakout star for the No. 8 Boxers in 2013.

Last season, LeClair tackled many roles for the Big Three champs, seeing time as a running back, kick returner, punt returner and defensive back.

LeClair finished second on the squad in touchdowns with. He was second in rushing yards and total offense. The 5-foot-7, 175-pound running back averaged a whopping 7.17 yards per carry while rushing for more than 600 yards on 88 carries.

A shutdown defensive back for a stingy defense that led division one in points allowed, he pulled in two interceptions and led the team in pass defenses.

Electric as a return man, he averaged 23 yards per kickoff return, and an impressive 27 yards on punt returns -- including an 82-yard score against Pinkerton Academy.

"You look for guys like that, who are special, and try to get them every opportunity to take advantage of their talent," said coach Peter Colombo. "Everything starts with physical abilities like that.

"We saw Micah Morel really emerge as a senior last year, and Aaron shows all the same promise. He's already had two very good years and if he can take to the next level, it will be huge for us."

LeClair's stats hint toward the promise of a star year, almost as much as his bloodlines do.

"Aaron is the half-brother of the Thellens, Nate and Darren, who were tremendous players for us," said Colombo. "He shows the same kind of football intellect that both older brothers possessed, and both those guys had great college careers and had tryouts at the big level."

Before Nate played at Northeastern, and Darren at UMass, LeClair used to look up to both during their days playing at Marciano Stadium.

"I've always wanted to do it like them," LeClair said. "It would be great if I can follow what they did."

LeClair certainly will get ample opportunity to make his own name in a Boxers' uniform this season, as the Boxers graduated much of their production from an offense that rushed for 3,232 yards on 472 carries during their runner-up Super Bowl showing. Led by star quarterback Austin Roberts, the Boxers graduated players who combined on 390 of the carries and 2,396 yards on the ground.

While much of last season's talent were seniors -- the Boxers are replacing 18 starters this year -- LeClair proved to be one of the toughest to replace guys on the roster after he was inured in the team's Big Three-clinching win over New Bedford in week 10. LeClair wouldn't play another snap, making life easier on Brockton's opponents.

"I think people kind of forget about how much we missed him last year after the New Bedford game," Colombo said. "He was our second leading scorer behind Augie Roberts. I'm sure other coaches we played against were happy they didn't have to worry about him because he is a game-breaking type of kid."

Ready to shoulder the lion's share of the load, LeClair also doesn't plan to let the graduation of 18 seniors change the expectations for this year's team. In fact, he has a simple message for anyone who doubts whether or not Brockton can create another magical season.

"Just wait for the season."

BROCKTON AT A GLANCE
2012: 9-4, Div. 1 Super Bowl runner-up
Coach: Peter Colombo (11th season, 86-33-1)
Strengths: Running back, linebacker, offensive line
Weaknesses: Quarterback, Varsity experience
Key Returnees: Aaron LeClair, Sr. RB, 5-8, 170 lbs; Aaron Monteiro, Jr. OG, 6-5, 295 lbs; Kervin Jean-Claude, Sr. LB, 6-0, 210 lbs; Max Castor, Sr. TE/DL, 6-0, 200 lbs.
Outlook: The Boxers saw five players -- Austin Roberts, Micah Morel, Joe Previte, Anthony Davis and Ryan Kelley -- who saw some varsity time in all four years graduate off of last year's team, in addition to 18 starters. In 2013, they'll lean on guys like LeClair and Kervin Jean-Claude, who made significant impacts a year ago, to lead the way. "Kervin had a great year for us at linebacker," Colombo said. "He'll be called on to be a leader on defense. Aaron has played on both sides of the ball for two years now." Previte and Davis were both four-year starters on the offensive line, so filling those holes won't be easy. Colombo is happy to have Aaron Monteiro ready to fill one of the roles, and believes there is plenty of reason to feel that way. "He obviously has the size that will attract some attention for the next level, but he has very good footwork already too," Colombo. "We're hoping down the road to get something out of him on defense too, but right now he's going to play guard for us on the offensive line." Even after graduating so many guys, there's no reason to think this team can't return to the playoffs this year, and they should be among the favorites to win D1 South.
August, 27, 2013
8/27/13
2:02
AM ET
By
Brendan Hall
| ESPNBoston.com
BROCKTON, Mass. -- The No. 8 Brockton Boxers hosted No. 11 St. John's of Shrewsbury in their annual preseason scrimmage late Monday afternoon, at Marciano Stadium.

Since Brockton coach Peter Colombo and St. John's coach John Andreoli -- former teammates at Holy Cross -- began scheduling this yearly, it has become one of the most anticipated scrimmages of the preseason. In three 10-play series each of varsity on varsity, the Boxers scored twice while the Pioneers scored once.

A few notes and observations from Monday's scrimmage:

Ground and Pound: In last year's installment of this annual scrimmage, Brockton debuted a Georgia Tech-style "Flex Bone" scheme, a radical departure from the multiple offense the Boxers had been running for decades. But the look suited the exploits of tough-as-nails quarterback Augie Roberts very comfortably, and they put together one of the state's most fluid rushing attacks en route to the MIAA Division 1 Eastern Mass. Super Bowl.

There had been some light speculation during the offseason as to how much longer they would stick in the scheme, with Roberts graduating, but it looks like the Boxers are staying with it. Good thing, because it looks like they will be sharp once again, with Pat Burke assuming the reigns under center, fleet-footed seniors Aaron LeClair and Jamal Williams at the wingback spots, and promising sophomore Kerry Raymond at fullback.

"People thought we might have to abandon this when Augie left, but Pat's done a pretty good job with it," head coach Peter Colombo said. "He doesn't have to do everything Augie did, but spread it around."

By far, the most effective play was the "rocket toss", sending either LeClair and Williams circling in motion from the backside and pitching to them on the perimeter at full speed. The Boxers called the play three times on the first series, out of two-receiver sets, and gained a total of 52 yards.

Eventually, more ripples will be added as the new backfield pieces get accustomed -- Williams, for one, is already pretty familiar, having run a similar scheme at Taunton High last year.

"We've gotta be able to throw off of it, and do other things off of that," Colombo said. "We're just working on base stuff right now, but we'll add in some [more] throws, and some misdirection, and just keep getting better at it, because no matter how much ... it's hard to defend. It puts stress on them side to side, widen things out, and then we hit you in between. We'll see where it goes, but it's a good start with that."

The Boxers are hoping Raymond can provide a good counterpunch to the shifty LeClair and Williams. Already measuring 6-foot and close to 220 pounds, there are high hopes that he can be tough in between the tackles, and today's returns were encouraging. It's not every day you have a back this size in Brockton, which had Colombo recalling back to some of the most successful Brockton teams of the last few decades.

"He's a throwback to the Junior Penn, Darnell Campbell, Rudy Harris type of back," Colombo said. "Again, just a sophomore, so he's still just learning his plays. We've got him playing some fullback and some tailback, and I think at times he's confused about exactly what the concepts are. But with the ball in his hands, going north and south, he's a load, definitely.

Colombo added with a laugh, "He's not a fun guy to tackle -- not that I've ever tried, I'm just glad I don't have to. He's a big strong kid that we have to take advantage of."

Davon dazzles: One of the most interesting camp questions this preseason was where star athlete Davon Jones would line up on the offense. Jones, a starter at free safety since his freshman season of 2011, is already being hailed as one of the state's best defensive backs, named a Preseason All-State selection last week by ESPN Boston. Offensively, Jones is expected to have a bigger role this fall following the graduation of Shadrach Abrokwah at running back.

Today, Jones played wide receiver exclusively, mostly lining up opposite the strength of the formation in isolation, and he made several highlight-reel plays. On the fifth play of the first series, with his defender playing five yards off the line of scrimmage, Jones took one step forward and turned back to the line of scrimmage, where quarterback Andrew Smiley threw him a ball on the numbers. Jones turned back to his defender, shook his hips, and then juked another defender for good measure.

In the second series, Jones went deep down the left sideline on a go route, and Smiley delivered a deep ball towards his back shoulder. With a safety coming over the top, Jones looked back to the ball, turned mid-air, and acrobatically came down with the ball, his arms outstretched behind his head.

"He's always around the ball," Pioneers head coach John Andreoli said. "On both sides of the ball, he's an impact player that we need to have on the field. Offense, it's good to have him in the slot, open area, and we can get pretty good matchups against him."

Asked if Jones will stick at wide receiver, Andreoli said, "We like him there, because it gives us a matchup in space."

Monteiro shows promise: Right now, this is a young offensive line that is green with talent, breaking in a slew of new blood. But this is also a big line, consisting of tackles Dan Estrella (6-2, 235) and Sebastian Porter (6-2, 240), guards Aaron Monteiro (6-5, 290) and Junior Silva (6-0, 230), and center Terrence Thorpe (6-3, 240).

"The line is a work in progress, and they're working hard. I see definite hope there," Colombo said.

The Brockton coaching staff is especially excited about the potential of Monteiro, who showed flashes of potential in the run game, getting out into the second level, but also in the passing game. On the Boxers' second touchdown, a 40-yard strike from Burke to Watna Cunha, Monteiro initially chipped the nose guard in the gap to his right, then recovered and sealed off the defensive tackle attacking his outside gap.

Monteiro is an aggressive run blocker, but his technique is still raw. Right now, he plays a bit stiff, and has a tendency to over-extend himself. His intangibles, though, have plenty of folks in Brockton excited about what he could become.

"He's athletic for a big, big kid," Colombo said. "He plays basketball, so he's used to moving his feet. When he puts a year of experience under his belt, with another year in the weight room, I think he's a Division 1 prospect. We'll see what the other guys think, but certainly he's got the part you can't coach -- the frame, athleticism and the size to play at the next level."

Big hits: Of all the years St. John's and Brockton have been scrimmaging each other, this was one of the more intense meetings. There were plenty of loud, popping hits delivered on both sides; a brief scuffle also broke out in the end zone following a St. John's score, though no punches were thrown.

In the second series, Williams took a quick pitch on the perimeter and shuffled his feet, attempting to juke Jones. But Jones simply squared his shoulders and lunged at Williams' thighs, undercutting him with a loud pop. The next play, Brockton's Justin Ahanon took a swing pass in the flat, turned upfield and ran over Jones on his way to the sideline, one of the day's biggest hits, which fired up the Brockton sideline.

Then early in the third series, Brockton safety Devin Duarte read Smiley's eyes and picked off his pass over the deep middle. Duarte broke to the left sideline, picked up about 20 yards then lowered his shoulder to flatten a would-be Pioneers tackler.

Early rust, but passing marks for Smiley: First scrimmages never go smoothly, and Smiley -- a 2012 ESPN Boston All-State selection -- threw a bad pick early, his intended target having his back turned. But once he got going, he was accurate, hitting receivers in the flats and deep downfield for a number of positive gains. Smiley -- a Navy lacrosse commit -- is one of the state's most dangerous dual threats, and leads an offense that runs parallel to Oregon's "Blur" attack and last year led the state in offensive yards (442 yards per game). But today's gameplan did not call for him to run much.

"We had five sophomores on the offensive side of the ball today due to a couple guys being dinged up, but overall I thought he made some good decisions, threw some good balls," Andreoli said. "He got the ball to guys in space, and that's our offense. We didn't run it a lot today, but he's progressing right along nicely. Where he was now compared to a year ago at this time, he's a completely different player."

Combs comes through: Andreoli feels comfortable sticking Jones at wide receiver, and that's because the Pioneers have picked up a nice running back in junior transfer Shane Combs, who has moved into the area from St. Louis.

Combs took a vicious hit from Jonathan Deroulas on the second play of the day, stuffed on a dive up the middle after a minimal gain and his back looking like it got the worst of the collision. Looking dazed, Combs struggled to get to his feet, but he returned to the field two plays later and was serviceable the rest of the day.

He also scored the first St. John's touchdown, cutting back on an outside zone to the left and scampering 25 yards to paydirt.

"He sees the field pretty well, is able to run off blocks and change direction without really losing a step," Andreoli said of Combs. "And he can catch out of the backfield too, which is a really nice dimension for us."

Leg Up: Keep an eye on sophomore placekicker Ryan Clifford, who played for Brockton's soccer team last year and has an impressive boot. In the first series, Clifford attempted a 35-yard field goal that sailed wide left, but had plenty of distance.

Clifford is among a small minority of kickers in the MIAA that kick directly off the ground. High school rules allow for the ball to be elevated up to two inches off the ground on field goal attempts, and most kickers use some sort of platform.

"Eventually, I think he's a big strong kid who might play some tight end or some other position for us," Colombo said. "And he kicks off the grass. He's not used to using a tee, and as you saw that was plenty of distance. It's a nice weapon to have."
August, 21, 2013
8/21/13
6:03
PM ET
Brendan Hall
ESPN Boston High Schools editor
Best QB:
Cody Williams, Springfield Central
Best RB:
Johnathan Thomas, St. John's Prep
Best WR:
Brian Dunlap, Natick
Best TE:
Brendan Hill, Mansfield
Best OL:
Jon Baker, Millis/Hopedale
Best DL:
Jon Baker, Millis/Hopedale
Best LB:
C.J. Parvelus, Everett
Best DB:
Lubern Figaro, Everett
Best passing offense:
Natick
Best rushing offense:
St. John's Prep
Best offensive line:
St. John's Prep
Best defensive line:
Reading
Best linebackers:
Reading
Best secondary:
Everett
THREE TEAMS THAT WILL SURPRISE
Medway
Coach Dave McSweeney's affinity for power football isn't a secret, and this season he'll have two road-graders to run behind in Kevin Sheehan (6-4, 285) and Cam Smith (6-5, 290, Lafayette commit). If there's any exhibit for why we needed to change the postseason format, the most glaring sample might be the Mustangs, who went 19-3 from 2009-10 with no playoff berth. In this new playoff system, a gameplan like the Mustangs' is built for the long haul.
Lynn English
Perhaps this isn't a surprise pick so much as an affirmation. In a Division 2 North that is perceived to be wide open after heavy favorite Reading, the Bulldogs have enough talent to make a deep run. There has always been elite talent at the skill positions, but Preseason All-State selection Chris Tinkham gives them a presence in the trenches they've lacked the last few years, a rare "war daddy" type who overpowers the interior gaps. The biggest question will be where the Bulldogs put junior Jordan Javier, a 6-foot-4 transfer from Haverhill who is a matchup problem at his natural split end position but also throws one of the prettiest balls you'll see on the North Shore.
Quabbin
The Panthers struggled to a 4-7 tune last season in a weak league, but there is some promise. Quarterback Dylan Kierman is an underappreciated talent, who should get a boost from the return of slippery receiver Nick Thyden. The Panthers run a unique "Air Raid" scheme, and another year of experience with it could surprised teams in Division 4 Central.
THREE BREAKOUT ATHLETES TO WATCH
Lukas Denis, Jr. ATH, Everett
After an injury-shortened 2012 season in which he was the assumed successor to record-setting quarterback Jonathan DiBiaso, but barely saw the field, Denis is moving to the perimeter, where he will take a role similar to the hybrid slot-back role that Manny Asprilla made legendary in 2010. Defensively, he should serve as a terrific compliment in the secondary to highly-touted safety/cornerback Lubern Figaro, and has already begun to pick up some Division 1 FBS interest.
Alfred Adarkwah, Sr. WR, Doherty
Standing a long 6-foot-4 with a 6-foot-7 wingspan, Adarkwah has an unusually large catching radius for a high school receiver. This summer in passing leagues, the Highlanders toyed with Adarkwah and Boston College-bound receiver Isaac Yiadom on the same side of 2x2 formations. Head coach Sean Mulcahy has to be excited with the possibilities that opens up -- just imagine sending those two on a post-wheel combo route. Or better yet, imagine running them on a bubble screen, taking advantage of both Yiadom's elite speed and Adarkwah's great downfield blocking skills.
Taj-Amir Torres, Jr. ATH, Amherst
Already a household name in track and field, where he was named the state's Gatorade Player of the Year last spring as a sophomore after winning New Englands in the 100-meter dash, he's about to get a whole lot more attention. Boston College, UConn and UMass have already offered Torres, who made just 24 catches last season
but made some incredible feats of athleticism
. Hurricanes head coach David Thompson told us earlier this month
"[We're] trying to get the ball in his hands every opportunity we get"
, so expect bigger numbers in 2013.
WAY TOO EARLY STATE CHAMPION PICKS
Div. 1
- Everett
Div. 2
- Springfield Central
Div. 3
- Walpole
Div. 4
- Doherty
Div. 5
- Auburn
Div. 6
- Millis/Hopedale
***
Scott Barboza
ESPN Boston High Schools Editor
Best QB
- Drew Belcher - Sr. Reading
Best RB
- Johnny Thomas - Sr. St. John's Prep
Best WR
- Brian Dunlap - Jr. Natick
Best TE
- Rory Donovan - Sr. Cardinal Spellman
Best OL
- Jon Baker – Sr., Millis/Hopedale
Best DL
– Joe Gaziano – Jr., Xaverian
Best LB
– Eddie Motavu – Sr., Tewksbury
Best DB
- Lubern Figaro - Sr. Everett
Best passing offense
- Natick
Best rushing offense
- St. John's Prep
Best offensive line
– Bridgewater-Raynham
Best defensive line
- Reading
Best linebackers
- Leominster
Best secondary
- Everett
THREE SURPRISE TEAMS
St. Mary's (Lynn)
OK, so a team coming off an 11-2 season and a Super Bowl appearance might not exactly be a surprise, but with a couple of other Catholic Central teams garnering the buzz in the preseason, let's not forget the Spartans have another season with Jordan Collier (1,495 yards, 18 TD).
Hingham
We've heard them knocking, but can they come in? The Harbormen have whittled the gap in recent years, particularly against Patriot League nemesis Duxbury, but they're still waiting to break through. They could have an in-road in Division 3 Southwest. An early non-leaguer against Oliver Ames should be a bellweather for things to come, but the real proof will come Oct. 5, against those aforementioned Dragons.
Wakefield
The Warriors fell short of their goal of winning the Middlesex League's Freedom division last year, but should be in the mix in a wide open Division 3 Northwest race. We'll have a better impression after a visit from Lynn English in Week 2.
THREE BREAKTHROUGH ATHLETES
Joe Johnston, Sr. RB/S, King Philip
Anybody who saw Johnston's hard-nosed 157-yard, 2-touchdown performance against North Attleborough last year knows Johnston's style. He's a burden for would-be tacklers inside the box, and once he kicks it outside, he's also very hard to catch.
Grant Kramer, Sr. OT, Duxbury
The younger brother of Boston College tackle Aaron Kramer, Grant is now ready to assume the role as the next great lineman on the Dragons' line (and there have been some very good ones in recent memory). He currently holds offers from Coastal Carolina and Villanova but has also expressed interest in attending West Point.
Connor Moriarty, Sr. RB, Walpole
When Rebels starter Mike Rando went out with an ankle injury near the midway point of the regular season last year, it was Moriarty who carried the load down the stretch. Expect even bigger numbers this year.
WAY TOO EARLY CHAMPIONSHIP PREDICTIONS:
D1
– St. John's Prep
D2
– Springfield Central
D3
– Walpole
D4
– Doherty
D5
– Auburn
D6
– Millis/Hopedale
***
Josh Perry
ESPN Boston correspondent
Best QB
- Drew Belcher, Reading
Best RB
- Jonathan Thomas, St. John's Prep
Best WR
– Brian Dunlap, Natick
Best TE
– Brendan Hill, Mansfield
Best OL
– Jon Baker, Millis-Hopedale
Best DL
– Andrew Bourque, Reading
Best LB
– Kevin Bletzer, Catholic Memorial
Best DB
– Lubern Figaro, Everett
Best passing offense
- Natick
Best rushing offense
– St. John's Prep
Best offensive line
– St. John's Prep
Best defensive line
- Reading
Best linebackers
– Catholic Memorial
Best secondary
- Everett
THREE TEAMS THAT WILL SURPRISE:
Attleboro
A new coaching staff, the energy of a new field complex, and a strong crop of returning seniors could make the Bombardiers the surprise team of the Hockomock League. Attleboro has always been a sleeping giant and the program continues to find solid athletes, it's now up to the new staff to build a system that fits the talent on the roster. With a couple of league rivals dealing with injuries and suspensions, Attleboro could sneak up on people.
Barnstable
Everyone assumes that there will be a significant drop off for the Red Raiders due to a big graduating class, but there is still potential to be a solid team in D2 and in the OCL. This may not be a another season with Barnstable holding the top spot in the poll, but it shouldn't be written off either.
Stoughton
The Knights are expected to finish behind Oliver Ames in the Davenport, but don't be surprised if they pull an upset or two and give the Tigers a run at the title. Watch out for running back Malachi Baugh, who will be getting the majority of the carries this season and is a beast to try and bring down.
THREE BREAKTHROUGH ATHLETES TO WATCH
Luke Morrison, Sr. TE/DE, Attleboro
Attleboro's giant tight end/defensive end is a monster match-up on both sides of the ball and could be a real threat as Tim Walsh's favorite target in the Bombardiers passing attack.
Ryan Charter, Sr. QB, Needham
Mike Panepinto has deservedly drawn praise as the star man on the Needham offense, but the senior quarterback, who has been under center for 1-1/2 seasons already, will have high expectations as the Rockets try to get back on top in the Bay State.
Kyle Wisnieski, Sr. QB, Mansfield
With the graduation of running backs Robbie Rapoza and Kevin Makie and the continued injury problems for wide receiver Michael Hershman the key cog for the Hornets offense will be its senior quarterback. Wisnieski's ability to spread the ball around and pick the right options out of a still talented receiving corps that includes Brendan Hill is going to be the key for Mansfield's run at a Hockomock title.
WAY TOO EARLY STATE CHAMPION PICKS:
Div. 1
– St. John's Prep
Div. 2
- Nashoba
Div. 3
– Bishop Feehan
Div. 4
- Doherty
Div. 5
- Auburn
Div. 6
– Millis-Hopedale
***
Ryan Kilian
Founder and Editor-in-Chief, Massachusetts Prep Stars
Best QB
- Drew Belcher, Reading
Best RB
- Johnathan Thomas, St. John's Prep
Best WR
- Brian Dunlap, Natick
Best TE
- Rory Donovan, Cardinal Spellman
Best OL
- Jon Baker, Millis/Hopedale
Best DL
- Alex Quintero, Lowell
Best LB
- C.J. Parvelus, Defense
Best DB
- Lubern Figaro, Everett
Best passing offense
- St. John's (Shrewsbury)
Best rushing offense
- St. John's Prep
Best offensive line
- St. John's Prep
Best defensive line
- Reading
Best linebackers
- Duxbury
Best secondary
- Everett
THREE TEAMS THAT WILL SURPRISE
Bedford
While Wayland and Concord-Casrlisle have earned the DCL Small Championship the past few years do not sleep on Bedford in 2013. The Bucs play one of the toughest schedules in Division 4 and the return All-DCL running back Olan Abner.
Chelmsford
While Lowell, Central and Andover are getting most of the early press in the MVC Large, the Chelmsford Lions return one of the State's top running backs in Jeff D'Auria, a seasoned young quarterback in Jack Campsmith and a nice nucleus of tough experienced defenders.
Archbishop Williams
If Archies can find early offensive balance to take some of the work load off the shoulders of star senior back Kylan Philbert-Richardson, they could make some noise in the D5 playoff hunt.
THREE BREAKOUT ATHLETES TO WATCH
Ian Kessel, Soph. RB, Haverhill
The St. John's Prep transfer saw late game carries last season as a freshman for Prep's Super Bowl Champion squad. The speedy halfback is now back home in the MVC Small, and with the graduation of work horse, All-State RB Chance Brady (Tufts), there should be plenty carries to go around.
Devin Lekan, Sr. DE/TE, Chelmsford
D'Auria and Campsmith return to lead the offense for Chelmsford's but it is the Lion defense could be the story if they stay healthy. The Lions feature the 2nd team all-MVC performer was the most impressive player in the games I saw last season.
Nick Orekoya, Jr. DB/RB Billerica
Orekoya saw a lot of playing time as a two-way starter for Billerica last season. With another year under his belt Orekoya should thrive in coach Rich McKenna's high octane offense.
WAY TOO EARLY STATE CHAMPION PICKS
Div. 1
- Everett
Div. 2
- Reading
Div. 3
- Tewksbury
Div. 4
- Dennis-Yarmouth
Div. 5
- Auburn
Div. 6
- Boston Cathedral
***
John Botelho
Editor-in-Chief, South Shore Sports Journal
Best QB
- Troy Flutie, Natick
Best RB
- Dylan Oxsen, Plymouth South
Best WR
- Brian Dunlap, Natick
Best TE
- Rory Donovan, Cardinal Spellman
Best OL
- Jon Baker, Millis/Hopedale
Best DL
- Steve Manning, Abington
Best LB
- Kervin Jean-Claude, Brockton
Best DB
- Lubern Figaro, Everett
Best passing offense
- Natick
Best rushing offense
- St. John's Prep
Best offensive line
- St. John's Prep
Best defensive line
- Auburn
Best linebackers
- Brockton
Best secondary
- Everett
THREE TEAMS THAT WILL SURPRISE
Brockton
They're ranked pretty high in any poll you look at because people have just come to accept the fact that Brockton generally reloads. They graduated 18 starters from last season's Super Bowl team, including quarterback Austin Roberts, who was one of the best in school history. Roberts, Micah Morel and Joe Previte are all playing ball at prep schools this year, and Anthony Davis has moved on to Div. 1 Central Connecticut. Still, the Boxers will very solid again. They have a number of athletes and playmakers, including returning do-it-all Aaron Leclair. Transfer Jamal Williams is going to compliment him well, and sophomore Kerry Raymond is physically imposing at 6-foot-1 and 205. Aaron Monteiro's 6-foot-5, 295-pound frame gives Brockton an anchor on the offensive line. They have plenty of guys ready to step forward on the other side of the ball as well, led by Kervin Jean-Claude, Justin Ahanon and Leclair.
Abington
The Green Wave went unbeaten in their march toward a Super Bowl crown last year, but saw a slew of stars graduate. QB Brandon Cawley, TE/DE Pat Dwyer, FB Jack Malafronte, RB Babila Fonkem, DB Mike Walsh, OL Tyler Perakslis and OL Matt Diver are just some of the elite players Abington graduated. These guys won't miss a beat though, as they have a ton of talent back. Matt Kilmain broke out for more than 400 yards on 27 carries in two postseason wins last year, and he might not even be the best player back this season. Abington returns its top three tacklers from a year ago and has most of their front seven back on defense. Jim Kelliher has one of the best coaching staffs going at this point, and these guys look like they're headed back to the playoffs. (For bold prediction purposes, I'm also going to go ahead and say I think they beat Duxbury on opening night, because that's how good I think this team can be).
Stoughton
The Black Knights missed the playoffs last year because of the wrong day for a let down game, taking a tough defeat to eventual Super Bowl champ Sharon. The Knights lost some very good players, but leading running back Malachi Baugh is back in the fold and they return four starting offensive lineman, so there's no reason to think the offense won't be up to par again. The Hockomock League has proven in recent years to be one of the toughest to win, but a second guaranteed playoff berth can only help a team like Stoughton.
THREE BREAKTHROUGH ATHLETES TO WATCH
Aaron Monteiro, Jr. OL, Brockton
Monteiro has something that can't be learned, or even worked toward. His 6-foot-5, 295-pound frame is one that will draw the interest of coaches at the next level. Coach Peter Colombo is very excited about plugging the junior into his offensive line, and it's not just because of the size. Monteiro worked during the off-season to get himself stronger and is primed to be one of the best lineman in the state. He plays basketball in the winter, something that has helped him develop quick and agile feet for a guy his size.
Sam Malafronte, Jr. LB, Abington
Started at linebacker a year ago as a sophomore for the Div. 4 Super Bowl champs, and finished second on the team in tackles. A very good athlete who is a work-out warrior, Malafronte will team with Matt Whelan to lead a solid corps in the middle of the field for the Green Wave.
James Shea, Sr. WR, East Bridgewater
The Vikings have benefited from having tremendous athletes in the backfield the last few years (think Casey DeAndrade, Tim O'Brien, Andrew Benson and Kevin Lynch), but in 2013 their most dangerous player will be splitting out wide. Shea can run with just about anyone -- he finished sixth in the 100-meter dash in the South Shore League last spring -- and is going to wreak havoc pulling in passes all year.
WAY TOO EARLY STATE CHAMPION PICKS
Div. 1
- Everett
Div. 2
- Natick
Div. 3
- Plymouth South
Div. 4
- Doherty
Div. 5
- Abington
Div. 6
- Millis/Hopedale
October, 26, 2012
10/26/12
11:48
PM ET
By
John Botelho
| ESPNBoston.com
LEOMINSTER, Mass. -- The Brockton High football team has been searching for a key win they could hang their hats on all season.

After alternating wins and losses in the first seven weeks, the No. 9 Boxers finally put together to wins in a row when they bested No. 14 Leominster, 14-6, on the road at Doyle Field on Friday night.

"It was huge," said Brockton senior receiver and defensive back Micah Morel. "We've been waiting to get that two wins straight to get the ball rolling and pick up some momentum going into the late part of the season. We want to get on a nice run. This was definitely a big win, because Leominster is a really good team."

The Blue Devils (5-3) only found the end zone once despite moving the ball pretty well all night. They finished with 316 yards of total offense, led by Garrett DelleChiaie's 225 passing yards.

"They moved it in the middle of the field because they're a good team and their very well-coached," Brockton head coach Peter Colombo said. "We talked to the kids all year about adversity, and bending, but always hanging tough. The kids believe they can stop other teams.

"I love our defense, and they're getting better all the time. That's a really good team and holding them to six is not easy."

Early on, it looked Leominster was headed for a night filled with offensive fireworks.

After they forced a turnover on downs on Brockton's game-opening possession, DelleChiaie hit a wide open Jake Allain for a 55-yard strike on what looked like a blown coverage. Kervin Jean-Claude chased him down from behind, finally bringing down with a desperation dive at his legs from behing.

The next play Shane O'Donnell cruised through a huge hole the offensive line created for another five yards. Just as it looked like Brockton didn't have an answer for anything Leominster was doing, Jean-Claude forced stripped Mayson Williams on the next carry and the Boxers came away with the ball.

The Boxers went the other way but eventually stalled out and gave the ball after another turnover of downs. Leominster took over at their 33 with 2:40 left in the first, and a false start sent them backward before they could even get a snap off.

The false start, however, was the only thing that didn't go right on that drive. DelleChiaie tossed a play-action pass to Neil O'Connor in the flat and he raced 26 yards for a first down. He caught the next pass, a 12-yard out pattern that moved the sticks again.

O'Donnell went 14 yards up the middle on the next handoff, setting up a first down at the Boxer 20. DelleChiaie dropped back and floated a ball to the back left corner of the endzone that came down in O'Connor's outstretch hands for a touchdown just 1:17 after the drive began.

A bad snap meant Leominster didn't get a point after try off but they had a 6-0 lead and a ton of momentum.

Brockton, which rushed for 264 yards in the win, benefitted from a late-hit penalty on the ensuing kickoff. They went to work on a 10-play drive that last just over five minutes and went 51 yards before quarterback Austin Roberts followed his offensive linemen into the endzone on a 1-yard keep play up the middle.

Levon Merian's kick was good and the Boxers led 7-6.

Brockton's defense forced Leominster into a turnover on downs on the ensuing drive, taking over at their own 33.

Aaron LeClair made sure the Boxers extended their lead on the next drive – and he never he touched the ball. On the third play of the drive, he took two linebackers out of the play with blocks that sprung Luis Jimenez for a 37-yard gain. The next play, he played the role of lead-blocker again, this time putting a linebacker flat on his back Roberts scampered in from 13 yards for another score.

"I'll have to credit Ralph Roberts," Colombo said. "He coaches our wideouts and they're blocking the hell out of people. Aaron is a great blocker."

LeClair put an end to Leominster's attempt at adding a quick score before the half when he picked off DelleChiaie on the next drive. He took the ball 41 yards the other way before being forced out of bounds.

A penalty moved the Boxers backward as time wound down, and Merian's field goal attempt from 36 yards had the distance but hooked just wide as the half ended.

The third quarter was controlled almost entirely by Leominster's offense. Their opening drive lasted just shy of four minutes and ended in a turnover on downs. Brockton went three-and-out – their only three offensive plays of the quarter – resulting in a punt back to the Blue Devils.

For the remainder of the quarter, Leominster held the ball but couldn't get it into the endzone. Brockton finally forced a turnover on downs on the second play of the fourth quarter.

"Ending the third quarter without giving up a point was a big lift for us," said Morel. "Everything clicked together. We played with a lot of passion. There was a lot of communication. Talk, talk, talk. Just making sure everyone was in the right position."

Brockton followed up with a lengthy drive of its own, running just over seven minutes off the clock before punting in a fourth-and-8 from their own 41. Justin Ahanon's punt finally settled at the 8-yard line, giving Leominster a long field and long shot at a comeback win.

After advancing the ball as far as the 34, DelleChiaie tossed a pass deep down the left sideline into double coverage. De'Andre Brown raced under the ball for an interception.

Brockton picked up a first down when Roberts took an option-keeper 11 yards up field on the next possession and was able to take knees from there to end it.

The Boxers spread out the yards in the win.

Roberts had 14 carries for 67 yards (and was 2-for-3 passing for 33 yards), Ricardo Calixte had 12 carries for 60 yards, Leclair finished with 54 yards on nine carries and Jimenez had 49 yards on four carries.

AERIAL ATTACK NOT ENOUGH
Interceptions aside, DelleChiaie had a pretty impressive day throwing the ball for the Blue Devils. He went 13-for-19 passing in the win while accounting for 225 yards through the air. O'Connor was his top target all night, catching seven balls for an impressive 111 yards in the loss.

Allain was the only other person with more than one catch, and he had two of them for 73 yards.

While the passing game picked up plenty of yards, the running game was never able to their feet underneath them, and finished with just 91 total yards on the ground.

"It's one of those games where we just couldn't get the ball in," said Blue Devils coach Dave Palazzi. "They played us tough and really locked us down when we got inside the 20. It was tough to connect. We had a few new wrinkles in there but we just didn't make the plays today."
October, 13, 2012
10/13/12
12:56
AM ET
By
Corey J. Allen
| ESPNBoston.com


BROCKTON, Mass. –- Despite fumbling the ball, losing it four times, and an interception, the Brockton Boxers made it a game down the last two minutes. But the New Hampshire power Pinkerton Astros concluded the teams' 19-year interstate rivalry in dramatic fashion, with a stern defensive stand late in the fourth quarter, to win out 20-14.

"I think [turnover ratio] made all the difference in the world," said Pinkerton coach Brian O'Reilly.

Brockton last took possession of the ball with 2:33 left in the game, in receipt of the ball following Pinkerton gave up their fourth lost fumble. After Aaron LeClair and Micah Morel rushed for seven and five yards, respectively to get the first down, the Boxer fans were licking their lips, hoping their team could drive the 43 yards to the end zone to tie the game, and either kick or convert on the extra point to win.

On the following play, Brockton spiked the ball at 1:50 to stop the clock. On second down, Aaron LeClair (2 TDs) caught the ball in the middle of Pinkerton defenders but could not hold on. On second down, a screen pass from Morel to Ricardo Calixte netted a two-yard loss, leaving Brockton with a fourth and 12 from the Pinkerton 45.

Morel decided to go back to LeClair on a swing pass to the left, and the ball hit LeClair, but he was again unable to hold onto it. Regardless, he was surrounded by Pinkerton defensive backs and linemen who slid over to secure the victory. Had he caught the ball, nothing short of an apparition could have granted him the opportunity to run for the first down.

Before giving the ball up for the last time, Pinkerton had an interesting series.

Recovering the ball for the fourth time on the day, and starting from their own 47, Pinkerton first received a facemask penalty to move back to the 32. An illegal motion made it first and 30 for the Rockets. Jake Lisauskas carried the ball for four yards before a delay of game set up a second and 29 for Pinkerton.

Conroy fumbled the ball on the following play and fell on it for three-yard loss setting up 3rd and 32. Manny Latimore (27 carries, 150 yards) took the ball one yard before David Andrews' 35-yard punt, which was nearly blocked.

"We were on our heels the whole time," added O'Reilly. "Our offense went into the tank in the fourth quarter. We really couldn't sustain a drive. I thought we could get that last one and run the time out and we couldn't."

Tradition's future on hold: Pinkerton and Brockton have been playing each other for the last 17 years. Last night's match was the last scheduled between the two teams due to shifting schedules for Pinkerton which do not allot any open dates.

"We came in here, a long, long time ago, got the first one, got the last one," joked O'Reilly. "It's been an honor to play this program. I hope we can get back in the future."

Brockton coach Peter Colombo admires not only the competitive side of the nearly two decade relationship, but the camaraderie that has been birthed out of a mutual occupation as head coach of premier football teams.

"We're going to miss it," Colombo added.

PINKERTON (N.H.) 20, BROCKTON 14
PA (6-1) 7 13 0 0 -- 20
BR (3-3) 6 8 0 0 – 14

First Quarter
P – Manny Latimore 27 run (Erik Anderson kick)
B – Aaron LeClair 82 punt return (kick failed)

Second Quarter
P – James Toohey 33 pass from Sean Conroy (Anderson kick)
B – LeClair 26 run (Micah Morel pass from Isaiah Kearns)
P – Ryan Day 1 run (kick failed)
September, 29, 2012
9/29/12
2:08
AM ET


BROCKTON, Mass. – Mix up two run-oriented teams, add in some inclement weather with swirling winds and driving rain, and you could pretty much figure out what the result would be.

No. 2 St. John's Prep did what it does best, and did it a little bit better than No. 7 Brockton Friday night at Rocky Marciano Stadium. Eagles running back Jonathan Thomas was off to the races all night, tallying three touchdowns and 224 rushing yards on 23 carries. Thomas' scores supplied Prep with its 20 unanswered points, all that it needed to claim a 27-12 win over the Boxers.

Although Prep (3-1) found its groove in the second half, dominating the time of possession battle in holding the ball for the greater portion of the fourth quarter, there was also a caveat.

The Eagles have expanded their playbook in recent weeks, adding Wildcat formation plays so as to take advantage of their backfield of Alex Moore and Thomas. Prep's first touchdown of the evening came on a 70-yard run off a direct snap to Moore. In addition to Thomas' eye-popping stat line, Moore also broke the century mark, running for 104 yards on nine carries.

Having such a dynamic backfield has its advantages, particularly in terms of play-calling.

"We did it last week, too, with Johnny [Thomas]," Prep head coach Jim O'Leary said. "We have to do that [use the Wildcat] because they start keying on people and there's times we need first downs and they put too many people in the box. That gives us the ability to go outside, inside and they can't key on either one of those guys."

While the Eagles ran away with the second half, the Boxers (2-2) were the aggressors early on. Brockton was on the board with its first offensive possession of the game. Aaron LeClair capped a 14-play, 80-yard drive with an 8-yard touchdown run over the right side end zone pylon.

Prep sent a return salvo on Moore's 70-yard touchdown run on the ensuing possession, but the Boxers responded as well.

After another sustained drive, Brockton quarterback Austin Roberts plunged in with a 5-yard touchdown run off an option play. Roberts was hit in the back while making his dive into the end zone, however. He hobbled to his feet and tried to return to the Brockton sideline, but soon collapsed on the field. He was taken off the field by paramedics and taken to the hospital as a precaution.

The Boxers never got off the mat.

ONE IF BY LAND, TWO IF BY LAND
Face it, opposing defenses know what's coming when the Prep comes calling. Any defense had better commit to stopping the run and the Eagles' array of sweeps, tosses and ole fashioned power football.

Yet, with the added wrinkle of Moore and Thomas lined up in the backfield side-by-side, running the Wildcat, the Eagles have become even harder to stop.

Part of the success Prep enjoyed against Brockton, particularly in the third quarter, came with the multi-back direct snap plays. Moore and Thomas stood shoulder-to-shoulder in place of the quarterback. Where the snap was headed was another question. In addition, the Eagles ran the package with tempo. The plays were sold with quarterback Jack Sharrio fetching play calls from the sideline. When Sharrio stepped off the playing field, the Eagles would step to the line and snap. It only added to the confusion and disguise.

"We've been working on it in practice with the zones and the hits up the middle because defenses don't know whether it's going to be me or John [Thomas] getting it," Moore said. "We have many plays off of it that could go for a touchdown."

It worked from the get-go. Moore's 70-yard run came on the first Prep play with that personnel grouping.

From there, it was a matter of execution.

"Smuz [Sean Smerczynski] made a great block, I cut off of him to left and I saw a lot of green grass, so I made another cut and it was a touchdown from there."

AIR LET OUT
Aside from the obvious fact of losing their starting quarterback, the Boxers also lost their emotional leader in Roberts. Forced to go their second quarterback, starting safety Micah Morel, the Boxers attack slowed in the second half.

Postgame, Brockton head coach Peter Colombo characterized Roberts' injury as tied to the sciatic nerve. His status going forward is unknown.

On Friday, Roberts' absence was apparent. Despite getting a 10-carry, 98-yard performance from Ricardo Calixte, the Boxers faltered without their charismatic leader.

"We took the lead, Auggie [Roberts] was in the end zone, we were doing what we wanted on offense," Colombo said. I didn't know if they had an answer for what we were doing."

O'Leary admitted as much.

"It's tough to defend when you have a quarterback like him that can spread the ball, spread the field and make those good decisions with the ball. And he's tough."
September, 8, 2012
9/08/12
12:16
AM ET
By
Adam Kurkjian
| ESPNBoston.com
BROCKTON -- There have not been a lot of recent instances where Brockton was beaten as soundly as it was by BC High in last year's season opener.
The Eagles' 42-0 win was complete in every phase on their way to a Division 1 Super Bowl title. The loss sent Brockton into a tailspin that resulted in a 5-6 season, the program's first losing mark since 2001.
Well, last night at Marciano Stadium, the Boxers delivered a rousing counterpunch with a 21-0 shutout that felt even more decisive than the final score indicated.
"Last year, we couldn't match them, physically," said Brockton coach Peter Colombo. "This year, we obviously did."
And then some. Both lines dominated for the host Boxers, as they rushed for 310 yards and held BC High to 143 total and just 62 in the second half.
[+] Enlarge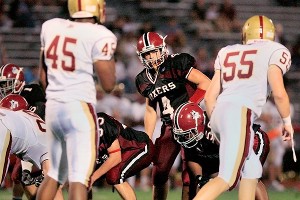 Jon Mahoney for ESPNBoston.comBrockton QB Austin Roberts orchestrated the offense in a vengeful shutout of rival BC High.
Senior quarterback Austin Roberts led the way for Brockton with 139 yards and two touchdowns on 23 carries, while junior tailback Aaron LeClair added 83 yards and a TD on seven attempts and fullback Ricardo Calixte contributed 61 yards on 10 rushes. Brockton only threw two passes (one interception, one incompletion), but didn't need to the way their front was blowing BC High off the ball. The Boxers completely eschewed the passing game in the second half with zero attempts but didn't punt, either. Their four second-half possessions read: touchdown, touchdown, lost fumble, touchdown.
The defense was physical and had its way between the hashes just as much as the offense did. Nowhere was that more apparent than at the end of the first half with the game still scoreless, when BC High marched inside the Brockton 10. On third down, quarterback Dan Collins took off and made a leaping attempt to the goal line but was leveled a yard short by a host of Brockton tacklers. After a timeout, BC High decided to go for it but Collins' sneak was stuffed by backup middle linebacker John Flaherty. The momentum lifted Brockton into the second half and the Boxers never looked back.
"I can't describe it. I'm still speechless, actually," said Brockton defensive back Micah Morel, who made an interception in the second half and played tight man coverage in the first half on Villanova-bound receiver Lincoln Collins. "I mean, I know it was only 21-0, but whenever you pitch a shutout against the No. 2 team in the state, that's saying something. That's saying a lot."
STRENGTH IN SENIORS
Usually, when BC High and Brockton meet up, no matter what the final score says, the ledger of the line play favors BC High. That was not the case Friday night. Not even close. Despite boasting Virginia-bound lineman Jack McDonald, BC High was pushed backwards on both sides of the ball by Brockton's line. The difference? For the first time in at least seven years (maybe longer), Brockton started five seniors on the offensive line. The defensive line is also a veteran unit. Four-year starters Joe Previte and Anthony Davis led the way, as Previte showed off the strength he displayed this offseason in throwing up a 410-pound bench press. On defense, players like Malik Cooley-Walker, Jeff Celestin and Max Castor were in the backfield all night.
LEADING ROLE
Like many teams, the Boxers have taken on the personality of their quarterback and it looks like it will pay big dividends this fall. Roberts is a tough runner who creates extra yards after contact and is simply a natural leader on the field. Many of his runs were just pure sneaks that he turned into 5-yard gains as the line pushed the pile forward. Coach Peter Colombo had the difficult task of retooling an offense that was shut out four times last season and built one around the strengths of his returning talent. The option scheme used most prominently in the college game by the likes of Navy and Georgia Tech can only work with a smart, tough quarterback and Roberts has both of those traits in abundance. He is also bigger, stronger and faster than he was last year, as he simply refused to go down on the first hit.
ROUGHED UP
BC High came into the game missing fullback/linebacker Luke Catarius to injury. The Eagles were also out three other starters on both lines, which needs to be factored in to an extent when taking into account how much Brockton controlled things physically. But at the end of the game, BC High suffered yet another brutal setback when quarterback Brendan Craven was carted off after getting hit low as he released a pass on the final possession of the game. In a scene eerily similar to Preston Cooper's season-ending ankle injury against Everett, Craven's injury looked very serious and left a pall over an already shaken squad.
BROCKTON 21, BC HIGH 0
BC High (0-1) 0 0 0 0 – 0
Brockton (1-0) 0 0 7 14 – 21
Third Quarter
Austin Roberts 1 run (Levon Merian kick)
Fourth Quarter
Aaron LeClair 10 run (Merian kick)
Roberts 23 run (Merian kick)
August, 25, 2012
8/25/12
4:36
PM ET
By
Brendan Hall
| ESPNBoston.com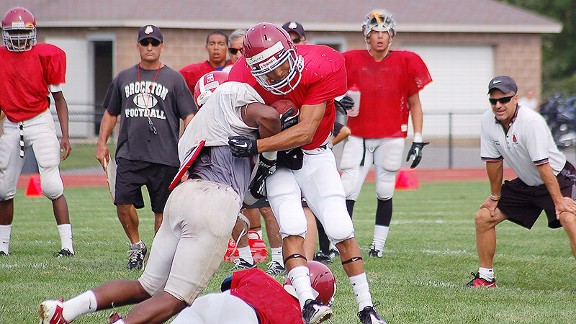 Brendan Hall/ESPNBoston.com St. John's defense showed plenty of pop this morning in its annual preseason scrimmage with Brockton.
SHREWSBURY –- Thoughts and observations from this morning's annual preseason scrimmage between Brockton and St. John's of Shrewsbury, on the grass at Pioneer Field:
Blurring the lines:
In three series of starters against starters, each team scored once. But overall, I would say St. John's was the aggressor for most of the morning, given the efficiency of their "Blur" offense, a very uptempo no-huddle look with spread principles, and the way they exploited the perimeters for multiple first downs.
One particular sequence that stands out is in the Pioneers' first offensive series. Tailback Shadrach Abrokwah took an inside dive handoff and just before he hit the hole, cut back to his left and followed a big seam 15 yards down the left side. The Pioneers, with the ball now at the 10, went straight into the hurry-up. Before Brockton's defense could get settled, Andrew Smiley hit Davon Jones in the right flat on a flare route, and the sophomore did the rest, diving over the pylon for the Pioneers' only score.
"It really comes down to conditioning, staying focused, and making sure that we can execute our assignments," head coach John Andreoli said. "It's ball security and it's playing penalty-free, because you really cannot stop that offense for reasons that you cause yourself. You've gotta make the defense make a mistake.
"You can't make a mistake to stop that offense, you have to make sure it's moving and you're executing. That's why I thought it was a good day for us today."
Key injuries:
Scary moment for the Pioneers on their second play from scrimmage, when incumbent starting quarterback Connor Kurtz went down with an injury to his left knee after getting his leg tangled in the pile while getting dropped for a loss. A diagnosis on the severity of the injury, or to what extent, was unknown after the scrimmage ended. Kurtz had to be helped off the field, and was seen on crutches on the sideline.
Kurtz's backup, Smiley, took over duties for the rest of the afternoon. The 6-foot-4 junior looked sharp at times, tossing a 40-yard fade to Jones in the third offensive series, and making a few plays with his feet after getting flushed out of the pocket.
Meanwhile Brockton lost defensive back Micah Morel, a preseason ESPN Boston All-State selection, in the third series with an injury to his left shoulder. Morel will be re-evaluated on Monday, but having him out for an extended period of time could be a bad blow to the Boxers' defense.
Shadrach reads and reacts:
When you hear the term "blur offense", it's usually in reference to the no-huddle spread scheme run by Chip Kelly's Oregon Ducks, who often try to snap the ball in 15 to 20 seconds. After evaluating his skill personnel, Andreoli felt his offense was up to the task, and as previously mentioned they looked crisp at times.
One of the foundations of this offense is the "Inside Zone Read", a dive play out of shotgun that typically involves zone blocking principles up front, and a sharp cutback from the tailback. The play made a Heisman candidate out of LaMichael James last year; here in Shrewsbury, the play could lead to a breakout senior season for Abrokwah.
At 5-foot-7 and 205 pounds, and blessed with both speed and a powerful lower body, Abrokwah is essentially a sprinter in a hockey player's body. His low center of gravity makes it difficult to get a clean shot, and today he used that to his advantage, repeatedly cutting back to the weak side on these zone plays to run off multiple gains of 10 yards or more.
"It's all in the zone play," Abrokwah said. "Once the offense flows one way, most likely the cutback is going to be on the other side, so I read my blockers, was patient, and just hit the hole."
How quickly does he decide where he's going to go on a zone play?
"It's all instinct," he smiled. "You have to feel the offense, and that's what I did."
New-look backfield:
Devoid of a pure fullback, Brockton didn't run its trademark Pro formation today, instead opting for a modified spread triple option popularized by college programs such as Georgia Tech and Navy.
The change was made to better utilize senior quarterback Augie Roberts' dual-threat capabilities, and things started well in the first series. Roberts is a runner first, and on the second play from scrimmage he demonstrated his running ability, slipping outside a crack back block from Jeff Celeste for a 25-yard gain. But he also has a quality arm, connecting with Lorenzo Lovesy on a fly route for a 50-yard touchdown pass that was negated by a block in the back (an excessive celebration penalty was tacked on for good measure, too).
The Boxers rotated Morel and Aaron LeClair at one wingback position, Louis Jimenez and Moise Edouard at the other, and senior Ricardo Calixte at the fullback spot. Pat Healy is also in the mix at wingback, a baseball outfielder who is back in football after taking the year off.
"I just think it takes advantage of Austin's skills," head coach Peter Colombo said. "You didn't see the whole package obviously today, and he's not limited to that, but I just think it gives us a good opportunity for him to take advantage of his skills. We'll see, we'll adjust as it needs."
The Boxers were good at times, but some of the problems that plagued them in last year's disappointing 5-6 campaign –- namely, red zone struggles –- reared their heads. Jimenez did score from 10 yards out on the Boxers' second drive, but on the first drive they were halted at the Pioneers' five yard line. First, Matt Murphy made a stuff of the ballcarrier at the line of scrimmage. Then on the next play, fourth and goal from the five, Roberts was sacked by Andrew Sullivan.
It was a cycle that flashed in and out all afternoon, with the Pioneers bringing the heat in the front seven behind Connor Gatto, Sam Norton and Barron Dandridge.
Jones brings the wood, and the flash:
I'm going to try my best to avoid the hyperbole highway this season with Davon Jones –- he is just a sophomore, after all, and he did fumble a ball away -– but it's hard not to be impressed every time he comes to play.
Roaming around at free safety, Jones covers a lot of ground in the secondary, and played the bump well in the slot when the Pioneers went to a man press in the red zone. He showed off his live hips on offense, plugging himself into the slot and making defenders miss with multiple jukes.
But the trait that probably sticks out most at this point is his physicality. As the last line of defense against the run, Jones brings considerable pop for someone that's 6-foot and 180 pounds, and it is certainly loud.
Earlier in the week, Andreoli told ESPNBoston.com of Jones, "If he continues to develop the way he develops, the way he's playing now, he's got the ability to play at the highest level" of college football.
"He's a football player," Andreoli said. "He doesn't want to come off the field, he doesn't care how tired he is, he'll take a sip and get back on the field. He loves to play the game. And he plays hard, and he plays it the right way. He's just got to continue to feel comfortable in our scheme, get good at reading receivers."
Referring to Jones' success so far as a guard for the Pioneers' state semifinalist basketball team, Andreoli continued, "The thing too about him is, he's played in a lot of big games –- basketball-wise, and in football. So he's used to competing on the big stage here at the varsity level, so he can just basically play the game and get in the flow of the game."
Jones says he's learned a lot in the last 12 months, and has become more vocal in the secondary, calling out checks. Asked about those progressions he's made in the mental side, Jones chalked it up to "muscle memory".
"The coaches just pound it into my head – pass first, run second," he said. "So I see it, and I just come up running fast."
August, 22, 2012
8/22/12
1:03
PM ET
By
Adam Kurkjian
| ESPNBoston.com
If there's one word that Micah Morel could use to describe his anticipation for the 2012 football season, it isn't excited or nervous or happy.

Since Brockton lost to Bridgewater-Raynham last Thanksgiving to be kept out of the playoffs with a 5-6 overall record, the senior safety has felt something different all offseason.

Hungry.

Hungry to prove that one of the worst statistical seasons in the program's storied history is also a thing of the past, hungry to show that he can be as good as the many recent Boxer safeties to go on to play Division I football, hungry to help a famished offense reach the end zone after not being able to do so at an alarming rate in 2011.

Most of all, Morel is starving, ravenous in anticipation to regain a once-proud program's place among the state's elite.

"There was a lot of emotion and feeling right after the season," Morel said. "The number one thing is I'm just hungry to get back to what Brockton always was. There's been so many greats and the last two years were really disappointing. We really need to turn the ship around and really, really get the ball rolling this year. We've really worked so hard as a team. We just need to take one good thing as it comes."

Once a promising third baseman and outfielder on the baseball diamond, Morel has focused his workouts all offseason on improving himself as a football player under the tutelage of Michael Williams, who supervises an intense training regiment to those in the city who choose to accept it. Morel calls the workouts "one of the hardest things we've ever done."

In addition to the current players that participate, some of the former Boxers that have moved on to the next level also come back and get involved. One former player that has had a particular influence on this group is current Boston College safety Dominique Williams, who is Michael's nephew.

"I get to talk to [Dominique] quite a bit," said Morel, who made four interceptions in his first year as a starter last season. "We text each other quite a bit and talk about football, life. I really listen to any tips he gives to me and the rest of the team. After last year, we're really, really focused on working together as a team. What he's said to us motivate us really got us. I can honestly say we worked harder as a team than any season I can think of."

"The thing [Morel] has in common [with previous Boxer defensive backs] is the awareness you look for in a guy in that position," said Brockton defensive coordinator and secondary coach Bobby O'Neill. "He understands the big picture, takes on the responsibility of making the checks.

"A lot of those guys going into their senior year, it just clicked and became good football players. At that position, it doesn't always happen overnight. As a junior, Dominique would be in position a lot of times and just didn't finish. As a senior, he did. [Morel] is very similar. In the run game, I think you'll see a vast improvement. I think the pass game he's going to be fine. He learned a lot last year. I expect it to all come together. He's worked hard. He's been in the system three years. I expect it to all come together."

Morel definitely wants to put his name in there as the next Brockton defensive back to get a Division I scholarship. But he makes a clear distinction that the only thing that will fill the hole in his stomach left by last year's famine is getting his high school team back to its winning ways.

"I'm getting some good interest (from colleges), but I'm focused on winning right now," he said. "Once we keep winning one game at a time, the rest will take care of itself. I'm not concerned with playing selfish, individual ball out there. All that matters is winning and the rest will take care of itself."

Sounds like he's ready to eat.

BROCKTON AT A GLANCE
2011: 5-6 (2-0 in the Big Three)
Coach: Peter Colombo (10th season, 77-29-1)
Key Returnees: Austin Roberts, Sr. QB, 5-10, 185 lbs.; Micah Morel, Sr. S/RB/WR, 6-0, 190 lbs.; Joe Previte, Sr. OT/DT, 6-3, 250 lbs.; Anthony Davis, Sr. G/DT, 5-11, 250 lbs.; Moise Eduard, Sr. LB/RB, 5-8, 220 lbs.; Ricardo Calixte, Sr. OLB/RB/WR, 6-0, 195 lbs.; Malik Cooley-Walker, Sr. DT, 5-8, 240 lbs.; Jeff Celestin, Sr. DE/TE, 6-0, 220 lbs.; Max Castor, Sr. DE/TE, 6-0, 215 lbs.; Matt Adams, Sr. C, 6-2, 200 lbs.; Aaron LeClair, Jr. DB/RB, 5-8, 170 lbs.; Kervin Jean-Claude, Jr. LB, 6-0, 200 lbs.; Sebastian Porter, Jr. OT, 6-2, 270 lbs.
Strengths: Defense, offseason commitment.
Weaknesses: Offense, tough schedule.

Outlook: After a disappointing season in 2011, the Boxers have the potential to field the type of defense that this traditional powerhouse is used to with experience returning at every positional unit. Morel and LeClair lead the secondary while big things are expected from Calixte, Jean-Claude and Eduard at linebacker. Celestin, Castor, Cooley-Walker, Davis and Previte all saw significant action on the defensive line in 2011. However, it's the offense that needs a major rebuilding job after getting shut out four times a year ago. Roberts returns as the team's signal-caller and promises to steer an option attack that will feature a committee of backs. The offensive line returns four-year starters Previte and Davis and will be an overall experienced group that figures to be physically stronger than last year's. We will know just how much this team has recovered from last year right away when it takes on BC High, Reading, Xaverian and St. John's Prep in its first four games.