Boston High School:

Aaron Mack
October, 5, 2012
10/05/12
10:59
PM ET
By
Ryan Lanigan
| ESPNBoston.com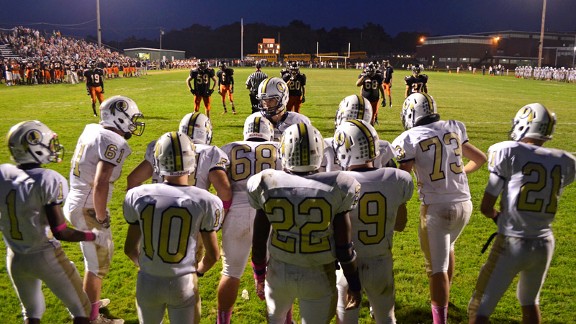 Scott Barboza/ESPNBoston.comStoughton endured a trying week and the death of teammate David Wade to earn a critical 20-0 victory over Foxborough Friday night at Anthony L. Sarno field.
STOUGHTON, Mass. -– Stoughton head coach Greg Burke has been saying it for a long time, and this year, his team is following through.
Play better than last week.
The Black Knights (5-0) remained unbeaten and again dominated on defense to knock down Foxborough, 20-0, in their first game since losing teammate David Wade less than a week ago.
Only one of the two teams on Anthony L. Sarno Field had a repeat performance from last week. Stoughton, who beat up on Mansfield in the rain last Friday 25-6, put on an encore performance with a relentless running attack and a bend-but-don't-break defense.
Fresh off a shocking 21-0 upset of North Attleborough, Foxborough (3-2) failed to put any points on the board, despite the majority of its drives entering Stoughton territory.
[+] Enlarge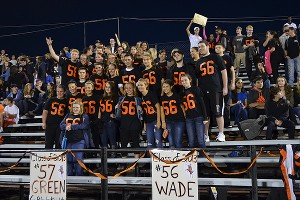 Scott Barboza/ESPNBoston.comBlack-and-orange T-shirts with Wade's No. 56 were made up for Friday night's game.
Minutes after a moment of silence to honor Wade, who wore No. 56, the Black Knights took their opening drive 53 yards on just four plays, as senior Marcus Middleton took a sweep to the left for a 40-yard score.
"We don't look like much," Burke said. "We don't have a lot of size, but we have some tough kids. They're unbelievable."
The Black Knight defense, which now only averages 5.2 points against a game with two shutouts, set the tone early with a big third down stop on Foxborough star running back Kiivone Howard.
As both teams traded possessions through the first half, it looked as though the Warriors caught a big break with less than two minutes to go.
On a first and goal from seven yards out, Stoughton's Aaron Mack carried to the right before being hit hard, forcing a fumble at the one-yard line, which Foxborough recovered.
As the Warriors tried to run the ball out of the end zone, they kept hitting a wall and were faced with 3rd down from their own 1. As quarterback Mike Slaby rolled out to the left, Stoughton senior Imani Pina punched the ball out. The ball fumbled around the goal line and then finally someone came jumping out of the pile with possession.
Pina, touchdown.
The senior scored with just 13 ticks left in the first half and gave Stoughton another boost before halftime.
"Pretty much all week we worked on [that play]," Pina said. "I saw the [quarterback] pull the ball so I stepped out of the box and just made a play. I tried to punch it out and it came out. I saw it on the ground and I picked it up."
In the second half, the Warriors were able to reach the Stoughton 10-yard line on two occasions, only for their offense to be thwarted on both occasions.
On their first try, a trick play gone wrong cost them 15 yards and their fourth down play went incomplete.
Two Stoughton drives and one play later, Stoughton quarterback Dan Eckler caught the Foxboro defense napping and found a wide open Middleton for a 67-yard touchdown pass. The extra point was no-good, but Stoughton went up 20-0 in the final frame.
On Foxborough's second attempt from Stoughton's 10, a drive that had gone 52 yards on eight plays, back up quarterback Nolan Rogers' (in for the injured Slaby) pass was picked off by Pina and Stoughton sealed the game.
STOPPING HOWARD
Foxborough's running back came into the game with a league-leading 12 rushing touchdowns, having scored 3 in each game thus far.
Stoughton consistently loaded the box with 8 or 9 guys and dared Foxborough to throw. Howard still found success, carrying the ball 24 times for 109 yards. He had could have had more, but the tough Stoughton defense was able to exploit some plays for big losses.
"It's [frustrating]," Foxborough head coach Jack Martinelli said. "We were on the field defensively too long. You have to answer, and we didn't. Simple as that."
October, 2, 2012
10/02/12
1:57
AM ET
RAIDER NATION HAS OFFICIALLY ARRIVED
Barnstable head coach Chris Whidden had barely left the turf of Everett Memorial Stadium on Friday night before his phone began buzzing like crazy. To call the city of Hyannis' reaction to the Red Raiders' double-overtime upset of the No. 1 team in the land an outpour would be on diplomat's terms.

"Let's put it this way, I think I had eight or nine texts on my phone by the time I got on the bus," he said.

It's been a wild few days south of the Sagamore Bridge since the the Red Raiders pulled off the virtually unthinkable. Many pundits predicted the hard-hitting, fundamentally disciplined Raiders to keep it close with Everett, holders of a 28-game win streak and the top spot in ESPNBoston.com's statewide poll since October 2010 -- but on the mainland, nobody actually believed they'd actually pull it off. And with it, Barnstable moves up two spots in our poll to No. 1, becoming the first Old Colony League team to be anointed the top team in the land in the history of our poll.

What statement does this make about Cape Cod football? Not much, really. That was made last year, when an unprecedented five teams from the Cape & Islands region (including Barnstable) qualified for postseason, with four of them winning a Super Bowl (Dennis-Yarmouth, Bourne, Mashpee, Nantucket). And the Cape is strong once again, with Nauset, Bourne, Wareham, Sandwich, Martha's Vineyard and the aforementioned Raiders all off to at least 3-1 starts or better.

No, this is more about the Barnstable program itself. After some tumult the last few years, the Raiders have taken off after settling with Whidden as their head coach, and Nick Peabody as their quarterback. Friday night, after going 0-for-10 with an interception in the first half, Peabody showed why he is on the short list for ESPN Boston's Mr. Football Award by throwing two second-half touchdown passes to his favorite target Dylan Morris, including the crucial one in the second overtime that clinched it.

The Red Raiders can score -- this much we know, after putting up 110 points in the first eight quarters of the season -- and have some gifted athletic versatility between Morris, Theo France and junior Hayden Murphy. But Friday's stunning upset was more a statement of Whidden's defensive prowess.

Barnstable threw a variety of man and zone coverages at Everett, primarily out of a three-deep shell, aimed at containing Everett's two superstar receivers, Jakarrie Washington and Jalen Felix. Up front, the Raiders began in a three-man front, but quickly found more success with four down linemen, and stuck with it. Where there was a weight disadvantage -- the Tide average over 300 pounds across, led by Notre Dame-bound left tackle John Montelus -- the Raiders made up for with quickness, athleticism, and length, behind Jason Freih, D.J. Goncalves and John Eldridge.

Whidden is known for his knack as a defensive play-caller. But it also doesn't hurt having two NFL vets and Cape football legends coaching up the defense, either. Falmouth grad and former Oakland Raider Willie Ford has the secondary's ear, while Barnstable grad and former Dallas Cowboys lineman Mike Dwyer has the defensive line.

"They're able to get so specific with the technique," Whidden said. "For a defensive lineman working different skills, different technique, whether it's pass rush or run defense, they're not the same moves or same techniques, so that's crucial. Same with the secondary, playing man coverage and zone coverage are completely different techniques. They got that repetition during the week."

This year's team-issue shirts at Barnstbale feature a bulls-eye on the back, a statement more to do with the target that comes with being the regining OCL champ. That target has just gotten a little bigger.

A lot, actually.

"They know now that teams are really gunning for us," Whidden said. "We pay attention to the way we celebrated on their field after the game. Now we've got teams coming at our place as the top dog, and we've got to make sure we avoid having anyone celebrate like that against us."

KEN LACHAPELLE -- VISIONARY, INNOVATOR, GRANDFATHER
For as long as Ken LaChapelle has been at the helm of Northbridge High football, there has always been a good quarterback calling the shots. But there is but one name to trump all names: Danny Brown.

Brown, widely considered the greatest in a long line of great Rams signal-callers, reminisced about his recruiting during the 2001 and 2002 seasons, when reached last week by ESPNBoston.com to reflect on LaChapelle. The one moment of the process that's always stuck with him, he says, is a meeting with the Dartmouth coaching staff during a visit, in which the staff raved about LaChapelle's offensive innovation, telling him the coach is "always one step ahead".

LaChapelle became the third coach in MIAA history to achieve 300 career wins on Sunday, with a 42-12 victory over Southbridge, to go along with 10 Super Bowl titles. Unique from the other two to achieve the milestone is that LaChapelle has done it all in one place, holding the Northbridge job continuously since 1976.

Unique, too, was his foresight to install the Run-and-Shoot offense upon taking the head coaching job, at a time when power-running formations like the Wishbone were all the rage. LaChapelle has light-heartedly mentioned in the past his desire to one day coach a game in which he didn't attempt a run (that was short-lived on Sunday, as quarterback Matt Phelan racked up 154 yards on 5 carries). Many of the spread principles you see in the state's top teams? Northbridge has been running it for decades, going back to the days of the San Diego Chargers' revolutionary "Air Coryell" offense.

Brown, like many Northbridge alums, was a lifer, first getting a taste of Rams football as a waterboy. He endured a great career at Harvard and had a brief stint in Europe before returning to Northbridge, where he is happily engaged and makes the hour commute each way every day to the Xenith helmets sales office in Lowell. It bears asking: What keeps a guy like LaChapelle, a 1965 grad, in Northbridge for 50 years?

The short answer is family. He has a half-dozen children and nearly two-dozen grandchildren littered around the southern plateau of Worcester County. He currently coaches two grandchildren, Daiton LaChapelle and Koby Schofer, and by the looks of it could coach many more.

How many more years? Brown says, with an honest tone, "he could go another decade".

That leaves plenty more opportunities for that elusive run-less game.

FAMILIAR TERRITORY
Bob Bancroft left a lasting legacy at Whitman-Hanson in his tenure as head football coach. On Friday, Bancroft's Pembroke squad left a loss behind.

The Titans rolled over their current head coach's old team in a 19-3 win. The Panthers entered the game with the momentum gained off a tight win over Foxborough.

But after taking an early 3-0 lead on a 28-yard field goal on Friday, it was all Pembroke. The Titans quickly reclaimed the lead with Brian Tinkham's first touchdown of the game before Ken Blasser's pick-six extended the Titans' lead in the fourth. Tinkham added his second score of the game as added insurance late in the fourth.

What's more is that it marked the second straight year Bancroft claimed victory over his former side, proof that the master still reigns.

WILD NIGHT IS CALLIN'
More than a change in No. 1 teams, Friday night was ripe with upsets as the rain poured down in bowls across the state. No place was that more prevalent than in the Hockomock League, where a couple of teams in Davenport (small school division) claimed wins over their Kelley-Rex counterparts.

Foxborough's defense stymied North Attleborough's offense, holding the Red Rocketeers to just 91 offensive yards, in a 21-0 blanking. Dynamic Warriors running back Kiivone Howard outgained North by himself, running for 130 yards.

North wasn't the only Kelley-Rex team with a struggling offense. For the second straight year, Stoughton knocked off Mansfield with a 25-6 win. Meaning that the Hornets came away with a grand total of six points during their meetings with the Black Knights in the last two seasons. Stoughton again showed its defensive mettle, with Adam Leonard notching a key strip-sack early in the game and Aaron Mack's strong play in the secondary.

With both teams coming off notable upsets of Top 25 squads, the Davenport picture will come into clearer view when the Black Knights and Warriors tangle this Friday.

IN MEMORIAM
With the one of the biggest football games of the season coming, football seemingly is the last thing on the minds of the Stoughton High community this week.

Less than 24 hours after celebrating another win over Mansfield, Black Knights player David Wade, 17, was killed on Saturday by a gunshot wound to the chest. Wade played football this year after being a member of the Black Knights cheerleading squad. He also competed with Stoughton's winter track team and played tennis.

Our thoughts are with David's friends and family at this time.