Boston High School:

Aaron Samano
April, 5, 2011
4/05/11
12:11
PM ET
By
Brendan Hall
| ESPNBoston.com
Malden High senior offensive/defensive lineman Aaron Samano has accepted a scholarship offer from the University of New Haven, Golden Tornadoes head coach Joe Pappagallo told ESPNBoston.com this morning in an email.
The 6-foot-2, 305-pound Samano, who were profiled
last summer
as part of the high school section's launch, was a two-time Greater Boston League All-Star and captain for the Tornadoes, who went 5-5 this past season. He will be a full-time offensive lineman at New Haven, and will join former Malden teammate Herbans Antenor on the squad.
November, 27, 2010
11/27/10
7:00
PM ET
WHALERS' ACES IN THE HOLE
No. 21 New Bedford's worst fears were realized in the first quarter against Durfee. Although mired in a scoreless tie, the Hilltoppers carried play early behind their Wing-T attack and running back Keith Omosefunmi. Things only got worse when Whalers offensive and defensive lineman Lance Burlingame when down with a meniscus injury on a defensive play in the first quarter. Durfee later scored the first touchdown of the game, but New Bedford got it right back on the ensuing kickoff with Nate Lewis' 72-yard kickoff return for a touchdown.

Although the Whalers had to mix and match their line, New Bedford was more efficient on offense in the second half. The line provided ample time for junior quarterback Myles Medeiros to throw and created the lanes in which running back Phito Gondre could run. Darian Sousa-Bizarro moved over from guard to left tackle in Burlingame's absence and Tyler Ollivierre filled in at left guard, showcasing New Bedford's depth on the line. Ollivierre was also instrumental in clogging up the middle at defensive tackle.

"The way Coach [Dennis Golden] runs practices, all the linemen get time to practice," Medeiros told Scott Barboza on Thursday, "so when somebody goes down we have the confidence that the next guy can get the job done."

However, the Whalers might miss Burlingame more on the defensive side of the ball when it comes to Tuesday's Division I semifinal playoff game against St. John's Prep. Burlingame was dominant in New Bedford's Big Three win over Brockton in neutralizing Boxers running back Trevon Offley. The same could be said for the Eagles' physicla offensive line and speedy running back Tyler Coppola.

"We're just taking it one game at a time and one day at a time," Medeiros said. "We got to where we wanted to be. We're Big Three champions. Now, we'll focus on what comes next."


IT IS NOT A THIN LINE
The St. John's Prep offensive line is becoming somewhat legendary. Besides from opening up holes, they also escort their running backs down the field for touchdowns.

"Those are the plays that you get pumped for," said Dan Culkeen, a 5'11'', 252-pound senior. "As a lineman, you don't get much glory, but those are the plays that people will see. I'm out there leading my best friend Tyler, and he does his thing. I get one block and he's gone."

The quarterback draws worked well for St. John's, running them through almost every hole on the line, to the point that it seemed that Tommy Gaudet was just looking to run through an open space, but that wasn't the case.

"We're not a read team," Gaudet said. "On the option we are, but mostly we're running where we're blocking. We try to move it up and down the line...get them to where they're not comfortable in their defense. We were just trying to make it hard for them."

"Every lineman on our team is All-Conference," lauded Gaudet. "No matter what hole we run to, it's the same. They're all unbelievable at what they do."

MIDDIES UP TO TASK
Dracut turned in one of its best defensive performances of the season during Thursday's 19-12 triumph over No. 6 Methuen, which entered the contest averaging 31.6 points per game.

The Middies held the Rangers to 268 yards of total offense, but 105 of those 268 yards came on two plays – a 58-yard pass from quarterback Cal Carroll to Eric Lacroix, and Ryan Savastano's 47-yard run.

"They got a couple of big plays, but they didn't really drive the ball against us," Dracut head coach Jason Houston said. "We wanted to stop the run. We felt that was the key, and we did a pretty good job of doing that."

Dracut came up with three turnovers, including two interceptions in the second half.

Savastano, who entered the game with 1,225 yards rushing, was held to 75 yards on eight carries. The Middies (8-3) had surrendered at least 21 points in six of their other 10 games.

"It was one of the better defensive efforts I've seen in a while," Houston said.

The victory gave Dracut a 26-19-3 edge in its series with Methuen, which dates back to 1963.

BIG PLUNGE FOR 'BIG A'

Malden senior Aaron Samano, the team's captain and a humanitarian (literally) off the field, was rewarded for his dedication on Thanksgiving morning in a unique way only befitting for a 6-foot-1, 300-pound nose tackle -- with the rock.

On the Golden Tornadoes' opening drive of their 29-0 win over storied archrival Medford, with the ball at the Mustangs' one yard line, head coach Joe Pappagallo called for a "tackle right", one of their standard plays, only with Samano as the ballcarrier. Samano admitted he was nervous at first when quarterback Kevin Valley came into the huddle with the call.

"It was almost like, I can't believe he's actually calling this right now," said the humble lineman, affectionately called "Big A" by his teammates. "I never thought it would come so early in the game, that we'd open up with it. I didn't want to let anyone down, so I held the ball as tight as I could."

Samano followed his blockers left, then took a reverse pivot and plunged right for the one-yard score, and then celebrated his score with a LaDainian Tomlinson-style flip of the ball and jumping around with his teammates.

"I was excited, I was fired up," Samano said. "It felt great to actually score a touchdown, after four years of blocking, then to actually run one in, it just feels great."

After a slew of preseason hype, the 2010 season was a disappointing one for the Tornadoes, who finished 5-5 and 3-1 in the Greater Boston League. But things are just heating up for Samano, who is being recruited by several Division 1 schools, including Harvard and Duke.

TWO JARRING COINCIDENCES

Flashback #1: It was two years ago, when Longmeadow traveled to East Longmeadow riding a state-best 47-game win streak into Thanksgiving Day weekend 2008. Longmeadow was trailing 16-13 but rallied behind junior quarterback Conor Hobert on a drive in the final minutes.

The game came down to a Longmeadow fourth down with 19 seconds left, when Hobert lobbed up a pass from around 20-yards out to Niko Sierra. Sierra dove for the ball but was covered well by East Longmeadow's Dave Fraboni. Fraboni swatted the ball down in the end zone, and EL upset Longmeadow in thrilling fashion.

2010 implications: Sophomore Austin Sierra, younger brother of Niko, recovered a fumble in the end zone to upend the Spartans 13-7 in overtime on Thanksgiving. The fumble was recovered in about the same spot in the end zone (in front of the right side goal post) where Fraboni knocked down Hobert's pass in 2008.

The fumble recovery won the AA conference title for the Lancers.

"I just saw it drop and all I was thinking was, 'jump on it!'" Austin laughed about after the game. "I think it was great, kind of a hard game and we just came out with the win.

"Defensively we did great, offensively, well -- we had a couple of fumbles."

The Lancers did have several fumbles but only one was recovered by East Longmeadow. It's safe to say that the Lancers will be alright if Austin keeps picking up the mistakes like he did on Thanksgiving.

Flashback #2: Longmeadow had not lost a home game since 2004, and to lose to East Longmeadow would compound the pain. The Lancers had gone up 21-19 over the Spartans on Thanksgiving but were crossing their fingers on a 45-yard field goal that could win the game for EL.

EL's Ray Holloway was well short on the field goal (which was pushed back after an intentional grounding call on the previous play) and took the brunt of the blame for the loss after time expired.

2010 implications: Holloway had a chance at redemption. After his team cut up the Longmeadow defense in the fourth quarter. EL was looking to take the lead 10-7 with 18 seconds left. Instead of going for the end zone though, coach Scott Raymond wanted to play it safer with a field goal attempt. He called a timeout, and the team ran a belly to the left to center the ball between the hashes.

Raymond then called another timeout and after a Longmeadow timeout, Holloway stepped up to the plate again. It is hard to imagine that in a rivalry so close and intense, a circumstance would present itself in such similar circumstances two years in a row.

The crowd hushed as Holloway's kick was pushed well right and short of the goal posts, and Longmeadow survived an epic defensive collapse. The Lancers then seized momentum stopping EL first in overtime and then scoring afterwards.

After the game, it was a tough scene as Holloway and his co-captains let their emotions show on the field. When the fans cleared from East Longmeadow High School, almost 10 minutes had gone by and Holloway was still going over the kick in his mind standing in the same spot.

"You hate to lose the way we lost at the end here, but what are you going to do?" Raymond said after the game.

"I hate to see them hurt. I hate to see them hurt as bad as they are right now," "Especially a kid like Ray…its an awful lot to put that pressure on a kid two years in a row."

No one can blame Raymond for the call. No one can blame Holloway for the kick.

Holloway played his heart out on Thanksgiving even if the numbers didn't show it. He was an integral part of a defense that shut down the number one offense in Western Mass, and a top-15 offense in the state.

Holloway is a stud running back, emotional leader, and certainly in contention for the Daegenais, Bertelli and ESPNBoston.com WMass Player of the Year Award.

COACHING DUEL

Longmeadow coach Alex Rotsko and East Longmeadow coach Scott Raymond both run the Wing-T offense. Both coaches are sticklers for leverage, positioning, timing and execution, and around Western Mass, anyone can tell you that neither call "sexy" plays.

However their bland running styles took a turn on Thanksgiving and both debuted some new additions. In fact, both even showed off an inside shovel pass -- which is uncharacteristic of the Wing-T disciples. East Longmeadow actually brought out a Wildcat set, early in the second half, and used an empty backfield to spread the field on their fourth quarter drive.

"We were trying some different things, but its just that they played so tough," Raymond said. "…it was pretty good football."

"I don't think you could ask for two more evenly matched teams at this point," Raymond said. "Both teams are the best in Western Mass and they're so competitive -- you can't deny that it's been exciting."

"Our defense played really well -- except for the last series of the game," Longmeadow senior Jeff Anderson said. "Our teams run identical offense so we know the insides and outs of them. So we knew basically it was going to come down to who was going to make plays."

"We couldn't establish anything with the inside run game or the outside run game," Rotsko said. "They were just pressing the line of scrimmage."

Both coaches will have to rally their teams back into shape quickly. The first playoff game is set for Tuesday and both teams are hoping for super bowls this year. After the game Rotsko's team was very somber during the post game speech listening to the coach intently.

However when asked about the speech Rotsko paused, and then answered: "I actually don't remember what I said," Rotsko said with a laugh.

Coaches, players and families were caught up in the emotion across the state on Thanksgiving Day 2010, and it was surely one for the ages.

September, 18, 2010
9/18/10
1:24
AM ET
By
Phil Perry
| ESPNBoston.com
METHUEN, Mass. — Cal Carroll couldn't help but smile after beating Malden in the Rangers' home-opener. Methuen's senior co-captain and quarterback was behind the steering wheel of an offense that drove up and down the field on the Golden Tornados like a high-performance sports car.
Carroll (11-15, 146 yards) had six touchdowns— one rushing and five through the air — to lead the No. 20 Rangers over Malden, 42-12.
"We knew we could be a team that was in fifth gear instead of third gear like we've been," said Carroll, whose team was upset last week by Plymouth North. "We felt really disgusted with ourselves after last week, but we had three hard days of practice and that led to this."
Coming out of halftime with a 14-12 lead, Methuen (1-1) really got on the gas. With its first possession out of the locker room, Carroll broke through multiple would-be Malden tacklers for a 23-yard touchdown scamper to cap a two and a half minute, 70-yard drive.
Less than a minute later, after Methuen recovered the ball on a strip sack by senior Matt Delmonte, Carroll hooked up with his favorite target Raudy Minaya for a wide open 30-yard touchdown strike. With the score 28-12 with 7:29 left in the third quarter, Methuen effectively had the Golden Tornados (1-1) in their rearview.
Minaya (five receptions, 72 yards) is a strong 6-foot-2 receiver with good leaping ability and he often sees double coverage. But not on Friday. He made the most of it, hauling in three touchdowns.
"If I'm double covered, I know my teammates can make some plays," said Minaya. "But if I'm single covered, I want the ball."
Carroll also threw touchdown passes to seniors James Staples in the second quarter and Kevin Higgins in the fourth, but Methuen ran a balanced attack. Junior running back Ryan Savastano, amassed 100 yards on 19 carries while Carroll finished with 94 yards on the ground.
"We got a real good push up front," said Rangers coach Patrick Graham. "I think we wore them down a little bit. They have a lot of guys who play both ways and we really don't have guys who do that so I think that helped us."
Malden suffered injuries to Jamie McInerney (ACL) and Chris Miller (ACL) in the preseason and now employs players like linemen Aaron Samano and Vernon Sanvil on both sides of the ball.
Another all-around player for Malden, Jo Jo Randolph (nine carries, 58 yards; one catch 28 yards), rushed for Malden's first touchdown of the night on a 16-yard sweep in the first quarter, but he was then forced from the game in the second half with a broken forearm.
"We have some injuries right now that are making us play guys a lot," said Malden coach Joe Pappagallo. "It's fatiguing them mentally and physically. But, ultimately, we lost this game because [Methuen] was more physical at the point of attack and they just plain out-played us."
Malden did get a touchdown from its playmaker, Frankie Dunn (six catches, 35 yards; five rushes, 24 yards) mid-way through the second quarter, but it was the Golden Tornados' last burst of offense.
Methuen dominated after Carroll's touchdown to Staples at the end of the first half. The Rangers scored touchdowns on each of their second-half possessions, except for their final possession when backups were called on to run out the clock in the fourth quarter.
"It's nice to come back after last week," said Graham. "We obviously didn't play our best football last week. We knew we had things to improve on as a team. We talked a lot about how important it is to get off to a good start to the season, and 0-2 wouldn't have been a good start."
Other observations:
Carroll credited his experienced offensive line with giving him enough time to throw for five scores. "We have some of the toughest lineman around," he said. "Steve DiZazzo, Sean Whittaker, they do all the dirty work inside. They watch so much film and work so hard, my success is because of what they can do.
Carroll to Minaya seems to be a connection for all seasons. The two play as forwards for Methuen's basketball team in the winter. "We know how to hook up on the court, too," said Carroll, laughing. "He's one of our best scorers…He's so athletic he can make plays whenever he wants to."
Malden's Kenny Mettelus was tackled hard in the fourth quarter and remained on the ground for several minutes before coming off the field on the stretcher. The injury wasn't as serious as it appeared, according to Pappagallo, who said Mattelus suffered a lower-back contusion. He was taken to the hospital as a precautionary measure. "I've never had so many gosh darned severe injuries," said Pappagallo. "But what can you do? You have to keep plugging, you know?"
August, 26, 2010
8/26/10
9:32
AM ET
By
Brendan Hall
| ESPNBoston.com
MALDEN, Mass. -- Joe Pappagallo's day is far from over once the final whistle blows at practice.
During the football season, the Malden head coach says his hours of sleep are "a couple here, a couple there". That's because once 10:30 p.m. rolls around, he's off to the U.S. Postal Service regional plant in Waltham, where he supervises as the overnight manager. Couple that with hours of chalk talk, keeping his players in line, and endless paperwork, and we're talking four, maybe five hours a night during the fall -- "But that's the hours we choose," he notes.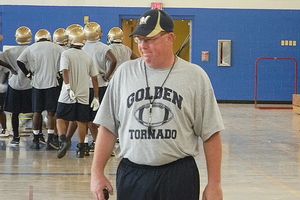 Brendan HallSecond-year head coach Joe Pappagallo raves about his offensive line and speedy defense.
So what keeps him sane?
"My wife, obviously. Behind every coach, there's a good wife, trust me," he laughs. "She's the salt of the earth. Her brother (Pat Donoghue) is my defensive coordinator. She has four brothers that have played sports their whole lives, their sons all do nothing but sports, so she's very supportive.
"If I didn't have her support, I'd be dead in the water. You ain't nothing without the wife, man, that's for sure."
The other point of sanity? His personnel.
Across the offensive line, the Golden Tornadoes are going to average roughly 260 pounds, led by two senior Division 1 prospects -- the 6-foot-5, 290-pound Vernon Sainvil, and 305-pound Aaron Samano. And that average takes into account the recent loss of would-be fourth-year starter Chris Avery to a sudden move to Pennsylvania right before the start of preseason (Samano is moving from guard to center to compensate for the loss). With Alfonse Femino and Derek Solis also in the fold, along with promising 6-foot-5 junior Chris Miller, this team figures to move the ball extensively.
"It's a good view back there," laughed senior Franky Dunn, who has an offer from Bryant as a cornerback. "I feel safe running around and through those holes, because I know they'll protect me."
Pappagallo is especially excited by the defense, which returns six starters and is top-heavy on speed. Donoghue won't be afraid to mix and match coverages and blitz packages if the situation calls for it, especially with a specimen as gifted as the 6-foot-2 215-pound junior Witchie Exilhomme.
"Witchie Exilhomme is a monster and a half at that inside linebacker position," Pappagallo said. "He's really lifted like crazy, squatting something like 580 pounds, he really worked hard in the offseason. Just solid muscle and physicality. Defensively, coach is going to try to play base (3-4), but do whatever we need to do."
No need to remind Malden, or any Greater Boston League team, what needs to be done -- knock off Everett, winner of 15 straight GBL titles. And Pappagallo, who was Rich Cullen's defensive coordinator at Malden through 2005 before a three-year stint coaching at Mount Ida then Framingham State, has seen many a talented GBL team swing and miss -- Peabody, Waltham, Somerville, and more recently Cambridge, all empty-handed. What makes these guys different?
"I'll tell you the difference, I think," Pappagallo said. "They really had a couple guys that stood out, and the rest were pretty good, know what I mean? Everett's always had a good, solid, pure team, and I think that's what makes us a little bit different. We're just an overall good team, we don't have one special player that sticks out."
Last season, the Tornadoes' JV's knocked off Everett. In the varsity, they threw 18 different blitz packages at the Crimson Tide, held them to three first downs, and almost came away with the win, faltering 13-7 in overtime. The loss has stuck with many of those key players throughout the offseason -- "I haven't even watched the tape," Dunn said. "I just don't want to look at it, I guess."
"We use that with everything we do," explains Samano. "You're in the weight room, you've got one last set to go, you think 'Beat Everett' and pound it out. You're doing plays -- 'Beat Everett'. We've always got it in the back of our head, that we lost to them in overtime."
And so, perhaps, there lies the third source of sanity -- the prize that awaits over the hump.
"They're hungry," Pappagallo. "They want it bad, and they've worked hard in the offseason to get there."
MALDEN AT A GLANCE
2009:
5-5 (3-1 Greater Boston)
Coach:
Joe Pappagallo (second year, 5-5)
Players to watch:
Vernon Sainvil, Sr., OL/DL, 6-5, 290 lbs; Franky Dunn, Sr., WR/DB, 5-10, 185 lbs; Aaron Samano, Sr., C/NT, 6-1, 305 lbs; Witchie Exilhomme, Jr., RB/LB, 6-2, 215 lbs; Kevin Valley, Sr., QB, 5-10, 169 lbs; Chris Miller, Jr., OL/DL, 6-5, 275 lbs; Jamie McInerney, Jr., TE/OLB, 6-3, 220 lbs; Jo Jo Randolph, Soph., RB/S, 5-9, 180 lbs; Austin Teal, Jr., WR/OLB, 5-10, 180 lbs; Wildens Sertyl, Jr., OLB, 5-11, 187 lbs; Derek Solis, Sr., OG/NT, 6-3, 292 lbs.
Strengths:
Offensive line, defensive team speed, experience.
Weaknesses:
Quarterback depth.
Outlook:
With such a physically imposing line led by Samano, Sainvil and Miller, look for the Golden Tornadoes to go with a power-based spread attack, with plenty of traps, counters and power plays to get athletes like Dunn, McInerney and Exilhomme into the teeth of opposing defenses. "You've got to pound the ball in our league," Pappagallo said. Defensively, the Tornadoes return six starters and will stick with a 3-4 base and a Cover 2 shell, but Pappagallo noted the scheme will be constantly changing. Heck, you might even see the 305-pound Samano drop back into coverage every now and then. "I think we're going to be extremely quick on defense," Pappagallo said. "Once the ball's in open space, we should look like a pile of dead ants on a dead cockroach."