Boston High School:

Adam Boari
May, 5, 2011
5/05/11
10:32
AM ET
The North-South game of the 33rd Annual Shriners Football Classic kicks off this June 17 at 7 p.m., and for the second year in a row the contest will be held at Gillette Stadium. Below are the rosters for both squads participating in the game:
NORTH
Ryan Adams, Northeast, DE
James Aloisio, Masconoment, OT
Eric Apgar, Acton-Boxborough, RB
Anthony Arcari, Tewksbury, RB
Manny Asprilla, Everett, WR
Derek Bent, Shawsheen, TE
Brian Bourque, Reading, DB
James Brao, Hamilton-Wenham, LB
Cal Carroll, Methuen, QB
Brendan Casey, Boston Latin, DT
Thomas Chub, Masconomet, OL
Mitchell Colley, Arlington, LB
Sean Connolly, Tewksbury, FS
Tyler Coppola, St. John's Prep, RB
Matt Costello, Everett, WR
Anthony Courtouis, Lowell, WR
Jeff Covitz, Reading, OL
Nate Cyr, St. John's Prep, OL
Ned Deane, Andover, LB
Ryan Delisle, St. John's Prep, TE
Jake Giovanucci, Dexter, DE
Mike Grassa, BB&N, DB
Will Guinee, Malden Catholic, OL
Mike Harper, Methuen, LB
Zach Hayes, Chelmsford, S
Justin Hood, Billerica, DE
Brian Hurley, Wilmington
Zach Ingalls, Westford, DB
George Kallas, Beverly, OT
Ben Koopman, Marblehead, C
Chris Malonis, Dracut, WR
Tyllor MacDonald, Lynn English, DB
Tom Meade, Malden Catholic, LB
Trae Musumarra, Central Catholic, LB
Zach Nardone, Bishop Fenwick, DT
Paul Nwokeji, Thayer Academy, OL
John O'Connell, Northeast, DL
Daniel Omorgie, Lynn Classical, DE
Xavier Peralta, Central Catholic, DB
Ony Ramos, Lawrence, DB
Peter Savarese, BB&N, RB
Jordan Shairs, Gloucester, RB
Matt Silva, Dracut, QB
Bradley Skeffington, Salem, DB
Zach Smerlas, Lincoln-Sudbury, DL
Brian Strachan, St. Sebastian's, WR
Dave Summiel, Shawsheen, DT
Chris Unis, Gloucester, DE
Trae Weathers, Revere, RB
Sean Whittaker, Methuen, OL
Peter Yasi, Swampscott, DE

SOUTH
Matt Allen, Pembroke, SE
Ryan Barrett, Holliston, TE
Rob Barrus, Weymouth, LB
Adam Boari, King Philip, OL
Blaise Branch, Cardinal Spellman, RB
Lance Burlingame, New Bedford, OL
Jack Carrier, Cohasset, SE
Dylan Colarusso, Weymouth, RB
Joe Colton, Xaverian, DB
Tom Condon, Whitman-Hanson, OL
David Conroy, Walpole, SE
Nate Crary, Dennis-Yarmouth, DL
Seth DeMello, Somerset, RB
Mike Devin, Bridgewater-Raynham, OL
Mike Driscoll, Rockland, FB
Connor Fraser, Abington, DL
Jake Golden, Hingham, OL
Mitchell Graziano, Silver Lake, DB
William Greene, Oliver Ames, DE
Ernest Guy, Foxborough, OL
Joseph Hak, East Bridgewater, OL
Matt Hallisey, Duxbury, SE
Brian Harrington, Rockland, DE
Jordan Henderson, Barnstable, WR
D.J. Jamieson, West Bridgewater, RB
Randall Jette, Martha's Vineyard, DB
Dan Johnson, North Attleboro, SE
Andrew Kestenbaum, Dartmouth, OL
Matt Lockwood, Seekonk, RB
Albert Louis-Jean, Brockton, SE
Denis Maguire, Duxbury, LB
Jamel Marshall, Mansfield, RB
Zach Martin, Mashpee, RB
Alec May, King Philip, TE
Sean Mayo, Holliston, QB
Paul McCarthy, North Attleboro, DB
Kyle McGuire, Mansfield, OL
Dave McSweeney, Medway, OL
Obum Obukwelu, BC High, OL
Trevon Offley, Brockton, RB
Jon Page, Bourne, RB
Tyler Park, Scituate, QB
Liam Porter, Natick, OL
Ethan Rayner, Holliston, OL
Nate Robitaille, Attleboro, DB
Andrew Siden, Natick, TE
Kevin Stanton, Cardinal Spellman, LB
Jeff Synan, Plymouth North, OL
Chris Tamasi, Xaverian, LB
Ryan Vaughn, Norwell, OL
September, 1, 2010
9/01/10
12:49
AM ET
By
Brendan Hall
| ESPNBoston.com
WRENTHAM, Mass. -- Chris Cacciola turned at the right sideline, just before the line of scrimmage, and faced his quarterback Jake Cox with his palms open, ready to haul in the screen pass.
The King Philip running back then slipped inside of a kickout block, turned upfield, then cut up again some 15 yards downfield, reversing direction and taking it to the left sideline. He then put on the jets, only to be pushed out of bounds by a Norwood defender five yards short of the pylon, some 70 yards later.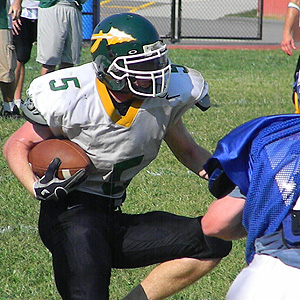 Brendan Hall/ESPNBoston.comChris Cacciola is revered around the Hockomock League for his hard hits and no-nonsense attitude.
"I saw the cornerback was backpedaling a little bit, so I came back and caught the ball," the senior captain said of his nifty play in this afternoon's controlled scrimmage on KP's home field. "I saw the alley opened up pretty wide, and I made a couple backs and ran for it."
Two preseasons ago, Cacciola was a lanky, wire-thin, fifth-string running back coming to grips with the fact he'd be playing limited time on the junior varsity. But following a few injuries and suspensions to the guys above him, Cacciola was thrown into the fire as a sophomore, and responded the only way he knew -- violently slamming his 170-pound frame into the teeth of the defense.
Now at 6-foot-2 and 205 pounds, Cacciola's still got the bullishness -- reportedly, he squats over 400 pounds these days. But now, thanks to a rigorous offseason highlighted by his sprint work with the school's track and field program, he's a step quicker, which is how he's turning a simple bubble screen into a 70-yard scamper.
"He's always been tough as nails -- huge, huge heart," Warriors head coach Brian Lee said. "He is the reason why people want to coach. Everybody wants to coach Chris Cacciola. When people think, 'Hey, I want to coach football', the person they're thinking about in their mind is a kid like Cass. He'll do anything for you, he's just awesome."
Cacciola puts it plainly -- "I just did what I was told" -- but the lightning to his thunder in the backfield, junior Charles Ruffin, has stronger words.
"He's always a hard worker," Ruffin said. "He always does everything coaches have asked him to do, and more."
And now, with that extra dash of speed in tow, the Warriors are asking him to jump over the field in Brian Lee's multiple offense. One play, he'll be lining up at tailback in the I-formation; the next, he'll be split wide or in the slot as the Warriors go into shotgun; sometimes, he'll even act as the blocking back for Ruffin. Anything to keep both guys on the field at once.
Athleticism runs through Ruffin's family -- his cousin, Dartaye, is getting ready for his freshman season of basketball at Drexel -- and early in his career, Ruffin was diminutive in stature but known as one of the fastest players in the Hockomock League. Now entering his junior season, he too has filled out, and the Division 1 suitors are slowly lining up (Ruffin says Boston College has been showing interest "heavily", while Stanford, Vanderbilt and a slew of local schools are starting to come around). Ironically, he's no longer just the speedy change-of-pace guy, either. Ruffin added more than 10 pounds of muscle in the offseason to his now 5-foot-9, 185-pound frame, and is also in the 400-pound club on squats.
It's one of several changes in appearance for the Warriors. Jake Cox has moved from wideout back to quarterback with the graduation of former Hockomock MVP Brandon Howard, to go along with his cornerback duties, and has demonstrated above-average accuracy so far in the preseason -- "He's a football player first, then a quarterback...he's so versatile," Ruffin said. The Warriors are also breaking in some new offensive linemen to compensate for recent injuries, though they've looked good on the run so far. Senior tight end Alex May, a key returnee from 2009, is battling a bursar sac in the knee and shouldn't be back until the season-opener. Meanwhile, the Warriors will have to find personnel to replace linebacker Dan Dusseault, who broke his collarbone in a car accident last weekend and is likely out for a while.
Changes are abound in Wrentham. And in the backfield, it's all for the good.
KING PHILIP AT A GLANCE
2009:
8-3 (6-2 Hockomock)
Coach:
Brian Lee (Sixth year, 24-30)
Players to watch:
Chris Cacciola, Sr., RB/LB, 6-2, 205 lbs; Charles Ruffin, Jr., RB/LB, 5-9, 185 lbs; Jake Cox, Sr., QB/DB, 6-0, 170 lbs; Alec May, Sr., DE/TE, 6-3, 215 lbs; Jimmy Johnston, Sr., LB/FB/WR, 5-11, 215 lbs; Adam Boari, Sr., OG/DT, 6-2, 245 lbs.
Strengths:
Running backs, team speed.
Weaknesses:
Depth, inexperience at offensive and defensive lines.
Outlook:
The versatile Jake Cox returns under center with the graduation of Brandon Howard, and he'll have plenty of targets to throw to, including Johnston, May, Cacciola and Ruffin out of the backfield. Look for Lee's offense to be very flexible in 2010; and as long as the inexperienced line holds up, the running back stable of Cacciola, Ruffin and Johnson should be able to push some extra yardage out of their carries. Defensively, the Warriors will throw a variety of looks at opponents, be it a 5-3, 4-4, 3-3 stack, or even deploying six defensive backs. Look out for the Warriors to utilize the "psycho" package made popular by the Green Bay Packers, which replaces four down linemen with four linebackers showing blitz two yards off the ball. Overall, the Warriors should excel at the run game as expected, but could surprise some defenses with Cox's playmaking ability.