Boston High School:

Al Lynch
March, 5, 2014
Mar 5
9:30
PM ET
BUZZARDS BAY, Mass. – When the state tournament began a last week, Braintree head coach Dave Fasano said that to go far his club would need to stay healthy and "get a little puck luck."

While the Wamps lacked that good fortune in the Super 8 play-in round, they certainly found some Wednesday night at the Gallo Ice Arena.

Other than an empty-net goal with less than a minute to play, the contest's only goal was the direct result of a fortuitous hop. South sectional top-seed Braintree (15-5-3) rode that potted shot by senior Brian Gallagher to a 2-0 win over their Bay State League rivals from Framingham (13-11-1) in the Division 1 south semifinals.

Gallagher's pretty crossover through the slot did not result in his goal early in the second period. The forward lost his handle of the puck and his bid went wide to the back wall, which is where things got interesting. Gallagher followed his miss and was the first to the puck, flinging it quickly to the front.

It ended up in the back of the net. All-star keeper Al Lynch of Framingham attempted to come off the left post to square up to threats in front of him, but the puck hit off of his left leg, from behind, and found twine.

"It was a broken play behind the net, and it just kind of bounced around," Framingham head coach Paul Spear said. "Somebody was going to get a lucky break, and Braintree got a lucky break. It wasn't like [Nick] Ward went around one of defensemen and dangled our goalie. They shot it towards the net, it bounced around and went in."

The Wamps made that one stand up, thanks in large part to a superb effort by goalie Nick Anson, who stopped all 28 shots he saw in the game, including 12 in the third period.

Anson's best stop of the game came with just under five minutes to play. Framingham forward Tyler Anes worked his way through the left circle and crossed one to the far post for a wide-open Scott Swennes, who snapped one off for the high top corner. Anson flung his glove upward and deflected the bid. Anson also had to make a big stop on an effort by Joe Gilbert with two minutes to play, just before the Flyers pulled Lynch out of the net for an extra attacker.

"The goalie made a great save," Spear said. "[Swennes] has a wicked shot. That's his shot. You couldn't ask for a better opportunity than that. If you give me one kid that could break a target in the top corner, it'd be Scott Swennes. That's the story of our season…we lost 11 games this season, we were probably shut out in seven of them,"

Fasano said that his goalie may be overlooked by some, but it is obvious to the Wamps what a difference-maker he can be.

"In fairness to Nick Anson, [Lynch] is one of the best goalies in the state, MVP of the league last year, but [the saves Anson made] didn't go unnoticed. Everyone talks about the Framingham goalie, but we've got a good goaltender right here. He shut out CM last week, he shut out Framingham today and he only gave up one to Falmouth. I'll take him any day of the week."

Framingham pulled the keeper with 1:31 left, but could not find an answer to Anson. Gino LaRossa then ended the drama with 48 seconds remaining, snapping a wrister from the blue line to sew up the Wamps trip to the south finals, which will be Sunday at 1:45 p.m. at Gallo.
March, 1, 2014
Mar 1
7:38
PM ET


BUZZARDS BAY, Mass. – Familiar foes will meet up in the Division 1 South semifinals after today's action at Gallo Ice Arena. Top-seeded Braintree advanced to the next round with a methodical takedown of No. 8 Falmouth, 4-1, in the second game of the day.

In day's opener, the region's Cinderella, No. 13 Framingham, took down No. 4 Franklin, also by a 4-1 count.

The Wamps (14-5-3) showed no ill effects from their disappointing loss in the Super 8 play-in round. Braintree bounced back by taking apart the Clippers, as they dominated every facet of the game. The Wamps outshot Falmouth by a 35-7 margin and played hard through all three periods.

"If we were worried about a hangover, we took care of that … I couldn't keep bringing back up Monday night, but in their heads, I know it was there," Braintree Head Coach Dave Fasano said.

The Wamps swamped the Clippers early, scoring twice in the first nine minutes of the game. Kyle Weslie got the first one, on a pretty snipe from down low, and then at 8:32 Chris Googins connected from a tough angle, snapping one just under the crossbar. Had Falmouth goalie Jake Beaton not come up with a few big stops, and the pipe not helped him on another, things might have gotten out of hand early.

"That set the tone on our bench. I told the kids that the first five minutes were crucial. It's always interesting to see how you respond from a tough loss, and they responded. They put 15 shots on net in the first period," Fasano said.

Braintree got two more in the second to put it away, both by Dylan Casserly. The first was a pretty tip-in on the doorstep that saw Casserly change the puck's direction after a shot from up high at 4:05. A few moments later Casserly got another, thanks to some adept passing by Googins. The set-up man took the puck deep against Beaton, and the goalie kept coming with him. Googins had Beaton way out of position and fed the puck out front for Casserly, who had the hockey equivalent of a lay-up to make it a 4-0 game.

The Clippers' lone goal followed at 12:39 on a great individual effort by Robbie Souza, who chased down a clear out by Andrew Parkinson and won the race along the boards at the red line. With a burst of speed, the second leading goal-scorer in Division 1 picked the far post with a rocket of a wrister.

There would be no more highlight for Falmouth, though, thanks to the suffocating Braintree defense.

The Wamps did not allow Falmouth to get a single shot on goalie Nick Anson until the final minute of play with 38 seconds remaining in the game.

FRAMINGHAM 4, FRANKLIN 1

In the earlier game, the Jolly Roger flew high as the Flyers left the ice and should serve as a warning to teams that will be sharing the ice with them going forward. The 13th seeded team has embraced the Pirate theme this season, and on Saturday afternoon they made fifth-seeded Franklin walk the plank. The Flyers scored twice in the first period and never looked back, skating to a 4-1 win at Gallo Ice Arena.

Framingham broke out to an early 2-0 lead and never looked back as the top-scoring Flyer, Cory Gorowitz, got his team on the board with his first of two at 10:48 on a breakaway goal up the right side. With just 47 seconds left in the first Ryder Lessing popped in a power play rebound that doubled the lower-seeded team's lead.

"When we score first, we're pretty hard to play against because we have such good defensemen and our goaltender [Al Lynch] is so good," Framingham Head Coach Paul Spear said.

Franklin's Randy Gilbert shaved a goal off the lead for the Panthers early in the second period, which briefly had the Panthers back in the game. A shot by Kyle Powers from the left circle chipped high where Gilbert used his stick more like a bat to nudge it under the crossbar and behind Al Lynch. That would be the only one of the 21 shots that the Panthers put on the net that bested Lynch, who made the saves he had to and benefitted from a stifling effort in front of him by the Flyers' staunch defense.

Framingham didn't allow Franklin's hope to float, though. The Flyers sunk it quickly with a third goal just six minutes later to go up 3-1 as Gorowitz – who forgot his road sweater at home and had to borrow the jersey of backup goalie Jason McCarthy – once again found separation from the Panthers' defense and beat Devin Maloof with a pretty crossover move at 8:41.

Neither team did much in the third period, as most of the play was in neutral ice. Framingham assured themselves of a spot in the south with an empty-netter with 43 seconds to go. Despite drawing a penalty with five minutes to go, the Panthers were unable to generate a single shot on net at crunch time. In the last minute, Drew McKinnon blocked a shot in the defensive, raced down the ice and stole it away from the Panthers, tucking it in the vacated cage to assure that the Flyers will be breaking out the skull and crossbones at least one more time.

Spear, who captains a fishing charter during the summer, said that the pirate theme has been something that his team has rallied around this year. "I told them that during the summer I captain a fishing boat, but during the winter sometimes I feel like I run up a pirate boat," Spear said. "I had them embrace the spirit of fighting to the death and playing for each other and being brothers out there. We were trying to find an identity for our team, and they've kind of rallied around that.

And now Cinderella wears an eye patch, and hopes to take down the top-seeded Wamps in the next round. The foes know one another well. Framingham won the first meeting, 4-0, and Braintree took the rematch, 4-2, to wrap up the Bay State Carey title.

"They beat us once, and we beat them once, so it'll be a battle," Fasano said.
February, 28, 2014
Feb 28
3:20
PM ET
Here are some thoughts from the first week or so of the high school hockey tournaments.
This will be the first of four installments I plan to bring you through and at the conclusion of the tournaments. I'll also be bringing you my weekend picks on some of that week's most anticipated matchups:
Optimism through disappointment:
By this point, you've likely seen and formulated a definitive opinion on the controversial
"no goal" call
during Monday's Super 8 play-in game between Braintree and Catholic Memorial. While the Wamps have to be letdown by the turn of events earlier this week, Braintree can still embark on a championship quest of a different kind.
The Wamps, now the No. 1 seed in the Division 1 South tournament following their Super 8 exit, open sectional play Saturday against No. 8 seed Falmouth. It's always interesting to watch how teams who are jettisoned from the Super 8 play-ins are able to readjust after falling short of an ultimate goal.
However, I think there's hope for both Braintree and Archbishop Williams – which was also dealt a crushing blow in a double-overtime classic in its play-in tilt against Xaverian – and they might just cross paths down the line.
Undoubtedly, the Wamps played their best hockey of the season in its final month. They played their way into the Top 10 with wins over Super 8 No. 6 seed Duxbury and on the final day of the regular season against CM. I liked what I saw from a steady defensive corps, led by Joe Harrington and Kevin Howard, and Nick Anson has been a reliable presence in net.
For the Bishops, I don't think there are many teams – statewide – that can match their depth and offensive skill of their top six forwards, in addition to Ryan Dunn's emergence as a legitimate All-State candidate in the late season. Head coach Derackk Curtis characterized Steve Jenner as a "hot and cold" goaltender earlier this year, but in the final weeks of the season, Jenner has become a dependable puck-stopper.
If both teams can refocus quickly, I'd expect them to meet up at Gallo for the D1 South championship game.
A nod to a great:
Think about some of the most famous headwear in sports history -- Tom Landry's legendary
fedora
, Trot Nixon's
pine tar-stained hat
, Craig MacTavish's
noteworthy lack of a bucket and compensation with some serious flow on top
-- among those, in local hockey circles, the late Ed Burns' own fedora has to be included.
The Arlington hockey coaching legend died earlier this month and, as a nod to his mentor, Spy Ponders head coach John Messuri sported Burns' trademark hat behind the bench during their surprising 1-0 win over Catholic Conference power St. John's Prep. While Messuri paid homage to Burns' legacy, the Spy Ponders honored it with their performance, playing their tough-minded brand of defensive hockey, buttressed with the unusual in-game tandem goalie rotation of Ryan Cote and Mike Schiller.
It marked a bumper crop of wins for the Middlesex League on Wednesday, which was a combined 5-1. Surprisingly, the one team to lose on the night was two-time defending Division 1 state champion Burlington, which was shut out by St. John's of Shrewsbury.
Three Stars of the Week:
3. Sam D'Antuono, Jr. F, Dexter
– The former Hingham Harborman put his team on his back during the third period of their 3-2 comeback win over Canterbury School in the first round of the NEPSAC Piatelli/Simmons tournament. D'Antuono scored the tying goal, before netting his second with the game-winner, all in the third period.
2. Al Lynch, Sr. G, Framingham
– The Flyers' netminder earned his first career playoff win with a 42-save performance in a 5-2 win over defending Division 1 South champion Marshfield on Wednesday.
1. Joe Marella, Sr. F, Abington
– Marella single-handedly put a hurting on Division 3 South No. 1 seed Cape Cod Tech, scoring six goals in the Green Wave's 7-1 thrashing Wednesday at Gallo.
This weekend's picks du jour:
(Note: I'll have full Super 8 breakdown and picks later this weekend.)
D1 North boys:
ST. MARY'S over Winchester; MELROSE over Reading; ST. JOHN'S (SHREWSBURY) over Arlington; WILMINGTON over Medford.
D1 South boys:
BRAINTREE over Falmouth; FRAMINGHAM over Franklin; ARCHBISHOP WILLIAMS over Norwood; BARNSTABLE over Milton.
D2 North boys:
BEVERLY over Danvers; LINCOLN-SUDBURY over Winthrop.
D2 South boys:
CANTON over Medway.
D1 girls:
READING over Austin Prep.
Bracket-buster upset special:
D2 boys – OLIVER AMES over Westwood.
February, 27, 2014
Feb 27
3:18
AM ET


BUZZARDS BAY, Mass. – During the last several seasons, Framingham goaltender Al Lynch has been among the state's very best. But, at times, Lynch and his Flyers teammates have struggled to find consistency.

"We're always shifting back and forth and we were hoping to hit our stride at the end of the year," Lynch said. "We started off good. We knew we had the talent and we had some really nice wins, but we had some really bad losses. It's just that when we don't show up, it shows."

And so, Lynch and Framingham's seniors faced down what potentially could have been their final period of high school hockey. Tied, 2-2, against reigning Division 1 South champion Marshfield, Lynch knew they needed to come up with something special.

"We've been looking for this win, nothing was going to stop us tonight."

Lynch continually slammed the door shut, making 42 saves. Meanwhile, junior forward Ryder Lessing chipped in a 2-goal game as the Flyers skated away with a 5-2 win over the Rams in Wednesday's Division 1 South first-round game at Gallo Arena.

"Here we are against the defending Division 1 South champions and we're tied 2-2 going on the third period," Framingham head coach Paul Spear said. "[Lynch] made some absolutely amazing saves against some really talented and skilled players. He's proven time and again he's one of the best goaltenders in the state and he stole this one tonight."

The Rams (15-8-0) got on the board first on Hunter McCauley's one-timer set up on a pass across the top of the crease from Nevin Connors at 9:24 of the first.

Framingham (12-10-1) countered on the power play at 12:09, when Lessing played the puck between the pads of Rams netminder Connor Lemieux from below the goal line.

The Flyers claimed the lead before the period was out as defenseman Tim Tierney's point shot through a screen, with Lemieux unable to see the rising half-slap.

Marshfield swung momentum in the second, outshooting the Flyers, 12-5, while tallying the lone goal of the period. Senior forward David Cataldo evened the score going bar-down with a power-play goal with less than a minute remaining in the second, beating Lynch to the high glove side.

"I thought we were focused and ready to get right back on the ice," Rams head coach Dan Connolly said of his team's effort in the second. "But credit to Lynch, the kid played phenomenal in net. They played hard, Paul [Spear] ran a great system, Lynch was amazing and they capitalized on their chances."

Framingham regained the lead for good on Christian Seariac's wrister from the slot with 7:24 remaining.

Lessing added an insurance goal with his second of the game – also on the power play – at 11:28.

Cory Gorovitz added an empty-net goal with less than a minute to play.

The Flyers advance to play No. 5 seed Franklin in the sectional quarterfinals on Saturday (time TBD), after the Panthers routed Weymouth, 7-2, on Wednesday.

Falmouth 2, Walpole 1 (2 OT)
A pair of freshmen led the way as the Clippers (13-8-2) walked away with a 2-1 victory in double overtime.

Patrick Coyne scored the game-winner on the power play, following a Rebels' too-many-men penalty with 2:32 to play in the second overtime. It was Coyne's second point of the game (1 G, 1 A).

Freshman defenseman Cam Tobey opened scoring for the No. 8 seed Clippers in the first period. Walpole (12-9-2) tied the game in the second period on a goal from junior defenseman Kevin Ivatts.

Falmouth advances to play Braintree, which returns to the South sectional tournament as the No. 1 seed, following the Wamps Super 8 play-in game loss, in a quarterfinal Saturday at Gallo.
December, 28, 2013
12/28/13
4:39
AM ET
By
John McGuirk
| ESPNBoston.com
FRAMINGHAM, Mass. -- It is not an uncommon occurrence for one person's performance to lift an entire team.

Framingham goaltender Al Lynch proved it Friday night. The senior put forth a grand performance between the pipes, stopping 41 of 42 shots in leading the Flyers to a stunning 2-1 triumph over No. 6 Catholic Memorial in the opening round of the Silverback Hockey Classic inside Loring Arena.

With the victory, Framingham (2-2-0) will face St. John's (Shrewsbury) in the title game Saturday night beginning at 7:50 p.m. The Knights will play in the consolation game (5:50 p.m.) versus Marshfield.

"It all starts with our forwards to our defense then all the way back to me," Lynch said. "When your team is feeling it, it's easy to play well behind them."

You had an inkling that Lynch's evening would be special after he turned aside 17 CM shots in the opening period to keep the game scoreless. Often times, Framingham, playing without last year's top-scorer Corey Gorovitz (who is expected back for the title game), found itself limited once it was able to move the puck beyond the blue line. As is their nature, the Knights defense collapsed on any Flyer with the puck on his respective stick once inside their own zone. The Flyers mustered just one shot in the opening frame.

But because of Lynch's play, they remained upbeat.

"When it's a 0-0 game after one period and the goalie is feeling it then I think it's easy for the rest of the team to feel it as well and rally around him," said Lynch. "It was nice to get out of that first period feeling good. Once you get that first 15 minutes in, then the rest of the night the pucks begin to look like beach balls. Having everyone work their tails off all game, I think it proves something to us as a team as well as anyone watching."

Framingham's positive demeanor carried into the second period and was raised even highter after Chris McGinty's rebound goal at 4:25 to give the Flyers a 1-0 lead.

CM's frustration was evident. Numerous quality chances on net were swatted away by Lynch. Knight players could be seen often skating to their bench shaking their heads in dismay. With time ticking down in the period, CM, albeit briefly, was finally able to prove that Lynch was human afterall. Gunnar McKenzie, a sophomore forward, managed to direct a rebound shot by Eion Hurley past Lynch stick side at 13:13 to send the Knights into the second intermission tied 1-1.

The goal served as a much-needed lift for CM who believed it had out-played Framingham at both ends of the ice yet only had the one goal to show for it.

Any momentum gained following McKenzie's tally was diminished to begin the third. Just 13 seconds in, defenseman Joey Gilbert had the puck on his stick following a face off. Standing 20 feet to the left of CM goalie Brandon Collett (13 saves), the sophomore was able to skate in alone several feet before firing s shot into the upper left corner of the net, giving the Flyers a 2-1 advantage.

"For the most part I thought we played disciplined," Flyers head coach Paul Spear said. "You don't get to beat a team like that very often so tonight was very exciting. Our goaltender is outstanding and we feel he is a Division 1 prospect. He just played his heart out tonight. We've got to come back and play St. John's next but I told our kids we should be proud and happy but when we wake up in the morning lets put our focus on St. John's and try to win our own tournament."

Having regained the lead back, Framingham was consistent with its defensive effort. The Flyers played much tighter, allowing little space for the Knights to work in.

They also got a little more physical, pushing CM off its routes in its attempt to notch the tying score. With Lynch still working his magic, things got a bit more interesting after Framingham was called for a pair of penalties with under three minutes to go. However, both times the Flyers penalty unit did its job. Although the Knights (2-1) still managed to fire 14 shots at Lynch in the period, all were stopped giving Framingham one of its biggest victories in school history.

"We had a lot of scoring opportunities but their goaltender was up to the task," said CM head coach Bill Hanson. "But when we go back to watch this game, the little one-on-one battles especially in the last 1:15 their kids did a helluva' job. We didn't have any open man situations or 2-on-1s and 3-on-2s. Our kids never let up and played hard throughout.

"There was no pity party inside our locker room. There is disappointment. But I still think we'll be a very good team. Paul [Spear] does a great job over there. He doesn't get enough credit being a real good X's and O's guy."
March, 28, 2013
3/28/13
9:11
PM ET
FIRST LINE
F - Liam Coughlin, Sr., Catholic Memorial
Finished third among all Division 1 players in scoring, while leading the Knights back to the Super 8 for the first time since 2009-10. The South Boston native put up 28-20-48 totals, tied for first among Catholic Conference scorers this season.
F - Ara Nazarian, Soph., Malden Catholic
ESPN Boston's Mr. Hockey award winner this season, Nazarian had 26-22-48 totals for the regular season, along with nine goals and five assists during the Super 8 tournament for the three-time defending champions. The Boxford resident and center is the first underclassman to win the Mr. Hockey award.
F – Brian Pinho, Sr., St. John's Prep
The Providence College commit led the Eagles to a No. 1 seed in this year's Super 8 tournament. The North Andover resident compiled 12-24-36 totals this season and, in January, was ranked No. 117 among North American skaters in the NHL Central Scouting's Midterm Rankings.
D – Casey Fitzgerald, Soph., Malden Catholic
The North Reading resident earned his second Super 8 title with the Lancers, playing on all defensive units and is one of two players making a second-straight appearance on our All-State team. The Boston College commit had 5-17-22 totals on the season and recently was accepted in the United States National Team Development Program's U-17 team.
D – Matt Foley, Sr., Springfield Cathedral
The two-way blue-liner finished third on the Panthers in scoring with 10-16-26 totals this year while leading them to another Super 8 apperance. A Longmeadow resident, the captain is deciding among prep schools for next year, as well as offers to play in college.
G – Peter Cronin, Sr., BC High
The only repeating First-Team All-Stater this year, Cronin finished in the top five among Division 1 netminders in both goals against average (1.40) and save percentage (94.6) while starting all 23 of the Eagles' games. He is currently considering colleges among playing opportunities at the prep school and junior levels.
SECOND LINE
F – Tom Besinger, Jr., BC High
The Eagles' top center and captain was force to reckon with in the circle, in addition to leading the Eagles with 35 points (10 goals and a team-best 25 assists).
F – Cam Owens, Sr., Wilmington
Finished his high school career with back-to-back Division 2 state championships. Owens racked up 30 points, playing alongside All-State honorable mention Brendan McDonough. Owens is currently weighing prep and junior options for next year.
F – Nolan Vesey, Sr., Austin Prep
The senior captain led the Cougars back to the Super 8 for the first time since the 2009-10 season and all the way to a finals appearance at the Garden. Vesey led AP in goals (18) and points (31) while kicking in 13 assists.
D – Nick Gorski, Sr., Central Catholic
A player who head coach Mike Jankowski repeatedly called his "most improved player" since freshman year, the Raiders captain played on all units, leading Central to another Super 8 appearance.
D – Jack Williams, Sr. Springfield Cathedral
A major component to perhaps the state's best blue-line core, Williams did a little bit of everything for the Panthers, including playing forward on power-play units. The Suffield, Conn. resident tallied four goals and 19 assists for 23 points. He is currently weighing his playing options for next season.
G – Colin Soucy, Jr., Central Catholic
The break-out star of this year's Super 8 tournament, Soucy nearly delivered the Raiders to a quarterfinal-round upset of No. 1 seed St. John's Prep in his first year as Central's starting netminder.
Best of the Rest – Honorable Mention
Forwards
Tyler Bird, Jr., St. John's Prep
Tommy Bishop, Sr., Chelmsford
Matt Brazel, Jr., Hingham
Brian Brooks, Jr., Canton
Mike Carbone, Sr., Marshfield
Bobo Carpenter, Soph., Austin Prep
A.J. Couto, Sr., Danvers
Ben Cox, Sr., Medfield
Peter Crinella, Soph., Springfield Cathedral
Cam Curley, Sr., Franklin
Sam D'Antuono, Jr., Hingham
Jordan Dow, Sr., Lincoln-Sudbury
Josh Edwards, Sr., Blue Hills
Brendan Greene, Jr., Winchester
C.J. Grinnell, Sr., Burlington
Marc Happy, Jr., Wachusett
Lloyd Hayes, Jr., Central Catholic
Kevin Hock, Frosh., Catholic Memorial
Mike Iovanna, Sr., Malden Catholic
Andrew Irving, Sr., Beverly
Connor Irving, Jr., Beverly
Ryan Jones, Sr., Coyle-Cassidy
Jack Kilty, Sr., Medway
Pat Kramer, Soph., BC High
Tom Koopman, Jr., Marblehead
Matt Kustra, Sr., Natick
Brendan McDounough, Jr., Wilmington
Anthony Lespasio, Sr., Bedford
Jack O'Hear, Sr., Catholic Memorial
Derek Petti, Sr., Tewksbury
Eddie Pratt, Sr., Xaverian
Nolan Redler, Jr., Winchester
Tyler Sifferlen, Jr., Malden Catholic
Mike Sorenti, Jr., Archbishop Williams
Sean Spohr, Sr., Westfield
Max Turcotte, Sr., Holliston
Max Willman, Sr., Barnstable
Defense
Matt Burchill, Sr., Marshfield
Derek Butler, Jr., Natick
John Carlson, Jr., Hingham
Adam Crowley, Jr., Burlington
Nick Edwards, Jr., Blue Hills
Sean Heelan, Sr., Catholic Memorial
Kurt Leavitt, Sr., Canton
Bryan Nelson, Soph., St. John's (Shrewsbury)
Nick Rolli, Jr., Malden Catholic
Ryan Shea, Frosh, BC High
Sam Topham, Sr., BC High
Goaltenders
Tim Birarelli, Soph., Beverly
Alex Buckley, Sr., Newburyport
Brandon Collett, Frosh., Catholic Memorial
Jordan Davis, Sr., Norwood
Derek DeCastro, Sr., Burlington
Drew Foley, Jr., Wilmington
Nolan Greene, Jr., North Quincy
Elijah Harris, Soph., Austin Prep
John Liquori, Jr., Springfield Cathedral
Al Lynch, Jr., Framingham
Evan Morelli, Sr., Reading
James Offner, Soph., Winchester
Nick Russo, Sr., Waltham
Jimmy Tierney, Soph., Oliver Ames
February, 4, 2013
2/04/13
11:48
PM ET
By
Josh Perry
| ESPNBoston.com
HYDE PARK, Mass. -- There is nothing worse for a team that is battling to get back into a game than to give away a power play, let alone more than one.

Twice in the third period of Monday's Bay State Conference game at Bajko Rink, and both times while momentum was on its side, Norwood took retaliation penalties. Both times Framingham (11-6-0, 11-2-0) took advantage of the extra skater to turn an evenly played one-goal game into a comfortable win.

The Flyers went 2-for-3 on the power play and sophomore forward Drew McKinnon tallied two goals and an assist as Framingham earned a tournament berth with a 5-1 win in a BSC crossover game against the Mustangs (9-3-2, 8-2-2).

Heading into the third period, Norwood trailed 2-1, but the Mustangs stormed out of the locker room intent on finding an equalizing goal. After managing only 10 shots in the opening two periods, Norwood racked up 16 in the third. Its good play was wasted when goalie Jordan Davis was called for a slash after a collision in the crease.

Freshman forward Jamie Brigham made Norwood pay. He latched onto a rebound of a McKinnon and found the back of the net to make it 3-1. The Mustangs continued to dominate the play in the third, but with 4:10 remaining, John Galvin headed to the penalty box. Twenty seconds later, the Flyers had another goal on a deflected shot by sophomore Ryder Lessing and the game was effectively over.

McKinnon added an empty net goal as the final buzzer sounded to make the score final, 5-1.

"We've been getting stupid penalties all year and it finally bit us. They're not even good penalties," said Norwood head coach Bill Clifford, who was visibly frustrated with his team's performance. "That's been the story of the whole season. We don't play three periods of hockey; it's going to catch up to you sooner or later and it caught up to us tonight."

Framingham started the game slowly and junior goalie made two great stops to rob Rourke Flynn within the opening five minutes. The Flyers picked up steam in the final minutes of the first and, just 16 seconds before the end of the period, McKinnon found himself alone in front to fire the team into the lead.

Flyers head coach Paul Spear wanted other players to step up on offense and was impressed by the play of his young forward.

He said, "In the locker room before the game, I told the guys that someone else has to show up on the score sheet besides our top one or two guys. As soon as Drew scored the first goal of the game for us, I thought, 'Ok, this is good for us.' He had a great game."

Norwood tied the game in the second despite only mustering four shots in the period. Framingham failed to clear the puck and it was played off the boards by captain Tyler Gover to a wide-open Galvin in the slot. Lynch had no chance as the junior picked the top corner.

The Flyers took back the lead 9:04 into the second period on a mistake by normally reliable defenseman Dan Wiseman. The Norwood assistant captain tried to ice the puck but it hit a teammate and fell directly into the path of Framingham's captain Aaron Acorn. The senior made no mistake and gave the Flyers a 2-1 lead heading into the final period.

Both coaches used the same word to describe how Norwood played the final 15 minutes.

"It was desperation," said Clifford, whose team was on the Watch List for inclusion in the Super 8 tournament, but has now lost two games in a row.

Spear was grateful that he was able to call on his junior captain to protect the net during Norwood's onslaught. This was especially true in the final two minutes when three Flyers wound up in the box

"They wanted to catch up and they were playing a little bit desperate," he remarked. "They were playing really hard and that's when we count on Al to make some big saves. We missed a few coverages out front, there were a couple of deflected pucks that Al [Lynch] got a hold of, but that's why he's good."

The win moves Framingham into a very slim half-game lead over Braintree atop the Bay State's Carey division (the Wamps play again on Wednesday).

Most importantly for Spear, it gets the Flyers back into the Division 1 state tournament.

He said, "The last two years we had tournament [caliber] teams, but this year we got enough wins. It's really a nice feeling to know that our season won't end at February vacation."
February, 3, 2013
2/03/13
12:50
AM ET
By
Josh Perry
| ESPNBoston.com
FRAMINGHAM, Mass. -- The play seemed to happen in slow motion. Braintree senior forward Tom Mahoney was in one-on-one with Framingham goalie Al Lynch. He deked to his forehand and pulled the puck through the crease onto his backhand. Mahoney seemed to have the goal at his mercy, but out of nowhere Lynch flashed his glove across and caused the Flyers fans to jump out of their seats.
Despite Lynch's best efforts, he could not prevent another goal.
Two minutes after the great save, Wamps defenseman James Flaherty slid down from the point into the slot and effectively ended the game with still three minutes on the clock. Flaherty had a goal and an assist to lead Braintree back into a tie for the Bay State Conference Carey Division lead, after a 2-0 win at Loring Arena.
[+] Enlarge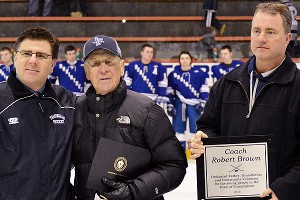 Josh Perry for ESPNBoston.comLongtime Framingham hockey coach Bobby Brown was honored for 50 years of service before the Flyers' game against Braintree Saturday at Loring Arena. At left is current coach Paul Spear, at right is Framingham AD Gary Doherty.
"We thought we were a better team than we showed last time out; I thought we came out flat at home" Braintree head coach Dave Fasano said. "I was proud of the way our guys responded tonight. It was a complete team effort. [It's a] quality win for our program at this time of the year."
Framingham head coach Paul Spear was in awe of the save that Lynch (31 saves) made and his overall play to keep the team in the game.
"Both sides were cheering for him," Spear added. "I don't think that I've seen that in 14 years of coaching that the entire rink exploded for the play of one kid. That was pretty cool."
Fasano was also effusive in his praise of Lynch, saying, "I consider him one of the top two or three goalies in the league maybe even on of the top two or three around. He made three or four saves that were game changers."
The Wamps (12-3-1, 10-2-0) controlled the game from start to finish and outshot Framingham 33-17. It was similar to the way the first game was played although the outcome was very different from the Flyers 3-1 win at Zapustas Arena almost a month ago.
"We're trying to win on goaltending and defense and taking our chances," Spear said. "We just didn't take our chances tonight. They did the same thing last time we played them, but we kept most of the shots to the outside and let Al [Lynch] see them."
He added, "You play defensive and you tell your guys to take their chances and score."
Braintree opened the scoring with 3:08 left in the second period. Flaherty fired a quick outlet to captain David Fasano Jr., who finished the breakaway for a short-handed goal that proved to be the game-winner. Even though the Wamps created most of the chances as long as it stayed a one-goal game, Fasano knew that the result was not assured.
He said, "It was huge. I thought we carried the play. I liked the way we cycled the puck well tonight. I thought our defensemen stepped up when they needed to."
Framingham (10-6-0, 10-2-0) will take on Norwood in another tough league matchup on Monday afternoon as it tries to rebound from the end of its six-game win streak. Braintree will put its eight-game win streak (its last loss was to the Flyers) on the line Wednesday at Needham.
FRAMINGHAM COACH HONORED FOR 50 YEARS OF SERVICE
Framingham won a state title in 1961 and the next year Loring Arena was built. That was the same year that Robert "Bobby" Brown began his relationship with Framingham Youth Hockey. On Saturday night, at the rink he has called home for the past 50 years, Brown was honored by the Framingham hockey community before the high school's game with Braintree.
Brown had been the JV coach at Framingham High for the past 10 years but was forced away from the bench two weeks into the season. He has been battling prostate cancer for the past year and, according to Flyers head coach Paul Spear, he did not have the energy to continue in what had already been announced as his last year.
"I already had the idea kicking around to do something special for him in his last year," said Spear prior to the ceremony. "Figured it's the least we could do."
Members of the local youth teams, the Framingham JV, the varsity, the Framingham High girls' team, and Braintree High were all hand to celebrate the legacy of Brown and his influence on the game. The stands at Loring Arena were packed with adoring fans that all had personal stories of how Brown had impacted them over the years.
Brown was clearly emotional about the outpouring of support and several times reached up to tap his heart and let the packed stands know that he was moved by the display.
At times the president of Framingham Youth Hockey, a board member, and a coach at various levels, Brown was brought into the high school program 10 years ago. When Spear took over the program in 2000, he asked Brown to join him but had to wait a few more years before the invitation was accepted. In 2003, Brown filled the opening at junior varsity.
Spear explained what Brown has meant to the Framingham hockey community. "He's the embodiment of tradition. He's what Framingham hockey is all about. It makes the players feel connected to something bigger than themselves and that's what tradition in a hockey program is all about."
He added, "He is the grandfather of Framingham Youth Hockey."
Brown is also unbeaten as the head coach of the Flyers. He was given the chance to be the official head coach at a game near the end of last season against Medford. Framingham won the game for Brown and ensured that he would always have a 100 percent record in the top job.
His positive attitude, his respect for everyone he comes across, and the kindness that he displays to the players has endeared him to the Framingham hockey community. Of course, taking the team bus to McDonald's after a game did not hurt either.
On Saturday night, the entire hockey community from the high school down to the youth level came together to celebrate the impact of the heart and soul of the sport in Framingham.
January, 10, 2012
1/10/12
4:03
PM ET
FRAMINGHAM, Mass. – Expectations are high for Framingham boys' hockey this season. But the Flyers' brightest days still may lie ahead.

A core of talented young players will keep the Flyers competitive as they face perhaps the most intense out-of-conference schedule in the state this year. Despite the tough road ahead, the group's focused one simple goal – returning to the postseason. Last season, for the first time in more than decade and the first time during Paul Spear's tenure as head coach, the Flyers failed to qualify.

With that said, the Flyers – although experienced in games played – are still young. Their schedule is unforgiving at best. That means they'll be fighting for their lives the entire season.

And, quite frankly, captain Jake McKinnon wouldn't have it any other way.

"It's a huge year for us," McKinnon said after an early season practice. "[Last year] was the first year in 20 years that we didn't make the tournament, so a lot of people in this town are looking to us to do big things, even though they've seen the schedule and they know what we're up against. We're going to give it our all."

Now, the Flyers (who made our preseason Top 25, but have since dropped from the poll) have had their share of disappointments early. Against the likes of Top 10 teams, BC High, Catholic Memorial and Hingham, in recent weeks, the Flyers came away with a goose egg on the scoreboard. In those three games against Super 8-flight competitors, Framingham was outscored 12-0.

The Flyers dipped below .500 with Monday's 4-0 loss to No. 7 Hingham at 3-4-1. It was a healthy reminder of where Spear hopes his team will be in the coming years.

"I've always wanted us to be like a Hingham or a Needham, those great public school programs in the state," said Spear, who's in his 13th season with the program. "I want us to get to that level."

Spear believes the best way to accomplish that is to play the best.

"It inspires kids. It gets them to work hard in the offseason. If they don't, they know it's coming one way or another."

The reason for Spear's optimism hinges largely on the Flyers' young talent. While McKinnon (6 goals) provides leadership and a scoring spark, it's a young cast, including sophomore Corey Gorovitz and freshman Ryder Lessing, that has the program on the rise.

Defensively, the Flyers will be set for years to come with sophomore Al Lynch (35 saves vs. Hingham) and freshman Brendan Cytulik seeing time in nets, along with junior Casey Brigham. On the blue line, Framingham's elder statesman is junior Brian Meaney. Framingham's top five is filled out with four sophomores.

"Even though we're a young team," Gorovitz said. "We make up for it with the time we've had playing together."

Now, all the Flyers have to do is make it to the second season. Heading into the thick of their Bay State Carey schedule, and with a couple more Catholic Conference challenges against Malden Catholic and St. John's Prep later in the season, it won't get any easier.

"Our league is brutal," Spear said. "The way I look at it, we were one period away from the tournament last year. But I felt if we'd gotten in, we would've been able to beat anybody."

He skipped a beat.

"We just need to get in."