Boston High School:

Alec Brown
April, 8, 2013
4/08/13
2:24
AM ET
Attackmen:
Tyler Bogart, Soph., Catholic Memorial
Jordan Dow, Sr., Lincoln-Sudbury
Jay Drapeau, Jr., Westford Academy
Brandon Jaeger, Sr., Dover-Sherborn
C.J. LoConte, Sr., Duxbury
Andrew Melvin, Sr., Medfield
Nick Menzel, Jr., Archbishop Williams
Nico Panepinto, Sr., Needham
Robbie Pisano, Sr., Needham
Tyler Reilly, Sr., Grafton
Andrew Smiley, Jr., St. John's (Shrewsbury)
[+] Enlarge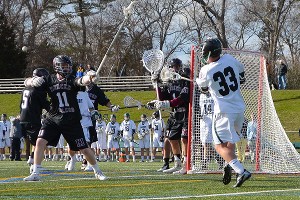 Scott Barboza/ESPN Army commit C.J. LoConte will look to shoulder a bigger part of the offense for defending Division 1 state champion Duxbury.
Midfielders:
Kevin Bletzer, Jr., Catholic Memorial
Will Blumenberg, Soph., Concord-Carlisle
Caleb Brodie, Jr., Hingham
Alec Brown, Sr., Wakefield
Tucker Ciessau, Sr., Scituate
Dan Delaney, Sr., Lincoln-Sudbury
Henry Guild, Sr., Lincoln-Sudbury
Carson Hart, Sr., Wayland
Davis Kraft, Sr., Algonquin
Matt LaCroix, Sr., Westfield
Drew O'Connell, Jr., St. John's Prep
Mikey Panepinto, Jr., Needham
Kieran Presley, Sr., Amherst
Bryan Rotartori, Sr., Grafton
Jack Wheeler, Jr., Xaverian
Long-stick Midfielders:
Nick Brozowski, Jr., Concord-Carlisle
Mike Elcock, Jr., Needham
D.J. George, Sr., Arlington Catholic
John Sexton, Jr., Lincoln-Sudbury
Defensemen:
Evan Boynton, Sr., Concord-Carlisle
Tim Gillis, Soph., Cohasset
Brian Uva, Sr., St. John's Prep
Luc Valenza, Sr., Foxborough
Jay Walsh, Sr., Duxbury
Tyler Weeks, Sr., Andover
Ian Yanulis, Sr., BC High
Goaltender:
Andrew Blood, Jr., Walpole
Matt Comerford, Sr., Reading
Ryan Goodall, Sr., Dover-Sherborn
Nick Marrocco, Jr., Duxbury
Giles Ober, Sr., Algonquin
Jake Reynolds, Jr., Scituate
D.J. Smith, Sr., Billerica
Robert Treiber, Jr., Medfield
Tighe Van Lenten, Sr., Masconomet
October, 20, 2012
10/20/12
12:47
AM ET
By
Shawn Myrick
| ESPNBoston.com


BURLINGTON, Mass. -- A new team may have risen in the ranks of the Middlesex League's Freedom division on Friday.

Since the league split into two tiers three seasons ago, Wakefield has won the division (previously called the "Small" division) each year. But with a different division name and a new, more powerful Burlington (6-1, 2-0), a fresh face is now competing for the top spot.

The Red Devils leaned heavily on running backs Marcus O'Diah and Anthony Cruz, as the seniors lead Burlington to a 33-6 domination of Wakefield (6-1, 1-1) to grab their first win in the rivalry since 2007.

"We are more physical (this year)," said Burlington coach Shawn Maguire. "Up front we have decent size, but we are playing very tough physical football."

Separating its first 14 plays evenly between O'Diah and Cruz, the Red Devils' pair rushed for their first 102 yards. O'Diah bobbed in and out along the sidelines for a 14-yard touchdown rush to open the scoring at nine minutes in the first.

On Burlington's first pass attempt of the game, junior Jimmy Goober bounced a blocked pass off the chest of a fallen defender and up into the arms of senior Jirair Manoukian for a five-yard touchdown and a 14-0 margin five and a half minutes later.

"They had been loading up on the line," said Maguire. "We had to open them up a little bit. Goober has played great all year as a backup quarterback who is coming in."

A forced fumble by junior Christien Morneweck on a punt return made way for a one yard dive by Cruz for a 20-0 Burlington lead in the final seconds of the first half.

Two-Headed Monster: The Red Devils directed 58 of their 60 plays to either O'Diah or Cruz.

O'Diah took 33 handoffs for 164 yards and two touchdowns, while Cruz rushed 24 times for 142 yards and 14 points.

"I am just looking for Marcus," said Cruz. "We do a lot of inside running and that helps our toughness. He did a good job blocking tonight."

Burlington handed off to only O'Diah and Cruz on its first 15 plays of the second half to move 86 yards and go ahead 27-0 on a one-yard dive by Cruz. Another nine plays for 81 yards from the seniors set up a four-yard rush by O'Diah, for the finishing score with 2:31 left.

Slight Resurgence: Wakefield reached the 20-yard-line only two times in the first 36 minutes, while failing fourth down conversions both possessions on long passing plays.

A 20-yard post-pattern toss attempt by junior quarterback Michael Miller was knocked down in the end zone by O'Diah for a turnover on downs at 8:31 in the second. The Warriors drove 50 yards to start the half, but again failed on a cross pattern in the end zone that was blocked by Morneweck.

Last year's Division 2A runner-ups were 1-of-6 passing for zero yards in the first half.

"Their tackle (Mark Woods) is amazing so we started throwing short stuff and running away from him," said Wakefield coach Michael Boyages. "We get down in the redzone and we just stalled a few times. Twenty is a lot of points to come back from in this weather."

Wakefield began moving the ball in the second half with short screen passes to senior Alec Brown who caught five tosses for 76 yards all following the break. The senior grabbed an out-pass 10 yards from the end zone and pushed his defender away for 29-yard score and a 27-6 deficit four and a half minutes into the fourth quarter.


BURLINGTON 33, WAKEFIELD 6
Wakefield (6-1) 0 0 0 6 -- 6
Burlington (6-1) 14 6 0 13 -- 33

B – Marcus O'Diah 14 run (kick failed)
B - Jirair Manoukian 5 pass from Jimmy Goober (Antony Cruz pass from Goober)
B – Cruz 1 run (kick failed)
B – Cruz 1 run (Chris Arria kick)
W – Alec Brown 29 pass from Michael Miller (kick failed)
B – O'Diah 4 run (kick failed)
March, 8, 2012
3/08/12
1:44
AM ET
By
Matt Noonan
| ESPNBoston.com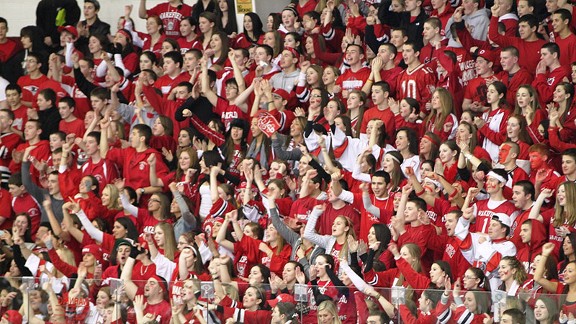 Ryan Kilian/Special to ESPNBoston.coWakefield's "Red Sea" were out in full effect to help the Warriors to a second-straight Division 1 North sectional final in a shootout win over Chelmsford on Wednesday.
CHELMSFORD, Mass. -- It was déjà vu all over again for the Wakefield Warriors, who escaped Wednesday's Div. 1 North semi-final clash by defeating Chelmsford, 2-1, in a shootout.
With the win, Wakefield once again earned themselves a spot in the sectional final, as the Warriors repeated their performance from a year ago. Wakefield also went to a shootout with Billerica in last year's semifinal.
"Down two periods all night, but we've been there before," Wakefield head coach Derek Edgerly said. "We've been down a couple games this year, [but] we just comeback fighting hard, and that's all it takes."
"It's called composure, positivity, keep your positive up all night and these kids just played excellent," Edgerly added. "What a great game."
Chelmsford notched the first goal early in the opening period when senior David DeDonato beat Wakefield senior goaltender Joe Cerulo (31 saves) before the Warriors answered in the third period with junior Daniel Cardillo, riffling the puck into the back of Lions' net, forcing overtime.
In the extra session, both teams chased the puck up and down the ice, but no resolution was found.
DeDonato eventually registered his team's first strike in the shootout.
Wakefield answered on their third attempt when senior Kevin Doherty beat Chelmsford's junior netminder Derek Noble, tying the shootout, 1-1. The Warriors then answered on their ensuing attempt when junior Alec Brown scored the clincher before Cerulo denied sophomore Jesse Lye.
"We go over shootouts every night in practice for 15 minutes because when it comes down to this end in a tournament, you've got to do your shootout," Edgerly said. "And one thing about these games, it's usually a blowout or it's an overtime win or shootout, there's nothing in between."
"We had a great year," Chelmsford head coach Mike McGrath said. "I would have to say if there was a word I'd use for these kids, it's adversity because we had kids out with mono, we had a lot of things where we were missing kids, and we battled through it, and peaked at the right time, and had a nice little run."
BURLINGTON 5, ACTON-BOXBOROUGH 1
After a sluggish two periods, the Red Devils offense exploded by tallying four goals in the final 15 minutes, which lifted Burlington past the Colonials, 5-1.
Senior Trevor Cimino registered his team's second goal 22 seconds into the final period before senior Brian Hood, junior Joe Berardi (1 G, 1 A) and sophomore Joe Scali (2 G) struck.
"[Dan McMahon] made a good play, dumping it into the zone and I just had a breakaway, put it home," Cimino said. "We got that first goal in the third period, [and] I think they kind of shut down because they didn't know what to do anymore."
"It took us two periods to figure it out," Burlington head coach Bob Conceison said. "They played Monday night, [and] I felt like we could wear them down in the third period, and I think that showed in the third period."
Burlington earned a one-goal advantage when Berardi connected with Scali late in the first period before Acton-Boxborough evened the score at 1-1 when senior T.J. Barrett wrapped around the cage and squeaked the puck past junior netminder Derek DeCastro for the score.
"I think he was disappointed in the goal that [he] let in," Conceison said of DeCastro. "It was kind of a funny late period goal that might have been in the nearside, but he made a big save on a break away at 3-1, it was a huge save for us. And Derek's that type of goalie, he comes up big in those situations when we needed and that was a big step, and we needed that, we really needed that."
A-B had chances to earn a lead, but solid defense and goaltending by Burlington helped them escape with a victory, and set up an exciting Division 1 North final against Wakefield, Monday at Tsongas.
"It will be fun," Conceison said. "I don't know [if our] crowd can outdo their crowd."
March, 20, 2011
3/20/11
11:06
PM ET
By
Dan Hickling
| ESPNBoston.com


BOSTON -- To get his teammates pumped up for Sunday's Division I state championship game against Wakefield, Marshfield captain Chris Perry wrote the beginnings of a what would have been an impressive inspirational novel.

One he never got to finish, due to a the serious leg injury he suffered midway through the contest.

No matter. The Rams finished the epic for him, winning in masterful, come from behind fashion, 3-2, before a raucous crowd at TD Garden.

Sophomore Mike Carbone netted the game-winner with 1:31 left in the third period, two minutes after his linemate Connor McLean had tied the score 2-2.

Carbone's goal, a wicked wrister from the right dot, secured the Rams their second ever state crown, and first since 2006.

Carbone said Perry, who suffered a severed femoral artery in his right leg after a collision with Wakefield's John Sartell, was very much on his mind as he scored what proved to be the biggest goal in his life.

"He's my best friend," said Carbone. "That means a lot. But us winning the state championship has sunk in as much as it will tomorrow. Or a year from now."
Senior forward Ryan Connors echoed the thought.

"He was my center man," Connors said. "Since he couldn't be here, we wanted to get the win for him. He wrote a good speech to get us all going in the locker room. He wasn't there to give us another one after the game."

The Rams held a noticeable edge in play during the scoreless opening period.

Wakefield goalie Joe Cerulo passed the stiffest test of the stanza, when, at 10:31, he reacted to Joe Amirand's 10 foot deflection of Jon Fraser's point shot.

Cerulo, however, had no chance at all on Connors' fluky goal, which opened the scoring just 24 seconds into the second period. Connors was attempting to pass the puck out of the left corner to his younger brother Jimmy. Instead instead, he hit a perfect bank shot off of the leg of Warriors' defender John Sartell, leaving Cerulo (25 saves) with no time to react.

"I got pretty lucky," said Connors. "We were just doing everything we could to get the puck to the net. It just went our way."

The mood in the Garden was darkened, when, at 3:38, Perry, the club's top line winger, went down.

Perry was chasing the puck near the red line when he and Sartell collided, throwing Perry into the boards. Perry was inadvertantly gashed by Sartell's skate. After being tended to for about five minutes, was wheeled off, and taken to Massachusetts General Hospital for surgery.

"It looks like he's going to be okay," said a relieved Dan Connolly, Marshfield's coach, who relied heavily on Perry in all situations. "Up until that play he was our best player. He was unbelievable. He's the catalyst on our team. When our kids saw that, it was like, 'oh, no, what's going to happen now."



The loss of Perry knocked the Rams off stride, but not for good.

"He's a big player for us," said senior defenseman Pat Cull. "We knew he wanted it just as bad as we did. We knew we had to do it for him."

The Warriors knotted the score, 1-1, via Adam Giancola's power play goal, at 11:04.

Giancola cut to the right post, and when Rams goalie Kyle Moran (17 stops) kicked out Brett Buckley's attempt from the left side, Giancola pounced on the rebound and buried it. Giancola tallied again, 31 seconds into the third period, to give Wakefield its only lead, 2-1, after Alec Brown hit him with a nifty cross crease pass.
But with 3:35 left in the third, McLean rerouted Ty Martina's centering feed, to make it 2-2.

Then, with momentum, and inspiration, clearly in the Rams' corner, McLean hit Carbone in full stride with a pass up the right wing.

Carbone took it from there, motoring to within 25 feet before zipping home the winning goal.

"It was a really good shot," said Cerulo. "I have to give him credit. If I'd been out a few more inches, I would have had that."

Said Moran, his opposite number, "We knew that ewe had the heart, we'd be able to take it all the way. And we did."


March, 13, 2011
3/13/11
1:10
AM ET


BILLERICA, Mass. -- Wakefield boys' hockey head coach Derek Edgerly couldn't quite put his finger on it, but he knew he had something special with this year's team. Granted, having just five seniors and 12 sophomores on a varsity team doesn't often inspire visions of postseason glory, but he knew they had it.

"I knew these kids had it from day one," Edgerly said. "I don't know what it was about them."

The Warriors proved their coach to be right, toppling top-seeded St. Mary's of Lynn, 4-3, completing a surprising run to the Division 1 North championship Saturday night at Chelmsford Forum.

And it was one of its younger members that put Wakefield (14-6-4) over the top. Second-year forward Kyle Leone, who had two goals in the entirety of the regular season, had a career game with a hat trick, including the game-winning tally in the third period.

However, it was not done without another stellar performance between the pipes from junior Joe Cerulo. St. Mary's outshot Wakefield, 38-20, for the game, but the Warriors netminder repeatedly frustrated the Spartans' snipers with highlight reel stop after the next.

"I thought all our guys played well tonight," St. Mary's head coach Mark Lee said. "They were tenacious and, most of the game, they dominated.

"The story of the game was their goaltender, but I think we did everything we need to do to be successful to win today. They got it done when they had to and when we had to put the puck in the net, they didn't let us."

Wakefield was out of the gate first, scoring 3:12 in with Brett Buckley tipping in Kevin Doherty's point shot in front. The Warriors were on the board again just 35 seconds later with Leone tallying his first of the night, putting back a rebound off of a John Sartell shot.

The Spartans (14-5-3) regained a degree of momentum, carrying play for the final half of the period and outshooting the Warriors, 12-9. St. Mary's cut the lead to one on Christopher Surrette's first of the game with 6:08 remaining in the first.

Surrette tied the game two minutes into the second, squeezing one through Cerulo's arm, for his second goal of the game.

Wakefield came back to answer with 3:33 remaining in the period, with Leone netting his second of the game, again coming off a rebound. Alec Brown and Andrew Finocchio had the assists.

Once again, St. Mary's responded when Julian Yourawski snuck one in from the behind the net on a wraparound with 1:24 to play in the second.

However, the night belonged to Leone and he put Wakefield on top for good 38 seconds into the third, with Spartans netminder Donald Hesse experiencing déjà vu all over again, on a rebound put back.

"I just saw it, hit it and it was in the net," Leone said of the game-winner.

While the Warriors shocked the hockey world, they also may have surprised themselves.

"Coming into this season I knew we were a very young team, but I never thought we'd make it this far," Cerulo said. "But I'm very proud of my team because it was a good overall team effort."