Boston High School:

Alex Dalton
June, 29, 2013
6/29/13
11:08
AM ET
STARTING ELEVEN

Isabella O'Connor, Jr. A, Notre Dame (Hingham)
The Plymouth resident racked up both U.S. Lacrosse and Under Armour All-American honors as the Cougars grabbed their first Division 1 state title in program history. O'Connor registered 56 goals, 15 assists, 40 ground balls and 33 forced turnovers on the season. She is verbally committed to the University of Florida.

Maddie Stenberg, Sr. A, Needham
Stenberg was named the Bay State Conference's MVP after leading the Rockets to a 20-3 campaign and D1 South semifinals appearance. She was named a U.S. Lacrosse All-American, and leaves Needham with 439 career points. She will continue her career next year at Penn State.

Amy Arnold, Sr. A, Masconomet
The Cape Ann League's Player of the Year registered 71 goals and 19 assists as the Chieftains reached the semifinals of the D1 North tournament. Arnold was named a U.S. Lacrosse All-American, and will continue her career next year at the University of Florida.

Alex Dalton, Sr. M, Notre Dame (Hingham)
The recipient of this year's prestigious ESPN Boston Miss Lacrosse Award, Dalton led an explosive Cougars attack to their first D1 state title in program history. She registering 76 goals, 15 assists, 79 ground balls, 69 draw controls and 61 forced turnovers, and leaves the program with 303 career goals and 44 career assists. Dalton was named both a U.S. Lacrosse and Under Armour All-American, and will play next year at Notre Dame.

Marina Burke, Sr. M, Westwood
Burke totaled 48 goals and 39 assists for the Wolverines as the long-time Tri-Valley League juggernaut once again reached the D1 South Final. She was named a U.S. Lacrosse All-American, and will continue her career next season at Harvard University.

Megan Hennessy, Sr. M, Winchester
A three-time selection, Hennessy had a career-high 91 goals and 55 assists in leading the Sachems to the Division 2 State Final. She leaves Winchester with 290 goals and 163 assists for her career, and will continue her career next season at Harvard.

Bailey Mongillo, Sr. M, Westford Academy
Mongillo took the competitive Dual County League by storm this spring, recording 108 goals and 33 assists as the Grey Ghosts captured the D1 North title to cap an unprecedented season. She leaves Westford with 420 career points, and will continue her career next year at Villanova University.

Ela Hazar, Jr. M, Westwood
A repeat All-State selection, the dynamic speedster led the Wolverines' potent attack with 90 goals and 40 assists, to garner U.S. Lacrosse All-American honors. Hazar is verbally committed to the University of North Carolina.

Alexa Cambi, Jr. M, Longmeadow
The Lancers dominated the Western Mass. scene once again, and Cambi was at the forefront, leading the way with 57 goals as they reached the D1 State Final. Cambi was named a U.S. Lacrosse All-American for her efforts.

Taylor O'Connell, Sr. D, Algonquin
One of the top one-on-one defenders around, O'Connell led the Tomahawks to a second straight Division 1 Central title as they allowed 8.2 goals per game on the season. Named a U.S. Lacrosse All-American, O'Connell will continue her career next year at Loyola University (Md.).

Aileen Kelly, Jr. G, Framingham
Allowing 10 goals per game, the Flyers defense was solid, and it started in the back with Kelly. She was named a U.S. Lacrosse All-American, as the Flyers reached the semifinals of the D1 North tournament. Kelly is verbally committed to UMass.

BEST OF THE REST

Meghan Collins, Sr. D, Marblehead
Catherine Conley, Jr. M, Needham
Tess Chandler, Sr. M, Hopkinton
Shannon Fitzgerald, Jr. M, Newton North
M.J. Keefe, Sr. A, Andover
Hannah Murphy, Sr. M, Duxbury
Mary O'Connell, Sr. M, Norwell
Annee O'Connor, Jr. G, Needham
Zoe Ochoa, Sr. G, Longmeadow
Abby Quirk, Sr. A, Lincoln-Sudbury
Alison Ryan, Jr. M, Norwood
Kristina Schaefer, Jr. A, Longmeadow
Jillian Scyocurka, Jr. M, Longmeadow
Mariel Teague, Sr. M, Notre Dame (Hingham)
Maddie Ward, Sr. M, Norwell
June, 28, 2013
6/28/13
10:38
AM ET
ESPNBoston.com and its high school sports staff are pleased to announce Alex Dalton, senior midfielder of the Notre Dame Academy of Hingham Cougars, as the recipient of this year's ESPN Boston "Miss Lacrosse" Award, given annually to the top overall player in the state of Massachusetts.
The Miss Lacrosse Award was selected by a panel of ESPNBoston.com staff and correspondents. Dalton will be presented the award at a later date.
[+] Enlarge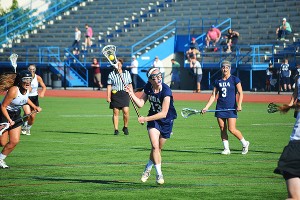 Brendan Hall/ESPNBoston.com Notre Dame Academy's Alex Dalton was named this year's ESPN Boston Miss Lacrosse after leading the Cougars to their first state title in program history.
"Alex is a very special player," NDA head coach Meredith Frank said. "Her natural athleticism combined with her fierce competitive spirit and her understanding of the game makes her a threat all over the lacrosse field. While she can certainly score goals and cause turnovers, Alex's dominance on the field comes from her ability to elevate the level of play of those around her. She is a leader by example and an absolute joy to coach."
It was a banner year this season for the Cougars, who knocked off Longmeadow to win their first MIAA Division 1 state championship in school history. Dalton, a Needham resident, was among the most prolific of a multi-pronged attack, registering 76 goals this season as well as 15 assists, 79 ground balls, 69 draw controls and 61 forced turnovers. Dalton was named a U.S. Lacrosse All-American this season, as well as an Under Armour All-American and Eastern Mass. Girls Lacrosse Association (EMGCLA) First Team All-Star.
In three short years under Frank, the Cougars have become a juggernaut. In three seasons under her watch, NDA has gone 64-6, including a 24-2 mark and state title this season. At the forefront of the explosion has been Dalton, who for her career registered 303 goals and 44 assists.
Dalton will continue her career next season at the University of Notre Dame.
This marks the third straight year the Miss Lacrosse Award has been awarded to a player under the Frank coaching tree. Meredith Frank's mother, Leslie, coached the previous two winners at Westwood High -- Sarah Biron (2011) and Laura McHoul (2012).
June, 15, 2013
6/15/13
12:08
AM ET
By
Shawn Myrick
| ESPNBoston.com
WORCESTER, Mass. -- Junior Isabella O'Connor admits that coach Meredith Frank challenged her mental toughness a bit in her first official tryout as the Cougars' head coach.
After two 1,000 meter runs and a pair of 300 meter dashes, O'Connor had reached the point where one's shot went. Meredith had credited mother and five-time Westwood state champion coach at Meredith for her ability to physically push players and it was this same resilience she was instilling with her players when she stepped in as the head coach.
[+] Enlarge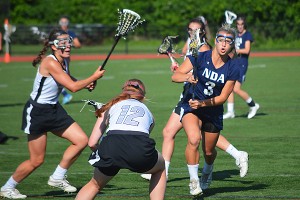 Brendan Hall/ESPNFlorida commit Isabella O'Connor led the way with five points (four goals, assist) as Notre Dame won its first girls lacrosse state title in school history.
In the finale of a challenging postseason run three years later, O'Connor showed no signs of letting her shot slip as she buried four goals and assisted one to push Notre Dame girls' lacrosse (24-2) to the programs' first Division 1 state title with a 13-10 defeat of Western Mass champs Longmeadow (22-2-0) at Foley Stadium in Worcester last night.
"(The conditioning) really kills your mental toughness," said O'Connor. "That is really when everyone's shooting goes. You have to focus, see the net and take that extra second when you are tired."
The Cougars are the first squad besides Framingham and formerly two-time champs Westwood to win state title since the Lancers did it nine years ago.
A Dominant Tiebreaker:
Tied 4-4 with seven minutes remaining in the first half, Notre Dame made a six goal run to pull away.
Freshman Charlotte Allard looked to be leaping to the outside of the net when she bowed down back towards the crease and ripped a 5-4 score top corner to begin the streak at 6:56 in the first.
Sophomore Keeley MacAfee twice beat her defender across the front of the net to score ten-yard efforts and prompt a run of three tallies in 2:38. Lenaghan managed to plant a foot and spin back towards the crease on a backdoor pass from O'Connor for the 10-4 goal with 22:22 left in the game.
"We wanted to slow the ball down a little bit (and) see if we could maintain a little bit more possession," said Frank. "To make sure when we did have the ball we were taking really good care of it."
Transitional Trouble:
Longmeadow lead only once when it had a 2-1 advantage at 19:10 in the first half.
Alexa Cambi took a pass up top from fellow junior Kristina Schafer and rotated around a pick to score the unassisted tally.
Schafer (five goals) slid with the ball under a pick and right in front of the net for the 4-4 evening score at 8:23 in the first half.
"Their pressure really hurt us towards the end of the first half," said Longmeadow coach Steve Dudeck. "We needed to collapse on them because they are such great dodgers. A few transition scores really got them going early in the second half."
Longmeadow could only muster runs of two goals or less.
An unassisted score by Schafer and an assist from Caroline Kusiak to fellow junior Caroline McKenna cut the margin to 13-10 with 2:41 left in the game.
The Crease Roll:
A strong and power driven attacker when isolated with the ball O'Connor's go to move has been the crease roll. The move which often involves a pair of quick spin moves in opposite directions leaving O'Connor wide open in front of net, lead to two goals for the junior.
"There are so many people that dodge from the top that I never got the chance to," said O'Connor. "I decided to take it around the crease and I guess my footwork was fast enough. Even if someone knows you can get around them."
The Frank Legacy Grows:
Meredith Frank won two state titles under her mother at Westwood, while winning the NCAA Women's Lacrosse championships in each of her four years at Northwestern. The Cougars' skipper beat her mother for the first time in three tries with a 10-7 road win in the South sectionals.
Tears stilled Meredith's eyes as she accepted her first title as a head coach.
"When I took the program over I always thought it was something we could accomplish, but I think you can accomplish it till you have a group that really buys in," said Frank. "If you remember that it is fun to win and to play in big games like this then hopefully some of the nerves go away. (Westwood) pushed us to get to this level."
March, 7, 2013
3/07/13
12:09
AM ET
By
John Botelho
| ESPNBoston.com
BROCKTON, Mass. -– After watching No. 16 Notre Dame deliver upsets in the first two round of the Div. 2 South Sectional tourney, No. 4 Duxbury made sure early on Wednesday evening in a semifinals game at Massasoit Community College that they wouldn't meet the same fate.

The Dragons poured in the first eight points of the contest en route to a convincing 57-39 win in a game they never trailed in, punching their ticket for the South finals, where they'll meet No. 2 seed Medfield on Saturday at UMass-Boston at 2 p.m.

While the Cougars (13-12) defense kept Duxbury stars Michaela North and Kate Norton in check in the first quarter -– they combined on just five points, sophomore point guard Madeline Foote made sure there would be plenty of offense for the Dragons (21-2).

She buried three 3-pointers in the first quarter and another in the second to pace Duxbury's first half attack.

"Madi's a fabulous 3-point shooter and she was killing it during pre-game," said Duxbury coach Robert Sullivan. "Obviously, that carried over into the game."

Even though Foote has flashed solid offensive abilities this year –- she scored a team-high 21 in the Dragons' first round win over Hopkinton -– her role in the offense is typical to set up the seniors with scoring chances.

"I usually just shoot the three if it's a kick-out," Foote said. "Usually I just control the ball and get it to Kate or work it down low. Their defense put pressure on me to open things up for Kate -– whose our big shooter, and to open things up down low."

And perhaps more importantly than just supplying early offense, Foote emerging as a threat from distance did wonders to get their stars going even without her adding to her total of 12 points.

"It helped us out so much," said North. "When she has a big game like that, or Kate hits early threes it opens everything up. It spreads the floor and gives us more chances to post-up down low and get more points."

North went on to score a game-high 23 points as part of an impressive triple-double in which she also pulled in 12 rebounds and blocked 11 shots for Duxbury.

"She's a special, special young lady," said Sullivan. "Hardest working kid in practice every day. This means a lot to her. All week long, we worked on press breakers because we knew it was coming. She took it seriously."

The 6-foot-2 forward was even better on the defensive side of things, using an innate shot-blocking ability to all but eliminate Notre Dame's chances to score inside the paint.

"Unlike a windmill block, she goes up and blocks everything left-handed," said Sullivan. "Most people shoot right-handed, so she goes up with the left and she's not concerned with Hollywood, she's just concerned with blocking the shot and maybe getting it to a teammate."

Norton was the third-leading scorer for the Dragons, adding eight points. She also dished out five assists, had five rebounds, five steals and five blocks to help send Duxbury to the finals.

For Notre Dame, McKenna Cudgma did everything she could to keep the Cougars alive. She netted a team-high 12 points, had five steals and grabbed four rebounds in the loss. Teammate Alexandra Dalton added 10 points and six rebounds while Colleen McClelland added seven points and five rebounds.
April, 24, 2012
4/24/12
11:02
PM ET
By
Shawn Myrick
| ESPNBoston.com



HINGHAM, Mass. -- In what looked to be a tightly-contested matchup of Division I state title contenders, host No. 5 Notre Dame of Hingham (10-0) grabbed an early six-goal lead as they cruised to a 14-10 victory over No. 1 Lincoln-Sudbury (9-1) at Margetts Field.

"L-S is a great team (that) I know is going to go far," said Notre Dame coach Meredith Frank. "It is a belief that we can be successful that we can compete with the top teams in the state. Getting after it, finishing our shots and doing all the little things it takes to win a game."

The Cougars were led with four tallies from sophomore Isabella O'Connor and three goals by juniors Amelia Brown and Alex Dalton (two assists). Junior Abby Quirk netted five for the Warriors.

A Quick Draw: The first ten draws of the game all led to scores for the victor.

Notre Dame center Madison Caron dominated the first six face-offs to set up a 6-0 lead at 16:34, but L-S's Madison Acton (both seniors) won the next four from the center-line and scored a pair to cut the margin to 6-4 in the next three minutes.

"I told the girls yesterday that it is the draw that is going to be the game," said L-S coach Deb DeJesus.

"It is focus, it is hard work for five or six seconds, and it is getting the ball out of there," added Frank.

The two squads tallied 13 draws a piece.

Slicing up the Defense: The Cougars spread the Warriors' defense with their wide offensive passing then used quick individual cuts to find open lanes.

Four of Notre Dame's first six goals developed by motioning the rubber behind the net and up to a cutter. A back of the crease assist from freshman Keeley MacAfee to junior Mariel Teague gave Notre Dame its six tally, while upfront one-on-one efforts into open gaps from Teague and Brown put L-S in its deepest hole of the season with a 14-7 margin at 14:53 in the second.

"We really worked on our fitness to keep up with them," said O'Connor. " Get open, make cuts, and set picks for other people. When you make the team better, you make yourself better."

The Griffin Effect: The Warriors used senior Megan Griffin (four assists) to draw off defenders and open scoring lanes for teammates.

A double-team on Griffin at 15:48 in the first opened the scoring for the Warriors by freeing a middle lane for Quirk and a one-on-one with sophomore keeper Sam Cuomo. Eight minutes later the senior walked defenders away from the post and opened a lane along the crease for senior Rachel Sexton to keep the Warriors within range down 7-5.

"We look to draw the double and dump it off to that person," said DeJesus. "We have a lot of speed on our team so we look for fast break first."

Warrior Spirit: The Warriors netted a pair of breakaway goals by Quirk and sophomore Eliza Guild in the final two minutes to cut the margin to four. However, a low set-piece rocket from senior Sarah Ganio ricocheted off Coumo's stick in the final seconds.

"Today they were the better team," said DeJesus. "That is why you have the regular season so you grow as a team. To take it as a challenge and learn from those areas that beat you in."
April, 12, 2012
4/12/12
8:15
PM ET
By
Bruce Lerch
| ESPNBoston.com
HINGHAM, Mass. -- The Notre Dame Academy girls lacrosse team knew it would need someone to step up and fill the large shoes of last year's top scorer, Jess Roach. Junior Alex Dalton took over that role nicely in the Cougars biggest test of the young season.

The junior scored six times -- including three straight to break open a tie game late in the second half -- and Notre Dame was able to hold on for a 14-13 triumph over Duxbury, Thursday afternoon at Margetts Field.

"She's definitely a leader," said Notre Dame coach Meredith Frank in praise of Dalton. "She's a player who wants the ball when the game is on the line and by golly we're going to give her the ball. She's very very talented. I think she still has a lot of growth and a lot learning to do but I couldn't be more proud of her and how she rallied her teammates."

The Dragons (3-1) had just taken their first lead of the game courtesy of a Hannah Murphy inspired 5-0 run. Murphy won five straight draw controls and scored the first two goals in the spirt, while Tina Balzotti (five goals) added a pair and Kristen Brockwell buried the score that put Duxbury ahead, 12-11.

Madison Caron, who engaged in a terrific battle in the circle with Murphy all day, won three draws in a row of her own, all three of which led to possessions that resulted in Dalton scores.

Dalton put the Cougars (7-0) back in front for good, raising her stick outside the restraining line to signal for a pass. Keeley MacAfee had the ball behind the Duxbury cage and delivered a perfect feed as Dalton flashed in and was able to score.

"I was coming in from behind the restraining line, filling in after my whole team had been in the eight for a while and I noticed there wasn't any defense looking at me," Dalton explained. "They were looking at the ball so I just kind of snuck in behind them and my teammate saw me and passed it to me."

Dalton put away one more off another terrific pass, this time from Amelia Brown (three goals, three assists), to put NDA ahead, 14-12 with just under three minutes go. Murphy (four goals, two assists) got a late score for the Dragons, but NDA was able to hold off any further thoughts of another comeback.

"It definitely took some adjustments but I'm very proud of these girls," said Dragons coach Kelly Jurgens. "I know its a loss in the book but I consider it a win in in my heart because the girls came back from a six-goal deficit at one point. It shows that I have a bunch of fighters on my team and thats all you can hope for."

Notre Dame got off to a hot start, building a 6-1 lead, something that Frank was very pleased to see.

"We haven't started that strong in the first half yet this season so that was a big positive for us and something we need to take to the rest of our season," she said. "I knew we weren't going to be able to sustain because Duxbury has tons of great players and girls who can make plays. But I did know it was great for us to start that strong and then be able to fight back. A lot of great lessons were learned in this game."