Boston High School:

Alex McLaughlin
December, 7, 2013
12/07/13
4:42
PM ET
By
Chris Bradley
| ESPNBoston.com
FOXBOROUGH, Mass. -- Alex McLaughlin and Travis Bassett have been playing football together since they were eight years old, with dreams of one day bringing a championship home to Littleton High.
It was a dream that coach Mike Lynn shared, too, a goal he first thought was possible when the senior captains were just freshman, a dream that only intensified with each victory over the course of their magnificent 13-0 season.
[+] Enlarge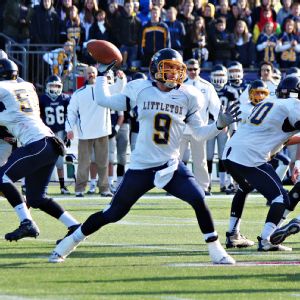 Phil Garceau for ESPNQuarterback Alex McLaughlin totaled 225 yards and two touchdowns as Littleton carved up Cohasset.
This is why there was very little surprise in the dynamic duo's performance on Saturday afternoon at Gillette Stadium. Bassett totaled 292 yards and five touchdowns, while McLaughlin had two scores of his own on his way to 225 total yards.
"I'll tell 'ya, when I'm losing my mind I'll just look at them and I'll look at their faces, they've won so many big games that they don't get rattled," Lynn said, "They're pretty cool under pressure, they're just big game players. They make the plays when they need to. We knew their freshman year that we were headed in a different direction."
Lynn brought the team to Foxborough early Saturday morning before their 9 a.m. kickoff with Cohasset in hopes of easing some of the pregame jitters.
"It's a little hard when you get here. When they get here they have to get over the shock of being on the turf at the stadium. We got here a little early so that we could get that out of the way and get down to business," Lynn said.
Bassett couldn't help but joke afterwards that it felt like the entire town of Littleton was packed into Gillette on Saturday morning.
But then again, maybe the star running back was onto something because the Tigers looked right at home playing on the Patriots' turf. Littleton was dominant in what was an ultra-efficient running game, and 505 total yards later the Tigers' captains stood at the podium with Lynn to hoist the Division 6 state championship trophy.
"It felt amazing, I've dreamed of playing here my whole life. To win the first state championship in the history of Massachusetts, that's an unbelievable feeling. I just can't wait to go home and enjoy it with my family and my friends," Bassett said.
Bassett caught a touchdown from McLaughlin at the end of the third quarter to put the Tigers up 46-27, all but putting the game out of reach for a Cohasset squad who was looking to make a late run. When told after the game that Bassett had finished with five touchdowns, Lynn was momentarily speechless.
"Was it [five]? Oh my gosh. Travis Bassett's a special player, that's why he's been getting all the exclusive articles the past couple weeks—he proved today that he deserved it. We rode him today, that's for sure. Every time I gave him the ball something great happened," Lynn said.
McLaughlin called the state championship an unforgettable experience, but also emphasized the fact that the journey itself is what makes the title so rewarding.
"I couldn't pick a better group of guys to do this with. Travis…he's shifty, he's fast, he does it all. He's a great player. The line did their job today, they're all seniors—we came out and played well, that's what happens. We've been playing together since we were eight years old," McLaughlin said.
"It's unbelievable. We're all friends, we grew up together, it's the best way to go out."
Just the way they had dreamt it up.
December, 7, 2013
12/07/13
3:57
PM ET
By
John McGuirk
| ESPNBoston.com
FOXBOROUGH, Mass. -- No matter what Travis Bassett does in life from here on out, he will forever be regarded as a hero in his hometown.
The Littleton High senior tailback was virtually and un-stoppable force, scoring five touchdowns (4 on the ground) in leading the Tigers to a wacky and wild 52-35 triumph over Cohasset High in the MIAA Division 6 Super Bowl played today at Gillette Stadium.
The combined 87 points put up by both teams is a new Super Bowl record. The old mark of 84 points was set during the 2002 Division 3 Eastern Mass. title tilt between North Attleborough and Swampscott.
Bassett finished his brilliant career on a high note, rushing over and through the Skippers for 263 yards. He also had a 29-yard touchdown reception. For the season, Bassett finished with 1,288 rushing yards and 34 touchdowns. Fellow teammate and quarterback Alex McLaughlin was also instrumental in this victory having passed for 147 yards on 5 of 9 completions and two touchdowns. He also gained 78 yards on the ground, finding the end zone once.
"I've dreamed of playing in this stadium my whole life and to win the first state championship game every in the history of Massachusetts is an unbelievable feeling and I can't wait to go home and enjoy it with my family and friends," said Bassett. "The key was our offensive line. They opened up some big holes for me today and allowed me to get some big yardage. At the start of the season we all felt this was possible but we knew we needed to take things one game at a time. Now, to win a state championship, it is huge for our entire town."
[+] Enlarge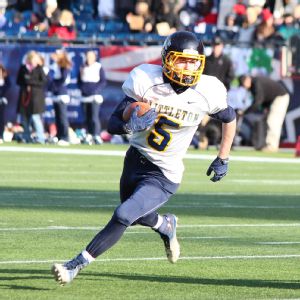 Phil Garceau for ESPNSenior running back Travis Bassett had a field day (22 carries, 263 yards, 4 TDs) as Littleton captured its first state title in school history.
Littleton (13-0) blew out to a 22-point first-quarter lead before the Skippers knew what hit them. But credit Cohasset (11-2) for not tossing in the towel. They were able to land a couple of jabs of their own to get to within striking distance on a couple occasions.
However, as it was proven throughout this contest, the Tigers' offense was too much for the Skippers to maintain. After two failed attempts to win Super Bowls in 2008 and 2009, this marks Littleton's first football championship, and is the first state championship for this school in any sport.
Littleton scored on its opening three possessions putting Cohasset, playing in its first Super Bowl, into an early deficit. Bassett was the main perpetrator in all three scores. On the Tigers' initial drive of the game, Bassett took an inside hand-off and bolted 48 yards for the score. With Peter Murphy's ensuing conversion carry, Littleton led 8-0. A McLaughlin interception on the Skippers opening possession led to a Bassett 3-yard blast into the end zone, followed up by his own conversion carry, to put the Tigers up by 14. With just over a minute remaining in the first quarter, Littleton was on the move again. Starting from their own 15, McLaughlin sailed a pass to wide receiver Brad Magnuson good for 38 yards. Five plays later, from the Cohasset 29, McLaughlin lofted a screen pass to Bassett, who proceeded to rumble down the right sideline and into the end zone for a 22-point advantage.
"Travis is such a special player for us," said Littleton head coach Mike Lynn. "We rode him today. Every time he got the ball something great seemed to happen. We had some plays we wish we could have back but in the end it doesn't matter. But we had some takeaways as well and I felt our kids made plays when they needed to."
Nobody assumed the Skippers would roll over in this one. This team did not get this far without having its share of talented athletes too. With an offense that entered with a 35 points-per-game average, it was safe to assume Cohasset would eventually shift itself out of neutral. At the start of the second quarter, the Skippers did just that. Senior quarterback Chris Haggerty took off on a 44-yard touchdown run to finally get on the board. But Littleton answered that score immediately. On the opening play of their next possession, Murphy hauled in a 52-yard scoring strike from McLaughlin putting the Tigers ahead 30-6, after Murphy added the conversion run with 9:35 left before halftime.
"Our objective was to come out and try to score quick and fast," said McLaughlin, a senior. "We came out in the second half and then tried to pound the ball and eat time off the clock. We did both of those things very successfully. Jumping out to a 22-0 lead I think kind of psyched them out a little bit. They didn't know what was coming. It was a big thing for the mind game. Once we got our ground-and-pound game going we knew we couldn't be stopped."
Following the Tigers score, Cohasset answered back two minutes later. A 38-yard catch by receiver Jack Hoffman led to a Haggerty 1-yard plunge over the goal line to make it 30-12. For nearly the remaining seven minutes of the half, both teams would trade a couple of turnovers each. However, it was Littleton's second miscue, which had Cohasset trailing by only 10 points at the break. With Littleton marching inside the Cohasset 30, Skippers' defensive back Rocco Laugelle came up huge after stepping in front of a McLaughlin pass intended for Bassett and returning it 75 yards for the score. Cole Kissick's conversion run only had Cohasset down 30-20 at the break.
The Skippers started off the second half with the ball and obvious momentum. If there was ever a time to set Littleton back on its heels, this was it. Cohasset managed to reach the Tigers' 37 before momentum slipped away after Haggerty (14 of 26, 207 yards) was picked off by sophomore Connor Bassett. That would eventually lead to his older brother taking an inside reverse handoff up the gut 76 yards to extend Littleton's margin to 38-20, with Murphy adding another conversion rush. Nevertheless, the Skippers continued to put up a good fight. On their next series, Haggerty completed passes of 19 and 26 yards, respectively, before plowing over the goal line from a yard out to draw his club to within 11 at 38-27 with 4:28 to go in the third.
Littleton, however, never flinched. Averaging a solid 41 points-per-game, the Tigers offense stuck to a belief that they could score each time they had the football. After the Skippers' score, two Bassett carries netting 36 yards set the stage for his 12-yard carry around right end that barley got inside the pylon, increasing Littleton's advantage to 46-27 with 1:07 remaining in the third.
"When you can't stop your opponent it puts you in a very difficult situation," Skippers head coach Pete Afanasiw said. "I have to give Littleton a whole lot of credit. They're offense is very strong. For us being a school that has fewer than 400 students and to get to this stage, I just give my guys a lot of credit. I don't think we lost the game, I just think Littleton made more plays than we did. They played a heck of a game and deserve it."
As offensive-minded the third quarter was, so too, was the fourth. Midway through the period, Cohasset senior wide out Liam Burke secured an 11-yard Haggerty pass from his knees in the back of the end zone. Kissick's proceeding conversion carry had the Skippers down 46-35. With still a glimmer of hope, all of that came apart on the Tigers' ensuing possession. Getting great field position to begin the drive from the Cohasset 40, Littleton took advantage of the short field with McLaughlin rolling in from 12 yards out for the game's final score. For the game, Littleton finished with 505 yards (358 on the ground), while Cohasset closed with 411 yards.
"In our previous two Super Bowl appearances we were more of a power team then, really big and physical" added Lynn. "This particular team it is athleticism which has carried us. We've gotten better all year but overall it has been a season of big-time athletes making big-time plays. It's been pretty special for sure."