Boston High School:

Alex Rozak
September, 24, 2012
9/24/12
10:45
PM ET
By
Brendan Hall
| ESPNBoston.com
District 10 American Legion Baseball announced its postseason All-District Team over the weekend, as well as the establishment of postseason awards. Barnstable Post 206 manager Sean Walsh passes along the postseason accolades for what was a successful summer for the district:

MVP - Dylan Morris, Barnstable Post 206
44 hits (team record), .488 BA, .586 OBP, 37 runs, 22 RBI, 22 BB, 14 SB

Pitcher of the Year - Keegan Dellacona, Barnstable Post 206
7-0, 52.2 IP, 70 K, 15 BB, 0.79 ERA

Umpire of the Year - Peter Marciano

Coach of the Year - Sean Walsh, Barnstable Post 206

1st Team All-District Team

Rockland Post 147:
1B - John Mulready
RHP-SS - Brody Loughlin
RHP-SS – Sean Roache

Hingham Post 120:
RHP/3B - Sean Greene
SS - Chuckie Connors
1B - Eddie Bowler

Plymouth Post 40:
RHP -- Alex Rozak
SS -- David Murphy
3B -- Mark Mineo

Marshfield Post 88:
LHP – Kevin Kwedor
SS – Brett Morgan
3B – Mark Pomella

Sandwich Post 188:
3B/RHP – Bobby Bray
OF – Michael Pratt

Kingston Post 387:
RHP - Mike Lundin
SS - Matt Woodman
LHP - Zach Schindler

Bridgewater Post 203:
CF - Mike Muir
1B/DH - Matt Rubino
RHP - Cody Medairos

Orleans Post 308:
RHP-3B-1B - Nick Taber
LHP-1B - Wes Brown
RF - Joey Ogden

Whitman Post 22:
1B - Chris Adams

Brockton Post 35:
3B - George Bradshaw
RF - Joel Woodbridge
LHP - David Tarr

Duxbury Post 223:
C - Brian Hocking

Pembroke Post 143:
P - Luke Nagle

Barnstable Post 206:
CF – Dylan Morris
RHP – Keegan Dellacona
2B – Mark Brodd
DH – Alex Pernick
RHP – George Bent

Hawkeye Athletic Club:
1B - Nicholas Cogliano
RHP - Zac Cooney

Middleboro Post 64:
RF-1B-LHP - Patrick Nicholson

Wareham Post 220:
P - Matt Beatty
SS/3B - Jimmy Gamache
2B/Utility - Billy Peterson
June, 22, 2012
6/22/12
2:09
PM ET
STARTING ROTATION
RHP – Matt Tulley, Sr., Lowell
The Virginia Tech signee lived up to every ounce of his preseason hype, taking ESPN Boston's 2012 Mr. Baseball Award earlier this week as the state's top player. He earned his third consecutive Merrimack Valley Conference Player of the Year honor, going 7-1 with 90 strikeouts in 59 innings and one save, for a 1.46 earned run average. Opponents batted just .159 against Tulley on the season. At the plate, Tulley batted .306 for the Raiders, leading the team in RBI (20) and ranking second in runs scored (19). For his career, Tulley went 20-2 with a 1.57 ERA and 200 strikeouts in 140 innings.
RHP – Pat Ruotolo, Jr., Peabody
The 5-foot-10 craftsman caught national attention this year after throwing three no-hitters in a span of four starts, and finished the season as the state's runner-up in strikeouts (130). In 76 innings of work, he went 8-1 with two saves, 31 hits allowed and 12 walks, for an ERA of 0.83, to earn Northeastern Conference MVP honors. He has 232 strikeouts since the start of his sophomore season, and over 300 for his career. Ruotolo is considering interest from a handful of Division 1 schools.
RHP – Alex Rozak, Sr., Plymouth North
The UMass-bound Rozak catapulted himself into discussion as one of the state's best pitchers with his postseason play, winning three games as the Blue Eagles made their fourth Division 2 state final appearance in five seasons. He also carried a no-hitter into the final out in the Division 2 Eastern Mass final. For the season, Rozak was 8-3 with 61 strikeouts and 13 walks, with a 1.02 ERA. He won 24 games in his career at North, including a 9-1 campaign in the Eagles' 2011 state championship season.
LHP – Steve Moyers, Sr., East Longmeadow
One of a handful of returning All-Staters, the University of Rhode Island signee is making his second appearance in the "Starting Rotation" after compiling a 7-2 record with 106 strikeouts. Over his last two seasons, he has gone 15-3 with 194 strikeouts, and he leaves East Longmeadow as one of the school's winningest, compiling a 30-3 career record.
LHP – Ben Bowden, Jr., Lynn English
The 6-foot-4, 220-pound southpaw got off to a hot start, throwing a perfect game on April 7, and didn't cool off. On the mound he had six wins, with 82 strikeouts in 51.2 innings for a 2.19 ERA. At the plate, he played a key role in the Bulldogs' stunning upset of Peabody in the Division 1 North tournament; on the season, he batted .394 with 21 RBI, two home runs and nine extra-base hits, and also drew 17 walks.
STARTING NINE
CF – Casey DeAndrade, Sr., East Bridgewater
The speedster joins exclusive company as one of several players to make All-State in two sports, having made the football squad last fall. This spring, he put up .455/.506/.682 totals at the plate, with 25 RBI, two home runs, 19 runs and 15 stolen bases. On the mound, he went 5-2 with 67 K's in 50.2 innings, holding opponents to a .106 average as the Vikings captured their first Division 3 South title since 1993. DeAndrade is headed to the University of New Hampshire in the fall for football.
2B – Chris Hoyt, Sr., Xaverian
Nobody elevated their stock in the playoffs more than the Stonehill College-bound Hoyt, who pounded out eight RBI in the MIAA tournament – including four in the Division 1 state final. Batting out of the leadoff spot this spring, Hoyt batted .411/.477/.526 totals, with 19 RBI, two home runs, stole 19 bases and only struck out three times in 107 plate appearances. He also posted a ridiculous OPS of 1.003.
C – Bobby Melley, Sr., BC High
A returning All-Stater, the 6-foot-3, 200-pound Centerville resident was one of the state's most dangerous power hitters, compiling .370/.557/.685 totals with 13 RBI, three home runs and drawing 22 walks. Behind the plate, only two runners attempted to steal on him, both of which were caught out. Melley will continue his career next year at UConn.
1B – Chris Shaw, Sr., Lexington
A returning All-Stater, Shaw was one of three Bay Staters taken in this year's MLB Draft, going to the New York Mets in the 26th round. This spring, he batted .480 with seven home runs and 27 RBI, and also went 5-0 on the mound with 95 strikeouts in 45 innings. Shaw will be honoring his commitment to Boston College rather than signing.
3B – Frank Crinella, Sr., Springfield Cathedral
In addition to flawless defense, Crinella was a tough out at the plate, hitting .456 on 26 hits, with 27 RBI and four home runs to go along with it as the Panthers went 18-2 before a surprise upset in the Division 1 West quarterfinals. Crinella will continue his career next year at Merrimack College.
SS – Matt O'Neil, Sr., East Longmeadow
Coupled with Moyers, the returning All-Stater formed an imposing 1-2 punch on the mound for the Spartans, who suffered a surprise upset in the Division 1 West semifinals. O'Neil batted four home runs to go along with 21 RBI; on the mound, he was 4-3 with 70 strikeouts in 41.1 innings. O'Neil will continue his career next year UConn.
1B – John Jennings, Sr., Newton South
The Dual County League's Large Division MVP was a force at the plate for the Lions, batting .415 with five home runs and 31 RBI. On the mound, he was 4-1 with 31 K's in 27.2 innings, for a 1.27 ERA. He will continue his career next year at UMass.
SS – Regan Aghdam, Sr., Burncoat
One of the state's premier leadoff hitters, Aghdam was solid at the plate, leading the Inter-High league in batting average (.463). On the mound, he went 6-0 with 43 strikeouts in 49 innings pitched. Aghdam will continue his career next year t the University of Rhode Island.
SS – Brandon Bingel, Jr., St. John's Prep
The Catholic Conference's co-MVP was a driving force for the Eagles, hitting .418 with 25 RBI and five home runs. On the mound, he was 5-1 with a 1.20 ERA in 40.2 innings pitched. Bingel is currently committed to Bryant University.
BULLPEN
LHP – Scott Tully, Jr., Reading
Tully had a breakout junior season, going 8-2 with four saves with a 0.99 ERA and 122 strikeouts in 63.1 innings, tied for third-most K's in the state. Tully also allowed just 27 hits this spring. He is currently committed to Notre Dame.
RHP – Pat Delano, Sr., Braintree
Nearly two years after Tommy John surgery, the 6-foot-7 fireballer found his way back to the top, going in the 35th round to the Boston Red Sox in the MLB Draft, and earning MVP honors in the Bay State Conference's Carey Division. He posted a 1.21 ERA with four wins and 50 strikeouts in 57 innings, and added four home runs at the plate. He was also named a Region 1 All-American by the American Baseball Coaches Association. Delano is currently committed to Vanderbilt, but has until the August 15 deadline to decide whether he'll sign or not.
RHP – Charlie Butler, Sr., Nashoba
A returning All-Stater, Butler was once again dominant on the mound for the Chieftains, striking out 90 in 54 innings for a 0.91 ERA and 6-2 record. At the plate, he batted .365 with 14 RBI and two home runs. Butler will continue his career next year at the University of Maine.
RHP – Mike Walkowicz, Sr., Amherst
Another one of the state's strikeout kings, Walkowicz went 5-4 on the mound as he rang up 112 batters in 65 innings of work for an average of nearly two K's per inning. He will continue his career next year at Endicott College.
LHP – Tyler Buck, Sr., Franklin
One of the state's most elusive lefties, Buck went 7-1 on the mound with 80 strikeouts and a 1.42 ERA for the Panthers, who were the No. 1 overall seed in Division 1 South. He also went .378 at the plate with 18 RBI and two home runs. Buck will play next year at St. Anselm College.
LHP – Mac Curran, Jr., Coyle-Cassidy
The hard-throwing 6-foot-4, 240-pound Lakeville resident was an intimidator for the Warriors, going 6-1 with a 0.52 ERA and 63 strikeouts in 49 innings. He also batted .351 at the plate, and is 14-3 so far as a starter for Coyle. Curran is currently fielding a slew of Division 1 interest.
RHP – Brandon Shileikis, Jr., Dighton-Rehoboth
The workhorse logged 68 innings and struck out 74 while walking just 12, going 9-1 with three saves, an ERA of 1.75 and a WHIP of 0.96. At the plate, Shileikis had .427/.456/.524 totals with 28 RBI and 27 runs. Shileikis is currently fielding various Division 1 interest.
RHP – Keegan Dellacona, Sr., Barnstable
The 6-foot-3 Dellacona formed a dynamic 1-2 punch on the mound along with UConn-bound Willie Nastasi, as the Red Raiders won the Old Colony League outright. For the season, Dellacona struck out 67 in 49.1 innings, for a 4-0 record and 0.89 ERA. He also threw 70 percent of his pitches for strikes, registered a 0.67 WHIP, and held opponents to just a .136 batting average. Dellacona is undecided on college plans.
LHP – Ryan McDonald, Sr., Acton-Boxborough
Another of the state's most deceiving lefties, McDonald went 5-2 with 71 strikeouts in 46 innings, for a 1.98 ERA. He also led the Dual County League in batting average (.468) and plated 16 runs, including two homers. McDonald had previously signed with Bryant University, but is currently uncommitted.
RHP – Lee Albertson, Sr., Westfield
Albertson was the ace of a Bombers staff that won its third Division 1 West title in five years this spring. He went 6-2 on the mount with two saves, and struck out 58 batters in 54 innings. Albertson will be heading to Holyoke Community College next season.
UTILITY
3B – Joelfi Arias, Sr., Springfield Central
The Eagles scored one of the biggest upsets of the MIAA tournament by knocking off Springfield Cathedral, and Arias played a big role. He had five home runs on the season to go with 24 RBI, and on the mount he had 65 strikeouts in 62 innings, logging a 5-2 record. Arias is headed to Juco power Indian Hills Community College, in Ottumwa, Iowa.
OF – Adam Benvie, Sr., Dighton-Rehoboth
One of several mashers on a lineup that batted nearly .400 as a team, Benvie posted .386/.538/.771 totals with 37 RBI and five home runs, scoring 27 runs and drawing 22 walks. Benvie will continue his career next year at UMass.
C – Joe Walsh, Sr., Taunton
The Old Colony League MVP led the Tigers on a surprise run to the Division 1 South final, where they lost to eventual state champ Xaverian. He batted .447 with 31 RBI, 23 runs scored and three home runs, for an on-base percentage of .562. He leaves Taunton a career .379 hitter with a .486 on-base percentage and 50 RBI. Walsh will play next year at Eckard College in St. Petersburg, Fla.
SS – Evan Mondor, Sr., Dighton-Rehoboth
One of several big bats that led the Falcons to the No. 1 seed in Division 2 South, Mondor posted .478/.617/.791 totals with 10 doubles, three home runs, and 20 RBI. Mondor also scored 35 runs and only struck out three times all year. He will continue his career next year at Bentley University.
SS – Brendan Skidmore, Sr., Franklin
Skidmore took home Hockomock MVP honors this season after batting .467 with five home runs and 21 RBI for the Panthers, who won the league outright as well as the No. 1 seed in Division 1 South. Skidmore will do a post-graduate year at Bridgton Academy next season.
OF – Jarrod Casey, Sr., Milford
A returning All-Stater and the reigning Mid-Wach A MVP, Casey put in another dominant season for the Scarlet Hawks, batting .490 with 22 RBI. On the mound, he was 6-2 with 73 strikeouts in 47 innings, for a 0.91 ERA. Over the last two years, Casey has gone 14-3 on the mound.
SS – Sean O'Neill, Sr., Norwood
The senior played a significant impact on the Mustangs' run to the Division 1 South quarterfinals, taking MVP of the Bay State Conference's Herget Division in the process after batting .416 with 16 RBI and a home run in the wood-bat league. O'Neill will play next year at Merrimack College.
SS – Dan Cellucci, Sr., Lincoln-Sudbury
Another returning All-Stater, Cellucci was consistent once again for the Warriors, batting .435 with 18 RBI and two home runs as the Warriors came up short in the Division 1 state title defense. Cellucci will continue his career next year at Bryant University.
1B – Adam Mayhew, Sr., Westfield
His numbers probably don't reflect his importance to the team (12 RBI; 3-0, 15 IP), but his defensive presence was without question as the Bombers won their third Division 1 West title in five years. Mayhew will continue his career next year at Westfield State University.
Photos of Adam Mayhew, Mike Walkowicz, Lee Albertson, Matt O'Neil and Joelfi Arias are courtesy of the Springfield Republican. Photos of Pat Ruotolo, Ben Bowden and Mac Curran are courtesy of the Area Code Games.
June, 16, 2012
6/16/12
7:24
PM ET
By
Andy Smith
| ESPNBoston.com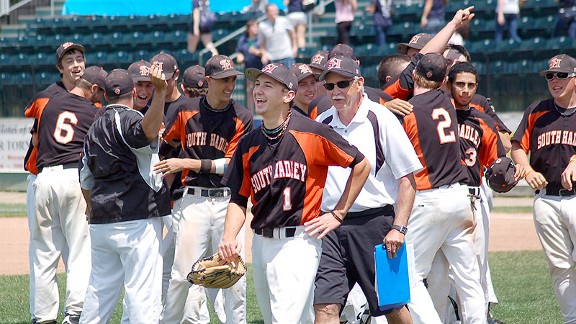 Brendan Hall/ESPNBoston.comJordan Page picked up the win for South Hadley, which beat Plymouth North for its first state title.
WORCESTER, Mass. -- Some would say it wasn't supposed to happen. They would say team that came into the game with a losing record wasn't supposed to beat the team that was in its fourth state championship game in the last five years.
But that's exactly what happened Saturday. The Tigers beat Plymouth North 5-0 in the Division 2 State Championship game at Fitton Field, for the first baseball state championship in the school's history.
"It feels great, I'm still in shock," said South Hadley starting pitcher Jordan Page. "The defense definitely picked me up. They hit a lot of balls hard, but it was a team effort to get it done."
Page went the distance, allowing only six hits without being particularly dominant. He only struck out one batter, but pitched to contact to get himself out of jams.
"My offspeed was working early, and then my fastball came late," he said. "I was able to spot my fastball late in the game. When they were expecting offspeed, I was able to get the fastball by them."
South Hadley (12-13) got on the board first with a Patrick Sears RBI single off the Plymouth North (18-8) starter Jake Stearns.
Stearns did not last on the mound very long. On top of the RBi single, he hit two batters in the inning and had to strike out two people to get out of a one-out, bases loaded jam.
After giving up a another run in the second inning, Plymouth North coach Dwayne Follette was forced to go to his bullpen earlier than he wanted. He brought in right-hander Alex Rozak, who pitched 6.2 innings of one-hit ball three days earlier.
Rozak's last two starts had each been on three days rest, so he was not expected to be able to contribute a heavy workload Saturday. He ended up pitching the remainder of the game for North.
"I hated going to him early, but we had to hang on," said Follette. "He's our horse. He kept them close. We had two errors, but Rozak did a great job. If you don't score a run, you can't win. We had a few innings prolonged, had a couple hits, then we'd hit into a double play. If you don't score, you can't win."
South Hadley stretched its lead to 5-0 with a three-run fifth. Thomas Spring and Joe Ciolek opened the inning with singles. Luis Agrait laid down a sacrifice bunt to move the runners over, but Pat Morgan overthrew the shortstop covering third and Spring scored.
Another fielding error on a Nathan Flachs grounder allowed the other runs to score.
"It's not like we lost a 1-0 game in a heartbreaker," said Follette. "We got beat today by a team that played much better than us."
Poised Page
: While North was scrambling to stop the bleeding with its pitching, Page just plugged along, inducing groundballs and allowing his defense to put in the work behind him. That efficiency kept his pitch count under 100 and gave him the ability to go the distance.
"I've been a ground ball pitcher, I'm not overpowering," he said. "I get ground balls on a lot of my junk pitches. It was the D picking me up. I was just happy I was able to go the distance. We've got a tough D behind us."
South Hadley coach Matt Foley never had a doubt about his starter.
"Jordan's up on that mound, and he wants that ball," he said. "He doesn't want anyone to take the ball away from him. He pitched 8 innings in the first round of the playoffs, 7 innings in the Western Mass. Final, 7 innings in the state final. He's a kid that doesn't have a 95 m.p.h. fastball and he just goes out there and competes."
Emotional Post-Game
: Follette thought his team was going to do something special Saturday.
"This is hard, it's tough, it's very emotional," he said, visibly holding back tears. "I honestly thought it was meant to be. But we got beat by a better baseball team. There's more important things in life. We've got 13 kids going off to college. We've got a quality program, and I'm coaching quality kids, and that's what it's all about."
Without Fear
: South Hadley came into the sectional playoffs with a 7-13 record due to a schedule filled with a majority of Division 1 opponents.
Since the team seems to have constantly been in an underdog roll, it would make sense if they were playing with a sense of nothing to lose. That wasn't the case, at all.
"We don't play scared ever, we never play scared," said Foley. "In 2010, when we went and played Northbridge (in the state semifinals) we had a nothing to lose mentality. We won Western Mass. for the first time in school history, and we had guys that, after that, that was it."
"That was the first time in school history," he added. "I don't think half of them knew there was a game after that. With this team, a lot of these guys were called up on that team and they knew there was another game. So we weren't afraid of any team, and I think that facing D-1 pitchers, those guys were as good as (Plymouth North) pitchers.
"To have these kids have the mentality, to have seven wins coming into the playoffs, and have the confidence and mentality to win this thing, it's commendable to them. It really is. You could be a senior and school's over and say, 'Well that was a fun baseball season,' and be done with it. But they aren't like that."
June, 13, 2012
6/13/12
12:09
AM ET
By
Andy Smith
| ESPNBoston.com
LOWELL, Mass -- LeLacheur Park was quiet. Almost too quiet. The kind of quiet that comes over a group when everyone knows a secret, but nobody wants to be the one to bring it up.

As Plymouth North and Burlington entered the seventh inning of their Division 2 semifinal game, everyone in the park knew the secret.

One look at the scoreboard was all it took to see the zero in the Burlington hit column. Was Plymouth North really going to head back to the Division 2 state championship game on the back of a no-hitter?

With a two-out single to left in the bottom of the seventh, Burlington catcher Anthony Cruz broke up Alex Rozak's no-hit bid, but it didn't matter. His team lost 8-1, sending North back to the title game for a chance to win their second straight, and third in five years, on Saturday.

Rozak spun a gem for North (18-7), with six strikeouts, five walks, and only one earned run over seven innings.

"He was nasty," said North coach Dwayne Follette. "He didn't even have the curveball going, but his fastball was very good, with movement. His splitter was nasty. He threw some splitfinger fastballs that just dropped off the table.

"It's his 24th career win. Third in this playoffs alone. He's been doing it his whole life for us. He's awesome. Did I expect it? Yeah. I did. He was on three days rest too."

He squared off against Joe Moran, who pitched 8 innings in Burlington's (16-9) North sectional quarterfinal victory over Reading.

Moran struggled from the very beginning. He walked Cody Holmes to start the game, and then Jamie Dougherty bunted him over to second, but because of the lack of coverage on third, Holmes kept running and found himself on third with one out to start the game.

Next, he hit Connor Follette to put runners on the corners. A walk to John Myette loaded the bases, and then a Joe Kingsbury single drove in two runs to give North the early lead.

"We did a great job on that, getting the guy to third," said Follette. "Then we left him stranded and we worked the counts. That two-out hit broke it open for us. I thought after that, we relaxed and played our game."

North added four more in the third, which was helped when a Moran pickoff attempt at first hit off Peter Dawe's glove and rolled down towards the fence, allowing two runs to score.

Kingsbury got his third RBI of the game in the seventh when his triple knocked in Myette for an insurance run.

One with the No-No's: This wasn't Rozak's first go-around with a potential no-hitter.

"I pitched a no-hitter last year to start the season," he said. "Earlier this season, I pitched against Plymouth South and I had a no hitter into the seventh. It was the same situation as here, lost it with two outs. So it's kind of funny for me, I'm not disappointed at all. We just won the Eastern Mass title, so it's huge."

Shhhh... There is a superstition and ritual in baseball when there is a no-hitter in the works: you don't talk about the no-hitter. The coaches are not supposed to bring up the possibility, while the players are supposed to avoid the pitcher when he is on the bench, at all costs.

As the game was rolling along, did the Plymouth North players comply with that tradition?

"No, they don't talk to me anyways," said Rozak with a laugh after the game. "They kind of let me do my own thing. The pitcher kind of sits on the bench the whole time."

How about the coaches?

"You know what? I was actually gonna take him out, and my coaches had to tell me (about the no-hitter)," said Follette. "That's pretty good coaching, huh? I really didn't know. In the fifth inning, I didn't know. My coaches had to tell me. You know how you're not supposed to say a no-hitter? Well they didn't say it, they just pointed to the scoreboard and I figured it out."

...Or was it really? There was a discrepancy over the official ruling of whether Rozak was carrying a no-hitter into the seventh inning at all. It all stemmed from a play in the fourth inning.

After Rozak walked Peter Dawe to open the inning, Kyle Shields hit a chopper back up the middle that was fielded on a run by David Murphy. Because Murphy's momentum was carrying him away from the base, he tried to get the quick force out at second by flipping it to Jamie Dougherty, but Dawe beat the throw.

Both runners were safe, and the official scoring of the play was a fielders choice. Some people agreed with the call, while others felt it should have been ruled an infield single, rendering the no-hit bit moot.

"They didn't score it a hit, and they didn't score it an error, but it has to be one of the two," said interim Burlington coach Chris Nance. "It can't be a nothing, but it was a nothing. If it was fielder's choice, well that means that Peter Dawe, one of the not so fast runners on my team beat it out. Obviously the ball chopped up enough there to be called an infield hit."

"Strategically, for me, I think they would've pulled (Rozak) after that," he added. "Then I would've had three innings of facing someone else. So I don't understand it."

Even Rozak didn't think he had a no-hitter going.

"I thought the play earlier, I guess that they called a fielder's choice, I thought that was a hit," he said. "So I thought the scoreboard was wrong the whole time."
June, 9, 2012
6/09/12
12:00
AM ET
By
Brendan Hall
| ESPNBoston.com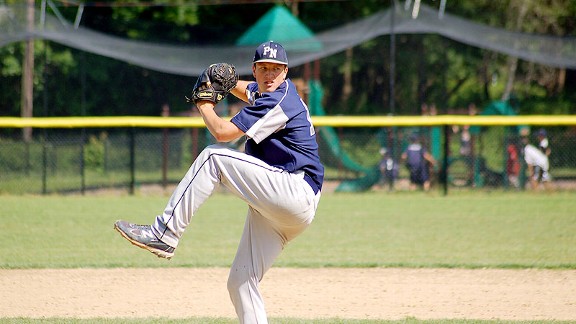 Brendan Hall/ESPNBoston.comUMass-bound righty Alex Rozak earned the 23rd win of his career at Plymouth North on Friday afternoon, and the defending state champs clinched their fifth straight D2 South Final appearance.
PLYMOUTH, Mass. -- Alex Rozak watched as the game's second batter, Dave McKinnon, took his fastball deep over the fences at Siever Field, to give visiting Oliver Ames a quick 2-0 lead over his Plymouth North squad.
Some pitchers might sweat after an early sequence like that. Rozak merely sighs.
Of course, it helps when the bats behind you plate a dozen runs two stanzas later. The UMass-bound senior righty and ace of the Blue Eagles' staff locked up the 23rd win of his high school career with the aid of a 12-run second inning, as they cruised to an easy 12-3 win over the Tigers (14-9) to make this their fifth consecutive trip to the Division 2 South Finals.
Rozak, the winning pitcher in last year's Division 2 state championship (North's second title in four years), is once again getting hot at the right time and taking command of the Eagles' (16-7) staff. This afternoon, he struck out six while allowing four hits and walking two; all three runs allowed were earned.
"Give him the ball and he battles," Eagles head coach Dwayne Follette said. "I thought he might of lost a little composure there when [Sullivan] took him deep, but he fought right back. They're very good 1 through 6, and we said keep the leadoff hitter off. I think he got rattled after he walked that kid [leadoff hitter Jim Sullivan] on 3-2 [first inning], but after that he settled down and dominated.
Follette added, "He got his splitter going today, I don't know if you guys noticed that. He looked great getting them to strike out on balls in the dirt. And really, that's the best he's thrown that pitch all year. When you're tired, you've got to go to something else, right? You're not going to blow everyone away with your fastball, especially at this level."
Rozak was noticeably confident in the pitch today, and it showed.
"Early in the game, the fastball wasn't really established -- I don't know why, maybe I wasn't warmed up enough," Rozak said. "So we started working the curveball in, and that wasn't working as best as it could, so we tried the splitter, and that was just on. So you kinda build off that and work backwards, instead of establishing the fastball first."
Bats Come Alive:
For as long as Follette has been in charge, the Eagles have always hit the ball well. But this year's squad is a far cry from last year's row of mashers, led by ESPN Boston All-State catcher and Frankin Pierce freshman Matt Walsh (who is also suiting up for the Cape Cod League's Wareham Gatemen this summer).
As mentioned above, the Eagles plated all of their runs in a 16-at bat second inning, led by two-run singles each from Vinny Tavernelli, David Murphy and John Myette (3 RBI). But just like in their D2 South quarterfinal win over Dennis-Yarmouth, the runs were manufactured.
"We're fast and athletic," Follette said. "We've had six home runs all year, [whereas] most of our guys had six home runs on their own last year. We're totally different, but the kids are playing...I don't know what to say. I knew we could do it, but I'm thrilled to be here, to be honest with you."
Home field advantage:
These two teams were supposed to play yesterday at Brockton's Campanelli Stadium. But when a rainstorm flooded the infield dirt making the field unplayable, and with the Brockton Rox set to play there tomorrow night, MIAA South Tournament Director Don Fredericks flipped a coin to decide on the host venue.
And you had to have the feeling once the coin landed in North's favor, sending this game to Siever, that this was going to be a tough one for the Tigers. It's not uncommon to see a packed bowl of stands circling behind the backstop from the first to third baselines, nor a packed row of parked cars on both sides stretching from one end of Liberty Street to the other, and all the other roads running parallel. Heck, today there were cars nestled near the Cazeault Roofing parking lot more a half mile away.
And the fans, some bare-chested with face paint, always seem to bring it. The crowd played a factor in last year's run to the state title; and with a well-traveling crowd heading to neutral sites from herein, it could once again be momentous.
"Coach didn't tell us anything yesterday other than 'See you here tomorrow', and we were fired up," Rozak said. "We thought our last home game [a first-round win over Stoughton] was the last game I'd ever play at Siever, so to be able to play here again was huge."
June, 19, 2011
6/19/11
12:08
AM ET
By
Lucas Shapiro
| ESPNBoston.com



LYNN, Mass -- In a year where the Dallas Mavericks, UConn Huskies, and Boston Bruins have all won championships, the Plymouth North Blue Eagles discontinued the underdog trend in a solid 3-1 victory over the Hudson Hawks.

When Hudson's Ryan Bowen hit Plymouth North's Zach Zaniboni on the very first pitch of the game, it became very apparent where this game was going.

"We had to jump on them early and be aggressive. That was our approach to this game," said second basemen Jamie Dougherty. "But if we laid around and kept them in it, things wouldn't have gone good."

And to say Dougherty was aggressive would be an incredible understatement. After a pitch had hit his teammate, Dougherty took a sacrifice bunt, which helped Plymouth North score their first run of the game. He also made an incredible diving catch at the bottom of the sixth inning that shut Hudson's hopes of winning the game down. All of this was done with an injured elbow after being hit by a pitch in the previous game.

"[My elbow] did hurt but I was trying not to worry about it," said Jamie Dougherty. "My good friend [Matt] Walsh kept telling me to take it one out at a time."

"He shouldn't even have played," said coach Dwayne Follette. "He's got a nasty elbow. He shows the character of this program and this team. You wouldn't even believe it if you had looked at his elbow."

Plymouth North's other two runs came in the third and fourth inning. Dougherty scored a run on a bocked pitch in the third and pinch-runner Tom Faucett scored on a Doug Maccaferri single in the fourth. Alex Rozak pitched an incredible game, letting up only three hits in six innings. But he wasn't quick to accept praise after the game. Instead, he gave credit to the relentless Plymouth North fans.

Said Rozak, "We have the best fans in the state. They are always here supporting us. It's always a big boost when you have people behind you."

From chants to body paint, the Plymouth North fans were simply a reflection of how the Blue Eagles' program operates. Heart, grit, and toughness is what they are all about. When things were not looking good, there was always someone there to step up, whether it was Cody Holmes cleaning up for Rozak or Dougherty's heroic catch to help close out the game. Their numbers also speak for themselves.

"We have two [state championships] in the last four years. We got 13 seniors going on to college, six to play baseball, and one in the armed services. These guys are unbelievable."



June, 14, 2011
6/14/11
11:59
PM ET
By
Andy Smith
| ESPNBoston.com


QUINCY, Mass. -- Alex Rozak could not have picked a better time to pitch his best game of the season for Plymouth North.

The right-hander allowed three hits and recorded 12 strikeouts over seven innings to lead Plymouth North to its third Division 2 South Championship in four seasons, with a 2-0 victory over No. 2 seed Somerset Tuesday night at Adams Field.

"Rozak was nasty," North head coach Dwayne Follette said. "He's had games like that and then tired at the end, but he just finished tonight. It was great."

Rozak felt staying out of any trouble with the Somerset hitters helped him keep his composure and stay on the mound until the final out.

"When I was running into trouble, that's when I started to get unfocused, but it all came back to me today," he said. "I wasn't tired though, I felt strong the whole game."

The Blue Raiders (17-6) never had a runner get beyond second base and only had multiple runners on base once in the game. The three times a batter had a full count against Rozak resulted in either a strikeout or an inning-ending double play.

"I was hitting my locations today, every pitch was working," he said. "I have three pitches and earlier in the year, only two of them would work, but today all three of them were."

It was not as though the North (20-3) bats lit up the scoreboard though. Aside from two innings with costly Somerset errors, Colin Smith pitched a gem of a game for the Raiders.

Zach Zaniboni led off the game with a single and advanced to second with a stolen base. Two batters later, he was driven in by Matt Walsh, who dropped a single into center. Adam Ledoux lifted his head up too soon while fielding ball, which allowed it to roll behind him and Zaniboni to score easily.

In the third, Zaniboni again lead off the inning. He hit a fly ball to center, looking like the first out of the inning. Three Somerset fielders converged, each wanting to catch the ball. It hit off the second baseman's glove and hit the ground. He advanced on a Smith throwing error when his pickoff attempt got past the first baseman. He eventually scored on a Walsh sacrifice fly to center.

He finished the game with nine strikeouts while allowing five hits and one walk over seven innings. He struck out Plymouth North's cleanup hitter, Mike Cahill, three times.

"(Smith) was awesome," said Follette. "He had five of our guys screwed into the ground. He had strikeouts against five of our batters. He came as advertised with a great change-up and breaking ball away."

The Eagles will face North Andover Wednesday in the state semi-finals in a rematch of the 2009 semi-finals, in which Plymouth North came away with a 9-0 victory.

"They won 23 in a row so we know we have our work cut out for us, but we're just happy to be there and we're going to give them a game," declared Follette.

With Rozak throwing a complete game, it kept as many pitching arms as possible available for North to use if needed against the tough North Andover lineup.

"We know we have two pitchers behind me that will get the job done and we'll hit the ball well since we've been doing that all year," said Rozak.
May, 12, 2011
5/12/11
8:57
PM ET
By
Brendan Hall
| ESPNBoston.com
SOUTH YARMOUTH, Mass. -- Alex Rozak came in to close the deal in the bottom of the seventh with two outs, on just two days rest -- and at that, six-plus innings of extended relief -- and immediately ran into trouble. But with two men on, the junior righty caught the Dennis-Yarmouth batter looking on a third strike, opening a joyous emptying of the dugout and a pat on the back from his head coach.

With Rozak's save and a strong 6-2/3 innings from lefty Jake Stearns, the Eagles clinched at least a share of the Atlantic Coast League title once again by holding off upstart host Dennis-Yarmouth, 4-3, at Wilson Field.

North (13-1, 9-1) can clinch the ACL outright at home Monday against Sandwich, while D-Y fell to 8-5 and 5-4 in the league.

"I never should have pitched him [today], but you know, that's for the league title," Eagles head coach Dwayne Follette said of Rozak, who struck out eight batters in 6-2/3 innings of relief in a 14-5 win over Marshfield Monday. "That's a good win."

Pinch-runner Ryan Moskos came on for Dave Murphy in the top of the sixth inning, and scored from first base with two outs to plate the winning run for the Eagles. Doug Maccaferri flied out deep to right field, sending the speedy soccer star from first on a tag-up. Moskos slid head-first into third, but the throw from the rightfielder was overthrown, sending him home standing up.

Matt Walsh tried to give the Eagles an insurance run in the seventh, blasting one to the left field wall for a stand-up double before getting tagged out at home to end the inning. Stearns fanned the first two batters of the final stanza swinging, but walked the next one, prompting Follette to call in Rozak on short rest for the save.

Stearns finished the day striking out eight, allowing five hits and walking two, to pick up the win.

"I knew once we got that run, we get ahead and we've got Alex and our ace," Walsh said. "Big chance for us to get the ACL right there, so I knew my double would help us get it done."

The Eagles plated three runs in the top of the first, the first run coming when Zach Zaniboni raced home after Walsh's grounder wasn't fielded safely. Walsh and Mike Cahill then came home on a John Myette single to make it 3-0.

But the Dolphins responded two innings later to knot it at three. Brendan Sullivan reached on an error by the second baseman, allowing his brother Cody to reach home safely for the 3-3 score.

After the rally, D-Y managed just two hits over the final four innings.

"They're the best team in Division 2, and we've played them two games in a row toe-to-toe," D-Y head coach Paul Funk said. "I think we just made more mistakes. We made a couple of mistakes that we've got to clean up on. But I'll tell you, we gutted it out. The pitcher we had going [Justin Thomson], he gutted it out for us."