Boston High School:

Alex Santos
January, 11, 2014
Jan 11
1:41
PM ET
ANDOVER, Mass. -- ESPN Boston High Schools editor Brendan Hall breaks down all the action from last night's sold out contest at Dunn Gymnasium, where No. 12 Central Catholic got revenge on No. 4 Andover for last month's upset, setting up a highly-anticipated rubber match next month.

(Video by Cam Farnham)


January, 11, 2014
Jan 11
12:06
AM ET
By
Mike Abelson
| ESPNBoston.com
ANDOVER, Mass. -– Sometimes, the sequel doesn't live up to the original.
After Andover beat rival Central Catholic by four in the Commonwealth Motors Classic two weeks ago, the hype leading up to the rematch last night at Dunn Gym was huge.
The gym was packed midway through the junior varsity game, and Central made sure the home fans were silent before the fourth quarter even began. The Raiders held Andover to just 12 points in the second half and cruised to a convincing 58-37 win.
"We're a defensive team," Central coach Rick Nault said. "We were embarrassed by our effort on December 28. We made it a point to come out and do what we do and we defend. We might not be the most smooth offensive team, but we defend at a high rate."
[+] Enlarge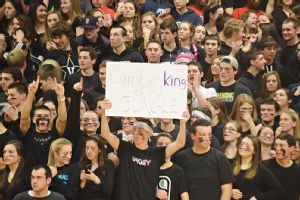 Brendan Hall/ESPNTyler Nelson scored 11 of his 13 points in the second half to spark Central Catholic, who held Andover to 12 second-half points.
Andover's E.J. Perry IV and Connor Merinder each had 11 points, but the rest of the team combined for just 15. Central's guard rotation of Tyler Nelson, A.J. Pettway, Alec Buresh, Kevin Fernandez, and Alex Santos wreaked havoc all night on defense. Santos marked Andover star David Giribaldi whenever both were on the floor. Giribaldi had seven points, his second-lowest point output of the season.
Central led from the tip but couldn't pull away in the first half. Seven-point leads would dwindle to two, be blown out to eight, and shrink back to three. Andover shot 9-of-11 from the free throw in the first half to keep it close, but the offense was out of sync from the start.
"We were too many individuals; we didn't play team basketball," Andover coach Dave Fazio said. "I think everybody put a lot of it on their own shoulders, didn't trust each other. We didn't make shots. When you miss shots you start pressing, and every shot becomes a little more difficult. We didn't work cohesively together offensively. You've got to make shots to win games."
With Central leading by four with 4:55 left in the third, the Raiders scored six points in 71 seconds to open up a 10-point lead. The Warriors were never able to close the gap back down.
Nelson, who was held silent for much of the first meeting, solved Andover's diamond-and-one defense on him in the second half and pumped in 11 of his 13 points in the final 16 minutes. His first field goal of the game ignited Central's run in the third quarter.
"It's frustrating when they play the box-and-one because you're taken out of the game no matter what you do, no matter how many screens you get," Nelson said. "I talked to coach and came up with the gameplan to be a distributor tonight and then I knew later in the game I'd get my baskets eventually. I always score in games; I'm a scorer so it's what I do. Early in the game I just tried to be a distributor and get the guys the ball because that was where the advantage was."
Nick Cambio had another stellar game at center, pumping in 17 points, pulling down nine rebounds, and registering a pair of blocks. He also altered numerous shots when Andover's guards drove the lane.
"Defensively we put the 2-3 zone on them," Cambio said. "We threw everything we learned in practice at them and it worked very well."
The rubber match will be Feb. 13 at Central Catholic.
CAN'T HOLD HALL BACK
As the center, Cambio almost always draws the attention of the opposition's best big. That leaves Aaron Hall room to roam and do damage. The 6-foot-6 senior was matched up against a rotating corps of Andover guards and torched them to the tune of 15 points, seven rebounds, and a block.
"I thought tonight we really utilized Aaron Hall," Nault said. "He matched up with one of their guards. We play with two big guys and we have a mismatch in that post area. We went there early tonight. That was the key for us.
"I thought he was huge tonight. I thought he had a lot of big rebounds. It seemed like every time we needed a big play off the boards he was the guy. We've been pushing him in practice and he stepped up tonight."
On the defensive end Hall matched up against Merinder, Perry, and senior John Pisacreta, and was up to the task despite playing against three different playing styles.
"He's the best defender on our team," Nelson said. "He always covers the other team's best player. He was huge for us."
Fazio said that playing against a player like Hall poses a matchup nightmare.
"You've got to kind of mix it up," Fazio said. "When your four man is six feet and their four man is 6-7 you've got to kind of mix it up a bit."
December, 11, 2013
12/11/13
1:25
AM ET
By
Brendan Hall
| ESPNBoston.com
LAWRENCE, Mass. -– With many MIAA basketball teams across the state kicking off their schedules on Friday, this week is serving as a final tune-up for many of the top teams in our boys hoop poll. Tuesday afternoon at Central Catholic's hallowed Memorial Gymnasium, the No. 3 Raiders played host to No. 17 Boston College High in a battle between two Division 1 contenders.

In four quarters of play, Central came away with a nice 71-57 victory, pulling away in the final period. A few thoughts from the day's action:

Life without Nelson
So here's the good news with Central's two-time returning All-State guard, Tyler Nelson, who is recovering from a broken left wrist suffered in fall ball. The Fairfield signee had his cast removed yesterday, and while he didn't dress for practice he was still able to take some jumpers during shootaround.

Now for the bad news. Best case scenario, Nelson is still two or three weeks away, barring another evaluation from doctors on Dec. 20. At worst, he would still be five or six weeks away from being ready.

"If everything looks good, he could be cleared to play then," Central head coach Rick Nault said. "If they're still unsure, they think he needs more time, then it could be another two or three weeks on top of that."

In the meantime, the Raiders are learning to make do without Nelson's exceptional long-range marksmanship. Junior Alex Santos has taken over point guard duties, a position he will likely hang onto even after Nelson's inevitable return. A big strong lead guard with the ability to finish at the rim, he facilitated some good "inside-out" ball movement to create some open looks behind the arc.

"If he [Nelson] were to play point, I think it would wear him down," Nault said. "Teams are going to be keying on him so much. I'm sure at times late in the game, he's going to want the ball in his hands and to be making decisions with it. But to start the season, having him come off the ball and having him come off screens and running some plays for him, I think is where we can best utilize him."

New-look offense
Both teams were running a more uptempo style, but BC High's might be a more dramatic departure from last season, when the Eagles operated with a more conservative scheme with All-State shooting guard Jameilen Jones. With a lot of new blood in the flood, orchestrated by sophomore point guard Jack Loughnane, the Eagles run more, and are more free-flowing in the half-court.

Mobile big men such as 6-foot-6 senior Phil Leotsakos beat players off the dribble from the wing, and stepped out for three-pointers along the way as well. Players like him and Steve Young –- who sat out with injury today, but should be available soon -– are able to facilitate a fluid high-low approach, getting more players on the floor involved.

"Some of our kids have a pretty good basketball IQ, and I thought it would give them more freedom," BC High coach Bill Loughnane said. "We've been running the same thing for a number of years, and it's been good to us, but our big men are very mobile and they can beat people off the dribble, so we want to give them a chance and put them in position to do good things."

Speaking about Leotsakos, he added, "That's one of the things. Him and Steve Young, who didn't play today, they're really good off the dribble. They create mismatches when they have bigs on the outside. It's our job to try to put them in a position to be successful."

Leo the Late Bloomer
Expanding further on Leotsakos, it was just one preseason scrimmage, but one has to consider the senior as a potential breakout candidate for the 2013-14 season.

One early sequence in the first quarter gave us a glimpse of how far he's come. Posting up on defense, Leotsakos deflected then gathered a ball in the corner, then freed himself up in transition with a give-and-go pass up the sideline, and finished at the rim with a weight-shifting layup that ended up getting negated by an offensive foul. The next trip down, however, Leotsakos stepped out for a three-pointer behind the top of the key and sank it.

Later in the quarter, following an Eagles basket, Leotsakos pressed the inbounder and leaped up for an interception as the Central player tried to toss it over his head. Leotsakos then threw it to Jack Loughnane running down the lane, for an easy two points.

A year ago, Leotsakos struggled to make a dent in the Eagles' rotation, in part due to injury. This year, he looks like a much different player, who will anchor the frontcourt in a "stretch four" type of role.

"I think he did his work in the offseason," said Bill Loughane. "He improved, he put his time in in all areas. Last year, unfortunately, he was hurt a lot for us, so he never really got in great shape that he's in now. We're expecting big things from him, and hopefully all that work he did pays off."

Cambio climbing
When we last saw 6-foot-5 senior forward Nick Cambio, he was sitting anxiously on the Central bench, sidelined with a hip injury shortly before the playoffs started, unable to help the Raiders as they clawed their way to the MIAA Division 1 Eastern Mass. Final at TD Garden.

Fully healthy once again on Tuesday afternoon, Cambio played noticeably more at the rim. One of the flashiest plays of the scrimmage was his one-hop, one-handed slam in the second quarter. In the fourth quarter, Cambio outjumped a defender to tip in his own offensive rebound, then several minutes made a twisting drive from 18 feet out on the baseline, switching to his left hand then back to his right for a finish at the rim and foul for a three-point play.

At first glance, Cambio's most improved trait might be his vertical leap, aided in part by some CrossFit work he did in the offseason. Of course, some of that above-the-rim style of play is by necessity, too. Having graduated brute big men Doug Gemmell and Joel Berroa, the latter ESPN Boston's 2013 Defensive Player of the Year, Cambio is expected to man the post alongside 6-foot-6 senior Aaron Hall.

"Last year with Joel Berroa and Dougie Gemmell, he was kind of our three, slash, four guy," Nault said of Cambio. "This year, he's gotta be our 4-5 guy. Offensively, he's going to be around the rim all the time. He finishes well, he's strong, he's athletic, he's got good bounce off the floor, so he's gotta be a guy that dominates that area for us."

Nault said he is also looking for more aggression out of Cambio.

"I think what I want to see more of him is to want to dominate," Nault said. "I think at times he's so unselfish, and he really relies on his teammates to make plays. With Tyler out right now, he has to understand that he needs to be a key force for us offensively. Even when Tyler does come back, those two guys have got to lead the way. I think they open up so many things for us."