Boston High School:

Ali Page
June, 16, 2013
6/16/13
2:00
AM ET
By
John McGuirk
| ESPNBoston.com


WORCESTER, Mass. -- If you are Grafton softball head coach John Gemme, you always like your chances when you hand the ball to pitcher Kendal Roy.

The junior right-hander is one of the upstart premier pitchers in the state and, once again, she put those talents on display Saturday and, in the process, made believers out of Burlington.

Playing an instrumental role in helping the Indians win their first Division 2 state championship a year ago, Roy was back at Rockwood Field looking to raise another banner. After working her way out of some early trouble, Roy got into a groove which spelled doom for the Red Devils as she pitched the Indians to their second consecutive state crown with a 2-1 victory.

Roy grew more-dominate as the game progressed. She finished her day by allowing just four hits while striking out 11. Burlington senior pitcher Kelly McCarthy, also solid in defeat, surrendered eight hits, fanning five.

"You get the first one and you say that's unbelievable because a lot of things have to go right," Gemme said. "To get a second one is a lot harder. There is a lot more work involved. Today we needed to be aggressive at the plate. McCarthy was trying to get ahead of our hitters so we felt lets just jump on that first pitch if its a strike. If she throws a first pitch strike lets not wait and just get after it right away. I thought we did a good job of that today."

Grafton (24-2) entered this contest having played its state semifinal game the night before at Turners Falls High School, where it defeated Wahconah Regional. The bus ride from Grafton to Montague is approximately 90 minutes. But a lack of sleep didn't seem to bother the Indians too much.

"We knew there wasn't a game after this one so we just wanted to go out and leave everything on the field," Roy said. "We came in pumped up on adrenaline from Friday night's win and we took it into this one today so I wasn't feeling any pain. I think we have proven that we are a good team and Grafton softball has a very good organization."

Grafton got on the board in the second inning. After McCarthy had set down the first two batters with ease, she issued a walk Makayla Ritzie. The sophomore then stole second before coming home on senior Marissa Ruggiero's solid single up the middle.

One inning later, Grafton was back at it. Amanda Voellings, a sophomore, singled and advanced to second on Ali Page's SAC bunt. Tara Faford (5-for-6 in her last two games) reached on an infield single to put runners on the corners. Roy then smacked an RBI single to center giving the Indians a 2-0 advantage.

Burlington (22-4) will look back on this game knowing it had some early chances to score on Roy. Three times during the first four innings they stranded runners in scoring position -- twice at third. But Roy, showing tremendous poise, managed to tight rope out of danger and keep the Red Devils off the scoreboard.

In the sixth, Burlington was able to manufacture a run. April Adams opened by reaching on a Voellings error at second base. After stealing second, Adams took third on catcher Ali Page's throwing error. With one out, Haley Currie hit a SAC fly to right allowing Adams to tag up and score.

Suddenly the Red Devils had come to life having closed to within a run. But in the seventh, Roy reached back for a little something extra and retired Burlington in order and claim another state championship.

"I don't think we've had anyone strike us out 11 times before today," said Red Devils head coach Kristen Mahoney, whose club fell to Wahconah in the 2011 title tilt. "We weren't able to adjust to [Roy] quick enough. We had some extra base hits early but that timely hit just wasn't there for us today."


June, 15, 2013
6/15/13
12:39
AM ET
By
John McGuirk
| ESPNBoston.com
MONTAGUE, Mass. -- Despite coming into Friday's Division 2 state semifinal as defending state champions, Grafton knew it had its work cutout for them against a team just as lethal.

Wahconah Regional, the 2011 state champs, entered this contest bolstered by a 21 game win streak. The Warriors were the hottest team remaining in the tournament and was looking for a return trip to the finals. But the Indians were able to jump on Wahconah pitcher Becca Grunow for a pair of first inning runs and held on for a 4-2 triumph.

Grafton (23-2) will look to make it back-to-back titles when it meets Burlington in the final on Saturday, beginning at 4 p.m. at Rockwood Field.

Senior Tara Faford was the catalyst in this one for the Indians. The University of Bridgeport third baseman went 3-for-3 at the plate with two RBI.

"I went up to plate trying to feel as comfortable as I could," Faford said. "I just tried to go with whatever pitch [Grunow] gave me. I didn't know to much about her so I just went with it."

Grafton took the early 2-0 lead thanks to a throwing error by Warriors catcher Brianna Herforth that allowed one run to cross followed by a run-score single from Faford. The Indians would add a solo run in the third . Ali Page (2 hits) singled and moved to second on a SAC bunt. Faford stepped into the batter's box and blasted a double to center.

But Wahconah (21-3) showed some life in its half of the fourth. With two runners on and two out, Chloe Warren, a freshman, came through with a clutch two-run single to center to cut the deficit to 3-2.

But the Warriors would get no closer thanks to the pitching of junior Kendal Roy (CG, 8 hits, 8 Ks), who didn't allow another Wahconah batter to reach second base for the remainder of this outing.

"I didn't think we played very well defensively today," said Warriors coach Dustin Belcher. "Defense has been our anchor all year but today we made some crucial errors at some critical times. It was one of those days where nothing was going our way and Grafton got timely hits when they needed them."

Grafton added a little insurance in the fifth. Faford singled to right and took second on the play after right fielder Rachel Brennan bobbled the ball. Roy then lined a single up the middle plating Faford.

"Wahconah swings the bats," Indians coach John Gemme said. "When we jumped ahead 2-0 early I thought we would score a few more but we stranded a lot of people today (8 total). For two years now these girls stay nice and relaxed and don't let things bother them and somehow find ways to come out on top."
June, 6, 2013
6/06/13
12:43
AM ET
By
John McGuirk
| ESPNBoston.com
WORCESTER, Mass. -- Early on, you had a feel that Kendal Roy was on her game.

The Grafton hurler had the dubious task of trying to curtail top-seed Hudson in Wednesday's Central Mass. Division 2 semifinal held at Worcester State University's Rockwood Field.

Having lost to the Hawks back on April 20, Roy had no intentions of seeing that defeat be played out again, especially in the postseason. There would be no déjà vu this time around as Roy put forth a masterful performance inside the circle, allowing just two hits and striking out 12 to lead the Indians to a 3-0 victory.

"It always feels good to beat a very good team," Grafton coach John Gemme said. "A lot of teams want to be where we are and to face good competition and be here at Worcester State."

No. 4 Grafton (21-2) will now play in its third consecutive final here on Saturday beginning at 5 p.m. The Indians will face No. 3 Leicester for a third consecutive year. Both teams split the previous two district final meetings.

Against Hudson, Roy started strong and stayed that way. Through the first 5 1/3 innings, the junior flirted with perfection having allowed no hits or walks until it was broken up on a Laura Hydro infield single.

Meanwhile, the defending state champion Indians had already built its three run lead against Hawks stellar pitcher Jurnee Ware.

To Hudson's credit, it wasn't going down without a fight. Kara Knights led off the Hawks seventh with a single. Haley Gaffney then reached on an error. One out later, Chelsey Scovil lined a single to right loading the bases. Poised and determined, Roy regrouped and struck out the next two batters to seal the win.

"Hudson has always been a team with strong hitters," said Roy. "They started to get with how I throw in the later innings so I knew I had to change up my game plan a bit. I started going inside on them a lot more to get them off-balanced. It's a hard pitch to hit when it's right at your letters."

Ware never quite got into a rhythm as she surrendered six hits and struck out four. Two walks to open the game put Ware in trouble early. Grafton got a run out of it thanks to Roy's RBI fielder's choice. The Indians added another run the next frame. Michelle Goulet singled and scored on Ali Page's single.

Ware appeared to settle down a bit after that. But in the fifth, the senior ran into more problems. Singles by Page and Tara Faford had runners at second and third. Page sprinted home on Roy's ground out to shortstop. Ware was able to avoid any further damage in the frame and keep it a three-run game.

But on this night, a three-run cushion looked very favorable. At the plate, the Hawks were showing little resistance against Roy until they finally woke up a bit in the final inning before having the lights turned out on them putting an end to this tilt.

"We didn't go down without a fight," said Hudson first-year coach Mary Beth Ryan, wrapping up her season at 20-2. "Give credit to Kendal [Roy], she kept us on our toes.

"Grafton is a great team. They made some great plays tonight. Jurnee [Ware] struggled some early. You put a couple people on and it comes back to haunt you. But I thought she battled back hard too."

Leicester 3, Notre Dame Academy 2
Everything was working right for Notre Dame Academy. Facing one of the better hitting teams in all central Mass, Rebels pitcher Casey Arpin was baffling the Wolverines at every turn with a nice mix of fastballs and off-speed junk.

Through the first five innings of Wednesday's Division 2 Central Mass. semifinal, the junior had allowed no runs and given up just four hits.

Meanwhile, Arpin's teammates had staked her to a two-run lead after scoring a pair in the third inning. But Leicester (20-2) managed to hold its frustrations in check and finally found its offensive nitch in the sixth. The Wolverines scored three runs in the frame to come out on top, 3-2, and advance to Saturday's final. Leicester last reached the final in 2011.

The seventh-seeded Rebels close out their year at 17-6.

The Wolverines difference-making frame began with Kelly Shea reaching base on a dropped fly ball from left fielder Caroline Andreoli. The one play seemed to light a fire underneath the Wolverines. Lauren Tuiskula smashed a double to left plating Shea to make it 2-1. Samantha Rivers followed by singling to right to score Tuiskula to deadlock this contest. Rivers would score the go-ahead tally after Ashley George grounded a hard single up the middle.

Tuiskula, now in the pitcher's circle, served up a one out double to Meghan Sullivan but left here there after retiring the next two Rebel batters to end the game.

"It shows you just have to keep fighting and keep playing," Leicester coach Dave Stanick said. "We made a couple of mistakes to give them their runs but we started to hit the ball and put it in play. We get a runner on after a dropped ball. It's unfortunate but it's part of the game and from there we were able to take advantage of that. This year when teams have made mistakes we have taken advantage of them."

The Rebels led by two after Sullivan doubled and scored on an error by second baseman Kiley Hennessey. NDA's second run came via an RBI single from Victoria Pitney.

"We just didn't make the plays in that particular inning and that's the way it goes," Rebels coach Ed Savage said. "We knew Leicester was a very good hitting team and my pitcher did a nice job keep the ball away from them. We knew we had to pitch most of their hitters on the outside corner to be successful. But give Leicester credit because when we made a mistake they took advantage of it. So hats off to them."

Quaboag 7, Hopedale 1
Leading 1-0 through four innings, Quaboag busted its Division 3 CMass semi-final tilt against Hopedale wide open in its half of the fifth. The seventh-seeded Cougars plated six runs against Blue Raiders pitcher Lauren Kapatoes and rolled to a 7-1 victory.

Quaboag (17-6) meets Assabet Valley, the No. 4 seed, in Saturday's final here beginning at 3 p.m. Assabet took the CMass title last year. No. 6 Hopedale completes its season at 16-7.

In the fifth, the Cougars loaded the bases setting up an Andrea Koslowski RBI single. Danielle Sweet, who reached on a fielder's choice and Koslowski would both score shortly thereafter on a Blue Raider error to lead 3-0. The frame continued with a bases-loaded walk to Harlie Wdowiak. Moments later, Sarah Nye plated two more with a line single to right.

The Cougars struck for a run in the fourth inning. Koslowski led the frame off with a double to center field and and scored on Wdowiak's deep fly to center. Kapatoes drove in Hopedale's lone run in the seventh on a SAC fly.
April, 11, 2013
4/11/13
1:00
AM ET
By
John McGuirk
| ESPNBoston.com
GRAFTON, Mass. -- The events which took place last June at Rockwood Field in Worcester are scrapbook material now. After 10 months of celebration, pats on the back and congratulatory messages, the Grafton High softball team is back at work.
What is different this year than in years past is the Indians return as defending Division 2 state champions. But if you ask any of the returning players about last season's magical run, they are quick to point out that was last year and this is this year.
[+] Enlarge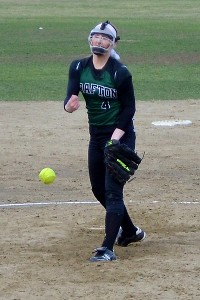 Scott Barboza/ESPNGrafton hurler Kendal Roy registered an 18-1 record and a 0.72 ERA last season as a sophomore while earning ESPN Boston All-State Team honors.
What Grafton accomplished a year ago was historical and undaunting. The Indians were considered a strong program, according to those who follow this game closely, but not one who was expected to vie for a Central Mass. crown let alone a state championship. But this team refused to buy into the banter. From the opening game of last season, Grafton ran amuck through Central Mass., winning its first 19 games. A setback against St. Peter-Marian did little in changing the course of the Indians prolific ride. They rolled through the Central Mass. postseason tournament, bumped off Western Mass. champ Hampshire Regional in the state semifinal, before slipping past Abington to secure a state crown.
"There is no way I will ever forget the experiences of last year," said junior pitcher Kendal Roy, a key component to last season's success after going 18-1 inside the circle, sporting an 0.72 ERA and recording 176 strikeouts. "That was the best time ever. But it's 2013 now and 2012 is over. It's a new season. We have some new girls added this year and lost a couple from last year's team. What we did last year doesn't matter anymore. We need to come out this year and redeem ourselves and show we are still the same team.
"We are young and even if we don't win we know will live another day and move on. I think that's the way to view all of this."
Starting on varsity as a freshman, Roy, who was selected to last year's ESPN Boston MIAA softball All-State Team, carried an overall record of 43-5 into the 2013 season. It's unfathomable what that mark could be once she graduates next year. Roy has become one of the premier hurlers in the state and should carry that torch through the next two years.
"We know we have one of the best pitchers in Central Mass.," 14-year head coach John Gemme said. "In most cases, once we get a lead you start feeling a little more comfortable with Kendal [Roy] on the mound. She never gets rattled and she never thinks she is better than anyone else on this team. I know in a lot of cases where someone gets most of the accolades and it gives them a big head but that has never been the case with Kendal."
When asked about her own personal accomplishments, Roy is quick to defer the spotlight on to herself, instead choosing to talk about team achievement. That is one of the reasons why the chemistry among this group has remained so positive. Everyone on this team gets along with one another and there is not a shred of animosity to be found. To a player, the Indians play as one complete unit. Their mission and purpose approaching each season never changes.
"One thing about this team is we have very few who take the winters off, put the glove away and don't see it again until now," said assistant coach Mike Roy, Kendal's father. "That's why we are where we are. The majority of these girls are constantly working on their game throughout the winter months because they want to get better."
You will often hear music blaring from a boom box inside their dugout, as part of the Indians' pre-game routine. During games, team members huddle in unison to sing songs and shout out various chants of support. In essence, you would be hard-pressed to find another program more loose, upbeat and relaxed as this one.
"As long as we are doing what we are supposed to be doing out on the field I don't think it's a problem for us to have some fun while we do it," said Tara FaFord, a senior third baseman who will play at the University of Bridgeport next season.
It's no secret that teams will be gunning for the Indians this year, although Grafton is already off to a 5-0 start. That is the scenario most teams face in their attempts to defend a title.
But Grafton offers up a simple response: bring it on.
"We know everyone we play is going to bring their best game at us," senior catcher and Bryant University commit Ali Page said. "Every team we play is going to look at us like it is their Super Bowl. Last year, we were very methodical in how we did things and took a game-by-game approach. I feel we need to continue to do that again this year in order to remain successful."
One thing that doesn't get brought up is the added pressure of trying to win back-to-back crowns. Talk of a repeat is never uttered. At least not yet. Gemme says he prefers to play out the regular season first and see what happens from there.
"Last year these girls showed up everyday trying to get better at something," he said. "This year we are approaching it the same way. As a coach you ask yourself what do I need to do to make us get better because everyone else you play against is going to try and knock us off. Those teams are going to continue to work to get better and we need to do the same thing."
Only one time last season did Grafton not play to its capability. What a late season defeat to St. Peter-Marian, a team that finished with 11 losses and failed to qualify for the postseason, did was only spoil an opportunity for a perfect season and, in turn, serve as a wake up call.
"Getting that taste in your mouth of losing was something we hadn't experienced all year," FaFord said. "We sort of forgot how to lose so after losing that game we all agreed that we never wanted to feel that way again."
Added Roy, "The St. Peter-Marian loss was probably the best thing that could've happened to us. We were so high about being 19-0 heading into that game and to be taken out by a team that didn't even make the districts proved that we are human and we can lose a softball game if we fail to show up and play."