Boston High School:

Alvirne
November, 1, 2013
Nov 1
3:00
PM ET
By
Roger Brown
| ESPNBoston.com
The final weekend of the New Hampshire high school football season is upon us.

Eight teams from each division -- two per conference -- will advance to next weekend's conference championship games, which will serve as the postseason's quarterfinal round.
Here's what's still at stake in each division:
DIVISION I
Four teams have already qualified for postseason play in Division I: Concord (8-0), Nashua South (7-1), Pinkerton Academy (6-2) and Londonderry (4-4). Londonderry will play at Pinkerton Academy in next weekend's Division I South championship game.
Keene (6-2) can clinch a playoff spot by beating Alvirne (1-7) Friday. If Keene wins, it will play Nashua South in the Division I West title game. Keene handed Nashua South its only loss (42-28) last weekend.
Spaulding (5-3) and Exeter (5-3) will be the two teams that move on from Division I East if each wins Friday. Spaulding plays at Dover (2-6), and Exeter is home against Nashua North (3-5). If either Spaulding or Exeter loses Friday, the door will be open for Winnacunnet (5-3) to reach the postseason.
The winner of Friday's game between Manchester Central (6-2) and Bedford (7-1) will face Concord in the Division I North title game.
DIVISION II
Seven of the eight playoff teams have been determined in Division II: Monadnock (8-0), Portsmouth (7-1), Plymouth (7-1), Windham (7-1), Trinity (6-2), Sanborn (5-3) and Kennett (4-4).
Sanborn will play Monadnock in the Division II West title game, and Trinity will face Windham in the Division II South title game.
Merrimack Valley will clinch a postseason berth if it beats Plymouth on Saturday, or if St. Thomas (6-2) loses to Trinity. A St. Thomas win and a Merrimack Valley loss would make it possible for St. Thomas to advance, depending on results of other Division II games this weekend. Either Merrimack Valley or St. Thomas will face Portsmouth in the Division II East championship game.
Kennett will face Plymouth in the Division II North championship game.
DIVISION III
The matchups in two of the four Division III conference championship games are set in Division III: Epping-Newmarket (3-4) will face Bishop Brady (3-4) in the Division III East title game; and Bow (6-1) will meet Pelham (7-0) in the Division III South championship game.
Stevens (5-2) and Gilford (6-2) have also qualified. Stevens will face the winner of Saturday's game between Mascoma Valley (5-2) and Newport (5-2) for the Division III West title, and Gilford will meet either Inter-Lakes/Moultonborough (4-3) or Winnisquam (3-4) in the Division III North championship game. Inter-Lakes/Moultonborough will advance if it beats Epping-Newmarket on Saturday, or if Winnisquam loses to Newfound (2-5).
NHIAA WEEK 9 SCHEDULE
DIVISION I
Friday
Spaulding at Dover
Nashua North at Exeter
Bishop Guertin at Timberlane
Winnacunnet at Nashua South
Manchester Central at Bedford
Goffstown at Concord
Manchester West at Manchester Memorial
Salem at Londonderry
Pinkerton at Merrimack
Alvirne at Keene
DIVISION II
Friday
Kennett at Kingswood
Pembroke at Mondadnock
Hanover at Portsmouth
St. Thomas at Trinity
Milford at Laconia
Lebanon at Kearsarge
Hollis/Brookline at Souhegan
Sanborn at Windham
Saturday
Merrimack Valley at Plymouth
Con-Val at John Stark
DIVISION III
Friday
Raymond at Stevens
Saturday
Franklin at Bishop Brady
Epping/Newmarket at IL/Moultonborough
Pelham at Farmington-Nute
Winnisquam at Newfound
Campbell at Bow
Fall Mountain at Somersworth
Newport at Mascoma Valley
UNION LEADER/WGIR/WMUR POWER POLL
1. Concord (8-0)
2. Bedford (7-1)
3. Pinkerton (6-2)
4. Nashua South (7-1)
5. Keene (6-2)
6. Manchester Central (6-2)
7. Bishop Guertin (5-3)
8. Portsmouth (7-1)
9. Exeter (5-3)
10. Plymouth (7-1)
Roger Brown is a staff writer for the New Hampshire Union Leader, and publishes the New Hampshire Football Report. Follow him on Twitter: @603sportsmedia.
October, 4, 2013
Oct 4
11:21
AM ET
By
Roger Brown
| ESPNBoston.com
Even though his team is off to a 4-0 start, Nashua South coach Scott Knight said he still doesn't know how good his Panthers are. Why? Because Nashua South has yet to play any of the heavyweights in Division I.

South's victories have come against Spaulding (2-2), Alvirne (1-3), Timberlane (1-3) and Nashua North (0-4).
"We could use a signature win this year," Knight said. "We really don't have one."
The Panthers could get one Friday night when they face Exeter (3-1) at Nashua's Stellos Stadium. Exeter has won the last two Division I titles, but is coming off Saturday's 21-14 overtime loss to Bishop Guertin.
"We got what we deserved against Guertin," Exeter coach Bill Ball said. "We have to get better."
Exeter's biggest challenge tonight will be stopping Nashua South quarterback Trevor Knight (Scott's son), who has completed 32 of 56 passes for 449 yards and seven touchdowns this season. Knight, who has committed to play at the University of New Hampshire, missed one game and half of another with a dislocated thumb.
"He makes it interesting because he's a run-pass threat," Ball said. "He can beat you long or with the underneath stuff. Plus he's probably the best athlete in the state with his feet."
Senior fullback Jay Inzenga is the top threat for Exeter. Inzenga has rushed for 534 yards on 72 carries, but was kept out of the end zone in last weekend's loss to BG.
"It'll be a tall order, but we have the size to compete with them up front," Scott Knight said. "We'll find out where we're at for sure. It's not a playoff game, but it's a big one."
Saturday's contest between neighboring Bedford (4-0) and Goffstown (1-3) is another interesting Division I game on this weekend's schedule. The game will be a family feud of sorts, since Bedford head coach Kurt Hines will be calling plays against a Goffstown defense that includes his son, Brockton, a defensive end.
"It's going to be an emotional one," Hines said. "Not only am I the head coach, I'm the offensive coordinator, so I'll be game-planning against my son. After the game, win or lose, there's going to be tears."
DIVISION II
Monadnock (4-0) enters the weekend as one of three unbeaten teams in Division II -- Plymouth and St. Thomas are the others -- but will be without linebacker/kicker Mischa Hoffman (concussion) for Friday night's game against Laconia (2-2). The Huskies may also be without quarterback Isaiah Prince, who suffered a leg injury in last weekend's victory over Sanborn.
"He was in such pain on the field I thought for sure it was a fracture, but our trainer is fairly certain it's not an injury to the bone, it the muscle," Monadnock coach Linwood Patnode said. "My gut tells me he'll go, but he won't be 100 percent. He's been a real treat to watch on offense."
Saturday's contest between Milford and Windham will likely go a long way toward sorting out the playoff picture in Division II South. Milford, Trinity and Windham are each 3-1 entering the weekend, but only two teams from that conference will qualify for postseason play.
DIVISION III
Talk about parity. Fourteen of the 17 teams in Division III are 2-2 or better.
In terms of the playoffs, this weekend's most meaningful games are Friday's matchup between Winnisquam (2-2) and Pelham (3-0), and Saturday's contest between Stevens (2-2) and Mascoma (2-1).
UNION LEADER/WGIR/WMUR POWER POLL
1. Concord (4-0)
2. Bedford 4-0
3. Nashua South (4-0)
4. Pinkerton (3-1)
5. Exeter (3-1)
6. Bishop Guertin (3-1)
7. Winnacunnet (3-1)
8. Plymouth (4-0)
9. Keene (2-2)
10. Trinity (3-1)
August, 14, 2013
Aug 14
5:46
PM ET
By
Roger Brown
| ESPNBoston.com
New Hampshire's high school football season will kick-off Wednesday, when teams are allowed to hold their first practice in preparation for the 2013 season.

Football in the Granite State has a drastic new look this year. The New Hampshire Interscholastic Athletic Association scrapped the six-division format it had used since 2008 in favor of three larger divisions that have four conferences in each division. The divisions are still based on enrollment and here's how the teams were divided:
Division I
East: Exeter, Winnacunnet, Dover, Spaulding and Timberlane.
West: Keene, Nashua North, Nashua South, Bishop Guertin and Alvirne.
North: Concord, Manchester West, Manchester Central, Manchester Memorial and Bedford.
South: Pinkerton, Salem, Londonderry, Goffstown and Merrimack.
Division II
North: Kennett, Hanover, Plymouth, Laconia and Lebanon.
South: Milford, John Stark, Windham, Souhegan and Trinity.
West: Monadnock, Con-Val, Hollis-Brookline, Sanborn and Kearsarge.
Central: Portsmouth, Pembroke, Merrimack Valley, Kingswood and St. Thomas.
Division III
South: Pelham, Campbell, Bow and Somersworth.
Lakes: Inter-Lakes/Moultonborough, Gilford, Winnisquam, Franklin and Newfound.
West; Raymond, Epping-Newmarket, Bishop Brady and Farmington/Nute.
East: Mascoma, Newport, Fall Mountain and Stevens.
"From the conversations I've had, more coaches like the new alignment than don't like it," Manchester Memorial coach Peter Colcord said. "I''m just not happy that we've gone down from tenB (regular season) games to nine. That's a lot of work, and you want to play as many games as possible.
"I also understand that you can't please everybody."
New Hampshire teams will no longer have room for a non-league game, so the Pinkerton-Brockton rivalry is among the casualties of the new alignment.
Eight teams will make the playoffs in each division (two from each conference), so the number of playoff teams (24) is the same as it was last year, when four teams qualified from each of the six divisions. The top two teams from each conference will meet in the quarterfinals. Teams will be reseeded for the semifinals using a point-rating system that will factor in each team's record and strength of its victories. A victory over a strong team is worth more that a victory over a lesser opponent.
"I like it," Nashua South coach Scott Knight said. "I'm not one of those guys who's afraid of change.
"The only thing I don't like is the two teams in one conference playing in the (quarterfinals). I don't see why you have to play a team twice in a 20-team division. I'd like to play different teams in the playoffs.
"After this year I'm sure they'll tweak it, but we're definitely headed in the right direction."
TEAMS TO WATCH
Here are 10 teams that should be in the hunt for a championship this season:
PINKERTON ACADEMY -- The Astros have the state's premier running back in senior Manny Latimore, who rushed for 1,477 yards last season.
NASHUA SOUTH -- South quarterback Trevor Knight, a three-year starter, has committed to the University of New Hampshire.
EXETER -- The Blue Hawks are seeking their third straight Division I title.
WINNACUNNET -- The Warriors won last year's Division II championship. They make the move to Division I this year.
CONCORD -- If there's a surprise team in Division I this season it will likely be the Crimson Tide.
PORTSMOUTH -- Clippers are also stepping up in class (to Division II) after winning the last two Division III championships.
TRINITY -- Quarterback Carmen Giampetruzzi is headed to Boston College … to play baseball.
PLYMOUTH -- Plymouth coach Chuck Lenahan has guided the Bobcats to 19 state titles.
BISHOP GUERTIN -- There's plenty of talent left over from a team that reach the Division II semifinals last fall.
BEDFORD -- The Bulldogs competed in Division III two years ago, moved to Division II last year and are in Division I this season.
MEET THE NEW BOSS
First-year head coaches this season: Mark Phillips (Alvirne), Dante Laurendi (Merrimack), Rob Pike (Salem), Jeff Hunt (Spaulding), Rich Bergskaug (Hollis-Brookline), Brian Pafford (Portsmouth), Mike Lochman (Souhegan), Greg Gush (Campbell), Vance Sullivan (Manchester West), Jeff Kaplan (Franklin) and Chris Marden (Gilford).
NIGHT VISION
Pinkerton Academy in Derry has added lights around its football field and, with one exception, will play its home games on Friday nights this season. Pinkerton's game against Londonderry will be played in Derry on a Saturday night, Sept. 28.
Last year, Pinkerton was the only Division I school without lights.
Roger Brown is a staff writer for the New Hampshire Union Leader and publishes the New Hampshire Football Report. Follow him on Twitter: @603SportsMedia.
May, 16, 2013
May 16
6:10
PM ET
By
Roger Brown
| ESPNBoston.com
White Mountains Regional won last year's Division III softball championship, but there's a lot to like about this year's White Mountains team as well.

The Spartans, who improved their Division III record to 13-0 by beating Kennett, 5-1, Monday, are the only unbeaten high school softball or baseball team in New Hampshire. White Mountains has dominant pitching and a .460 team batting average.
"We have some unrecognized girls who have been playing pretty good defense too," White Mountains coach Forrest Hicks said. "I feel we're a complete team. These girls have played together a lot."
White Mountains has 10 players on its roster who played in more than 100 games for the Way North summer league team last year. Junior pitcher Erica Millett is among those players. Millett is 11-0 with a 0.56 ERA this spring.
White Mountains, which beat Stevens of Claremont to win last year's title, has surrendered 13 runs in its 13 games.
"If Erica's not the best pitcher in the state, she's probably very close," Hicks said. "She throws multiple pitches, she throws hard and she has great control."
All but one player in the White Mountains starting lineup is batting over .400. Rebecca Hicks (Forrest's daughter) is batting a team-high .547, followed by Kaylee Savage (.523) and Chelsea Payer (.517).
Forrest Hicks said he expects Gilford and Campbell to be among the major obstacles between White Mountains and another state title.
"I don't want to sound arrogant, but I'm really not surprised by how the girls have been playing," he said. "We were competitive against a lot of good teams in the summer. The only real surprise has been the consistency of our defense."
LET THERE BE LIGHTS
Pinkerton Academy football fans will have their Saturdays free this fall.
Lights are scheduled to be installed at Pinkerton Academy's football field and track in time for the Astros to play their 2013 home games on Friday nights. Last season, Pinkerton was the only Division I football program without lights.
"I've been told that we are good to go," Pinkerton coach Brian O'Reilly said. "They have announced it to the public. The lights will go up in May and June."
Pinkerton's first home night game will be Sept. 13 against Manchester Central. The Astros will also play Londonderry, Concord and Goffstown at home this season.
COACHING CAROUSEL
Claude Gagnon's tenure as Spaulding's football coach was a short one. Gagnon resigned in late April after spending one season as the the Red Raiders' head coach. Spaulding athletic director Kevin Hebert said Gagnon, who is self-employed, had to make some commitments in his personal life that prevented him from returning for a second season.
"He's a builder and things have been pretty busy for him, and his son is in the military and heading back to Afghanistan, so he'll have to help take care of his grandson while he's gone," Hebert said
Spaulding was 3-8 overall and 2-6 in Division II last season. Gagnon's replacement will be Spaulding's fifth head coach in as many years.
TOUGH TO BEAT
The Bedford boys' lacrosse team extended its winning streak to 33 games by posting a 13-6 Division II triumph over Bow on Monday.
Bedford's winning streak, which began last season, includes victories over three Division I opponents this season: Exeter (11-10), Hanover (11-7) and Londonderry (16-6).
PITCHING IN
Hanover's Joe Cravero tossed a no-hitter against rival Lebanon on May 8. Cravero, who will play for Holy Cross next season, struck out 16 – including 11 of the last 12 batters he faced – in Hanover's 8-0 victory.
MEMORABLE MILESTONE
The Alvirne baseball team's 11-1 triumph over Salem on Monday was career victory No. 300 for Mike Lee, who is in his 30th season as Alvirne's head coach.
Roger Brown is a staff writer for the New Hampshire Union Leader and publishes the New Hampshire Football Report.
June, 27, 2012
6/27/12
2:07
PM ET
By
Marc Thaler
| ESPNBoston.com
Fundraising totals between the teams competing in the inaugural New Hampshire East-West High School Football All-Star Game couldn't have been much closer.

The game itself? That's a different story.
West's all-stars – widely considered underdogs for the June 23 contest at the University of New Hampshire – proved too tough. The combination of overpowering offense and dominant defense led to a 33-point halftime lead and 44-12 final score.
Thaddeus "Junior" Brown was toughest to cover. Manchester Central High's 6-foot 3-inch, 180-pound receiver made all four of his catches for 87 yards in the first half. Three receptions went for touchdowns, including a 50-yard down-the-right-seam dagger that helped Team West build a 37-6 halftime lead.
"This means a lot. I worked hard for it," Brown, the game's first Bo Dickson MVP, said of the trophy he was handed for his efforts. "The coaches helped me out a lot. I just busted my butt for 10 days. The outcome was this MVP."
Off the field, the outcome of Brown's efforts, as well as the 73 other all-stars, was even more impressive.
Teams East and West combined to raise $51,301.21 for Children's Hospital at Dartmouth-Hitchcock (CHaD) in Lebanon.
Team East was designated the home team. It earned use of UNH football's locker room for winning the head-to-head fundraising contest. Coach Bill Raycraft's players raised $25,751.21 – a mere $201.21 more than West's standouts.
In total, $301,000 was raised for CHaD.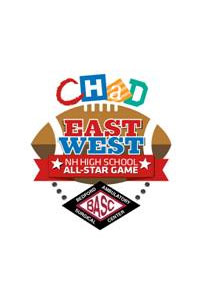 BASCTBD by editorial
"These kids came together and did a heck of a job for a great cause," said Team West coach Keith Jones, whose 6-year-old son, Harris, a CHaD patient, participated in the pre-game coin toss.
Harris was involved in a freak snowmobile accident three years ago. His father has said many times if not for CHaD, right-leg amputation would have been required.
On gameday, the soon-to-be first-grader made an appearance in Team West's locker room prior to warm-ups. It gave the players an additional boost, which carried over to kickoff.
Several playmakers fueled Team West's 37-point first half.
Brown caught a pair of 9-yard TD passes from Manchester West High's Aaron Martin, who also used his speed to sneak inside the left pylon for a 2-yard rushing score.
Merrimack High's Jackson King returned an interception 19-yards for a TD.
Nashua South's Johnny Bieren was crucial to posting a second-quarter safety. He also forced and recovered a fumble on one of his three quarterback sacks.
Central's Stephen Grzywacz – who raised a players-best $5,965 for CHaD – converted five extra points (6-for-6 overall).
East's all-stars committed five of the game's eight turnovers. The favored squad fell behind, 30-0, before Salem High's Jerickson Fedrick returned a kickoff 96 yards to paydirt.
Fedrick, and Pinkerton Academy of Derry stars Kevin Davies and Emmitt Smith, were all neutralized. Combining to rush for 4,649 yards and 57 TDs last fall, the trio managed 99 yards – 28 through two quarters.
Conor Donovan of Division VI cooperative team Inter-Lakes-Moultonborough scored East's second TD early in the third. Derek Paradis of Nashua South answered with an up-the-gut run.
"The first series, I thought we did pretty well. We stopped them (but) right away turned the ball over," Raycraft said. "That's not the way you want to start an all-star game. From there, we pressed a little bit more than we probably should have and, because of that, created more turnovers.
"But, like I told the kids, I had a blast these last (10) days," he added. "I couldn't have asked for a better group of kids. It's going to be fun watching where they go from here. The score will fade, but they set the tone for fundraising."
BASEBALL CHAMPS
Division I
: Dillon Emerson's extra-inning hit snapped two droughts, including a lengthy one for Concord High.
The senior's single down the right-field line scored Pat Cannon and gave the top-seeded Crimson Tide a 5-4 walk-off win over No. 3 seed Merrimack High in the state final June 16 at Northeast Delta Dental Stadium, home of Double-A baseball's New Hampshire Fisher Cats.
Emerson's hit snapped an 0-for-4 skid in the title game and earned Concord (18-4) its first crown since 1980. The Tide lost the state final in 2011.
"I was in the dugout upset over all the missed opportunities I had when coach [Scott Owen] came up to me and said, 'Stick with it. You'll get your at-bat and you'll come through.' He was right," Emerson told the
New Hampshire Sunday News
.
June, 6, 2012
6/06/12
8:01
AM ET
This morning, ESPNHS and Gatorade announced the Gatorade Players of the Year for baseball across each of the 50 states and District of Columbia. Milford's Shannon Smith took the honors in Massachusetts; below are the winners for the five other New England states.

CONNECTICUT: KELLI CONNORS, WATERFORD
The 5-foot-9 senior right-handed pitcher led the Lancers to a 24-1 record entering the Class M state semifinals, scheduled for June 5. A two-time returning Class M All-State selection as named by the Connecticut High School Coaches Association, Connors owned a 20-1 record in the circle with a 0.87 ERA and 151 strikeouts in 137 innings-pitched entering the state final four. Also the returning All-Area Player of the Year, she batted .379 with one home run and 19 RBI through 25 games. A member of Waterford's 2009 and 2010 Class M state championship teams, she entered the state tournament with a 67-4 career pitching record.

Also a volleyball standout, Connors has maintained a 3.04 GPA in the classroom. In addition to donating her time as a youth softball instructor, she has volunteered as a physical education teacher's assistant at The Friendship School and on behalf of The Colby Sousa Scholarship Fund.

"She's a hard-working kid," said Kate Peruzzotti, head coach at rival Fitch High. "What I admire most about her is how well she's done over the past four years—just the growth has been amazing, how she's dominated in the circle over her entire high school career. It says a lot about her. She's been remarkable."

Connors has signed a National Letter of Intent to play softball on scholarship at Florida Southern College this fall.

MAINE: JULIA GEAUMONT, THORNTON ACADEMY
The 5-foot-6 senior right-handed pitcher led the Trojans to a 14-2 record entering the Class A state quarterfinals, scheduled for June 7. Geaumont posted a 14-2 record in the circle along with a 0.84 ERA and 136 strikeouts in 96 innings-pitched. A two-time First Team All-State selection, she is batting .679 with 10 home runs and a 1.509 slugging percentage through 16 games.

Geaumont has maintained a 4.09 GPA in the classroom. The vice president of her school's chapter of the National Honor Society, she has volunteered locally as a student tutor, a youth softball coach and on behalf of fundraiser walks to benefit cancer research.

"Student athletes like Julia Geaumont are the reason we go into the coaching profession," said Thornton Academy head coach John Provost. "After just two years in our program, she was voted team captain because of her ability to lead, her dedication to the program and her outstanding contributions during game play and at practice."

Geaumont has signed a National Letter of Intent to play softball on an athletic scholarship at Bowdoin College this fall.

NEW HAMPSHIRE: TAYLOR CARBONE, ALVIRNE
The 5-foot-10 senior right-handed pitcher and first baseman led the Broncos (16-4) to the Division I semifinals, scheduled for June 5. Carbone posted a 13-2 record in the circle along with a 1.02 ERA and 131 strikeouts in 96 innings-pitched through 20 games. Also the 2010-11 Gatorade New Hampshire Softball Player of the Year, Carbone owned a .581 batting average with three home runs, 28 RBI and a .951 slugging percentage entering the state final four.

Carbone has maintained a 3.35 GPA in the classroom. She has volunteered locally on behalf of the US Marine Corps Toys for Tots Foundation and has donated her time collecting baseball equipment for needy youth players in Nicaragua.

"Taylor Carbone is one of the most complete players that we have faced," said Jimmy Clavette, head coach at Timberlane High. "She is a consistent hitter, a solid pitcher and plays multiple positions very well."

Carbone has signed a National Letter of Intent to play softball on an athletic scholarship at the University of Massachusetts at Amherst this fall.

RHODE ISLAND: LINDSAY MAYER, LINCOLN
The 5-foot-4 junior pitcher and shortstop led the Lions to a 19-0 record and a berth in the Division I winner's bracket semifinals, scheduled for June 4. At the time of her selection, Mayer owned a 16-0 record and a 0.67 ERA with 163 strikeouts in 104 innings-pitched. At the plate, the 2011 First Team All-State honoree hit .467 with three home runs, 23 runs scored, 24 RBI, a .657 on-base percentage and a .911 slugging percentage through 19 games.

Mayer has maintained a 3.72 GPA in the classroom. An accomplished piano player, she has volunteered locally as a youth softball coach and mentor.

"Lindsay Mayer is the best all-around player in the state," said Chris Luppe, head coach of rival Westerly High. "She is as close to a dominant pitcher as there is in the state. She is also a very good defensive shortstop as well as an excellent hitter."

Mayer has made a verbal commitment to attend the University of Virginia on an athletic scholarship beginning in the fall of 2013.

VERMONT: ALEXIS PERRY, ESSEX
The 5-foot-8 senior right-handed pitcher led the Hornets to a 17-0 record entering the Division I semifinals against Missisquoi, scheduled for June 6. Perry owned a 14-0 record and a 0.43 ERA in the circle, and a .511 batting average with 21 RBI at the plate through 17 games. A two-time First Team All-Metro selection, she recorded 173 strikeouts against just 15 walks in 98 innings pitched.

Perry has maintained an A-minus average in the classroom. She has volunteered locally on behalf of youth softball programs.

"Perry has just been lights out," said Leslie Dunn, head coach at North Country High. "She's using different pitches, hitting her spots more often and her pitches are moving more. I feel like she's even more dominant than she was in the past."

Perry has signed a National Letter of Intent to play softball on scholarship at Merrimack College this fall.
March, 16, 2012
3/16/12
4:49
PM ET
By
Marc Thaler
| ESPNBoston.com
Pinkerton Academy's greatest strength this winter can be summed up in two words: potting pucks.

Yet a defensive play in the closing minutes of the Division I boys' hockey final helped the preseason-favorite club from Derry hold on for a nail-biting 3-2 win.
"The crowd was so loud, it was (about) settling them down (during a time out)," Pinkerton coach Casey Kesselring said. "I said, 'Hey, we're up one. We're in the driver's seat. All we need to do is play a solid 5 minutes and bring it home."
Ryan Hall – in front of an estimated 3,000 fans – made the stop that cemented the victory March 10 at Verizon Wireless Arena.
The senior defenseman disrupted a golden chance for Manchester Memorial High to pull even with a furious third-period comeback. Brady Bilodeau on a mini-breakout charged toward netminder Matt Marchman with three minutes, 25 seconds left in regulation.
Hall, trailing the play, stretched and poke the puck away. Bilodeau never had the chance to launch the potential game-tying bid.
"That was big. He's going in to tie it. Ryan gets all puck," Kesselring said. "He probably would tell you, honestly, that he got caught out of position a bit. But he made up for it. That was the main thing."
The top-seeded Astros (19-2-0 Div. I) controlled play for the majority of the contest. They built a commanding three-goal lead with markers from J.D. Dudek (first period), Zach Sanford (second period) and Dominic Corsetto (third period).
But, as the clock dipped below the 7-minute mark, the second-seeded Crusaders (16-5-0 Div. I) erupted for two goals in a 25-second span.
"We got down three goals. We talked to the kids," Memorial coach Mark Putney said. "There was no quit in this team."
Colin Williamson one-timed Bilodeau's back-door feed. Jacob Boylan, on the next shift, lofted a backhand shot from the slot.
The comeback was on. Memorial – seeking its first hockey title since 1995 – was within striking distance with 6-plus minutes to play.
Then, the bid to tie emerged. Memorial's senior captain, the club's heart-and-soul leader, had the puck on his stick with the game up for grabs.
But he never pulled the trigger. Hall didn't allow it.
"We definitely put on the pressure," Bilodeau said. "We fought hard. They played a great game defensively, even offensively. Great coaching. You really can't say anything bad about them."
Division II – Sophomore goaltender Stevan Tempesta made 26 championship-game saves, the last 11 stops nothing short of sensational. Top-seeded Bedford High, also on the strength of Kurt Mitchell and Jason Campbell goals, dethroned defending champion and 3-seed Dover High, 2-1.
Bedford (17-3-0 Div. II), as a result, skated to its first hockey crown March 10 at Verizon Wireless Arena. Dover, unable to bury the equalizer in the final minute, finished 14-6-0 in league action.
Tempesta turned back multiple game-tying bids with the state title at stake. Dover's odd-man rush generated a golden chance. A scrum for the puck in heavy traffic also gave the Green Wave hope.
"You hold on for that final 10 seconds and it's the longest 10 seconds in your life. I just didn't want to blow it," Tempesta told the
New Hampshire Sunday News
. "That was probably my best game all season."
Division III – Kennett High of Conway claimed its third championship, each of them won during an unprecedented run of league dominance. The top-seeded Eagles, appearing in a league-record fifth straight final, edged No. 2 seed Alvirne High of Hudson, 4-3, in overtime.
Anthony LaRusso locked up the win. The junior forward buried a feed to the back door with 26.3 seconds remaining in the extra session March 10 at Verizon Wireless Arena.
The goal was LaRusso's second of the contest. Kennett capped its campaign at 20-1-0 overall (19-1-0 Div. III) and secured hardware to go with the 2009 and 2010 NHIAA plaques.
Alvirne, playing for its first hockey championship, finished with an 18-2-0 league record.
Division I (girls) – The first line of Maddie Dewhirst, and twin sisters Madison and Tessa Hill all closed their careers as 100-point scorers.
The senior trio also factored in all five goals of the final, fueling second-seeded Hanover High's 5-1 championship win over Upper Valley rival and top seed Lebanon High March 10 at Verizon Wireless Arena.
Hanover (16-2-0 Div. I) celebrated its third consecutive championship, and fourth No. 1 finish in the five years of NHIAA girls' hockey. Lebanon ended its season 16-2-0 in league play.
Madison Hill struck for a title-game hat trick. Dewhirst delivered two goals and two assists. Tessa Hill tallied five assists.
February, 18, 2012
2/18/12
9:46
AM ET
By
Marc Thaler
| ESPNBoston.com
First-time head football coach Adam Gagne would not describe the man he succeeds at Division I Salem High as a Granite State grid legend.

"In my mind, and many other minds, he's not just a New Hampshire coaching legend," Gagne said of Jack Gati, who retired Dec. 5 after lengthy stints at Manchester's Trinity High (1978-85), Concord High (1986-93) and Salem (1994-2011). "I put him in the New England coaching legends. The states are tied together. They're so close."
Great answer from the former offensive coordinator for Westford (Mass.) Academy. The 31-year-old takes over for a coach with the third-best win total in state history.
Gati's 37 years calling the shots led to a 221-138 career record, eight championship appearances and four state titles. He won 121 games in his 18 years guiding Salem. Two of those wins, in 1995 and 2009, clinched crowns for the Blue Devils.
Expectations, thanks largely to Gati, are high at 44 Geremonty Drive.
"I put pressure on myself to succeed," said Gagne, who will continue teaching in Westford Academy's business department. "I wasn't going after any old coaching job. I did my research. It was absolutely the type of program I was seeking for my first job as a head coach."
Now, the task is to make his mark on the program. Salem's offensive system seems like the logical place to start.
Gagne, a former three-sport athlete at Haverhill (Mass.) High, spent the past three seasons as an assistant head coach and offensive coordinator for the Dual County League's Grey Ghosts.
Prior to joining Rich McKenna's coaching staff at Westford Academy, Gagne spent six seasons as an assistant at Merrimack College. The resident of Haverhill, a neighboring town of Salem, was a three-year starting wide receiver at Bentley University.
Gagne's arrival means this much: fans longing for Salem to attack through the air with greater frequency should get their wish.
"'Spread offense' is such a generic term. It's a form of the spread," Gagne said of his system. "I don't know if I have a specific name for it. It's probably going to be called the 'Blue Devil system.'"
Whatever its name, Gagne's system is far different from the one Gati preferred.
Almost exclusively relying on the ground game was always a staple of Gati-led teams.
"He's the godfather of the off-tackle. Jack hangs his hat on the running game," former Concord head coach Bob Camirand, Gati's successor with the Crimson Tide, said when his friend of 40 years retired.
Increased focus on the the passing game certainly separates Gagne from Gati. But, the new coach insists his predecessor, who still teaches at the high school, has a place with the team.
"I see him as a big stakeholder in the program," Gagne said. "In no way do I want to completely separate myself from that dynamic."
Retaining two of Gati's former assistants, Dan Kelleher and Robert Pike, proves Gagne's point.
"All of us," Gagne said, "are going to have our hands dirty in the program."
June, 22, 2011
6/22/11
8:43
PM ET
By
Marc Thaler
| ESPNBoston.com
Considering the contest's national significance and how the seven-inning bout played out, there's just one way to sum up the Division II baseball final.
It was sensational.

Portsmouth High prevailed in a thriller – a game played in 2 hours, 8 minutes but over the course of two days – to stun Seacoast rival St. Thomas Aquinas High of Dover. The Clippers clinched a 9-6 win at the home of Double-A baseball's New Hampshire Fisher Cats.
The last title game of the NHIAA's "Super Saturday," a June 18 quadruple-header at Northeast Delta Dental Stadium in Manchester, ended with No. 1 seed Portsmouth (20-0) celebrating a fourth consecutive crown and national record-extending 83rd straight win.
"What the program has accomplished and what we've gone through, and the attention (the win streak) has earned, to get to this point and not finish it with a win, that wasn't something I was prepared to deal with," Portsmouth coach Tim Hopley said. "It was a real important game for us."
Three storylines from the much-anticipated matchup:
Strange time to start. The game was scheduled to start at 8:15 p.m. Portsmouth ace and Northeastern-bound Keegan Taylor didn't fire the first pitch until 10:23.
The last out wasn't recorded until 12:45 Sunday morning.
STA-Portsmouth followed the Division IV final, delayed 50 minutes by thunder. Weather was just one factor contributing to the lengthy game that pushed back the main event's scheduled start time.
"We gave both teams the option of coming back (to play Sunday). It was late. But everybody preferred to get it in," NHIAA executive director Pat Corbin said. "We had a tremendous crowd. For the kids, they'll always be able to say, 'We're the ones that played the latest game in the history of New Hampshire.'"
Dueling aces. Five summers ago, they were the Nos. 1 and 2 pitchers for Portsmouth's Little League World Series team that reached the U.S. semifinals. As the clock approached 1 a.m. Sunday, STA ace Jordan Bean and Taylor squared off in the game's key sequence.
January, 1, 2011
1/01/11
2:27
PM ET
By
Marc Thaler
| ESPNBoston.com
You can't ring in the New Year without a countdown.

In the spirit of the time-honored Dec. 31 tradition – counting down the final 10 ticks of the calendar year – here are the top items this reporter contributed to ESPNBoston.com High Schools since its launch in August 2010:
10. The 6-0-3 sets record. New Hampshire extended its win streak in the annual Shrine Maple Sugar Bowl to a series-record 10 games.
The Granite State's recent high school graduates topped Vermont in the 57th all-star football game, played at Windsor (Vt.) High's MacLeay-Royce Field, in early August, 34-20. The previous record for longest win streak was a nine-gamer set by New Hampshire from 1989-97.
New Hampshire's 14-point win makes it sound like the game was somewhat competitive. Guess again.
Despite committing seven turnovers, including four in the first quarter, and amassing 165 yards on 18 penalties, New Hampshire never trailed. The 2010 team did, however, twice lead by 20 points and ultimately improved the state's all-time record in the series to 42-13-2.