Boston High School:

Amanda Williams
January, 10, 2014
Jan 10
12:27
AM ET
By
Mike Abelson
| ESPNBoston.com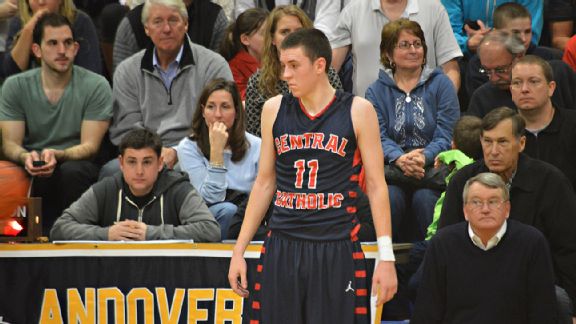 Brendan Hall/ESPNTyler Nelson scored 11 of his 13 points in the second half to spark Central Catholic, as they held Andover to 12 second-half points.
LAWRENCE, Mass. -– In its first three games the Central Catholic girls basketball team averaged 69 points, but over the Raiders' previous four outings they were only able to average 46.3 points.
Sadly for Andover, the Raider offense found its groove again last night at Memorial Gymnasium.
Caitlin Dell'Orfano scored the game's first seven points as the Raiders rolled to a 75-37 win in MVC action. Dell'Orfano finished with a game-high 22 points, including four 3-pointers.
"We just wanted to definitely take it to them for the times they beat us and didn't stop, didn't let up," Dell'Orfano said. "It feels good to be back."
Dell'Orfano set the tone early, scoring 13 points on 5-6 shooting in the opening period, as the Raiders raced to a 23-9 lead and cruised the rest of the way.
Andover was able to out-rebound the Raiders in the early going, but the duo of Amanda Williams and Erica Hadad took over in the paint. They combined to pull down over a dozen rebounds and altered even more shots. Williams pumped in 14 points.
"They're pretty tough down low, tougher than most people think," Dell'Orfano said. "Amanda is the player a lot of people underestimate most of the time. I know how good she can be; I full confidence she can be as good as she can."
Central's rotations of guards wreaked havoc on Andover for all 32 minutes. When Dell'Orfano hit a cold spell over a large chunk of the third quarter, Courtney Walsh stepped up. The senior scored six points in the third and quietly netted 13 during the game.
"We all have confidence in each other," Dell'Orfano said. "When one of us is down the others can pick it up. I knew at halftime [Walsh] hadn't really scored a lot and she usually does. Our gameplan was to get her involved, get her into it."
The Raiders emptied the bench early in the fourth quarter and still finished the game on a 12-2 run over the final five minutes. Central coach Sue Downer said she was quite pleased with the performance of her club.
"Tonight was the first complete game we've honestly played all season," Downer said. "It was good to see the kids and respond to the challenges that we gave them. It's good to come out make a bit of a statement tonight that we are a good team."
Andover closed the gap to seven early in the third quarter, but the Raiders finished the frame on a 21-5 run. Alyssa Casey led Andover with 13 points, and Colleen Caveney added nine of her own.
RISING UP
Thirteen days ago the Raiders suffered their lone setback of the season, a physical 49-42 loss to Westford. However, Dell'Orfano said that her and the team used the loss as a motivation that has sparked their current five-game win streak.
"I think Westford was a turning point for us," Dell'Orfano said. "We really had a reality check that we weren't going to win every game. We had to work a lot harder in practice and we pushed each other."
With the schedule not getting any easier, Central has two games against Billerica over the next two weeks, Downer said that she liked being able to build success off of losses like the one against Westford.
"I'm a huge believe in losses make you a better team," Downer said. "I think they realized they couldn't just walk on the court and beat these teams. We've got to do better."
March, 17, 2013
3/17/13
1:32
AM ET
By
Ryan Kilian
| ESPNBoston.com


WORCESTER, Mass. --- Senior forward Casey McLaughlin was in eighth grade in 2009 when Central Catholic defeated Shepherd Hill 67-62 to win the Division 1 state championship. After three straight years of watching Merrimack Valley Conference rival Andover hoist the state championship trophy McLaughlin and her Central Catholic teammates seized their opportunity on Saturday night at the DCU Center in Worcester.

The Stonehill-bound McLaughlin scored a game-high 27 points and pulled down 14 rebounds to lead Central Catholic (22-5) to the MIAA Division 1 state championship as they defeated Holy Name (23-3), 53-48.

"I wanted it so bad," McLaughlin said after the game. "We all wanted it. None of us had been this far in the playoffs ever. This was my senior season and I just wanted to go out with a bang."

McLaughlin, who never stops working on both ends of the court, found her angles to the basket as she repeatedly beat the Holy Name defense to the right and finished at the basket.

"She is so quick," Holy Name head coach Barry Finneron said of McLaughlin. "She catches it and gives you that little head fake to the middle and then she is down the lane."

Central Catholic jumped out to an early 17-8 lead after one quarter of play as the tandem of junior point guard Courtney Walsh (13 points) and McLaughlin accounted for 13 of Central's 17 opening quarter points.

Holy Name, led by junior point guard Aryauna Perez (12 points), fought back in the second quarter as they cut the deficit to six and gained momentum with under 10 seconds remaining in the first half.

With less than 10 seconds on the clock Central Catholic junior guard Alex Nagri would come up with one of the biggest plays of the game. The 5-foot-2 Nagri stole the ball and found junior forward Amanda Williams (10 points, 10 rebounds) for a successful And-1 conversion with 6.7 seconds remaining in the half. The play helped shift the momentum and give Central Catholic a 31-22 lead at the half.

"I know that I am obviously short," Nagri said. "They had some shot blockers and some big people so after the steal I saw Amanda and I knew my job was to get it to her and she did a great job of catching and scoring it."

Holy Name junior center Brianna Frias (six points, 11 rebounds) came out of the half time break and showed why she is one of the top talents in the state as she was aggressive on the glass and sparked the Holy Name effort on the defensive end of the floor. The staunch defensive effort by the Naps would help cut the Central Catholic lead to six points at 42-36 heading into the fourth quarter.

Holy Name sophomore guard Gabrielle Guenther (11 points) nailed two big 3-pointers in the fourth quarter but Central would answer back as Walsh, McLaughlin and senior guard Darion Summers made big plays down the stretch to ensure the victory.

Summers scored her only two points of the game on two clutch free throws down the stretch to help seal the win.

"I don't even know how to put it into words," Central Catholic head coach Susan Downer said. "I am just so proud of them. They dug, made plays when we needed to, stuck to our game plan, we switched some things up in the third quarter, it is just amazing."

Arms distance: As hard as Holy Name fought throughout the game they could never cut the Central lead to under five points. Each time the Naps would hit a big shot to shift the momentum Central would stay poised and answer back with a basket of their own.

"I think our transition play is the best part of our game," Nagri said. "I think that we just stuck with our plan, got key defensive stops and pushed the ball in transition and that is what ended up helping us keep the lead."

The future: It may not be too far fetched to think that we could see this match-up again in next year's final. The future is very bright for both Central Catholic and Holy Name as each team graduates only three players from their current rosters.

Central graduates one of the state's best forwards in McLaughlin, along with Summers and guard Allison Tierney. They return four starters in Walsh, Williams, Nagri, and guard Caitlin Dell'Orfano, who are all veteran juniors.

Holy Name also returns four of their starters in Frias, Perez, sophomore forward Lauren Willard and junior guard Ama Biney (11 points, four steals).

Holy Name graduates starting forward Malissa Saad (eight points, eight rebounds) along with center Megan Thornton (two blocks) and guard Eva Katana.

"Malissa Saad is just awesome," Finneron added. "She just carried us at times and as a senior she played great for us, especially in the third quarter."
March, 12, 2013
3/12/13
1:38
AM ET
By
Shawn Myrick
| ESPNBoston.com
BOSTON -– Central Catholic girls' basketball went right after early season state champion favorite Braintree tonight.
The Raiders (21-5) looked for quick counter attacks and a heavy in-the-paint assault to put a tall Wamps' squad in foul trouble. Central handed Braintree (24-3) its second straight Division 1 Eastern Mass. championship loss with a 55-51 win the at TD Garden.
The Raiders will play Central/West champ Holy Name (22-2) in Worcester's DCU Center on Saturday.
[+] Enlarge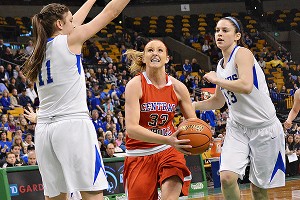 Brendan Hall/ESPNSenior Casey McLaughlin (18 points, 13 rebounds) led the way for Central Catholic as the Raiders captured their first Division 1 Eastern Mass. title since 2009.
"We struggled up until to the last game winning that big game," said Raiders coach Susan Downer. "We just tried to go at them and try to use our athleticism to break them down a little bit. I think we did a good job of getting them into foul trouble early on."
Central lead for the final 19:09 as it created turnovers out of its newly instituted 2-3 zone and forced 17 fouls from Braintree. Ahead only 51-49 with 1:19 left in the game, junior Courtney Walsh cut into the lane and underhanded a pass along the to junior Amanda Williams along the baseline for a layup to maintain control. Braintree's Ashley Russell got the throw in quickly to the opposite basket on the rebuttal and set up fellow sophomore Molly Reagan for a 53-51 layup with 51.8 seconds left.
The Wamps had one more chance to equalize, but Williams punched the ball out from behind on a cut by Braintree sophomore Bridget Herlihy as senior Casey McLaughlin settled it.
"(Coach) always yells at me for reaching in and it is always a foul," said Williams. "She went by me before and I was not going to let it happen again."
Walsh nailed a pair of foul shots to seal the win at 55-51. Walsh lead the Raiders with 19 points, while McLaughlin buried 18 points and grappled 13 rebounds.
Central was 17 of 22 from the line.
"Never as big as those," said Walsh. "I just tell myself this is what you play for and just put them in. I had to do it for my team and I had to do it for myself."
"If your going to get to these games the thing that is going to change the game is free throws," added Braintree coach Kristen McDonnell.
Trailing by as much as 12 in the fourth quarter, Braintree switched its player alignments on the press and cut the margin to two within the final two minutes.
McLaughlin nailed a 10-foot floater and drew a point from the charity strike to give CC the 51-39 advantage. Scoring the next 10 points, Wamps' Herlihy ducked a defender in the paint and finish a short shot to start the run at 6:07.
Herlihy flicked a down-low pass to Reagan at 1:29 to bring the score to 51-49.
"We were forced to (change up the matchups), because of foul trouble," said McDonnell. "We did not come out as hard on our man-to-man (and) we tried to pack it in within the three-point line. We tried to take our taller girl Molly (Reagan) off their big other big girl instead of in the middle."
Tied 26-26 with 4:51 left in the first half, Central pulled ahead for good with a rebound and pair of one-and-one foul shots from Walsh. The Raiders outscored Braintree 11 to two in the next 4:37, including a three-pointer from Walsh assisted by junior Alexandra Nagri for a 37-28 lead early in the third quarter.
"We have never played a 2-3 zone," said Downer. "We had one day to prepare yesterday. They adjusted (and) they jumped to the ball."
On a team that boast two girls over six feet tall, 5-foot-9 Russell has been a ball hawk on the boards all season. Russell dropped 17 points and grabbed 15 rebounds, while Reagan scored 11 points and grabbed six rebounds.
The Wamps -- who lost 54-39 to three-time defending Division 1 state champ Andover last year at this stage -- will return nine players including its four highest scorers from tonight.
"(Russell) never gives up", said McDonnell. "The second it leaves her hand she is going to get it again. I never thought we got in a rhythm in the first half."
December, 22, 2012
12/22/12
9:30
PM ET
By
Ryan Kilian
| ESPNBoston.com
NORTH ANDOVER, Mass. -- Central Catholic made some critical halftime adjustments and held Lowell to just 12 second half points as they defeated their Merrimack Valley Conference counterpart, 53-28, in the first round of the 2012 Greater Lawrence Christmas Tournament.
Central Catholic (4-0) led 23-16 at the half in a first half that was dominated by the inside presence of Central Catholic senior Casey McLaughlin and Lowell freshman Alexi Schecter.
[+] Enlarge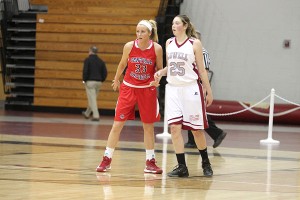 Ryan Kilian for ESPNBoston.com Central Catholic and Casey McLaughlin downed an upstart Lowell and freshman Alexi Schecter with a 53-28 win in the first round of the Greater Lawrence Christmas Tournament.
Schecter imposed her 6-foot-3 inch frame in the key and created problems for Central Catholic on the defensive end of the floor. She finished the first half with 10 points and 10 rebounds.
"We knew we did not play the way we wanted to play in the first half," Central Catholic head coach Susan Downer said. "That was the first time we played against Schecter and she is very good. We focused on fronting her and helping from behind and I think we did a lot better job in the second half."
McLaughlin and Central Catholic came out and turned up the defensive intensity in the second half as they extended their defense and caused numerous turnovers in the third quarter resulting in a 12-point Central lead after three quarters.
"We knew we had to pick it up in the second half," McLauglin said after the game. "We just breathed and focused in the locker room and came out and turned up the defensive effort."
McLaughlin, who walks off the bus with a double-double, led Central Catholic on the evening with 18 points and 20 rebounds. Her relentless effort on the offensive glass and on the defensive end of the floor proved to be too much for Lowell (3-1) to handle down the stretch.
The fourth quarter would prove to be the most dominant for Central as they outscored Lowell 16-3 in the final frame to earn their fourth victory of the season.
Central Catholic also received strong games from junior forward Amanda Williams (11 rebounds) and junior point guard Courtney Walsh (nine points, four assists).
Veteran team:
Despite just having three seniors on their roster Central Catholic returns their starting lineup and a very experienced veteran group.
"Our intensity has been great at practices and we have worked very hard all pre-season," Downer said of her veteran team.
The Stonehill-bound McLaughlin, one of two seniors and four-year varsity veteran, echoed her coaches thoughts.
"We have a very strong team this year," McLauglin said. "I think we have a very fast team and we are always looking to push the ball. We want to win every game, starting with this tournament, as we have never won this one."
Lowell's fab frosh
: Schecter was very impressive for Lowell in the loss. Reminding many in the gym of former Central Catholic standout Katie Zenevitch (Boston College) Schecter showed a mature post-game to go with an aggressive defensive mentality.
Battling double teams and fighting through physical defenders all night Schecter showed why she will be one of the most talked about players in Massachusetts for years to come.
"She made a huge difference in our game plan," Downer said. "You have to be very smart when you play against someone like her. She is agile and has a good knack for the basketball.
Schecter finished the game with a stat line of 15 points, 16 rebounds and seven blocked shots.
In other tournament action:
In earlier action Andover defeated Lawrence 60-40. Andover's win sets up a semi-final match-up with rival Central Catholic. Senior guard Devon Caveney led Andover with 17 points.
North Andover and Hartford-bound senior Morgan Lumb defeated Methuen 52-32 in another semifinal contest. Lumb, who is one of the most explosive guards in Massachusetts, led the Scarlet Knights with 20 points.
Pinkerton Academy (N.H.) and Salem (N.H.) play in the nightcap and make up the final two teams in the annual eight-team tournament.
July, 13, 2012
7/13/12
12:18
AM ET
Bay State Games communications coordinator Craig Kaufman sends along results from today's plethora of action:
WOBURN, Mass. -– A busy Thursday at the Bay State Games saw the start of the soccer, field hockey, basketball, ice hockey and boys' lacrosse competitions, as well as the continuation of the 2012 baseball tournament and the conclusion of the girl's lacrosse event. Friday will see all of these scholastic results continue and baseball will draw to a close with all the medal positions still hanging in the balance. Friday night will also see the beginning of the 2012 Bay State Games swim competition at Harvard University.

GIRLS LACROSSE

Bronze Medal Game: Southeast 14, Metro 6
Gold Medal Game: Northeast 13, West 11

BASEBALL

Northeast 5, Metro 5
Metro almost pulled an upset by taking a 5-3 lead in the top of the sixth inning but had to settle for a tie as Northeast came back to tie the game and then stranded the winning run on base in the bottom of the inning.

Austin Johnson (Brookline) drew a bases loaded walk and Nick Bruno (Lynnfield) followed with an RBI single before Jonathan Santana Arias (Somerville) knocked in two more runs as Metro plated four runs in the sixth. Kyle Hood (Arlington) had scored an unearned run for Metro in the second.

Northeast scored single runs in the second, third and fourth innings and then took advantage of three walks and two hit batsmen in the bottom of the sixth to tie the game at 5. Justin Freeman (N. Chelmsford) drove in a run for Northeast, as did Colby Morris (Newburyport), who drew a walk with the bases full.

Central 4, Southeast 1
Southeast scored in the top of the first when Cameron Hanley (Walpole) doubled home Sean Scales (Weymouth), but Central, led by Jake Ryan (Whitinsville), who went 2-2 with a run scored and an RBI double, had taken a 4-1 lead by the bottom of the fifth. Zack Tower (Auburn) also drove in a run for Central, who got good pitching from their rotation, including starter Christian Doskocil (Sterling), who went three inning s and struck out two.

West 3, Coastal 0
Austin Salnitis (Lenox) went five innings, allowing four hits and striking out seven for West, who ran their record t o3-1. West got on the board in the fourth when Kenny Potts (Southwick) drew a walk and scored on a double by Phillip Jasak (Palmer). They added another run in each of the next innings with an RBI single by Andrew Noonan (Springfield) and an RBI double by Jake LaBranche (W. Springfield).

Coastal was led at the plate by Andrew Mancini (N. Easton), who went 2-2 with two singles.


BOYS SOCCER

Metro 1, Southeast 1
Metro scored first in the 20th minute when Thayrone Miranda (Somerville) connected on an assist from Walter Guzman (Chelsea), but the Southeast team equalized in the 67th minute on a connection from Nick Savage (Milton) to Marquardt.

Coastal 2, Central 2
Coastal scored first through Joshua Medeiros (New Bedford) in the 34th minute, but Central scored twice to take a 2-1 lead with Riley Steele (Sutton) and Lukas Ritzer (Sutton) connecting. Coastal salvaged a draw with a 58th minute goal by Ty Catunto (New Bedford).

West 3, Northeast 0
West got three second half goals from Mark Richards (Springfield), David Serafino (Ludlow) and Nicholas Martinelli (East Longmeadow).


GIRLS SOCCER

Northeast 3, Metro 0
North got three goals in the first half, their first just three minutes into the game. Megan Cullen (Amesbury) scored the first two goals for Northeast and Alexa Cicolini (Methuen) finished the job in the 31st minute.

Southeast/Coastal 1, Central 0
Lauren Farrell (Rockland) scored the only goal in the 48th minute as Southeast/Coastal edged Central.

West 8, Metro 0
Jennifer Delasco (Lenox) and Mary Edwards (E. Longmeadow) each scored twice, with Stefano adding an assist. Jordan Bates (Chicopee) and Kiley Baran (Granby) added two assists apiece as West rolled to their first win of the tournament.

Northeast 4, Southeast/Coastal 1
Megan Cullen (Amesbury) scored four straight goals for Northeast to give them the victory after Jessica Murphy (Norwood) had given Southeast/Coastal a 1-0 lead in the 26th minute. Cullen started her scoring spree just a minute later.

West 4, Central 0
West endured an onslaught of Central possession early before scoring four times in the second half. Sharlotte Pernice (W. Springfield) scored twice, and Christina Ferriter (Springfield) and Brianna Voight (Springfield) also tallied for West.


FIELD HOCKEY

Metro/Northeast 3, Southeast 2
Central 2, Coastal 1


BOYS LACROSSE

Southeast 16, Northeast 4
Steve Righini (Weymouth) scored four times for Southeast, while Conor Martin (Plainville), Sean Williams (Scituate), and Jack Vail (Franklin) each tallied twice, with Martin adding two assists. Six other players tallied single goals, including Nicholas D'Innocenzo (Medway), who also added an assist. Tyler Boardo (Weymouth) and Daniel Sprague (Weymouth) combined for nine saves in goal.

Northeast got two goals from Derek Lawton (Bishop Guertin) and a goal apiece from Devlin Crane (Arlington) and John Curcuru (Gloucester). Evan Connolly (Peabody) made 13 stops in net and Joshua Nelson (Medford) spelled him for five saves.

Central 10, Metro 9
Joshua Daigle (Marlborough) and Alex Sabel (Algonquin) each scored twice and added an assist, while Thomas Whiting (Hudson) notched two goals as well. Matthew McIntire (Milford) made ten stops in the winning effort.

Jack Trottier (Tyngsborough), Brian Walsh (Lowell) and Joey Pescatore (Waltham) each scored twice for Metro and Ben Foley (Tyngsborough) added a goal and two assists in a losing effort. Scott Powell (Swampscott) made 9 stops in the Metro net.


BOYS ICE HOCKEY

Northeast 8, Southeast 7
Metro 6, West 1
Central 12, Coastal 2
Southeast 8, Metro 2


GIRLS ICE HOCKEY

Central/West 9, Metro 1
Southeast/Coastal 4, Northeast 2


BOYS 11-12 GRADE BASKETBALL

Central 82, Metro 47
Central was led by Tyler Delorey (Worcester), who scored 22 points, including four three-pointers. Matt Mobley (Worcester) also chipped in 18 points, including two buckets from downtown.

Coastal 75, West 59
Coastal got 25 points from Chris Green (Taunton), including four three-pointers, while Paul Maurice (Taunton) added 22 points.

Central 89, Coastal 80
Central got 26 points from Delorey, who nailed three shots from downtown and also got 17 points from Jacek Louisville (Worcester). Tommy Keyes (Somerset) led the way for Coastal with 19 points.

Northeast 79, West 78
Northeast's Devin Thompson (Winthrop) led all scorers with 22 points and two three's in the fourth quarter. Anthony Smith (Springfield) was the top scorer on West with 17 points.


BOYS 9-10 GRADE BASKETBALL

Central 68 Metro 64
Matt Grose led Central with 19 points and Bobby Flanagan put up 15. The Metro squad was led by Keith Burns (Belmont) with 22 points while Christian Lejuene (Waltham) added 14.

West 73 Coastal 41
The West squad was led by Keith Natale (Hatfield), who had 22 points and Conner Eckstrom (Greenfield) pitched in 15. The Coastal region had Tom Galanek (Plymouth) and Kent Mertz (Dennisport) score 8 points each.

Northeast 72 Coastal 60
Anthony Gilardi (Malden) led the Northeast squad with 24 points while Cody Broges (Dartmouth) picked up the slack with 16. Liam Gerrity (Barnstable) was the leading scorer in the game with 26 points and Pat Danner (Plymouth) had 10 points for Coastal.

West 67 Metro 40
West's Keith Natale (Hatfield) had 20 while Conner Eckstrom (Greenfield) pitched in 11. The Metro squad had Jaewoo Chung (Arlington) score 11 points.


GIRLS BASKETBALL

Northeast 73 Southeast 71
Northeast lead scorer Amanda Williams (North Andover) scored 13 points. Sarah Hood (Burlington) added 12 points to the scoreboard. Katie Lowerre (Sharon) led the way for Southeast with 18 points

Metro 72 Central 24
Melissa Baptista (Somerville) led the Metro region with 15 points. Kaila Duarte (Boston) score 13 points throughout the game which included making both of her free throws in the 4th quarter. Central was led by Kristen Smith (Littleton) chipping in 7 points.

West 66 Coastal 55
Keri Paton (Russell) contributed 17 points to West which included 13 points in the 4th quarter. Tea Spellacy (Belchertown) contributed 11 points to the scoreboard as well. Norma Waggett (Saugus) led Coastal with 25 points.

Southeast 68 Central 39
Lowerre led Southeast to victory against Central contributing 21 points. Montana Burke (Bromfield) and Abrielle Peltier (Leicaster) both chipped in 8 points for Central.

Metro 66 West 32
Metro got 14 points by Maggie Mulligan (Brighton) leading the team. Spellacy scored 11 points for West and Paton added 8 more to the scoreboard.

Northeast 62 Coastal 36
Hood tallied 14 points in Northeast's last game against Coastal. Williams and Courtney Walsh (Windham) added to the scoreboard. Coastal's Rachel Camara (Fall River) contributed 10 points and Brianna Camara (Fall River) chipped in 7.
March, 6, 2012
3/06/12
11:33
PM ET
By
Ryan Kilian
| ESPNBoston.com
HAVERHILL, Mass. --- Merrimack Valley Conference Large rivals Andover and Central Catholic met again for the fourth time this season in the D1 North sectional semi-finals on Tuesday night. With Andover winning the prior three contests, Andover Coach Jim Tildsley knew this game would present a big challenge.
"We were concerned with them coming in as the No. 12 seed and playing so well, beating two very good teams in Billerica and Westford on the road," said Tildsley.
[+] Enlarge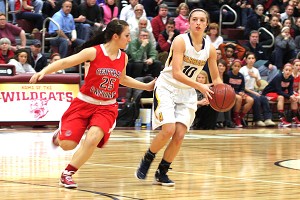 Ryan Kilian for ESPNBoston.comAndover's Devon Caveney scored 12 of her 16 points in the first half to give Andover an early cushion.
Andover did not look concerned on the court, however, as they would come out and take immediate control of the game early and often on their way to a 56-36 victory.
"I am really proud of my kids," said Tildsley. "There is so much pressure on these kids with everyone talking three-peat, three-peat. They are just taking it a game at a time and coming to every game focused and ready to play."
Andover (24-0) set the tempo early as they extended their full court pressure defense right off the opening tip. The pressure and aggressive ball denial was effective as Andover held Central Catholic (14-9) scoreless until the two minute mark in the first quarter. Andover led 11-2 until the first quarter buzzer sounded when Central Catholic guard Courtney Walsh drained a 3-pointer to cut the lead to 11-5 after one quarter of play.
"We came out and stymied them with our defensive pressure," said Tildsley. "That was the whole key to that game. We had to come out during those first four minutes of the game and really play and we did."
The offensive star on the night was Andover junior guard Devon Caveney, who scored 12 of her 16 points in the first half.
"It is all about confidence," said Tildsley of his junior guard.
Andover's Nicole Boudreau saw constant double teams on the evening as Central aggressively tried to take her out of the game with varying gimmick defenses and aggressive ball pressure.
"They were triple-teaming Nicole so one of us had to be open," said Caveney. "I knew I had to hit those shots if we wanted to get the lead going and I did."
Caveney converted three separate three-point play opportunities, with the most impressive being a baseline 3-pointer to start the second half that she drained while hitting the floor after contact. She made the free throw, completing the four-point play, which continued the second half momentum for the Golden Warriors and put the game well in hand.
Central Catholic received strong efforts on the night from junior center Casey McLaughlin (10 points, 13 rebounds), sophomore forward Amanda Williams (seven points, 11 rebounds) and sophomore guard Walsh (nine points).
Miss Stat Sheet:
Boudreau definitely knows how to fill up a stat sheet as the reigning ESPN Boston Miss Basketball found ways to dominate the game without having one of her typical high scoring evenings.
Boudreau scored a game-high 17 points, pulled down 12 rebounds, dished out five assists to go along with six steals and five blocked shots on the evening.
"Nicole made some great passes tonight." said Tildsley.
Two of her best passes came in pressure situations with three Central defenders draped all over her. She had the presence of mind and strength to thread the ball, both times, through the entire defense to open teammates under the basket on the opposite side of the court.
Central's Youth:
Central Catholic will only be better when the ball is thrown up for the 2012-2013 season opener. They return all but two seniors and the future looks as bright as the past has for the Raiders.
McLaughlin is only a junior and has been playing regularly since her freshman year. Walsh and Williams are both sophomores. They also return sophomore defensive specialist Alex Nagri, junior sixth-woman Darion Summers and five other underclassmen who all saw playing time at various points in the season.
Another Title Run:
The elephant in the room for the Andover girl's basketball program is their impressive late season undefeated record and their prior two seasons Massachusetts State Championships.
The road to their third consecutive state championship does not get any easier as they will face the winner of Thursday's other D1 North semi-final match-up between Lincoln-Sudbury and Masconomet. The sectional finals will be played at the Tsongas Arena in Lowell, Mass. on Saturday as a part of a big day of sectional finals for the North sectional girl's and boy's basketball championships.
November, 19, 2011
11/19/11
9:14
PM ET
By
Bruce Lerch
| ESPNBoston.com


NORTHBOROUGH, Mass. -- Maintaining success year after year at the high school level in Massachusetts is something only a few teams have been able to accomplish, especially in an era where more and more talented athletes are emerging in every city and town across the Commonwealth.

The Barnstable girls volleyball program is one of those that seems to have the state championship formula figured out. The Red Raiders laid claim to their 14th Division 1 state title, sweeping Central Catholic by scores of 25-13, 27-25 and 25-14 Saturday evening at Algonquin High School.

"The highest compliment you can give you a group of players is that they are competitive warriors," Barnstable head coach Tom Turco said. "That's what they were tonight and thats what they've been all season. Thats the type of players I have in this program so I'm proud of them."



Barnstable (23-0) was led by Kaylee Deluga, who recorded 20 kills. Lynne Hibbard added 10 kills and Carolyn Morin had seven, all the beneficiaries of a strong passing night courtesy of junior setter Kayla Crook, who had 33 assists.

Central made them work for it, and a 5-1 stretch early in the first game left the two squads deadlocked at 8-8. That's when Barnstable took over. With Crook spreading the ball around amongst Deluga, Regan Bristol, Hibbard and Anna Strock, the Red Raiders scored eight of the next 10 points, and put together a pair of smaller runs to close out the opener.

The second game was one Central Catholic needed. The Raiders got contributions from Hunter Tuck, Amanda Williams, Alexis Michal and Claire Foggo while taking Barnstable's best punches to take a 20-17 lead.

When Barnstable fought back, the Raiders hung tough and the two teams found themselves tied five times until Barnstable managed to string together consecutive points on a Morin slam and a net violation that ended it.

"That was a good fight. That's what I'll remember my girls for. I'm proud of that," Central head coach Gannon Paris said. "We stood toe to toe for them for a good 35-40 minutes. You want to capitalize on those things and when you have a chance to beat a team like that in a spot like that, you need to capitalize."



Central wasn't able to, and while they were able to keep it close in the third (tied 12-12 midway through), Barnstable simply had too many weapons to overcome and the Red Raiders broke it open with a 9-0 run. The Red Raiders attacked relentlessly from the outside as Crook set up both Deluga and Hibbard for a combined 13 kills.

Explained Crook, "Whenever the hitters go up I always look to my right to see if there's any spots open for them and I'll tell them in between plays then just try and get the ball to my hitters and let them take care of it."

Deluga also pointed to her more defensive-minded teammates as one of the Red Raiders biggest keys.

"They have some really good hitters but we have some really good blockers. We have Lynne and Regan up there at the net and they were on blockers really well. We had good block coverage by our libeiro, my cousin Nikki (Deluga). We had good defense, we dove for balls and Kayla made an awesome play off block and ran into the stands."

Added Hibbard, "Blockwise I think we did very well. We were able to match up with their hits very well. Defense-wise we were picking up tips amazingly. The back row did a great job of picking up all the hits from the middle."