Boston High School:

Andrew Benson
June, 15, 2014
Jun 15
2:28
AM ET
By
Phil Garceau
| ESPNBoston.com


BOSTON – Good things happen to those who wait, and for the Cohasset athletic program, they have waited long enough.

Between last season's lacrosse team and this year's football and soccer programs, just about everyone had that taste of the championship game experience, but with no title to show for it.

But this time around and just hours after Cohasset's graduation, the Skippers got the title that has eluded them so often, holding on to defeat Dover-Sherborn in a rematch of last years Division 3 championship game, 10-9, at Boston University's Nickerson Field.

"We said last night raise your hand if you have been in a state championship game and just about every hand in the room went up so we said there is no reason to be nervous," Cohasset coach James Beaudoin said.

Rather than feeling the pressure of having to deal with the possibility of another disappointing end, the Skippers looked at it as having experience on their side.

"I wouldn't call it pressure and much as I would call it drive," senior Colin Whelan said. "There are so many good athletes on this team, multi-sport of course. It just drove everybody, they needed that championship after getting shutout in the finals three times before that."

For the 10 seniors that took the field, it was day they will never forget. Those seniors walked across the stage in their graduation ceremony early in the afternoon before making the short trip to capture a state championship.

"This whole day has been incredible," Whelan said. "No better way to get prepared for a game like this and to be with my fellow teammates all day."

Beaudoin added: "This senior class is terrific, they've earned it. They have been so close so often and knew this was their last shot."

Dover-Sherborn held a 3-2 lead after the first quarter, behind a pair of beautiful goals from freshman Bailey Laidman and another from Chris Williams with 27 seconds remaining in the quarter. But that is where the Skippers dialed up their defense and scored all six goals that were scored in the second quarter.

Whelan scored a pair, to go along with goals from Andrew Benson, Will Golden, Cole Kissick and Jeff Powers to give the Skippers an 8-3 halftimes lead.

"We got up early and then the going got tough and Beaudoin called timeout," Whelan said of the second quarter. "We realized this is our last shot, we don't have another game after this, this is no practice Sunday and we just started clicking."

Weathering the attack: Despite the determination that Cohasset had, they nearly let their championship slip away.

Cohasset found itself in penalty trouble in the third quarter, starting with a three-minute personal foul that awakened the Raider offense. Dover-Sherborn only pushed across one goal on the man-advantage, off the stick of Grant Gregory but another Skipper penalty allowed another goal from Gregory.

Kissick scored his third goal of the game to briefly stop the Raiders run, but the Raiders scored three more extra-man goals to end the quarter from Gregory and Williams (2) to but the lead down to one entering the final quarter.

"We were up 5-0 last game against them and the came back and tied 5-5 so we knew that they are capable of anything," Beaudoin said.

Golden gave the Skippers a two-goal lead with a goal early in the four quarter and Cohasset slowly suffocated Dover-Sherborn out with domination of possession until one last-ditch effort from the Raiders with two minutes to go.

Williams netted a goal from Gregory with 1:33 remaining in the fourth and the Raiders won the ensuing faceoff to hold possession.

D-S got a handful of shots off in the final 90 seconds, none better than the look Tyler Mann had with four seconds left, facing a half-open net but his shot went wide.

"The way we coached was because of last years game," Beaudoin said. "When you get that close and fall two goals short, you remember how they did it to you."

Bring out the best: When Kissick steps onto the championship stage, his performance never goes unnoticed. Kissick led his offense to 10 goals in last year's loss to Dover-Sherborn, to go along with a monster game at Gillette Stadium in their loss in the Div. 6 football state championship in December.

Saturday was no different, with the junior scoring three goals in the win.

It had been a frustrating postseason for Kissick, who was the main focus of their opponents game plan.

"Kissick has always been locked off, always gets the pole, which allows Danny (Axelson) and Will (Golden) and other guys to get a lot of our goals," Beaudoin said. "In last years title game it's where a lot of his college looks came from and rightfully so."


November, 9, 2012
11/09/12
11:42
PM ET
By
John Botelho
| ESPNBoston.com
EAST BRIDGEWATER, Mass. -- Jack Malafronte might only stand 5-foot-5 and 170 pounds, but he played like the biggest man on the field Friday night for the Abington football team in their South Shore League title clinching win over East Bridgewater.

The fire hydrant of a running back led the charge for the Green Wave, carrying the ball 12 times for a whopping 174 yards in the 22-16 win.

The Vikings managed to curtail the production of offensive lightning rods Babila Fonkem and Matt Kilmain, but Malafronte found the end zone three times for the unbeaten Green Wave (10-0, 7-0 SSL).

"It always starts with the offensive line, they open up the holes," said Malafronte. "I just hit em fast and hit em hard.

"I think we have the most talented group of backs around. You really can't game-plan for three running backs and quarterback who can throw, so teams have to pick their poison. You might shut down one or shutdown two, but someone is going to find those holes."

And Hall-of-Fame coach Jim Kelliher couldn't have been happier it was Malafronte, who is widely recognized as one of the best motivators he's had – this year or any.

"Jack [Malafronte] is without a doubt one of the best captain-leaders we've ever had here," Kelliher said. "I've been here for 42 years, so I've seen a lot of guys go through. He's without a doubt the best. He epitomizes being a captain leader. He certainly showed it tonight."

He didn't get his first carry until two minutes into the second quarter, but he made the most of it as he sprinted 61 yards and moved the Green Wave into East Bridgewater territory for the first time.

After a pass interference call on fourth down kept the drive alive, Malafronte finished it off with a 10-yard dive into the end zone with 5:25 remaining in the half. A halfback pass from Fonkem to Joe Buckley made it 8-0.

East Bridgewater suffered its third turnover-on-downs on the next drive, and Abington held the ball for the final two minutes of the first half. Malafronte extended the lead on third play from scrimmage after the break, racing 53 yards for a score. A Fonkem run on the two-point conversion made it 16-0.

Just when it seemed Abington might run away with this one, the Vikings (6-4, 4-2 SSL) put together an impressive nine-play drive that spanned nearly five minutes. Andrew Benson, who finished with 67 yards rushing and another 51 yards passing, scored from three yards out before adding a two-point conversion rush to make it 16-8.

EB forced a quick three-and-out, and took over at their own 24 following a punt.

This time it took 10 plays, but Benson once again plunged in from three yards out. He added another impressive two-point conversion score on a broken play, tying the game with 7:53 remaining.

The tie was short-lived, however, as Abington manufactured a 10-play drive of their own and Malafronte finished it from two yards out with 3:37 left. His rush attempt failed and the Green Wave led 22-16.

East Bridgewater marched down the field again, and an athletic 17-yard scramble by Benson set up a 1st-and-10 at the 11-yard line. Back-to-back false starts moved the Vikings back 10 yards though.

With pressure baring down on him, Benson threw a pass toward that end zone that Abington's Mike Walsh came down with, ending the drive and comeback bid.

The fourth time EB failed to net points after reaching the end zone doomed them as it came with just 1:05 left on the clock.

"We just made too many mistakes and had too many breakdowns," East Bridgewater head coach Shawn Tarpey said. "We've been talking about execution the last few weeks. Overall we played pretty well, but we didn't get it done when we needed a big play."

Fittingly, Malafronte cruised past the first down marker allowing the Green Wave to take a knee and clinch their first SSL crown since 2008.

While Malafronte led the way offensively, his younger brother, Sam, made sure it was family affair on both sides of the ball. He led the Green Wave with six tackles, who also five each from Fonkem and Steve Manning, as well as four from Joe Brady and Jon Aprile in the win.

LYNCH'S FIGHTING CHANCE
Doctors and coaches weren't sure senior captain Kevin Lynch would be able to suit up again for the Vikings after breaking his arm in their Week 4 loss to Mashpee.

Still, Lynch – a linebacker and running back – planned to be back, and his return to the field during the Abington loss was the brightest spot of the day for East Bridgewater.

"I mentioned it to the team that he was gutsy when he got hurt," Tarpey said. "He backed that up again tonight. He's just such a special kid. Six weeks off, and for him to just jump in their like that, I couldn't be prouder of a kid. What a performance by him."

The performance included rushing for 130 yards on 20 carries and leading the Vikings on defense while registering a team-high seven tackles.

"He's just such a good kid," Tarpey said. "He works so hard across the board – he's ranked fourth in his class, and was always in the weight room, I'm just so proud of what he did out there tonight."
November, 9, 2012
11/09/12
1:42
AM ET
NO. 5 WALPOLE (9-0) AT NO. 21 NATICK (8-1)
The Skinny: The most anticipated regular-season matchup is finally upon us. A swelling crowd is expected to turn out for this one, as the Bay State Conference's Herget division title is on the line. Natick is looking to bounce back after coming up on the wrong side of one of the year's biggest upsets (a 40-34 loss to Wellesley), but Troy Flutie, Brian Dunlap and co. will have to do it against one of the state's stingiest defenses. Walpole hasn't allowed a point since Sept. 28, and hasn't allowed a touchdown since Week 3.

Scott Barboza: I'm shudder to think that we might not have any questions to answer during our Sunday night chat this week now that we're finally about to give our picks on this game. Walpole, 27-21.

Brendan Hall: I'm sure the primary topic of discussion in this Sunday night's Top 25 chat will be "What's your prediction for Natick-Walpole in 2013?" Walpole, 20-17.

NO. 17 NAUSET (9-0) AT PLYMOUTH SOUTH (6-3)
The Skinny: Raise your hand if you thought this would be the de facto Atlantic Coast League championship back in August. South's Dylan Oxsen leads the state in rushing touchdowns (28), doing so behind a uniquely modified pistol attack that gets the hard-charging junior downhill in a hurry. Written off a month ago, the Panthers are suddenly in prime position for their first postseason berth here, but they'll have to find a way to neutralize all the chicanery that comes with Nauset's single wing attack, led by running back Jimmy Sullivan.

Barboza: It's time we start considering Oxsen as a serious candidate for our Offensive Player of the Year Award. Plymouth South, 13-7.

Hall: If you know me, you know I'm a fiend for the ground-and-pound. For that reason, can't go wrong with either team, but I'm sticking with my preseason pick. Nauset, 28-21.

NO. 23 ABINGTON (9-0) AT EAST BRIDGEWATER (6-3)
The Skinny: Abington can clinch the South Shore League title with a win over the Vikings, and are the favorites here behind a dynamic offense led by Babila Fonkem, Pat Dwyer and Brandon Cawley. Defensively, the Green Wave are allowing just under seven points a game the last three weeks, but they figure to have their hands full trying to slow down quarterback Andrew Benson in the option game.

Barboza: I'm going to mention Brandon Cawley's name again just because the other night on Twitter he's said I only mention the running backs. JK guys, JK. Abington, 32-24.

Hall: If this is truly Abington coach Jim Kelliher's last season, then you can't find a more fitting farewell. Abington, 31-20.

SHARON (7-2) AT FOXBOROUGH (7-2)
The Skinny: Is the clock about to strike midnight on Sharon? The Eagles remain unbeaten in the Hockomock's Davenport division, but still have two big league games on the slate. The first one is Friday night, where they will attempt to contain tailback Kiivone Howard, who leads the Hockomock in rushing yardage (1,405).

Barboza: Foxborough quarterback Mike Slaby could be the difference-maker. Foxborough, 23-17.

Hall: What would a Hockomock League berth be without a little bit of mathematics? Foxborough, 21-7.

MARBLEHEAD (8-1) AT BEVERLY (9-0)
The Skinny: The Magicians claimed the CAL/NEC Tier 2 title last season with a senior-laden team. However, Marblehead's in the mix again, even after a surprise loss to Salem a few weeks back. Meanwhile, the Panthers can clinch the league crown with a win on Saturday. The vaunted Panthers offense (averaging 38 points per game) and its rushing attack is closing in on 3,000 combined rushing yards on the season, led by a backfield of Brendan Flaherty and Kenny Pierce. The Magicians have relied on 1,000-yard passer Ian Maag (13 touchdowns) for a bulk of their offense.

Barboza: It's been a nice bounce back run for Marblehead in an attempt at a repeat title, but, after all, this is the #yearofthepanther. Beverly, 28-14.

Hall: We love Jim Rudloff's mind games as much as the next guy, but the Magicians are simply overmatched here against one of the state's best rushing attacks. Beverly, 35-21.

BISHOP FEEHAN (6-2) AT SOMERSET-BERKLEY (9-0)
The Skinny: As in each of the last three seasons, the Eastern Athletic Conference title will be determined in a matchup between the Shamrocks and Blue Raiders. Feehan came away with a decisive victory last year, but Somerset-Berkley is looking to lay claim to its second crown in the last three years. The Blue Raiders are led by a dynamic back field of Garrett Carlos and Mike Garrant, but they'll encounter a physical Feehan front seven anchored by linemen Chris Barthe, Seamus Cuddy and Mitch Matrin.

Barboza: Nick Freitas escapes with EAC title No. 2. Somerset-Berkley, 27-20.

Hall: In terms of EAC supremacy, Feehan had the 2000's. And now, Somerset has the 2010's. Somerset-Berkley, 24-17.

FRANKLIN (7-2) AT MANSFIELD (6-3)
The Skinny: The Panthers get back into Hockomock Kelley-Rex play after a startling loss to Taunton two weeks ago. If Franklin is to hold out hope of hanging around in the division race, they'll need a win at Mansfield on Saturday. The Hornets are in a similar situation having dropped a close decision to North Attleborough two weeks ago. Look for the Hornets, led by Robbie Rapoza, to pound the ball on the ground and play some ball control in trying to keep the Panthers' spread attack on the sideline. Franklin junior quarterback Nick Zucco has been a revelation this year, but the Panthers can also run the ball behind Kyle Finamore. The Mansfield defense has been bolstered by junior linebacker Alex Ruddy, who currently leads the team in tackles.

Barboza: As predicted a couple weeks back, the Kelley-Rex picture is only obfuscated more. Expect another wild finish. And, of course, another prediction my friends in Mansfield will relish. Franklin, 38-36.

Hall: If the Hornets can establish the run game early, they can do just enough to hold off a furious Franklin rally. Mansfield, 27-24.

KING PHILIP (8-1) AT NORTH ATTLEBOROUGH (6-3)
The Skinny: Another pair of Kelley-Rex teams with one division loss meet in this rivalry game. The Red Rocketeers have cobbled together a three-game winning streak, following a three-game losing streak in the middle of the season. The better news yet for North in recent weeks its improving health, seeing several key contributors return to the field in recent weeks. Meanwhile, King Philip has rolled through Attleboro and Oliver Ames by a combined 75-21 margin since its loss to Mansfield.

Barboza: I find myself simply rooting for another chaotic finish to the Kelley-Rex division race, but I'm sticking with my preseason pick. KP, 24-21.

Hall: This is a new team with Sean Peters and Alex Jette both healthy. I'm looking at a return to early September form down the stretch for the Big Red. North, 30-23.
November, 8, 2012
11/08/12
12:33
AM ET
A number of league championships will be decided this weekend, and with that, we're discussing "X-factors" for each of the most crucial matchups.

NO. 5 WALPOLE (9-0) AT NO. 21 NATICK (8-1)

Scott Barboza, ESPN Boston High Schools editor: You can pick just about anyone off this elite Rebels' defense, but let's go with senior captain and inside linebacker Cam Hanley. He's been the quarterback to this Walpole defense for a few years now and will be a vital cog plugging the running lanes when Natick quarterback Troy Flutie takes off on the run.

Brendan Hall, ESPN Boston High Schools editor: When these two teams squared off last season, Walpole went almost exclusively with a three-man front and five in the box. They did just fine, holding the Red Hawks to just 17 yards of offense in the first half, and eked out a 16-13 win on a last-second field goal. I don't expect much to change this year. Walpole has one of the state's most aggressive pass rushes, with 6-foot-4, 270-pound defensive end Chris Collins leading the way, and is a big reason why the Rebels haven't allowed a point since Sept. 28.

This Natick line has improved since the beginning of the season, but expect their hands to be full. Natick plays an uptempo, hurry-up style aimed at making the defense think fast, but quarterback Troy Flutie is going to have to make quick decisions –- chuck it or tuck it. And with receiver Brian Dunlap expected to draw extra attention, supporting receivers Justin Robinson and Andrew Boynton are going to be crucial.

Adam Kurkjian, ESPN Boston correspondent: This game will come down to whether or not Natick can make enough stops to give its explosive offense a chance in the end. Both of these teams can put up big numbers on the scoreboard, but while Walpole's defense has been equally effective, Natick's was lit up last week against Wellesley and lacks the same amount of playmakers the Rebels have on that side of the ball. The Red Hawks need to make stops early and often or else they can kiss their hopes of a Bay State Herget Division title goodbye.

***

BISHOP FEEHAN (6-2) AT NO. 16 SOMERSET-BERKLEY (9-0)

Barboza: Sometimes the simplest answer is the best answer. I might be going super-safe here, but Garrett Carlos and Mike Garrant have been the key to Somerset-Berkley's success all season long. If the two-headed backfield is on point on Saturday, the Blue Raiders will be tough to beat.

Hall: There's nothing fancy about Somerset's offense -– Garrett Carlos left, Mike Garrant right, vice-versa, fullback dive –- and there are no tricks. With its one-inch splits, the double wing eliminates blitz packages. Stopping the attack requires discipline not to over-pursue, and generally the play is read by following the pulling guards or watching where the quarterback opens his hips, then crashing the other way.

Of course, Feehan knows all this. This is nothing new to the Shamrocks, who sees this attack year in year out, and solved it last season for a 41-7 romp of the Blue Raiders. Somerset is looking like its 2010 dominance, but it is a smaller yet faster unit than that Super Bowl finalist squad which ran behind 320-pound road grader Ian Levesque. Plain and simple, the Feehan defensive line is going to have to get off its blocks -– and do it quickly.

Kurkjian: Bishop Feehan has to force negative plays on early downs and get Somerset's offense off the field. The way Somerset pounds teams on the ground, your defense can be worn out by the time the fourth quarter comes around. The Shamrocks would love to take an early lead and force Somerset out of its comfort zone by going to the air, although it's unlikely to happen unless Somerset is behind my multiple scores in the latter stages of the game.

Josh Perry, Managing Editor, HockomockSports.com: The X-factor between the top two teams in the EAC will be Shamrocks senior quarterback Nick Romero. Both teams are heavily focused on the ground game, but if Feehan can get something going in the passing attack and balance its offense it should provide the edge. Both teams will be crowding the line of scrimmage and bringing numbers up into the box. If Romero can connect with his receivers, even simple screens to Matt Allen and Isiah Douglas, it will give Feehan an edge.

***

NO. 18 KING PHILIP (8-1) AT NO. 24 NORTH ATTLEBOROUGH (6-3)

Barboza: I'm going with go with Sam McDonald, who's made King Philip's offense more dynamic in recent weeks. McDonald's had two-touchdown games in two of the last three weeks, including last week's win over Oliver Ames, when he hauled in a 22-yard touchdown pass from John Dillon and added a spark to the Warriors' special teams with a 66-yard punt return for a touchdown.

Hall: Joe Johnston gives this King Philip rushing attack its spunk, but it's going to be his play on defense that is the difference in this one. The Warriors are noted for devising great defensive gameplans, but that was delivered a swift wakeup call in the 46-33 loss to Mansfield. North has some big-play threats, and if KP wants to keep them in check they will have to dictate the pace of this game early.

Kurkjian: A year ago, King Philip held North Attleborough to just seven points. This year, it's the North defense that will need to be up to the task if it wants to take this showdown in the Hock. North can't count on its offense to just outscore King Philip because outside of an uncharacteristic breakdown against Mansfield, the Warriors have been strong on that side of the ball. Lately, North's defense has shown some weakness and it cannot allow more of that because KP is not the type of team that is going to allow the type of Arena League scores that the Red Rocketeers have hund up on teams this year.

Perry: The biggest X-factor in this game will be health. Sean Peters and Alex Jette are back for the Rocketeers, but neither is 100 percent. Jette's hair-line fracture is not fully healed yet and Peters will probably need surgery on his shoulder after the season. Even at only 75 percent, both players have made a significant contribution to the team on the field as well as positively impacting the team's attitude and confidence. Meanwhile, KP are a little banged up after fullback/linebacker Ryan Dunn went down with an arm injury in last week's rout of Oliver Ames. Dunn left the field with his arm in a sling and he would be a huge loss for the Warriors if he can't play. He is the lead blocker for Joe Johnston, a good inside option in the power running game, and is one of KP's best defensive players against the run.

***

NO. 17 NAUSET (9-0) AT PLYMOUTH SOUTH (6-3)

Barboza: Dylan Oxsen obviously is having a historic season for the Panthers with 28 touchdowns to date, but Harrison Holbrook and Devin Guadagno have also been intergral to Plymouth South's success. Now, we'll see if they can run together to a Atlantic Coast League title.

Hall: South's Dylan Oxsen is as hard-charging as they come -– you don't tip-toe your way to 28 touchdowns -– running behind some quick pulling linemen. For that, I think the key to this game will if Nauset's two-way lineman Dakota Girard can get off his blocks and create some havoc at the point of attack. The Brown University-bound senior is one of the biggest reasons the Warriors are having their best season in school history.

Kurkjian: Nauset needs to be able to slow down Dylan Oxsen enough to force Plymouth South to beat it in other ways. Oxsen has put up monster numbers this season and his team is on a major roll right now. If Nauset is somehow able to limit his yards and force the Plymouth South offense to go elsewhere, it could be the key in this pivotal Atlantic Coast League game.

***

NO. 11 BEVERLY (9-0) AT MARBLEHEAD (8-1)

Barboza: Pick your poison with the Panthers' backfield, right? So I'm going to go with the Magicians' defense, in particular their defensive line of Rajive Alcindor, Trever Gelineau and Kyle McCormack. They'll have their hands full with the Panthers' athletic offensive line and will have to play their responsibilities if Marblehead is to have any hope of slowing Beverly's stable of backs and a chance at victory.

Hall: Fitting that Marblehead goes by the Magicians, because their front seven is going to have to turn in some majestic play to keep this one close. The evolution of the spread has yielded video game-like stats for high school teams across Massachusetts, but what should scare you about the Panthers' average of 38 points per game is that they're doing it heavy on the run with a Wing-T offense. My advice: shoot the guards up the A-gaps, get upfield and hope for the best.

Kurkjian: The Magicians will be heavy underdogs in this game and the key for them to pull the upset is to make Beverly play a four-quarter game. Most of the opponents on the Panthers' schedule have fallen behind by so much that the fourth quarter is usually a JV contest. The Panthers have not trailed much at all this season and a second-half lead or a one-score game in the fourth quarter would give Marblehead a major advantage because they've been in more close games this season.

***

NO. 23 ABINGTON (9-0) AT EAST BRIDGEWATER (6-3)

Barboza: We all know the big-play ability Babila Fonkem brings for Abington, but the Green Wave is very much a three-headed monster. And the straws that stir the Green Wave's drink are a dangerous duo in Brian Kilmain and Jack Malafronte.

Hall: Abington goes in as the favorites, but they're going to have to stop East Bridgewater's option game. Andrew Benson is a run-first quarterback who can keep the sticks moving if you give him the edge. The Green Wave are going to have to contain the outside gaps and funnel things through the middle of the field.

Kurkjian: The Vikings will come into this one as underdogs and deservedly so because Abington has been so solid all season. However, an upset is not out of the question and the way that East Bridgewater can do it is by jumping out to an early lead and keeping the game close heading into the fourth quarter. Abington has not played a close game since September and since so much is expected of this team, all the pressure will be on the Green Wave in a hostile environment. The Vikings need to maintain that pressure and see if it can have a negative impact on the visitors.

***

FRANKLIN (7-2) AT MANSFIELD (6-3)

Barboza: Junior linebacker Alex Ruddy has taken a big step forward for the Hornets this season and leads the team in tackles with 62 (35 solo) through nine weeks. He'll be key to slowing the Panthers' potent offense.

Hall: We've mentioned before about this Mansfield offense's ability to reel off scores in bunches, and we saw that a few weeks ago in the Hornets' 46-33 win over King Philip. It was vintage Mansfield, rushing for over 360 yards as a team. For all the talk we've made of the Hornets opening up the passing playbook the last few years, they can still run the ball downhill efficiently. We know Franklin can hang with them in the air, but can they stop the run?

Kurkjian: Both of these teams have proven to be solid when they choose to go to the air. The winner of this game will likely be the one who can also get its ground game going to complement that aerial attack. A lot of these Hockomock battles lately have been very high scoring and this one could be as well, but if someone can find a rhythm running the ball it could be the difference.

Perry: Mike Carden could be the deciding factor in a game that will be Franklin's first of two straight title deciding games (they play King Philip on Thanksgiving). The Panthers' kicker is considered a D1-caliber talent by head coach Brad Sidwell and won the game against Attleboro a couple of weeks ago with a 41-yard kick. In fact, he had a 48-yard attempt against Taunton that would have kept the Panthers perfect but it fell inches short. A solid kicking game is a rare luxury at this level and it could provide the edge in a tight game.

***

BOSTON CATHEDRAL (7-2) AT POPE JOHN XXIII (5-4)

Barboza: Mike Sullivan's done a fine job all season taking over for Robert McMaster at quarterback for Pope John all season. For Pope John to knock off Cathedral, he'll need to be at his best again.

Hall: Pope John is going to need to find a way to neutralize Kadeem Edge. The 6-foot-4 Cathedral receiver is a matchup problem for most small-school squads, able to win jump-balls as well as accelerate quickly in space. Also look for several Cathedral defenders to have big roles in this one, namely Cameron Seemore, Derek Welcome and Mohammed Braimah.

Kurkjian: Cathedral quarterback Kejonte Hickman has not played like a sophomore in guiding this team to where it wants to be heading into the end of the season. For Pope John to win this game, it has to force him into the types of mistakes and bad decisions that sophomores tend to make. Cathedral's offense can be brutal to defend with the number of speedy athletes it gets into space, but a disruptive defense that hassles the quarterback into bad decisions is a nice way of messing up its timing.

October, 8, 2012
10/08/12
10:00
PM ET
EAST BRIDGEWATER, Mass. -- The South Shore League should again prove to be one of the state's most tightly contested races this year, and once again East Bridgewater will be in the thick of it, thanks to senior quarterback Andrew Benson.

Benson is our Massachusetts Army National Guard Player of the Week for Week 5 after leading the Vikings to a 39-26 win over Hull. He combined for five touchdowns (4 on the ground, 1 passing) while falling just shy of a 300-yard rushing performance (296 yards) on 17 carries.

Editor Brendan Hall caught up with the Vikings' signal-caller on Monday:


October, 8, 2012
10/08/12
6:15
PM ET
THE CONTENDERS

Drew Belcher, Jr. QB, Reading
Called his own number for the winning touchdown with less than a minute left, as the Rockets rallied past Burlington, 22-15.

Brian Dunlap, Soph. WR, Natick
Caught six passes for 121 yards and two scores in the Red Hawks' 42-7 rout of Dedham.

Troy Flutie, Jr. QB, Natick
In the Red Hawks' 42-7 romp of Dedham, completed 12 of 16 passes for four touchdowns, and added 41 yards rushing with a score.

Jon Hurvitz, Sr. RB, Duxbury
Reached the end zone twice, the second time putting the Dragons ahead for good, in a 20-16 thriller over Xaverian.

Marshall McCarthy, Sr. LB, Duxbury
Recorded 13 tackles and two sacks, both for forced fumbles, in the Dragons' 20-16 win over Xaverian.

Alex Moore, Sr. RB, St. John's Prep
Racked up over 200 yards from scrimmage and all three of the Eagles' scores in a 20-7 win over Bridgewater-Raynham, rushing for 159 yards and two TDs, and three catches for 73 yards and a third score.

Nick Peabody, Sr. QB, Barnstable
Threw for three touchdowns in the Red Raiders' 19-14 win over New Bedford, bringing his season total to 18 touchdown passes.

C.J. Scarpa, Sr. QB, Andover
In the Golden Warriors' wild 51-42 win over Tewksbury, completed 17 of 24 passes for 382 yards and three touchdowns.

Jakarrie Washington, Sr. WR, Everett
Scored five times for the Crimson Tide (three rushing, two receiving) as they avoided a scare against Cambridge, 51-30.

Quron Wright, Sr. RB, Holy Name
Had his lowest total of the season in a 38-20 loss to Doherty, but still went over 100 yards (18 carries, 105 yards, 2 TD) and crossed the 1,000-yard barrier. He needs 370 yards to break the school's all-time rushing yardage record.

ON THE RISE

Andrew Benson, Sr. QB, East Bridgewater
In the Vikings' 39-26 win over Hull, carried 17 times for 296 yards and four touchdowns, and added a 20-yard touchdown through the air.

Chance Brady, Jr. RB, Haverhill
Ran for 204 yards and two scores in the Hillies' 30-23 thriller over Chelmsford.

Jaleel Brown, Jr. RB, Springfield Putnam
With feature back Wayne Lowery leaving the game with an ankle injury, Brown came through with 165 yards rushing and three scores to help the Beavers in a 40-19 win over Chicopee Comp.

Kayjuan Bynum, Sr. QB/LB, Springfield Putnam
Racked up 299 passing yards and three touchdowns, to go along with nine tackles, in the Beavers' 40-19 win over Chicopee Comp. Through five games, Bynum leads the team in tackles (46) and forced fumbles (four).

Andrew Deloury, Sr. WR, Andover
Caught seven passes for a ridiculous 226 yards and three scores in the Golden Warriors' 51-42 win over Tewksbury.

Brendan Flaherty, Sr. RB, Beverly
Became the school's all-time leader in rushing touchdowns with his 47th score in a 49-0 blanking of Peabody

David Maaghul, Jr. QB, Cambridge
Had an impressive showing in the Falcons' 51-30 loss to Everett, throwing for 274 yards and four touchdowns. On the season, he already has over 1,500 yards and 19 touchdowns passes.

Justin Mount, Sr. ATH, Westford
In the Grey Ghosts' 42-7 win over Newton South, carried three times for 60 yards and two scores, and added 24 receiving yards.

Matt Phelan, Sr. QB, Northbridge
In the Rams' 28-21 win over Grafton, completed 9-of-17 passes for 176 yards and three touchdowns, and added 79 yards rushing on 16 carries.

Jimmy Sullivan, Jr. QB, Nauset
In the Warriors' 28-20 win over Scituate, completed all five of his pass attempts for 121 yards and two scores, and added 88 yards rushing.

Juwan Williams, Sr. ATH, Springfield Central
Filled in marvelously for his cousin at quarterback, in the Golden Eagles' 40-7 rout of East Longmeadow. Through the air, he was 4-of-5 passing with 114 yards and two touchdowns; on the ground, he carried 10 times for 94 yards and two more scores.

October, 4, 2012
10/04/12
1:44
AM ET
1. WHAT IS THE BIGGEST STATEMENT YOU GOT OUT OF BARNSTABLE'S UPSET OF EVERETT?

Scott Barboza, ESPN Boston High Schools Editor: Aside from the defense, which was phenomenal by all accounts, the manner in which the Red Raiders were able to pull off the upset was impressive, meaning that the offense was firing on all cylinders for most of the game. In other words, Barnstable can win ugly. When you hear about the offense and all the things the Red Raiders can do on offense, it's sometimes easy to overlook the fundamentals. They can do all the things that constitute a potentially successful playoff team in that they can run the ball when called upon, get the back stop when required and they don't turn the ball over. When you have one of the top quarterbacks in the state like Nick Peabody, that's all you need to win. And, if Hayden Murphy runs the ball as he can and the defense, led by Andrew Ellis, is on, Barnstable is difficult to beat, no matter the conditions.

Brendan Hall, ESPN Boston High Schools Editor: For me, more than anything, it was a throwback statement. At the end of the day, it doesn't matter how much Division 1-caliber talent you've stockpiled, how heavy your line is, or how many of your skill players run a 4.5. All that matters is who puts themselves in the best position to win -- period. Barnstable demonstrated that to a T on Friday night.

Of course, this Red Raiders team isn't an underdog. They came into the game at No. 3 in our statewide poll, and I think the general consensus was that this would be a one-score type of affair. Nick Peabody is in a quarterbacking class of his own through the first month of the season, Dylan Morris is beginning to enter Matt Costello territory in terms of production, and the Raiders' linebacking corps is one of the two or three best in the state.

Barnstable coach Chris Whidden dialed up a great defensive gameplan in the pouring rain, playing outside contain on the Crimson Tide's gifted receivers, and getting great push in the trenches with a deceivingly athletic front four that fired quickly off the ball. These guys were not as big, but they certainly were fast, and above all else they hit with a level of abandon replicated by very few teams in the state.

At the end of the day, it was a pleasant reminder that things haven't gotten soft in the game of football. At the end of the day, the overarching theme remains -- if you come out complacent, someone's going to knock you around.

Adam Kurkjian, ESPN Boston correspondent: Year after year, while Everett always seems to have its share of explosive skill players, the foundation of its success is consistent and dominant line play on both sides of the ball.

The biggest statement Barnstable made Friday night was that it can go toe-to-toe with Everett's front and get the better of the exchange. That is rare, and it speaks to the level of offseason commitment the Red Raiders have made the past few seasons. While Barnstable may have the reputation as a finesse team because of the amount of times it puts the ball in the air, it looks like the Red Raiders shattered that notion last week.

Bruce Lerch, ESPN Boston correspondent: Defense, defense, defense. Staring at Everett's offensive line with 300-pounders across the board is daunting for any opposition but the Raiders didn't seem intimidated at all. In fact, they set the tone and managed to stuff the Tide twice on fourth-down tries from the one-yard line.

All 11 starters, plus the others that rotate in made plays. Jason Frieh and the defensive line held their own Everett's blockers, linebackers Brian Hardy, Andrew Ellis, Terrence Mudie and Robbie Stuart made tackles all over the field. Safeties Ryan Litchman and Kevin Hardy were tremendous in support against the run and corners Tedaro France and Derek Estes won their matchups with Everett's speed merchants at the receiver positions.

John Botelho, Editor-in-Chief, South Shore Sports Journal: Nick Peabody and the offense have been well publicized -- and deservedly so -- all season. Going into the Everett game, they had scored an astounding 145 points in three games. But the biggest statement made while snapping Everett's 28-game win streak was that the Red Raiders' defense is just as good as their powerful offense. Division 1A should be real fun to watch come December.

Everett and Barnstable Round II is already a Super Bowl many people are excitedly calling for, but neither has an easy path to get there. Everett is likely headed for a first-round playoff game with Lincoln-Sudbury, and Barnstable has to worry about beating Bridgewater-Raynham during the regular season just to reach the playoffs.

2. NAME YOUR FIVE BEST WIDE RECEIVERS IN THE STATE

Barboza:
1. Brian Dunlap, Natick – Might not be No. 1 on any other list, but come his senior season, he's going to be right there on the top of all the volume stats list.

2. Jalen Felix, Everett – Seeing, in person, the catch he made during last year's BC High game at Memorial Stadium is something I'll likely never forget. It's the same feeling I had watching Randy Moss make impossible catches.

3. Jakarrie Washington, Everett – One of the best route runners around since those Asprilla and Costello kids were the go-to targets in Everett.

4. Dylan Morris, Barnstable – Hard to argue with Morris' production thus far this season with his eight touchdown catches.

5. Will Heikkinen, Andover – Spies tell me Xaverian had Heikkinen blanketed with double coverage throughout most of last week's game. That's the ultimate compliment paid to a wideout.

Hall:
1. Dylan Morris, Barnstable - You'll be hard-pressed to duplicate his five-catch, 207-yard performance in Week 2, and right now he's on track for 20 touchdown receptions and over 1,000 yards receiving. Bar none, best wideout in the state right now. And to think, some have mused he may be a better baseball player.

2. Jakarrie Washington, Everett - You could rotate this spot with Jalen Felix, who had an explosive performance against Springfield Central, but right now you've got to with Washington based on game-breaking ability. Against Leominster and St. John's Prep, he turned the game on its heels seemingly on a dime with one back-breaking catch or run.

3. Brian Dunlap, Natick - A versatile route-runner, he's got crunch-time knack (see his game-winning catch against Norwood with 10 seconds to go) and makes the most of his touches (17.25 yards per catch, 6 TD).

4. David Harrison, Weymouth - Has seven receiving touchdowns, and in the last two games running a pistol offense at quarterback, has thrown for six. He's just plain productive.

5. Sam Blake, East Longmeadow - Doesn't get a lot of touches in the Spartans' system, but in terms of athleticism I've heard some pretty crazy stories. In his last two games, he has 232 receiving yards and four touchdowns on just seven catches.

Kurkjian:
Tough to say for me because most of the games I have been to have featured mainly run-oriented teams.

That said, looking around the state, Lincoln Collins of BC High needs to be mentioned for his size and improved speed.

Jakarrie Washington of Everett may be the fastest receiver out there right now.

Speaking of guys that can motor, Andover's Cam Farnham has been pure lightning all season as well.

As far as pure production goes, there aren't many who do more on a week-to-week basis than Natick's Brian Dunlap.

If anyone can outdo Dunlap in that department, though, how about Shawsheen receiver Devonn Pratt? One of the top wrestlers in the state, Pratt has 11 touchdown receptions already, including five in a ridiculous, 15-catch, 268-yard performance against Cambridge two weeks ago.

Lerch:
1. Dylan Morris, Barnstable - Seems to have a tremendous mind meld going on with quarterback Nick Peabody. Has eight TD receptions on the season, including two clutch catches in the 13-7, double OT win over Everett.

2. Jalen Felix/Jakarrie Washington, Everett - I'm cheating a little by putting both in, but it's hard to argue against the fact that these speedsters are two of the biggest gamebreakers in Massachusetts.

3. Bryan Vieira, Thayer Academy - Eight receptions for 200 yards and a TD in the opener (along with an interception return for a score) and six more catches for 179 yards and three TDs in week two. The top receiver in the ISL.

4. Brian Dunlap, Natick - Just a sophomore, Dunlap continues to team up with QB Troy Flutie to put up big numbers week after week. I may be underrating him because of his age, but all signs point toward Dunlap someday taking over at the top of this list. Maybe sooner rather than later.

5. David Harrison/Tyler O'Brien, Weymouth - It's a cheat day for me in the roundtable as I'm going with a duo once again. The Wildcats receivers have combined to catch 13 TD passes and O'Brien seems to be Harrison's favored target when he switches under center as Weymouth's quarterback.

Botelho:
1. Dylan Morris, Barnstable: This is sort of a chicken and egg thing. Is Nick Peabody such a good quarterback because he has Morris to throw to, or is Morris the beneficiary of a standout QB. I think the answer is Peabody is a tremendous QB and Morris an elite receiver, and the results have indicated that so far.

2. Lincoln Collins, BC High: Collins might not have the gaudy stats some his peers do (he's caught just one TD this year) but he's a D-1 scholarship athlete going to Villanova for a reason. The Eagles have been the victims of bad luck and bad timing this season, dealing with some of the toughest teams in this state - and New Jersey - while figuring out how to replace injured stars like Brendan Craven and Luke Catarius.

3. Brian Dunlap, Natick - Like Morris, Dunlap has a premier QB throwing him the ball. He's pulled in 6 TD from Troy Flutie, and is one of the biggest reasons Natick is scoring more than 30 points per game.

4. Dondre James, Whitman-Hanson - James single-handedly changes game plans of opposing teams, often drawing more than one defender on passing plays. He's spread out defenses all season, allowing QB Tom Sapienza to throw 8 TD already. James' speed and athleticism are clear with one looks at the Panthers on offense, but what he contributes away from the ball might be even more impressive. James has sprung more than one ball carrier this year with a big block.

5. Rory Donovan, Cardinal Spellman - The Cardinals aren't matching their regular season success from the last two years, but Donovan is among the toughest receivers for defenses to match-up with. At 6-5 and with an impressive vertical, not many defenders can go up and get a jump ball against him. He's averaging a touchdown a game right now and could get better as Spellman's line matures this season.

3. WHO IS THE BEST QUARTERBACK FROM A SMALL SCHOOL?

Barboza: Right now, I'm looking at Hopkinton's Hank Rudden. The Hillers have been off and running in the Tri-Valley League, averaging more than 34 points per game through four weeks. Whether the Hillers can keep it going into the meat of their TVL schedule is another thing, but the 6-foot-1 senior is a dependable pocket presence.

Hall: Hard to argue with the production of Northbridge's Matt Phelan. Head coach Ken LaChapelle (who won his 300th career game last weekend) is famously inclined towards the pass -- and a passing pioneer for this state, really -- but through the first four games of the 2012 Phelan has been arguably better on his feet (41 carries, 448 yards, 12 TD) than through the air (42 of 50, 514 yards, 2 TD). LaChapelle has joked that he would like to once coach a game where he doesn't call a running play, but he tends to yield some freelancing to his quarterbacks when he feels they're up for it. And understand, for LaChapelle to loosen the reigns, you have to be a special player.

Kurkjian: Let's go into the Boston City South Division where Latin Academy junior Kyle Dance is putting together a fantastic season through four games.

To this point, Dance has had a hand in 13 touchdowns (nine passing, four rushing). You want to know how many touchdowns the Dragons have as a team? Fourteen. In other words, Dance is doing it all for this team, and it will be exciting to see how the rest of his season and career develops.

Lerch: Since taking over in week two, Shawsheen's Mike O'Hearn has produced eye-popping numbers and ranks fourth in the state with 11 touchdown passes, including a six-TD performance against Cambridge. With the 6-foot-3, 190-pound senior at the helm, the Rams have put up 98 points in their last two games.

Botelho: Assuming "small" school means any outside of Div 1, 1A, 2 or 2A, the best small school QB might be Dan Eckler at Stoughton. They're a run-first offense with tons of weapons, but he's been the point man for all of their success this year.

Hanover's Ryan Bennett and Middleborough's Troy Rossi both have big arms and ideal QB size and have been fun to watch early on.

Abington's Brandon Cawley has all of the tools to run the offense for the Green Wave. He's tall, has a cannon of an arm and can tuck it and run if need be. Andrew Benson also comes to mind in the South Shore League. After sliding over from RB to QB when the Vikings didn't have an obvious heir apparent to Tim O'Brien, Benson has handled the transition well. He's very athletic and gives EB a similar look on offense they had a year ago.

4. WHAT'S WRONG WITH THE CATHOLIC CONFERENCE?

Barboza: (Disclaimer: None of this argument has to do with St. John's Prep right now.) Honestly, I'm not trying to make excuses here, and this has happened a couple of times during the last couple seasons, but it's not as though the teams are playing easy schedules. On the other hand though, I think the rest of the state has caught up with the parochials a little bit. Some inside the Catholic Conference used to scoff at the idea of a Hockomock team (North Attleborough anybody?) hanging with one of those teams. Use this weekend's Xaverian vs. Duxbury matchup as another proof positive. I think the Hawks will find out that last year's win by the Dragons at the Hawk Bowl was no fluke. And, while most of the state still cannot match the numbers the Catholics have on their sidelines, there's plenty of talent to be had.

Hall: With St. John's Prep, nothing. With the rest of the conference (a combined 4-12 heading into this weekend's games), where do you start?

Expectations weren't high on Malden Catholic or Catholic Memorial coming into the season, but the way BC High and Xaverian (preseason Nos. 2 and 3, respectively) have stumbled out of the gates is concerning. Then again, they've endured brutal schedules, and few teams in Massachusetts would come out of September with better than their 1-3 records. Still, the way in which they've lost is not convincing, between BC High getting dominated from scrimmage by North Attleborough and Xaverian laying eggs against Brockton and Andover. Bottom line, BC High and Xaverian so far haven't lived up to the preseason hype.

Something tells me they'll turn it around. BC High will be getting All-State linebacker Luke Catarius (ankle) back this month, and quarterback Brendan Craven (knee) sometime soon, and you can't say enough how much that could change things quickly. Xaverian finally showed signs of life in the second half of the Andover upset, and Mike Brennan has been bringing steady production to what has been an otherwise stale offense.

How quickly does Xaverian turn it around? Jury's out, because the rest of the Hawks' 2012 schedule, in order, goes like this: Duxbury, Everett, Bridgewater-Raynham, St. John's (Shrewsbury), BC High, Catholic Memorial, St. John's Prep. Talk about skating uphill.

Kurkjian: Well, there's not much wrong with St. John's Prep right now, as they've looked outstanding in their three wins and only have one loss to Everett in a game many observers thought could have gone the other way with a few breaks.

As for the rest? BC High has been decimated by injuries, but the Eagles are starting to heal up and it would not be a total shock to see them make a run at the league title once everyone is back.

Xaverian does not have nearly the amount of team speed it usually does and has not looked physical at all on the lines.

Catholic Memorial has, as expected, struggled on offense, and you simply don't improve when graduation takes away as much talent as it did for the Knights.

Malden Catholic is this year what it has been nearly every year, which is the fifth-best team in the league.

Lerch: The coaches won't make excuses but we can. Injuries have absolutely decimated BC High while graduation hit both Xaverian and Catholic Memorial pretty hard. Not to mention that these teams all play among the toughest schedules in the state. That said, St. John's Prep is still a top-three team in Massachusetts and don't think for a second that the aforementioned trio won't put it together by the time league play rolls around. Anyone who counts these teams out when we're not even halfway through the season is making a big mistake.

Botelho: BC High and Xaverian has certainly underachieved, but their schedules have been absolutely brutal. BC is also dealing with a whole mess load of injuries. That said, what looked like the best league in the state before the season needs a turnaround in the second half to avoid an overall disappointing year. If things continue like they are, St. John's Prep will coast to a league title behind Jonathan Thomas and Alex Moore. The Prep, in my mind, is probably the favorite to win the Div. 1 Super Bowl right now (I still love Brockton, but missing Austin Roberts is going to hurt them in a big way).

5. THERE HAVE BEEN A LOT OF SHOOTOUTS IN THE FIRST TWO WEEKS OF ISL PLAY. WHICH IS THE BEST OFFENSE?

Barboza: I think this was supposed to be Thayer's year to shine behind wide receiver Aaron Gilmer and the Tigers haven't disappointed, putting up 76 points in their two games. But they still have nothing to show for it, losing two close barn-burners against Governor's and Roxbury Latin. But it's hard to ignore the defending ISL champions at Governor's. We've extolled about Tate Jozokos' two-sport excellence for a couple years now, but running back Eli Morrissey has been a true revelation in the early going. Gov's should face a test this weekend against BB&N, but with 103 points scored in two games, it's hard to pick against anything short of a repeat performance of 2011.

Hall: If what Duxbury's been doing the last couple of years doesn't tell you enough about the value of lacrosse skill in football, then Governor's senior quarterback Tate Jozokos will. The UNC lacrosse commit led a renaissance last fall, leading the Governors to the ISL championship, and is off to a quality start this season. He is as a true a dual-threat quarterback as you will find in Massachusetts.

Running back Eli Morrissey has been just as productive (5 TDs), and is arguably one of the best backs in the ISL -- not the biggest, but definitely one of the most complete, and a tough runner. Overall, the Governors have averaged 51.5 points per game in their first two contest. Hard to argue with a number like that.

Kurkjian: Tough to say with such a small sample size, but it's hard to go against what Governor's Academy has accomplished in the first two weeks. With 103 points in two games, the Governors are simply running past, over, around and through everyone in their way.

We will see whether or not that continues this weekend as they travel to Cambridge to face an always-tough BB&N squad.

Lerch: When in doubt, I always say go with the team led by the lacrosse guy. Governor's is stacked with talent on offense with quarterback/dynamo/North Carolina lacrosse commit Tate Jozokos leading the charge. Along with standout running back Elijah Morrissey, the duo has combined to score nine rushing TDs in the first two games. Until some team finds a way to slow these two guys down, the Red Dogs will keep piling on the points.
September, 5, 2012
9/05/12
3:48
PM ET
This season, we're trotting a new feature for football season that we started back in the spring. Each Wednesday, we'll pool the minds of our ESPN Boston staff and contributors to debate several hot button topics across the state in our Roundtable.

Without further ado, let's kick off the new season with these takes:

1. BC HIGH RECEIVED SOME BAD NEWS LAST WEEK WHEN RETURNING ESPN BOSTON ALL-STATE LINEBACKER LUKE CATARIUS SUFFERED A HAIRLINE FRACTURE ON HIS ANKLE. HOW WILL THE EAGLES COPE?

Brendan Hall, ESPN Boston High Schools Editor: Over the last decade, BC High has proven to be a program with enough sufficient depth to compensate when star players miss a significant time with injury. However, it's different when you lose the quarterback of your defense, especially when it's a player as special a talent as the Eagles' Luke Catarius.

In the scrimmage against Mansfield, after Catarius went out with the ankle injury, the Hornets went to the underneath game and exploited the flats for big gains. There was also one big miscommunication in the secondary that allowed Kevin Maki to wheel right through the middle of the deep field for a 45-yard completion. Not that this won't be shored up before Friday's big tilt with Brockton, but it is worth pointing out.

The good news, obviously, is that the Eagles' Catholic Conference season doesn't start until late October – but with Xaverian and St. John's Prep looking sharp, it will be obvious if this team isn't in proper shape. With that in mind, I expect Brandon Owens' role at outside linebacker to have an even bigger significance than before. The pressure will also be on the front four, led by Jaleel Johnson, to buy the back seven time.

Scott Barboza, ESPN Boston High Schools editor: In terms of talent, I think the Eagles can get along. My greatest concern for BC High's defense without Catarius relates to communication. The linebacker has been the leader of the defensive huddle, with messages from the sideline passed along to the inside linebacker. On field, Catarius was the quarterback of the defense as well, not only knowing his own responsibilities, but that of his teammates. That comes from knowledge of the system and cannot be replicated; it only comes through game-condition experience. The Eagles have a bevy of returning starters on the defensive line and secondary to shoulder the load but this one hurts. Will they rely on Brandon Owens to not only be the feature back, but take on more Catarius' two-way role? We saw what happened last year when Preston Cooper went down at running back and how Deontae Ramey-Doe filled those shoes. So perhaps this will be more of the same for a deep Eagles' squad. But a player of Catarius' ilk cannot simply be replaced.

Adam Kurkjian, ESPN Boston correspondent: Without question, losing one of the top two-way players in the state will have a negative impact on BC High. The Eagles will not be able to replace his production easily and there may be an extra loss or two that comes down their way early on because of it. That said, if he is back by the time Catholic Conference play rolls around, BC High will still be one of the favorites to make it back to the playoffs. But still his loss cannot be understated.

Bruce Lerch, ESPN Boston correspondent: Believe it or not, I think the Eagles will be fine defensively. Obviously, Catarius is a one-of-a-kind talent with the ability to singlehandedly change opposing offensive gameplans. BC High will simply lean more on the unit as a whole rather than an individual to bail them out, as Catarius often did with his read and react style of play. Linebackers Danny Collins and Brandon Owens are leaders, defensive linemen like Billy Breen and Jaleel Johnson will take up blockers and make a few plays on their own, and the secondary will have to be more active in supporting.

Oddly enough, I think it's on offense where the Eagles may miss Catarius the most. A bruising fullback, Catarius helped pave the way for Preston Cooper and Deontay Ramey-Doe to pile up yardage last season. New backs Owens and Skyler Evans, along with a mostly inexperienced line, would have benefitted greatly from having Catarius leading the charge.

John Botelho, Editor-in-Chief, South Shore Sports Journal: I'm not even sure this Luke Catarius injury will have any real impact on BC. And I don't mean that as a slight to Catarius - in fact, I think he's the best linebacker in the state. My point of view though is this is a non-issue for the Eagles for two reasons.

First of all, replacing Catarius obviously wouldn't be easy, but aren't teams in the Catholic Conference best suited to replace someone they lose to an injury? Those teams are so loaded and so deep that it seems they have significant depth at every position. Or at least it seemed that way when Preston Cooper - who was arguably the best running back in the state in the first half of last year - went down with a broken ankle. All BC did was go on to win the Super Bowl as Deontae Ramey-Doe stepped in and the Eagles never missed a beat.

Secondly, and most important, is that BC doesn't open up league play until October 26 when they host Malden Catholic. I think even without Catarius, it'd be considered an upset if the Eagles lost that match-up. If it really comes to it, they don't need Catarius back until November 4th, week eight of the season, when they travel to Xaverian. It's reasonable to think that a hairline fracture would be healed up and they'd have him back by then.

2. WHICH REGION OF THE STATE HAS THE BEST UP-AND-COMING TALENT?

Hall: The emergence of Springfield-area talent over the last few years is one of the best stories developing this fall. But in terms of pure talent, for me it's got to be the Cape & Islands region.

Every year, there seems to be a Cape player that seemingly washes ashore to earn a Division 1 scholarship. Two years ago, it was Randall Jette from Martha's Vineyard going to UMass. Last year, Nauset's Brendan Battles-Santos surprising everyone at UConn's prospect camp to earn a scholarship practically on the spot. This past summer, UMass dug back into the region to pluck 6-foot-7 tight end Terrel Correia out of Nantucket, with intentions of making him an offensive tackle.

We'll obviously be watching Correia closely this fall, but he isn't even the best player from the region. Barnstable quarterback Nick Peabody is among the state's best, with Ivy League interest. Mashpee has three athletes with Division 1 potential in tackle Nate Chrzanowski, running back Jared Taylor (he of the 300-yard epic last year at Gillette Stadium) and his new backfield mate Malik Lee, a Cape Cod Tech transfer with plenty of upside at 6-foot-2 and 235 pounds.

Also keep an eye on Dennis-Yarmouth's Joe Tyo, who still has to fill out but is projectable with a long 6-foot-5 frame and some active footwork. Falmouth sophomore Craig Green will be an intriguing prospect to monitor, after running a 10.6-second 100-meter dash last spring at the New England Track and Field Championships. And as good as Darien Fernandez was on the basketball court for Wareham last winter, some believe he's an even better running back.

Barboza: I'm looking no further than our statewide preseason Top 25 poll to find two Springfield squads (Central at No. 14 and Putnum at No. 23) and another (Springfield Commerce) knocking on the door. Central is retooled for another run at Longmeadow in Div. 1 West with some key returnees from last year's squad that made it to Gillette Stadium. Quarterback Cody Williams could be a breakout performer this year and Shawn Lockett is a legitimate force to deal with on the lines. Melquawn Pinkney might be gone, but the cupboard's not bare for Putnam with Wayne Lowery, shouldering more of the running load while playing lock-down corner. Sha'ki Holines (UConn) and Hassan Graham (not to be confused with the Patriots receiver of yesteryear) grade out at their positions against anybody across the state.

Kurkjian: This is a tough question because the season has not started yet, so it is hard to assess which region has the top players. As it stands now, though, the North Shore looks to have an overflow of top players if you consider Everett part of that region. Also, don't forget BC High's Brandon Owens hails from Salem.

Botelho: Last fall made it hard to argue with any region being more up-and-coming than the Cape. Four of the nine Eastern Mass. Super Bowl champs were from the Cape and Islands (Dennis-Yarmouth Div. 2A, Bourne Div. 3A, Mashpee Div. 4 and Nantucket Div. 5). Not only did those teams each win Super Bowls last season, but the Cape teams outscored opponents 120-29 in those games. Only Bourne had a competitive game, beating defending Super Bowl champ Hamilton-Wenham, 16-14.

3. WHICH RUNNING BACK WILL HAVE THE BIGGEST BREAKOUT?

Hall: There's a lot of directions you can go with this one. The addition of Malik Lee, and his soft hands, to Mashpee's already-dangerous backfield has to feel like a high school offensive coordinator's dream. Out west, Springfield folks are excited about two potential breakout candidates in Putnam's Wayne Lowery and Central's Aaron Owens. St. John's of Shrewsbury's Shadrach Abrokwah is bound for a breakout in John Andreoli's new Oregon-style "blur" offense.

However, I'm going with BC High's Brandon Owens. That he is already committed to a Division 1 FCS school (Bryant) despite only seeing part-time duty one way last season speaks to his upside. As a runner, there is no wangle to his makeup – he's a north-south, one-cut guy with a powerful frame that accelerates quickly to hit the hole at full speed.

Losing fullback Luke Catarius for the first six weeks of the season means the Eagles may have to get more creative with their offensive sets. But after seeing him take the corner on toss plays out of "Ace" formations, in the Mansfield scrimmage, I think he's up for any task the coaching staff throws at him.

Barboza: I think we're all hedging that Malik Lee of Mashpee will have a monster season in his first year with the Falcons, but I'm going to buck the trend here and go with another runner inside the South Shore League. Abington's Babila Fonkem tallied seven touchdowns (five of those came in one game against backyard rival Archbishop Williams) and ran for over 1,000 yards last season. I think the 5-foot-10, 180-pounder has the potential to more than double last year's tally as a feature back during Jim Kelleher's swan song as head coach.

Kurkjian: From the looks of it, Brandon Owens has had a spectacular preseason and he will be the feature back in what expects to be another punishing ground attack for BC High. It appears as if the Eagles have just reloaded there.

Lerch: Everett's Kenny Calaj is already something of a household name, having been an impact weapon in Everett's offense the past two seasons. The majority of that. however, came as a pass catcher. With a pair of untested quarterbacks still battling to replace record-setting Jonathan DiBiaso, not to mention a mammoth group of offensive linemen, it would only make sense for the Tide to return to the ground game and Calaj should benefit as the main ball-carrier. I'm not sure what the record for all-purpose yardage in Massachusetts history, but Calaj is in a position to do some historic things as a senior.

Botelho: Arcel Armstead is primed to have an elite year at running back for Bridgewater-Raynham this season. It's no secret that Dan Buron-coached teams run the ball as well as anyone, and with both Nick Schlatz and Brandon Morin gone, Armstead will be the featured back for the Trojans. His athleticism alone would be enough for him to have a big year in that system, but B-R returns their entire offensive line from a season ago, led by 6-foot-4, 260-pound Joey MacInnis, meaning the sky is the limit for Armstead.

Don't sleep on guys like Jon Hurvitz at Duxbury, who is the best athlete returning to the Dragons who will need to remake their identity a bit without Matt O'Keefe under center. Hurvitz runs hard and has a chance to be the first running back Duxbury has built their offense around in recent memory.

Also, the South Shore League seems littered with potential breakout candidates. Jared Taylor is probably the best well-known running back who was a back-up last season. He flashed his electric running ability in the Super Bowl to the tune of more than 300 yards. But he won't be the only guy terrorizing defense in the league.

Babila Fonkem returns to Abington for a senior year with added size from his 1,000-yard campaign a year ago. Brian Kilmain, a junior for the Green Wave, could give them the most dangerous two-headed backfield in the league.

Andrew Benson, who looks like he'll officially be a quarterback, is ready to break out at East Bridgewater. He could end up running for more yards than ESPN All-Stater Casey DeAndrade a year ago, for more than one reason. Last year, DeAndrade split carries with Tim O'Brien. While Benson will share the backfield duties with Kevin Lynch, he'll see a higher percentage of touches than DeAndrade last year. Also, E-B's offense was so explosive last year that DeAndrade (and O'Brien) had their numbers cut down because the Vikings had big enough leads that the starters weren't on the field a lot in the fourth quarter. Only when they played Abington and Mashpee did starters stay in the entire game. This year's team will rank among the best in the SSL, but I don't think they'll put teams away so quickly this time around.

4. TAKE A LOOK AT THE FIRST MONTH OF BROCKTON'S SCHEDULE, AND PREDICT A RECORD.

Hall: This is going to upset some of our readers in the City of Champions, but there's a realistic possibility of the Boxers coming out of the gate 0-4. Of those first four opponents – BC High, Reading, St. John's Prep, Xaverian – nobody's gotten worse from 2011, while I feel Brockton is still sitting in second gear after last year's disappointing end.

That said, it sounds like Bryant-bound running back/defensive back Micah Morel will be ready for Friday's opener against BC High after injuring his shoulder in the preseason, so that's a positive sign. As for record, I think the Boxers will steal a game, either against Prep or Reading, to start off 1-3.

Barboza: Well, let's go the tape … And hold me to this. I'm going:

Week 1, vs. BC High – Loss

Week 2, at Reading – Win

Week 3, vs. Xaverian – Loss

Week 4, vs. St. John's Prep – Loss

That would make the Boxers 1-3 rolling into October. Then I think they rebound with three straight wins and finish out the season at 6-5 and represent the Big Three in the Division 1 playoffs as a very dangerous team after enduring a trying first month.

Kurkjian: With so many question marks surrounding this offense, it is hard to project exactly how the Boxers will fare. That said, this is a brutal start to the season. The feeling here is that Brockton manages to steal one and get off to a 1-3 start.

Lerch: It's a very real possibility that Brockton goes 0-4, and I think best case scenario is that they salvage a 2-2 mark. Any better than that and I wonder if the Catholic Conference would have an issue with adding a "league game" between Brockton and Everett to play for its championship.

Botelho: Brockton has the best program in state history. Literally. Their 751 all-time wins ranks first in the state by a wide margin (no one else even has 600 wins). They've also captured 11 Super Bowl titles in 40 years. That said, the last few years haven't been what Boxer fans are used to. They missed the playoffs two years in a row, and last season slumped to a disappointing 5-6.

All those struggles did was ignite something in the Boxers, who look primed to return to the postseason this season. I'm going to say Brockton gets through that portion of the schedule (one Peter Colombo said might rank as the toughest in New England) with a winning record. I'm a believer in Brockton this year, and they'll knock off at least one Catholic Conference opponent, as well as take care of business with Reading and Fitchburg. My guess is the Boxers end up 3-2 in this stretch (including a loss to BC High week one, which they'll avenge in the Super Bowl in December).

5. WHAT GAME WILL BE THE MOST THRILLING OF WEEK 1?

Hall: On a state-wide level, Everett's trip to Leominster is certainly garnering the most interest, and deservedly so. The atmosphere there is going to be electric, with projections of anywhere up to 7-8,000 for expected attendance at Doyle Field. But, at the risk of being the wet blanket here, find me a pundit that doesn't expect Everett to win.

Putnam-Central will be an intriguing battle out west, but I'm going with an underrated Saturday afternoon showdown in Shrewsbury, where St. John's will host Holy Name in their customary season-opener. For all of Holy Name's success under Mike Pucko, the Naps have never beaten St. John's under John Andreoli. Last year's contest, a 22-21 St. John's thriller, was just epic on all fronts. And if there's any year for Holy Name to get that elusive win over the Pioneers, it's this one.

Barboza: This might not be the most high profile game on the docket, but I'm looking at the good ole fashioned brawl in the backyard between Dighton-Rehoboth and Somerset. The Falcons, coached by Somerset alum Dave Driscoll, are looking to rebound a bit in the South Coast Conference this season behind physical tackle Chuddy Nwachukwu and the Raiders could bounce back from a rebuilding year last year to finish atop the Eastern Athletic Conference this year. This has always been an underrated rivalry game in Southeastern Mass. and it's a great way to kick off the season for both squads.

Kurkjian: When in doubt, go with the No. 1 team opening up on the road against a program and community brimming with optimism over a Super Bowl win. No matter what happens, the atmosphere for Friday night's Everett at Leominster game will be electric.

Lerch: With apologies to several other high profile (BC High/Brockton) and not-so-high-profile (East Boston/Blue Hills will be a barnburner) matchups certainly deserving attention, the game at the top of my marquee is Duxbury at Bridgewater-Raynham (Saturday, 4 p.m.). Two programs very similar in the foundations programmed by a pair of tremendous head coaches, and both with an eye on getting a jump start on the "reload" process should be ready to go toe-to-toe for 44 minutes (or more).

Botelho: My favorite week one match-up is always Bridgewater-Raynham and Duxbury (especially this year, where these two teams grabbed the top two spots in our pre-season poll over at SportsJournal.co). Both perennial Super Bowl contenders, if either team doesn't bring their 'A' game from the get-go, they start the season with a loss. Dave Maimaron and Dan Buron always have their kids supremely prepared, so this one has a playoff atmosphere in September.
June, 10, 2012
6/10/12
8:30
PM ET
By
Shawn Myrick
| ESPNBoston.com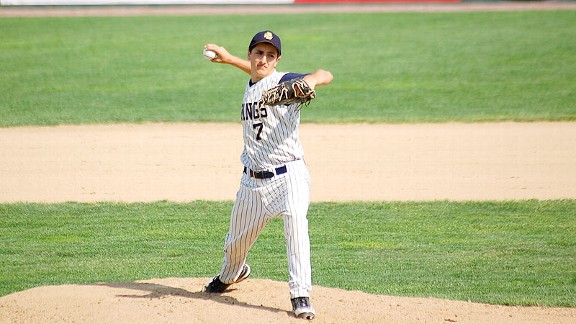 Brendan Hall/ESPNBoston.comEthan Forrest threw a complete-game shutout to clinch East Bridgewater's first Division 3 South title in nearly two decades.
BROCKTON, Mass. -- When starter Ethan Forrest woke up yesterday morning he could barely get out of bed. On Sunday he was unbreakable.
In what was East Bridgewater's fourth game in five days, the junior ace tossed four strikeouts to lead the third-seeded Vikings (18-4) to a 5-0 complete-game sweep of defending regional champs No. 8 Apponequet (14-6) in the Division 3 South finals at Campanelli Stadium in Brockton.
The victory was the first sectional title for East Bridgewater since 1993 as it returns to Brockton at 4 p.m. on Tuesday to play the North champs North Reading (20-4) in the state semifinals.
"I iced, I took it easy, and I came back today and just threw," said Forrest. "I let my arm do the healing. Coach needed someone so I raised my hand and stepped up to the occasion."
The Vikings pulled ahead 1-0 in the third off a low rip by senior Casey DeAndrade. After three straight singles loaded the bases with two outs, DeAndrade knocked the ball into the ground and up off the chest of the second baseman to force a bobble on the throw to first.
DeAndrade went 3-for-4 with two RBI's, while falling one home run short of the cycle. Teammate and freshman Jake Pierce also cracked 3-of-4 for two RBI's and a run.
"I saw our third base coach waving so I thought I had a chance," said DeAndrade. "We have been working hard in the cages so it pays off."
Senior Tim O'Brien swatted a roller up the middle then stole third on a pitch in the dirt to set up the Vikings' second run two innings later. An outfield single by Pierce brought O'Brien home.
"(O'Brien) is just a star athlete," said East Bridgewater coach Pat Cronin. "They are smart base runners. We did not get here by stopping people at third base."
Apponequet put a runner in scoring position during both the first and fifth, but was unable to score.
A double and a stolen base by Zachary Bernard placed the sophomore on third with two out in the first, but Forrest forced a ground out to the shortstop. After a double play to open the fifth, junior Joshua Cabucio knocked a frozen rope over the shortstop to push senior Timothy O'Malley to second.
Forrest again pressured a hit out to the second baseman.
"Single elimination baseball and we never came up with the timely hit," said Apponequet coach Bob Lomp. "We could not string together anything offensively."
East Bridgewater finished Apponequet in its final at-bat with three hits and three runs.
After a balk moved senior James Sullivan to third, junior Brett Palaschak hit a deep right field sacrifice fly for a 3-0 edge. Junior Andrew Benson walked with four pitches then stole second with two outs to set up the 4-0 knock.
A rocket by Pierce was bobbled by a sliding centerfielder to bring Benson home. The following pitch, DeAndrade caught a long drive along the center-field wall to bring O'Brien home, but the senior was tagged out turning third for the final out.
"It was a fastball and I was on my front foot," said DeAndrade. "I just flicked my wrist and hit it well. Coach was waving me and I saw every one up on the stands yelling so I just wanted to score."
Not So Sunny Disposition:
Apponequet starter sophomore Joshua Fickert tossed the entire game allowing 11 hits and striking out five with five earned runs. Despite the sun shining over the backfield press box the entire game, Lomp did not link any of his team's fielding mishaps to the stadium.
"I do not think we played poor defensively," said Lomp. "We have been a pitching and defensive team all year. They just hit some gap balls there."
Day In and Day Out
: The victory was the Vikings' third on the weekend. Forrest pitched six innings in a 5-4 win over No. 6 Dover-Sherborn (15-7) on Friday, while tossing 93 pitches against the Lakers.
"They said 'Coach all we want to do is win today and get to the next game'," said Cronin "(Forrest) was throwing harder in the last inning than he was in the first. When it is your turn to hit, go hit then you just come back and sit in the shade."
May, 29, 2012
5/29/12
12:14
PM ET
By
Brendan Hall
| ESPNBoston.com
In between baseball and girls lacrosse games, I had the chance to check out a few football combines this past month. Emptying out the notepad, here are some leftover nuggets:
Massachusetts High School Football Coaches Association Combine
Gillette Stadium
Foxborough, Mass.
May 6
Earlier this month,
we checked in with several of the state's top prospects who were at the combine
, including Xaverian's Maurice Hurst Jr., Mills/Hopedale's Jon Baker, and Dighton-Rehoboth's Chuddy Nwachukwu. Today, with new information, I'm bringing to light some new information about some players with hidden potential.
Athletic Standard CEO Thomas Newman passed along some information regarding the tests his company ran during the combine, pasted below. I've added each player's school in parentheses:
The following Athletes all tested in the 95th percentile in the nation for vertical jump (Horsepower and the first indicator of genetic potential):

Sean Antonuccio (Masconomet)
Junior Oyaronbi (St. Clement)
Frank Ansah (Worcester South)
Terrance Gibson (Taunton)
Berny Platel (Fitchburg)
Shaun Callahan (Norwood)
Nick Patten (Medford)
Sean Eldridge (Bristol-Plymouth)
Isaiah Douglas (Bishop Feehan)
Dominque Leite (Brockton)
Alex Jette (North Attleborough)
Babila Fonkem (Abington)
Elias Camacho (Canton)
Jamal Williams (Taunton)
Justin Mount (Westford)
Shadrach Abrokwah (St. John's of Shrewsbury)
Quron Wright (Holy Name)
Kevin Makie (Mansfield)
Kaylan Philbert-Richardson (Archbishop Williams)
Thomas Johnson (Pembroke)
Daniel Kegbeh (Holy Name)


Lateral Speed (huge component for separation or locking down on defense)

Jhalen Bien-Aime (Boston Latin)
4.218 - Laser pro agility
4.01 - Stop Watch Conversion time


Additionally, it should be noted this kid was so raw any speed coach will bring this down to a sub 4.0 pro or a 3.8 stopwatch time. Great kid by the way, real gentleman

Watch List (these kids have one standout feature):

Andrew Benson (East Bridgewater)
6-foot-1, 175 lbs.
Vertical - 27.75
Pro Agility - 4.421

It doesn't appear that he will grow much more but depending on his football skills this would be a solid pick.

Ricardo Calixte (Brockton)
5-foot-10-3/4, 198 lbs.
6-foot-4 wingspan nearly (this kid will grow over the summer)

Vertical - 28 inches - Normalized Index 406
Pro-Agility - 4.43 - Normalized Index 330

I would keep a close eye on him because if he gets any taller or heavier he will easily tip into the strong D1 prospect.
Calixte's story is an interesting one. He has the athletic frame and raw tools to be an impact on defense (he also ran a 4.75 second 40-yard dash), but has played sparingly to this point -- allegedly, he didn't suit up for Friday night games last season due to religious obligations. The only points to his name in last year's box scores is a two-point conversion run. Micah Morel is probably the Brockton prospect with the highest ceiling right now, but keep an eye on Calixte.
Impact Performance Football Combine
Massachusetts Maritime Academy
Buzzards Bay, Mass.
May 26
Impact Performance Training owner Ross Jatkola put on his first combine on the turf at Mass. Maritime's Clean Harbors Stadium, attended primarily by athletes from the Cape Cod area.
Pound for pound, Dennis-Yarmouth was arguably the toughest team in the state last fall. The Dolphins' run to the Division 2A Super Bowl title this year, blowing out many of their opponents despite being routinely undersized (sometimes comically so), and everyone playing both ways, is testament to this. A lot of credit goes to Paul Funk and the remarkable building job he's done over the last decade to a program that won just six games in the 1990's. But credit also has to go to Jatkola, a D-Y grad and former University of Albany tight end who also works as the Dolphins' strength coach.
Cape Cod football is on the rise in Massachusetts -- a record five Cape teams made playoffs last year, with four of them winning Super Bowls -- and this was a good chance to see some of the rising stars in action. About three dozen competed, with Barnstable's Bryan Hardy winning the pro agility and Bourne's Josh Curry winning the 40-yard dash.
For the complete results
CLICK HERE
.
A few observations:
Peabody pleases
If I'm picking four quarterbacks for our preseason All-State team, Barnstable's Nick Peabody is probably on the list -- I would have said this in January. He has ideal quarterback size (6-foot-3, 225 pounds) puts a lot of zip on the ball, and has big-game experience (leading the Red Raiders to their first playoff appearance in 10 years). I know we have to take these things for what they're worth, but the way he threw the ball around in 7-on-7 drills reaffirmed my disposition. Saturday morning, he was putting the ball in tight spots all over the field, hitting teammates on 15-yard out patterns seemingly on a dime.
Linemen to watch
Two Class of 2013 linemen to keep an eye on are Barnstable's Tom Grimmer and D-Y's Joe Tyo. Grimmer is built low to the ground, going about 5-foot-11 and 250 pounds, but has good balance and posture. He won the bench press event, doing 26 repetitions at 185 pounds.
Tyo could be a late-bloomer. He's a raw prospect at 6-foot-4 and 250 pounds, didn't start on the interior defensive line until Week 3 of the 2011 season, and needs to build more upper-body strength. His frame has yet to fill out. But he also ran a 4.9 second 40-yard dash, and demonstrated terrific footwork in pass-blocking drills.
Next In Line?
It's too early to predict the next Matt Montalto, D-Y's 2011 ESPN Boston All-Stater at quarterback who will be suiting up for Bentley University this fall. But when the time comes, his cousin, Michael Dunn, could fit the bill. The freshman won the vertical jump at 9 feet 3 inches, and I'm told he'll be used in an "athlete" slasher role going forward for the Dolphins.
December, 3, 2011
12/03/11
6:48
PM ET
By
Mike Scandura
| ESPNBoston.com
TAUNTON, Mass. –- All the money in Fort Knox couldn't have bought Nantucket quarterback Taylor Hughes the birthday present he'll relish for the rest of his life.

Hughes, who turned 18 on Saturday, embraced the Division 5 Super Bowl championship trophy which resulted from a 35-7 conquest of Boston Latin Academy.

Hughes ran 16 times for 122 yards and two touchdowns and was 3-for-3 passing for 105 yards as the Whalers annexed the fourth Super Bowl championship in school history.

Perhaps the one play that underscored Hughes' mindset occurred in the third quarter with Nantucket (10-2) leading 21-0.

Hughes took the snap and bulled his way eight yards up the middle for his second touchdown and 31st (21st rushing) of the season. (Think running through a brick wall).

"I just was determined to score," the Mayflower Small Player of the Year said. "It was my last game in high school and I felt nobody was going to stop me."

The same could be said of the Whalers as a whole since they built a 21-0 halftime lead and never let the Dragons (7-5) harbor any thoughts of a miracle rally.

"Two weeks ago we played (and lost to) Martha's Vineyard and we didn't do well firing out," Hughes said. "Since then, we practiced firing out … punching the sleds around and stuff. We knew we could beat them off the ball so we just ran it down their throats at the beginning."

Hughes was the first Whaler to run the ball down the Dragons' throats when, on the third play of the game, he burst through the right side and sprinted 49 yards for a touchdown.

Turning point: After Latin went three-and-out, Zach Moran appeared to fumble Alfredo Perez's punt with Ernest Kellough scooping up the ball and running 40 yards for an apparent touchdown. But the Dragons were penalized for fair-catch interference which gave Nantucket a first down on its 42.

Four plays later Moran threw a 20-yard touchdown pass to Andrew Benson on an option play for a 14-0 lead at the break.

"It allowed us to get more relaxed … 14-0 obviously is much easier than 7-0," Nantucket coach Bill Manchester said. "Jet sweep is a big play for us. When our guys block well, they have to come up and stop the run.

"Andrew did a nice job selling the run and was wide-open."

Putting the D in defense: Nantucket's defense contributed two key stops.

The Dragons had a first down at Nantucket's 28 late in the first quarter but only gained four yards on four plays.

Then, late in the second, Latin had a first down on Nantucket's 12 but only gained five yards on four plays.

"That's the coaching," Hughes said. "We've got a play called 'monster' where I drop back deep and that just confused them when they wanted to pass."

"Our philosophy's been bend but don't break," Manchester said. "We know we have to make a team run 15, 18, 20 plays. And our defense has been great all year.

"We know offense wins games and defense wins championships. Our defense is why we're the Division V Super Bowl champ."

Point counterpoint: A 71-yard pass from Hughes to Moran set up Nantucket's third score, a 10-yard run by Codie Perry who finished with 82 yards on 17 carries.

Latin spoiled Nantucket's shutout bid when it reeled off a 13-play, 67-yard drive in the third which culminated with Kellough's one-yard run. But Nantucket countered immediately with a fourth-quarter drive that ended with Moran's one-yard touchdown run.

Considering that as recently as 2008, this once-illustrious program was a shadow of its former self, the championship was especially gratifying.

"As a coaching staff, we knew what the vision needed to be," Manchester said. "The players wanted to get back to where they knew we could be. They set very high goals.

"It's not that we re-wrote what the program was. It was (a matter of) dusting off the playbook that worked in the 60s, 70s, 80s and 90s."

NANTUCKET 35, BOSTON LATIN 7
BL (7-5) 0-0-7-0 - 7
NAN (10-2) 14-7-7-7 - 35

First quarter
N – Taylor Hughes 49 run (Sam Earle kick)
N – Andrew Benson 20 pass from Zach Moran (Earle kick)

Second quarter
N – Codie Perry 10 run (Earle kick)

Third quarter
N – Hughes 8 run (Earle kick)
B – Ernest Kellough 1 run (Alfredo Perez kick)

Fourth quarter
N – Moran 1 run (Earle kick)