Boston High School:

Andrew Deloury
November, 27, 2012
11/27/12
3:08
AM ET
We're hours away from kickoff to Tuesday's MIAA football semi-final playoff games across the state, so we're previewing the action with five things to keep an eye on during tonight's action.
High Schools editors Scott Barboza and Brendan Hall break it down here:
BRENDAN HALL:
THE HEAT IS ON
The race is on Tuesday night for the state's lead in rushing touchdowns. Currently, Holy Name's Quron Wright trails Plymouth South's Dylan Oxsen, 34-33, though Wright has more overall touchdowns than the breakout junior tailback. Barring something crazy, nobody figures to catch Wright for the state's lead in rushing yardage – he's over 2,000 headed into the Naps' Division 2 Central playoff game with Nashoba.
Watching the two, it's a bit of a contrast in styles, and not just because of the offenses they run (Holy Name with the vaunted double-wing; South with a modified pistol). The generously-listed 5-foot-7 Wright is as Lilliputian as they come, but he accelerates into his cuts, builds up to top speed quickly, and evades direct hits with his low center of gravity (watch highlights
HERE
). Oxsen isn't as fleet-footed as Wright, but his combination of above-average leg strength and low pad level – coupled with a very downhill-oriented running scheme – make him a bowling ball (watch highlights
HERE
).
Both teams figure to be underdogs in their matchups. Nashoba rolled to an easy victory over the Naps in their late-September meeting, while South's EMass Div. 2A opponent, Natick, averages over 420 yards of offense and features one of the state's most dynamic passing attacks.
AIR RAID
All season long, we've jokingly called the Merrimack Valley Conference "Death by 1,000 Shallow Crosses". Based on some of the scores the league produced this year, we think it's somewhat justified.
Looking at MVC Large champ Andover, you probably figure these guys could run underneath routes in their sleep. But that is to take away from the deceivingly-quality arm strength of quarterback C.J. Scarpa (watch highlights
HERE
). Seemingly everybody's favorite sub-6-foot gunslinger at 5-foot-8, he has a quick release and can gun it downfield with the best of them.
As much attention as Andover's receivers draw in the short passing game – particularly, speedy waterbug Cam Farnham – the Golden Warriors are known to ably execute "pick plays" aimed at releasing Will Heikkinen or Andrew Deloury into open space, or simply take the top off of the defense.
But that is all to say, the Warriors haven't seen a defense quite like the one they're facing Tuesday night in Catholic Conference champion St. John's Prep. The Eagles have playmakers all over the field, and feature one of the state's best back sevens in linebacker Sean Smerczysnki, cornerback Gerald Kahari, rover Lucas Bavaro and safety Alex Moore.
On the other side of the ball, Moore and junior Jonathan Thomas make up one of the state's most feared backfield, if not the best. Last week, both Moore and Thomas were named two of the five finalists for our Mr. Football Award.
The Warriors are in for their biggest prize fight of the season here against a Prep defense. We're all interested to see how this passing attack fares against a ball-hawking defense with a plus-10 turnover differential.
THROWING DARTS
No Division has been quite as unpredictable as Central Mass. Division 1. Shrewsbury upended cross-town rival St. John's 51-46, then a month later delivered a last-second 33-32 upset of Leominster, en route to finishing 9-2 and with the top overall seed in the power rankings.
Wachusett, meanwhile, took a 46-14 beating in Week 4 at the hands of St. John's, only to upset Leominster and Shrewsbury in the following weeks. On Oct. 26, however, they took a surprise 21-20 loss to a Westborough squad that finished 1-10.
We know St. John's can score points with anyone – Andrew Smiley's record-setting campaign in his first year starting at quarterback is testament. But how do you explain surrendering 51 points to Shrewsbury, 40 to Holy Name and 39 to Milford?
Leominster appears to be just as enigmatic. This is a team that gave Everett and Brockton everything they could handle, and delivered a thrilling last-second victory over St. John's. But this is also a team that needed a second-half rally to overcome 2-9 Algonquin, and seemingly let many underdog teams hang around.
Quite frankly, I won't be surprised by anything that transpires in this division.
* * * * *
SCOTT BARBOZA:
MANIFEST DESTINY?
The are a couple of interesting storylines to watch in the Division 1A semifinals where Everett meets Masconomet and Barnstable tries to pay back Lincoln-Sudbury.
First, while the Crimson Tide will be heavily favored over the Chieftains, one element worth watching will be Everett's start. The Crimson Tide will be well-rested after not playing a Thanksgiving Day game this year. While the time off certainly will help heal injuries, Everett now hasn't seen live action in more than two weeks. And, after closing out their regular season schedule with three straight Greater Boston League games, you can argue the Crimson Tide haven't played a full game since their Oct. 20 win at BC High.
Of course, if the Crimson Tide advance, they could face the lone team to hand them a loss in more than two years – Barnstable. Meanwhile, the Red Raiders will be looking to exorcise a demon of their own in Lincoln-Sudbury, who dealt Barnstable a 14-13 upset loss in last year's semifinal.
While you would expect neither the Crimson Tide nor Red Raiders to come out flat on Tuesday, but if either is eying a potential rematch on Saturday, the game we've been dying to see might not happen at all.
DUXBURY PUTS IT ON THE LINE AGAIN
After Mt. Greylock lost a few weeks back, Duxbury has laid claim to the longest active winning streak in MIAA football. They'll put a 37-game unbeaten streak on the line when they face Hockomock League Kelley-Rex winner Mansfield at Bridgewater-Raynham. The Dragons would have a 39-game streak and a string of three-straight Super Bowl championships if they complete this year's run. But while we're exploring what could be, let's go back to what almost was.
In last year's Division 2 semifinal against King Philip, the Dragons potent spread attack was ground to a halt by the Warriors' swarming defense. Duxbury escaped with a 7-0 win over KP in their run to a second-straight Super Bowl, but in the days following their win over the Warriors, Duxbury head coach Dave Maimaron remarked that it had been the toughest battle his teams had faced during the entirety of the streak.
While Mansfield might not have the pedigree of last year's KP group the Hornets present their own problems – primarily on offense. The Dragons will not have seen a playmaking duo quite like Mansfield wide outs Brendan Hill and Mike Hershman, and running back Robbie Rapoza is hard to tackle when breaking into the second tier of the defense. The Hornets will certainly have their work cut out for them if they are to upset the Dragons' third straight Super Bowl bid, but it's not impossible.
November, 22, 2012
11/22/12
8:06
PM ET
By
Tom Layman
| ESPNBoston.com
ANDOVER, Mass. -- C.J. Scarpa isn't the biggest, fastest or even your most prototypical quarterback when you first take a look at him.
[+] Enlarge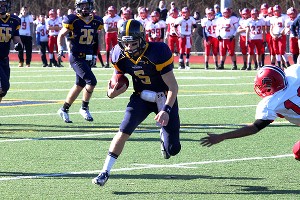 Ryan Kilian for ESPNBoston.comAndover's CJ Scarpa threw his first pick in over a month and half, but led the Golden Warriors to victory.
But if you make a short list of the best quarterbacks in Eastern Mass., you would be hard-pressed not to find his name at the top or right near it.
Scarpa was brilliant in the second half of Andover's 22-19 victory over Central Catholic (9-2) on Thanksgiving Day at Lovely Stadium. The 5-foot-9-inch, 162-pound senior quarterback finished the day 16-of-29 for 233 yards with two touchdowns and one interception.
In the second half alone, Scarpa was 12-of-17 for 128 yards and he was near picture-perfect on the first drive of the second half that basically sealed the victory, and the Merrimack Valley Conference tiebreaker, for the Golden Warriors when he picked up his lone rushing touchdown of the day.
The quarterback-head coach relationship has grown over the past couple of years between E.J. Perry and Scarpa, and this game was a perfect example of that.
"Early in his career we used to have discussions," Perry, whose team will take on St. John's Prep in the first round of the Div. 1 playoffs, said of his quarteback, "and now I have trust."
Scarpa showed the ability to connect on the long ball — like when he struck with Cam Farnham for a 77-yard touchdown in the first half — and the medium to short distance throws. The dink-and-dunk nature of taking what the defense gave him was on display on the Golden Warriors 15-play, 80-yard drive on their first possession of the second half.
Scarpa came out and divvied the ball to Will Heikkinen, Andrew Deloury, and Jack Sylvester out of the backfield. He connected with Heikkinen for an 8-yard connection on a crucial fourth-and-2, and five plays later he used his legs to get in the end zone for the 21-13 lead.
Perry went to a little bit of trickery on the extra point attempt as Scarpa pulled the hold back and fired it to a wide open Jake Flaherty for the two-point conversion pass and the 22-13 lead.
"Just getting the balls to the guys out quick," Scarpa said of the second-half tempo. "Our tempo was obviously spectacular (on that drive). It was awesome to get the tempo up, because we knew if we did they would get a little bit tired.
"[The coaching staff] probably called 100 percent of the plays [on that drive]. I just improvised."
When he needed to make connections late in the fourth quarter he did, connecting on two third-and-longs to keep the drive going and keep the Raiders from getting the ball back.
MISSED CHANCES FOR RAIDERS
This game came down to two chances for the Raiders' offense inside of red zone that never surfaced into touchdowns.
Ryan Doherty blocked a Golden Warriors punt and set up the Raiders inside the 20-yard line. The offense couldn't generate a first down and had to settle for a 39-yard field goal off the foot of Thomas Jenoski.
The Raiders took the opening kickoff inside of Golden Warriors territory, and again, the offense couldn't get across the goal-line and had to settle for a 30-yard field goal from Jenoski.
Two opportunities inside the red zone and the Raiders settled for six points instead of potentially 14. In a 3-point game, those situations need to be capitalized on.
"It's a weird game," said Raiders coach Chuck Adamopoulos. "I thought we played well defensively and I thought offensively we did some good things at times. We just didn't do enough to win a game like this."
ANDOVER 22, CENTRAL CATHOLIC 19
Central Catholic (9-2) 3 – 7 – 3 – 6 - 19
Andover (10-1) 7 – 7 – 8 – 0 – 22
CC — Thomas Jenoski 39 FG
AN — Cole Organisciak 9 pass from C.J. Scarpa (Oliver Eberth kick)
CC — Ryan Doherty 14 pass from Michael Milano (Jenoski kick)
AN — Cam Farnham 77 pass from Scarpa (Eberth kick)
CC — Jenoski 30-yard FG
AN — Scarpa 9 run (Jake Flaherty pass from Scarpa)
CC — Michael Barry 25 pass from Milano (kick failed)
November, 6, 2012
11/06/12
11:55
AM ET
By
John McGuirk
| ESPNBoston.com
ANDOVER, Mass. -- Last Wednesday, a good hour before the start of practice, Andover quarterback C.J. Scarpa was huddled inside the team meeting room along with his coaches, discussing and strategizing various offensive schemes on a large white board.
While the rest of his teammates began filtering into the stadium locker room next door a short time later to dress, Scarpa, already suited up, was using this extra time to work on the intricacies of his trade.
This routine is nothing new for Scarpa. A noted student of the game, the senior is constantly looking for ways to make himself better than he already is.
[+] Enlarge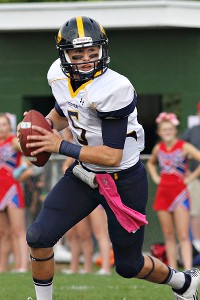 Tracy Layne/Andover Andover quarterback C.J. Scarpa is just 5-foot-8 but has thrown for 2,088 yards, 27 touchdowns and just four interceptions through nine games this season.
Now in his second season guiding the Golden Warrior offense, Scarpa is regarded by many as one of the best in the state at his position. His development over these past two years has been nothing short of remarkable.
"C.J.'s sophomore year was his development year," said Andover head coach E.J. Perry, now in his third season. "He did a tremendous job at the junior varsity level but he broke his finger in the 10th game that year. If that had not happened, he might've gotten a few snaps at varsity in our Thanksgiving Day game and playoff game that season because he was coming on so rapidly."
Although the broken finger served as a mere setback for him, Scarpa spent the following off-season attending various quarterback camps as well as putting in his own individual work. As a result, it allowed his skills to flourish immensely.
Last season, Andover finished 7-4 with Scarpa tossing 21 touchdowns. This year, he has already thrown 27 with only four picks and 2,088 yards as the Golden Warriors stand at 8-1 and possess a shot of earning a berth in the Division 1 Eastern Mass. Super Bowl.
"No doubt his personal accomplishments have been truly amazing," Perry said. "But what I tell C J all the time is the only stat that matters are wins. I tell him that is how you are truly measured as a quarterback."
What makes these feats all the more amazing is Scarpa is 5-foot-8 and 160 pounds. While he has heard his fare share of naysayers who say he is to small to play the position, Scarpa refuses to listen to any of it.
"Yeah, I've heard it from a bunch of people," Scarpa said. "But I've never doubted myself. My thinking is don't let anyone say you cannot do it. The difference between 5-8 and 6-4 is obviously the height. But if you are 5-8, like me, then you need to get into the film room, study and get into the weight room and be as strong as you can. I've leaned to never let anyone doubt you."
Scarpa says ongoing conversations he has had with former Brockton standout quarterback Tom Colombo has helped him a tremendously. Colombo, himself small in stature standing 5-foot-7, had heard the same criticisms while lining up behind center in the late 1980's for the Boxers. All Colombo did was become the state's all-time leader in touchdown passes thrown (85), before the mark was eclipsed a year ago by Everett's Jonathan DiBiaso. Upon leaving Brockton, Colombo went on to have a sensational career at Villanova University.
"Just talking with him and hearing about what he did at the high school and college level, and his height being simlar to mine, he just told me to ignore the criticisms and that I could do it too just like he did," said Scarpa, who will play at Elon College next season. "That really meant a lot to me."
Because of Scarpa's ability to read defenses so quickly and make adjustments on the fly, the Golden Warriors have effectively been able to run it's up-tempo-style offense to almost near-perfection.
"The biggest thing C.J. has is the mental aspect to the quarterback position," said Perry. "The offense we run here is quick and fast and you need to pick up blitzes and understand the routes our receivers are going. In this type of offense a lot of kids may have difficulty picking these things up. But C J understands the entire game and runs it well. What we tell C J in this offense is that it's not about the last play but the next play. If we lose two yards or the coaches or him make a bad read who cares. We just move on to the next play."
Perry's devotion to Andover's no-huddle, spread offense should come as no surprise to anyone. His brother John, head coach at Merrimack College, runs a similar style. So too does his other brother James, a former Brown University exceptional quarterback who still holds most of the Ivy League passing records, and is now the offensive coordinator at Princeton University.
"C.J. understands this offense and knows what everyone is doing on every play, including our offensive line," said Perry. "As a coach, that is the biggest concern you have with a quarterback because in our offense sometimes we have five guys speard out running various routes and you want to be sure the quarterback knows where everyone is going. Fortunately for us, C J does."
Adds Scarpa, "I know I can read defenses better than other kids. You understand a lot more with each game and each play. I think it is sometimes better that there really isn't a lot of time to think in-between plays. You just go out there and whatever you see you throw the ball in that direction. Fortunately I have some great players around me and some great coaches who have helped me along the way."
Andover has a plethora of receivers for Scarpa to choose from. Cam Farnham, Will Heikkinen, Andrew Deloury, Cam Davey and running back Jack Sylvester have all proven their worth catching the football many times over this season.
"I am definitely confident in my abilities," Scarpa said. "I know this is such a great team. With everyone here putting in the needed time and getting to know everyone and what they can do has been truly special this year. I feel everyone here believes (a Super Bowl) can happen and for me, that's the most important thing. Here, everyone believes we can do it and understands to never get complacent. As a senior you only get one shot at this so I believe you might as well do it the right way. As a team that's what we have been doing."
October, 27, 2012
10/27/12
1:03
AM ET
By
Andy Smith
| ESPNBoston.com
CHELMSFORD, Mass.- Conventional football wisdom will tell you that if a team loses its placekicker to an injury, many aspects of the team's performance will change: field goals and extra points get exponentially tougher, and kickoffs are no sure thing, which could give a team quality field position to start drives.

That wasn't the case Friday for Andover. It scored two quick touchdowns in the first, and successfully converted the ensuing two-point plays, which put Chelmsford back on its heels and forced it to play catch-up the rest of the game.

The Lions could not catch up, eventually falling 42-22 to its Merrimack Valley Conference foe.

Andover's (8-0) Mark Zavril, the team's usual kicker, watched from the sideline in street clothes while his team rolled in its first league game of the season.

"We might have gone for the two, even if our kicking game was there, because we've been working on that," Andover head coach E.J. Perry said. "We're about 65-70 percent with the two-point and when you do the numbers, it's almost better to go for the two. We also like to flip the numbers so we get a two-score advantage. They came toe-to-toe in the first quarter, but then we opened it up and made the twos and did a nice job."

Chelmsford (4-4) was caught off-guard on the kickoff after the first Andover touchdown when the Golden Warriors sent a squib up the middle and recovered the loose ball. It scored a minute and a half later to put the Lions behind by 16.

Chelmsford quarterback John Campsmith (11-of-22, 138 yards, 2 TDs, 1 INT) answered on the next drive when he hit Greg Johnson on a 34-yard bomb down the right sideline. Johnson, a speedy wide receiver, split bracket coverage and outran both defenders to get the ball and get in the endzone.

In the end, the Andover no-huddle, spread offense proved to be too much for the home team to handle. C.J. Scarpa finished the game 14-of-23 for 203 yards and 3 touchdowns, each to a different receiver. He also had a two-yard rushing touchdown in the second quarter.

--- While the Andover offense, and many other offenses in the Merrimack Valley for that matter, are known for their propensity to put up points, its defense also made a mark on the game Friday.

After allowing Campsmith to run for a first down on a third and 12 in the first quarter, it seemed like momentum had swung into Chelmsford's favor and the game could've been well on its way to a shootout. Then on the next play, Campsmith tossed a bubble screen out to his wide receiver, but the ball bounced in the dirt. The receiver thought it was an incomplete pass, but because it was a sideways pass, the ball was live. Seeing this, the Andover defense jumped on the ball, killing the drive and Chelmsford momentum.

Andover scored on its opening driving after halftime, creating a 20-point deficit. On the first play of the ensuing Chelmsford drive, Chas Haseltine picked off Campsmith. The offense scored on its next possession, which turned what was a two-possession game at halftime into a four-possession game in two and a half minutes of game time.

"The defense doesn't really get talked about a lot because our offense is so good," Scarpa said. "Our defense is one heck of a defense. They kept us in that Xaverian game (a 15-13 victory), and we just knew our defense was pretty good. We practice as hard as we can against them, and they give us great looks and we give them great looks."

--- Friday marked the first game in a four-week stretch when Andover plays league opponents. While it came into the latter part of the season undefeated, the team and the coaching staff know now is put-up or shut-up time for them.

"We told them coming in, 'We're starting 0-0, congratulations on being 7-0, but it's time to go to work," Perry said. "If you were in the huddle, one of the kids jumped in and said, '1-0,' and I like to hear that from our players."

The team does feel confident, with the season steadily moving towards Thanksgiving and the playoffs.

"Eight-and-oh is great, but as everyone knows now, we're 1-0 in the MVC, so we're basically 1-0," said Cam Farnham (3 catches, 22 yards, 1 TD). "We know if we win out, we're going to the playoffs. We've got Lowell, Billerica, Central, and honestly, I think our conference is very tough but I think if we keep coming together as a team and keep battling hard, I think we'll be in good shape."

--- Andover's quarterback C.J. Scarpa is anything but conventional. At 5-foot-8, he looks more like a scat back than a quarterback. Stand next to him, and you can not help but wonder how he can read the field beyond his offensive linemen. However, after Friday, he has tossed over 20 touchdown passes and is a senior captain of a team considered very much capable of winning the Merrimack Valley Large.

"Being 5-8 makes me me, so I just take it as it is," he said. "I'm not going to try and be anyone I'm not. I'm 5-8, so be it. My parents aren't tall, so I just take it how it comes."

NO. 13 ANDOVER 42, CHELMSFORD 22
AND --- 16 6 20 0 --- 42
CHE --- 8 0 7 7 --- 22

1st quarter
A - Andrew Deloury 37-yard pass from CJ Scarpa (Deloury 2-point pass from Scarpa good)
A - Will Heikkinen 21-yard pass from Scarpa (Heikkinen 2-point pass from Scarpa good)
C - Greg Johnson 34-yard pass from John Campsmith (Johnson 2-point pass from Campsmith good)

2nd quarter
A - Scarpa 2-yard run (Scarpa 2-point pass to Deloury no good)

3rd quarter
A - Jack Sylvester 12-yard run (Deloury 2-point pass from Scarpa good)
A - Cam Farnham 10-yard pass from Scarpa (Nolan Leblanc kick no good)
A - Brandon Marti 8-yard run (Leblanc kick no good)
C - Connor Brimley 4-yard run (Charles Calenda kick good)

4th quarter
C - Johnson 8-yard pass from Campsmith (Calenda kick good)
October, 26, 2012
10/26/12
1:04
AM ET
NO. 23 CENTRAL CATHOLIC (6-1) AT LOWELL (6-1)
The Skinny: Both teams enter with a 1-0 MVC record, coming off their first league games last week. Lowell rolled over Billerica 56-34 while Central Catholic slipped past Chelmsford 28-21. Cam Latta has picked up where R.J. Noel left off at quarterback this year for Lowell at quarterback, throwing for 12 touchdowns and running for seven more. Central Catholic running back Santino Brancato leads the Raiders with eight touchdowns on the season, none bigger than his final score last week with 41 seconds remaining which was the game-winner over Chelmsford.

Scott Barboza: This will be high-scoring, but relatively tame by MVC standards. Central, 34-28.

Brendan Hall: Because Lowell can score in bunches, and because it's the MVC, take the over. Central Catholic, 38-31.

NO. 13 ANDOVER (7-0) AT CHELMSFORD (4-3)
The Skinny: After a hot start, Chelmsford is trying to snap a three-game losing streak and risk falling behind in the competitive Merrimack Valley Conference's large division. They'll have their hands full against one of the state's most prolific offenses, averaging nearly 400 yards and 39 points per game, between quarterback C.J. Scarpa and receivers Andrew Deloury, Will Heikkinen and Cam Farnham.

Barboza: I think the Lions will try to play ball control for a while, but that can only last so long against the high-octane Andover offense. Andover, 42-31.

Hall: Do you see a recurring theme with our MVC picks? Offense, offense, offense. Andover, 40-35.

LINCOLN-SUDBURY (6-1) AT WESTFORD (6-1)
The Skinny: Like several other key league matchups this weekend, this matchup can potentially put one team in the driver's seat for the Dual County Large title. It's no secret what L-S brings to the table, but workhorse Chris Giorgio is among the league's toughest running backs. Westford counters with jack-of-all-trades athlete Justin Mount, who fills multiple roles on both sides of the ball.

Barboza: Picked the Warriors to win the DCL Large in the preseason and I'm not about to step back now. But the Warriors get it done by a chin. L-S, 14-13.

Hall: Flip a coin in this one. I landed on the Ghosts. Westford, 24-17.

NO. 9 BROCKTON (4-3) AT NO. 14 LEOMINSTER (5-2)
The Skinny: Each of these teams received a boost in different ways last week. The Boxers saw the return of their starting quarterback and emotional leader Auggie Roberts in a drubbing of Big Three rival Durfee. Meanwhile, a Blue Devils offense that has had its troubles in recent weeks, shook off the rust to muster a gut-check, two-minute drive to pull out a last-second victory at Central Mass. rival St. John's of Shrewsbury, led by quarterback Garrett DelleChiaie. Now, both teams meet in a non-league, late-season measuring stick game to see just how far these offenses have come. Not to mention, both teams can really lay the lumber on defense.

Barboza: Blue Devils ride the wave of momentum. Leominster, 28-20.

Hall: It won't be a shutout, but it won't be as shocking an upset when the Blue Devils take two straight for the first time in...help, anyone? Leominster, 21-14.

HINGHAM (6-1) AT NO. 6 DUXBURY (7-0)
The Skinny: An eagerly awaited battle for the inside edge at the Patriot League Keenan division title, the competition should be as fierce at the tailgate as it will be on the field when the Dragons put their Eastern Mass. best 33-game winning streak on the line. A stout Duxbury defense, led by Mr. Football Award challenger Marshall McCarthy will have its hands full with the Harbormen's wing-T and backfield led by Ricky Sullivan.

Barboza: The Dragons run their streak to 34 games, but it won't be without difficulty. Duxbury, 13-7.

Hall: As usual, the Dragons will pull something together in the second half and do just enough to win. Duxbury, 20-17.

NEEDHAM (5-2) AT NO. 10 NATICK (7-0)
The Skinny: After a solid start to the season, Needham is now looking to avoid a two-game losing skid and dropping three of its last five. What better an opponent to try to snap the skid than against one of the state's prolific offenses, led by quarterback Troy Flutie (1,477 passing yards, 19 TD, 4 INT; 555 rushing yards, 7 TD) and receiver Brian Dunlap (41 catches, 784 yards, 11 TD). Needham is also coming off a 31-0 shutout loss to a Walpole squad that was missing its top running back to injury.

Barboza: No chance the Red Hawks aren't undefeated setting up a winner-take-all against Walpole. Can't wait. Natick, 31-17.

Hall: Every time we predict a high-scoring affair involving a Bay State team, it never goes as planned. So I'm going with something fairly pedestrian. Natick, 21-12.

NO. 19 MANSFIELD (5-2) AT NORTH ATTLEBOROUGH (4-3)
The Skinny: The Red Rocketeers will need a win to keep pace with Mansfield (2-0) in the Kelley-Rex division race. The X-factor will be the availability of senior running back and defensive back Alex Jette. While it's expected Jette will play, the extent to which he'll be able to contribute is very much up in the air. Still, North is readily able to move the ball on the ground thanks to a physical offensive line anchored by left tackle Eric Beckwith. Mansfield got off to a great start in last week's blowout of King Philip and the Red Rocketeers' secondary will have its hands full with playmakers Brendan Hill and Mike Hershman. The Hornets have seen junior linebacker Alexander Ruddy (team-leading 55 tackles, 8 TFL) embrace a larger role this year.

Barboza: In each of the team's last four meetings, the AWAY team has collected the victory. Not about to buck the recent trend. Mansfield, 26-21.

Hall: Per tradition, the away team wins this one with an epic possession in the final five minutes. Mansfield, 20-13.

NO. 22 KING PHILIP (6-1) AT ATTLEBORO (4-3)
The Skinny: King Philip was soundly delivered a rude awakening a week ago at Mansfield, in a 46-33 loss, and now looks to avoid falling behind in the Hockomock's Kelly-Rex division by extending Attleboro's losing streak. The skid currently stands at three games for the Bombardiers after a 4-0 start, and can't seem to get over the hump -- take, for instance, Malique Clark's nearly 300-yard rushing performance in a 44-41 loss to Franklin last week. An Attleboro win would surely create even more confusion at the top of the division.

Barboza: Warriors defense gets back on track, but it won't be easy against Clark. KP, 21-14.

Hall: I'm all for chaos when it comes to Hockomock bracketology. Get out your TI-83's, folks. Attleboro, 30-20.

WAKEFIELD (6-1) AT STONEHAM (7-0)
The Skinny: It's been a long time since Stoneham has had this good of a start, but the Spartans still face questions about a perceived weak schedule. This is their chance to prove doubters wrong, with defensively-sound Wakefield coming off a 33-0 shutout loss to Burlington.

Barboza: In a word, "SPARRRTAAAHHHHHH!" Stoneham, 20-16.

Hall: Because what the heck, I love rolling the dice, and I want to keep my boss and resident Stoneham-ite Dave Lefort happy. Stoneham, 17-13.

MILTON ACADEMY (3-2) AT BELMONT HILL (3-2)
The Skinny: The Mustangs and Hillies are looking to break free from a logjam of 3-2 teams in the middle of the ISL standings. Milton Academy is led by junior Drew Jacobs, who already has four multi-touchdown games this season. The Mustangs also have one of the biggest offensive weapons in the ISL on the foot of place kicker Justin Yoon.

Barboza: Yoon's foot provides the difference. Milton Academy, 13-10.

Hall: Let me preface this by saying Justin Yoon can kick for anyone any day of the week. Belmont Hill, 14-10.

ROXBURY LATIN (4-1) AT BB&N (3-2)
The Skinny: Its hopes of an undefeated season no more, Roxbury Latin looks to get back on the saddle and stay in contention for the ISL championship and a NEPSAC Bowl berth. A win here over the Knights, with its solid line and elite target in Wake Forest-bound tight end Brendan O'Neil, would bolster those odds. And the Foxes have the horses to do it, led by Boston College-bound quarterback MacKay Lowrie.

Barboza: Knights can take advantage of the matchup along the line of scrimmage. They'll win the point of attack battle. BB&N, 28-27.

Hall: I'll never count out a John Papas-coached team as long as the guy is in the business, but Latin can win track meets. Roxbury Latin, 35-30.
October, 8, 2012
10/08/12
6:15
PM ET
THE CONTENDERS

Drew Belcher, Jr. QB, Reading
Called his own number for the winning touchdown with less than a minute left, as the Rockets rallied past Burlington, 22-15.

Brian Dunlap, Soph. WR, Natick
Caught six passes for 121 yards and two scores in the Red Hawks' 42-7 rout of Dedham.

Troy Flutie, Jr. QB, Natick
In the Red Hawks' 42-7 romp of Dedham, completed 12 of 16 passes for four touchdowns, and added 41 yards rushing with a score.

Jon Hurvitz, Sr. RB, Duxbury
Reached the end zone twice, the second time putting the Dragons ahead for good, in a 20-16 thriller over Xaverian.

Marshall McCarthy, Sr. LB, Duxbury
Recorded 13 tackles and two sacks, both for forced fumbles, in the Dragons' 20-16 win over Xaverian.

Alex Moore, Sr. RB, St. John's Prep
Racked up over 200 yards from scrimmage and all three of the Eagles' scores in a 20-7 win over Bridgewater-Raynham, rushing for 159 yards and two TDs, and three catches for 73 yards and a third score.

Nick Peabody, Sr. QB, Barnstable
Threw for three touchdowns in the Red Raiders' 19-14 win over New Bedford, bringing his season total to 18 touchdown passes.

C.J. Scarpa, Sr. QB, Andover
In the Golden Warriors' wild 51-42 win over Tewksbury, completed 17 of 24 passes for 382 yards and three touchdowns.

Jakarrie Washington, Sr. WR, Everett
Scored five times for the Crimson Tide (three rushing, two receiving) as they avoided a scare against Cambridge, 51-30.

Quron Wright, Sr. RB, Holy Name
Had his lowest total of the season in a 38-20 loss to Doherty, but still went over 100 yards (18 carries, 105 yards, 2 TD) and crossed the 1,000-yard barrier. He needs 370 yards to break the school's all-time rushing yardage record.

ON THE RISE

Andrew Benson, Sr. QB, East Bridgewater
In the Vikings' 39-26 win over Hull, carried 17 times for 296 yards and four touchdowns, and added a 20-yard touchdown through the air.

Chance Brady, Jr. RB, Haverhill
Ran for 204 yards and two scores in the Hillies' 30-23 thriller over Chelmsford.

Jaleel Brown, Jr. RB, Springfield Putnam
With feature back Wayne Lowery leaving the game with an ankle injury, Brown came through with 165 yards rushing and three scores to help the Beavers in a 40-19 win over Chicopee Comp.

Kayjuan Bynum, Sr. QB/LB, Springfield Putnam
Racked up 299 passing yards and three touchdowns, to go along with nine tackles, in the Beavers' 40-19 win over Chicopee Comp. Through five games, Bynum leads the team in tackles (46) and forced fumbles (four).

Andrew Deloury, Sr. WR, Andover
Caught seven passes for a ridiculous 226 yards and three scores in the Golden Warriors' 51-42 win over Tewksbury.

Brendan Flaherty, Sr. RB, Beverly
Became the school's all-time leader in rushing touchdowns with his 47th score in a 49-0 blanking of Peabody

David Maaghul, Jr. QB, Cambridge
Had an impressive showing in the Falcons' 51-30 loss to Everett, throwing for 274 yards and four touchdowns. On the season, he already has over 1,500 yards and 19 touchdowns passes.

Justin Mount, Sr. ATH, Westford
In the Grey Ghosts' 42-7 win over Newton South, carried three times for 60 yards and two scores, and added 24 receiving yards.

Matt Phelan, Sr. QB, Northbridge
In the Rams' 28-21 win over Grafton, completed 9-of-17 passes for 176 yards and three touchdowns, and added 79 yards rushing on 16 carries.

Jimmy Sullivan, Jr. QB, Nauset
In the Warriors' 28-20 win over Scituate, completed all five of his pass attempts for 121 yards and two scores, and added 88 yards rushing.

Juwan Williams, Sr. ATH, Springfield Central
Filled in marvelously for his cousin at quarterback, in the Golden Eagles' 40-7 rout of East Longmeadow. Through the air, he was 4-of-5 passing with 114 yards and two touchdowns; on the ground, he carried 10 times for 94 yards and two more scores.

September, 8, 2012
9/08/12
12:13
AM ET
By
Andy Smith
| ESPNBoston.com
ANDOVER, Mass. -- It all slipped away so quickly for North Andover.

For a half, it felt like the Scarlet Knights were going to have a pleasant introduction to the Merrimack Valley Conference. Then Andover outscored them 36-7 in the second half, on its way to a 50-35 come-from-behind victory.

North Andover opened up the scoring with a 17-play, 7:09 drive that set the tone for the quarter.

On the first play of Andover's next possession, C.J. Scarpa was intercepted at his own 32-yard line, swinging the momentum back to the other team.

The Scarlet Knights (0-1) took control on the first play of their drive when quarterback Casey Walsh threw a bubble screen to the right to Robert Shkliew, who then threw it down the sideline to Tyler Whitley for the touchdown.

It had the makings of a long night for Andover (1-0), until Cam Farnham used his 4.5 40-yard dash speed to take the ensuing kickoff back for a touchdown. In the blink of an eye, the entire complexion of the game shifted.

"On the opening kickoff, the hole was wide open, I just kind of hesitated a little bit," Farnham said. "On the second kickoff, my blockers were phenomenal. I just saw a hole, and I wasn't going to get caught there."

That marked the third touchdown scored by both teams in just 26 game seconds. The action was fast and furious, and that was just the first quarter.

North Andover came back with a 5:23 touchdown drive, but again, Andover answered back, this time in less than a minute when Scarpa (14-of-23, 248 yards, five touchdowns, two interceptions) hit Andrew Deloury for a 47-yard touchdown.

Down by two touchdowns and kicking off after half, the game could have gotten away from the Golden Warriors. However, it was able to stall Walsh and the Scarlet Knight offense, forcing a punt.

That marked the beginning of the Andover onslaught, showing a much more put-together team than the one that was shown in the first half.

"I think the whole team was almost too confident in what we had done," Scarpa said. "We, the five captains, did a great job of getting everyone together."

The coaches staff knew the two touchdown differential was not insurmountable, and told its' team as much at halftime.

"Going in at half, none of us really sulked, none of us really got down," said Farnham (4 catches, 82 yards, 2 TD receptions, 3 overall). "Coach [E.J.] Perry brought us all in together, shut off the lights, said, 'Hold each other's hands, visualize winning this game.' And we came out flying. Our defense was phenomenal and our offense made some big plays. We're very happy with the outcome of this game."

SUMMER LINGERS ON
Many associate the start of September with the start of a new school year, as well as the unofficial start of fall. With that, it is assumed the temperature will drop, but that was not the case Friday.

The humid air lead to fatigue and cramping for players on both teams. It was evident in the second half when things began to unravel for North Andover.

In the first half, Walsh had time in the pocket to survey the defense and make a throw he needed to. In the second half, he was constantly under pressure from the Andover defense and forced into making throws he didn't want to make.

Defensively, it seemed like the Andover receivers could get behind the defense at will by outrunning the defensive backs and make catches for long gains. Four of Scarpa's five touchdown passes came in the second half. He also completed eight passes of 10 yards or more in the second half.

"I didn't anticipate fatigue being a factor until around 5:00 p.m.," Perry said. "It was still hot and muggy, so I knew that was bad."

Farnham caught a bomb from Scarpa after giving a defensive back a stop-and-go double move down the right sideline that he was never able to recover from.

"All I had to do was run straight," he said. "C.J. [Scarpa] made an unbelievable throw, literally right in my hands, and that's all she wrote."

HOWDY NEIGHBOR
Friday marked North Andover's first game back as a member of the Merrimack Valley Conference. It was previously a member of the CAL/NEC conference. Even though it was their first league game against each other in quite some time, the two teams are more than familiar with each other.

It was the first game of the season for both teams, so there was already anxiety on both sides. Still, this game carried a little something extra.

"It carried a little more for us," Scarpa said. "But that was a great team, they gave a great effort."

"Absolutely it meant a little more," Farnham added. "I mean, it's North Andover, they're five minutes down the street. It's one of our biggest games besides the Turkey Bowl against Central Catholic. Just playing your rival the first game, it really means a lot more to you.

"Our practices were a little longer, and we really just had to get down to business. It's just such a big game for us, and we're all emotionally and physically drained, but coming out with a 'W' opening week, is awesome."

LITTLE BROTHER TAKES BIG STAGE
One of the biggest questions, if not the biggest, entering this season for North Andover, was how would Casey Walsh be replacing his brother Brandon as full-time quarterback. He had experienced game action last season, but was never the starter for a full season.

He was 21-of-31 for 206 yards, with one touchdown and two interceptions. He also added eight carries for 44 yards and two touchdowns on the ground.

He threw 13 completed passes to start the game; his first incompletion did not come until the third quarter.

Perry came away impressed with the junior.

"Casey did a tremendous job in the first half," he said. "I told him at the end of the game that I thought he was better than his brother, and I love Brandon, and I love Casey. But he was poised, and he did a nice job."

The Andover defense had to make schematic adjustments from the first half to the second, which helped the team make its second half comeback.

"They were getting to the edge, and we just had to make sure the linebackers were getting in the right positions," he said. "So we had them go to the outside more, and we just had to contain Casey."

ANDOVER 50, NORTH ANDOVER 35

AND - 7 7 14 22 -- 50
NA - 14 14 7 0 -- 35

1st quarter
NA - Casey Walsh 1 yard run (Ryan Quinn kick good)
NA - Tyler Whitley 32 yard pass from Robert Shkliew (Quinn kick good)
AND - Cam Farnham 80 yard kick return (Mark Zavrl kick good)

2nd quarter
NA - Walsh 1 yard run (Quinn kick good)
AND - Andrew Deloury 41 yard pass from CJ Scarpa (Zavrl kick good)
NA - Glen Hartford 2 yard run (Quinn kick good)

3rd Quarter
AND - Cam Farnham 65 yard pass from Scarpa (Zavrl kick good)
NA - Matt Iannone 30 yard pass fromm Walsh (Quinn kick good)
AND - Farnham 10 yard pass from Scarpa (Zavrl kick good)

4th Quarter
AND - Deloury 4 yard pass from Scarpa (Zavrl kick good)
AND - Casey Walsh Safety
AND - Jack Sylvester 30 yard pass from Scarpa (Zavrl kick good)
AND - Zavrl 72 yard run (Extra point no good)
July, 9, 2012
7/09/12
9:58
PM ET
Bay State Games communications coordinator Craig Kaufman sends along results from today's action, which included the first games of baseball and softball:
WOBURN, Mass. –- The opening day of scholastic competition saw the softball and baseball tournaments of the 2012 Bay State Summer Games get underway from the campus of Bentley College and the Veterans Field Complex in Waltham, Mass. Three baseball games and six softball games began the showpiece events of the 31st Bay State Games.

BASEBALL

Southeast 7, Metro 2
Metro took a 2-1 lead in the third inning on a two-run single by Malcolm Nachmanoff (Boston), but Southeast scored the next six runs, with pairs in the third, fifth and sixth. Pinch hitter Sean Roche (Rockland) scored twice and Southeast took advantage of two late errors to score three unearned runs.

Patrick Hurley (West Roxbury) was dominant in relief for Metro, striking out five in two innings but was victimized by those miscues. Third baseman Cameron Hanley (Walpole) was on base twice for Southeast, scoring a run, stealing a base and driving in a run with a single to left field in the third.

Northeast 4, Coastal 3
Northeast clinched a walk-off victory in the bottom of the seventh when pinch hitter Colby Ingraham (Georgetown) delivered a bases loaded single up the middle to score pinch runner Mike Driscoll (North Reading).

Coastal shortstop Jimmy Gamache (Mattapoisett) was 2-2 on the afternoon, scoring two of Coastal's runs and swiping a base in the process. He hit a triple in the fourth inning and crossed the plate on an RBI single by Ryan Kowalski (Taunton).

Andrew Deloury (Andover) had himself a 2-2 day and drove in a run in the fifth, scoring Brendon Canavan (Carlisle) to give the Northeast a 3-2 lead, before Coastal re-tied the game a half-inning later.

Coastal starter Matthew Peterson (South Dennis) went three innings of work, yielding two hits and no earned runs, while not issuing a walk and striking out three. Victor Molle (Peabody) got the victory for Northeast.

Coastal had a chance to take the lead in the top of the seventh, but Drew Wethington (Fairhaven) was tagged out trying to score from third base on a passed ball.

Mike Bruemmel (Bridgewater) and Ian Chaney (Fall River) also drove in runs for Coastal.

West 2, Central 0
Andrew Ringie (Pittsfield) rocked a triple to left center field in the fifth inning to score catcher Dan McGuill (East Longmeadow) and break a scoreless tie. The West added another run in the bottom of the sixth when Justin Carey (Shutesbury) walked, stole second and advanced on a groundout before scoring on a wild pitch. McGuille almost made the score 3-0 with an RBI double, but Liam Nolan (Pittsfield) was called out on an appeal play for missing third base and the teams went to the seventh inning with the West up 2-0, where pitcher Asher Young (Amherst) closed the door.

The West pitching was superb, holding Central hitters to three hits, one by Mike Woll (Millbury) in the fourth, who reached second base but was caught stealing trying to swipe third, ending the best threat for the Central on the day.


SOFTBALL

Coastal 3, Southeast 1 (10 am)
Coastal scored first in the 4th inning by Julia Sullivan (Sandwich) who also scored in the 6th by an in the park home run by Ashley Truman (Berkley). Sullivan had 2 hits in the game. Southeast got there only run in the 7th taking advantage of two errors by the Coastal team. Danielle Burgess (Millis) who was on base 3 times had the only run for the Southeast team.

Northeast 7 Metro 0 (10am)
After a slow start for both teams Northeast was the first team to score in the 5th inning. Marissa Cammarano (Bedford) came across the plate for Northeast to score their first run followed by Mikayla Wallace (Peabody) and Courtney Green (North Andover). In the 6th the Northeast bats came alive again erupting for 4 more runs to seal the win. Gia Raczkowski (Stoneham) scored twice along with Danielle Moran (Lynn) and Terri Ferrazzani (North Reading) each scored one run. Metro had three hits in the 5th inning but had one runner cut down and left the other two on base.

Metro 5 Central 0 (noon)
Metro came out on fire in the 1st inning scoring two runs by Courtney Leddy (Cambridge) and Marlene Sullivan (Waltham). Sullivan started things off in the 3rd by hitting a single following Allison Caloggero (Medford) hitting a double who both came into score in the 3rd. In the 5th to seal their win, Alexandria Craig (Waltham) hit a single and came into score. Central put up a fight the whole game. Nicole DeFazio (Northbridge) hit a single for them along with Alicia Wagner (Uxbridge) also having a single. Their efforts came up short with Metro getting the win.

West 9 Southeast 1 (noon)
West started things off in the first inning with an inside the park homerun by Tasha Polaner (Orange). Sami Stolar (Hampden) then followed with a double and was driven in by Mary Greco (Hatfield) who hit a double. The West bats came alive again in the 4th where Polana hit her second in the park home run of the day. Stolar and Greco followed with singles. An additional three runs where scored by Rebecca Carkhuff (Amherst), Brooke Fairman (Huntington), Courtney Newsome (Sunderland). Stolar also scored in the 6th. Southeast battled with two hits by Danielle Burgess (Millis) and Meghan Shay (Abington) a piece along with Caroline Shay (Abington) having one hit on the day. Christine scored the Southeast only run off of a double by M. Shay. Due to their efforts they fell short to West.

Coastal 4 West 3 (2pm)
Megan Logan (Westfield) West started things off in the 4th by walking, where she was then driven by MacKenzie Yelle (Belchertown) who hit a double. In the 5th inning, Polana hit a double followed by Stolar hitting a single both players scored in that inning. Coastal came alive in the 7th, where Jackie Kielty (Middleboro) got on base due to a third baseman error. Meghan Riley (North Reading) then came up to the plate; hit a single, which scored Kielty. Mickayla Cobb (Middleboro) hit a single followed by Juliana Fergurson (Sandwich) getting walked. Katie Wood (Westport) and Sullivan both hit singles to score Cobb and Fergurson to win the game.

Northeast 9 Central 1 (2pm)
Northeast started things off in the 2nd scoring three runs by Rachel Couto (Chelmsford), Meaghan Leary (Andover) and Jordan Day (Andover). In the 3rd and 4th inning they scored Olivia Brothers (Peabody) and Couto. In the 5th Leary, Cori Simmons (Salisbury), Day, She Carney and Couto to put the Northeast in good standing to clench the win. Central put up a fight having hits by Olivia Peterson (Westford), Nicole DeFazio (Northbridge), Mackenzie Brisbois (Douglas) and two hits by Samantha Wise (Uxbridge) who was also the only one to score for Central.