Boston High School:

Andrew Kielar
June, 1, 2013
6/01/13
12:53
AM ET
By
Ryan Kilian
| ESPNBoston.com


WELLSELEY, Mass. -- If a defensive lacrosse battle was what you were looking for then there was no better place to be on Friday night than Wellesley's Sprague Field.

No. 6 seed Wellesley and No. 11 Concord-Carlisle locked horns in another pivotal post-season matchup as the Raiders outlasted C-C to win, 4-3, and advance to the quarterfinals of the Eastern Mass. Division 2 tournament.

"In a 4-3 game, if one team blinks, that game goes the other way," Wellesley head coach Rocky Batty said after the game. "All the credit in the world to Concord-Carlisle. You can't score on them."

Two of the top programs in Massachusetts Division 2 lacrosse, both programs pride themselves in their ability to control the pace of the game and to use their defensive strengths to wear teams down.

"They did a better job of taking the air out of the ball and they valued the ball better than we did today," Concord-Carlisle head coach Tom Dalicandro said.

Wellesley (16-4) would score first as attack John Caraviello beat his man and finished at the cage to give the home team an early 1-0 lead.

Wellesley middie Andrew Volkmann would then score the next two goals as the senior captain stayed aggressive and beat C-C sophomore goalie Andrew Kielar to give Wellesley a 3-0 lead after one quarter.

C-C (13-6) changed goalies early as they went to freshman Aidan Long to try to stem some of the early momentum. Long would do just that as the young C-C netminder came in and made an immediate impact.

"Aidan [Long] stepped in and was unbelievable," Dalicandro said after the game. "It is great for him and we have great competition for the next two years."

Concord-Carlisle got on the board with their first goal, midway through the second quarter, as middie Will Blumenberg let one rip from the top of the box to beat Wellesley goalie Mike Riskind with a man-up score.

C-C seized temporary momentum as senior defender Evan Boynton made a nice play on the ball deep in the C-C field of play and carried the ball the length of the field in transition. He found attack Charlie Painter (2 assists), who hit fellow attack Steven Armanetti to cut the lead Wellesley lead to 3-2.

Wellesley would get a big goal before the half as Kerry Lyne would score to make it 4-2 and give the Raiders a two-goal advantage heading to the half.

Defensive Finish: Both teams struggled out of the half, as each team's defense buckled down and denied each other's offense numerous potential scoring opportunities.

"The goalies were great, the defenses were great and I do not know how the middies could run any harder for both teams," Batty stressed.

The Wellesley defensive unit of Matt Bomes, Will Hartnett and T.J. Noonan all did a magnificent job controlling the tempo of the game and shutting the C-C offense out through most of the second half.

"Every minute counts and you cannot take any turns off," Bomes said after the game. "We were ready to go today. Four-to-three is a close one, not a lot of scoring, and we just had to hold it down."

The Wellesley defensive midfield also did a great job of limiting C-C's transition opportunities and negating the effectiveness of the early offense. Trailing by two goals with time winding down, C-C middie Jack Barrett scored on the run to bring C-C to within one goal at 4-3 with 2:53 remaining in the game.

Despite the goal and the newfound momentum, Wellesley's defense and Riskind denied C-C the comeback attempt. Riskind came up with a critical save with under one minute remaining in the game to seal the win.

"We had all the momentum in the fourth quarter," Dalicandro said. "We just needed to bury some shots and we just didn't. They are a very good defensive team and their goalie made some saves."

The Concord-Carlisle senior defensive unit of Boynton (Amherst-football), Sam Barrett (Washington and Lee) and Javier Flores (St. Mary's College) also played equally well in the loss. The all-Dual County League veteran unit will be missed as they transition to college athletics.

"They did a great job," Dalicandro said. "They are three all-league guys and we are going to miss them. We are going to be a really different team next year. We graduate a lot of seniors. It was great to see them step up and play championship lacrosse.

Wellesley advances to the quarterfinals and will take on the winner of No. 3 Reading and No. 19 Melrose. Both Middlesex league rivals will play their first round game on Saturday at 2:30 p.m. at Reading High School.


May, 23, 2013
5/23/13
12:52
AM ET
By
Ryan Kilian
| ESPNBoston.com
READING, Mass. – No. 8 Concord-Carlisle lacrosse stormed out to a 5-0 lead after one quarter and never looked back as they defeated No. 16 Reading, 9-7, behind an intelligent and disciplined defensive effort.
Despite a furious second-half comeback, Reading (16-2) cou;d not overcome a six-goal second half deficit on Wednesday in both team's final tune-up before post-season play begins next week.
[+] Enlarge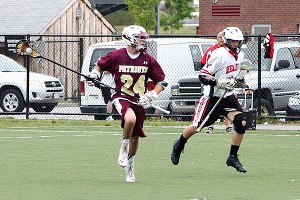 Ryan Kilian for ESPNConcord-Carlisle long-stick midfielder Nick Brozowski collected eight ground balls in the Patriots' 9-7 win over Reading.
The Patriots would maintain their 5-0 lead through the second quarter and in to the half as their senior defensive unit of Evan Boynton, Sam Barrett and Javier Flores did an excellent job of containing the explosive Reading attack unit.
"This is the best we have played defensively," Concord-Carlisle head coach Tom Dalicandro said after the game. "I was really worried about the match-up because the have three really good attackmen. Sam Barrett had his best game of the year for us today and Evan [Boynton] and Javy [Flores] also played well. They are three all-league kids on defense and I think they rose to the occasion today."
Don't look now but the defending Division 2 state champion Patriots (12-5) have won four games in a row and seven of their last eight, including wins over Lincoln-Sudbury and now Reading, as they head into tournament play with plenty of momentum.
"We feel really good about ourselves," Dalicandro said. "I think we can compete with anyone but we need to do the three key things we talk about. We need to value and share the ball, play great team defense and get saves from our goalie."
Concord-Carlisle completely dominated the start of the game and led 6-0 until 2:58 on the clock in the third quarter when Greg Connery would score the Rockets' first goal of the game.
Reading goalie Matt Comerford (10 saves) would then come up with a big save as the clock ticked down in the third quarter and Conor Frazier would take a deep outlet and find Charlie Colvin (2 Goals) for a goal with point-one seconds remaining on the clock.
Trailing 6-2 heading into the final quarter of play, Reading would come to life and begin to get out in the open field as they would cut the Concord-Carlisle lead to 8-4 with 6:36 to play.
"We want to play our style of lacrosse," Reading head coach Charlie Hardy said. "We are a little more run and gun and we want to get out in transition."
After Reading (16-2) started to seize momentum, Concord-Carlisle attack Tim Badgley (2G, 1A) would score and important ninth goal with 5:40 on the clock to give Concord-Carlisle a 9-4 lead.
Reading would not let down, however, as Charlie Colvin, Mark Dente and Eric O'Brien all netted goals to cut the C-C lead to 9-7 with one minute remaining in the game.
"I think the kids put a lot of spirit into the comeback," Hardy said. "The team you saw at the end is the team that we have."
C-C middie Will Blumenberg would help the Patriots secure a key late possession in the final minute of play to seal the win.
Blumenberg led C-C with three goals on the day while middie Peter Anastos (1G, 1A) also played well offensively for C-C.
"You can't spot a team like that goals," Hardy said. "They are too sophisticated and they are too well coached."
Concord-Carlisle and Reading will now both await the seeding selection for Division 2 on Friday to see whom they will face next week.
"We love playing them as it is a character game," Hardy said of the annual end-of-year game with C-C. "We want to play them at the end of the regular season so now we get to see what we need to work on."
Concord-Carlisle also received a strong game from long stick middie Nick Brozowski, who had his usual strong game on groundballs, scooping up eight, and using his quick stick to force multiple turnovers.
Andrew Kielar also played well in net for C-C as the sophomore came up with five of his nine saves in the first half.
November, 3, 2012
11/03/12
12:02
AM ET
By
Ryan Kilian
| ESPNBoston.com
CONCORD, Mass. –- One point and one yard proved to be the difference on Friday night as the Wayland Warriors (6-3) defeated the Concord-Carlisle Patriots 14-13 in overtime.

The win gives Wayland the edge in the Dual County League Small Race as they stand at 2-0 in league with two more games to play in the regular season. The win is also Wayland's first over the three-time defending Dual County Small champion Patriots since 2007.

"It was just a great effort from the team all around," Wayland head coach Scott Parseghian said after the game. "We are very excited right now."

In a damp and raw evening on the gridiron, it was both teams' defenses that shined through. With the game tied at 7-7 at the end of regulation the two teams entered their first overtime game of the season.

Wayland scored the opening touchdown in overtime as senior signal caller Matthew Goddard found tight end Kurt Straube on a 10-yard pass on second down to gave Wayland the 14-7 lead.

On the ensuing possession, Concord-Carlisle (4-5) dipped into their playbook as they executed a perfect halfback pass as senior running back Evan Boynton found sophomore quarterback Will Blumenberg on third down attempt for a 6-yard touchdown strike.

Trailing by one, Concord-Carlisle wasted little time, as they decided to go for two out of a timeout.

Blumenberg rolled right and did not see any open receivers so he tucked it under his right arm, dove for the pylon with his the ball extended, but he came up one yard short as host of Wayland defenders led by linebacker Matthew Devlin made the stop.

"I was actually thinking of going for two because I knew he was going to," Parseghian said. "The defense just came up big."

Devlin and the Warriors' defense stepped up when it counted all night, as they held Concord-Carlisle scoreless on two other crucial red zone opportunities along with a stop at the end of regulation.

"Defense is our strong point this year," Parseghian stressed. "We are holding teams to under 10 points a game and we knew it was going to be a great effort."

Wayland also received a strong defensive game from senior defensive back Dayleon McKenzie who had two big interceptions in the end zone on the evening, denying two C-C scoring attempts.

Senior Defensive End Tom Crowley stood out defensively for Concord-Carlisle as he made double-digit tackles and multiple tackles for losses on the night. Blumenberg also did a nice job in pass coverage for the Patriots.

Back-to-Back Early Scores: While both defenses were the story on the evening both offenses showed glimpses of excitement early as the games only two regulation touchdowns occurred on 25-yard-plus scoring strikes less than three minutes apart in the second quarter.

Goddard began the action when he found senior fullback William Gunshenan on a fourth down play that went for 25 yards and the game's first score.

Blumenberg answered right back, as the athletic sophomore scrambled to his left and launched a 38-yard bomb to classmate Andrew Kielar for a touchdown.

What this means: The win gives Wayland the opportunity to control their own destiny if they win their final two games against Bedford and Weston.

Bedford (6-2, 2-0 in the DCL Small) poses a strong threat as they are currently tied atop the DCL Small with games against Wayland and Concord-Carlisle remaining.

Wayland also has the added benefit of hosting next Friday night's game against Bedford at 7 p.m. along with their annual Turkey Day rivalry against neighboring Weston.

WAYLAND 14, CONCORD-CARLISLE 13
WAY (6-3) 0 7 15 0 7 --- 14
C-C (4-5) 0 7 0 0 6 --- 13

Second Quarter
W- William Gunshenan 25 pass from Matthew Goddard (Eric Maclean kick)
C – Andrew Kielar 38 pass from Will Blumenberg (Evan Boynton kick)

Overtime
W– Kurt Straube 9 pass from Goddard (Maclean kick)
C– Blumenberg 6 pass from Boynton (rush failed)