Boston High School:

Andrew Noviello
April, 3, 2014
4/03/14
10:15
PM ET
BRIDGEWATER, Mass. –- As he spoke with a reporter following his team's season-opening 4-1 win over Marshfield, Bridgewater-Raynham catcher Joe Freiday pointed out to right field, where atop the wall of the warehouse beyond the fence hung a banner commemorating the Trojans' MIAA Division 1 State Championship last spring.

While oversized, the banner barely covers one-eigth of the two-story wall.

"If you notice, there's a lot of room for a Super 8 [banner]," the Virginia Tech-bound Freiday said, referring to the inaugural Division 1A state championship tournament introduced for this season.

B-R's title defense should be an interesting journey, one with lofty expectations -– including a preseason No. 1 ranking in ESPNBoston.com's statewide poll. But this afternoon's win over the Rams, a team that is normally a thorn in the Trojans' side, has to be encouraging.

Notre Dame-bound junior righthander Jack Connolly earned the win after striking out 10 batters in five innings, allowing two hits and an unearned run on 73 pitches (46 for strikes), a performance Trojans head coach John Kearney called "mid-season form".

"His velocity, his control, midseason form –- as expected," Kearney said.

Meanwhile Freiday, Connolly's cousin, appeared to pick up right where he left off a season ago, going 2-for-2 with two RBI, a walk, and a monster opposite-field solo homer in the bottom of the sixth, that gave the Trojans all the insurance they needed. Freiday appeared to get a little bit too under the first-pitch, wristing a chest-high heater from righthander Brian Kwedor, but the ball sailed to his delight.

"Usually the approach is dead red fastball on first pitch," Freiday said. "When I get it, I'm gonna do what I can with it....I thought I was going to either pop out or land at third, but I'm not going to complain about it."

In relief, junior righty Andrew Noviello shone. The University of Maine commit struck out five of the seven batters he faced in the final two innings to pick up the save, planting high-80's fastballs and tight curves on the outside corners to leave batters whiffing.

The B-R bats, of course, were able to give him some room to work with. Freiday plated the first run in the bottom of the first, taking what he admitted was a "defensive swing" on a 1-2 fastball and lining to left-center to score Cory DiNunno from second base.

"Really, I was just trying to fight it off, and I guess I got the good part of the bat on the ball and put it up the middle," Freiday said.

That was followed by in the second by a balk that scored Cory Wasylow, and a Noviello sacrifice fly deep to left in the third to score Tyler Carey for a 3-0 lead.

Nick Pomella (2-for-3, RBI) got one back for the Rams in the top of the fourth with a single that scored Nick DeGrenier, but the Rams mustered just two hits the rest of the way, going down on strikes in nine of their final 13 at bats.

Raw power: Freiday admits he was surprised by how much his sixth-inning homer carried, despite the slight wind coming in right-to-left. Coming off his bat, it looked almost like a routine pop-fly.

Big swings are nothing new for the 6-foot-4, 225-pound Freiday, who made ESPN Boston's All-State Team last year after hitting .455 with five homers. But a newfound focus on weight training this offseason seems to have brought his power hitting to new, uncharted levels.

Freiday says he lifted weights for the first time ever this offseason, with noted local strength guru Eric Cressey, whose renowned facility in Hudson has helped produce local MLB success stories such as Royals lefthander Tim Collins and Marlins relieve Steve Cishek. Cressey is known for his abstract, astutely customized workout plans for clients, and part of Freiday's individualized program involved a focus on core and leg strength. By the end of the winter, Freiday says he was deadlifting up to 455 pounds.

"I've always had natural strength, but I guess I put it to use this offseason," Freiday chuckled. "His [Cressey's] programs are ridiculous, he knows his stuff. It's incredible."

Twin terrors: It won't happen often, but with just one game this week, Kearney opted to give Noviello some work in relief. As noted above, the results were satisfactory.

"I wish we could do that every game," Connolly laughed. "It's gonna be fun pitching with him, definitely."

During the preseason, both Connolly and Noviello clocked in the high-80's, with the latter hitting 89 miles per hour with regularity, prompting Freiday to declare, "I wouldn't be surprised if he gets up to 91 this year, that's my bold prediction."

As a starting rotation, the economical Connolly and overpowering Noviello provide a 1-1A punch rivaled by few in Massachusetts.

"How do you differentiate? The two are just so good," Kearney said. "We've had a [radar] gun on both of them, and Jack's actually picked up a few miles an hour. He's throwing legitimately now 88, and Novi has touched 90 several times...and they both have that unbelievable breaking ball. It's nice to have them both back as juniors like that, it's great."
August, 7, 2013
8/07/13
11:46
AM ET
By
Brendan Hall
| ESPNBoston.com
Bridgewater-Raynham Class of 2015 third baseman Andrew Noviello has been selected to the Perfect Game Underclass All-American Team, one of only two New Englanders chosen.
Each year, Perfect Game selects the nation's best rising juniors to compete in a showcase-style workout, followed by a series of games. This year's games will be played at the University of San Diego's Cunningham Stadium on August 12th and 13th.
Noviello was informed of his selection to the team after the World Wood Bat Association's 17U National Championship in Georgia, where he represented the Evoshield Canes as a pitcher and third baseman. Noviello went 4-for-10 on the week with two home runs, a triple and a double, and also struck out nine batters in six innings.
New Canaan (Conn.) outfielder Alex LaPolice was the only other New Englander selected to the event. For the full roster,
CLICK HERE
.
Last spring, the 6-foot Noviello was a key cog for B-R, which won the MIAA Division 1 State Championship for the first time in school history. On the season for the Trojans -- who play in a wood bat-only league, the Old Colony League -- he hit .280 with a .419 on-base percentage, 20 RBI, six stolen bases and two home runs. On the mound, he was very efficient with his high-80's fastball, going 5-1 with two saves, striking out 67 batters in 46 innings with an ERA of 0.61.
Noviello is the latest Trojan product to fly up the recruiting radar this summer, receiving varying amounts of interest from schools such as LSU, South Carolina, Louisville, Kentucky, NC State and Central Florida. Earlier this summer, 2014 catcher Joe Freiday and 2015 righthander Jack Connolly committed to Virginia Tech and Notre Dame, respectively.
June, 16, 2013
6/16/13
12:47
AM ET
By
Chris Bradley
| ESPNBoston.com
LOWELL, Mass. –- It has been quite a tournament for Bridgewater-Raynham ace Mike Bruemmel. The senior southpaw, fresh off a Sunday start where he helped lead the Trojans to a win over B.C. High, put on his best pitching performance of the year.
[+] Enlarge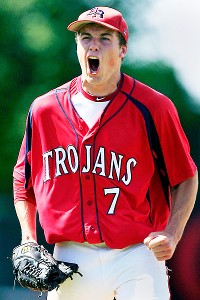 Jon Mahoney for ESPNBoston.comMike Bruemmel carried a no-hitter into the eighth inning as Bridgewater-Raynham captured its first state title in school history.
Bruemmel pitched a complete game two-hitter on Saturday afternoon, striking out 12 Nashoba batters to help bring Bridgewater-Raynham its' first baseball state title in school history. Dominant from start to finish, B-R (20-3) knocked off the Central Mass. champ Nashoba (21-4), 4-0.
The lefthander, who is headed to Division 3 power Wheaton College in the fall, was at the top of his game after being forced to shut it down in the middle of the year for what B-R coach John Kearney called a minor arm injury.
When he returned from injury and back into the Trojans' starting rotation, "He came right back and picked up right where he left off," Kearney said.
Bruemmel had a no hitter going into the eighth inning before Nashoba senior captain Jack Sarnoski broke it up with a base hit to center field.
Kearney praised his pitcher for his command after the game.
"He mixes up his pitches. He's got three or four different pitches, he throws them all with real good control and command," Kearney said. "He just mixes it up and he's got a little bit of velocity, so you're got to be aware of that as a hitter—he can throw it by ya. He was just on the whole game, the whole game!"
Joe Freiday, who went 2-for-4 and, per usual, was Bruemmel's battery partner behind the plate, had one simple way to answer when asked what Bruemmel had going on the mound.
"Everything. He wasn't missing spots. His curve ball was on, his change up was on, everything was down and out, and that's what we need...Mikey was on today when we needed him most," Freiday said.
Bruemmel helped get the Trojans' offense started in the third inning, too, getting a base hit to drive in Corey Dinunno (2-for-4) to plate the game's first run.
Tyler Carey, on a hit ball to shortstop that resulted in an error, brought Brian McSherry in to score in the fourth inning to extend the lead. Two batters later, sophomore Andrew Noviello drove Carey in on a double to left center. The aggressive plate approach against Nashoba ace Drew Foster, who coming into the game boasted a 0.97 ERA, was all part of B-R's plan.
"Our offense, again, putting the pressure on them the whole game," Kearney said. "I know only putting four runs up may not seem like it, but we had pressure on them offensively...I thought the offense really stepped up against quality pitching. All three ingredients, great pitching, real good defense, and I thought the hitting was outstanding today."
They'll be back:
With 11 players returning to next year's team, including Freiday, Carey, Dinunno, Noviello, and Eastern Mass. final hero Jack Connolly, the Trojans will have quite the core coming back for next year—most of whom have gained some serious big-game experience over the course of B-R's title run where they won games over Attleboro, Braintree, Walpole, B.C. High, Billerica, and Nashoba.
For the time being though, Freiday -- who said after the game he has a scholarship offer from Maine, and will be visiting Virginia, Virginia Tech, and Coastal Carolina over the summer -- says they're going to enjoy the moment, stressing the amount of excitement that has built up at Bridgewater-Raynham as the community rallied around the baseball team.
"They're gonna love it, we had a huge crowd the last few games. They all wanna come, they all wanna see the team, and it hasn't been like that for the last couple years. We picked it back up and we brought B-R baseball back…we're forming a dynasty, I can feel it."
June, 13, 2013
6/13/13
1:30
AM ET
By
Brendan Hall
| ESPNBoston.com
LYNN, Mass. -– Bridgewater-Raynham's two sophomores, Jack Connolly and Andrew Noviello, were the ones who got it done on the mound to help the Trojans advance to the state championship game. Some in attendance may have been surprised, but coach John Kearney is used to it by now.
Connolly picked up the win on the mound for B-R, while Noviello picked up the save by pitching a scoreless final two innings to give the Trojans (19-3) the 5-2 victory over Billerica (18-7) in the Eastern Mass. Division 1 championship game
[+] Enlarge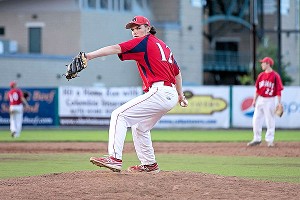 Tim Hart for ESPNBoston.com Sophomore Jack Connolly picked up the win for Bridgewater-Raynham, which is making its first ever Division 1 State Final appearance on Saturday.
"[Connolly] had been scuffling, that's how he pitched during the regular season,: Kearney said. "He gave us more than we expected. Our pitching has been pretty good all year, it really has been a real solid plus for us all year. We were hoping to get as much as we could out of Jack, and I knew if we could get it to Novi, cause he was rested, that he'd pitch just like he did tonight."
B-R got some timely hits from Tyler Glavin and Brian McSherry, Glavin drove in Tyler Carey to draw first blood in the first inning. Glavin also had an RBI on a single on a base hit in the fifth.
Kearney praised Glavin after he made the move from outfield to shortstop earlier in the year look seemingly effortless.
"Tyler moved in from where he was in the outfield all year," Kearney said. "He made all the plays at short, and the made them with some pretty fast guys at the plate. He's been getting a couple hits almost every game. Glavin had an outstanding game."
Following two straight walks after Glavin's single, McSherry ripped line drive to left field that scored Joe Freiday and David Miller.
"That bases-loaded gapper was huge huge," Kearney exclaimed, discussing McSherry's hit. "The first two swings he didn't look so good...he fouled off the third one, just barely, and then he just hit a shot. That and Sullivan's big play at second with men on were two huge plays."
B-R, while making three errors of their own, was able to capitalize on five errors by Billerica, including three in the first inning. In addition, Billerica was forced to pull starting pitcher Max Frawley early in the game. The senior walked off the field in excruciating pain, holding his right shoulder.
Billerica managed to add their second run on an error in the seventh inning, but Noviello slammed the door shut from there. Despite having a team with very little playoff experience before this year, B-R will advance to the state championship game on Saturday against Central Mass. champion Nashoba. This is the first time the Trojans have made it to the state final since moving up to Division 1.
Kearney said the calmness and confidence on the bench was due to his seniors, who combine vocal leadership with leadership by example.
"The senior leadership on this team is outstanding...those kids have been great," he said. "In the ballgame all the time, keeping the kids up, the senior leadership has been a big key for our resurgence here. They've kept the team focused from preseason. It's tremendous...this is a great feeling—that's a good Billerica team, that's a real good Billerica team."
June, 4, 2013
6/04/13
11:30
PM ET
By
Bob McGovern
| ESPNBoston.com
BRAINTREE, Mass. -- They went down in order. They went down looking. When the reality of the season's end became apparent, they went down swinging.

Eighteen Braintree batters struck out against a deep, but less-than-experienced Bridgewater-Raynham pitching staff. The Trojans rode the impressive pitching display, coupled with late-inning offense, to a 12-0 win over the Wamps in the Division 1 South quarterfinals at Braintree High.

"I've said all along that our pitching staff is the strength of our team even though our lineup has been solid," B-R head coach John Kearney said. "Our pitching staff has been our greatest strength this season. We have four or five guys that can come in and get the job done."

While B-R's pitching kept Braintree at bay, an explosive eight-run ninth inning put the game well out of reach. After Andrew Noviello, Tyler Glavin, Mike Bruemmel and Joe Freiday knocked in five runs for the Trojans, B-R's Brian McSherry hit a no-doubter home run to right-center field to put the score at 12-0.

It was McSherry's first home run of the year.

"It was a great game. I know the final score isn't indicative of that, but they made some great plays throughout that game," Kearney said. "Our guys had a big inning, but it was a great game."

Noviello, B-R's sophomore righty, started the game and struck out 11 Braintree batters over six innings. He used an accurate fastball to make up for his curve, which wasn't consistently hitting the strike zone until the third inning. During his six innings of work, Noviello threw 118 pitches.

"That's pretty much as hard as I've thrown. The curveball slipped a little bit, but when I got it in there, I got it in there," he said.

Noviello's only scare came during the bottom of the fourth inning after he gave up a single to Steven Lee, and proceeded to walk Gino LaRossa and Patrick Horrocks with one out. The sophomore reared back and struck out both Adam Chin and Nick Susi to get out of the inning.

B-R rode the momentum into the top of the fifth inning and scored three runs on four hits and a walk to put the score at 4-0.

"Getting out of that bases-loaded jam was huge. That was probably the biggest spot in the game at that point," Kearney said. "He's only a sophomore, but he's been pitching in big games all year for us."

Between innings, Braintree head coach Bill O'Connell told his guys to be patient and wait for a hittable fastball. As soon as they changed their approach, Noviello's looping curve started to fall into the strike zone.

It was the first time the Wamps have been shut out this season.

"I've been coaching for 19 years and that's about as good a pitching staff as I've seen on a team. We've had a pretty good team this year...We haven't been shut out all year," O'Connell said. "The scouting report (on Noviello) was: 'He throws hard, but his off-speed could get wild at times.' That's not what happened –- not tonight."

Noviello was spelled in the seventh inning by Mike Bruemmel, a lefty with good movement on his fastball. The senior picked up where Noviello left off and struck out six of the seven batters he faced.

Braintree used four underclassmen pitchers during the game, and started Scott Creedon, a 14-year-old righty. Creedon pitched the first two innings before getting pulled for sophomore Bobby McNiff. The youngster let up one run on three hits during his two innings of work.

"I didn't want to leave him out there too long," O'Connell said. "He looked pretty comfortable, but he's still a freshman."

After McNiff was touched up a bit in the fourth inning, the Wamps brought in junior Matt Bickford, who slowed the bleeding until the ninth inning when he allowed two earned runs. Scott Strachan came in for relief, but B-R's bats, which had been uncharacteristically quiet, erupted.

"That's a tough task for those guys, but we'll be a good team in the future," O'Connell said. "We started a freshman, two sophomores and a junior, so it wasn't easy out there."

Cody Medairos finished the game for B-R, and caused two pop-ups and struck out Jack Zanca to end the game.

Kearney believes his staff is set up for nine-inning baseball. The Trojans played five nine-inning games this season, which helped him set up a game plan for the playoffs.

"That does help the mentality. Nine is a long game. I like playing nine because it lets teams play it out a little more truly, I think. A lot can happen in a short time in a seven-inning game," he said.

Braintree graduates eight seniors, including captains Alex Alexander and Steven Lee.

"I just feel for our seniors. This is the last time they get to go up there under the lights as a Wamp," O'Connell said. "All eight seniors just gave us everything they had. I told the guys, 'There's only going to be one happy team at the end of the day.' Today was their day."