Boston High School:

Anna O'Neill
May, 23, 2013
5/23/13
9:23
PM ET
By
Josh Perry
| ESPNBoston.com
HOPKINTON, Mass. -- On paper, it was a marquee match-up. It was a meeting of the champions of the Hockomock League's Kelley-Rex division and the Tri-Valley League, as well as two teams in the Top 25 in the state.

But, on the field, the game was more about two teams closing out busy weeks and long regular seasons with all eyes on potentially deep postseason runs. In the end, King Philip (16-4) had just a little more gas in the tank and a little more depth.

The No. 10 Warriors cruised to a 6-0 victory on the road at No. 16 Hopkinton (17-3) behind six innings of relief from freshman pitcher Kali Magane. The Warriors No. 3 starter struck out eight Hillers while giving up only two hits. At the plate, she also added a pair of hits and drove in a run.

"She hasn't been on the mound in three or four weeks so to come in and perform that way goes to show you how tough she is. She's got a lot of good years ahead of her," Warriors head coach Norm Beauchemin said.

Magane entered the game in the second inning after starter Anna O'Neill, who has been KP's ace all season, complained of tightness in her arm. This was O'Neill's third start of the week and second in as many days (an eight-inning loss to Taunton on Monday and 3-1 win over Coyle on Wednesday) and Beauchemin did not want to take any chances with his top pitcher with the tournament looming.

He remarked with a chuckle, "Anna was a little sore from last night's game. She pitched Monday and she pitched yesterday and said she had a little stiffness. So, with playoffs coming, we can't ruin our horse."

Magane struck out the side in the second inning and the Warriors offense responded in the top of the third.

Lead-off hitter Bre Shaffer began the inning with a walk and shortstop Ashley Hession reached on an error by catcher Erica McBride. With runners at second and third, senior Tori Constantin lined an RBI single to left. Sophomore first baseman Renee Poirier followed with the game's big hit – a three-run homer that was crushed to right center.

Beauchemin marveled, "She's been killing the ball all year. She probably has the most extra-base hits for us. She's a great hitter."

He added with a laugh, "She struck out for probably the fourth time all season tonight. So, she's probably more upset about that than happy about the homerun."

Prior to the game, Hopkinton head coach Dennis Baker Jr. admitted that he was struggling to put together the line-up because of injuries and the fact that the Hillers were playing their fourth game of the week. Hopkinton clinched the TVL title on Wednesday night with a win over Westwood (in conjunction with Bellingham's win over Norton) and Baker gave a rest to several of his starters.

King Philip essentially put the game away in the top of the fourth when Hession doubled home Shaffer and was then brought home by a Magane single. Hannah Engstrom ended the inning with a perfect throw to the plate to nail Constantin trying to score from second. The Warriors took advantage of the 6-0 lead to use some of the substitutes that have not seen playing time in recent weeks.

It was a comfortable road win over a tough opponent for King Philip but, for both the Warriors and the Hillers, all eyes are on next week and the start of state tournament play.
May, 11, 2013
5/11/13
1:49
AM ET
By
Josh Perry
| ESPNBoston.com


PLAINVILLE, Mass. – In a game dominated by the two opposing pitchers, it was fitting that one of them would be the player that ultimately decided the outcome.

King Philip senior Anna O'Neill crushed a 1-0 pitch from North Attleborough's Megan Colleran deep over the fence in straightaway centerfield to give the Warriors a 2-0 walk-off victory on Friday afternoon at the Plainville Athletic League Complex. The win completed a season sweep for KP over North and moves them one step closer to another league title.

"I didn't want to pitch another inning," said O'Neill about her mindset in the final at-bat. "When I hit it, I was just thinking, 'Thank you Anna for ending this game,' because I really wanted to win."

After the celebration, first-year KP head coach Norm Beauchemin tried to direct reporters to his star pitcher and, with a big smile on his face, remarked, "She came up with the big hit…the big time. She's a big-time player."

Going into the seventh, KP had managed only two hits off of Colleran, who struck out six Warriors. Senior second baseman Tori Constantin, who had hit the ball well for outs in her two previous at-bats, drew a lead-off walk (Colleran's first of the game). Renee Poirier failed on two sacrifice attempts before lining a two-strike pitch for a base-hit.

Constantin tried to stretch from first to third on the play but was gunned down on a perfect throw by North centerfielder Sam Moody. In the process, Poirier moved into scoring position with one out. Two pitches later, it did not matter, as O'Neill hit her second homerun of the season off of Colleran.

"Meg is a great pitcher. She's going to UMass [in two years] and to say that I got two good hits against her feels pretty good," said O'Neill.

O'Neill was also dominant on the mound, despite having to rush from Dean College where she and third baseman Shannon Jones were taking an Advanced Placement exam. The game time was pushed back and North coach Bill Wallace allowed extra time for O'Neill to warm-up after she arrived. It may not have been her usual pre-game routine but she showed no ill effects, striking out the first two hitters on her way to a nine strikeout, three-hit shutout.

Prior to the final inning, each team only managed to get a runner into scoring position twice. Poirier led-off the second with a base-hit and made it to second on a passed ball, but was stranded and in the sixth Jones was bunted to second but Colleran induced a comebacker and a grounder to first to end the inning.

"Megan has really hit her groove now. Those are the first runs that she has given up in regulation in three weeks," Wallace said.

Beauchemin spoke about his team's struggle at the plate. He said, "Offensively, everybody struggles against good pitching, plain and simple. Hopefully, we come around and start swinging the bats better against good pitching because we're taking way too long of a swing."

North Attleborough had its first base runner in the fourth inning on a lead-off single by Rose Mooney, who was bunted to second but stranded there. Jill Costello, who also had four assists at shortstop, led-off the sixth with a single and made it to third on a wild pitch before O'Neill struck out Marissa Gifford and Colleran to end the inning.

The Rocketeers have had a difficult week since being moved to no. 2 in the ESPN Boston statewide rankings. North lost to Taunton (the Tigers had also beaten KP previously this season), 1-0, in 11 innings on Monday before the walk-off defeat to the Warriors.

Wallace acknowledged that it was a tough loss, but argued, "We'll be better for it."

He added, "We're playing good defense; we just need to get the bats going. Hey, what are you going to do? We're seeing great pitching, you know."

Prior to the season, there was some talk that the turnover at King Philip (losing eight seniors and head coach Jim Leonard) could make this the year that North Attleborough overtook the Warriors for the league title. Instead, O'Neill's hit continued nearly 10 years without a win for the Rocketeers in the series.

"People have been talking that we're not going to be as good this year as we have in the past, but I think that tonight just proved that we all have it in us and we still have a really good team," O'Neill said.

Beauchemin said that games like this will be big for the Warriors as they prepare for another run at a state title.

"You don't have too many cakewalks [in the Hockomock], which is good because it get s you ready for the playoffs," he explained. "This team here, they're concerned about the playoffs. They want to go deep, so these games hopefully build our character."
April, 18, 2013
4/18/13
3:51
PM ET
By
Josh Perry
| ESPNBoston.com
NORTH ATTLEBOROUGH, Mass. – Heading into the match-up between North Attleborough and King Philip, there was some talk that this might finally be the year that the Rocketeers take the Hockomock League title from the Warriors. Following Wednesday afternoon's game, it is clear that there is still some work to be done to catch KP.

The Warriors scored four runs in the first three innings and got an impressive pitching performance from senior Anna O'Neill (nine strikeouts) to beat North 6-1 and take an early first step towards another Kelley-Rex division title.

"Obviously, that's a good team and anytime you play a good team, you want to come out on top," said King Philip's first-year head coach Norm Beauchemin. "It was an important game for us because you want to be on top of the league. You don't want to be chasing someone; you want them to be chasing you."

The Warriors took the lead on the first batter of the second inning. O'Neill, who drove in a pair of runs in addition to her dominating work in the circle, crushed a 2-2 pitch deep over the fence in straightaway center.

KP broke the game open in the very next inning.

Clean-up hitter Renee Poirier plated Breanna Shaffer with an infield single to make it 2-0. O'Neill followed that with a sacrifice fly on a hard hit line drive to right that brought home Tori Constantin. Casey Hutnyan followed with a single to right that brought home Poirier to make it 4-0.

It was a big inning for the Warriors, but the hardest hit ball off Rocketeers starter Meg Colleran was the line drive out by O'Neill. After the inning ended, North Attleborough head coach Bill Wallace brought his team together and told them that reaching the next level means making those types of plays.

Four runs was enough for O'Neill, who allowed only three base runners (two of them on walks) through the first five innings. Although North started to have better at bats in the later innings, Beauchemin was nonchalant about the effort of his senior.

He explained, "Anna was on. She threw the ball well. If they put the ball in play, hopefully we make the plays."

The Warriors added a pair of runs with two outs in the sixth inning. Shannon Jones lined a base hit to right that tipped off the webbing of North first baseman Allison Paquin's glove. That was followed by a triple down the leftfield line by pinch-hitter Christa Wagner. Wagner scored on a single by Shaffer to make it 6-0.

With six runs against North, KP has scored 30 runs in the three wins that followed its shutout loss to Milford. Beauchemin credited the Warriors' success to a more disciplined approach at the plate.

"We were undisciplined that day and the girls know it," he remarked. "These girls swing the bat well. They actually like to see pitchers like this, top pitchers; it makes for a more interesting game. Everybody's level of play goes up."

North got on the board in the bottom of the sixth. Leadoff hitter Rose Mooney beat out a grounder to third and two batters later advanced to third on a single by Colleran. She came home to score on a grounder up the middle by catcher Meghan Wynn that was bobbled by KP shortstop Ashley Hession but right to Constantin to get the force at second.

Despite the loss, Wallace was proud of how his team battled. North were without middle of the order hitter Jackie Del Bonis, who injured her ankle playing field hockey, and played freshman Mycala Moody at third base for the first time. Also, Colleran made the start despite battling illness.

"We probably had seven or eight 3-2 counts, Marissa Gifford had an 11 or 12-pitch at-bat her first time up, so I thought that was good today," Wallace remarked. "Those are two of the best pitchers in the league and I thought both teams did a good job with their plate approach."

He added, "Just a lot of stuff fell in today. Tip your hat to them and move on."

Both teams step outside the Hockomock League in their next games. King Philip will host Shrewsbury on Friday, while North Attleborough travels to Durfee on Saturday.
April, 9, 2013
4/09/13
11:19
PM ET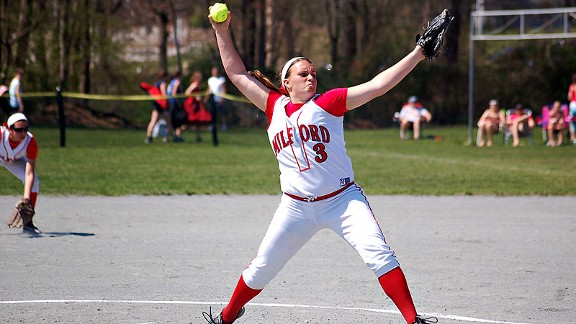 Brendan Hall/ESPNBoston.comReigning ESPN Boston Miss Softball Award winner Shannon Smith hopes to lead Milford to back-to-back Division 1 state titles.
STARTING ROTATION
Megan Colleran, Jr., North Attleborough
Anna O'Neill, Sr., King Philip
Lauren Ramirez, Sr., Dracut
Kendal Roy, Jr., Grafton
Shannon Smith, Sr., Milford
STARTING NINE
Tori Constantin, Sr. 2B, King Philip
Stephanie Cornish, Sr. 3B, Abington
Alexis DeBrosse, Sr. SS, New Bedford
Caroline Fairbanks, Sr. 3B, Milford
Nicole Lundstrom, Sr. C, Dighton-Rehoboth
Bella Picard, Sr. SS, Blackstone Valley Tech
Madi Shaw, Jr. SS, Bridgewater-Raynham
Dakota Smith-Porter, Sr., P/SS, Turners Falls
Reilly Weiners, Sr. C, Agawam
WATCH LIST
Olivia Antczak, Soph. P, Central Catholic
Allie Colleran, Jr. SS/OF, Concord-Carlisle
Megan Cook, Jr. P, Bellingham
Haley Currie, Sr. 3B, Burlington
Sara Dawson, Soph. P, Bridgewater-Raynham
Kaleigh Finigan, Sr. 3B, St. Mary's (Lynn)
Bridget Furlong, Sr. 2B, Malden
Courtney Girouard, Jr. P, Fairhaven
Galen Kerr, Sr. P, Concord-Carlisle
Taylor LeBrun, Soph. C, Milford
Rachel Levine, Sr. CF, Milford
Michaela Mazure, Soph. INF, Burlington
Shannon McLaughlin, Jr. P, Tewksbury
Paige Mulry, Jr. C, Boston Latin
MacKenzie Navarro, Jr. 1B, Taunton
Alicia Reid, Sr. CF, Abington
Kelsey Saucier, Jr. P, Holy Name
Rachael Smith, Jr. P, Winchester
Lauren Tuiskula, Sr. P, Leicester
Jurnee Ware, Sr. P, Hudson
April, 5, 2013
4/05/13
2:10
AM ET
MILFORD, Mass. – The representing winners of the last three Division 1 state softball championships faced off Thursday. And, while most teams are feeling their way through the early season, a duel between Milford and King Philip always enlists a certain amount of intensity.

Reigning ESPN Boston Miss Softball award winner Shannon Smith looked near mid-season form in the circle for the Scarlet Hawks with 14 strikeouts in a complete-game, one-hitter in a 3-0 win over their new Hockomock League rival.

"You just look at this first week and playing a team like Taunton and then King Philip here, you know you were going have a test, big time," Milford head coach Brian Macchi said. "We knew we were going to have an early indication of where we stand.

Milford (2-0, 2-0 Hockomock) churned out nine hits against Warriors starter Anna O'Neill and took an early lead in the second. Elizabeth Stallone drove in Caroline Fairbanks with a two-out single.

The Scarlet Hawks continued to produce with two outs in the fifth, when they pushed across a couple of insurance runs. Smith shot an opposite field single to the gap, scoring Sam Bonvino for a two-run cushion before Rachel Levine smacked a single to left, scoring Jenny Levine, who was running for Smith.

"In a game like this, you're looking at one-to-nothing, as it could be the decider," Macchi said. "But tacking on two runs … you just have that much more confidence as the game goes on."

"She battled and found a way to get us another run, which was important."

"She's realizing that it's her senior year and this is her last go-round. She's relishing the opportunity to really leave on high note."

"It's a nice welcome to the league. It'll be nice to see how the rivalries develop through time."

WELCOME TO THE SHOW
With the addition of Milford and Taunton into the Hockomock League this year, both the Kelley-Rex and Davenport divisions have turned into an effective softball super conference.

While the defending champion Scarlet Hawks make their move from the Central sectional into the South, Macchi and his team realize how perilous the move could prove. They need look no further than their Thursday opponent, the owners of back-to-back state titles in 2010 and '11.

The Warriors (1-1) have a new look this season, with an entirely new battery. O'Neill (10 strikeouts) takes over in the circle for Meghan Rico (George Washington) while junior Jordan Schaffer slides in behind the plate, taking over for another two-time ESPN Boston All-State selection in Olivia Godin (UMass-Amherst). KP also has a new head coach, as longtime Case bench boss Norm Beauchemin takes over for Jim Leonard.

And while the Warriors might be a team in (relative) transition, the Milford hurler still knew what the game represented.

"It means a lot to us," Smith said. "It gives us confidence heading into the season just because it's so early on and we've only played one other game. It shows us the potential we have. If we can beat a team like that this early, think of where we could be at the end of the year."
April, 25, 2012
4/25/12
4:20
AM ET


TAUNTON, Mass. –- Coyle-Cassidy softball's hacks in the box against King Philip ace Meghan Rico on Tuesday were at first feeble.

The second time through the order, C-C showed promise. Third time? A little bit better. Fourth time? A little closer still.

The fifth time around, the Warriors wouldn't need another go-round. That's when the vaunted C-C offense ended the game in a 3-2 walk-off, extra-innings win.

It all started up top as C-C leadoff hitter Patty Borges reached in each of her five plate appearances, scoring each of the Warriors' three runs. Meanwhile, cleanup hitter Julie Leclair provided the fireworks, driving in the game-tying run in the seventh and the game-winner in the ninth.

"All three parts of our game – our hitting, our pitching and our defense – came together well," C-C head coach Russell Hunt said.

KP (5-2) looked poised to run away with it early, scoring runs in both the first and second, thanks to lead-off doubles. Rico started the game with a two-bagger on the first pitch of the game, before scoring on Meg Carnase's double. In the second, Anna O'Neill doubled to the left-center field fence and scored on an Amy Nolan single.

Rico breezed through 4 2/3 innings without allowing a hit, but that's when C-C began to catch on.

Borges' two-out single in the fifth was the first indication of trouble. Genna Whalen promptly plated Borges with a double to right. Borges, a Stony Brook signee, led off the seventh by drawing a walk. After a sacrifice bunt from Whalen, Leclair stepped to the plate.

"The strikeouts [earlier in the game], I didn't let them bother me," Leclair said. "Everybody had to do their part, so that's why I just went up there, made contact and hit it."

Leclair rapped Rico's 0-2 offering into the outfield, scoring Borges with the tying run.

C-C (7-1) nearly pulled out the victory in the seventh on Katherine Clark's suicide squeeze bunt. KP first baseman Cayleigh McCarthy caught Tricia Quinn sliding into home, with catcher Olivia Godin blocking the plate, for the second out of the inning.

Both teams were retired in order in the eighth before C-C ended it.

Borges scored her third run of the game after drawing another lead-off walk in the ninth.

And, once again, Leclair delivered.

"You can't give those kinds of ball teams those kinds of opportunities," said KP head coach Jim Leonard, whose team committed an uncharacteristic three errors in the field. "I'm not sure if because the layoff because of the rain we weren't that sharp, but like I said, against good teams, you have to score your runs and then stay tight defensively."

WALL TO THE LEFT
For all that Borges and Leclair produced with their bat on Tuesday, C-C's key to victory was undoubtedly its defense.

The Warriors have perhaps the strongest left side of the infield in the state, and Borges had perhaps the game of her career, with 12 assists in the field.

"I think we're a phenomenal all-around team when we put our minds to it," Borges said of C-C's commitment to fielding.

She added, "We work at everything equally as much."

More than that, the Warriors' infield was superb on a whole. Quinn made an array of picks and stretches on the first base bag. Second baseman Brittany Perdiago turned in the play of the game in the sixth with a back-handed snare of grounder with a dive and then beat Carnase to the bag with a throw from her knees.

With a strong unit behind her, C-C starter Kelsey Boarman became stronger as the game wore on, retiring nine straight to finish the complete-game win.