Boston High School:

Anne Farnham
July, 25, 2012
7/25/12
11:45
PM ET
FOXBOROUGH, Mass. -– Not too long ago, his cousin nearly made it onto the turf at Gillette Stadium as a member of the Patriots' 53-man roster. Tonight, Cam Farnham will return to Andover with something of his own to brag about.

The pint-sized Andover rising senior hauled in two touchdown passes in the title game of tonight's Under Armour New England 7-on-7 Championship, at Gillette, as the Warriors downed Reading, 19-6.

"It's always good, but then again he's a professional player," Farnham laughed when asked about his cousin, Buddy, who was in the Patriots' training camp in 2010 and '11 after going undrafted out of Brown University. "I actually can't wait to tell him that I scored a couple of touchdowns at Gillette."

Speed runs deep in the blood of the Farnham family tree. Buddy is Brown's all-time leading in punt return yardage; during his senior season in 2009, Buddy ranked eighth in the nation in all-purpose yards per game, and third in kickoff return yards per game. Cam's cousins, twins Anne and Kate Farnham, are both high school lacrosse All-Americans who will suit up for UMass next spring.

So far, Cam has proven more than able to carry the torch. He says he's tested as fast as a 4.5 in the 40-yard dash, in addition to his 6.6 time in the 55-yard dash during indoor track. As a leadoff centerfielder, he snagged 25 bases this spring for the Warriors, and another 25 this summer playing American Legion ball for Andover Post 8. He's looking to continue his baseball career in college, possibly in the Northeast-10 Conference.

"None of us really have the height except for Buddy," said Cam, who is officially listed at 5-foot-7 during the fall. "So if you're not going to have the height, you might as well have the speed. We just got gifted with the speed, and luckily it works out for me."

Tonight, that speed was visibly evident. Quarterback C.J. Scarpa utilized underneath routes in the gameplan throughout the day, looking to get the speedster in space on the perimeter and turn it into a footrace.

"We wanted to get him open on the underneath, and then that will always get something open deeper," quarterback C.J. Scarpa said.

Said Farnham, "I thought C.J. did a nice job of calling the plays. He called all of the plays. I felt like for most of the game, the middle was wide open. So I just stuck it to the corner, and then to the post, and it usually worked well."

Scarpa started the scoring off in the championship game with a pin-point strike to Farnham on a skinny post down the left sideline. After a strike to Will Heikkinen, Scarpa put the nail in the coffin with three minutes remaining by hitting Farnham deep at the right pylon on a slant. Farnham laid out for the ball just inside the lines for the 19-6 score.

For the Warriors, it was the ideal culmination of their labors the past month. They came up short in the North Regional – the first of three qualifying regionals – in late June at Exeter (N.H.), and again last Sunday in the East Regional at Peabody's Bishop Fenwick High. However, the Warriors wereable to snag one of four "wild card" spots – along with Quincy, Salem, and Essex Junction, Vt. – by finishing in the "Final Four" of one of the three regionals.

Andover beat Mansfield in the championship semifinals. In pool play, the Warriors went 3-1, with the only loss coming to Reading. They beat Franklin by a point, and added wins over Essex Junction and Pingree.

"We've been coming to all of these 7-on-7's and coming up short," Scarpa said. "To win the big one is pretty nice."

Since Gillette Stadium began hosting high school Super Bowls in 2007, and 7-on-7's last summer, this is the first time Andover has ever appeared on its turf. The Warriors fell short of a Gillette Super Bowl bid in 2010, losing to Everett in a Division 1 playoff.

"We're trying to break that streak, and hopefully this is a step in the right direction," Scarpa said.

May, 18, 2012
5/18/12
11:29
AM ET
Several Massachusetts-based lacrosse players, along with host New England talent, were named to the Under Armour All-American game's boys' and girls' rosters on Thursday.
Duxbury defender Max Randall and Beverly's Will Ryan, goaltender at Avon Old Farms (Conn.), will represent the Bay State on the North boys' roster. They will be joined by a talented trio from Darien (Conn.) representing New England, as Blue Wave defender Tony Britton, attack Case Matheis and midfielder Henry West all made the squad.
Also, Deerfield Academy goaltender Luke Aaron, a native of Great Falls, Va., will play with the South squad.
On the girls' side, Massachusetts is well represented with six players. Lincoln-Sudbury's Madison Acton, Thayer Academy's Bryn Boucher (Hningham) and Westwood's Laura McHoul will all patrol the midfield on the North roster while Andover's Anne Farnham and Needham's Tory Waldstein will bolster the defensive corps in front of Governor's Academy goaltender Kelsey Duryea (Beverly).
The Under Armour All-American game will be played at Johnny Unitas Stadium at Towson University in Towson, Md., on June 30. The girls' All-American game will begin at 5 p.m. followed by the boys' game at 8 p.m. The boys' game will be broadcast live on ESPNU at 8 p.m.
The complete game rosters can be found
here
.
April, 23, 2012
4/23/12
11:43
PM ET
NEEDHAM, Mass. -- Heading into this afternoon's much-anticipated showdown with Andover, Needham head coach Beth O'Brien stressed to her team the importance of getting on the scoreboard first.

But when you play for a coach as fiercely passionate as O'Brien, it turned out, one goal is never enough. Because the Rockets didn't just get on the board first -- they lit up the board in the first half, jetting out to a commanding halftime lead and making it hold up after staving off a late rally from the Golden Warriors, prevailing 13-9 in a matchup between two of the state's top five programs loaded with Division 1-caliber talent.

"That's something we've struggled on, coming out and scoring those first few goals, and then having the ability to maintain that throughout the game," O'Brien said. "That was a big step for us."

The Rockets (7-1) reeled off an 8-1 run in the first half to take a 10-4 lead over Andover (7-2) at the break, with junior Maddie Stenberg and sophomore Catherine Conley combining for seven of those scores. The duo got opportunities for points off free position shots, but also moved the ball around the attacking zone with efficiency, slipping through some of the state's most talented defenders with split-dodges, and using the space behind the net to create net-front presence.

Three straight scores from Conley with less than five minutes to go in the first half gave Needham all the cushion it would need in the end. First, Conley cut down the middle towards the net and put a one-timer from behind the net top shelf, with 4:04 to go. Two and a half minutes later, she scored on a free position shot; that was followed with 52 seconds remaining in the half with a wrap-around, for a 10-3 advantage.

Conley finished with four goals and an assist, while Stenberg led all scorers on the day with five goals and two assists.

"Cat had a great game today," O'Brien said. "She was one of our leading scorers last year as a freshman, and was suffering a little bit of an injury at the beginning of the season, so this is what we like to call a 'Coming Out Day'. She's been having some great games, but this is really the Catherine Conley that we know is there. She's a phenomenal player who is only going to continue to get better."

O'Connor Shines in Net: Sophomore goalie Annee O'Connor came up with eight saves in net, all of them seemingly brilliant with a large degree of difficulty. That included three saves on free position shots as well.

"Let's face it, she's only a sophomore...[But] those saves, she's capable of making those," O'Brien said. "She's been mentally able to get herself to that next level, as far as, 'You know what, two or three are going to go in, but I've got to make that next stop. She's just been working incredibly hard."

Lockdown D: Speaking to O'Connor's performance, O'Brien heaved plenty of praise unto the defense in front of her, calling it their best performance of the year and giving the sophomore goalie plenty of confidence. Considering the Rockets are already allowing just over six goals per game, and boast Division 1-bound midfielders in Shelby Aubin (Georgetown) and Tory Waldstein (Harvard), that praise is especially impressive.

"They were composed, they were aggressive," O'Brien said. "The referees were great. They [Needham] figured out they were being allowed to play the game, so they took some chances. They communicated well, their slides were good, their switches were good, it was just a very well-rounded game for them."

Dink and Dunk: One area the Rockets excelled at in the offensive end was with flashing towards the net, and in turn drawing defenders outward to open up diagonal lanes underneath in front of the net. That created some entry passes that were dumped off at close range from the net.

Between UConn-bound attack Ally Fazio, UMass-bound twins Anne and Kate Farnham, along with a supporting cast of scorers like juniors Jaclyn Torres and Meagan Keefe, Andover is not exactly a team where one can afford to mark a specific player. Asked if there was anything specific the Rockets were looking to exploit, O'Brien noted the Warriors' quick adjustments, pointing to Torres, who scored the team's first four goals.

"We were really more just trying to draw anybody out," O'Brien said. "Because we were just trying to create space for those lanes, to either dodge or free up that open person because they were starting to double us, so we needed to free up that person and find that open person in the middle."

Read and React: Needham won 11 of the game's first 15 draw controls, which yielded a sizeable advantage in time of possession.

"That's something that we've been working on," O'Brien said. "We've been doing reaction drills for the last week and a half, because we knew that was what would cost us as we face this tough schedule ahead. It's something that we've been working intensely on, in regards to just, getting those draw controls, working on just really that reaction time, getting off that line first, because we knew it was going to be won on the circle or on the restraining line."
April, 2, 2012
4/02/12
12:06
PM ET
The high school lacrosse season kicks off this week for many top teams across the state. Here is our preseason MIAA girls lacrosse All-State Team and Watch List, as compiled by ESPNBoston.com staff and correspondents.

SUPER TEAM
Madison Acton, Sr. A, Lincoln-Sudbury
Shelby Aubin, Sr. D, Needham
Ally Fazio, Sr. A, Andover
Anne Farnham, Sr. D, Andover
Megan Hennessy, Jr. M, Winchester
Rachel Massicotte, Sr. G, Wayland
Laura McHoul, Sr. M, Westwood
Anna Petrunich, Sr. M, Westborough
Kate Rich, Sr. M, Westwood
Caroline Rizzo, Sr. A, Notre Dame (Hingham)
Rachel Sexton, Sr. A, Lincoln-Sudbury
Tory Waldstein, Sr. D, Needham

WATCH LIST
Casey Blakeney, Sr. M, Wachusett
Olivia Boudreau, Sr. M, North Andover
Shelby Boudreau, Sr. M, North Andover
Mollie Brown, Sr. G, Westwood
Alexa Cambi, Sr. M, Longmeadow
Tess Chandler, Sr. M, Hopkinton
Catherine Conley, Soph. A, Needham
Elizabeth Constant, Sr. M, Ipswich
Emma Dagres, Sr. A, Weston
Natalie Devine, Sr. M, Fontbonne
Erika Eipp, Sr. A, Groton-Dunstable
Kate Farnham, Sr. D, Andover
Sara Ganio, Sr. M, Lincoln-Sudbury
Emily Giumetti, Jr. M, Duxbury
Rebecca Graves, Sr. M, Bishop Fenwick
Ella Hazar, Soph. A, Westwood
Emmy Horton, Sr. M, Duxbury
Christine Johnson, Sr. M, Reading
Meaghan Jane Keefe, Jr. A, Andover
Jenna Liljeberg, Sr. A, King Philip
Eileen McDonald, Sr. A, Longmeadow
Molly McNamara, Sr. M, Wellesley
Julia Meehan, Sr. M, Weston
Carly O'Connell, Sr. A, Algonquin
Maria Platsidakis, Jr. G, Mansfield
Kathryn Riley, Sr. M, King Philip
Sarah Smith, Jr. M, Acton-Boxborough
Amber Tobin, Sr. M, Minnechaug
November, 23, 2011
11/23/11
9:46
PM ET
During the past month, the ESPNHS lacrosse editors have listed the Top 25 girls' lacrosse players at every position and today unveiled the ESPNHS 100, ranking the top players in the nation.
Seven Massachusetts natives made the list, highlighted by Duke-bound Governor's Academy goaltender Kelsey Duryea who was one of three Bay State players to crack the Top 10.
The entire list can be found
here
.
Locals making the cut:
4. Kelsey Duryea, Governor's Academy (Beverly, Mass.), G , Duke
7. Madison Acton, Lincoln-Sudbury (Sudbury), M, Duke
9. Anne Farnham, Andover, D, UMass-Amherst
16. Tory Waldstein, Needham, D-M
17. Shelby Aubin, Needham, D, Georgetown
32. Hannah Saris, Moses Brown (R.I. - Sharon, Mass.), A, Dartmouth
59. Kate Farnham, Andover, D-M, UMass-Amherst
November, 19, 2011
11/19/11
6:06
PM ET
By
Corey J. Allen
| ESPNBoston.com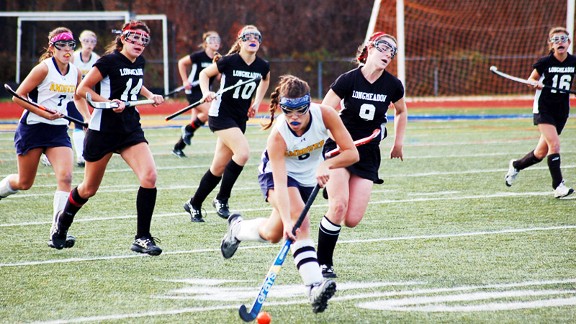 Brendan Hall/ESPNBoston.comAndover's Anne Farnham, a UMass lacrosse commit, was one of several Warriors turning in sound defense in their second straight state championship win.
WORCESTER, Mass. –- With 14:58 left in regulation, and after 17 shots on the Longmeadow goal defended by Elizabeth Suschana, Andover sophomore forward Julia LeBlanc blazed the 18th ball past Suschana for the only score on the day. That drive the Golden Warriors to their second consecutive Div. 1 state field hockey championship past Longmeadow, 1-0.
"I was really in the moment," LeBlanc asserted, donning her championship medal after the victory. "Because our defense is so strong, I was able to get it in. I was there at the right time and I just dove in and tipped it in…If we didn't have our defense, I wouldn't have been able to get up there."
"It (the ball) came from Kate [Farnham]and she sent it across the circle to me and I just hit it over as far as I could to the net and Julia just happened to be there," said junior left forward Meagan Keefe, who owns the game's sole assist. "She just tipped it in which was amazing."
The Golden Warriors (21-0-2) had 21 corners during the game but were not able to get a score on one of them. With about 20 minutes to go in the second half, Andover called a timeout and coach Maureen Noone and her staff advised the girls to change the game.
"Stop putting the ball maybe to one side or continuing to do what we've gotten away with in the other games that have worked for us," said Noone recalling the timeout. "I think they were stuffing an extra defender in there and it was getting difficult so we tried to swing the ball as much as possible and just take chances; start swinging, start stepping up to the ball and playing a little bit harder."
We Do This:
Although Andover had sent a number of balls towards the goal and had not scored, they were not discouraged, they just became more determined.
"We're used to this, this is how it is," said LeBlanc. "We have low scoring games and we're just trained to keep going at it and keep shooting and keep working hard. There's always a way. It's 0-0, even if we score 1-0, it doesn't matter, we're going back and our defense is just as ferocious. We don't give up because they can score and tie it up."
"After we knocked that one in I felt pretty confident," added goalie Shannon Tully, giving a different perspective but with the same knuckle down message."We brought the sweeper back so we could play more of a defensive game."
Bring It Back:
"Uhhhh! It's Amazing!" exclaimed the 2010 lacrosse All-American Anne Farnham, with much enthusiasm and a mile-wide smile.
"Literally, we never imagined this could happen," added Farnham, a senior right forward, theoretically forgetting that she was already sporting the official "Andover 2011 State Champs Back to Back" grey t-shirt with navy blue print just moments after the game, directly refuting her claim.
Coach Noone added something that may give a clue as to why the Golden Warriors printed the shirts prior to the start of start of the match.
"This year, we knew what to expect and we had a little bit more confidence coming into the game," added coach Noone. "Even though we only have five seniors, they're all quality kids and they understand their leadership role. I think they did an outstanding job of taking the younger kids and telling them step-by-step what they needed to do, and they did it."
Going Hard in the Cage:
Even though she only had three saves on the day, those are three opportunities that were thwarted by senior goalie Shannon Tully. If she doesn't, the Golden Warriors are singing a different tune.
"We have the most confidence in her," said LeBlanc. "She's such an athletic goalie and we really rely on her. She's made a lot of great saves through the season and we're happy to have her."
Team Love:
"We don't look at who scores, it was a team effort," said Kate Farnham, who along with her twin sister Anne are committed to playing lacrosse for UMass Amherst next year. Despite getting plenty of touches during the game, she said neither she nor her teammates thought about an individual getting a goal.
"The scores don't matter because we just play as a team so I don't think they were looking for me to score personally."
I Don't Want To Go Home:
Junior Meagan Keefe, despite winning the state championship, was not ready for the sun to set on the Golden Warriors' 21-0-2 season after the game.
"I am just as psyched, it's a great feeling, I just want to keep going," Keefe said. "It's sad that it's over."
November, 2, 2011
11/02/11
2:01
PM ET
ESPN High Schools lacrosse editor Tom Peace and his band of recruiting gurus have released their list of the Top 25 defensive midfielders for the upcoming girls' lacrosse season.
The locals were well represented with two members of our
All-State
squad from the spring cracking the the Top 5. The entire list can be found
here
.
Here's how the locals stacked up:
2. Anne Farnham, Andover (Andover, Mass.), Massachusetts
Farnham had a huge junior season, she lead the Merrimack Valley Conference champions in ground balls and draws, while adding 29 goals and 19 assists. The Andover senior made the ESPNHS All-American Honorable Mention list and the ESPNBoston.com First team All-State. Farnham has 59 goals and 40 assists in her career, and helped Andover win the Division I state championship in 2010.
4. Tory Waldstein, Needham (Needham, Mass.)
Waldstein was named to the Under Armour New England Team and was a First-Team All-American. The Needham captain, tallied 46 assists and 35 goals for the Rockets last season and was named a EMASS League All-Star for the Bay State Conference, ESPNBoston.com MIAA Girls All-State and made the
Boston Globe
All-Scholastic team.
7. Emily Tropsa, Darien (Dairen, Conn.), Gettysburg
Tropsa had a great junior season -- earning All-Conference in the FCIAC. The Connecticut All-Star, helped lead the Blue Wave to the state title with the defense allowing just 18 goals in its four playoff games. The Darien senior plays both lacrosse and ice hockey.
13. Kate Farnham, Andover (Andover, Mass.), Massachusetts
22. Jordan McCarthy, Taft (Watertown, Conn.), Duke
June, 30, 2011
6/30/11
3:54
PM ET
THE STARTING ELEVEN

Sarah Biron, Sr. M, Westwood
Biron spearheaded arguably the state's most potent attack, as the Wolverines scored 461 goals in a 25-0-1 season that resulted in their third state title in four years. Biron finishes with a decorated career, totaling 337 points – including an 88-goal, 31-assist campaign this year. The All-American will play at Johns Hopkins next year.

Blake Dietrick, Sr. M, Wellesley
The two-time All-American leaves as one of the best all-around athletes in school history. For her career under outgoing lacrosse coach Chris Molonea, she finishes with a school record 511 career points, including 79 goals and 45 assists this season as the Raiders lost in the D1 South semifinals to state champ Westwood. Dietrick was also a starter on ESPNBoston's inaugural Girls Basketball All-State Team. She will continue her career next season at Princeton.

Katie Ott, Sr. A, Medfield
One of the state's premier attackers, Ott finishes her career with the Warriors as one of the all-time leading scorers, with 329 points. She had 85 goals and 38 assists this season for the 17-3 Warriors, who lost in the D2 South quarterfinals. An All-American selection, Ott will play next year at Boston University.

Jamie Potter, Sr. M, Concord-Carlisle
One of the Patriots' leading all-around athletes having captained three sports this year, Potter leaves behind a decorated career. Her 304 career points are most all-time in school history; this season, she registered 75 goals and 37 assists as the Patriots made the D1 North semifinals. She will play next year at Harvard.

Laura McHoul, Jr. M, Westwood
Another intregral part of the Wolverines' multi-pronged attack, McHoul earned All-American nods after turning in a stellar junior season with an astounding 172 points (86 goals, 86 assists). In two seasons, she has 236 career points. McHoul is currently committed to the University of New Hampshire.

Kate Rich, Jr. M, Westwood
Rich was one of three Wolverines to put in 100-point seasons, registering 93 goals and 35 assists to earn All-American honors. For her career, she has 277 points. Rich is verbally committed to Boston College.

Amanda McLaughlin, Sr. M, Minnechaug
Her goal totals don't stack up against the eye-popping numbers of her counterparts, but it would be hard-pressed to find a better set-up teammate than McLaughlin. Her 57 assists to go along with 20 goals earned her All-American nods this season. She will continue her career next season at Northwestern.

Rachel Igoe, Sr. M, Framingham
The two-time All-American led a Framingham attack that struggled early in the season, but caught steam late and made a run to the D1 North quarterfinals, losing a heartbreaker in overtime to Concord-Carlisle. For her career, she registered 238 points. Igoe will join her sister Kristin at Boston College next season.

Anne Farnham, Jr. D, Andover
A member of the Golden Warriors' D1 state champion field hockey team in the fall, Farnham and her twin sister Kate formed one of the stingiest back lines in the state. Anne registered 17 goals and 15 assists, and led the Warriors in draw controls, earning All-American honors in the process. Both Anne and Kate are verbally committed to UMass.

Madison Acton, Jr. M, Lincoln-Sudbury
For her career, Acton has 239 points, including a 68-goal, 37-assist campaign this season as the Warriors advanced to the D1 Eastern Mass final before losing to state champ Westwood. Acton earned All-American distinction, and is verbally committed to Duke.

Liz Holmes, Sr. G, Longmeadow
Also a goalkeeper for the Lancers' field hockey team that made the D1 West final, Holmes helped run a stingy defense that allowed 7.4 goals per game, aided by her 152 saves. Holmes will continue her career next year at Marist.

BEST OF THE REST

Katy Ananian, Sr. G, Belmont
Shelby Aubin, Jr. M, Needham
Abby Bunting, Sr. M, Wellesley
Jen Caro, Sr. A, Andover
Emma Dagres, Jr. A, Weston
Erika Eipp, Jr. M, Groton-Dunstable
Kate Farnham, Jr. D, Andover
Ally Fazio, Jr. A/M, Andover
Rebecca Graves, Jr. A, Bishop Fenwick
Emily King, Sr. M, Northampton
Megan Hennessey, Soph. M, Winchester
Cassandra McGill, Sr. A, Westborough
Mary O'Connell, Soph. A, Norwell
Anna Petrunich, Jr. M, Westborough
Kate Riley, Jr. M, King Philip
Jessica Roach, Sr. M, Notre Dame (Hingham)
Brooke Rudden, Sr. A, Hopkinton
Stephanie Sabatini, Sr. M, Longmeadow
Rachel Sexton, Jr. M, Lincoln-Sudbury
Karaline Smith, Sr. M, Acton-Boxborough
Tory Waldstein, Jr. M, Needham
June, 24, 2011
6/24/11
11:25
AM ET
Andover girls lacrosse head coach John McVeigh confirmed this morning that three of his players have made verbal commitments to Division 1 programs for the 2012-13 school year.

Ally Fazio, the team's leading scorer and also a member of the two-time defending D1 state champ basketball squad, has committed to UConn. Meanwhile, twin sisters Kate and Anne Farnham -- also members of the D1 state champ field hockey squad -- will both suit up for UMass.

The Golden Warriors earned the top seed in the Division 1 North tournament this spring, and went 23-2 before bowing out to Lincoln-Sudbury in the North final.

Additionally, all three of them were selected to play in the Under Armour Underclassmen All-American game at Towson University next weekend, from July 1-3.
May, 27, 2011
5/27/11
6:28
PM ET
The Merrimack Valley Conference has unveiled its boys and girls lacrosse All-Conference and All-Star teams, as well as their Players and Coaches of the Year. Below are the All-Conference teams:

BOYS

ATTACK
Grant Whiteway, Billerica
Cam Slatton, Billerica
Matt McIver, Andover
Ben Melaugh, Billerica

MIDFIELD
Ross Murphy, Billerica
Nick Price, Andover
Nick Morello, Billerica
Ian Abrahamson, Billerica
Mike Conlon, Dracut
Ryan Forgione, Central Catholic
Tim Oteri, Andover

DEFENSE
Andrew Basler, Chelmsford
Mike Curley, Billerica
Ben Cook, Andover
Tom McLaughlin, Billerica

UTILITY
Nathaniel Vasquez, Haverhill

GOALIE
Crosby Nicholson, Andover
D.J. Smith, Billerica

Division 1 Player of the Year: Grant Whiteway, Billerica
Division 2 Player of the Year: Nathaniel Vasquez, Haverhill
Division 1 Coach of the Year: Craig Flynn, Billerica
Division 2 Coach of the Year: Dan O'Brien, Dracut
Assistant Coach of the Year: Sean Donahue, Lowell
Man of the Year: Grant Whiteway Jr., Billerica
Sportsmanship Award: Rory Fuller, Dracut

GIRLS

ALL-CONFERENCE
Christine Keenan, Sr., Central Catholic
Erin Masucci, Sr., Central Catholic
Mary Foggo, Jr., Central Catholic
Stefani Vadeboncouer, Sr., Haverhill
Molly Gleason, Sr., Haverhill
Nicole Devoe, Sr., Tewksbury
Casey Brown, Sr., Lowell
Grace Politis, Sr., Billerica
Kelly Pickett, Sr., Chelmsford
Johannah Cramer, Jr., Chelmsford
Meaghan Tuttle, Sr., Chelmsford
Emily Shields, Sr., Andover
Meghan Morris, Sr., Andover
Kate Farnham, Jr., Andover
Anne Farnham, Jr., Andover
Ally Fazio, Jr., Andover
Sara Miller, Sr., Andover
Kelsey Joaquin, Sr., Dracut

Division 1 Player of the Year: Jen Caro, Sr., Andover
Division 2 Player of the Year: Courtney O'Neil, Sr., Central Catholic
Coach of the Year: Phil Rowley, Central Catholic
Sportsmanship Award: Haverhill
May, 23, 2011
5/23/11
12:08
AM ET
By
Marc Thaler
| ESPNBoston.com
ANDOVER, Mass. – The double-digit win streak is still intact.
Andover High's double-digit win streak, that is.
The Golden Warriors celebrated something Sunday that hadn't been done by any girls' lacrosse team in several seasons. They became the first club in two-plus campaigns to top New Hampshire power Londonderry High, posting an impressive 12-9 win under the lights at Eugene Lovely Memorial Field.
Londonderry's win streak – and one of the nation's longest active runs – ended at 51 games. It started after a 14-9 loss to Framingham in the third game of the 2009 season, and included back-to-back NHIAA Division I championships.
"It's going to be up there for a long time. Like I told these kids, they're part of it," Londonderry coach Bob Slater said of the state record. "Who's going to touch 51 games? Not in my lifetime.
"That's going to knock us out of one of the top four or five (longest active win streaks) in the country," he added. "It's something they can remember."
Andover, meanwhile, clinched its 15th straight contest. The run includes last month's 12-5 win over Londonderry's arch rival and two-time reigning runner-up Pinkerton Academy of Derry, N.H.
Ally Fazio was a giant reason why Andover (18-1 overall) led for the final 42-plus minutes. The junior was a full-field force from the attack wing.
Her contributions included a marker during an early four-goal run that erased Andover's second deficit and produced a 5-2 advantage. Fazio finished with a game-high six points (four goals, two assists).
"I think (Londonderry's streak) was a really big motivator," Fazio said. "They're such a good team. You could see it from when they warmed up to every time they had the ball on offense. It's a big accomplishment for us because they're such a good team."
On this night, Andover was simply better.
The fourth-ranked squad in the latest ESPNBoston.com Top 25 won duels in areas Londonderry (14-1) routinely dominates.
Fazio gave the Golden Warriors the upper hand in draws. Attacker Jen Caro (three goals) posed problems around the crease. Goalkeeper Jillian Beucler (eight saves) denied several point-blank bids that clearly gave her teammates bursts of energy.
But Andover's biggest key to victory was undeniable: Lock-down defense in 7-on-7 play.
The defense's focus was Londonderry junior midfielder Jenny Thompson, already a known commodity to several Division I college coaches. She was constantly bombarded by double teams, many involving Fazio and Jackie Alois.
Thompson hit for three goals. But most often, she was forced to pass the ball as a result of Andover's aggressive defenders.
"It's definitely upsetting. But there's worse things that could've happened than ending our winning streak," Thompson said. "All that matters is if we tried our hardest. I know I tried my hardest and everyone else on the team tried their hardest."
Nearly 10 minutes into the second half, Leah Walter (two goals) cut into Andover's 7-5 halftime lead. Spinning to her left in traffic, the junior attacker created an open shooting lane and didn't miss.
Caro and Alexa Bedell (three goals, assist) soon traded tallies. But Andover's mixture of midfielders and close defenders didn't allow Londonderry to pull even at 8-apiece.
They relied on accurate stick checks. They closed quickly on free-position shots. They were relentless in pursuit when the ball hit the turf.
"Our first slides, our second slides, even our third slides are right there – right away. Constantly. Consistently," Andover defender Emily Shields said. "We just went out and took it from them."
The effort was particularly impressive, considering Andover played its second game of the weekend. The Golden Warriors beat Acton-Boxborough, 18-11, on Saturday.
As for the Lancers, they can still add to their in-state win streak. It stands at 49 games.
"We have so much respect for that Londonderry team," said Andover coach John McVeigh, whose team's lone loss was to Needham, 11-8. "It's a nice win for us. But, I think, it puts into perspective just how incredible that streak was. The target's on their back every single day. They're as good a team as we've seen. That's for sure."
Girls' lacrosse
Londonderry (14-1) 5-4—9
Andover (18-1) 7-5—12
Scoring: L – Alexa Bedell 3-1, Jenny Thompson 3-0, Leah Walter 2-0, Caitlyn Murphy 1-0, Kelsey Derhak 0-1; A – Ally Fazio 4-2, Jen Caro 3-0, Sara Miller 2-0, Weezie Gross 1-0, Anne Farnham 1-0, Kate Farnham 1-0
Saves: L – Crystalle Parent 9; A – Jillian Beucler 8
Marc Thaler is a staff writer for the New Hampshire Union Leader & Sunday News. He can be reached at marc.thaler@gmail.com. You can read his blog, "New Hampshire GameDay" and follow him on Twitter @marc_thaler.
November, 20, 2010
11/20/10
2:43
PM ET




WORCESTER, Mass. -- Speed runs deep in the Andover field hockey program, and in this morning's Division 1 state championship game, Algonquin Regional found itself in store of a huge dosage.

The Golden Warriors dominated possession throughout the morning at Worcester State's Coughlin Field, leading to 18 penalty corners while yielding none to the Tomahawks, as they cruised to a 3-1 victory to capture their first field hockey state title in school history.

"They just wanted it," head coach Maureen Noone said. "They were just going crazy. I think at first, they needed to settle a little bit, and needed to make things happen instead of playing their (Algonquin's) game."

Said junior forward Anne Farnham, who tallied the final two goals of the afternoon, "I'm just amazed right now, just coming here and winning. It's just a sweet victory."

Led by an aggressive midfield in Taylor Farris, Jill Manning (three assists) and Northeastern-bound senior Laura Dimitruk, the Golden Warriors (24-0-0) took it to the defense of the Tomahawks (15-3-4) early and often. Ten minutes in, they notched their first goal of the day on a penalty corner from the right. Manning cradled ball at the top of the circle and slid it across to Dimitruk, who fired from five yards out and hit the middle of the cage.

Liz Holmes came through with an equalizer with 11 minutes to go in the half, crashing to the far post and putting back a Nikki Wrin shot from the right side near the top of the circle. But from therein, the Warriors kicked it into another gear and dominated ball control.

At the eight-minute mark of the half, Farnham made it 2-1 with a one-timer at the far post, off of a penalty corner after Manning rolled the ball across the crease. And in the second half, the speedy Andover forward line forced the Tomahawks to crowd their own half-circle, and only managed to come across into the Andover zone twice. Farnham closed out the scoring with 58 seconds left, tipping in a pass from Manning to make it 3-1.

"We just tried to talk a lot as a team," Manning said. "We tried to communicate with each other, and tell each other what was open, where to go. Basically, we just tell each other alot to communicate."

Not to be overlooked in the defeat, however, was Algonquin's goalie Channing Moreland. The junior plays with an unorthodox sliding style, staying low to the turf, often diving to the turf and laying out across the crease. The style isn't one seen too often by the Warriors, which forced them to take more deliberate shots off the ground.

Moreland was credited with 16 saves in the loss, while Dina Hagigeorges needed just four saves to pick up the win for Andover.

"It was more, we were looking to lift the ball and get it in," Farnham said. "Yeah, she did slide a lot, lie down. But eventually, we got there."
November, 17, 2010
11/17/10
2:02
AM ET
NORTH ANDOVER, Mass. -- Through the grueling pace of a tense 60-minute game and more than halfway through the second overtime period, legs were growing weary during Tuesday's Division I state field hockey semifinal between South sectional champion Walpole and North champion Andover, played at North Andover High.

Enter sophomore Meagan Keefe.

She'd only played a couple of minutes, spelling the starters and providing a boost of energy to the front line of the Golden Warriors' attack. Then, eight minutes and 47 seconds into the second overtime period, Keefe tipped home Laura Dimitruk's blast from the top of the penalty area, giving Andover a 2-1 victory and a chance to play for the state title.

"You're always trying to be ready, staying in the game," Keefe said. "Then, when coach tells you to go in, you'd better be ready."

Keefe took full advantage of her opportunity after both teams had seen stellar opportunities go by the wayside in the first overtime.

Walpole (22-1-0) out shot Andover, 4-3, in the first overtime, but Golden Warriors goaltender Dina Hagigeorges was up to task. No save was finer than the senior's effort to stack the pads on a breakaway attempt by vaunted Porkers striker Caroline Malone.

"At the break we had just had previously, one of my coaches told me that if anyone comes on a breakaway, you have to be aggressive," Hagigeorges said. "I was thinking back on that and what I'd been taught before. When you approach breakaways, you can't wait for the ball to come to you, so that's what I did."

Stopping Malone and the talented Walpole offense had been a priority for Andover (23-0-0) heading into the game.

"I think what we tried after watching [Malone] last week and going over some of the films was just to take the pass away from her and try to avoid them getting the ball to her," Golden Warriors head coach Maureen Noone said. "If she does get the ball down low and you make a nice block tackle, then most of the time it works. I think the kids played supportive. If it got by one, then somebody else was there to pick up."

Andover got off to a quick start as Jaclyn Torres buried and nice set up from Anne Farnham a little more than five minutes into the contest.

The Porkers answered midway through the first half on Hannah Feeley's goal, assisted by Meghan Murphy off of a penalty corner, but were unable to find the back of the net again.

Walpole has now bowed out in the state semifinal round in each of the last four seasons, after winning the Division I crown in 2006.

Andover will play Central champion Algonquin -- which beat South Hadley, 2-1, on Tuesday -- for the state title at Worcester State College, Saturday at 10 a.m.

WATERTOWN HOLDS OFF CANTON
Bitten twice shy, Canton had experienced the same fate just a year before.

For the second straight season the Bulldogs fell, 1-0, to Watertown in the Division II state semifinal, the early game on the slate at North Andover on Tuesday. In 2009, the Red Raiders slipped past Canton by the same score en route to their 10th state field hockey championship.

"I think to start the girls were maybe a little nervous, they were a little too excited," Bulldogs head coach Fior Griggin said. "Once we settled in, we had a lot of breaks. We had more shots than they did. We had more corners than they did. I thought we had more possession time than they did."

Canton (20-1-1) carried play early, but Red Raiders goaltender Kayla Costa kicked out chance after chance to keep her team in it during the first half.

"I thought our team should have been more intense, matching them," Watertown head coach Eileen Donahue said. "I thought we were lucky to hold against them."

The Red Raiders emerged from the break a different team and immediately went on the offensive. Erika Kelly found Lauren Giardano for the game's lone marker 1:12 into the second half.

Kelly likened her chemistry with Giradano to the attraction of magnets — they simply know how to find each other.

"I saw her running down the right side, so I just smashed it across field and that was it."

Watertown had an excellent chance to strike again when Kelly squared off with Bulldogs goaltender Sarah Healey on a penalty stroke midway through the second stanza. Healy robbed Kelly with a blocker save on the shot that was ticketed for the nearside post.

"That was sick," Griggin said of Healey's save.

Canton rode the momentum their keeper provided them, pushing the Red Raiders to the end. The Bulldogs had seven penalty corner chances in the final 12 minutes of play, but were unable to connect.

Watertown will face Central champion Auburn (who beat Mohawk Trail, 2-1 in overtime) at Worcester State College, Saturday at noon with the chance at state title No. 11 on the line.