Boston High School:

Anthony Barry
May, 19, 2013
5/19/13
2:20
AM ET
By
John McGuirk
| ESPNBoston.com
WORCESTER, Mass. -- Up until this past week, there was no guarantee that Phillips Academy-Andover would be grab a spot in Central New England Prep School Baseball League (CNEPSBL)/Thomas Blackburn Championship Tournament. Having won the title a year ago, the Big Blue struggled this season and needed to beat Tabor Academy on Wednesday to qualify. On the strength of pitcher Rory Ziomek, Phillips Academy cruised to a 5-0 triumph to earn the bid.
With the pressure off, the Big Blue walked into Assumption College's Rocheleau Field on Saturday with a "nothing to lose" attitude. That mindset certainly paid off as the fourth-seeded Big Blue defeated top seed Deerfield Academy, 10-7, in the semifinal round before knocking off No. 2 seed Worcester Academy, 12-8, in the afternoon in the title tilt.
"This is our second championship in a row but this is a much-different team than last year," fifth-year Phillips Andover head coach Kevin Graber said. "Last year's team was very dominant. This year we had to scratch and scrap and faced a lot of adversity along the way.
"Our pitching carried us into this tournament and our depth manifested itself and we were able to get our offense to catch up in the end. My philosophy has always been for us to be playing our best baseball at the end of the season, especially in a end-of-the-year tournament. We did that this year."
On the strength of 10 hits and a multitude of wildness by the Hilltoppers' pitching corps, the Big Blue (10-6) led late, 12-4. In hindsight, they were fortunate to construct such a cushion because Worcester (19-11), which blanked Phillips Exeter in its semifinal matchup, decided to make things a bit more interesting late.
Phillips Andover jumped out to a 2-0 lead in the second inning after Hilltopper starter Nick Johnson served up four consecutive walks. A double-play later in the frame led to the Big Blue's second run.
[+] Enlarge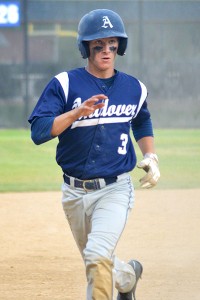 Brendan Hall/ESPNFreshman John Simourian went 5 for 7 in the championship game with 4 RBI to lift Philips Andover to its second straight CNEPSBL title
In the bottom of the inning, Worcester Academy cut the deficit to one after junior John Marculitis (3-for-4) tripled and later came home on Jessey Valdez's fly out. In the fourth, the Hilltoppers took a 3-2 lead thanks to Marculitis' two-run double. But the tide of momentum would quickly change over to the Big Blue side in the fifth. Johnson opened the frame by allowing a single and plunking the next two Phillips Andover batters to load the bases.
For the game, three Hilltopper combined to hit eight Big Blue batters. Hilltoppers head coach Dana Forsberg made the decision to pull Johnson in favor of Nick Economos. But the lanky right-hander walked John Festa to force in a run and knot the game 3-3. A passed ball ensued to plate Phillips Andover's fourth run. Harry Roche then lined a single to right for another run and push the lead to 5-2.
The Big Blue weren't done. Later in the inning they loaded the bases before Forsberg summond Greg Hemmer to the mound. But Hemmer was immediately greeted by a John Simourian a two-run single pushing Phillips Andover's advantage to 7-3. Simourian, a freshman transfer from Belmont Hill, finished 5-for-7 at the plate on the day and also drove in four runs.
"I'm just glad we came out with the win," said the Big Blue catcher. "As it showed today, everybody is a fighter on this team. There isn't one guy who wouldn't lay everything he has down for the sake of the team. I think that's what led to another championship for us."
After Worcester Academy got a run back in the fifth, the Big Blue responded with four more uns in the sixth highlighted by Joey Verhaegh's two-run double. In the seventh, back-to-back doubles from Chris Hohlstein and Connor Farrell increased the Big Blue's lead to eight runs.
To the Hilltoppers credit, they didn't go down without a fight in their final at-bats. Three errors sandwiched around a Marculitis RBI single pulled them to within four runs. But Phillips Andover and future Tufts University pitcher Tim Superko (CG, 6 hits, 7 Ks) worked through the circus-like atmosphere of the inning to nail down the victory, giving the Big Blue their 10th CNEPSBL crown since 1988.
"This is probably the most-talented team that I have ever had here," said Forsberg, who last won a title in 2011. "The kids played hard. When you are down big like that it is easy to fold but that never happened. These kids never stopped believing. We preach to our pitchers that you have to throw strikes.
"If you don't throw strikes and put people on those runs are going to cross and that bit us today. This was a special team and the toughest team that I've ever coached. They love the game of baseball. We've got some good kids coming back and some nice ones coming in so we'll be ready for next year."
Semifinals: Stefaniak shines, Dennehy says goodbye
In the day's first game, the Hilltoppers jumped on Phillips Exeter pitcher Hunter Carey for three first inning runs and made it stand due to the mound majesty of Mark Stefaniak. The lefty dominated the Big Red, striking out 15 in the process.
"I just went out tried to throw strikes and get ahead of the hitters," said Stefaniak, who also will pitch for Tufts University next year. "When you get ahead of hitters you have a much-better chance to put them away. That is what I focused on today and tried to stay ahead of their hitters."
After his rough opening frame, Carey settled down and kept Worcester Academy off the board the rest of the way. But it was the first inning that haunted the future Trinity College hurler. The Hilltoppers took a 1-0 lead on consecutive doubles by Anthony Barry and Brad Petitpas. Hemmer followed by blistering a moon shot over the center field fence for a two-run homer. That would prove to be enough run support for Stefaniak who handcuffed the Big Red (11-7) early and often.
"That team came out swinging and were ready to hit from the beginning," said 42-year Phillips Exeter coach Bill Dennehy, who is calling it quits at season's end. "I thought Hunter hung in there after that first inning but their pitcher was just too tough on us today.
"This is my last year and it's been tough to think about. You surprise yourself when you see how fast it goes even after 42 years. I couldn't have had a better job. I've been blessed here. What I'm going to miss most is being around the kids on a day-to-day basis. That was always the biggest thing for me. We've always had great kids here."
In the day's other semifinal, Phillips Andover jumped out to a 6-1 lead and held off a couple of late Big Green (10-3) surges to come away triumphant. The Big Blue put this one away with a five-run third. A two-run double from Farrell and RBIs by David McCullough and Matt Hosman pushed Phillips Andover out to a 6-1 lead. Deerfield Academy shot back in the fifth, scoring four times. Cullen Geary keyed the inning with a two-run single.
In the Big Blue's half of the sixth, they put this game out of reach after scoring three more times on a SAC fly, a fielder's choice and a Simourian double to lead 9-4. Phillips Andover led 10-5 going into the final inning. The Big Green scored a pair in the bottom of the frame on RBIs by Coltan Dana and Conor Quinn failed to draw any closer.
October, 24, 2011
10/24/11
12:08
PM ET
By
Brendan Hall
| ESPNBoston.com
Brooks School shooting guard Anthony Barry accepted a scholarship offer from Merrimack College and committed to the Division 2 Warriors yesterday, according to his AAU coach with the Middlesex Magic, Mike Crotty Jr.
Barry, a 6-foot-3 Milford native, has seen his stock rise slowly since transferring from his native Milford High and repeating his junior year at the North Andover campus. Last summer, running with the Magic, he displayed impressive athleticism at AAU Nationals.
Crotty Jr.
had this to say about Barry at the time
:
"Barry continued to show his fantastic athleticism on both ends of the court all Summer long. A bona fide D2 prospect with multiple scholarship offers in hand, Barry continued to impress as he shut down many heralded wings from all over the country. His ability to defend at such a high level, paired with his great ability to finish and make the mid-range jump shot have Anthony in a great spot in terms of his recruitment. He is also one of the best rebounding 2 guards I have ever had the pleasure to be around, and he possesses fantastic leadership qualities."
August, 1, 2011
8/01/11
10:38
PM ET
By
Brendan Hall
| ESPNBoston.com
Middlesex Magic director and coach Mike Crotty Jr. passes along some notes about his summer AAU squad, which went 15-7 overall for the month of July, including a 7-6 slate at AAU Nationals down in Lake Buena Vista, Fla.
If you can recall, one year ago Pat Connaughton catapulted into the ESPN 100 following an explosive showing at Nationals, and Pat Ackerman played his way into a Big Ten scholarship offer. This year, players like Cardinal Spellman's Joey Glynn, Rivers' Kyle Reardon and Brooks' Anthony Barry and Connor Mahoney led a squad that won some tight contests in pool play before falling to Elite Eight contestant Alabama Challenge in the second round of bracket play.
"I think that Glynn, Mahoney, and Reardon all solidified themselves as low D1 and definite D2 players," Crotty wrote in an email. "Patriot League, NE-10 [Northeast-10], and some others were consistently following and have expressed serious interest. You know I am partial to D3, but I really believe all three of these kids, along with Anthony Barry, did more than enough to gain multiple scholarship offers."
Crotty wrote in to ESPNBoston.com with his thoughts on his standout players:
Joey Glynn (Cardinal Spellman) -- leading scorer and rebounder for the Magic in 13 games in Orlando (showcase and nationals). Joey Glynn is a division I athlete who played high above the rim for the Magic throughout their entire Summer run. Glynn showed his relentless work on the glass on both ends of the floor, his ability to defend multiple positions, and his versatile ability to score the ball. His endless motor and amazing upside are qualities that college coaches can not ignore.

Connor Mahoney (Brooks) -- Connor was the leader of the team and he stepped up on both ends of the court this entire Summer. In Orlando, in particular, he has back to back 25 point scoring outbursts where he showed his terrific 3 point shooting range, but also the ability to score driving the ball to the rim, in the post, and a deadly pullup jumper. His rebounding sometimes goes less noticed, but he was the team's second leading rebounder and he also defended wings and big with great effectiveness. In addition to his great basketball IQ and leadership, you get one of the most reliable players and people I have ever had the chance to be around. He is an instant positive addition to any college program on and off the court.

Kyle Reardon (Rivers) -- Kyle Reardon has the reputation of a terrific shooter and he is that. What people who watched him this Summer also learned is just how amazingly smart and unbelievably tough a basketball player he is. He became as invaluable a player as the Middlesex Magic had, as he played shooting guard-power forward doing whatever was asked and consistently creating match-up problems for whoever guarded him. Reardon can score in a variety of ways with a great long range jumper, ability to drive to the rim, and a tough back to the basket game. His toughness willed our team to many victories this Summer, and he will be a fantastic college player.

Anthony Barry (Brooks) -- Barry continued to show his fantastic athleticism on both ends of the court all Summer long. A bona fide D2 prospect with multiple scholarship offers in hand, Barry continued to impress as he shut down many heralded wings from all over the country. His ability to defend at such a high level, paired with his great ability to finish and make the mid-range jump shot have Anthony in a great spot in terms of his recruitment. He is also one of the best rebounding 2 guards I have ever had the pleasure to be around, and he possesses fantastic leadership qualities.

Aaron Davis (Brooks) -- The Middlesex Magic point guard battled an ankle sprain throughout the Summer, but he showed signs of exactly the type of player he is when healthy. Simply put, Davis is a throw-back point guard who sees the floor and creates for his teammates unlike any other point guard I have ever coached. He has tremendous ball handling skills, is a terrific passer, sees the floor, and is incredibly unselfish. On top of that he is a tremendous shooter, deceptive athlete who pressures the ball extremely well, and he is a natural born leader. I feel strongly that this young man will take the ball for some Coach's program and he will lead them for four years.

Michael Thorpe (Newton North) -- Thorpe emerged as a terrific combo guard for the Magic all season long. He has blazing speed and quickness which he uses to bother opposing guards and to create scoring opportunities for himself and his teammates. He has a very good shooting touch from deep and a great ability to finish in traffic. Thorpe will provide a versatile guard with great scoring ability at the next level.

Peter Miller (Northfield-Mt. Hermon) -- Peter Miller stood out for the Magic this Summer as he emerged as one of New England's best 2013 prospects. The 6'10 center can run the floor, has great back to the basket post game, and he is a terrific weak side shot blocker. He continues to improve in all aspects of his game including his jump shot and post defense, and he drew a variety of division 1 programs to come watch him put his skills on display.

Cooper Ainge (Wellesley) -- Cooper started off the Summer by showing that he might be the Magic's most versatile offensive guard. Ainge has a great stroke from deep, an excellent pullup jump shot, and he can get to the rim to finish and create for others. Defensively he has great lateral quickness and terrific instincts. Cooper is one of the smartest players on the Magic team, and his well rounded abilities will allow him to be a great college player.

Chris O'Keefe (Lexington) -- O'Keefe is one of the most hard-nosed players the Magic has ever had. He defends and rebounds his position extremely well, and he is as tough a player as there is on the floor. He is an efficient scorer who can make open shots and drive to the rim to score. His work ethic and competitiveness will make him an immediate value add to a college program.

Mike Corcoran (BC High) -- Corcoran consistently stepped in and showed his speed, amazing motor, and tremendous ability to defend. His ball pressure frustrated each opponent he faced, and his ability to manage a two tempo offense of transition and half court motion was invaluable to the team. The BC High Captain will return to the Catholic conference with a wealth of experience under his belt and poised for a big senior season. He is seeing interest from a variety of Division III schools.

John Mullane (King Philip) -- Mullane is a jack of all trades player who scores in a variety of ways and has the ability to defend both guards and forwards. Mullane is a tenacious rebounder and a consistent three point shooter who played multiple positions all year for the Magic. He is seeing recruitment from many Division III schools as he heads into a promising senior season.
May, 11, 2011
5/11/11
12:26
PM ET
Mike Crotty Jr. of the Middlesex Magic and Rick Gorman of the New England Storm AAU programs have linked up tonight to host "College Night" at Tufts University, from 6:30 to 9 p.m. Anywhere from 25 to 40 coaches from Northeast-10, NESCAC and NEWMAC schools are expected to be in attendance for the event.

"Rick Gorman of the New England Storm and I believe that bringing our players together for this event will be a great night for them to gain exposure, and for coaches to have the opportunity to see two teams full of collegiate level basketball players," Crotty said in a press release.

Below is a list of some of the most notable players expected to play tonight:

Aaron Davis, Brooks
Mike Corcoran, BC High
Cooper Ainge, Wellesley
Michael Thorpe, Newton North
Chris O'Keefe, Lexington
Connor Mahoney, Brooks
John Mullane, King Phillip
Anthony Barry, Brooks
John Parsons, Willmington
Peter Miller, Northfield-Mount Hermon
Kyle Reardon, Rivers School
Joe Glynn, Cardinal Spellman
Chris Lee, Lexington