Boston High School:

Anthony Capuano
May, 26, 2012
5/26/12
11:26
PM ET
By
Andy Smith
| ESPNBoston.com
DANVERS, Mass.- Is there a better way to prepare for a state tournament than by ending the regular season playing a cross-town rival?

Danvers and St. John's Prep squared off Saturday night in a battle of bragging rights and momentum going into the playoffs. It was a tightly-contested game through the first five innings, but Prep scored five runs over the final two innings to come away with the 8-2 victory.

"This game is always big, we always have a bunch of momentum coming out of it," said the Prep's Brandon Bingel. "We're always pumped to play it, so it's a good game to give us momentum going into the playoffs."

Prep (15-5) got on the board in the top of the first after a Bingel three-run opposite field home run. Coming off the bat, it did not appear to have enough legs to get over the wall, but it did.

Even Bingel was not convinced it was going to get over the wall.

"It didn't feel too good coming off the bat," he said. "As I got down the first base line, I saw the wind carrying it, and it just got over."

Danvers (14-5) got a run of its own in the bottom of the inning after a throwing error by the third baseman allowed Ray Orocho to come around and score.

The Prep lead was being threatened in the fourth inning when Danvers had two runners on with only one out. After a passed ball and a wild pitch, one run scored. Nick Valles flew out to right field, but Anthony Capuano's throw was so strong and on the money that Orocho was stuck at third.

Tyler Dustin grounded out two batters later, preserving the Prep lead.

It was the second run-saving play of the game Capuano made again Valles. In the second inning, back-to-back hits by Dan Connors and Orocho put runners at second and third with two outs.

On the 0-2 pitch, Valles hit a fly ball to right and Capuano laid out and caught the ball in a play that most would say was worthy of Sportscenter's Top Plays.

Danvers was kept off the board for the rest of the game, while Prep added to it's total, including three runs off Arocho in the seventh.

Bulldog Effort: It was a good week for Bingel. After declaring his verbal commitment to Bryant University earlier this week, the junior went 2-for-4 at the plate tonight with a home run, a double, and 4 RBI.

"Committing to Bryant kind of took a lot off my shoulders," he said of the Bulldogs. "There's people here watching and it doesn't effect me at all, I just go out and play. I'm feeling pretty confident after committing, and it helps when I play."

Strong Relief: Prep coach Pat Yanchus saw all he needed to see out of his starter, Dustin Hunt after 4.2 innings. He brought in Bingel to relieve the hard-throwing right hander with the count still at 3-1.

It is hard to blame the coach, considering the sequence of events that lead up to it. Hunt started the inning by striking out Joe Strangie. He proceeded to hit Connors, walk Orocho, and allow the two to advance a base because of a passed ball.

After Valles flew out to right, that left runners on second and third with two outs. Yanchus decided to intentionally walk Scott Hovey. Hunt tossed one of his throws over his catcher's head, which allowed Connors to come home for Danvers' second run of the game.

Yanchus went to the mound right after that, determined not to let the lead slip away.

"He was struggling, they were hitting him hard," he said. "He got up to about 70 pitches, he had to work, and he seemed a little tired, and Bingel's a good pitcher, so we made the change."

Tourney Time: The two teams now wait in anticipation for the tournament seedings to be announced, which will happen early next week.

With the win, SJP is behind only BC High in the Catholic Conference standings and sets itself up to get a high seed in Division 1 North tournament next week.

Yanchus wanted to get his team into the tournament mindset, starting with Saturday's game.

"We tried to get them into the mindset that this is the beginning of the tournament," he said. "Proceeding to win this game is like a tournament game, so let's treat it like such."

He feels there are improvements his team still needs to make, even though his team sits at 15-5.

"We're not hitting like I'd like to be hitting," he said. "Maybe we can break into hitting a little, maybe this gives us a little confidence."
May, 7, 2012
5/07/12
11:57
PM ET
By
Tom Layman
| ESPNBoston.com
MALDEN, Mass. — Brandon Bingel sure didn't look like a pitcher who went 10 innings in his last outing.

Bingel struck out six and didn't allow a runner to reach base in three scoreless innings of relief as St. John's Prep inched out a 3-2 victory at Malden Catholic (7-6) in a rare night game in the Catholic Conference.

The junior right-hander needed 44 pitches to get through his three innings after throwing 79 to go the distance and then some in the Eagles' last victory against Catholic Memorial.

"I felt pretty confident," said Bingel, whose team is now 12-3 on the season. "I threw 10 innings against CM and it was a really good outing, so I was really confident. Everyone was swinging at the high fastball, so I just kept pumping that thing in."

Bingel struck out five of the first six batters he saw and used a four-seam fastball with some good late movement on it to fool the Lancers hitters in a one-run ball game.

"He's been tough all year," said Prep head coach Pat Yanchus. "He gave up three real good innings after his last start, which was pretty incredible because I haven't seen 79 pitches in 10 innings before."

Wild Pitches in Wild Win: The Prep bats were quiet on a brisk night and only collected six hits against Jeremy Roberts and Paul Covelle. Instead, they used mistakes from the Lancers' pitchers to their full advantage.

The Eagles scored all three of their runs on wild pitches to overcome their hitting woes.

In the first inning, Tommy Buonopane scored on a wild pitch to get the first run of the game, and Anthony Capuano got in standing up at home after a pitch from Roberts got away from Austin Batchelor.

In the top of the sixth inning, the Eagles capitalized again. Nick Sadler beat Covelle to the plate with a tremendous pop-up slide for the go-ahead run before Bingel shut things down.

"When I was coming down the line I didn't even really see it," said Sadler. "I saw the pitcher coming in fast and I thought he was going to overshoot the bag, so I just tapped the outside of the bag."

Defense Comes Up Big: The Prep did have its share of miscues in the field, but there were several big plays to keep the Lancers from breaking the game open.

In the first inning, Nick Turco looked like he would score on a wild pitch by Bobby Woodworth, but Jake Barosin was able to shovel the baseball right to his pitcher to save a run.

Kenny Runge was gunned down at third with some aggressive baserunning on a perfect relay from Capuano, to the shortstop Bingel, to Tyler Noe at third.

Capuano also showed off his arm in right when he gunned down Anthony Carbone at the plate with a one-hop throw after Ryan January singled after the Lancers had plated two runs in the bottom of the fourth inning.
May, 3, 2012
5/03/12
10:23
PM ET
By
John McGuirk
| ESPNBoston.com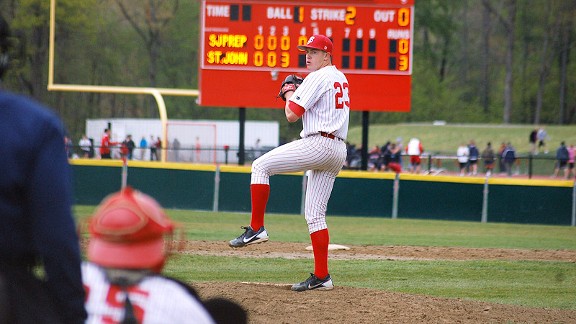 Brendan Hall/ESPNBoston.comSt. John's junior righty Ben White (5.2 IP, 9 K, 2 hits, 109 pitches) put in a workmanlike effort on the mound in the Pioneers' win over St. John's Prep.
SHREWSBURY, Mass. -- Prior to yesterday's non-league tilt against St. John's Shrewsbury, Pat Yanchus, the longtime helmsman of the St. John's Prep baseball program, noted that much of this season's success has been due in part to the Eagles' solid defensive play.
After watching his team commit four errors, all of which played a huge role in his club's 4-3 loss at Pioneer Field, Yanchus may want to re-track those statements.
The Eagles were generous on the defensive side. In turn, it also soured a solid performance by junior righty Dustin Hunt, who allowed just three hits and struck out seven in a complete game effort. All of St. John's runs were unearned.
"We've been playing great defense all year, but today we made some key errors, three in one inning, which was the game," said Yanchus, his team now standing at 11-3. "Dustin pitched great. That's the best he's pitched for us this season. He had all three of his pitches (fastball, curve and change up) working for him. It was a non-league game today so we're still in good position but you still would like to win these games and not give them away like we did today."
In the bottom of the third, the Pioneers struck for three runs on just one hit but capitalized on three Eagle miscues.
With two on and two out, Nick Sieber grounded a ball off of third baseman Tyler Noe's glove which plated Mike Sullivan, who walked. After Hunt issued a base on balls to Owen Shea, Eagles catcher David Maher tried to pick off Shea at first but his throw bounced away from first baseman Nick Bragole allowing Tom Petry, who singled, to score St. John's second run. The play continued as a throw to nail Sieber sprinting to third sailed into left field allowing the senior to come around and cross the plate.
"In a couple of ways we stole this game, but we're not going to give it back," said Pioneers coach Charlie Eppinger, his team improving to 10-2. "Anytime you beat St. John's Prep it's certainly a good victory. We ran the bases well and took advantage in what they gave us."
St. John's starter Ben White was doing a yeoman-like job keeping the Eagle bats silent over the first three frames. But in the fourth, the Prep offense finally awoke. Anthony Capuano walked and Brandon Bingel followed with a single. After a wild pitch advanced both runners, Capuano trotted home with the Eagles' first run on a pass ball.
White (5.2 IP, 2 hits, 9 K's, 109 pitches) set down St. John's Prep in order the following frame, but ran into trouble in the sixth. With his pitch count rising, the junior righthander loaded the bases by plunking Bragole, serving up a single to Andrew Donahue and walking Keith Leavitt. A meeting on the mound did little to sooth White as he then walked to Maher to force in Bragole to make it a 3-2 game.
Pioneer ace Mike Badjo was then called to the mound in place of White to try and get St. John's out of this mess. The senior did just that, striking out Rory Garrison and keeping the Pioneers' slim lead in tact.
"My arm felt the best it has felt all year," said Badjo. "Ben threw a great game for us but got into a little trouble late. I just wanted to come in and help him out. Starting a game in nice because you get your mind set before the game. But coming in relief is nice as well because you come into a pressure situation and that's what you live for. As a reliever you really don't have time to think, you just go out there and throw."
The Pioneers, who defeated the Eagles 4-2 back on April 13th, added a much-needed insurance run in their half of the sixth, on yet again, another St. John's Prep error. In the frame, Shea reached base on a one out walk. Scott Manea followed with a line single to right putting runners on the corners. With Tanner Johnson running for Manea, Eppinger called for a steal. Maher's throw to second was high, tipping off the glove of Bingel, the Eagles' shortstop, and sending Shea home with St. John's fourth run.
St. John's Prep's attempt of a comeback fell one run shy in the final inning. Badjo struckout the first two batters he faced but Capuano worked him for a walk. The senior moved to third following a steal and wild pitch. He came home after Petry, the Pioneer shortstop, failed to handle Bingel's hard grounder cleanly. However the damage was miniscule as Badjo was able to retire Bragole to end the contest and preserve the victory.
April, 3, 2012
4/03/12
11:29
PM ET
By
Brendan Hall
| ESPNBoston.com
DANVERS, Mass. -- There have been more interesting ways to open the high school baseball season. But not too many.

This afternoon's contest between host St. John's Prep and rival Peabody started out as a grind-it-out pitcher's duel, but things got untracked in the ninth inning. Peabody went up 4-1 to start then top of the inning, before the Eagles came back in the next stanza to tie it, thanks to several errors in the field, and eventually win in walk-off fashion in the 10th on a walk, taking the contest 5-4 in the season-opener for both squads.

"Yeah, kind of a crazy game," Prep head coach Pat Yanchus said. "I thought the pitching was good for the most part."

Peabody head coach Mark Bettencourt was a little more blunt -- "It was a bizarre game," he said.

"You know what it was?" he continued. "Strange things happen in the first game of the year. We're not going to say we didn't play well, because I thought we did play well. I thought when things got tight, we had a little bit of trouble. But so did they."

The Tanners took a 4-1 lead in the top of ninth, loading the bases up without a hit. Cleanup hitter George Tsnosis worked a walk from righthander Mike Driscoll to make it 2-1, followed by a fielding error and a beaning of Stephen Girolamo to make it a three-run lead.

But the trouble for Peabody started in the bottom half of the inning, with two outs. Prep's Brandon Bingel swung at a low third strike, which was misplayed by the catcher and allowed him to reach first on the passed ball. Next up was pinch-hitter David Bornstein, who reached first base safely thanks to an off-the-mark throw from the shortstop.

A single from freshman Keith Leavitt plated Bingel, and a passed ball in the next at bat allowed Bornstein to come home. Tyler Noe then reached first on another error from the shortstop, plating Leavitt and tying the game at 4.

In the bottom of the 10th, junior Nick Bragole worked to a 3-0 count, then fell back to 3-2, before finally drawing a ball low in the zone to plate Anthony Capuano for the winning run.

Starters go to work: Peabody's workhorse junior righty Pat Ruotolo got the no-decision, after striking out 10 in nine innings on 133 pitches, after some unfortunate errors in his final frame. But for most of the afternoon, he and Prep senior righty Rob DiFranco stole the show, battling

Ruotolo's fastball sat in the 83 to 85 range for most of the afternoon. But as the game went on, his 12-to-6 curve had a more defined drop to it, especially in the latter innings. Six of his 10 strikeouts came after the fifth inning; a big part of that was the curve, as well as the high heat he was able to dabble in there.

"When you're facing Patrick, you're going to show us you can hit his fastball before we start doing anything," Bettencourt said. "So we usually try to hold his breaking ball through the first round of the order if we can. I thought he did very well with that today. He established his fastball early, wasn't getting a ton of punch-outs, but a lot of times they were guessing. You saw a lot of pop-ups, fly-outs, to keep them off-balance.

"That's a good-hitting team. Towards the end, he started getting that adrenaline, and that's when that breaking ball starts coming into play."

In the top halves of the innings, DiFranco battled with the Tanner hitters, getting behind in the count but usually not out, striking out six while allowing just three hits and a walk.

"He wasn't getting the first strike over, but he was making them swing and miss," Yanchus said. "When he's down low, his ball sinks a lot, and they were swinging over the ball a lot."
March, 1, 2012
3/01/12
11:45
AM ET
ESPNHS kicks off its baseball season coverage by unveiling its preseason All-State Teams for all 50 states plus the District of Columbia. A number of stars litter its Massachusetts squad, including BB&N's Rhett Wiseman, Lowell's Matt Tulley, Lexington's Chris Shaw and Braintree's Pat Delano.
You can find the entire list, which includes "Other Top Players"
by clicking here
. Below is ESPNHS' All-State Team for Massachusetts:
POSITION PLAYERS

Anthony Capuano, St. John's Prep, OF, Senior
Led SJP in hits, runs and stolen bases last year.

Jarrod Casey, Milford, OF/LHP, Senior
Batted .530 and posted an 8-1 record on the mound.

Dan Cellucci, Lincoln-Sudbury, SS, Senior
Posted a .536 BA and scored 44 runs for Division 1 state champs.

Chris McCarthy, Everett, C, Senior
Hit .585 and drove in 28 runs as a junior.

Bob Melley, BC High, C, Senior
Productive backstop has signed with UConn.

Matt O'Neil, East Longmeadow, SS/RHP, Senior
Batted .447 with 15 stolen bases last year, committed to UConn.

Christopher Shaw, Lexington, 1B/RHP, Senior
Boston College recruit hit eight home runs last year.

Ryan Summers, Westfield, C, Junior
Hit six home runs and drove in 27 last year; headed to Louisville.

Matt Tulley, Lowell, SS/RHP, Senior
Has signed to play at Virginia Tech.

Rhett Wiseman, BB&N, OF, Senior
Vanderbilt recruit hit .447 with 11 HRs and 29 SBs last year.


PITCHERS

Austin DeCarr, Xaverian, RHP/SS, Junior
Strong-armed athlete also took snaps as a quarterback in the fall.

Patrick Delano, Braintree, RHP, Senior
Big power pitcher is headed to Vanderbilt.

Tyler Dowd, Springfield Central, RHP/OF, Senior
Should be among state leaders in K's this spring.

Mike Krupczak, Springfield Cathedral, RHP, Senior
Went 7-0 with a 1.85 ERA last year.

Ryan McDonald, Acton-Boxboro, LHP, Junior
Posted a 0.90 ERA last year, striking out 71 batters over 55 innings.

Steve Moyers, East Longmeadow, LHP/OF, senior
Went 8-1 last year while posting a 0.44 ERA; career record of 23-2.

John Nicklas, St. Sebastian's, RHP, Senior
Has signed to play at Boston College.

Pat Ruotolo, Peabody, RHP, Junior
Struck out 102 batters last year, including three games of 15-plus K's.

Max Tishman, Lawrence Academy, LHP, Senior
Polished left-hander has signed with Wake Forest.

Troy Whitty, Dexter, RHP, Senior
Transferred from Oliver Ames, where he posted a 0.90 ERA last year.
May, 28, 2011
5/28/11
1:16
AM ET


BOSTON – Justin Peluso's game-winning hit almost never was.

In the top of the 10th inning, he dug into the box with a man on first and nobody out with No. 3 St. John's Prep and No. 7 BC High tied, 3-3. Peluso got a bunt sign from coach Pat Yanchus. After working the count to 1-1, Peluso wasn't looking to advance the runner. He was looking to end the game.

"I had two hits and I was feeling pretty confident," Peluso said. "So I said, 'Coach, let me hit.'"

Peluso delivered, ripping an RBI triple down the third base line and scoring Anthony Capuano from first. Prep held on to take a 5-3 win over BC High, meaning the teams will share the Catholic Conference title this season.

BC High (11-6, 5-3 Catholic Conference) came out swinging against Prep starter Pat Connaughton, plating three runs against the Notre Dame commit in the first. BC High catcher Bobby Melley drove an RBI double to center before Ryan Tufts and Melley scored on passed balls.

After falling behind 3-0 in the first, Connaughton bounced back to throw seven straight scoreless innings in a no-decision before giving way to Brandon Bingle, who picked up the win with two shutout innings in relief.

"I think I just got comfortable," Connaughton said of his in-game adjustments. "Sometimes I seem to have trouble in the first inning. I actually have to figure out why that is. After I settled down in the first inning, I felt like things were working. We got the win, that's all that matters."

Prep (13-5, 5-3) tied the game with a three-run third. Capuano scored the first Prep run on a Peluso single to center, rounding the bases from first after a miscue in the outfield. Prep scratched across another unearned run against BC High's Neal Horan on Dillon Gonzalez's fielder's choice before catcher Jake Bedrosian drove in Connaughton with an RBI single.

Neither team found the go-ahead run, even after Prep had the bases loaded with no outs to start the eighth.

That all changed in the 10th when Peluso took matters into his own hands.

Sean Patrikas added a sac fly for Prep's fifth run.


May, 6, 2011
5/06/11
11:26
PM ET
By
Brendan Hall
| ESPNBoston.com



WESTWOOD, Mass. -- Between the wooden bats and overall depth of quality pitching, it's uncommon to see a high-scoring baseball affair in the Catholic Conference.

Yet that's exactly what went down today at Xaverian High, as visiting No. 3 St. John's Prep plated seven runs in the first two innings to down their archrivals going away, 12-6, to improve to 11-2 overall and take sole possession of first place in the Catholic Conference at 5-1.

No. 9 Xaverian fell to 8-5, 2-3 in the Catholic Conference.

Right away, the Eagles sat back in the batter's box and preyed on missed opportunities by Xaverian lefty starter Tim Duggan. They didn't wait long, as Anthony Capuano and Tyler Coppola both walked to start the game. On the fourth at bat, Pat Connaughton (2 for 3, 2 RBI, solo HR, 2 BB) drove a 2-2 fastball up the middle to score Capuano from second base. Coppola and Connaughton were sent home on a hit batsmen and walk, respectively, for a 3-0 lead after one inning.

The next trip up, Coppola smashed a three-run shot over the wall in centerfield for a 6-0 lead, retiring Duggan for the day and bringing in senior Mike Uradnik for long relief. His first batter, the Notre Dame-bound Connaughton, proceeded to sent a 2-0 fastball far over the fence in left-center for a solo homer and 7-0 lead.

"I was looking for my one pitch, and he threw me the pitch," Connaughton said. "I was just trying to look for a line drive, and that's usually the way it happens on home runs. You just look for a line drive, and if it's your pitch, and you're dialed in on it, then next thing you know it took off."

Said Prep head coach Pat Yanchus, "Back to back, that got us sparked. It's always good to jump out to a lead, get your pitcher (Dillon Gonzalez) comfortable.

The Hawks closed the gap to 8-5 in the bottom of the fourth, when Matt Rubino touched home after Mike Muir tried to run out a grounder back to the mound. But the Eagles responded in resounding fashion, scoring four more runs -- including three in the seventh off RBI's from Justin Paluso and Gonzalez.

"That was huge," Prep head coach Pat Yanchus said of the first two innings. "They battle back, though. At 8-5, that's anyone's game, so I was happy to see Ryan come in and throw strikes, creating ground balls."

Xaverian head coach Gerry Lambert came away less than pleased with the way his team played at the bookends of the game -- "we became very flat mentally in the late innings, and that's the thing I'm most frustrated about," he said -- but satisfied with how they rallied to cut the lead to three in the fifth.

"We talk about having good at bats," Lambert said. "We talk about not worrying about the score and just putting together a good at bat, and I think in the middle innings with that....but we have to be able to sustain the right way to play mentally for all seven innings. It wasn't that we were mentally unsharp in the first inning, it was that we were physically unsharp. But late in the game, we got very ragged on the bases, [and] offensively, and we gave them [the Eagles] extra chances."

Web Gem at the hot corner

Connaughton impressed major league scouts again last Tuesday when he hit 93 miles per hour on the radar gun, in the Eagles' 7-4 loss to St. John's of Shrewsbury. But not to be overlooked is his play in the field, explicated by a heads-up play at third base where he dove and threw it to first base from his knees in time to get the baserunner out.

"I knew when I had to dive for that ball, freshman year I made a throw from my knees, so I knew I could do it," Connaughton said. "I figured to save time, I'd just get down on my knees and throw from there."
April, 17, 2011
4/17/11
8:22
AM ET
By
Andy Smith
| ESPNBoston.com
EVERETT, Mass. -- St. John's Prep first baseman Sean Patrikas sent a rocket to left-centerfield over the heads of the Everett outfield for a two-run home run in the top of the seventh Saturday at Glendale Park, but by then it seemed the No. 2 Eagles had the game well in hand.

"He gave me kind of a hanging curveball," said Patrikas. "It was a 2-2 count, so I got up there and just tried to hit it hard."

The No. 2 Eagles took a 10-4 lead into the seventh inning, and when it was all said and done, came away with a 12-5 victory over the No. 15 Crimson Tide.

Everett (4-1) started the game well, getting on the board in the bottom of the first. After the St. John's pitcher, Ryan Panaleo, walked two of the first three batters he faced, the runners advanced a base after a passed ball. The runner scored on a groundout, but Panaleo settled down and struck out two in the second inning.

"In the beginning, I was over-thinking a little bit and try to pinpoint to the corners and the umpire wasn't really giving me the low strike," he said. "I was trying to find what worked and I was trying to be too perfect."

Joe Saia was economical on the mound for Everett during the first two innings, not giving up a hit. However, he gave up a single to Anthony Capuano in the top of the third and things could not seem to go right for the Crimson Tide from then on. That began a seven-run third inning for Prep (4-1) that saw them get only two hits, both by Capuano. After three walks and three fielding errors in the third, Prep went from being down a run to being ahead 6.

Saia was finished after 2.1 innings, having given up six walks and two strikeouts.

Having such a large lead helped Panaleo pitch to contact more and really go after hitters instead of trying to be "too perfect" like he was in the first inning.

"In the beginning I was stressing out a little too much and once the offense was great and they really picked it up for me, it made it a lot easier to attack the strike zone," he said.

He ended up pitching five innings, giving up four runs, six walks, and three strikeouts on a cold and windy afternoon that had many fans and family members watching the last few innings from the comfort of their heated vehicles. He gave way to Mike Driscoll and Brandon Bingel for the final two innings.

"I didn't think the weather had any impact on the way I pitched, because it's tough to hit up their too," he said. "I felt like the ball was still coming out of my hand really well. In the fifth inning, I told Coach I wanted to go out for one more inning and I still felt like my fastball was still coming out of my hand well and I started to mix in my change-ups more as the game went on, so I ended up feeling more comfortable and it worked out well."

Everett got three runs back in the bottom of the third to cut the lead to 7-4, but it was not enough as Prep answered back with three of its own in the top of the fourth to bring the lead back to six.