Boston High School:

Anthony Cieri
January, 10, 2015
Jan 10
10:33
PM ET
By
John McGuirk
| ESPNBoston.com
STONEHAM, Mass. -- In victory or defeat, the protocol remains the same. Whether Austin Prep wins or loses, head coach Louis Finocchiaro always takes his stance just outside the team dressing room, offering words of wisdom and encouragement to each team member as they pass by making their way toward the exits.

Saturday night was no different. On this particular evening, Finocchiaro was handing out compliments as if it was candy. And why not? The Cougars had just upended Catholic Central Large Divisional nemesis Arlington Catholic, 4-2, inside Stoneham Arena to take sole possession of first place in the conference.

AP out-played the visiting Cougars over the final 30 minutes, rallying back from a one-goal deficit by scoring three times in the third to improve to 7-1 overall and 4-0 in the CCL.

The entire momentum of this tilt took a shift AP's way at the start of the middle frame and never left. In the second, the host Cougars fired 15 shots on AC netminder Matt Anderson. However, none found their way past the sophomore, who finished the evening with 29 saves. His efforts alone allowed AC (5-1-2, 3-1-1) to hold onto its slim 2-1 advantage going into the second intermission.

"I was most impressed with our willingness not to lose," Finocchiaro said. "We had an enormous second period but we were still down. Our kids never packed it in. They had the will to not quit and that is important. We want to build off of that. We've got speed and want to utilize our speed. We also want to keep our gaps tight because it eliminates teams from coming after you 100 miles per hour. That's what we work on and it creates turnovers. I thought our effort overall was very good tonight."

Having exasperated a period's worth of energy with nothing to show for it, had AP come out for the final period somewhat dejected, no one would have disputed it. Yet, the Cougars looked to feed off of momentum gained minutes prior and carried it with them into the third.

Just 5:30 into the last frame, an AC turnover inside the neutral zone set up senior defenseman Dan O'Toole to notch the equalizer. AP continued its relentless attack within the AC defensive zone, displaying a physical forechecking style which would lead to AC's inability to control the puck.

As a result, AP would strike again. This time, senior forwards Anthony Cieri and Ryan McDonough broke in on Anderson. With Cieri carrying the puck into the left circle, he fed a crossing pass to wide open McDonough, who promptly whistled a shot past Anderson at 10:09 putting AP ahead to stay at 3-2.

"Our motto all year has been to keep working and dump pucks in," said McDonough. "We weren't worried (after the second intermission) because we knew we were going to score and keep going and we did."

With less than a minute to go, and AC feverishly trying to tie things up, senior John Rogers, controlling the puck along the right half board, tried to backhand a pass across the circles. However the puck found its way into the net left vacated when Anderson was pulled for the extra man, to seal the victory. The goal was credited to AC junior Jake McKenelley, as he was the last AP player to touch the puck for his team.

AC grabbed the lead in the opening period on a pair of power play goals from Cam Geary and Ryan Tierney. Geary, a sophomore, blasted a shot from just inside his own blue line which deflected off of goalie Dylan Regan (12 saves), bouncing behind him and across the goal line at 4:43. Five minutes later, AP tied things up following a turnover in which Kevin Kiley and Louis Finocchiaro skated in on a 2 on 1, with Finocchiaro finishing it off with a shot just past the out-stretched glove of Anderson.

But with just 38 seconds remaining in the frame, and playing with the man advantage, AC received a bit of luck. O'Toole gained control of the puck behind his own net. Looking to dish a pass out towards the middle of the ice, the puck, instead, deflected off of Tierney, positioned just to the left of Regan, and past the freshman goalie, sending AC into the first intermission ahead by a goal. O'Toole would redeem himself two periods later for his mistake.

"It felt good to get that goal," O'Toole said. "It felt we had two fluke goals scored against us but equaling it up in the third and then getting momentum back on our side and being able to net another one was huge. It's big to come back from a deficit against a big rival because they are a team we will probably be going back and forth with the whole season. It's certainly great to get the win that's for sure."

The host Cougars, albeit angry over the late score, played relentless throughout the second period. Passes were crisp and lanes were left open once they reached AC territory. Out of AP's 15 attempts in the frame, several were quality shot, but credit Anderson for his brilliant play between the pipes to keep AC ahead.

That all changed in the decisive final frame as AP, playing without top center Cam Russo who suffered an injury earlier in the week vs. Matignon, took advantage of AC's carelessness with the puck. The end result being three third period goals and a very important regular season triumph.

"They took it to us in the second period but we still managed to hang on at that point," said AC 37-year head coach Dan Shine. "In the second and third periods they were just all over us and we couldn't get possession of the puck. We couldn't make plays and when we made plays we made them to the wrong guys. We made a lot of turnovers in our end of the rink. It came down to who wanted it more and I thought Austin Prep showed they were tougher than we were physically. They were behind and came back to win the game. More power to them."

Having reached the Super 8 tournament final in each of the last two seasons, losing to Malden Catholic both times, questions were raised in regards to AP ability to maintain its high level of play. With the departure of prominent winger Bobo Carpenter (24 goals last year), who's now playing for the Sioux City Musketeers of the USHL, such questions became more enhanced.

But over the first half of this season, AP doesn't look much different than those teams of the past two years. It is a program that continues to stockpile players -- all of whom have proven capable of playing at a high level.

"We have some depth," said Finocchiaro, now in his 12th season here. "Obviously losing a player like Bob would hurt any team but we have a lot of good guys in our program. It's like any year. Every team loses guys but we have others who have stepped up. We are playing well as a team. We also had Russo out but we can't feel sorry for ourselves because of it. With us, it's the next guy up and and we move on. Tonight, as a team, we rose to the occasion."
January, 25, 2014
1/25/14
11:14
PM ET
By
John McGuirk
| ESPNBoston.com
ARLINGTON, Mass. -- The postseason is still a few weeks away, but Catholic Central League rivals Austin Prep and Arlington Catholic may have given the large throng of vocal fans inside Ed Burns Arena Saturday night a taste of things yet to come. We can only hope the dramatics that were on display will be seen again in late February.

Arlington Catholic was in control of a two-goal lead through the first 30 minutes only to watch in anguish as Austin Prep stormed back with three unanswered third period markers to squeak out a 3-2 triumph.

"It shows we've got some character," Austin Prep head coach Louis Finocchiaro said. "This is a tough building to come into and win a hockey game in. Not to mention going into the third period losing 2-0. The kids showed no quit and those are the type of kids you want on your hockey team. We played a God-awful second period but were able to rebound in the third. We just need to find it for three periods instead of one."

Sophomore winger Mike Egan's goal at 12:12 proved to be the difference as No. 3 Austin Prep, winners of five straight, improve to 8-2-2 and 5-0-2 in the CCL. Egan's tally was the pinnacle of a dominating closing period by the visiting Cougars. For the first two periods, Austin Prep's offense was at a standstill as ninth-seeded Arlington Catholic (8-2-1, 3-2-1) was in constant check mode, knocking Austin Prep off its skates along the boards and in the open ice.

In between, the hometown Cougars were able to find the back of net twice. At 10:05 of the first period, forward Ryan Tierney got a gratuitous bounce of the puck off the blocker of Austin Prep goaltender Elijah Harris and swiftly knocked it past the junior while on the power play. Despite being out-shot in the frame, Arlington Catholic dictated the tempo for much of it.

Junior Ryan Smith increased Arlington Catholic's lead to two goals at 8:40 of the middle period. The goal was set up by sophomore forward Andrew Somerville, who stole the puck along the left half wall, skated behind the Austin Prep goal and dished a pass to Smith in front of the net, who sent a one-timer past Harris (21 saves).

"During those first two periods I thought we played as well as we had in a long time," said Arlington Catholic head coach Dan Shine, who was denied career win No. 500 and will try again on Wednesday when Arlington Catholic travels to Archbishop Williams. "Credit to Austin Prep, they were down 2-0 and waited for their opportunities to capitalize. It was a great high school hockey event and obviously our kids are disappointed. I told them that we have to learn from this, be willing to accept what happen and move on from it. We can't do anything about tonight. It's over and we have to be ready for Wednesday. As much as we took it to them in the first two periods they obviously took it to us in the third."

Shine, who celebrates a birthday on Sunday, downplayed the quest for 500, stating he is more concern about his team attaining victories and doing well in the postseason instead of personal accolades.

Coming into the third, you had a sense that Austin Prep would not go down quietly. There is too much talent on this club for that to happen. Just 1:24 into the period, Austin Prep proved it. Ryan McDonough, a junior forward, was able poke in a rebound to put his team on the board.

A few minutes later, with Arlington Catholic defenseman Jon-Luke Dee sitting in the penalty box for interference, Austin Prep sniper Bobo Carpenter knotted things at 2-2 with a blast coming from just inside his own blue line that sailed over goalie John Richard's right shoulder.

Suddenly, every ounce of momentum inside this old barn had shifted to the side of Austin Prep.

But it didn't last long. Just seconds after Carpenter's goal, Austin Prep's J.J. Layton (roughing) and Anthony Cieri (interference) were whistled into the box simultaneously giving Arlington Catholic a 5-on-3 opportunity. Austin Prep did a yeoman-like job killing it off.

Then, moments later, Mike Disciullo was nailed for a tripping violation putting Arlington Catholic back on the power play. Once again, Austin Prep rose to the challenge, frustrating Arlington Catholic inside its defensive zone, blocking shots out front and allowing Harris to become a stop-gap between the pipes.

"Our penalty kill was phenomenal at the end," Finocchiaro said. "We rolled into a diamond defense and took the shooter away from the middle and we defended off of the shot. Decent teams will get shots off, especially in 5-on-3 situations. What you have to do is defend off the shot afterwards, clear out, pick up the rebounds and let the goalie get a clear look at the shooter.

"This is a big win for us because it is against a league rival and a big league game. We could've easily rolled over tonight and gotten blown out but we didn't."

With time winding down and all indications pointing to a well-deserved tie by these two state powers, Austin Prep had other ideas. Egan received a long pass from Andrew Cross at Arlington Catholic's blue line and out-worked defenseman Brian Goggin inside the zone toward the net before beating Richard (24 saves) with a backhand shot sparking a wild eruption from the Austin Prep bench. Arlington Catholic worked in vain to notch the equalizer but would be denied as time ran out on them.

"After the second period our coaches told us that we needed to pick it up," Egan said. "We needed to come out and play with more heart. We did that and we were able to finish. After Bobby's goal, the intensity off of that really carried us from there. We just need to continue to play hard from here on out and let things come together."
December, 29, 2013
12/29/13
3:02
AM ET
By
John McGuirk
| ESPNBoston.com
MALDEN, Mass. -- When Malden Catholic's front line of Ara Nazarian, Tyler Sifferlen and Jake Witkowski are working in unison, opposing teams know that a long night is in store for them.
On Saturday night, the dominant trio exploited Austin Prep, each registering a goal, en route to a 4-1 triumph in the title game of the second annual Christie Serino Christmas Classic at Valley Forum II.
The victory marks the second for the Lancers in this event. Last year, they slipped past AP, winning in a shootout.
The No. 2 Lancers improve to 4-0, while the top-ranked Cougars fall to 3-1-1.
"Ara and I have been playing three years together now," said Sifferlen, a senior. "This year we have Jake fitting in and he knows where to find us. He fits right in with us. Tonight we did pretty good together. We just go out there and look for each other and if we score, we score."
[+] Enlarge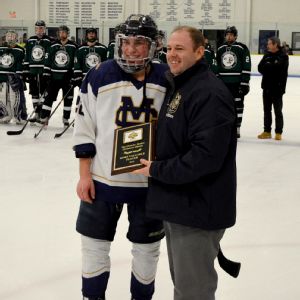 Scott Barboza/ESPNBoston.comReigning ESPN Boston Mr. Hockey winner Ara Nazarian was named MVP of the Christie Serino Christmas Classic, as No. 2 Malden Catholic beat No. 1 Austin Prep in a rematch of last year's Super 8 final.
Following a scoreless opening period, MC opened its offense up in the middle frame, scoring three unanswered goals to grab a commanding lead. Junior defenseman John McLean got things started with a shot from behind the AP net that deflected off the skate of goaltender Elijah Harris and across the goal line at 1:50 to give the Lancers a 1-0 lead.
While a banged up Cougar squad had trouble passing the puck around once inside the MC zone, the Lancer offense continued to dictate the tempo. At 6:14, Sifferlen made a well-executed pass to Nazarian in front of Harris, who slipped the puck past Harris to make it a two-goal game.
Harris, a junior, finished with 22 saves.
Six minutes later, it was Sifferlen's turn. Solid puck movement from Nazarian and Witkowski set up his score, as he beat Harris glove side to make it 3-0.
The flow of this game remained unstable throughout. MC was whistled for 10 penalties as it tried to gain the physical edge over its opponents. But on the flip side, AP's power play became obsolete. The Cougars would just once playing with the man-advantage. That coming on Anthony Cieri's late third period tally when this contest was already secured. The Cougars could manage only 12 shots on freshman netminder Kyle Casey.
"Obviously they are a very good team," AP head coach Louis Finocchiaro said. "We didn't do anything on the power play tonight. We're banged up (losing forwards Jake McKenelley, Eric MacAdams and defenseman Mike Disciullo to injury). I thought MC played a strong, physical game. We've got to learn from it, make ourselves better and not dwell on it. It's done with."
Just 33 seconds into the final period, MC added to its total, again, with the first line doing the damage. Nazarian and Sifferlen worked the puck inside AP's zone. Witkowski was left all alone in front of the net. The junior gained possession of a loose rebound before quickly depositing a shot over Harris' left shoulder, extending the lead to four goals.
Shortly after Cieri's score, the Cougars had a golden chance to cut into the deficit a little more after being handed a 5-on-3 opportunity. But AP failed to convert the two-man advantage as the Lancer penalty kill unit rose to the challenge as the final minutes ticked off.
"We had a little bit of practice tonight with our penalty kill," said MC head coach John McLean. "I wasn't very happy with some of the penalties we took. It is what it is and we had to bear down. We practice it a lot and I thought we did a good job tonight. We have guys that buy into it and they go out and execute it. The big thing is they block shots. They're willing to get in front of pucks. Overall, I'm very pleased."
March, 3, 2012
3/03/12
12:59
AM ET
By
Bruce Lerch
| ESPNBoston.com
WOBURN, Mass. -- A trip to Woburn's O'Brien Arena for a pair of Div. 2 North quarterfinal round tilts told two very different tales and resulted in a pair of very familiar rivals setting up for a showdown in Tuesday's semifinals:

NO. 10 WINTHROP 1, NO. 2 BOSTON LATIN 0
Enduring heavy pressure from a Boston Latin team well aware that it's season was on the line, Winthrop's senior goalie Steven Waites had to stare down the barrel of dangerous Wolfpack sniper Conal Lynch not once, but twice, with under a minute and a half to play.

Lynch managed to get a pair of great looks from the slot, one off a faceoff and the other at the end of a scramble for possession. Both times, Waites got himself in position to make the stops, letting each shot scream into his chest and securing the win for his Vikings in the process.

"It was nerve-wracking," Waites admitted afterward. "My team definitely played great in front of me and I just had to do the best I could and be solid out there and just try to win the game and we did."

Dan Eruzione staked the Vikings (14-6-2) to an early lead after linemate Chris Leblanc made a great hustle play to keep possession. Leblanc blocked a Boston Latin (15-3-4) clearing attempt just outside the blue line and worked the puck back into the zone along the left wing boards.

While battling with a pair of defenders, Leblanc spied Eruzione flying through the zone and pushed a soft pass forward to the sophomore. Eruzione turned and fired a shot from a tough angle, but the puck snuck through just inside the far post at 2:32 of the first.

"It was communication," Leblanc explained. "I heard Danny call for a chip and we're good with that. We communicate well. I just tried to throw it in the middle and I got it to him and he did the rest."

Added Eruzione, "Chris did a real nice job down low, forechecked the hell out of their defenseman and found me really nice off the wall and I just found the back of the net. More luck than anything but I found it."

From there, the Vikings settled into their trap and the four-man defensive corps led by Mike Paulson teamed up with Waites to shut down several strong scoring chances for the Wolfpack.

"Defense wins championships. I know its cliche but its true and we pride ourselves on team defense," Winthrop head coach Dale Dunbar said. "I think our goals against is maybe under two and it's been like that for a long time because we pride ourselves on knowing that, if you want to be a playoff team, you have to play good in your own end. Offense comes from defense and I thought we got away from it in the second period so I wanted to make sure our mindset was five in the house, make sure we're sacrificing our body, chip pucks out, and just be on the right side of pucks and we did."

NO. 11 SAUGUS 7, NO. 14 LINCOLN-SUDBURY 2
While goals were hard to come by in the early game, the Sachems had little trouble putting the pedal to the metal. Saugus scored five times in the first period, twice shorthanded, and were able to maintain its lead for the win.

"We've got our edge back a little bit," Sachems head coach Jeff Natalucci said. "Last year at this time of the year, we were playing with an edge and I really feel like we've got it back. We could have easily packed it in the other night down 3-1 and quit [an eventual 5-4 overtime win over Beverly]. The other night was a huge win for us to build off. We're playing together. All three lines are going hard, our D are playing hard and we're just playing well as a group."

Given the fact that these two teams met 11 days ago and battled to a 0-0 tie in the Newburyport Bank Classic, with Saugus winning in a shootout, the first-period offensive eruption would seem a bit surprising. Natalucci has been imploring his team to get out of the gates quicker, and was hoping the comeback against Beverly would carry over.

Kurt Rodrigues notched a hat trick and added a pair of assists, Saige Tait score twice and Drew Oxley had a goal and two helpers. Rodrigues and Tait each scored twice in the first period, and both had shorthanded tallies on the same penalty kill. Nick Taylor scored the other Saugus goal.

In particular, it's been the Sachems top line of Rodrigues, Oxley and freshman Anthony Cieri leading the way in a stretch of four wins over the team's last five games.

"I've played with Drew my whole life," Rodrigues said when asked about his line. "He's one of the best passers in the league and we always connect on those two-on-ones. Our freshman Anthony Cieri's playing real well. He's come along good in the playoffs. It's just clicking for us at the right time."
February, 12, 2012
2/12/12
12:27
AM ET
By
Brion O'Connor
| ESPNBoston.com
SAUGUS, Mass. -- For 30 minutes, two-thirds through their heavyweight bout with Saugus, the Danvers Falcons appeared poised to put a stranglehold on the Northeastern North crown. Kevin Brown's Falcons swarmed Saugus netminder Nicholas Hegarty, badly outshooting and outhustling Jeff Natalucci's Sachems at Kasabuski Arena.

In fact, Hegarty and Saige Tait's slick breakaway goal in the first period were the only reasons why the Sachems were deadlocked, 1-1, heading into the final 15 minutes. And that's when the Sachems flipped the switch, finding an extra gear and potting three unanswered goals behind Danvers goaltender Seth Kamens to take a 4-1 victory before their home crowd.

The Sachems' victory left the Northeastern North standings a dead heat between Danvers (12-4-0, 10-3-0), Saugus (10-5-2, 9-2-2), and Winthrop (10-5-2, 9-2-2), all on 20 points heading into the season's home stretch. It was also the Sachems' first win over Danvers in three tries this season.

"That's what we've been waiting for, that third period," said Natalucci afterward. "We needed to just outwork them. You know what you're going to get when you face them. They're going to work for 45 minutes, and we needed to outwork them for 15. And that's what we did. That was huge for us."

For Danvers, it was an opportunity lost, as the Falcons have now lost two straight after a torrid 10-game winning streak that vaulted them to the top of the standings.

"We're just playing good enough, and you can't play good enough to win," Brown said. "You've got to be better than good. And come down the stretch, against quality teams. You've got to play great. And we didn't play great. We only played good."

Asked if he felt the game was one that got away, Brown replied: "I don't think it got away. It went their way. Credit them. They found a way to get it done, and we didn't."

In the opening period, though, the Falcons did play great, consistently outworking the Sachems and pelting shots at Hegarty. The senior netminder was up to the task, blunting several quality Danvers bids.

"He's a big kid, he covers a lot of the net," Natalucci said. "When he comes out and challenges (the shooter), he's tough to beat."

Saugus got its break at the 7:56 mark of the first. Sachem defenseman Nick Sweeney poked the puck to Tait, who broke in alone on Kamen before calmly firing his shot 5-hole to give Saugus a 1-0 lead on its second shot of the night.

"It was a spark for the team," Tait said. "We needed something to happen, and finally the chance came."

Danvers' Joe Strangie narrowly missed knotting the game moments later, but he scuffed his backdoor bid at the left post, sending the puck just wide on the Saugus net.

"It comes down to opportunities," Brown said. "You play a high school game, it's only 45 minutes. The opportunities are few and far between. They took advantage of them, and we didn't."

However, Danvers held an 11-3 shot advantage after the first 15, and finally tied the game at 4:07 of the middle stanza. After Paul D'Orlando kept the puck in play by the right face-off dot, Jay Calcagno got off a quick snap shot that beat Hegarty short side, glancing off the right post and into the net.

Danvers kept the pressure on, and Hegarty had to come up big on Kevin Hodgkins backhand bid, flashing out the left pad to keep the puck out of the net. The Falcons third line of Calcagno, D'Orlando and Hodgins were flying, but the Sachems kept throwing bodies in front of shots, and pucks that did get through kept hitting Hegarty.

With 10 minutes to go in the third, the Sachems went on a power play, and cashed in. Drew Oxley ripped a shot fro the point that Kamens stopped but couldn't control. Tait drove the net, and after taking two whacks at the puck, buried it past Kamens on his third attempt for a 2-1 Saugus lead at 6:28.

For Danvers, the walls caved in during an 11-second stretch four minutes later. Christopher Sanderson was Johnny on the Spot when Kamens deposited a gift on the goal line. Saugus 's Guy Carpillo snapped a shot that Kamens appeared to have cleanly in his glove, but the puck slipped out and knuckled over his shoulder, landing behind him. The opportunistic Sanderson wasted no time tapping it into the open net.

Eleven seconds later, Saugus converted on a terrific 2-on-1, when Kurt Rodrigues drove hard down the left wing before scorching a pass across the crease, which Anthony Cieri slipped under Kamens for the 4-1 final.

"The last couple of practices, we've been going really hard, and we showed it out there," Tait said. "We've just got to keep up what we've been doing, and hopefully make a run. We'll build off this game, and keep going."

His coach agreed. "We knew, down low, it was going to be real difficult to get shots, and it was all about second effort down there. That's what we did," said Natalucci. "Saige's goal on the power play was second effort. The third goal was second effort. We had to drive the net. They make it difficult."

"We knew in the last 15 minutes we were going to have to outwork them if we were going to win this hockey game tonight, and we did," he said. "We battled, all night. I've got a lot of seniors in there, and they knew if we wanted a shot at the conference, we needed two (points). If we want a shot at the conference, we needed this one."

Danvers could take some consolation in outshooting the Sachems, 26-12, and knowing that they carried the play for the majority of the game. But to make a difference in the post-season, they'll have to finish as well as they start.

"The message is we. We stick together. We do it together," said Brown. "We'll get back to where we need to be. We'll get back on track. We're a good hockey team. We've done good things all year long. We know we can attain those things."